The Women's Gun Show Fan of the Month: Meet Patti, Retired and Recharged
Every month, "The Women's Gun Show" podcast cohosts randomly select a fan from several entries. That fan receives a box of goodies from The Well Armed Woman, an opportunity to be interviewed by host Carrie Lightfoot at the podcast and a vignette, such as this one, at The WON. Meet Patti, this month's, "Fan of the Month."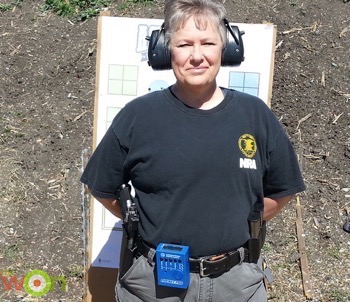 The WON: What's your answer for when people say, "What do you do?"
Patti: Although my husband and I are both retired, I seem to be busier now than I was when I was working 60+ hours a week. I never stop learning and I continue to pursue and participate in numerous activities, some of which I have been doing for many years (quilting, sewing, DIY, training & showing dogs, target shooting and training) and some newer activities that I have begun more recently or will be starting next season (hunting, archery, shooting matches, reloading, training a gun dog). I enjoy the outdoors and find many of my activities to be, not only enjoyable, but also rewarding, empowering, and relaxing.
The WON: Three words that best describe your attitude toward being able to shoot safely and competently.
Patti: Safety, training, safety.
The WON: Was your first experience shooting a gun good or bad? Why so?
Patti: My first experience shooting a gun was when I was 7 or 8 years old – a truly wonderful and memorable experience. I grew up on a farm and we learned many things as small children: gun safety, hunting, fishing, raising farm animals, growing crops, canning, sewing, hand quilting, and more. I have so many fond memories from those days.
This has been a part of my life for as long as I can remember. From growing up on the farm, to spending 10+ years in the military (US Navy and US Army), working careers (surgical technician, firefighter/EMT, real estate broker), and now my daily life as a retiree. Safety and Training are paramount in so many aspects of life, most certainly in being able to shoot safely and competently.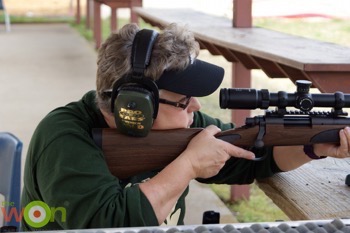 The WON: What's your next gun? Can be a dream gun.
Patti: So many to choose from! However, being the practical person that I tend to be, I am looking for a wonderful shotgun and hunting rifle to fit my body size. At 5'2" and a length of pull that is roughly 12.5", finding something fits and is comfortable to use is important. I've been looking at the Syren models … certainly on my Dream Gun Wish List, but still researching other makes/models.
The WON: Is there training or a trip you'd like to take that revolves around shooting? What is it?
Patti: Again, so many to choose from. One I would love to attend is the NRA Women's Wilderness Escape at the Whittington Center on Raton, New Mexico. Seven days of Shotgun, Pistol, Rifle, Long Range, 3 Gun, and Henry Rifles with a group of outstanding women … what more could a gal want!
Visit The Women's Gun Show and choose a portal to become a Fan of the Month.
Listen while Patti chats with Carrie Lightfoot, of The Well Armed Woman, on Episode #42 of The Women's Gun Show, sponsored by Ruger.
About Barbara Baird

Publisher/Editor Barbara Baird is a freelance writer in hunting, shooting and outdoor markets. Her bylines are found at several top hunting and shooting publications. She also is a travel writer, and you can follow her at https://www.ozarkian.com. View all posts by Barbara Baird →