Springfield Armory 1911 EMP 4" Lightweight Concealed Carry Contour Review
In our neck of the woods, there are few gun shops or ranges that rent out firearms, so you do not have the option to "try before you buy." While I love the classic look of a 1911, my small hands have a hard time with their large, straight grips, and their stainless-steel construction is usually heavier than the polymers I've grown accustomed to carrying. So when I heard that Springfield Armory introduced a new, patented short-action, smaller-proportioned EMP 4" Lightweight Champion Concealed Carry Contour Model at SHOT, I was intrigued.
As soon as I opened the box, I admired the sturdy premium case. These positive first impressions were quickly confirmed as I played with the gun on the range—but I'm getting ahead of myself.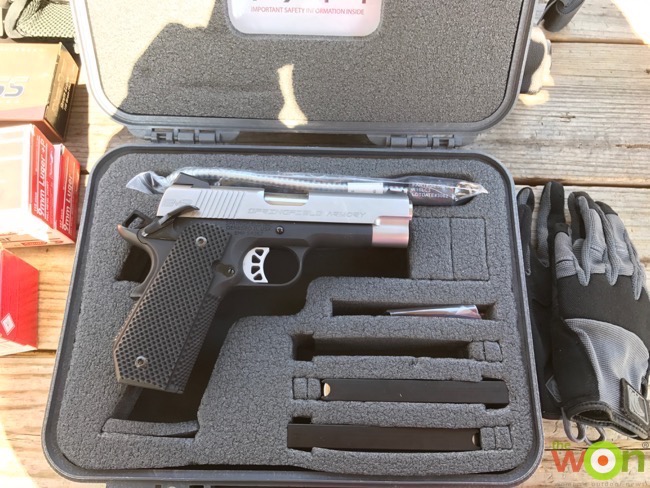 The moment I held it in my hand, I knew that this gun was the right fit for me. The slim, black G10 grip feels secure and comfortable while not being overly aggressive like Springfield's popular polymer models. I was afraid it would be abrasive after shooting several hundred rounds, but that was not the case. The textured grip kept my hands from slipping and needing readjustment, and I didn't experience fatigue from needing to grip too tightly, as I often do with larger guns. A very pleasant discovery, indeed.
The EMP Concealed Carry Contour has an attractive forged stainless-steel slide with a satin finish, match-grade bull barrel with fully supported feed ramp, and black aluminum alloy frame. "Contour" refers to the bobtail grip that helps to lessen printing under a cover garment. The red fiber-optic front sight can be replaced with other colors—included—and works well with the low-profile combat rear sights. It comes with 3 magazines that hold 9 rounds each. Its overall length is 7.5 inches and it weighs 30.5 ounces unloaded. The MSRP is $1,220.
Before I did my official test, I wanted to put a few rounds through the gun straight out of the box. I shot 100 rounds on the first day, using a variety of target ammo, and had no issues. The next day, I decided to warm up by doing the dreaded (but oh-so-fun) "dot torture" drill at 3 and 5 yards. I didn't have a proper holster so I strapped on a universal (gasp!) Kydex OWB and gave it a go.
Let me tell you, this is one soft-shooting gun. For the size of the gun, I expected more felt recoil, but I was surprised how little it snapped and how quickly I could obtain follow-up sight pictures. I often find compact guns to be rather top-heavy, but not only is this gun visually proportioned, but it feels very balanced in the hand. I was a bit disappointed with my 5-yard results, but I humbly assure you that they were the result of user error, not the gun. Part of my issue was due to not having trained with an external safety for quite some time. However, I did find the thumb safety to be responsive and not too light nor too stiff, and I could manipulate it quickly. I appreciated the ambidextrous safety when I did my support-hand shooting.
Another thing I consider when trying out a gun is how easy it is to load magazines. Sometimes the spring is so tight, the last few rounds are curse-worthingly (I made up the word) difficult to top off without a speed loader, but the Contour's magazines offered little resistance and were easy to load.
Likewise, I think about the difficulty of racking the slide. I use the popular technique of holding the slide with the palm and fingers of the non-dominant hand while pushing firmly on the grip with the dominant hand; this allows even the weakest of hands to successfully operate the most stubborn of slides. I sometimes unhappily encounter a sharp rear sight or safety, but there were no obstructions and the slide was smooth and moderately light to rack. The skeletonized trigger felt lighter than the 5 to 6 pounds Springfield claims it is; it seemed short and smooth, and had a satisfyingly crisp reset.
I put about 200 rounds through the Contour on Day 2. During that time, I experienced 3 failure-to-feeds with the Aguila 9mm Luger 147-grain FMJ. Suspecting that the gun and mags were dry, I took it home and gave it a good cleaning and lubing. The gun was a little different to take apart. After consulting the manual, I went to YouTube for a step-by-step visual guide. I won't go into detail, but it wasn't difficult to take apart once I understood the process. A few squirts of oil and it was good to go.
On day 3 I took a variety of ammo and some personal defense rounds and tested them more systematically. I started out with my usual training gun, my Glock 19. I fired about 10 rounds of PMC 9mm Luger Bronze FMJ 115-grain and got a good sample of my skillset.
Then, I ran the Contour Carry through several boxes of some target ammo and personal defense (PD) loads. Starting with the PMC Bronze 9mm 115-grain FMJ, I shot 100 rounds with no malfunctions. Then I shot through 2 boxes each of the Aguila 9mm Luger 115-grain +P FMJ and the Aguila 9mm Luger 147-grain FMJ (no malfunctions this time). I preferred the latter, finding the heavier round very comfortable to shoot. Since 1911s often have reliability issues with 9mm, I saved the PD ammunition for the end of the test. I shot 40 rounds of Barnes Tac-XPD in decent groupings with 1 failure-to-feed. I'm not sure why I had a feeding issue (magazines?), but that wasn't bad for almost 550 cartridges.
As much as I love my striker-fired guns, I am genuinely and pleasantly surprised how much I enjoyed shooting this 1911, and am seriously considering adding this beauty to my collection.
Find out more about the EMP 4" Lightweight Champion Concealed Carry Contour Model here.
About The WON

The Women's Outdoor News, aka The WON, features news, reviews and stories about women who are shooting, hunting, fishing and actively engaging in outdoor adventure. This publication is for women, by women. View all posts by The WON →
The Conversation