Big News about 'The Women's Gun Show'
(Scottsdale, Ariz.) – May 26, 2017 – Carrie Lightfoot, of The Well Armed Woman, and Barbara Baird, of "Women's Outdoor News," are proud to announce the addition of a team member to "The Women's Gun Show," a weekly podcast that focuses on women and shooting. Competition shooter Julie Golob will contribute tried-and-true tactics for better shooting, in her weekly "Tip Time" segment, sponsored by NRA Women – a new partner to the podcast.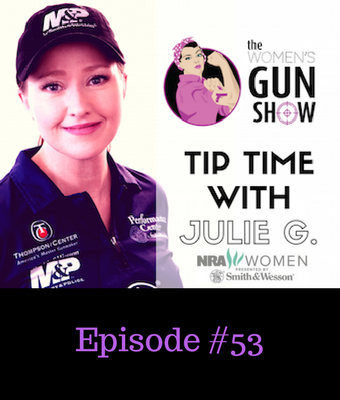 Golob kicks off the tips in Episode #53, by discussing the importance of a sturdy stance. In a series of 3-minute segments, Golob conveys the importance of shooting fundamentals and helpful tips, in an exuberant delivery, that will aid new shooters or those wanting to refresh their skills.
The hosts asked Golob to contribute because she not only is a multi-time world and national shooting champion and experienced shooting instructor, but she also communicates clearly and in a compelling manner.
"We know that our listeners will enjoy hearing and learning from Julie on a weekly basis. She is one of the most popular female competition shooters on the planet for a reason – and it's not just for her accuracy and speed," said Baird.
"We are delighted that NRA Women has partnered with us. Their unparalleled commitment to educate and support women shooters makes them a natural fit. It's so exciting to see them enthusiastically come onboard," said Lightfoot.
Listen and subscribe to the podcast at iTunes, Stitcher and iHeart Radio. It also can be downloaded or listened to at The Well Armed Woman and "Women's Outdoor News" websites. Visit thewomensgunsshow.com.
About The Women's Gun Show
Carrie Lightfoot, of The Well Armed Women, and Barbara Baird, of Women's Outdoor News, designed this podcast, "The Women's Gun Show," to educate, enlighten and entertain listeners in a weekly show about firearms. Sponsored by Ruger and The NRA Women's Network, the show features interviews with luminaries in the firearms world, along with product reviews, news and stories about women who are empowered by and enjoying firearms.
Contact:
Carrie Lightfoot
Telephone: (928) 862-0444
Email: carrie@thewellarmedwoman.com
Website: thewomensgunshow.com
About Barbara Baird

Publisher/Editor Barbara Baird is a freelance writer in hunting, shooting and outdoor markets. Her bylines are found at several top hunting and shooting publications. She also is a travel writer, and you can follow her at https://www.ozarkian.com. View all posts by Barbara Baird →