All About ARs: Moving the AR-15 Furniture Doesn't Have to Be Difficult
We've all moved furniture around and frankly, it's never fun when you are the one who has to provide the muscle. Enter the world of the AR-15, and this task becomes interesting and fun. When you buy an AR already made, it comes with furniture – namely, the handguard, pistol grip and buttstock. And just like in real life, if you get tired of the AR-15 furniture, you can change it. Or, just like buying a spec home sans furniture, you can chose the original furniture for a bare-bones AR.
You can choose individual pieces to suit your fancy, or you can find a complete kit such as this MOE Furniture Set M-LOK Carbine Flat Dark Earth from Brownell's (MSRP: $108.16) to change the look of your AR-15 without having to buy the separate pieces.
AR-15 Furniture
Handguard
The designers created ARs to be supported by the non-trigger-pulling hand, so the guns have a handle called a handguard or forend that surrounds the barrel for the shooter's support hand. ARs get hot fast. You can imagine how hot the barrel and gas tube of an AR get with repeated firings, so the handguard allows you to support the rifle in various ways without burning yourself. One tip to remember – the gun's forend must extend far enough to cover the gas tube and gas block above your AR's barrel. Handguard manufacturers usually identify their handguard lengths in the same manner as the gas system identification on the guns (see the previous edition of this series [insert link here]): rifle, mid-length, carbine and pistol, making it easier to be sure you select the right one for your AR. If the gas block on your gun is the standard height, you'll have to use a handguard that is the same length as the gas system. If you have a low profile gas block, however, you may choose a handguard that is longer than the gas system, because the longer handguard can pass over the top of the gas block.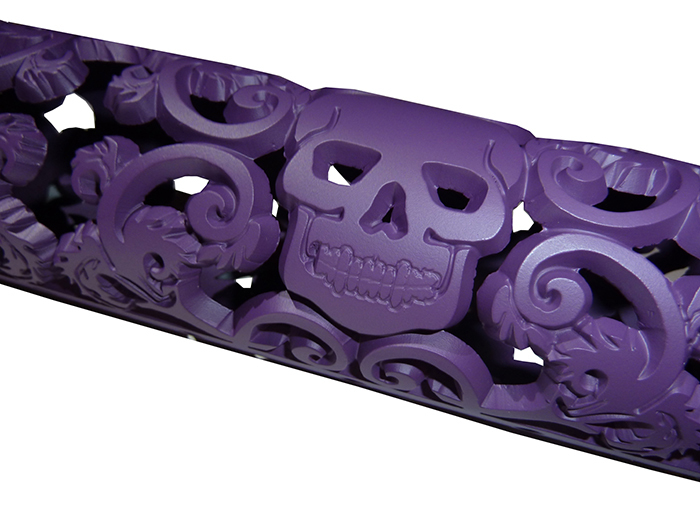 You may buy handguards made in various types of materials – plastic, composite and aluminum, but they always have a metal shield inside to keep the handguard from getting too hot. You can get really personal with your handguard, too, such as this cool one found over at The Well Armed Woman's store online, that reflects the founder's penchant for pirate-themed things.
Military Vs. Other Types of Handguards
Another good thing about handguards is they can be very adaptable to mounting different things on an AR. The original AR military handguards had no rails or attachment fixtures, but nowadays there are several types and styles. There is still the traditional military-style plastic handguard that is very lightweight and rugged, easy to install and replace, but doesn't have mounting rails/slots/holes for accessories. It attaches to the front of the upper receiver and to caps near the gas block, so it is not free-floated (attached only to the front of the upper receiver; free-floating a rifle barrel improves most guns' accuracy). Beyond the military type, handguards can be free-floated or not, and can have any number of different methods or combinations of different methods of mounting attachments (lights, grips, lasers, optics, sights, etc.) to them. We won't address all the different types here, but just be sure that if you intend to attach stuff to an AR handguard that the attachment method(s) correspond to the handguard on your gun or the handguard that will be on your gun.
Pistol Grip
This grip attaches to the lower receiver. It's your connection to the gun with usually your strong shooting hand, and there are many options. Usually made of plastic or composite, they can be covered with a tacky rubber material or not, have finger grooves or not, and be angled or no angles.
Buttstock
This is the part of a rifle or carbine AR that works with you so that you can brace the gun against your shoulder and fire the gun effectively. The butt stock may use the buffer tube as its main support (collapsible stocks) or just incorporate the buffer tube within (fixed stocks). This part of the gun fits between your shoulder and the working parts housed in the lower receiver. You may choose from a fixed or collapsible stock. A collapsible stock allows you to fit the gun to your shoulder and reach all its parts conveniently, no matter how long your arms may be or how much clothing you are wearing. Some buttstocks also sport adjustable buttpads (the parts that touch your shoulder) and/or cheekpieces (the top part of a buttstock that touches the cheek on your face when you shoulder the gun) as aids in shooting the gun more accurately when you have optics mounted on it.
Putting it all together
Once you get all your parts and you're ready to make some furniture changes, it's time to read the manuals or check YouTube, or both. You will need some tools – typically small tools that you may already have around the house, such as screwdrivers, pliers and adjustable wrenches.
If you are really into the nitty-gritty gearhead fun of swapping-out parts of your AR, and you have more than one, you may want to invest in some more specialized tools such as lower and upper receiver vise blocks (for holding those parts steady in a vise without damaging them, since they are aluminum alloy or composite), an armorer's wrench, etc. Otherwise, if you want to swap or install parts that require other than simple tools and procedures, check with a local gunsmith.
Now that your gun is ready in basic mode, we'll take a look at accessories next in this series.
Check out our other posts in this series about ARs:
All About ARs: What in the Wide World of Firearms is an AR?
All About ARS: An AR-15 Breakdown of Parts
Visit Palmetto State Armory for AR-15 deals.
Visit Blackhawk! for parts and accessories for your AR-15.
About Barbara Baird

Publisher/Editor Barbara Baird is a freelance writer in hunting, shooting and outdoor markets. Her bylines are found at several top hunting and shooting publications. She also is a travel writer, and you can follow her at https://www.ozarkian.com. View all posts by Barbara Baird →