Gun Review: Ruger American in 9mm
First of all, you gotta love the name – the Ruger American. That alone should be a selling point. Then, Ruger backs up the name with solid performance. I saw this gun at a conference for chapter leaders of The Well Armed Woman last fall in Jacksonville, Florida, and I knew I had to spend more time than a few shots on a guest range allowed.
For a woman who is new to the shooting sports, finding a polymer-framed semi-auto can be daunting in a field of so many to choose from, including a Ruger SR in 9mm. If I were to point a new shooter to this gun, I would note the fine reputation that this company brings. I have been shooting various models of Ruger firearms for years, and it makes more than 400 variations of 30 product lines.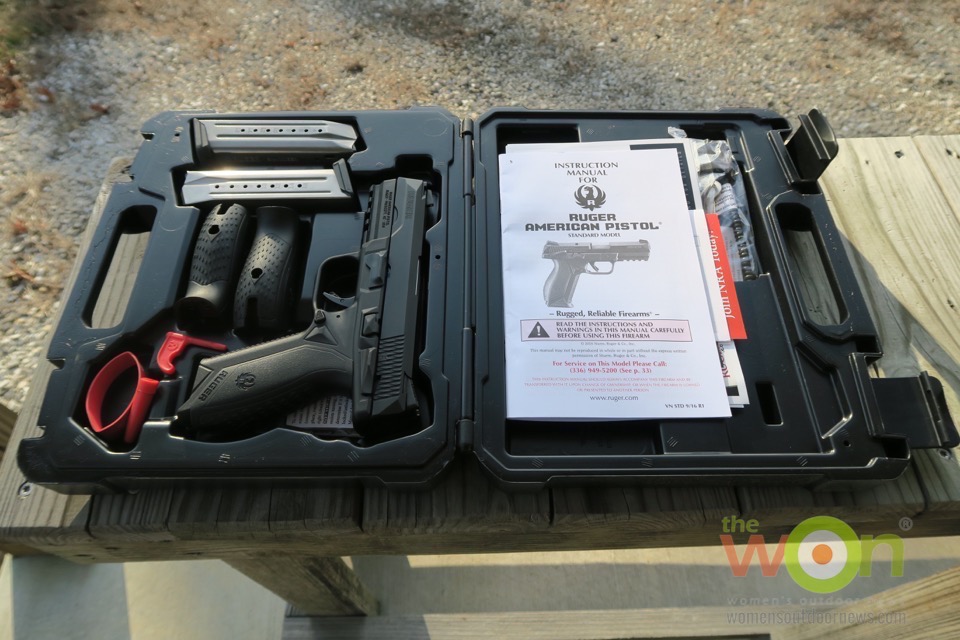 This 9mm gun (it also comes in .45 ACP) differs from the SR line. It is based on research with law enforcement officers and what they deemed necessary for a reliable combat gun. We carry GLOCKs and M&Ps, just like the police do, so why not a Ruger-made gun for combat, as well?
Although this gun comes in a compact version, Ruger sent me the full-sized gun, the Pro model – which I could wear on the waistband, under a jacket in the winter.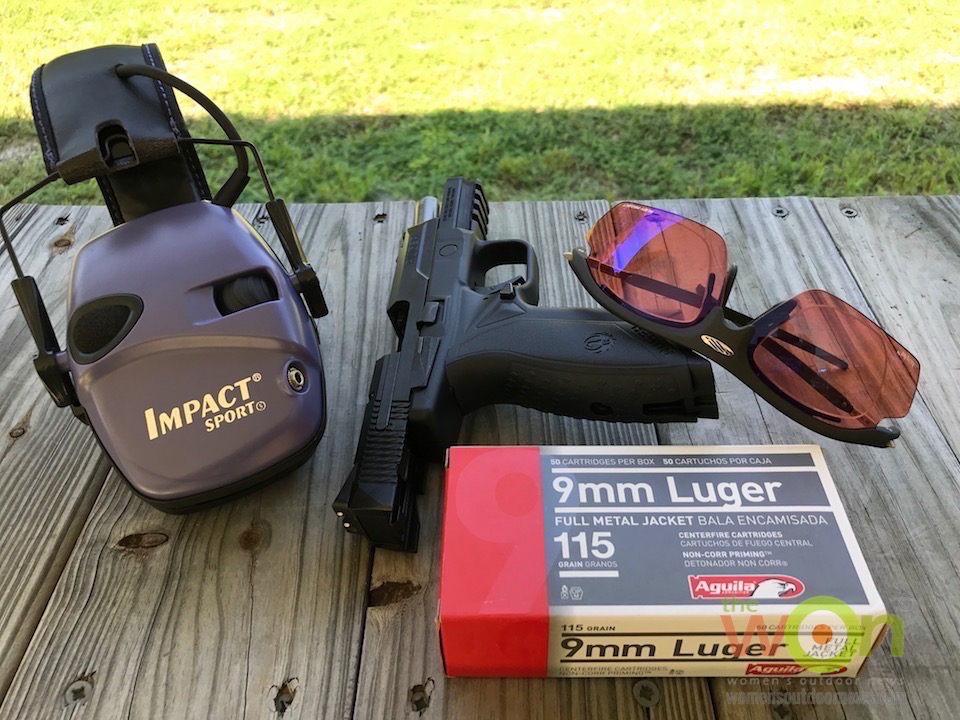 If a woman likes this gun, it will be for several reasons, including the following:
Ruger reduced the felt recoil with a barrel cam that spreads out the recoil impulse, slowing down the rearward action a tad, which reduces the kickback.
The slide is lighter than an SR slide, which combined with a low bore axis gives less muzzle flip and faster follow-up shots.
The trigger requires about 6 pounds of pressure to break, which is not unusual for a carry gun. It is 2-stage and reminds me of a GLOCK-type trigger, with a central trigger safety lever that keeps the gun from discharging a round unless the trigger is fully depressed. The ride to reset is long, but again, this is a carry gun.
The gun comes with a 2-inch accessory rail, too.
It comes with 3 changeable textured grips. As for changing out the grip, make sure you check the manual on how to remove it, and be gentle with it. I broke one wrench doing the job. Usually, I require the smallest grip, but had to move up to a medium with this gun.
Its 2 magazines hold 17 rounds each, and are made of nickel-Teflon® plated steel, with a double stack design and baseplates cut at angles. That means there's a little more to get your fingers around, if you need it.
Cleaning the Ruger American
This is probably one of the easiest semi-autos I've cleaned in a while. You don't have to depress the trigger to take it apart and if you follow the directions (and if you've ever cleaned other similar semi-autos, you'll already have a clue), you'll be golden – fast.
Range Time
This gun has been in many hands. I took it to two of my chapter range meetings of The Well Armed Woman and several of the women fired the American. The women were mostly all new shooters, and they immediately saw success with its accuracy at 7 yards. It's a simple gun and good for new shooters, or for experienced self-protectors who want a slim and fast gun.
I'd say we've easily shot 700 rounds through this gun, and the only malfunction – a stovepipe – occurred with suspect ammo, a personal defense brand. This is the reason you must check your ammo for personal defense. I know people who even drop each piece of ammunition down the barrel of the gun before loading it into a cylinder or magazine.
I must give shout-outs, though, to these companies for making stellar ammo: Aguila Ammunition, Remington Outdoor Company, Hornady and Federal Premium Ammunition. They provided ammo for testing, along with PHD Ammunition, which was the ammo that this gun did not feed.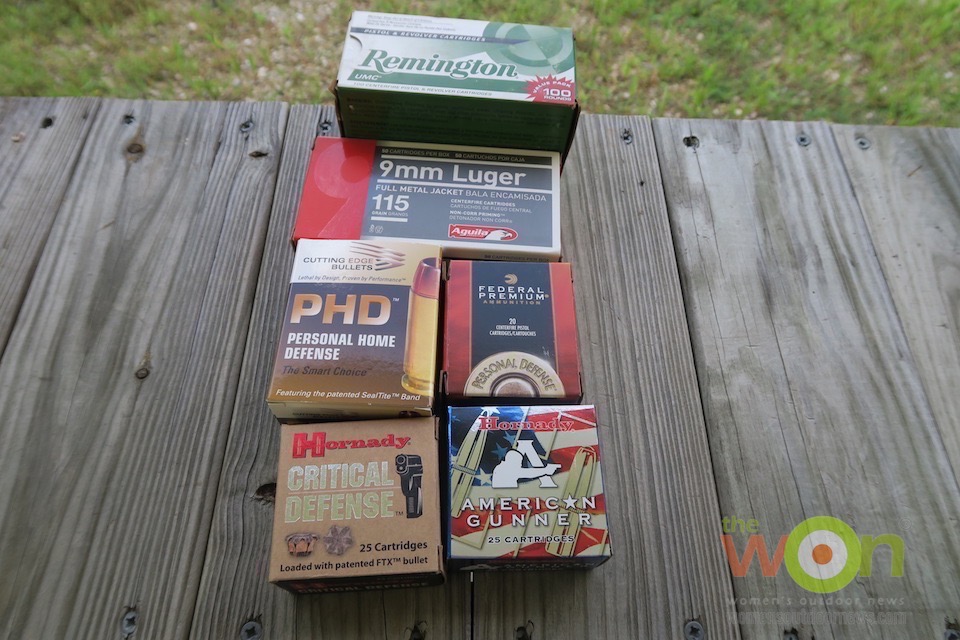 I tucked this gun into an outside-the-waistband Crossbreed SuperSlide holster and proceeded to practice closer contact style drills with it. I like the pistol's balance and the way it allows me to get right back on target quickly. The sights are white, in a genuine Novak LoMount carry configuration and they are good on black or dark targets.
Also, the model (Pro) I tried did not have an ambidextrous manual safety and I would prefer one for the way I like to carry concealed. However, the Pro model measured 1.4 inches at its widest part on the slide, compared to 1.51 inches for the comparable manual safety model. That's slim and that's one of the main reasons this gun would be an excellent choice for cold-weather carry.
Ruger American
If you want to see more about the Ruger American line, including the popular compact models, check its website.
MSRP: $579.
About Barbara Baird

Publisher/Editor Barbara Baird is a freelance writer in hunting, shooting and outdoor markets. Her bylines are found at several top hunting and shooting publications. She also is a travel writer, and you can follow her at https://www.ozarkian.com. View all posts by Barbara Baird →