Gun Review: Smith & Wesson M&P45 M2.0
I knew I had to have it when I saw the new Smith & Wesson M&P45 M2.0 pistol, especially for cold weather carry. I'm wearing jackets and coats and it's time to go big and not go home.
I agree with the captain of Team Smith & Wesson, Julie Golob, who recently said something that rings true about caliber and concealed carry in her weekly tip for the podcast "The Women's Gun Show": "When it comes to caliber, the best caliber for concealed carry is the one that you can control and shoot well." She also stressed the importance of feeling comfortable and confident about the caliber you choose to carry.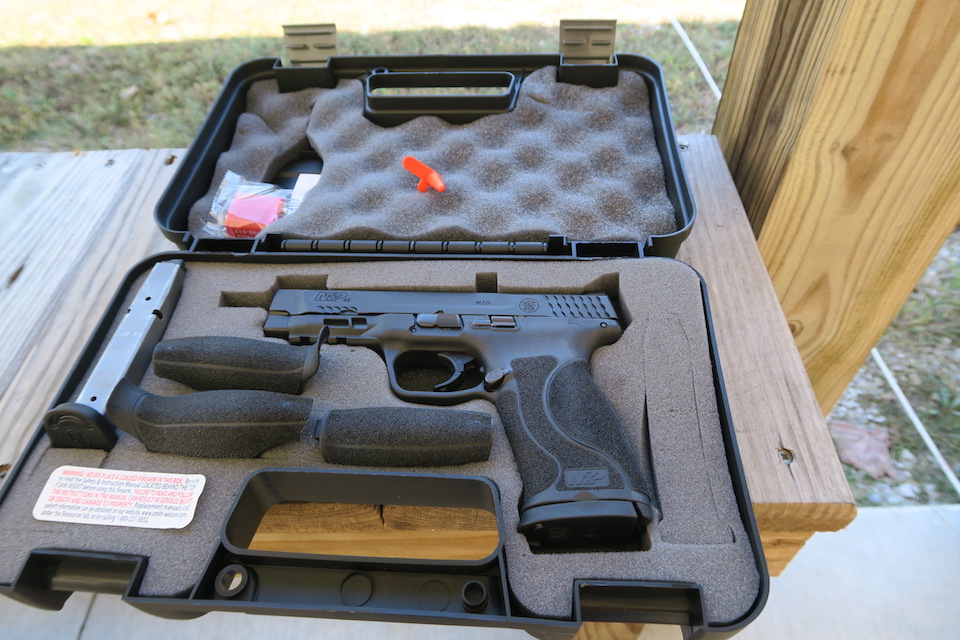 This M&P45 M2.0, chambered in .45 ACP, is worth a try if you think you'd like to put more firepower on your belt this winter. With this firearm, Smith & Wesson gives us a new platform – heralding improvements in trigger, grip, frame and barrel bore axis ratio. That means less muzzle rise, which means you can get back on target faster. The slide release is bilateral, which means lefties can manipulate this gun, too. This model is available in 3 calibers, but for this set of tests and because I want a .45, I chose the big one. It also comes in 9mm and .40 caliber.
A striker-fire, semi-auto made of polymer with what Smith & Wesson terms as "an aggressively-textured grip," the gun comes with 4 interchangeable palmswell inserts. Perhaps someone who has complained about grips on .45s being too large might now be able to fit a .45 to her hand? Perhaps someone who once tried a 1911 in .45 and suffered from a swollen hand for days afterward might appreciate a gun such as this one?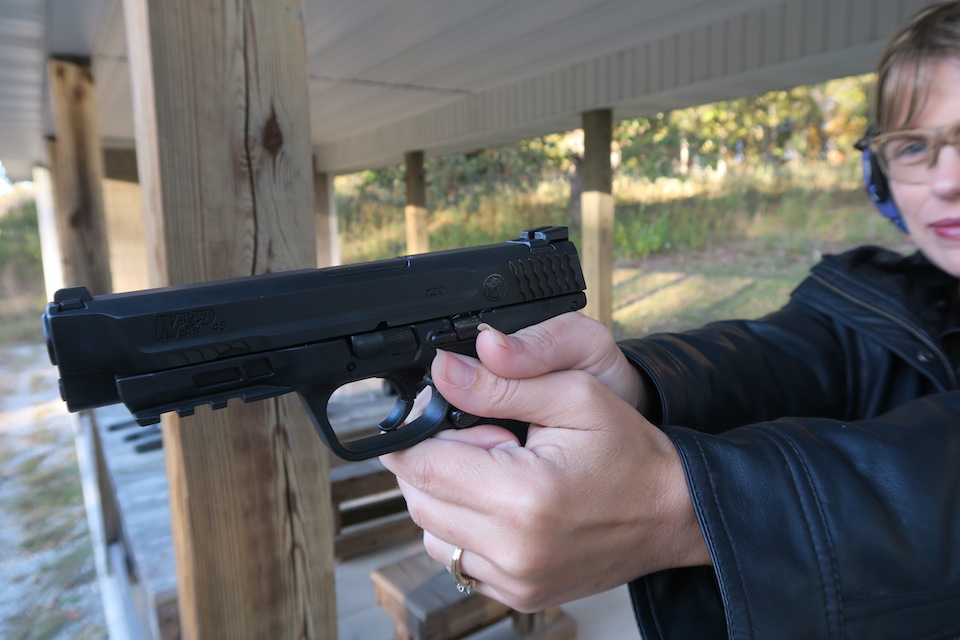 In fact, I like the grip and the 18-degree grip angle. It works for the way my hand, wrist and forearm operate together when shooting, and after shooting hundreds of rounds, I experienced no hand swelling.
Inside the gun, there is an embedded stainless steel chassis, which reduces flex and torque when in firing mode. Again, having less muzzle flip and being easier to control always counts in a defensive situation. Top that, or coat that, with an Amornite durable corrosion resistant finish, and you have a basic black, realizable gun that you'll want to at least try or buy. Or, opt for Flat Dark Earth, a popular alternative and if I may say, quite tactical looking.
So, I got down to the business of trying this bad mama jamma on the range several times over the past few months, and working with it in a carry situation – thanks to an outside-the-waistband (of course) Crossbreed holster.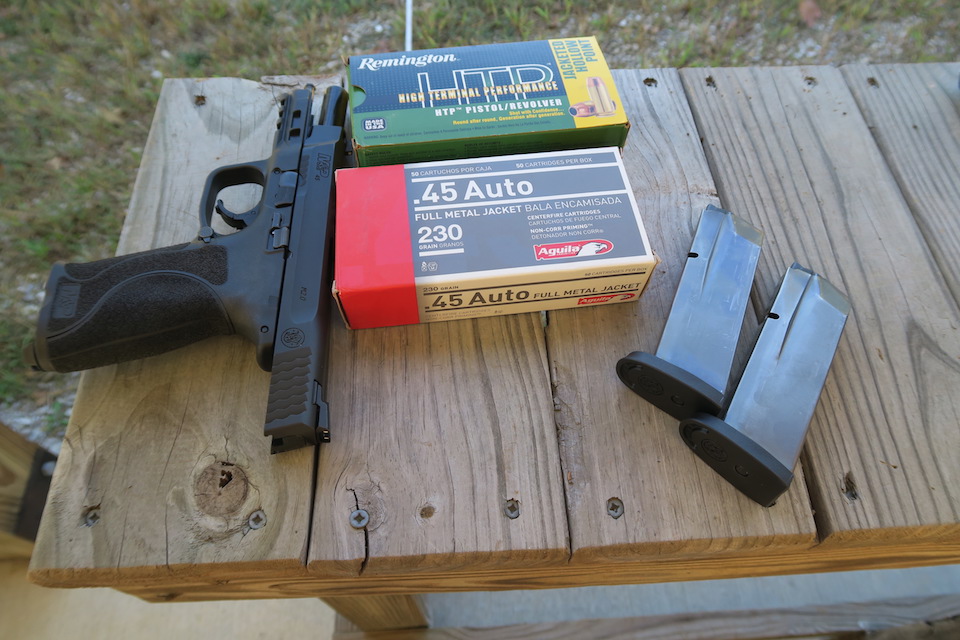 For accuracy testing, I shot it out to 15 yards, from a bench rest in 5 groups of 5, using Aguila Full Metal Jacket (230 grain) and Remington High Terminal Performance Jacketed Hollow Point (also 230 grain). These are two of the top ammunition makers in the market, and they did not fail. Later, when I ran the gun fast, from the belt, and then, out to 50 yards on steel, no malfunctions occurred. It likes these ammos.
Here are the results of the accuracy testing:
Remington: Smallest group – 1.25; largest group – 2.25; Average – 1.85 inches.
Aguila: Smallest group – 1.25; largest group – 2; Average – 1.45 inches.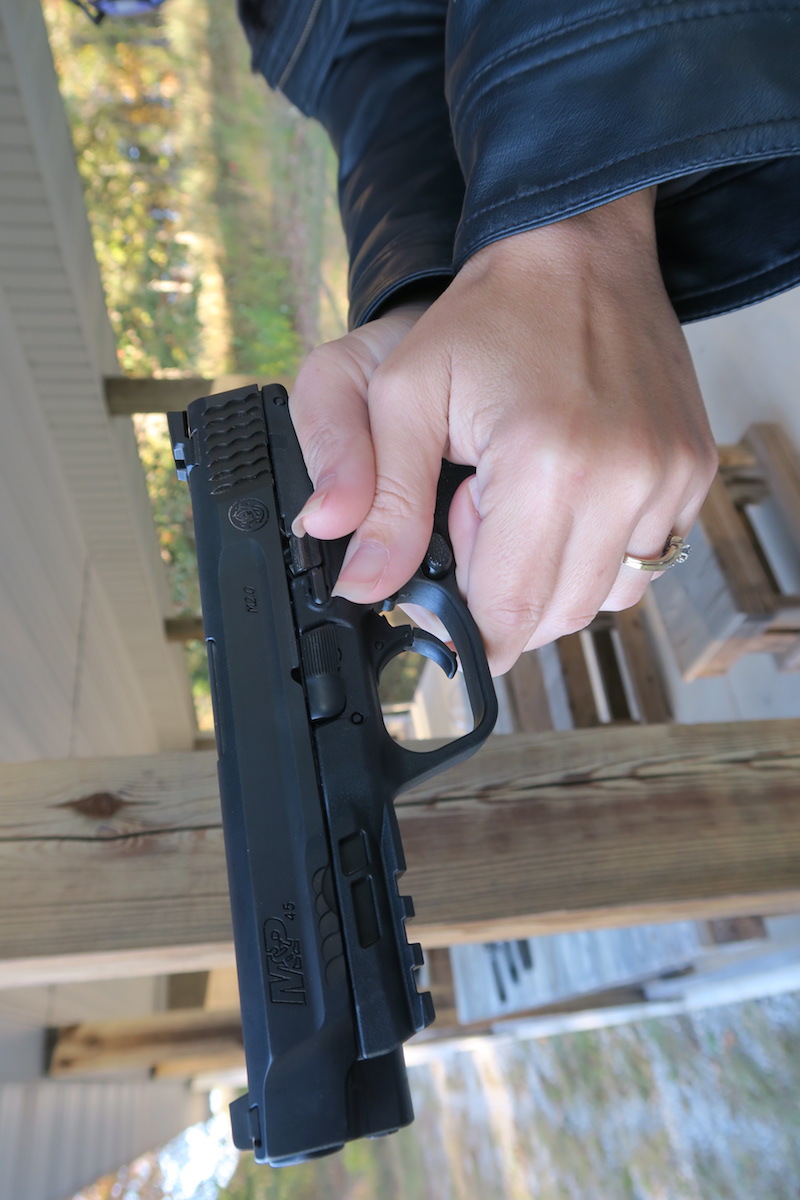 I found the sights easy to acquire, even with my granny eyes, and also, they aligned so that I could shoot groupings between 1.25 and 2.25 inches. They are easy to adjust, as well, for windage.
Women will like the .45 because of the reduced recoil, and the ability to choose a proper grip size. Also, if they carry a smaller caliber polymer, striker-fired gun, they might find that transitioning to a bigger caliber in this model will work well for them, and give them that aforementioned confidence, which is an integral part of personal defense. This one did not have an external safety, but you can order one with an external safety.
Trigger-wise, Smith & Wesson says it improved the trigger over the first generation's version of this gun. You can hear the trigger reset on dry fire, and most importantly, you will feel it on live fire.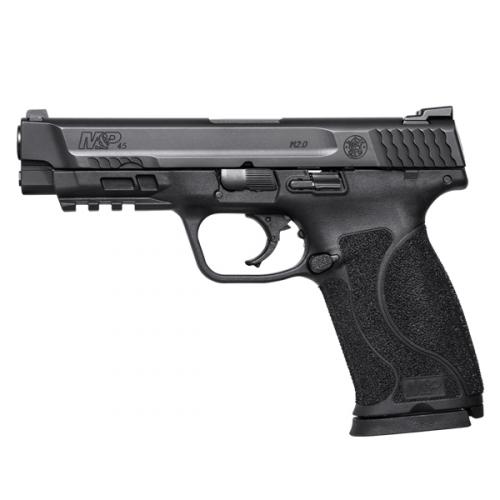 Other features include the following:
Barrel length: 4.6 inches with 1:15 twist rate
Overall length: 7.9 inches
Front sight: steel – white dot
Rear sight: steel – white dot
Magazine: Comes with 2, hold 10 rounds each and made for a flush fit, offering a PVD finish and polymer base pads in black or brown
M&P45 2.0
A purchase of a Smith & Wesson M&P45 2.0 also includes 2 magazines, a limited lifetime warranty and a lifetime service policy. MSRP: $599
https://www.smith-wesson.com/firearms/mp-45-m20
See a review of the Smith & Wesson M&P M2.0 in 9mm.
About Barbara Baird

Publisher/Editor Barbara Baird is a freelance writer in hunting, shooting and outdoor markets. Her bylines are found at several top hunting and shooting publications. She also is a travel writer, and you can follow her at https://www.ozarkian.com. View all posts by Barbara Baird →