What Was YOUR Red Ryder BB Gun?
We've all seen the famous scenes in the movie A Christmas Story, where young Ralphie is dreaming of getting his very first firearm for Christmas. For Ralphie, this was the coveted "Official Red Ryder, carbine action, 200-shot, Range Model Air Rifle." After many different attempts to make sure that everyone, including Santa, knew that BB Gun was the thing on his list that he most wanted, and being told by all of the adults in his life that he would "shoot his eye out," he finally finds his treasure wrapped up on Christmas Morning.

The Flame is sponsored by AZFirearms
While we don't get to see his parents teaching him all of the fundamentals of gun safety, we hope that they did invest the time in helping him and his younger brother to be Responsibly Armed Citizens.
All of us had that very first gun and that one person who invested in teaching us and training us in the proper use of that tool. I asked several ladies in the Firearms Industry about their own Red Ryder BB Gun story.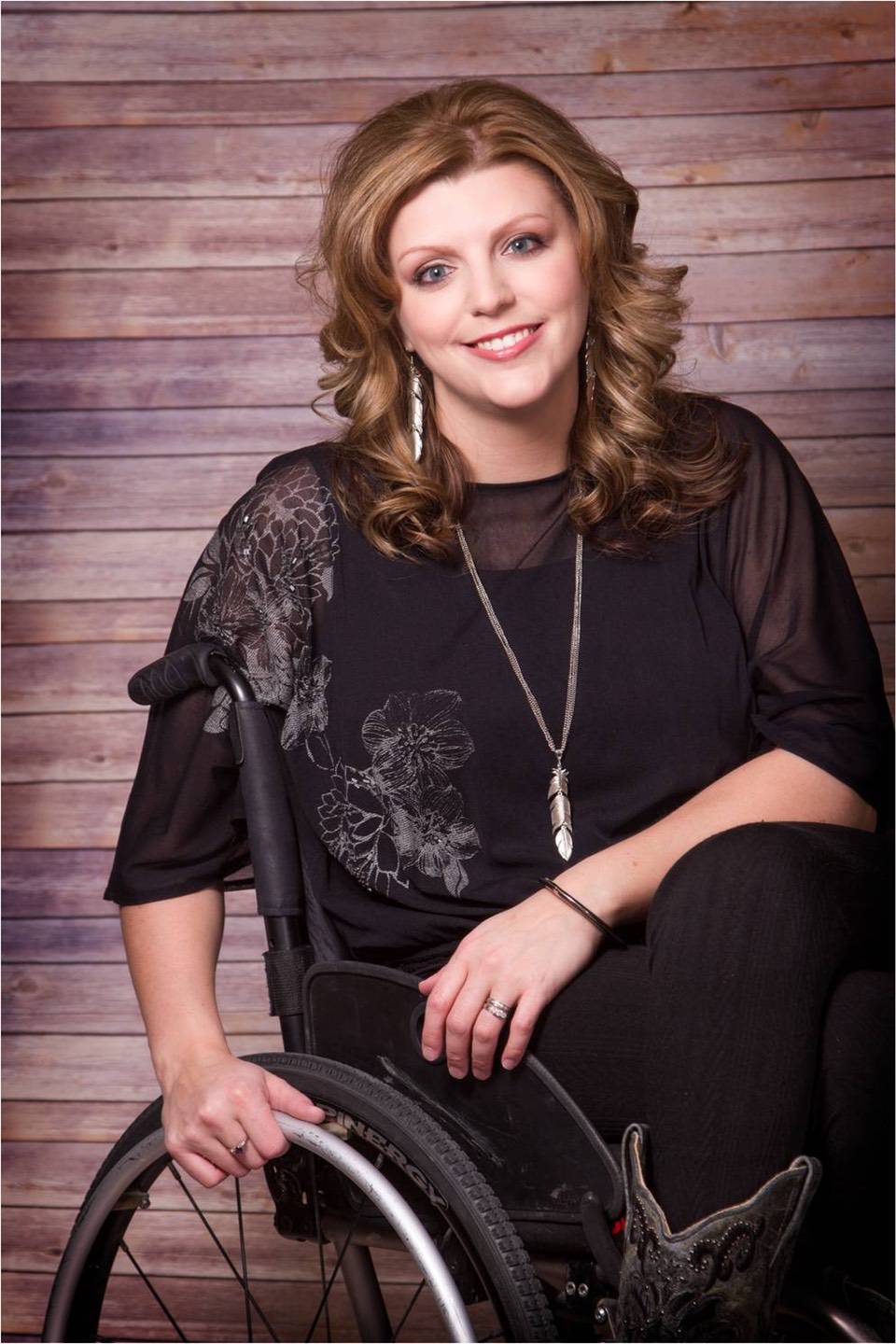 Ashlee Lundvall
Ashlee Lundvall is the author of the inspirational biography, A Redefined Life. When Ashlee was a teenager when she was injured in a paralyzing ranching accident in Wyoming in 1999. Since then, she has devoted herself to redefining her life and finding healing and adventure in the great outdoors. Ashlee is a motivational speaker, author and outdoor writer. She is a national pro staffer for Mossy Oak, and she was named the 2017 SCIF Pathfinder Award recipient. She lives in Wyoming with her husband and daughter.
What was your first gun?
My first firearm was a Springfield Armory XD MOD.2 – 3-inch sub-compact model 9mm. I bought it for myself as a concealed carry option.
How old were you when you first fired a firearm?
I didn't grow up around firearms, but I do remember shooting a neighbor boy's BB gun when I was a child. The first time I fired a firearm as an adult was when I was dating my husband. He took me out to the range and let me shoot his hunting rifle – a Remington 700 in 30-06. It wasn't a great experience, so it took me a while to become comfortable around firearms again.
Who do you credit for introducing you to firearms safety?
I've been blessed to have many mentors in the shooting and hunting arena, but most of what I've learned about firearm safety has been through experience in the field. I've taken basic hunting safety and pistol safety classes, but putting it to use in the field has taught me even more. I encourage everyone to never stop the journey of educating yourself because there is always something more to learn. I feel like I learn something new every time I go to the range or head out to hunt, and I hope that never stops!
Do you have a favorite memory from hunting, fishing, or shooting sports?
My daughter turned 7 this fall, so anytime she comes out in the field with me is a wonderful memory. I love that she is getting the opportunity to be introduced to shooting and hunting at such a young age; she's experiencing the childhood of my dreams! She shot her first prairie dog this year with her .22, and the determination she showed and the huge grin on her face afterwards will always be with me.
What gun do you wish Santa would leave under your tree this year?
I just ordered a Thompson Center Compass in 6.5 Creedmoor as a new hunting rifle, so if it gets here before Christmas, I will be a happy girl!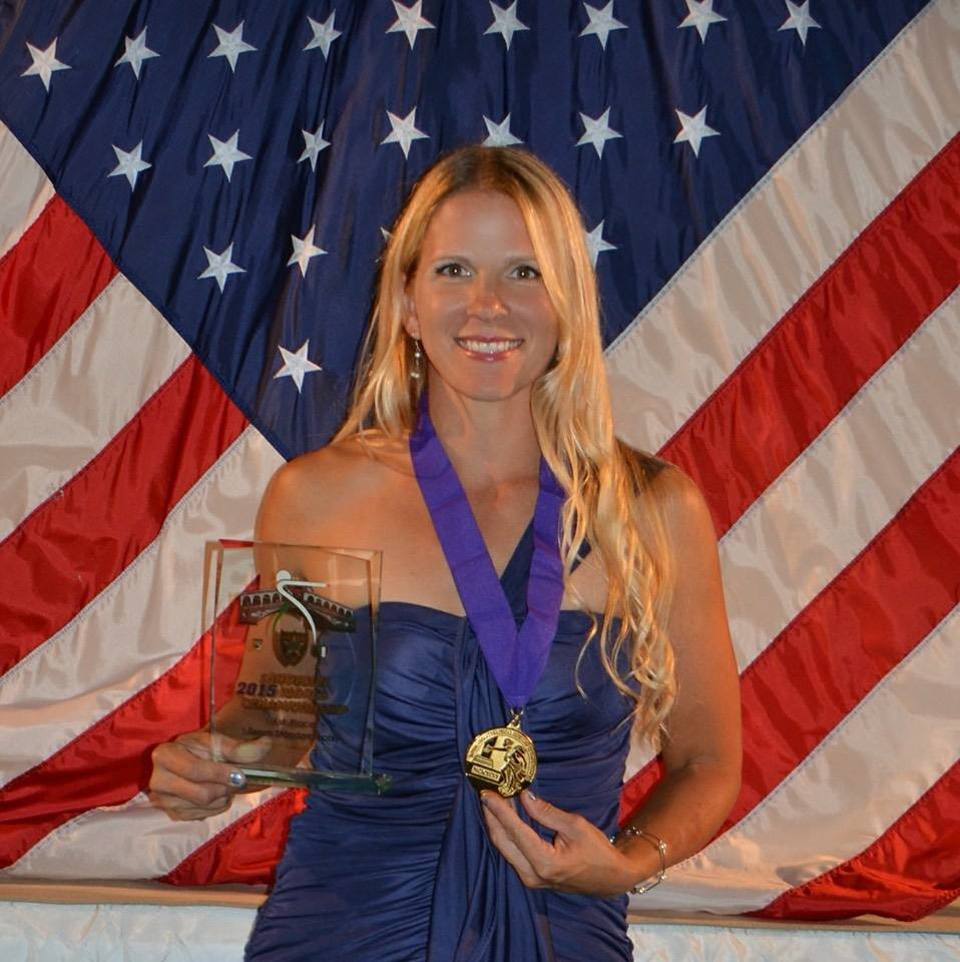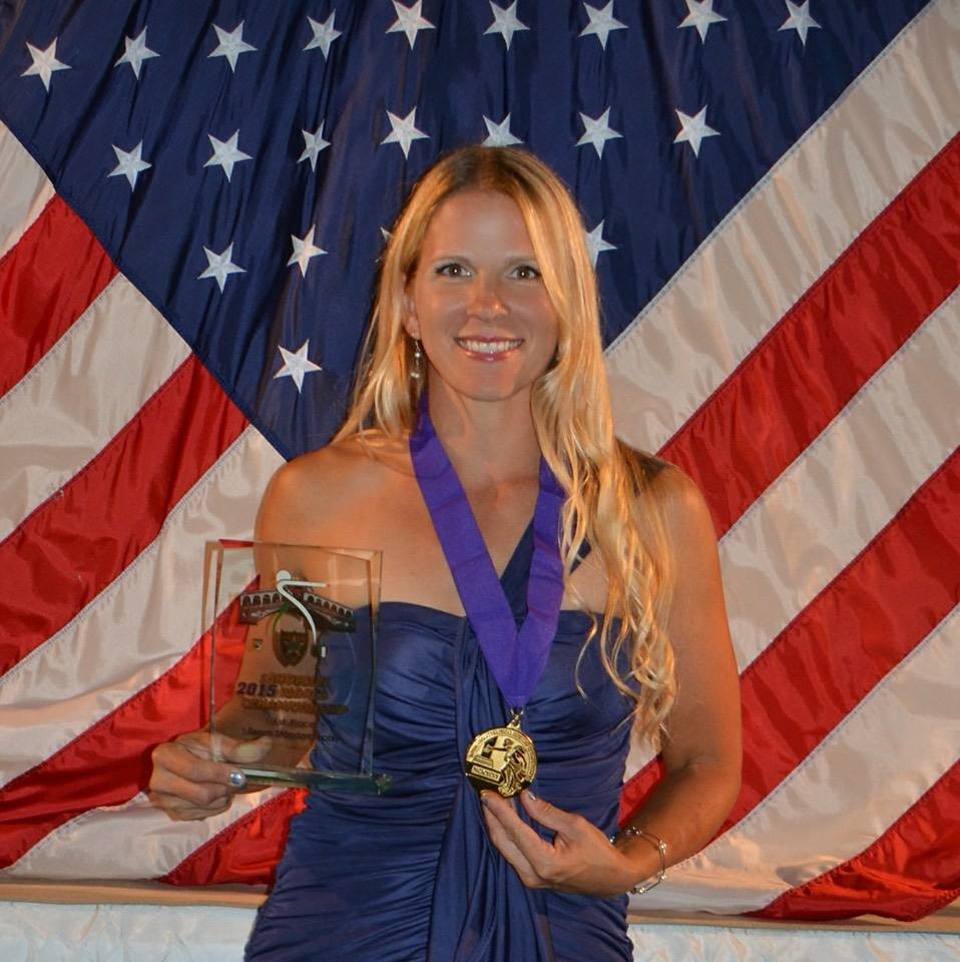 Becky Yackley
Becky Yackley shoots guns and cameras, as well as works in media for various companies in the firearms industry, and also writes for Guns America, Gun World, and Women's Outdoor News. Her shooting has ranged from high power/service rifle in her teen years, to NCAA air rifle and pistol, to USPSA Pistol and Multigun, IPSC Shotgun and Rifle, 3-gun, Bianchi and a wee bit of summer biathlon. When she's not shooting, writing, photographing, or packing for a trip with her 3 boys and husband, she's busy working on something else. Her boys have helped her work with some great talent in the shooting community to run the 2A Heritage Junior Camp where kids can learn about competition shooting and firearms safety.
What was your first gun?
My very first "gun" was a BB gun I got when I was about 8-years old, but my first firearm was a Mauser rifle that I paid $75 for. My dad put a Krieger barrel on it in .308, I worked on the stock, cutting it down from a Manlicher-style stock to a traditional length forend. Then, I wood-burned, scrimshawed, sanded, stained and finished the stock. It's my deer rifle, and me, my husband, and my 3 boys have all shot their first deer with it!
How old were you when you first fired a firearm?
My earliest memory of shooting a gun was sighting in deer hunting rifles with my dad. I was 4 or 5. He let me shoulder the gun and pull the trigger, but sat on a chair behind me to keep me from getting knocked over. I might not have even shouldered it … I just remember he was sitting behind me, and it was loud, and was nothing I would mess with without an adult being with me!
Who do you credit for introducing you to firearms safety?
My dad gets credit for introducing me and my 6 siblings to firearms and being safe with them. We hunted as a family, shot competitions (highpower and smallbore rifle), and he has gunsmithed for 30+ years. So, our family has a long history of being involved with firearms. I lot of people don't hear that when they talk to me … they think my involvement with guns started when we began shooting 3-Gun competitively, but I've been shooting competitions of one form or another since 1989! There's a lot of memories and relationships that are truly family memories.
Do you have a favorite memory from hunting, fishing, or shooting sports?
I have some funny memories of times hunting with friends in the woods in northern Wisconsin, just a group of teenagers in the woods. Sitting in the deer stand with friends. Sharing time outdoors.
If I had to pick a favorite memory, I think shooting the recent shoot-off at IPSC Shotgun World Shoot in Agna, Italy, would be my favorite, because I shared it with my oldest son, who also shot in the match and with Team USA. We're both planning to shoot the next Shotgun World Shoot in France in 2018.
What gun do you wish Santa would leave under your tree this year?
I would like Santa to enlist the elves to build me a hybrid shotgun. I envision it functioning like an AR build, where I could pick and choose what things I want – a stock fit just for me, the weight and balance tweaked to my specifications … interchangeable barrels and tubes … sigh, a girl can dream!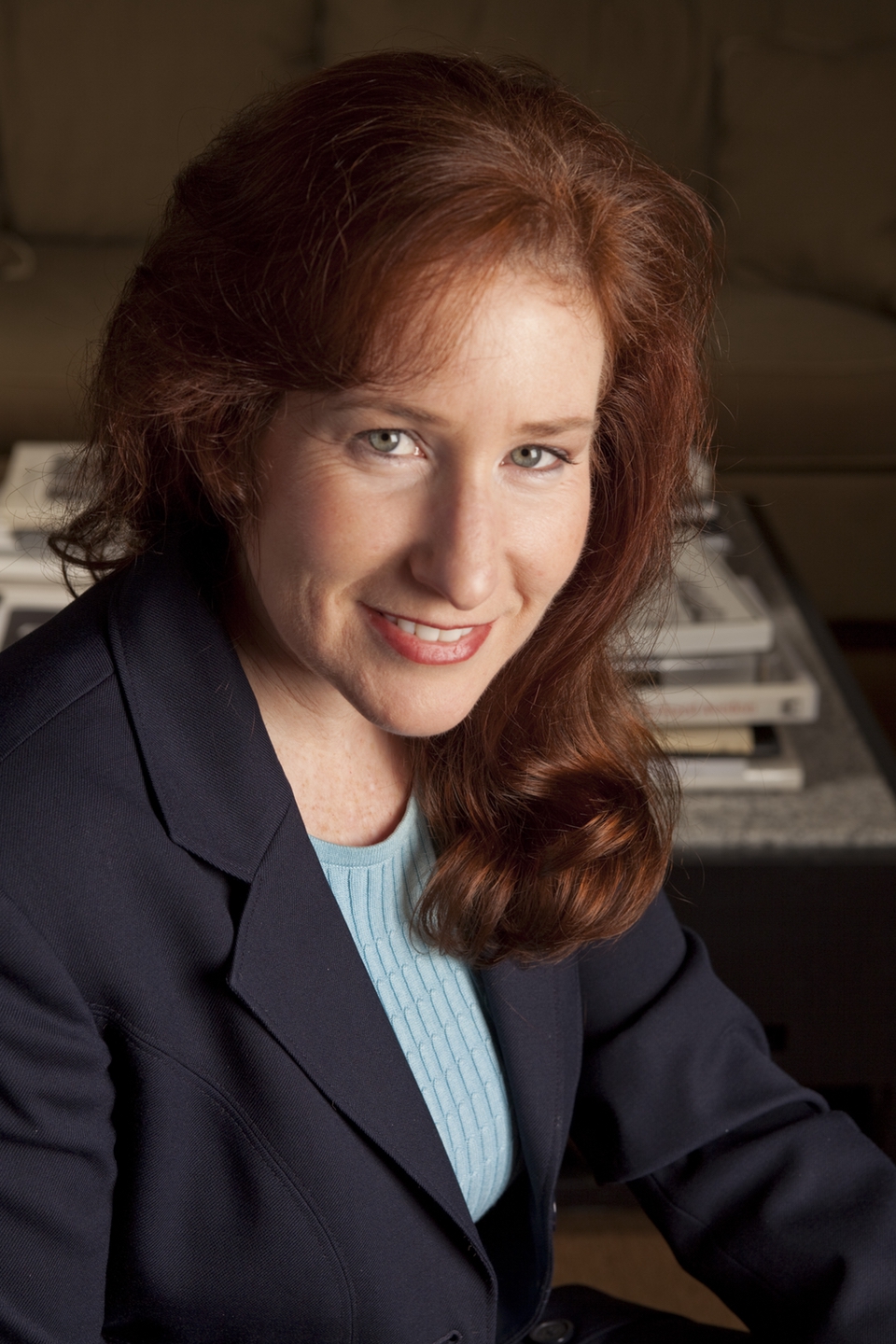 Liz Lazarus
Liz Lazarus is the author of Free of Malice, a psychological, legal thriller loosely based on her personal experience and a series of "what if" questions that trace the aftereffects of a foiled attack: a woman healing, and grappling with the legal system to acknowledge her right to self-defense.
She was born in Valdosta, Georgia, and graduated from Georgia Tech with an engineering degree and the Kellogg Graduate School of Management at Northwestern with an MBA in their executive master's program. She spent most of her career at General Electric's Healthcare division and is currently a Managing Director at a strategic planning consulting firm in addition to being an author.
Free of Malice, her debut novel, is set in Atlanta, GA, and supplemented by extensive research with both therapists and criminal defense attorneys. Her second thriller, Plea for Justice, is scheduled to launch in the spring of 2018.
What was your first gun?
My first gun was a plastic toy pistol I played with at a friend's house. We (Michelle, Jenny and I) would pretend to be Charlie's Angels. Each of us wanted to be Kelly Garret (played by Jaclyn Smith) and each one of us wanted to be the one with the gun!
How old were you when you first fired a firearm?
It wasn't until my 20s that I first shot a gun, after a home invasion and attempted rape. I took that gun, a Ruger, home the same day. That assault my senior year in college is what led me to write my novel, a psychological, legal thriller titled Free of Malice.
Who do you credit for introducing you to firearms safety?
Interesting question – my boyfriend introduced me to firearms, but I give credit to The Well Armed Woman for introducing me to firearms safety years later.
Do you have a favorite memory from hunting, fishing, or shooting sports?
My uncle had a beach house at Keaton Beach, Florida, which was about 2 hours south of my hometown of Valdosta, Georgia He would fish off the back deck and I was his little helper, although I wasn't very fond of hooking the worms.
What gun do you wish Santa would leave under your tree this year?
A SIG Legion. I've been on a national book tour this year visiting many shooting chapters which has allowed me try out a lot of new guns, including the Legion. My carry gun is a SIG P938 – just something about those SIGs.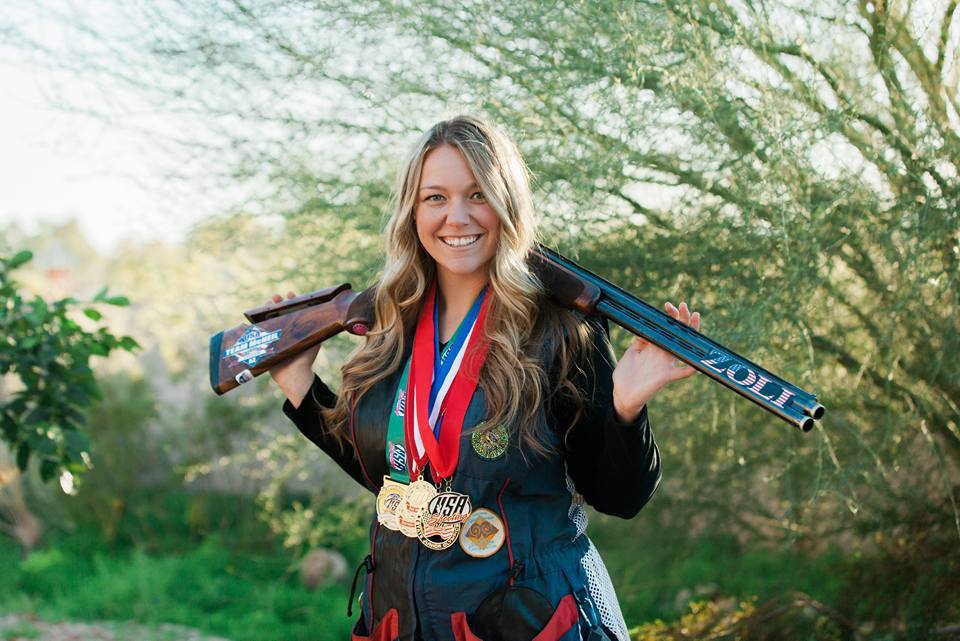 Tayler McNeil
Tayler McNeil is an International Olympic Trap Shooter and 4-time Arizona State Olympic Trap Champion. At just 21 years old, Tayler has competed on the National platform for the past 5 years and has earned recognition by Arizona's governor, Doug Ducey, as an outstanding Arizona athlete. Her recent achievements have included competing at the USA Olympic Trials, USA National Shotgun Finals, USA National Junior Olympics, AZ State Junior Olympics and USA Selection Matches for World Cup events; she has earned 14 gold and 4 bronze medals.
What was your first gun?
When I was younger I had a BB gun, I think everyone in my family did. However, I do not consider that my first gun. My first gun was a model 870 Remington pump 20-gauge. I got it for Christmas when I was 12. It was given to me by my mom and dad, and I still have it to this day. It was a great starter gun for me to understand firearms, and at the same time introduce me to shooting sports. It was the first gun I competed with.
How old were you when you first fired a firearm?
I don't remember the exact age of which I first shot a gun, but I think it was between the ages of 7 and 9.
Who do you credit for introducing you to firearms safety?
My dad, Tim McNeil, introduced me to firearm safety. We used to go out into the desert and shoot with my entire family and that is where I learned about firearms, and the safety part of it.
Do you have a favorite memory from hunting, fishing, or shooting sports?
I have a lot of favorite memories that include all of those, hunting, fishing and shooting sports. My favorite would have to be when I went hunting with my family my sophomore year of high school. We got drawn for turkey, deer, and elk. We spent a lot of time in northern Arizona and even though we didn't get anything, spending so much time with my family was the greatest part of it all. It made me appreciate the family time I get to spend with them more because I know they're always going be there with me no matter what happens in my life.
What gun do you wish Santa would leave under your tree this year?
I think I am probably the only person I know that does not want any other guns right now. However, if Santa wanted to bring me some ammo, that'd be appreciated!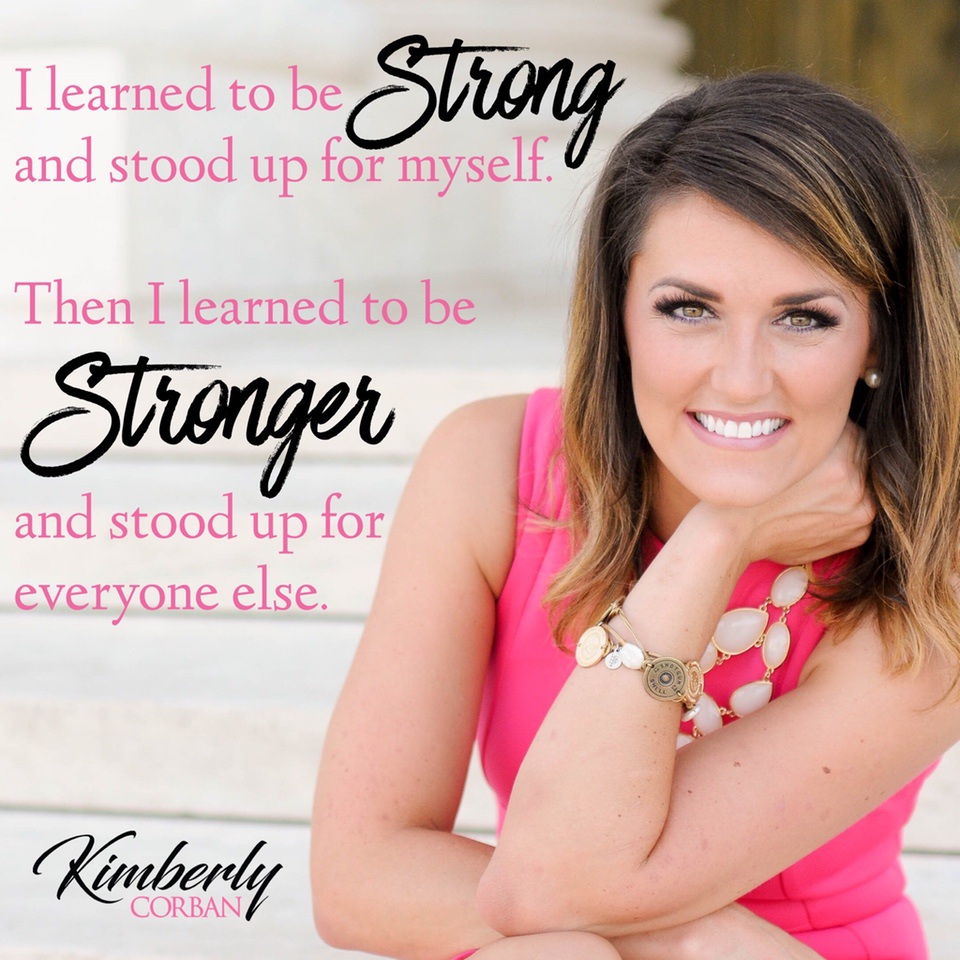 Kimberly Corban
Kimberly Corban is the Founder of Kimberly Corban Survivor. She lists the following descriptive phrases to her life story: national speaker, mother, sexual assault survivor, Second Amendment advocate, DC Project delegate and Townhall.com contributor.
What was your first gun?
I didn't have my own gun until I was an adult, but my grandpa let us kids use the BB gun on his farm in Illinois from about the age of 8 on or so. I don't remember the gun, the model, the manufacturer, any of that. I remember the feeling of doing something fun and safe with my family.
It takes me right back to that happy state of mind where self-defense, politics and violence had no place in learning about these tools. Back when guns weren't vilified, but evil-doers were.
How old were you when you first fired a firearm?
I was probably 7 or 8 the first time my dad helped show me how to hold and use that BB gun. Not gonna lie, one summer my brother and I were put to task to take care of the rampant ground squirrels ruining my grandma's garden. I can still hear her huffing and puffing over the kitchen sink as she looked out the window cursing those darn things.
We mostly stuck to paper targets but on occasion, we got to take the 4-wheeler down to the hedge with my dad or grandpa and take aim at different types of trash. Nothing that might ricochet, because after all, "you'll shoot your eye out, kid!"
Who do you credit for introducing you to firearms safety?
I can't credit just one person for introducing me to the safety aspect surrounding guns. Though I grew up in Colorado, my entire extended family are all from rural Illinois. I grew up with a healthy respect for firearms and knew they were just a part of everyday farming and country life. It was a collective effort at safety where everyone knew their utility and respected their presence. I started looking into the actual nuts and bolts of handgun safety in my mid-20s, but the foundation of respect was rooted within me from my childhood.
Do you have a favorite memory from hunting, fishing, or shooting sports?
I have fished since before I could walk. I'm no snob, I will drop days-old chicken gizzard on a bottom-dragging line off a dock in the middle of the night in search of catfish at my Aunt Diane and Uncle Mark's pond with the same excitement as casting my fly line into the Yellowstone river and hooking a nice sized brown trout.
We had fished the entire day without luck on our Yellowstone family vacation and on my last cast when my parents and brother were ready to call it a day. I said I had something on my line. Dad says, 'No, you don't.' I told him I really did this time, it wasn't another snag, and he replied, 'Well then, reel it in!' (A phrase we still taunt him with to this day.)
Low and behold, a big, beautiful brown trout was in my net in no time and my goofy excitement at about the age of 9 was palpable. My adolescent, snaggle-toothed smile for a picture is still a family favorite.
What gun do you wish Santa would leave under your tree this year?
Dear Santa,
I have been very good this year. Mostly. Except for that one … you know what, never mind … not important.
I'd love to branch out from my handguns (Sigs, all the way) and add an AR to my family's collection. I will be the first to admit I have a lot to learn about that platform, but want to start training with them in addition to what I've learned about pistols and concealed carry.
My dad and brother are asking me to come out goose hunting with them more often and though I've been to their pits and taken pictures of their hunts, I haven't done any kind of waterfowl hunting myself. I see a shotgun in my future as well … and some Pinterest recipes for goose meat!
Whatever you have one your holiday gift list – whether it is more guns, your first gun, ammo, a new holster, or more training, I hope you get what you are asking for. Have a safe and Merry Christmas, Happy Hanukkah, Joyous Holiday Season and enjoy many Blessings in the New Year!
About Cheryl Todd

Cheryl Todd is the executive producer and co-host of "Gun Freedom Radio," owner of AZFirearms Auctions, Pot Of Gold Auctions and founder of the grassroots movement Polka Dots Are My Camo. Cheryl is the Arizona state director for The DC Project and travels the country speaking as a champion for our Second Amendment rights. She is a driving force in preserving the legacy of freedom for generations to come. View all posts by Cheryl Todd →