She Guides: Meet Sue Entsminger, Big Game Guide and Trapper in Alaska
Sue Entsminger is big game guide and trapper in Alaska with more than 100 successful sheep hunts under her belt. When she's not on the mountain, she's trapping, sewing furs, helping her husband with his bronze art and running their family guide business.

She Guides is sponsored by Remington Outdoor Company
I loved the outdoors from probably the day I knew there was an outdoors.
I grew up in a hunting family. I was a middle child of 5, 3 boys and 2 girls. We were close in age and would all go out hunting together. There was just this whole outdoor rural lifestyle growing up on a dairy farm – from barn work to driving tractors and working the fields. My sister and I were carrying milk out in the barn when we were 6 and 7-years old. My dad took us to my uncle's NRA-approved shooting range where I started in the NRA program when I was 9-years old. I shot in many competition matches, earning many medals before finishing at age 19. I remember begging my dad to skin animals after watching him. We did all our own butchering; I enjoyed the whole process of both our farm animals and the wild game we harvested.
By the time I was a teen, I just had it in my head that I wanted to live in a sparsely populated place.
I originally thought Wyoming sounded good … until I looked at Alaska. I ended up moving to Fairbanks, Alaska, in 1973, where I eventually met my husband. I was interested in taxidermy and he and his partner had a taxidermy shop outside of town. I walked in their shop, first intrigued with their work. and second. looking for a job. I was hired to make paper mache forms. Frank loved the outdoors as much as I did; we were drawn to each other. We moved to Frank's A-frame cabin in a remote area of Alaska. Six months' later, fire took our home. Frank told me of all the places he's been in Alaska, he wanted to live on the Tok Cutoff. A biologist from that area brought him a 40-inch, road-killed ram and that was the place he wanted to live. That spring I found an old homestead near that area deep in the Alaska Range, which is 34 miles south of Tok, Alaska. This place met my very sparsely populated dream and has been home since 1977. We spent months each year hunting for ourselves, which gave me the experience to be a guide. Frank assistant-guided a few times in the early years where I had gone along as camp cook.
We were self-employed taxidermists. Then we started trapping and I later started my fur-sewing business.
I was helping Frank with his taxidermy by preparing hides for mounts when I began my fur business. Before the first electric pole came, we survived 32 years with propane lights, then later a small generator and solar. After years working taxidermy, trapping, furs, and seasonal commercial fishing, we got into guiding.
Eventually my son, Matt, became interested in being a guide.
We raised him in the rural lifestyle and he went with us to a few guide camps growing up. He started working for a guide friend and got his registered license after 4 years. Then, I decided to help him out by getting my assistant guide license. My husband re-upped his. In 1994, we both started helping Matt with his guiding business – specializing in dall sheep hunts. An Alaska backpack dall sheep hunt is one of the hardest hunts in the world, carrying camp, food and equipment on your back.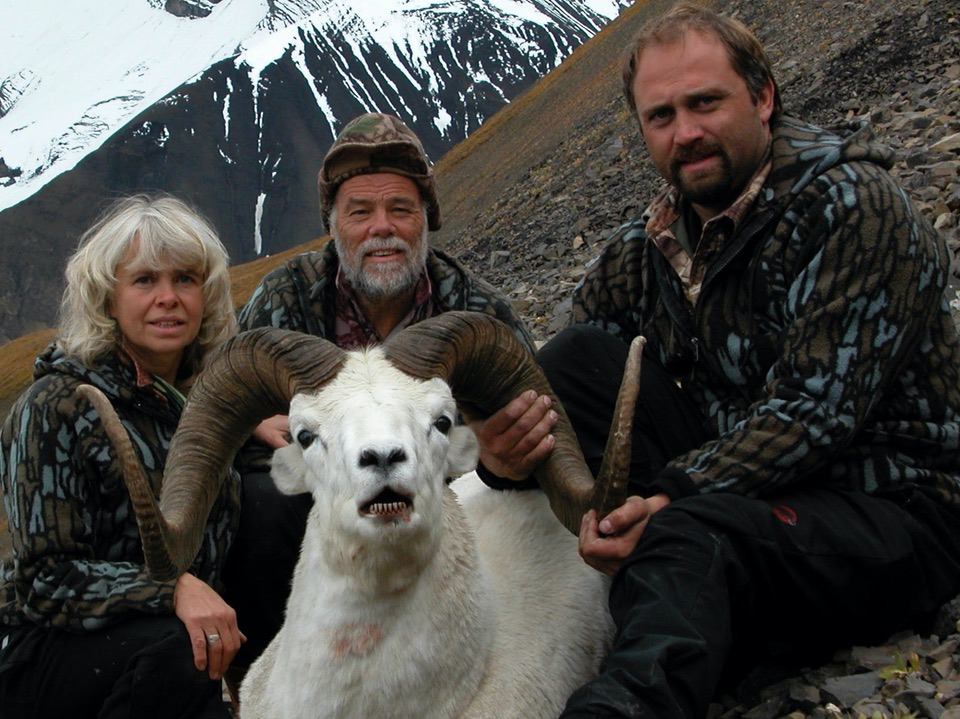 My passion is Dall sheep hunting, along with my family.
I have helped hunt and pack out 116 successful sheep hunts of clients, family and personal friends. I killed my first ram on my 24th birthday in 1975 and personally have taken 23. One of my most memorable hunts was when I guided my son on his first successful sheep hunt at age 11. Other special memories were taking a women friend at age 62 when I was 30, and taking my dad at age 70 with my son. I was then honored by a guide friend, Dick Gunlogson, when he asked me to guide his daughter Liz on her first sheep hunt at age 36 for a coveted Tok Management Area sheep tag, an area I knew well.
Hunters would call Matt to book a hunt and he would say, 'My mom might be your guide.'
One of the responses was, 'That's OK…if she knows how to take care of the hide!' He'd tell them I was a skin sewer, taxidermist and a trapper … so they would be OK. He tells them ahead of time so they're not surprised. It was the end of the '90s when I really was guiding full-time helping Matt. When I was younger, a lot of times I had to give pep talks to the guys during the hunt like, 'You can do this. It might seem hard, but you can do this. It's a mind thing.'
I've had some close-to-near-death situations. Yeah, they leave you with a memory.
One of the scariest might have been when I was following Frank on a nearly 45-degree slope and I slipped on 8 inches of fresh snow. I was on my butt sliding and trying to dig in my heels, but I did not stop. I yelled for Frank, immediately realizing, "What the hell was he going to do but watch?" I must have traveled over 200 feet, approaching a 100-foot vertical cliff. I panicked and rolled over on my stomach where my hand caught in a marmot or squirrel hole [I believe God put it there for me] and my tripod's pointed legs stuck. I was 15 feet from going over that nasty cliff. Hyperventilating, I gained my composure and was able to inch my way out of there.
Gosh, that reminds me of another scary situation. Frank, Matt at 15, and I were sheep hunting on one of the highest peaks around waiting for the fog to lift on a snowy cold late August day. We pitched the tent at dark on a horrible spot on top a knife ridge. It began to snow, lightening and thunder. The wind came up and blew our tent fly apart, twisting the main tent poles, trapping us in a confined area with snow covering our legs and drifting above the tent on the other side. Frank said he knew we needed to see to get out of there so we could not leave until daylight. During the night, each one of us would get out and keep picking up rocks to make a protected barrier from the wind. Matt's sleeping bag was soaked. By morning, we got out of our bags, boots on, grabbed our sleeping bags leaving the rest and headed off that ridge. The snow had piled up nearly a foot. It took over an hour with the wind hitting our wet blue jeans like needles on our legs. Once we broke off the ridge, we saw sheep tracks, but we were on a mission to reach timberline to build a fire.
Another one of my most memorable hunts was when I took my nieces out – 10 and 12-years old – and they each got their first rams.
They did great. We were crossing streams over and over again. To save time, it got to where I would pick the little one up by her pack, with my pack on, too, and carry her across. She said, 'Oh, Aunt Susie, you're so strong!' It was one of those memorable hunts for everyone. I think the girls each packed out 35 to 40 pounds in their packs. Another memorable hunt was taking my dad with my son when Dad drew a Tok Management area permit bagging a 40 incher. Three generations of sheep hunters all together. I remember being at the Eastern Wild Sheep show with my dad at my side, showing this hunter a photo bragging about my dad's hunt, when I noticed a tear in my dad's eye. I lost him 5 years after that. Brings a tear to my eye.
I retired from guiding sheep clients 3 years ago at age 64, but not that I can't be persuaded.
I don't want to carry 100-pound packs anymore and I just feel like I'm not giving the client my best. I would still love to guide a women client before I get too old. I haven't stopped sheep hunting, though. I continue to take out youngsters and hunt with family and friends. I am concentrating on our guided bear hunts in the spring for grizzly, black and cinnamon bears.
Women and children are the future. If women and young people aren't involved in hunting, we'll lose it.
It's vital that kids get away from their bloody cellphones and get out and get hunting. It's fun for me to get the youngsters out in the mountains for summer hikes. You take them out backpacking and they don't realize how hard it really is, to them it's so fun. As they get older, they think it is hard! The mind thing comes in to play. For me it is important to introduce young people to hunting. The future of hunting is in them. One of the most humbling experiences was in 2016 when the National Wild Sheep Foundation surprised me with their Artemis Award. I honored to be in a group of incredible women who do so much for the future of sheep hunting.

Remington Recommendations:
For our bear hunts, I recommend a .300 or larger. I have a lightweight 300 short mag. For sheep, we use anything flat shooting, a .243 or .270 is perfect. I love the .270 because you can use it for everything and I used one for many years. I had a Remington stainless steel barrel and fiberglass stock that I got as a tip from a woman client. I liked 130 grain bullet for sheep and 150 grain bullet for moose and bear. I love my lightweight 300WSM now and I use it for everything.
To Book a Hunt:
Alaska Hunting Adventures
Sue Entsminger, specializing in spring bear hunts
907-883-2833
Cell 907-310-3514
Matt Snyder, her son, specializing in Dall Sheep akhunting@hotmail.com907-883-3083
Cell 907632-1666
About Courtney Nicolson

Courtney Nicolson is an outdoor writer, hunter, and angler based in Denver, Colo. She is an active member of numerous conservation groups and is passionate about empowering women in the outdoors. Courtney is the senior producer/editor for Outdoor Sportsman Group Networks. View all posts by Courtney Nicolson →
The Conversation