Retro WON: She Spends Her Off Season on the Water for Exercise
When I am not hunting, I am thinking about hunting—and that includes being physically prepared for the fall season. Even with my adaptive equipment, being in good shape makes hunting adventures easier for me and for anyone assisting me. That said, I have to be honest: I don't like traditional exercise. I know women who crave their gym time, but I have a short attention span, and I've never done well with canned workouts.
Instead, I like to trick my brain into exercising by finding fun outdoor activities that burn calories and get my heart pumping while not feeling like actual exercise. That's where kayaking comes into my routine. With my spinal-cord injury, I don't have very good balance, but I do have excellent upper-body strength. As long as I have a sturdy, comfortable back rest, I can out-paddle most people. Canoes are out of the question, but kayaks are the great equalizer. When I am on the water, I feel incredibly free, and my disability has no bearing on my ability to have fun and get an amazing workout.
Several years ago, my husband and I started looking at purchasing our own kayaks. We rented them for a while to see if it was an activity we could sustain, and as we fell more in love with it, we took the plunge. We knew we didn't want anything fancy: Simple, recreational kayaks would be perfect for us. Cabela's was running a summer sale on a style we liked, so we headed out to purchase our Old Town boats. It was a decision we have yet to regret.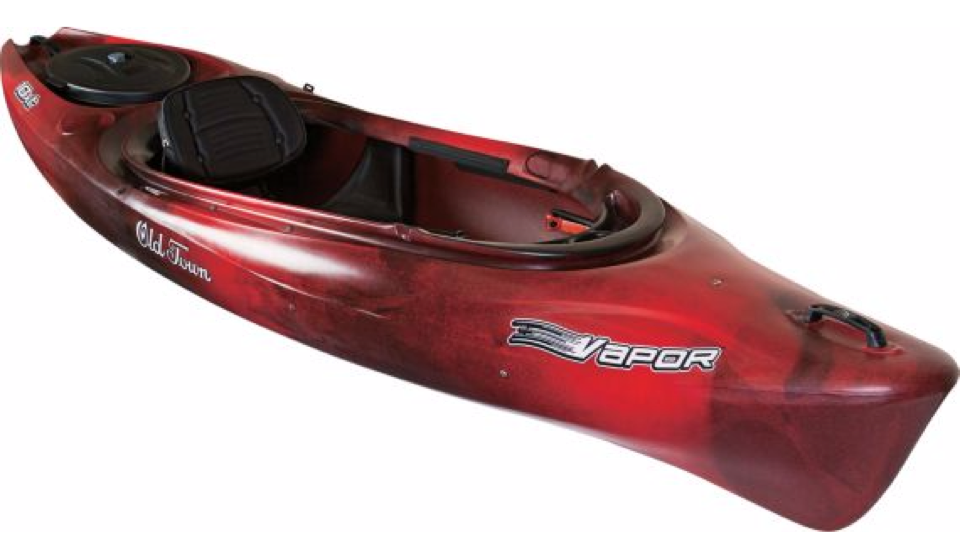 Old Town Vapor 10XT Kayak MSRP: $509.99
There are many reason why I think that kayaking can be a fantastic addition to anyone's attempt to stay healthy and exercise. The first is the flexibility of the number of people involved. If you want to head out in a pair or a much larger group, your numbers don't limit your opportunity. I wouldn't recommend going out completely alone for safety reasons, but there is no need for a large team, which some other activities require.
Kayaking also doesn't require any expensive training classes. Besides learning the basic safety precautions, anyone can put a kayak in the water and figure out fairly quickly how to make it move. If you want to go from recreational kayaking to something more advanced, like white-water kayaking, you will need to research classes. But if you can use your arms, you can kayak recreationally in an easy manner.
For those that do need more assistance with upper body movement, adaptive kayaking is also available. The American Canoe Association provides a wonderful example in the adaptive recreation industry, training instructors and program providers in the best practices of inclusive paddle sports, as well as sharing valuable resources and links to adaptive equipment and funding grants. If you want to become more involved in kayaking, your abilities don't have to limit that desire.
Ripstop Life Jacket for Dogs by Outward Hound XL MSRP:$27.99
Finally, I love the diversity of experience that kayaking provides. You can launch into a river, pond, or larger body of water. Some places that beg to be explored can only be reached by boat, and a small kayak can maneuver into areas larger craft could never manage. You can also combine fishing with kayaking, and get a great workout and a delicious meal all in one activity. We strap on our dog's life vest and take him out as well. He likes to ride in the kayak, swim beside it, or chase sticks from the bank as we warm up. Every time you slide into your kayak, you can be assured not only of getting a strong workout, but also a fun adventure that is new each time.
Kayaking may not be for everyone, and there are a few downsides to this sport. Weather can play a factor, as we recently learned while out on a local reservoir. When a lightning storm developed suddenly, we were forced to abandon our fun and head home, reminding us that kayaking is definitely more enjoyable on warmer, clear days. We are fortunate enough to live where we have access to unlimited waterways, but some people don't enjoy that luxury. And while daily trips in your kayak don't require additional costs like fuel or permits, the initial cost can vary, depending on the boat you choose.
Exercise and a Healthy Lifestyle
I love kayaking, and I am enjoying sharing that passion with my 6-year-old daughter. We recently let her paddle solo for the first time under close supervision, and she did an amazing job, especially considering the kayak dwarfs her. Her experience is further proof that anyone can enjoy this activity, and without even realizing it, get in a great workout and some exercise in the process.
Check out some kayaking tips at The WON here.
This Retro WON first appeared July 20, 2017.
About Ashlee Lundvall

Ashlee Lundvall writes a blog titled "Redefining Life,"  that follows her rise from a debilitating injury as a teenager to Ms. Wheelchair USA in 2013. Her first book, "A Redefined Life," was published in February of 2016, and she is on National Pro Staff for Mossy Oak and the NRA's Disabled Shooting Sports committee. Ashlee is also the recipient of the 2017 SCI Foundation Pathfinder Award. Ashlee truly shines as a keynote speaker at outdoor industry and disability related events and conferences. She is passionate about mentoring newly injured patients, and loves to pass on her love for adapted outdoor recreation! View all posts by Ashlee Lundvall →