She Guides: Tips for Hunting Sheep in Hawaii
Hunting sheep is known to be challenging, no matter where you are hunting. Sheep travel in herds and have great eyesight. These 2 factors, combined, make hunting this species extremely challenging. Recently, I had an opportunity to hunt feral sheep on the Big Island of Hawaii. Here are a few tips that I would like to share with any hunter planning a sheep hunt on the Big Island.

She Guides is sponsored by Remington Outdoor Company
TIP #1: BOOTS
From experience, one of the most important items to have on this hunt is a good pair of hunting boots. Depending on what part of the island you are hunting, the terrain can vary from loose lava rocks, to rolling grass hills and even cinder. Walking on lava rocks the size of potatoes and trying to balance on them can be extremely challenging, as many are not permanently connected to the earth and can move under your feet. For this reason, I recommend using a high-cut boot, as this will decrease the potential of you rolling your ankle. Another important aspect of the boot is its outsole, which should have a lot of traction for a better grip. Lava tends to break and wear down the bottom of shoes, so it's important that your boot is durable and strong. On my latest sheep hunt, I wore Danner's Wayfinders and they worked great as they incorporated these important aspects.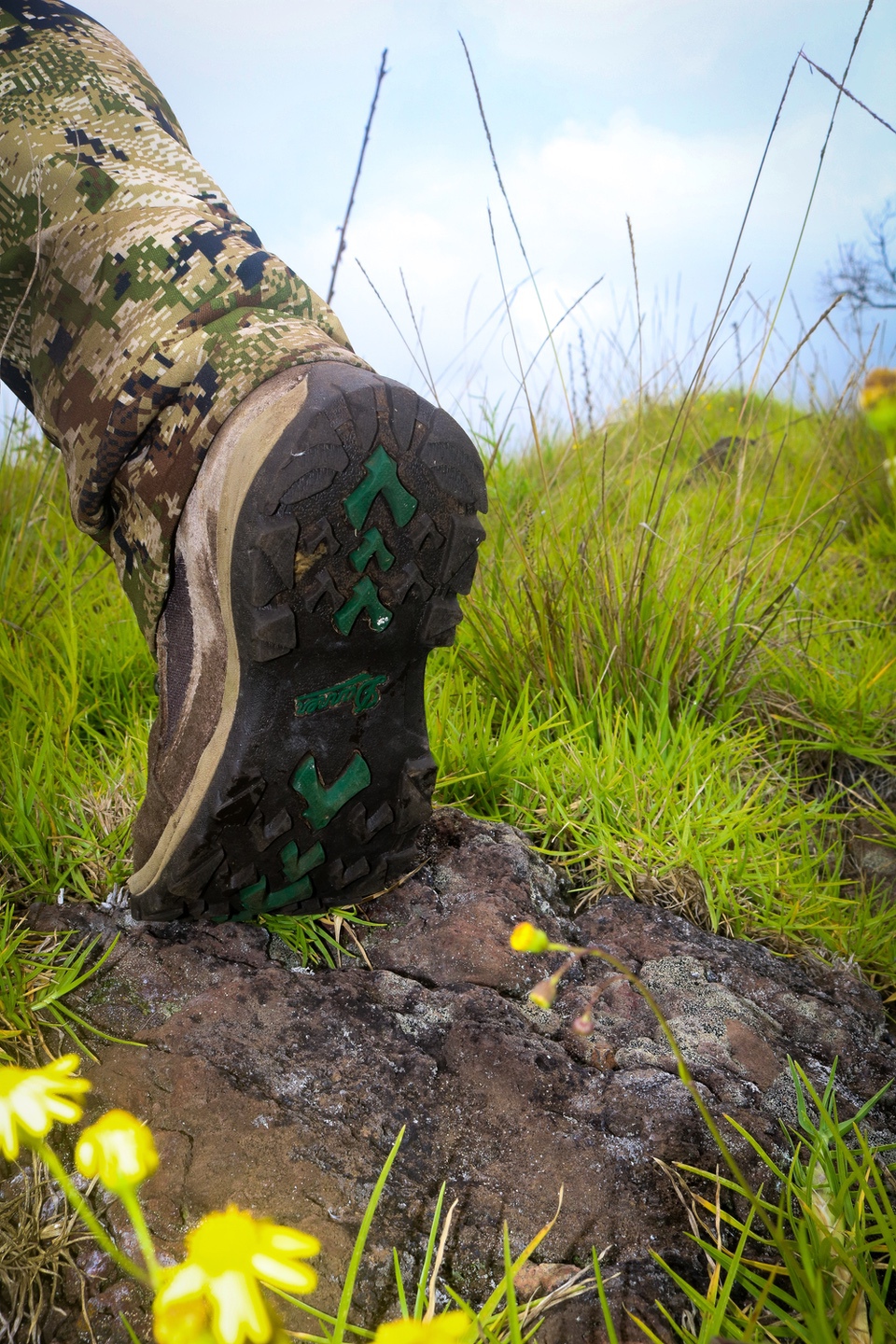 TIP #2: PRACTICE
Another tip I have for hunters in preparation for a sheep hunt is to practice using shooting sticks from different positions. Sheep on the Big Island tend to be constantly grazing and moving. It's a good idea to be comfortable with placing your rifle on shooting sticks (or a rest of choice) and being able to find your target quickly in the scope. It is important to practice this in all positions, because you never know what the hunting situation may entail. During my hunt, I was on the sticks in a standing, sitting and prone position.
TIP #3: CAMOFLAUGE
Since sheep travel in herds, it means on every stalk there is a high likelihood that there will be a lot of eyes which can spot hunters. Because of this, it is vital that you have the right gear and camouflage. On any hunt, it is important that your camouflage helps you blend in with the environment around you and sheep hunting in Hawaii is no different. For my sheep hunt, I used Sitka's Women's Core Lightweight Crew long sleeve and the women's Timberline pants in the Optifade Subalpine color. This is a great pattern to hunt in while in Hawaii because of the vibrant greens that match the grasses, as well as the black which blends in with the lava rocks. The set is also lightweight and breathable which makes it ideal for Hawaii's humidity.
TIP #4: DON'T GIVE UP
Another tip for hunters who are planning to hunt sheep on the Big Island is not to give up. By this, I mean do not give up on your ram. Within the terrain, there are a lot of little gullies and pockets that rams can go into while walking. Instead of looking away and giving up on the ram when it disappears into these little pockets, I recommend hunters keep viligent watch on the area. The ram can pop out of these little gullies at any time and provide you with a shot opportunity and you want to be ready.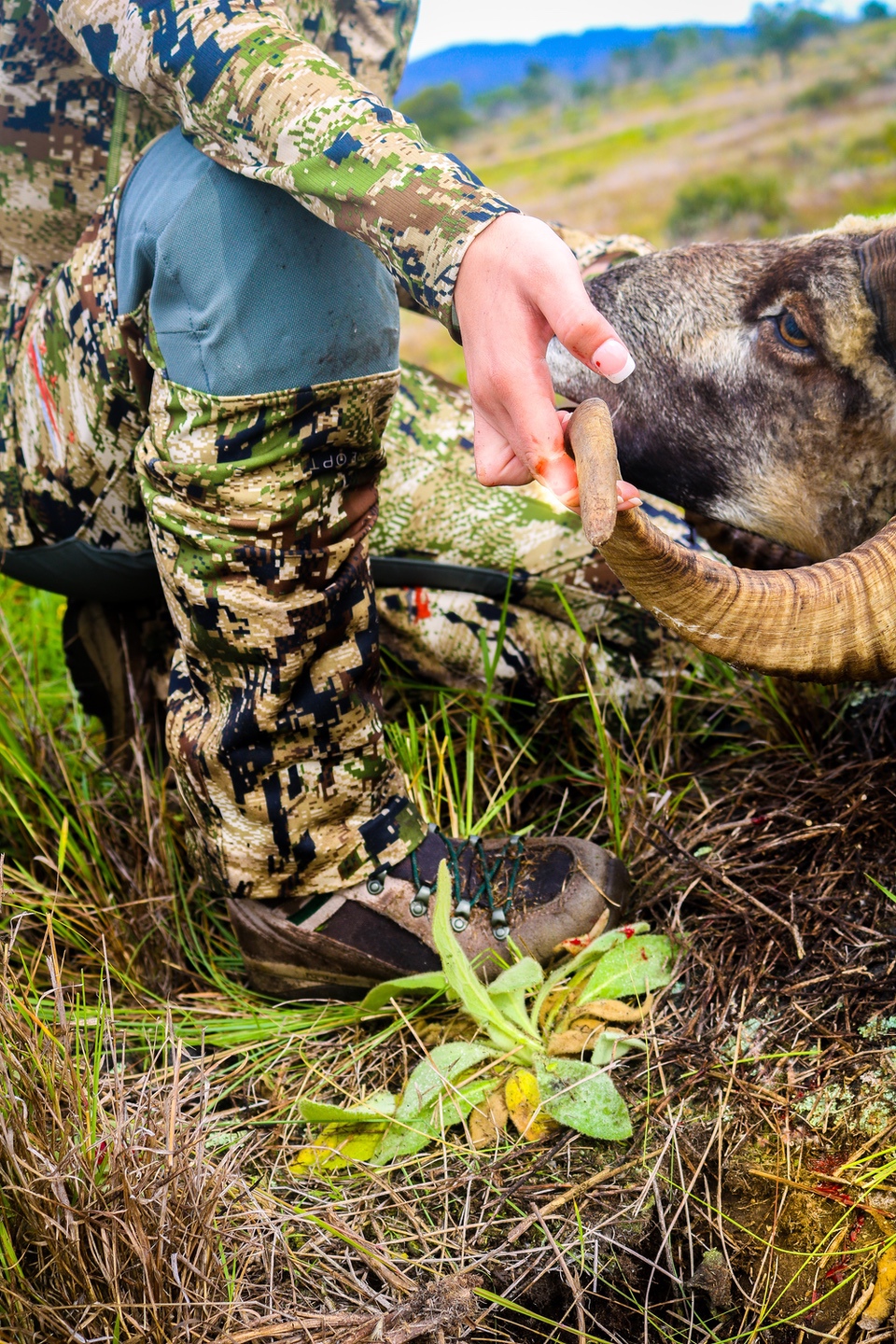 TIP #5: DO YOUR RESEARCH
There are many options when planning a sheep hunt to the Big Island. Whether you want to hunt on private land with an outfitter or on public land, it is important to do your research to make sure the hunt that you are planning is the right hunt for you. Depending on the outfitter, you can have different styles of hunts, sizes of rams, varying difficulty, etc. Because of this, I highly recommend checking in with references from other hunters before booking with an outfitter. That way you know what you are booking and know what to expect when arriving for your hunt.
About Emily Perreira

Emily Perreira was born and raised on the beautiful island of Maui. She began hunting at the age of 5, on trips to Texas. The once pastime and hobby has now become a great passion. Selected as the 2016 Safari Club International and Cabela's "Young Female Hunter of the Year," Emily is a licensed guide for Maui Hunting Safari and hunts every opportunity she gets. Watch for her trending reviews on modern hunting gear and firearms. Emily pens "She Guides," a column that features hunting tips and tactics, sponsored by Remington Outdoor Company. View all posts by Emily Perreira →