Retro WON: 6 Decorating Tips for a Sporting Christmas
Heritage Game Mounts' Rita Schimpff describes 6 decorating tips for a sporting Christmas.
Use your taxidermy
Group your pheasants, ducks and other game birds with greenery, ornaments and loose feathers for a super dramatic entrance. Or, place your decorated mounts above a hutch or cabinet top.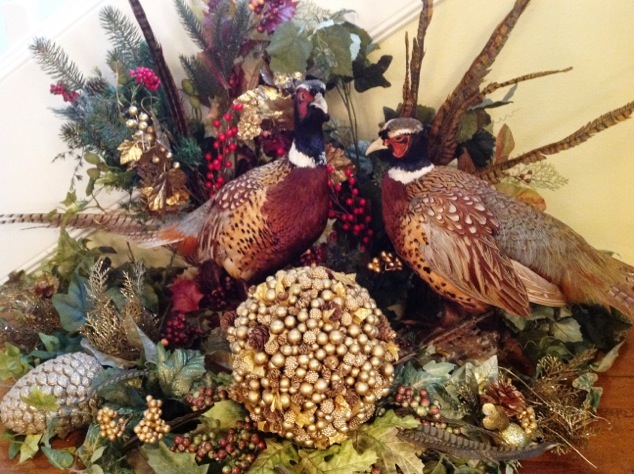 Use your turkey and pheasant feathers to accent your holiday table and napkins. For reference on how to decorate with wild turkeys, please visit my Thansksgiving post.
It is said if you are lucky enough to find a bird's nest in your Christmas tree, then happy, healthy and prosperous you will be! I have a little wren that builds a nest every year in my front wreath. I think "found" nests are good luck, so I like to bring them inside all year and at Christmas, I place a piece of holly in one and tuck it either on the mantle or on our tree.
Use your water fowl decoys (when not in use)
Tie a tartan bow around the neck of your ducks and geese, and group them in a bed of pine.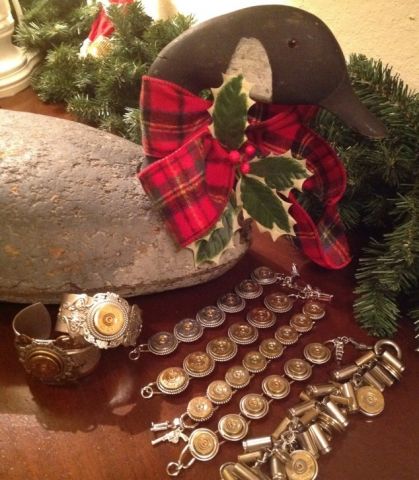 Also, if you like those bracelets in the photo, be sure and check out the sporting Christmas gifts at Heritage Game Mounts. Pictured here is a selection of bracelets made from re-purposed shotgun shells and bullet casings, starting at $75. Also, we offer handsome bullet writing pens made from exotic woods and .30-caliber casings, starting at $40. All products are made in the USA.
Use fishing tackle and lures
Creels and nets and old lures make wonderful Christmas décor.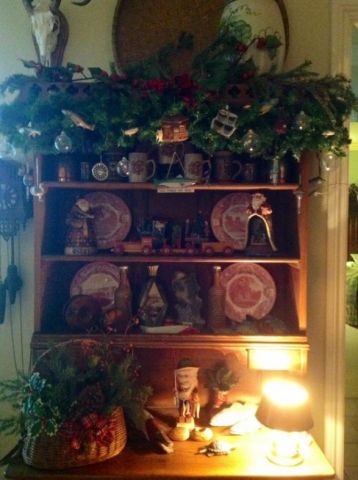 I dedicate one hutch for an all-out fishing Christmas with fishing Santas, ornaments, flies, lures and creels. Greenery is placed around the top of the hutch and secured with tartan ribbon, then old lures and special fishing-themed ornaments we have collected from different fishing trips are hung with care. This year I will sprinkle lights among the ornaments.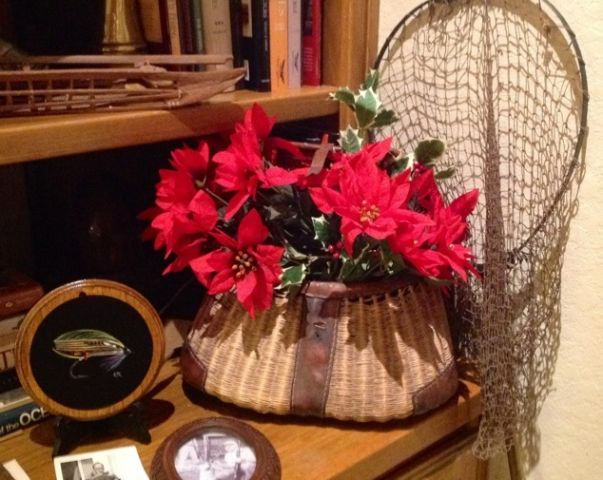 Fill creels with bright red poinsettias and faux holly and add an old fishing net. Or fill your creel with a mixture of fresh greens, holly and pine cones. Make sure and put the greens in a waterproof container – it will protect your creel and the greens will last the whole season.
Use your sheds and antlers
Use sheds and antlers on your mantle with fresh or faux greenery, pine cones, twigs and branches. And throw in those gorgeous pheasant feathers, too. Fallow and Axis antlers are beautiful as well!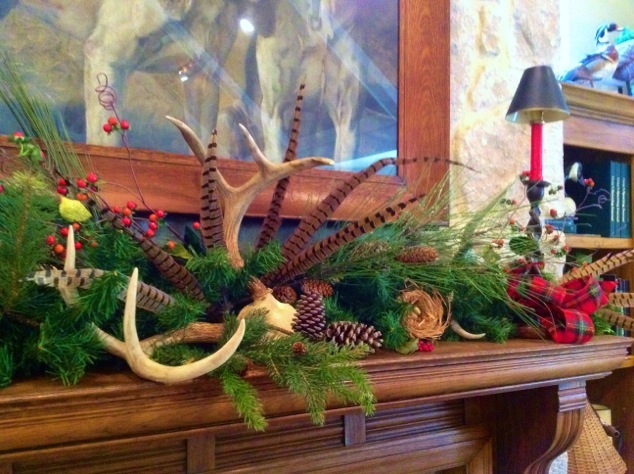 Gold leaf a shed for an accent in key areas and of course on wreaths, as I described in my Black Forest style column here recently.
Play up the horse-and-hound motif
Here, we pay homage to the equestrian sports – think of all the possibilities with boots, saddles and bits.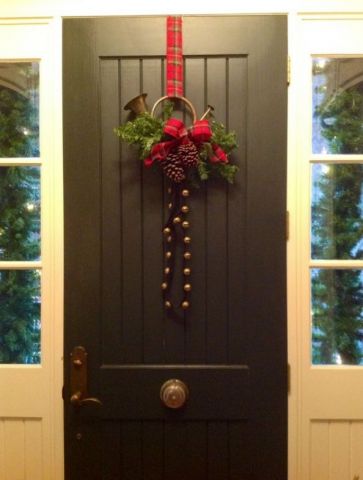 A favorite Christmas decoration of mine is my family's antique sleigh bells grouped with a hunting horn, tartan ribbon, greens and pine cones to accent the inside of the door. New sleigh bells also are available and what a beautiful sound they make every time the door opens to greet guests. The inside of the front door should look as festive as the wreath on the outside!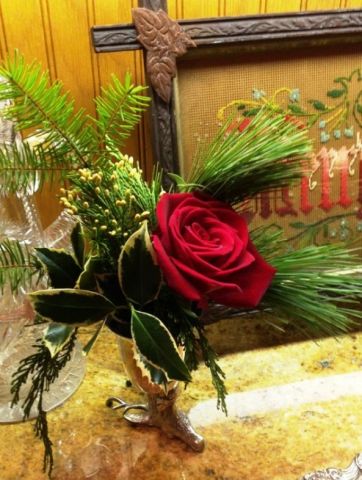 A stirrup cup comes in many motifs — such as a horse, hound or stag — and is used for a libation toast prior to the fox hunt. Here, a small stag cup holds a simple tiny arrangement that lasts all Christmas; you need only to replace the water and the rose once or twice. Use available season greens and a small bit of oasis to hold the arrangement in place and supply water.
Remember our canine field companions of yesteryear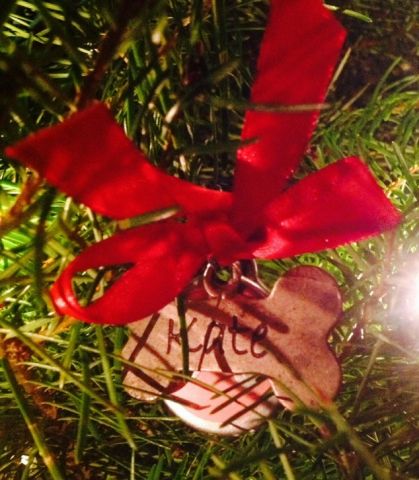 I like to remember all our canine field companions that have crossed the rainbow bridge. We also remember our horses and cats, too. We take their well-worn tags and collars and tie on a red ribbon to place each year on our Christmas tree.
Get more inspiration at Heritage Game Mounts.
This Retro WON on, "6 Decorating Tips for a Sporting Christmas" first appeared December 3, 2015.
About Rita Schimpff

Rita Schimpff is an artist and designer who grew up hunting, fishing and enjoying outdoor life in Oklahoma and Texas, thus developing an early love and respect for wildlife and their habitat. She has carried this love to her art and her long involvement with many local and national conservation associations. As a member of the first Junior League San Antonio Mitchell Lake Wetlands Project, she created its logo and illustrated Mitchell Lake Wildlife Refuge: an Illustrated History. A graduate of Texas Christian University with a BFA in Commercial Art and Textile Design, Rita retired after more than 30 years in an interior design field. She launched her Texas based company, Heritage Game Mounts. She creates elegant, Old-World-inspired panels to display domestic and exotic game. She pens a blog called "Bring The Wild Inside" at the site, and at The WON, that offers ways to bring beauty and balance to the shared hunter/non-hunter home. Rita and her husband, Skip, have made hunting and fishing a large priority with their children. Along with two Boykin Spaniels and numerous adopted rescues, all aspects of hunting are very much a family affair. All of Heritage Game Mounts' products are American made. View all posts by Rita Schimpff →
The Conversation