Review: Two Remington R1 1911 Commanders for Winter Concealed Carry
I don't switch out guns like I change my shoes. However, I like to have a few guns to choose from for my concealed carry options, and have tended to choose smaller framed versions that I can easily conceal in inside-the-waistband holsters. With winter coming in strong, and with the purchase of 2 new longer-length coats, I am going to begin carrying more firepower, in an outside-the-waistband holster. That's why the Remington's 1911s in the R1 series intrigued me.
Sponsored by Liberty Safe
I first saw this new line of 1911s while at a media event at Gunsite Academy last year. I never have carried a 1911 style gun, and it takes a new level of training to operate. These guns come with grip safeties, so you need to exert a firm grip on the gun, and also, you need to learn how to work a manual safety. That requires a downward movement with the non-support hand's thumb while acquiring a target.
Remington sent me 2 versions: An R1 Ultralight Enhanced Commander and an R1 Enhanced Commander.
Remington R1 Ultralight Enhanced Commander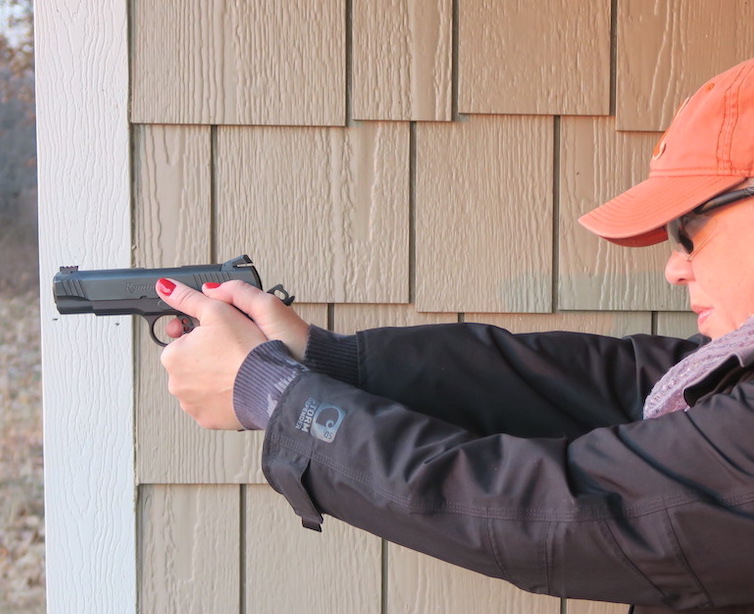 I chose to work with the R1 Ultralight Enhanced Commander model, and my husband – a former USAF pistol team competitor and Royal Air Force rifle team commander – agreed to help with the testing and worked with the R1 Enhanced Commander.
The main reason I chose the Ultralight is for its weight. It weighs 1 pound, 10.8 ounces on my kitchen scale, as opposed to the Enhanced Commander's weight of 2 pounds, 2.6 ounces. That's without a magazine and no ammo.
If you check the comparison chart that I set up (and took a screenshot of) at the Remington website, you can see that the guns are very close in most things.
The gun has been built with these specs:
Lightweight Aluminum Frame, 7.5 ounces lighter than standard steel frame
3-hole adjustable match trigger
Fiber optic front sight
Adjustable rear sight
PVD finished slide
Front and rear cocking serrations
Aggressively checkered laminate grip
Extended beavertail
Skeletonized hammer
MSRP: $849
Remington R1 Enhanced Commander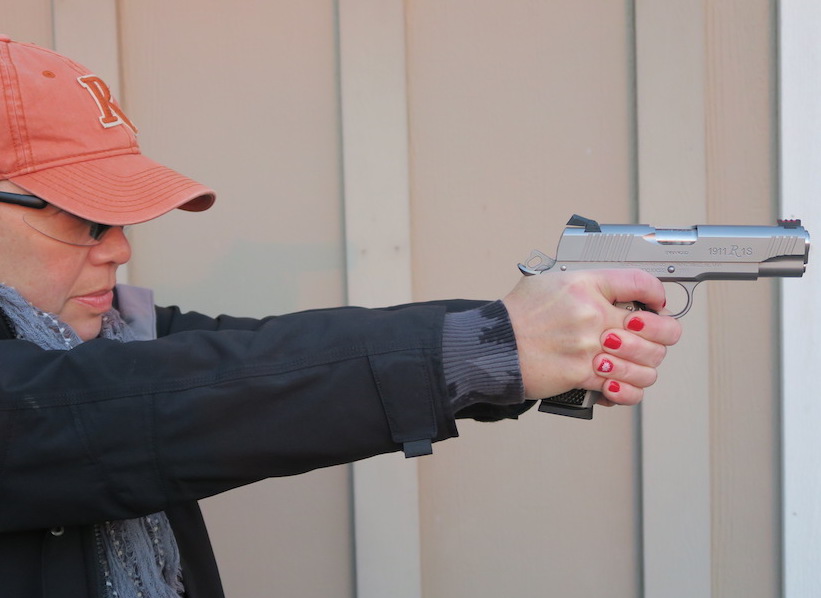 Hubby likes this one because it's in stainless. He'll wear it all year long, and especially in the summer, he'll appreciate its stainless quality. He'll holster this one up while on the ranch, checking fences and clearing glades.
Here are some of the specs for this model:
25-inch match-grade barrel
Oversized, flared ejection port
Wide front and rear wide cocking serrations
Forged stainless steel frame and slide
Red fiber optic front sight with Novak style adjustable rear sight
Extended beavertail grip safety
3-hole adjustable match trigger
Satin stainless finish
Dark laminate grips
MSRP: $990
What the R1 Ultralight Enhanced Commander and an R1 Enhanced Commander have in common:
Barrel length – 4.25 inches
Overall length – 7.5 inches
Magazine capacity – 8 + 1
Caliber – .45 Auto
Overall height – 5.5 inches
Time on the Range
We started with the guns from a seated, bench rest position. That way, it was not about the nut behind the butt. We put the targets out at 7 yards, a recommended distance for personal defense shooting training. After 100 shots from this position, and with no adjustments to the front or rear sights needed, we progressed to standing and shooting out to 7 yards. We also did an accuracy test on the guns with various ammunition from Remington and Hornady. After shooting more than 300 rounds of target and personal defense ammo through each gun, we practiced other personal defense drills with the gun. I added drawing under time from my Crossbreed Holsters, the aforementioned SnapSlide holster in the designer series, in Tiffany Blue.
Accuracy Tests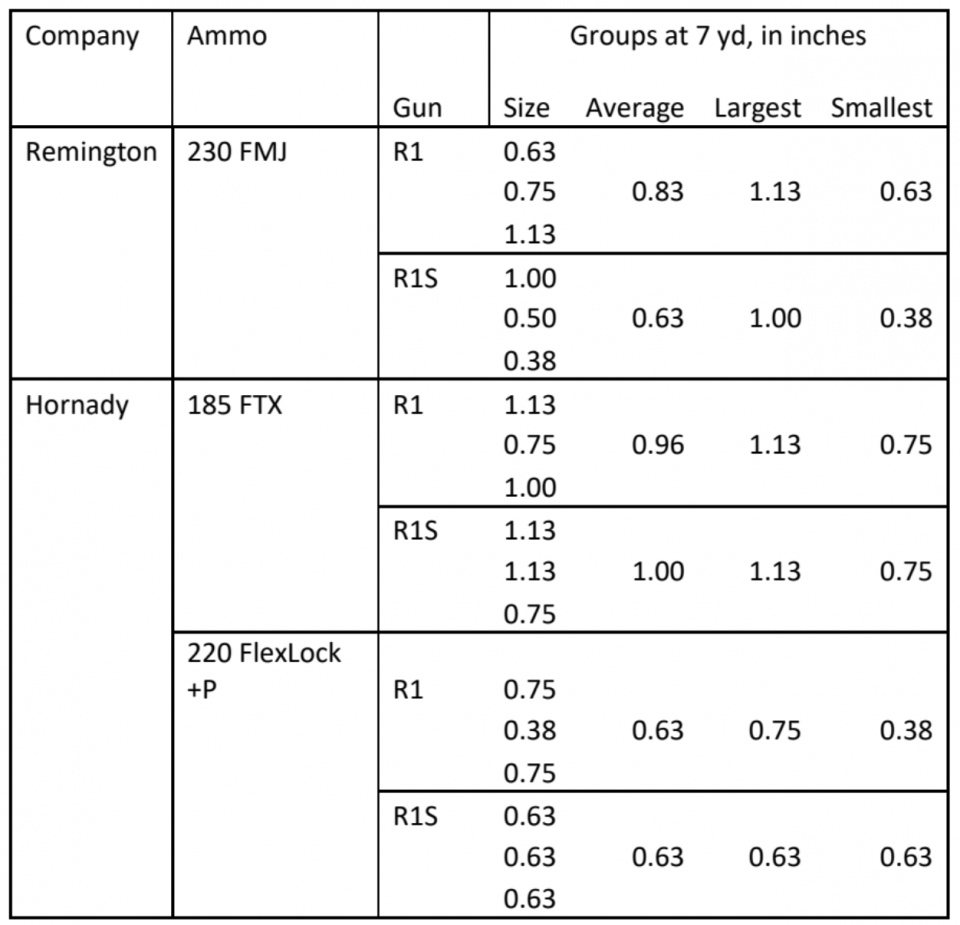 We both like the triggers. My hubby, a true trigger snob, was impressed from the start.
The only thing we aren't crazy about is the aggressive textured grips. We aren't the only ones, as several (most) of the gun writers at Gunsite thought the texture was more like a cheese grater, and after 2 magazines, you'll see the results (looks like a cheese grater) on your hand. This can be easily rectified with a slight sanding of the grips, or wearing gloves. Or, you could change out the grips.
The 2 main reasons we like these guns, though, and will use them for personal defense is accuracy and the single stack slimness. So, we can carry them without the bulk of a double stack. I will carry mine in a Crossbreed Holsters Designer Series SnapSlide, in Tiffany Blue. Cost is $54.99. No breaking in required, and I am a fan of the comfort and fit of these holsters.
Granted, shooting a .45 caliber round does unload a bit more kick, but I still found that I could draw and put 2 shots in a recipe card at 5 yards in 2.8 seconds.
Women tend to be told to go low, and stay away from .40 and .45 caliber rounds for self-defense. If you are willing to train with a larger caliber, do it.
Oh, and throughout the course of more than 800 rounds fired between the guns, we did not have a single malfunction.
Remington hit the Xring with this model, and these will not be packed up and shipped back. We will gladly purchase them for our own protection.
About Barbara Baird

Publisher/Editor Barbara Baird is a freelance writer in hunting, shooting and outdoor markets. Her bylines are found at several top hunting and shooting publications. She also is a travel writer, and you can follow her at https://www.ozarkian.com. View all posts by Barbara Baird →