GTM Concealed Carry Bags for 2019
We love to attend the Shooting, Hunting, Outdoor Trade (SHOT) Show every year and see what's new and exciting in the world of concealed carry bags from GTM. One of the most popular booths on Level 1 at the show, the GTM women, along with female firearms instructors, talk to buyers and customers and get the pulse of what these visitors like and want to see in this market.

Sponsored by Gun Tote'n Mamas
"I get these bags a week before SHOT Show, and we introduce them to see which ones are popular. We will take them to a month's worth of shows and we'll see which ones people like," said Claudia Chisholm, president of GTM. "I am always observing. I am not a great designer. I must have my zen … but then, once I get going … I can't stop! I was only going to bring 5 new bags to the show. I have … 18."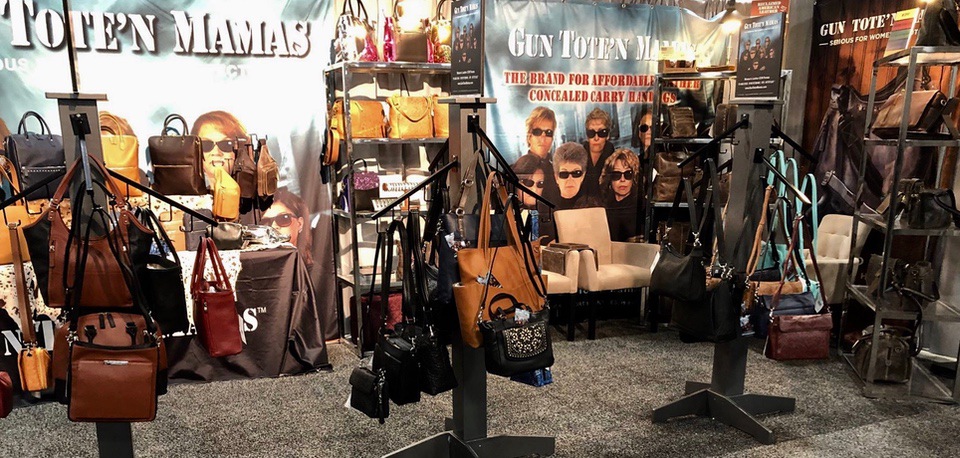 Here's a look at what GTM offered in its 2019 lineup.
A Bag for Dudes
Here's a hip messenger bag for guys. Coming from a tannery that makes leather for Harley Davidson, the leather is referred to as "pull-up" – which reveals a different color when stressed and then returns to its original color. It also features a rare-earth magnet, top-draw access. "My nephews are in their 20s and live in New York City, and they are testing it now. They love it," said Claudia.
MSRP: $230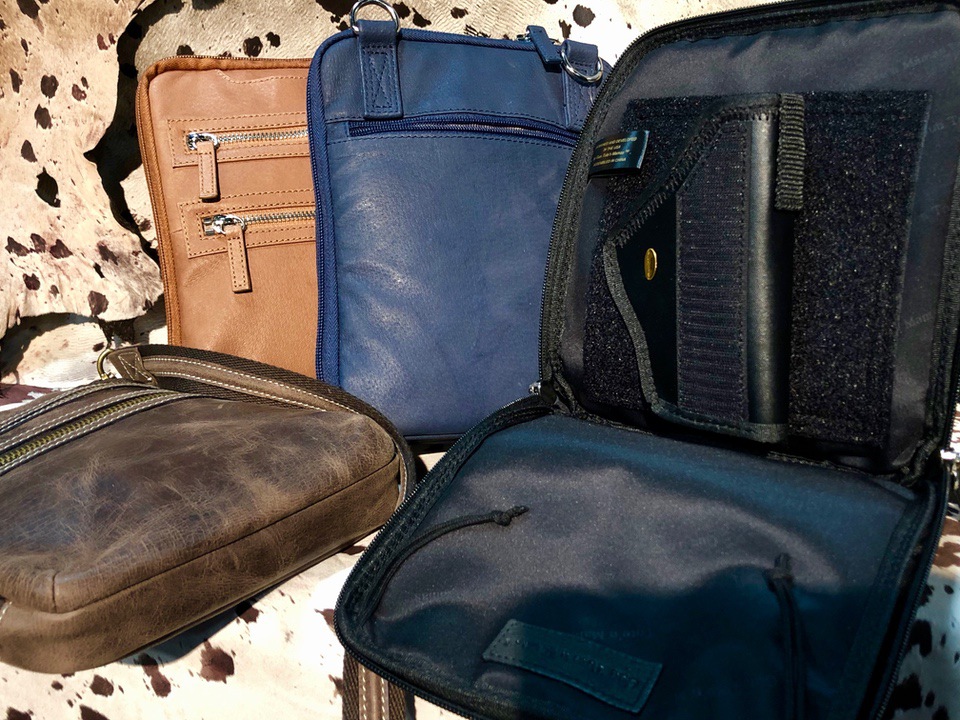 The Essential Cross-Body
The name says it all: essential. It will hold up to a 1911 handgun. Made of soft leather, the cross-body bag also accommodates a large cell phone and a flat wallet. In navy, black, brown and distressed.
MSRP: $79.95 and $89.95 (distressed buffalo version)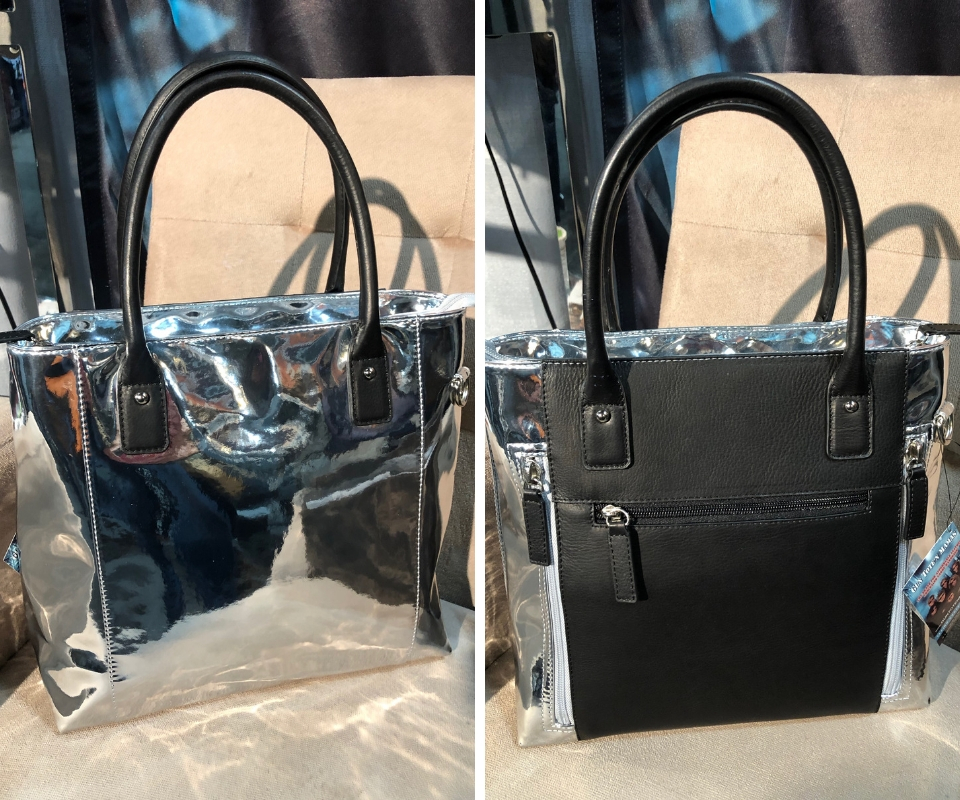 The Liquid Metal Bag
When Claudia and Jamie attended a show in Ft. Worth last August, she noticed women wearing foil shoes. "It was a very liquid look, and it caught my eye and I started noticing it on dresses. I was in Germany in November and I walked into one of my favorite stores and there it was – in a duffel bag. I thought, 'It is sooo cool!' It's more of a millennial look. But that being said, the women in Dallas who were wearing it were middle-aged." The bag comes in silver, gold and raspberry foil finishes, with leather backings for the holster compartments. "I am not a fan of having PVC or vinyl with a concealed carry bag. It's very easy to cut through it. It doesn't last and it imprints." This bag also has black leather strap handles.
MSRP: $129.95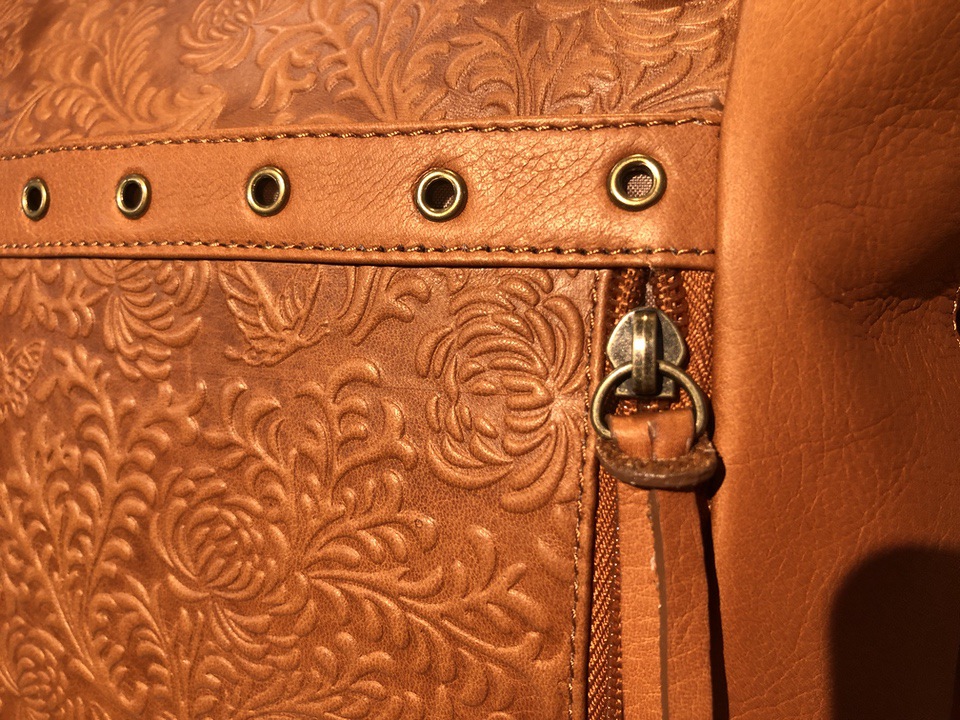 Bohemian and Embroidered Look
"I also went to my Bohemian side," said Claudia. "I always wanted to do another Deboss print, from a Japanese pattern that originated with the chrysanthemum. We wanted to marry some fun and little stuff in there, and my artist was able to pull it together. This is a South American cowhide."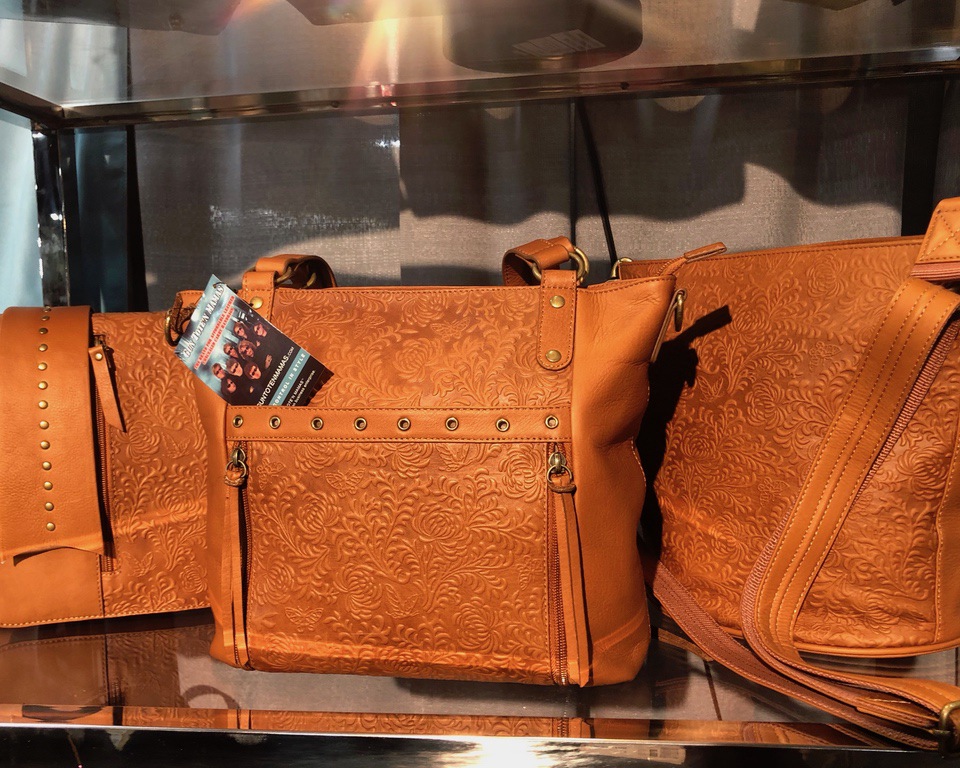 The collection has proved to be extremely popular. New this year, the Messenger model appears. In addition to its natural beauty, Claudia took the bag's former zipper compartment and changed it to rare-earth magnets for a top-draw pocket for a handgun. It will hold up to a 15-inch laptop.
MSRP: Bucket tote — $129.95; Shoulder tote — $159.95; Messenger — $169.95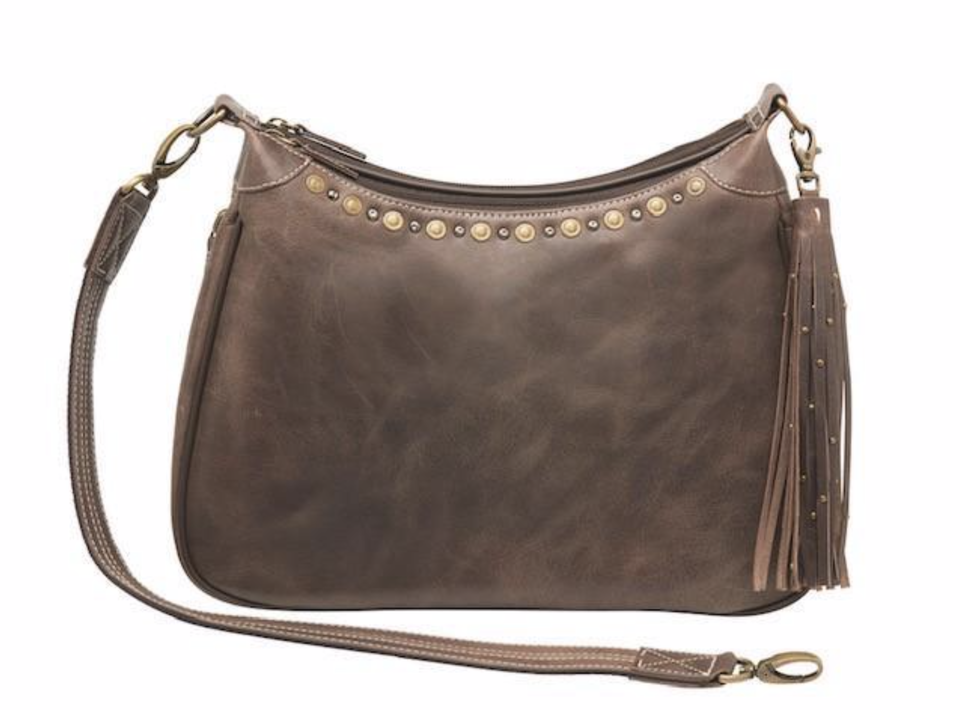 The 'Buffalo Gal' Bag
By far, GTM's most popular design for bags – the GTM CZY/70 bag (featured by the NRA in its catalog) – returns with this new finish, of distressed buffalo. Appearing in a classic hobo design, it also gets some rivets for refinement and class. This line has been around since 2009, when GTM started.
MSRP: $179.95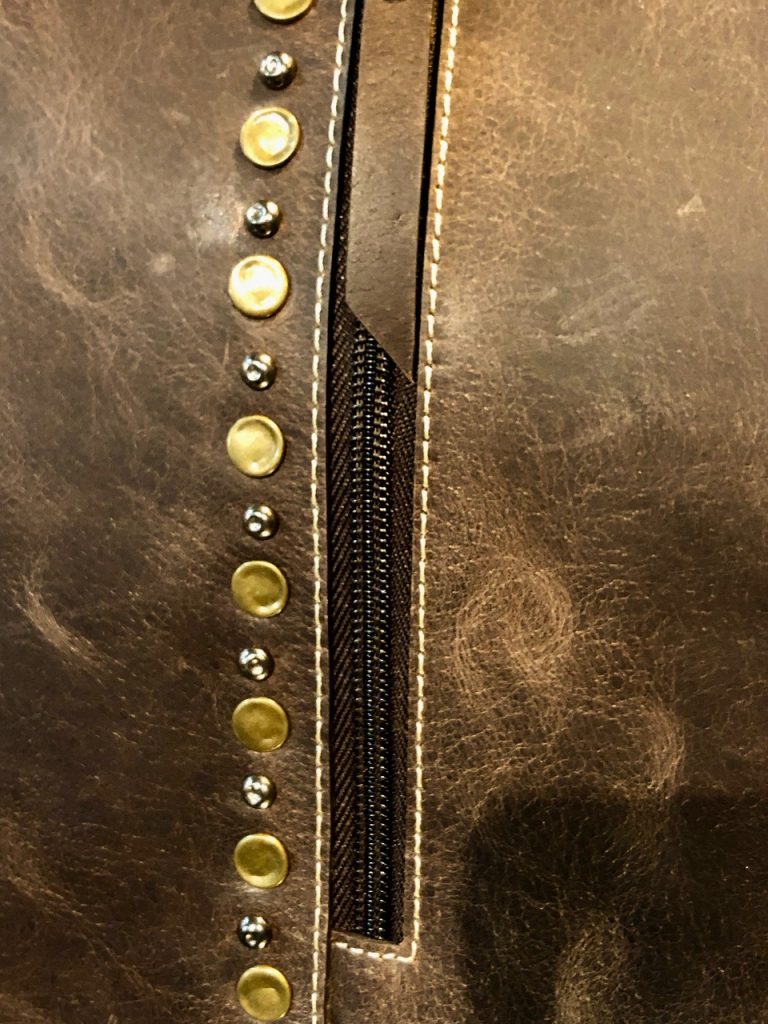 The 1018 Shoulder Portfolio Bag
This year's version of the popular 1018 Shoulder Portfolio bag features lovely rivets and (surprise!) a distressed buffalo version. Originally, the bag was offered in black and brown in South American cowhide, but now, it comes in buffalo. Additional flathead and roundhead rivets get smashed for an overall artistic statement.
MSRP: $155.95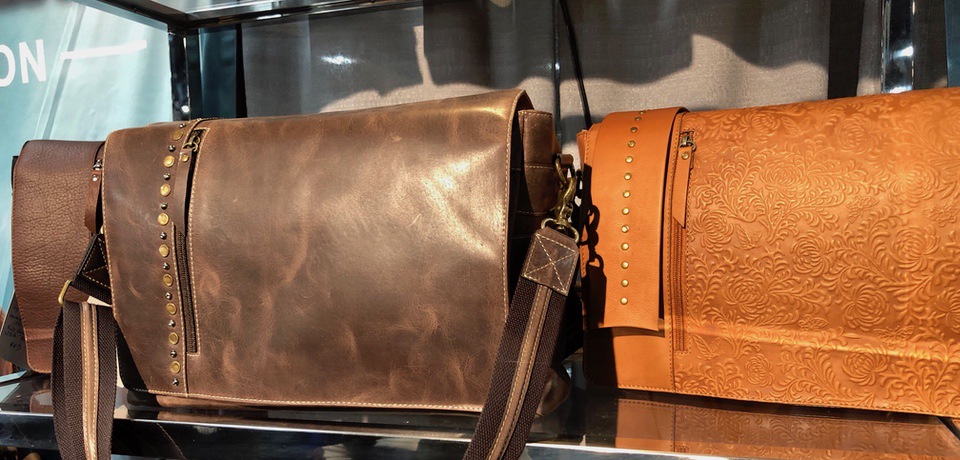 More about GTM bags
"All bags come with radio-frequency identification, aka RFID. If it's not in the front of the bag, the pocket or holder will be lined," said Claudia. She explained the technological development of RFID materials: "It used to be that they would take layers of tin foil and place it between the leather and the lining, adding bulk and crunch. Now, they make that aluminum in threads, which makes it more pliable."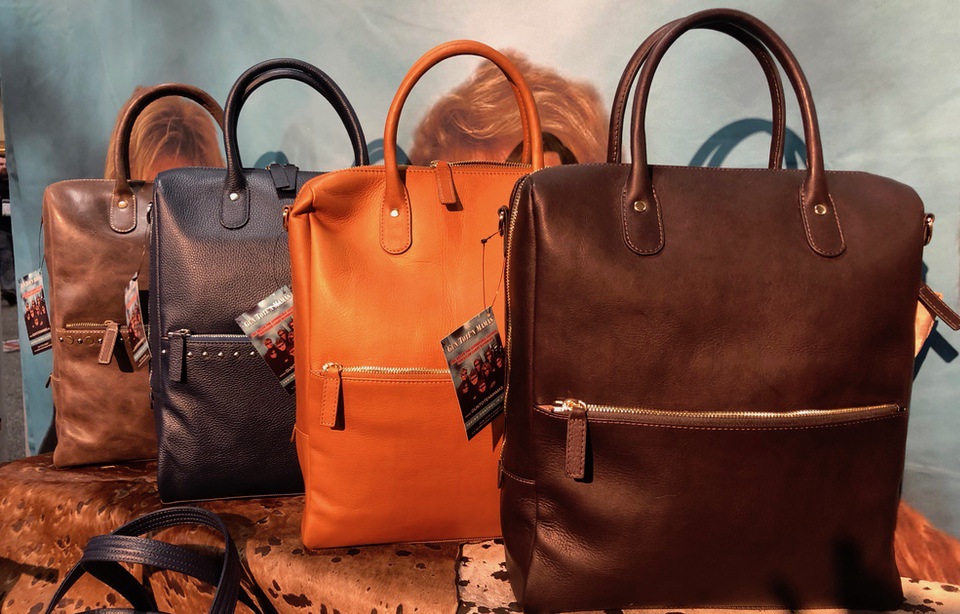 If you're wondering about the range of leather – from bison to cattle to sheep – Claudia explains their purchase: "All of our leathers are by-products; they are never primary products. We utilize the leather that is available. If the meat market goes down, so does our leather supply."
We will be reviewing some of the bags this year, as they appear on the scene, and testing others behind-the-scenes. Be sure to check out the GTM website for updates and product availability.
About Barbara Baird

Publisher/Editor Barbara Baird is a freelance writer in hunting, shooting and outdoor markets. Her bylines are found at several top hunting and shooting publications. She also is a travel writer, and you can follow her at https://www.ozarkian.com. View all posts by Barbara Baird →