Girls With Guns Clothing: 2019 Gear Round Up
During SHOT Show, I had a fun time watching the Girls With Guns (GWG) Clothing 2019 collection "fashion show" at their booth. The models, wearing clothing from the new lines, strutted across the "runway," as Jen O'Hara (emcee and co-owner) highlighted the details of each piece.

GWG Life is sponsored by GWG Clothing
The following photos include the new collections that GWG Clothing unveiled during its fashion show. All available in sizes XS, S, M, L, XL, 1X and 2X.
Concealed Casual Collection
The fashion show began with Alecia Shaw coming out in the Concealed Casual Collection.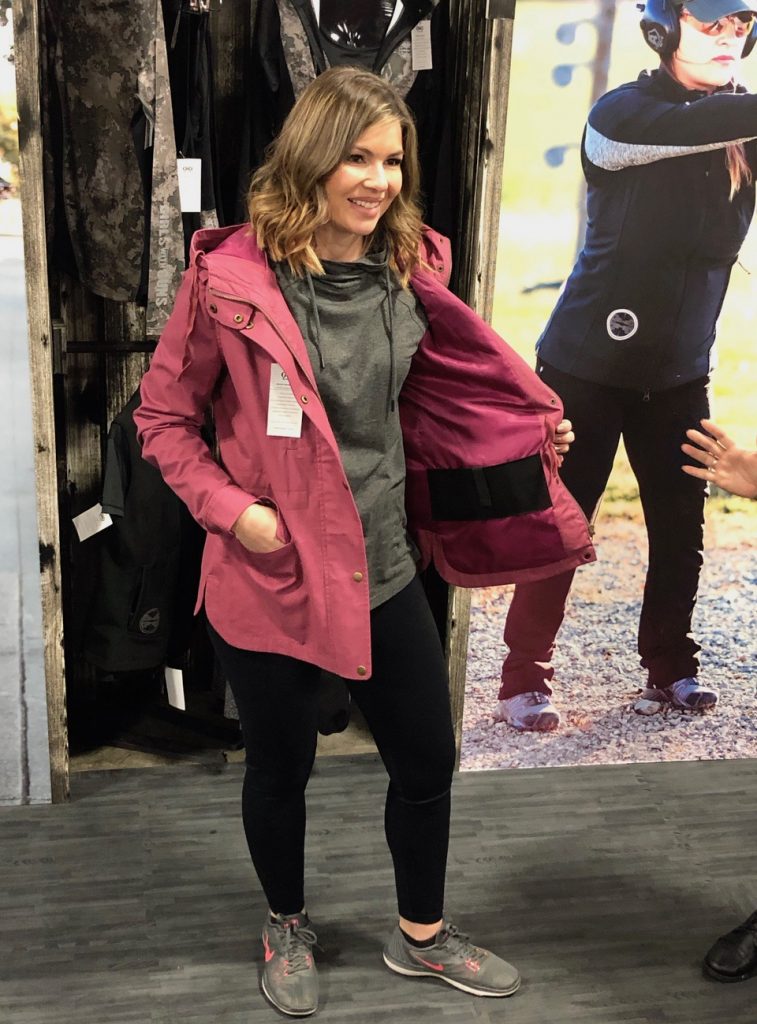 Secret Sadie Jacket — Available in olive, burgundy and gray, the Secret Sadie contains a right-hand, concealed gun holster, adjustable cuffs and zippered pockets.
MSRP: $129.99 — $139.99
Tomboy Cowl Neck Hoodie — This relaxed-fit hoodie, with thumb-holes and pass-through pockets, can be purchased in either olive or gray.
MSRP: $49.99 — $59.99
Defender Leggings — Made of an antimicrobial, moisture-wicking fabric, these leggings include an inside-the-waistband right hand gun holster with retention strap, pepper spray holster and a left-hand ID/currency secret pocket.
MSRP: $79.99 — $89.99
Also available, but not shown, is the Primitive Puffer Vest in both rose and black (MSRP: $79.99 — $89.99).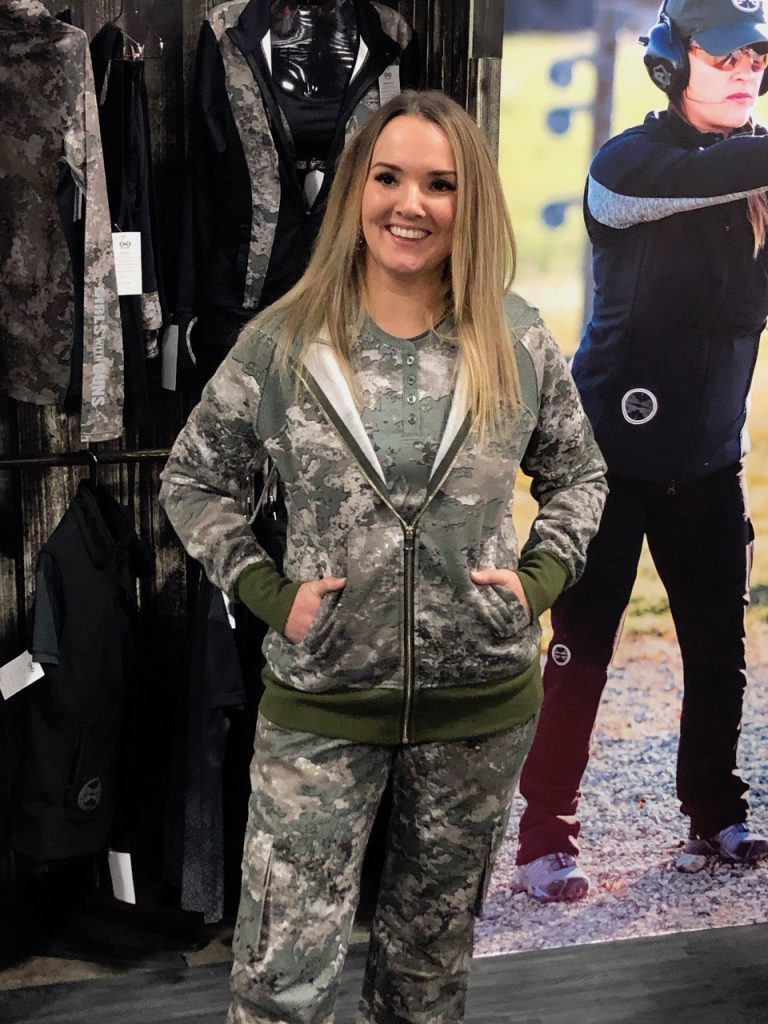 Apricity CVC Collection
Next came Callie Wolverton, wearing pieces from the Apricity CVC Collection. Made from 60% cotton, 40% polyester fabric in the Shade camo pattern it's the perfect starter camo for every female hunter.
Apricity CVC Hoodie — This French-terry, fleece hoodie has been designed with 2 hand-welt pockets.
MSRP: $49.99 — $59.00
Apricity CVC Shirt and Henley — Both crewnecks are form fitting, with logo snaps and chest pockets.
MSRP: $24.99 — $34.99
Apricity CVC Cargo Pants — Made of peached twill with a 28-to-35-inch adjustable inseam, these cargo pants have back welt pockets and 2 cargo pockets.
MSRP: $49.99 — $59.99
Not pictured is the Apricity Hunt Hat (MSRP: $19.99) and Lightweight Gloves (MSRP: $24.99).
Summit Insulated Collection
Norissa Harman, co-founder of GWG Clothing, jumped out from behind the doorway and caught everyone's attention wearing the Summit Insulted Collection, also in the Shade camo pattern. Made of 100% polyester bonded micro fleece with neoprene cuffs this line is sure to keep you warm .
Summit Jacket — This windproof, water resistant jacket is made from 100% bonded micro fleece. It has plenty of storage with 1 chest pocket, 2 side pockets and 4 interior patch pockets.
MSRP: $189.99 — $199.99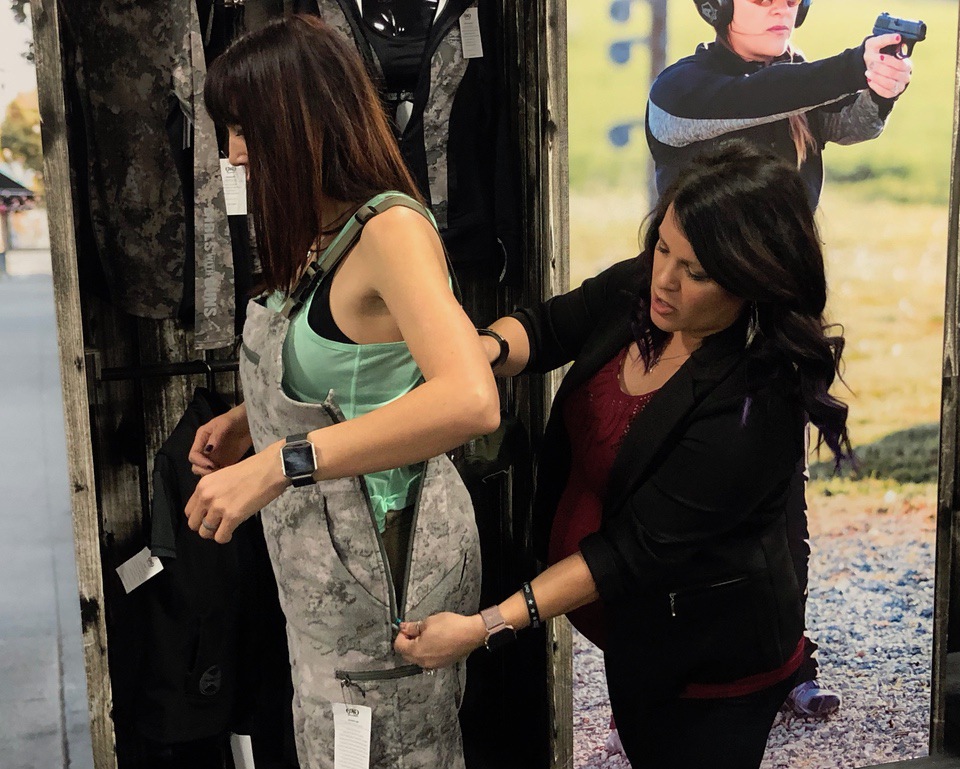 Summit Bib — It's obvious GWG CLOTHING put a lot of thought into the features of these bibs. The many pockets include 1 chest pocket, 2 hand pockets, zippered kangaroo hand warmer pocket, 2 inside cargo pockets and 1 vertical thigh pocket. As for zippers … they hit their mark. A side seam half-leg zipper allows for easy on and off, as well as a 2 way zipper at the rear for outdoor relief.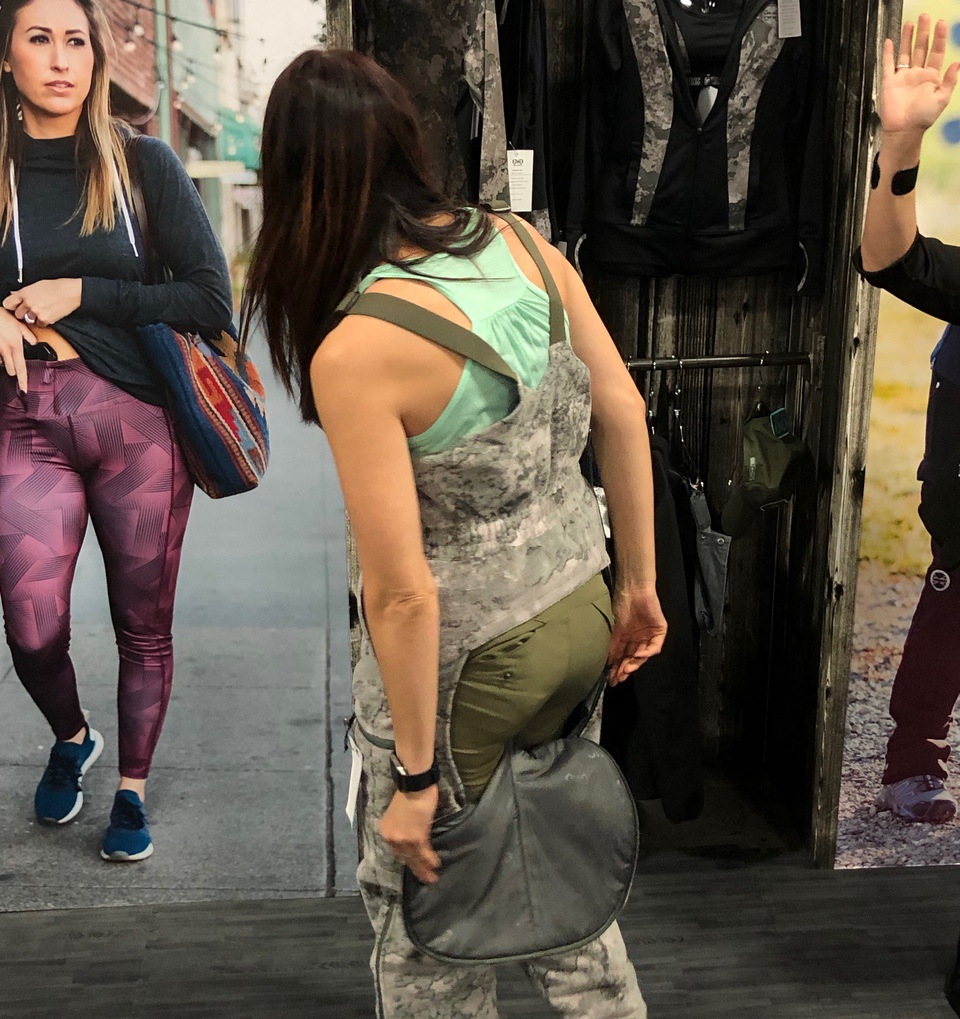 To complete the package, GWG Clothing offers Summit Insulated Gloves (MSRP: $49.99) and a Ponytail Beanie (MSRP: $19.99).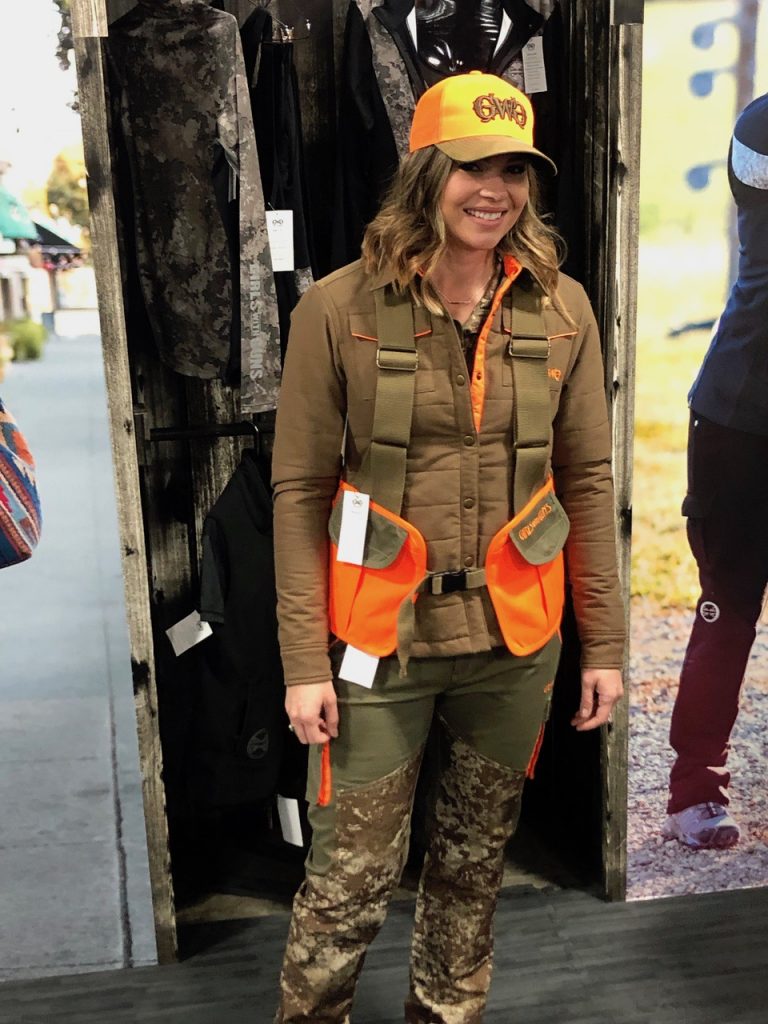 Highland Collection
The Highland Collection, modeled by Alecia Shaw, was my favorite. I can't wait to wear it next season on a pheasant hunt. Jen said she felt inspired to design this upland line while at the Kansas Governor's Ringneck Classic a couple of years ago with our Babbs.
Highland Shacket — Made of breathable, brown, quilted Oxford, the shell has fleece lining with taffeta-lined sleeves. Two side-seam pockets and 2 chest pockets soften the look.
MSRP: $109.00 — $119.00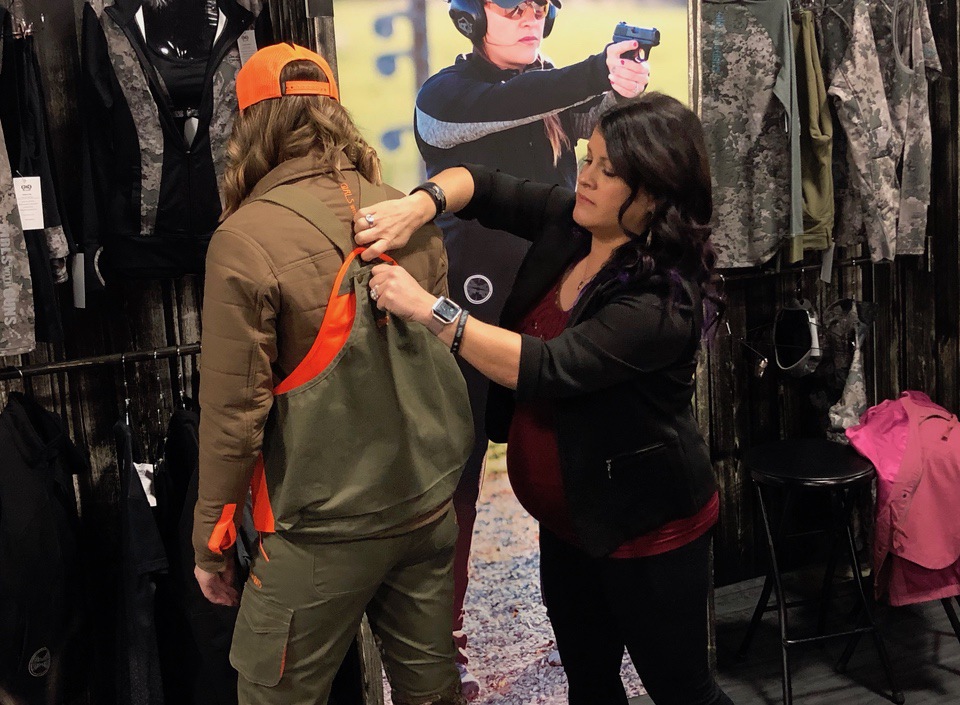 Highland Vest — Two front flap pockets and a back opening offer quite a bit of storage in this vest. A peached twill body with twill blaze orange accents allow for visibility in the field.
MSRP: $89.99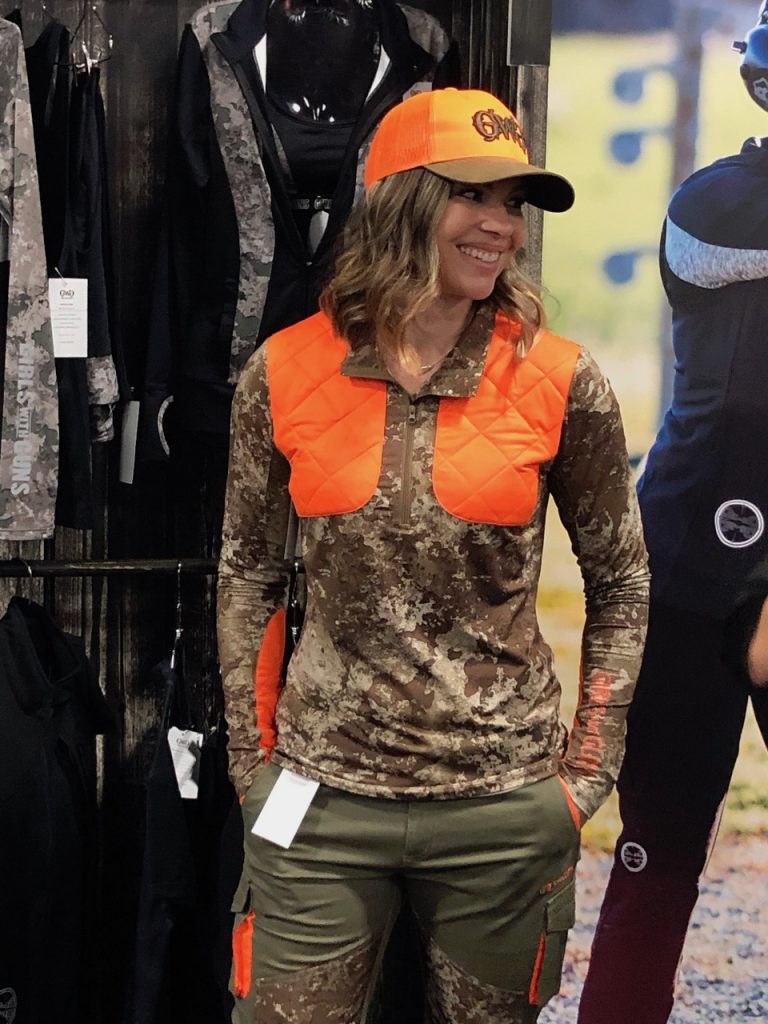 Highland Pants — Peached twill top-fabric with Oxford PU coating on the leg make these pants look quite different from others I've seen. Jen said that although bird hunters normally don't wear camo in the field, she wanted to add the look. It works, and that's the benefit of owning your apparel company. An adjustable waistband and inseam allow for a customized fit.
MSRP: $89.99 — $99.99
Highland 1/4 Zip — This shirt comes with a blaze-orange-quilted, insulated piecing on the shoulders and forearms An anti-microbial finish helps keep the stink out.
MSRP: $69.99 – $79.99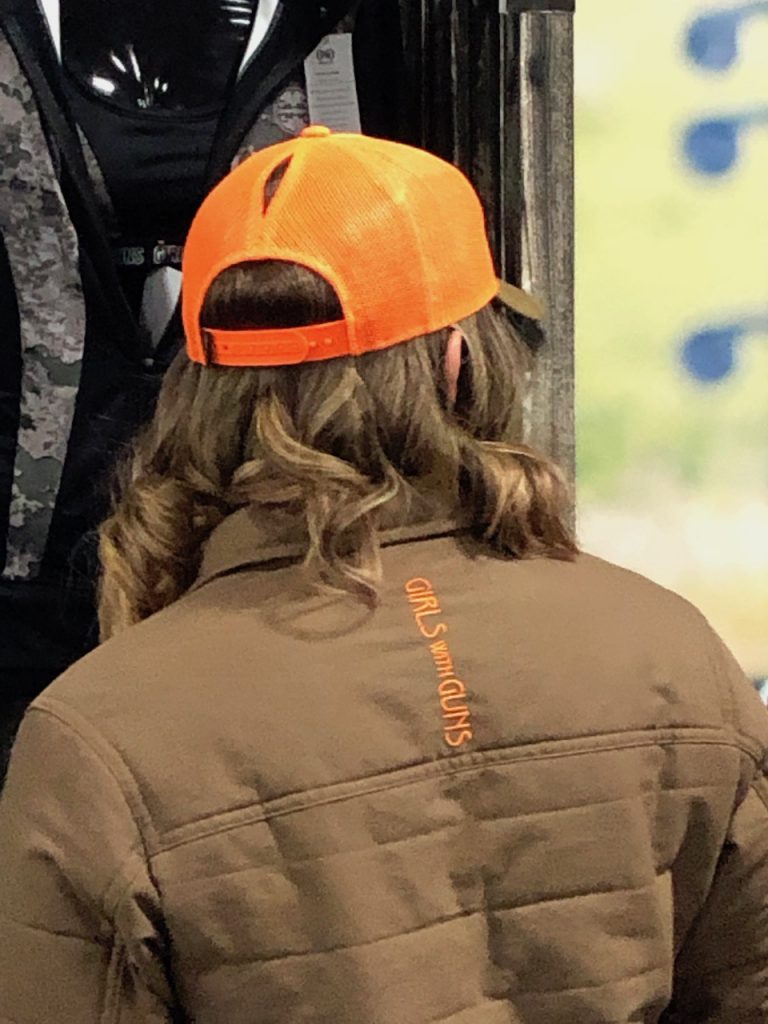 Highland Blaze Hat – This nylon mesh hat even has a peekaboo ponytail hole.
MSRP: $19.99
We will update this page with links as soon as these collections become available online. Keep an eye out in our GWG Life column for more coverage of GWG Clothing.
View all GWG Clothing pieces at their website. Watch for GWG Clothing on TeamWON this year.
About Michelle Cerino

Michelle Cerino, aka Princess Gunslinger, entered the firearms industry in 2011 when Cerino Training Group was established. She immediately began competing in both 3-Gun and NRA Action Pistol, becoming a sponsored shooter. Michelle is currently a columnist and Managing Editor of Women's Outdoor News, as well as Event-Staff for CZ-USA Field Sports. She also manages social media for Vera Koo and GTM Original. Michelle encourages others to step out of the comforts of home and explore. View all posts by Michelle Cerino →
The Conversation