Summertime Concealed Carry Fashion Tips for Women
Summer is upon us and one of the biggest hurdles to overcome as women is how to dress while carrying a firearm. While the styles are cute, you need to make sure your holster and the outfit work well together. I recently spent a day shopping for some perfect summer outfits and put together the following concealed carry fashion tips.
Sponsored by CrossBreed Holsters
Modular Belly Band
I chose to start with a very common look for summer, sporty casual. This outfit includes a terry fabric athletic short, Bermuda pink baseball t-shirt, mixed stripe open front vest and slip-on white sneakers.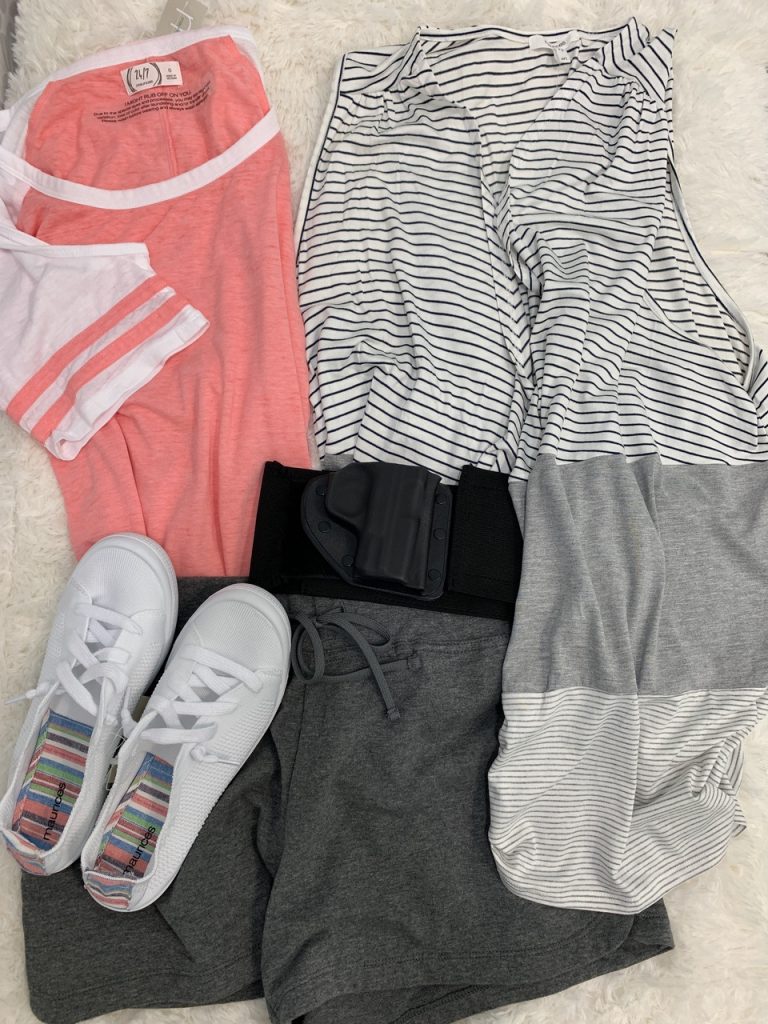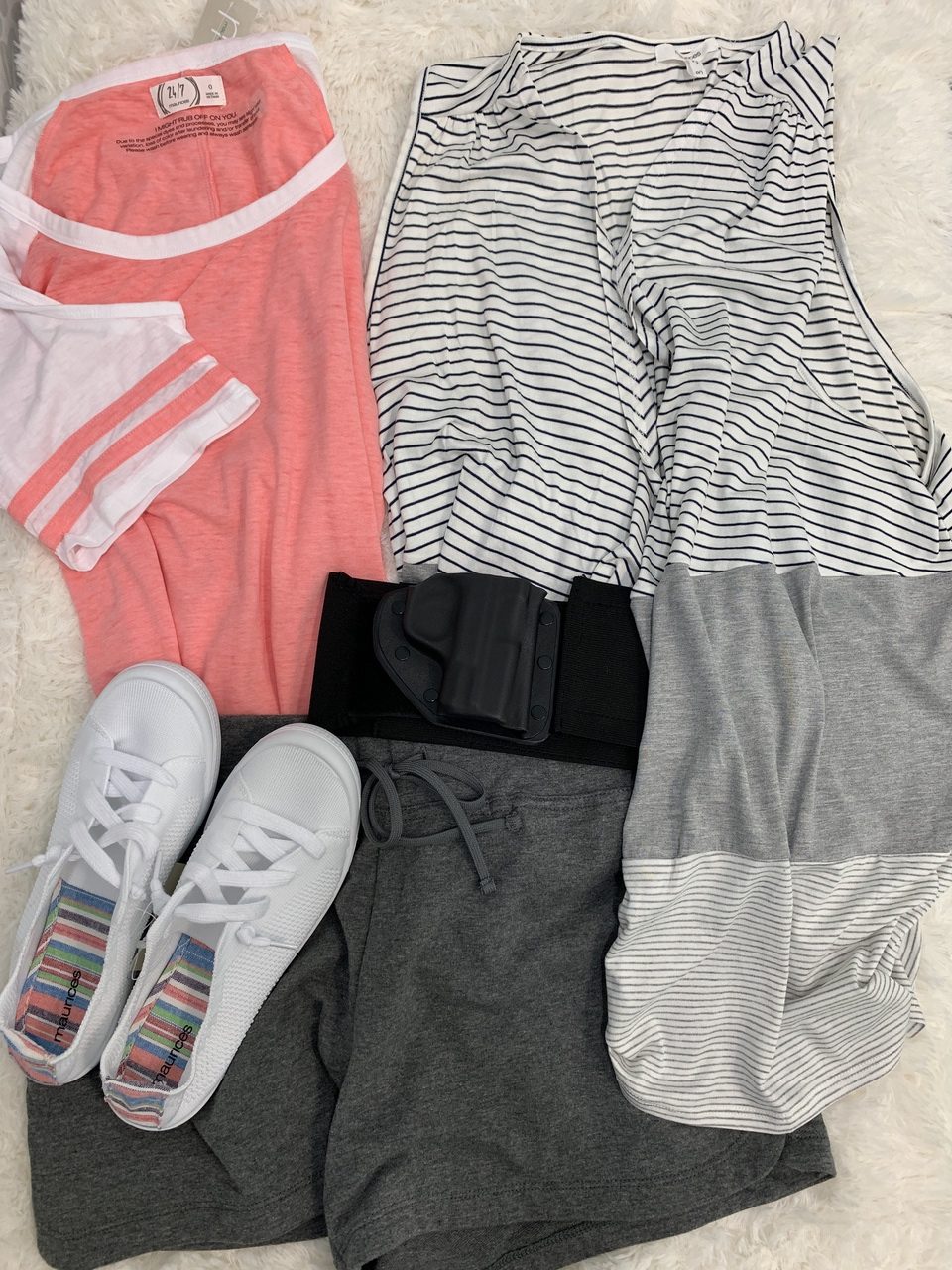 As with most active wear, belt loops are non-existent. The waistband is generally stretchy as well, eliminating the option of carrying a holster attached to clothing. CrossBreed's Modular Belly Band solves this dilemma. This holster has an elastic band that stretches around the waist, fastening to itself with Velcro. In addition, instead of a one-size-fits-most pocket in the belly band for the firearm, this rig uses a molded Kydex attachment with Velcro backing that can be placed on the belly band wherever it is comfortable for the individual. Not only does the belly band fasten to itself once, it also has enough length to fold over the top of the Kydex pocket and attach a second time. This creates a secure, sturdy holster set up. Most people like to wear the belly band around their waistline, but it can be adjusted up or down, depending on what's comfortable and conceals the best.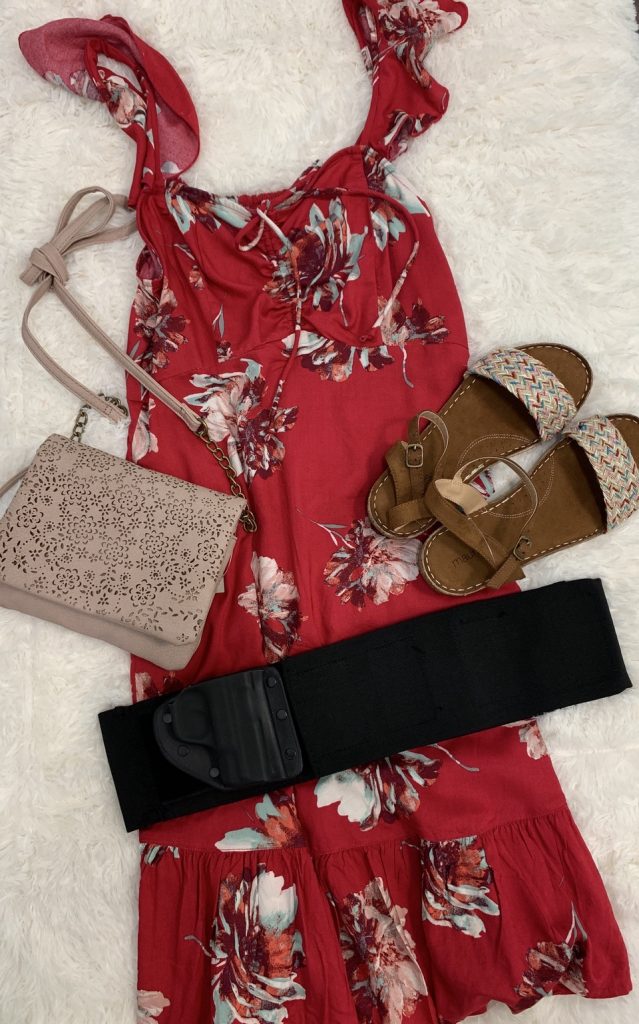 The modular belly band would also work nicely with this second outfit: a flutter-sleeve floral dress, woven multi-colored sandals and blush faux leather cross body purse. It would require lifting the dress to draw the gun, but in a life or death situation, I'd be willing to expose myself. Practice your draw with an unloaded firearm ahead of time to make sure you're familiar with the body mechanics prior to carrying it for personal protection.
MSRP: $69.95
OWB DropSlide
The next outfit I chose includes a pair of black skinny jeggings, black v-neck mesh tank top, floral open front kimono and tan multi-strap cork wedge heels. The belt loops on this specific pair of pants were large enough to accommodate a wide belt, allowing me to wear an outside-the-waistband, aka OWB, holster.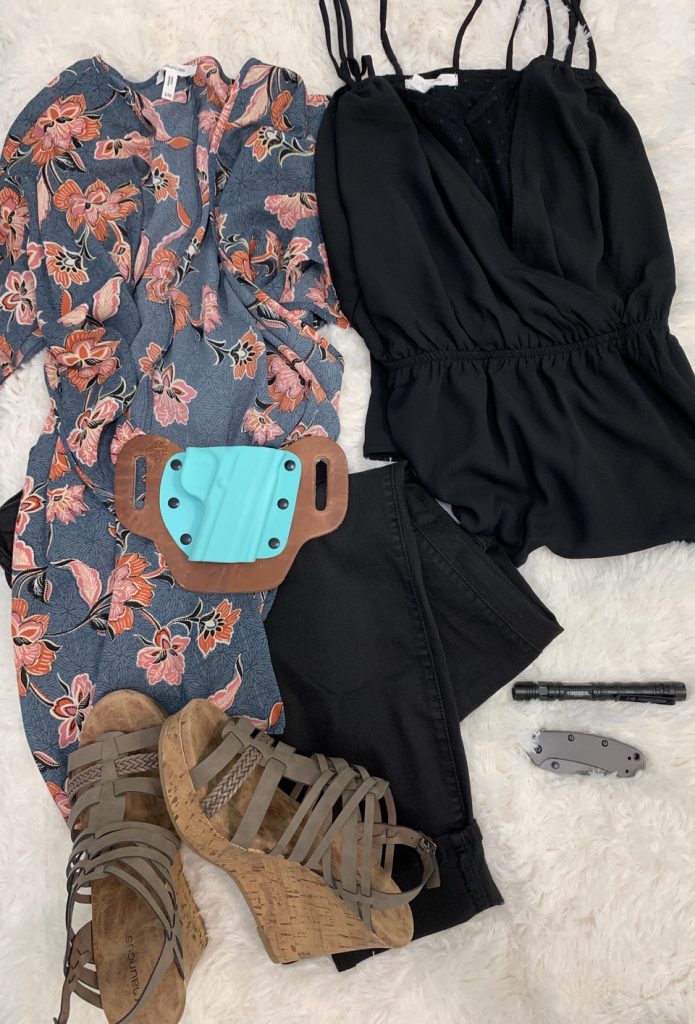 I went with CrossBreed's OWB DropSlide holster for this specific outfit, knowing that the kimono would cover it. This holster secures to your body by threading a belt through the 2 slots. The DropSlide can be made with any of the 3 leather options, as well as several Kydex colors. I talk more about this holster here. In the heat of the summer, sometimes it's nice to have an OWB option, instead of having a holster inside the waistband.
MSRP: $51.95
SuperTuck
Another outfit that's perfect for summer consists of these gold rust color jeggings, blue v-neck camisole, floral stripe cold shoulder top, stripe phone case wristlet and Huarache open toe sandals.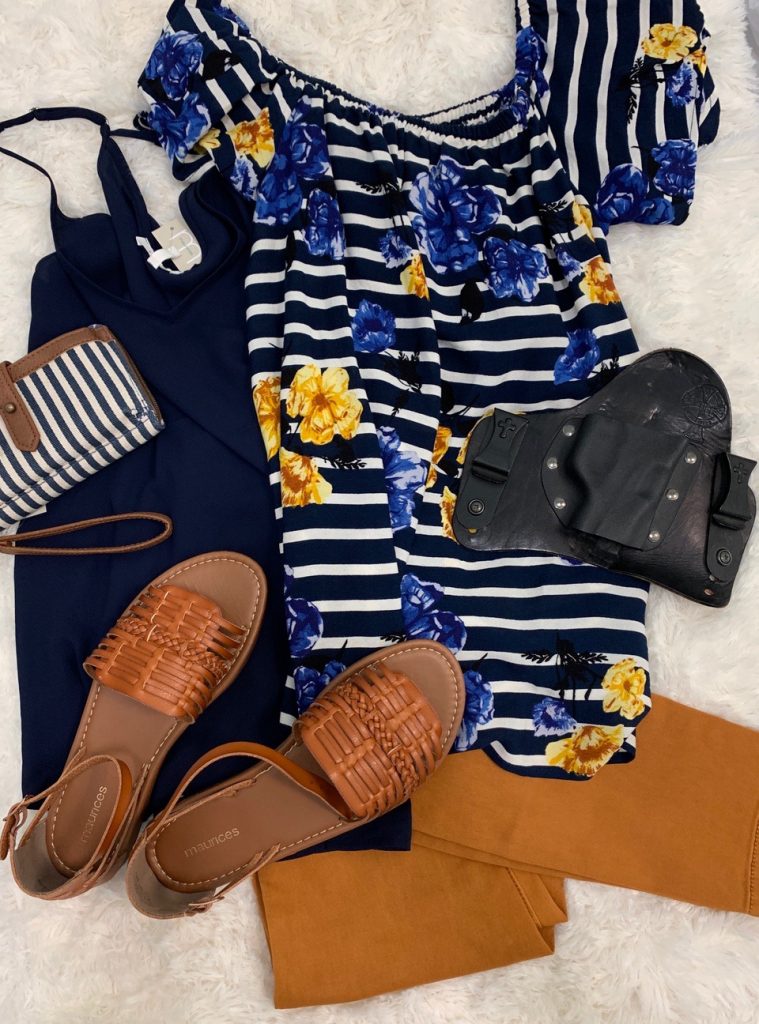 The jeggings are the same type as the black pants above, so the belt loop width is also identical. With the option to wear a belt, I chose CrossBreed's SuperTuck holster for this ensemble. The SuperTuck is one of the most popular holsters that CrossBreed offers. It is worn inside the waistband, yet allows for a tucked-in shirt, should you be so inclined. With the camisole and shirt that I picked out, I'd wear it over the holster, making it practically invisible. The 2 clips fasten over a belt, making it a comfortable, stable platform for any firearm. The ride height and the cant can also be adjusted, for an easy draw stroke.
MSRP: $69.75
Freedom Carry
Considering that the 4th of July is right around the corner, I purposefully went with a patriotic-themed outfit. It includes a pair of white-denim, frayed shorts, berry star print tank top, sleeveless open front stripe vest, flag aviator sunglasses and burgundy faux leather sandals.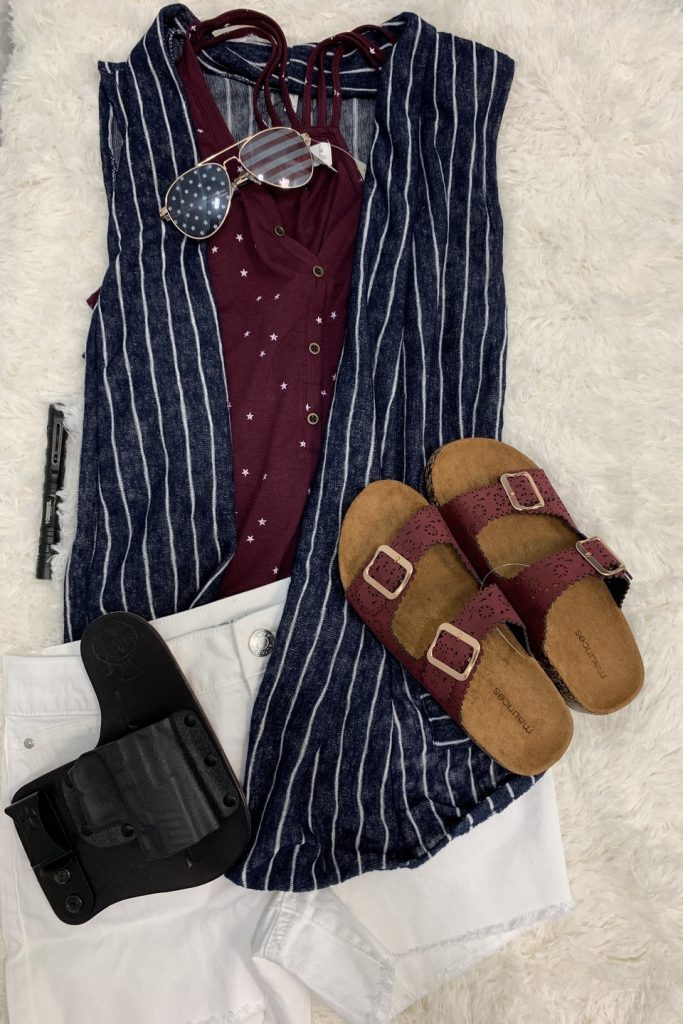 Again, I checked the belt loops on the shorts and they work with my belt. It's only fitting that since I'm feeling festive, I went with CrossBreed's Freedom Carry IWB holster. This holster is slim and only has 1 clip that attaches to a belt, allowing you the freedom to carry in the appendix location, as well as cross-body or on your hip. While the Kydex pocket is fixed in a straight-draw position, the clip allows for an adjustable cant. Less bulk is an added plus and makes concealing a firearm very feasible.
MSRP: $64.50
Mini Appendix & Purse Defender
Lastly, I chose a lightweight summer outfit that includes button-fly destructed dark denim shorts, retro floral v-neck tank top, blue camisole and black strappy sandals.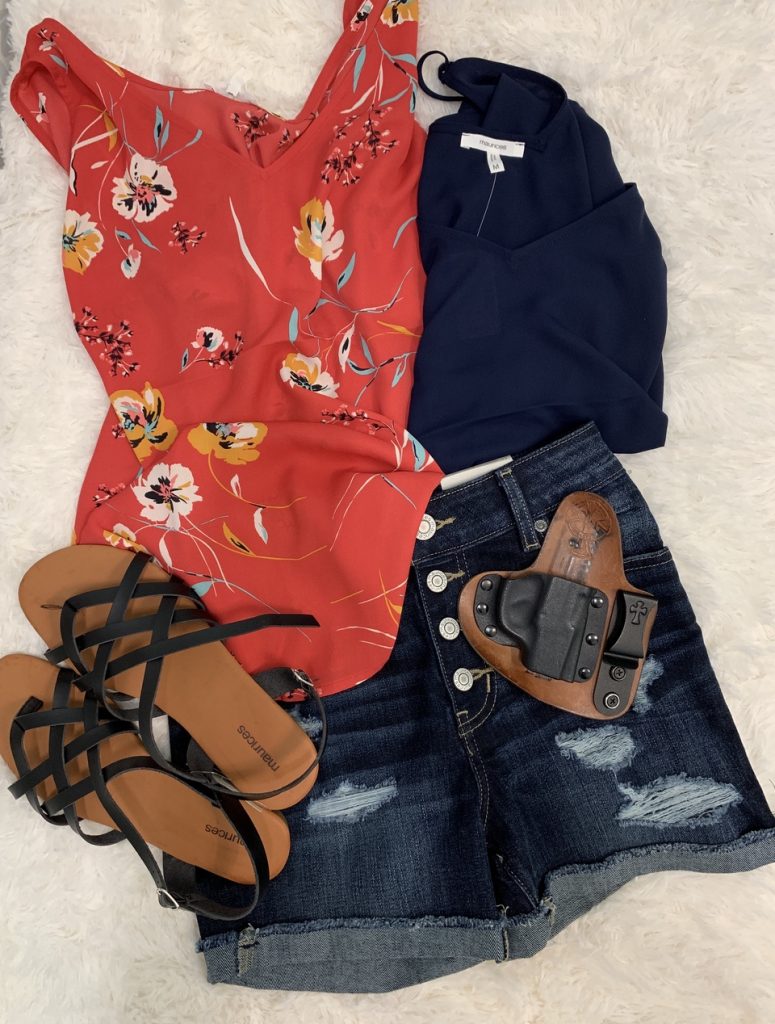 I chose CrossBreed's Mini Appendix holster for this outfit, mainly because I didn't want to add too much weight to these breezy, lightweight garments. With the Mini Appendix, I can carry a smaller firearm easily without it being visible. This holster is made with women in mind, giving us the option of appendix carry, without added bulk or discomfort. I've found that I can carry using this holster with practically any outfit!
MSRP: $59.50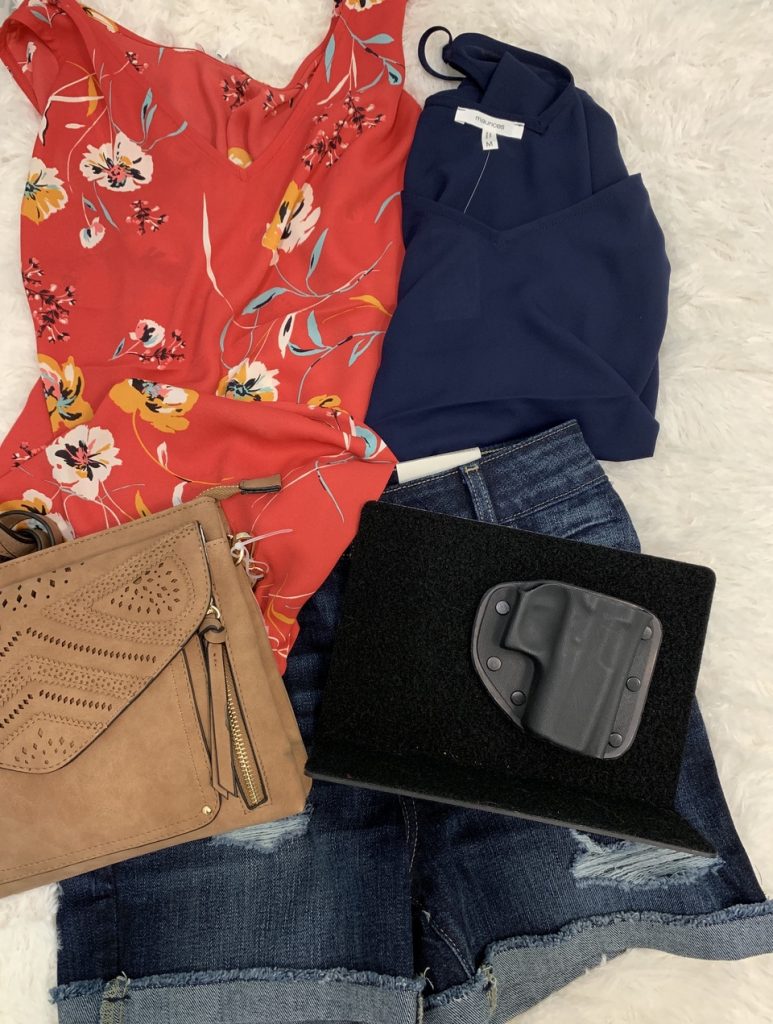 Or, if you'd prefer not to carry on body, you can pair the same outfit with the Purse Defender and use your own handbag. The Purse Defender utilizes a Velcro-lined "L"-shaped panel that fits inside your purse. With the same Kydex attachment used with the Modular Belly Band, it attaches to the panel inside the purse. This keeps the firearm upright and easily accessible, as well as the trigger safely covered.
MSRP: $49.95
CrossBreed for All Your Concealed Carry Fashion Ensembles
No matter your style, CrossBreed is sure to have a holster that will work for you. For peace of mind, they offer a "Two Week, Try it Free Guarantee" and will refund the purchase price if you choose to return it for any reason. I'm willing to bet you'll love it! What are you waiting for? Check out all their holster options here.
About Stacy Bright

Freelance writer Stacy Bright holds instructor certifications from the NRA in Pistol & Rifle, as well as being an Range Safety Officer and Refuse to be a Victim instructor. In addition to her NRA credentials, she also is a Missouri CCW instructor and teaches various other home and personal defense courses. "In a field dominated by men, I feel I bring a unique perspective to firearms and training, especially to women. I'm passionate about educating, empowering and developing confidence in those I train. In November of 2014, I started the Southwest Missouri chapter of The Well Armed Woman," said Stacy. Stacy lives in southwest Missouri, and has been married for 20 years. Visit TWAW Facebook page: The Well Armed Woman-Springfield, MO Chapter. View all posts by Stacy Bright →