Gabby Franco Tries Something New: Pistol Shooting with Optics
Adding an optic to my Walther was an intimidating move. It required me to change one of the fundamentals of shooting I worked hard to master: To focus on the front sight. This was like a mantra I followed for over 25 years in both practical and Olympic shooting. I traveled around the country teaching this, and other fundamentals of shooting to help others improve their shooting skills. Then, after all these years of shooting with iron sights, I decided to change to pistol shooting with optics.

Sponsored by Walther Arms
The reason is rather simple; I needed a different type of challenge. I wanted my brain to learn a new set of skills that would take me out of my comfort zone. Why? Because learning something new allows (1) my brain to create new connections and neurons; (2) It is fun yet challenging; and (3) helps my mind grow stronger (Wong, 2017).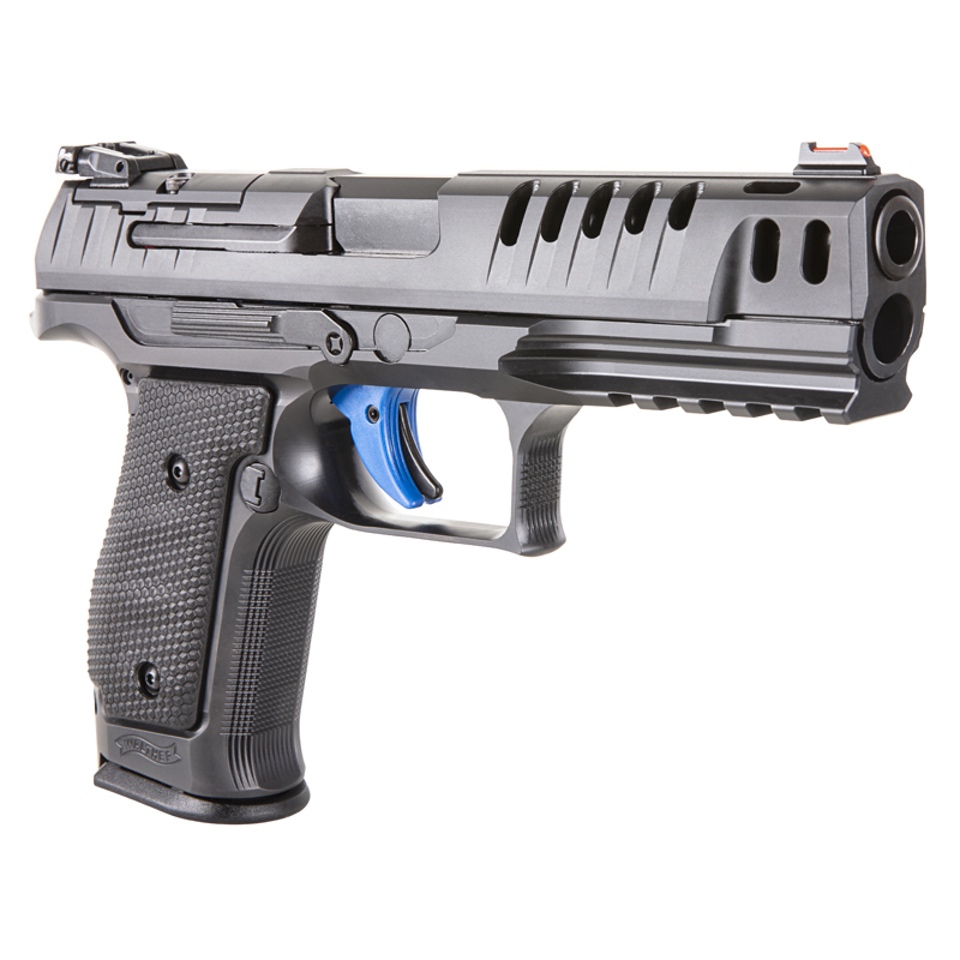 Six months later, I am not where I want to be, but I am getting closer. I am currently shooting a Walther PPQ 5 Steel Frame, which is a great pistol for shooting with optics. One of the main reasons—at least for me— is the weight of the gun. This feature helps me manage the recoil to recover my dot faster. Like anything else worthwhile doing, adapting myself to shoot with a "red dot" was hard and, at times, frustrating. However, the satisfaction to see improvement is what keeps me moving forward and motivated to keep on practicing. For that reason, I wanted to share with you a few tips that might help you transition from shooting with iron sights to shooting with a red dot.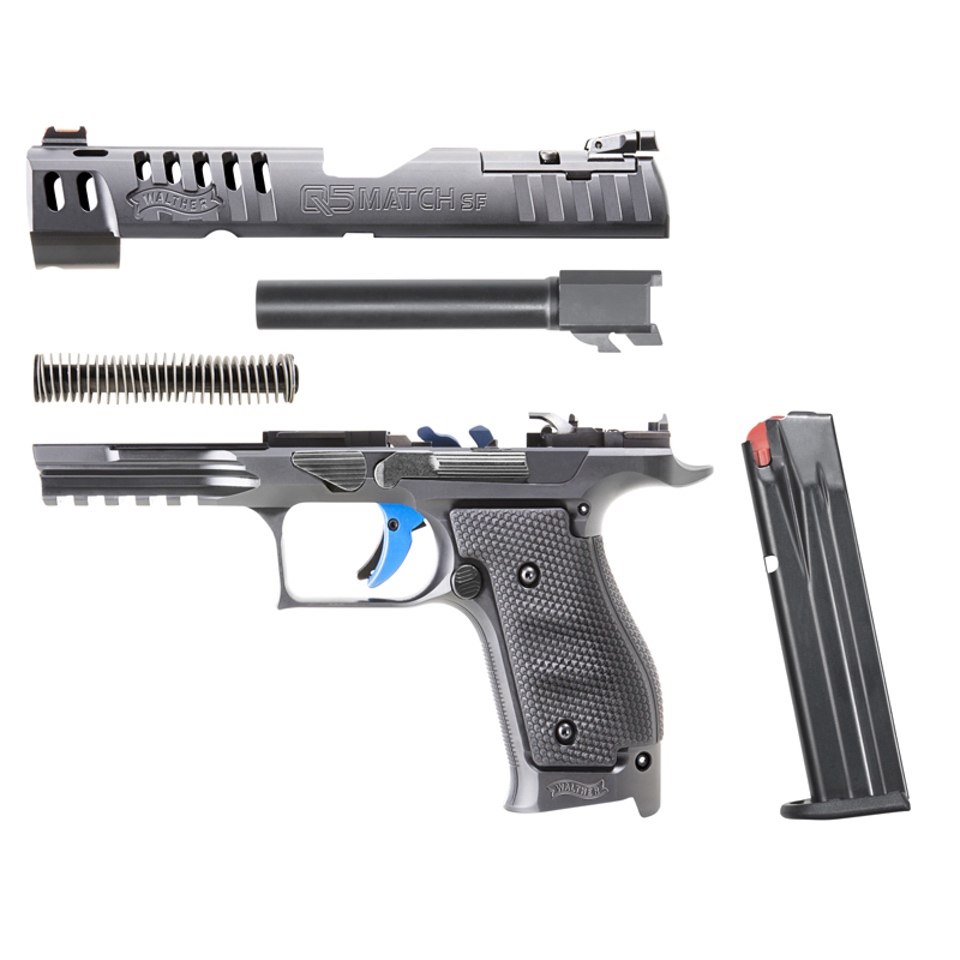 The Optic
There are many optics available in the market. Most are well-made and very durable. Therefore, choose the one that you believe will suit you best. In my case, I looked for a durable sight that had a small lens and was lightweight. Hence, I chose the Vortex, Venom red dot sight. While this sight works for me, it might not work for you. So, make sure you have a clear idea of why you want to use a red dot, which will help you chose the one that is right for you.
Dry Fire
One of the most common ways to dry fire is from the holster. I did that countless times for weeks, to the point that I was finding the dot with no problem. However, during my first competition, I realized that my dry firing session needed to be improved. I was losing the dot when shooting on the move or during fast transitions. It was eye-opening. Since then, I stopped doing static dry fire practices—unless I am practicing something else— and I started doing an extra 2 or 3 steps with my draw. The dry firing practice was also essential to get used to looking at the target, something I was not used to doing. Last, but not least, I dry fire on the move to get used to the red dot behavior as I move slow and fast.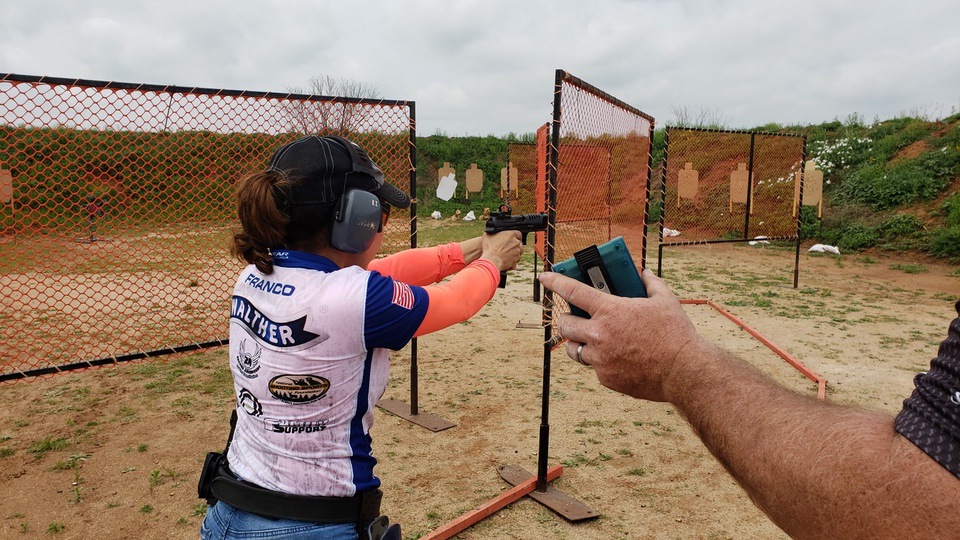 Range Time
Quality range time is instrumental in improving my shooting skills. Hence, I try to go to the range as often as possible. Generally, I go to the gun range on Thursdays—and sometimes Fridays—for 2 hours, and I participate in local matches almost every weekend. During my practices at the range—and even during competitions, I take note of my weaknesses, my mistakes and my strengths. For example, I noticed that I needed to engage the muscles of my forearm to lock my wrist. By doing so, I was able to control the movement of the dot. Also, I always focus on quality over quantity because shooting is a sport of repetition. Therefore, I bring with me a training plan that helps me train efficiently.
I have learned a lot during this new journey – not only about the shooting itself, but also about me. I hope that you also find the joy in learning something new and in getting out of your comfort zone. I am no expert in the matter, as I am still learning, but I am glad to help you overcome the challenges of trying something new, like pistol shooting with optics.
Former Olympic pistol shooter and Top Shot competitor, Gabby Franco is a brand ambassador for Liberty Safes and sponsored by Walther Arms, and the National Shooting Sports Foundation (NSSF) as a competitive shooter. She is also a member of the 2017-2018 NRA Sports Shooting and the NSSF Inclusion and Outreach committee. Visit her website to learn more. She also has written a shooting manual, Troubleshooting: Mastering Your Pistol Marksmanship.
Find out more about the Walther PPQ 5 Steel Frame here.
About Gabby Franco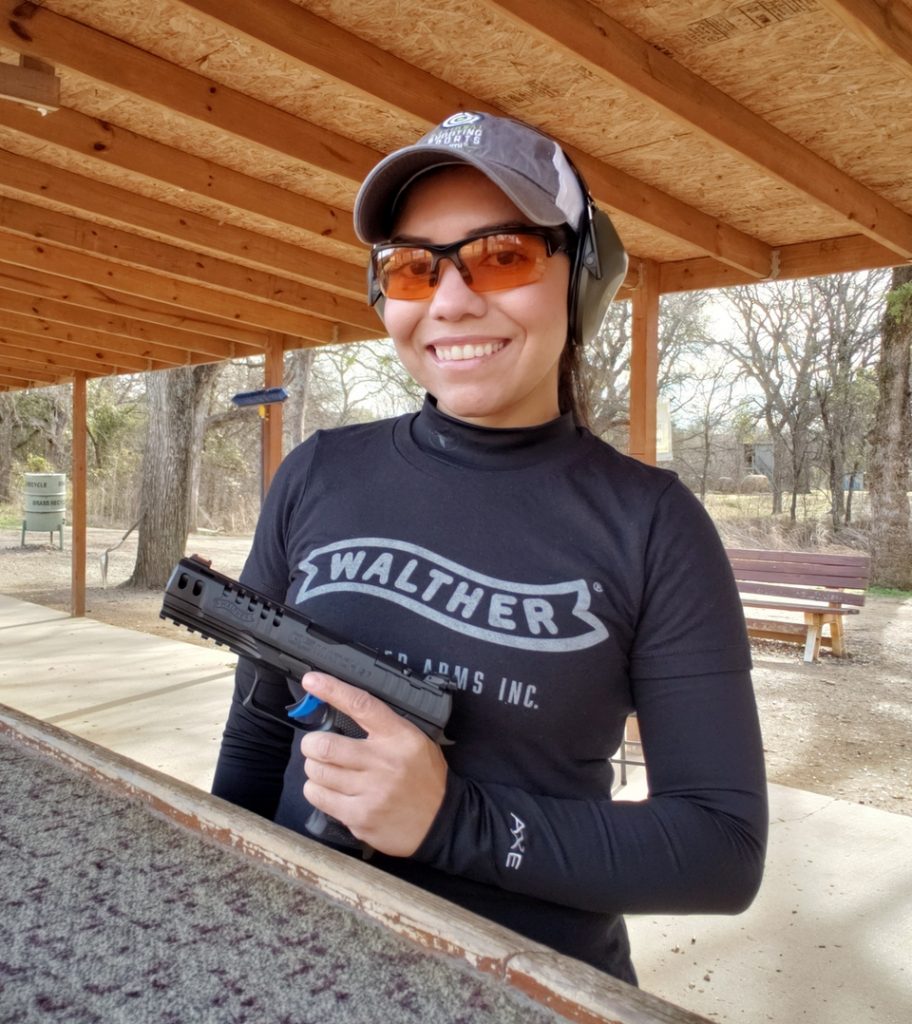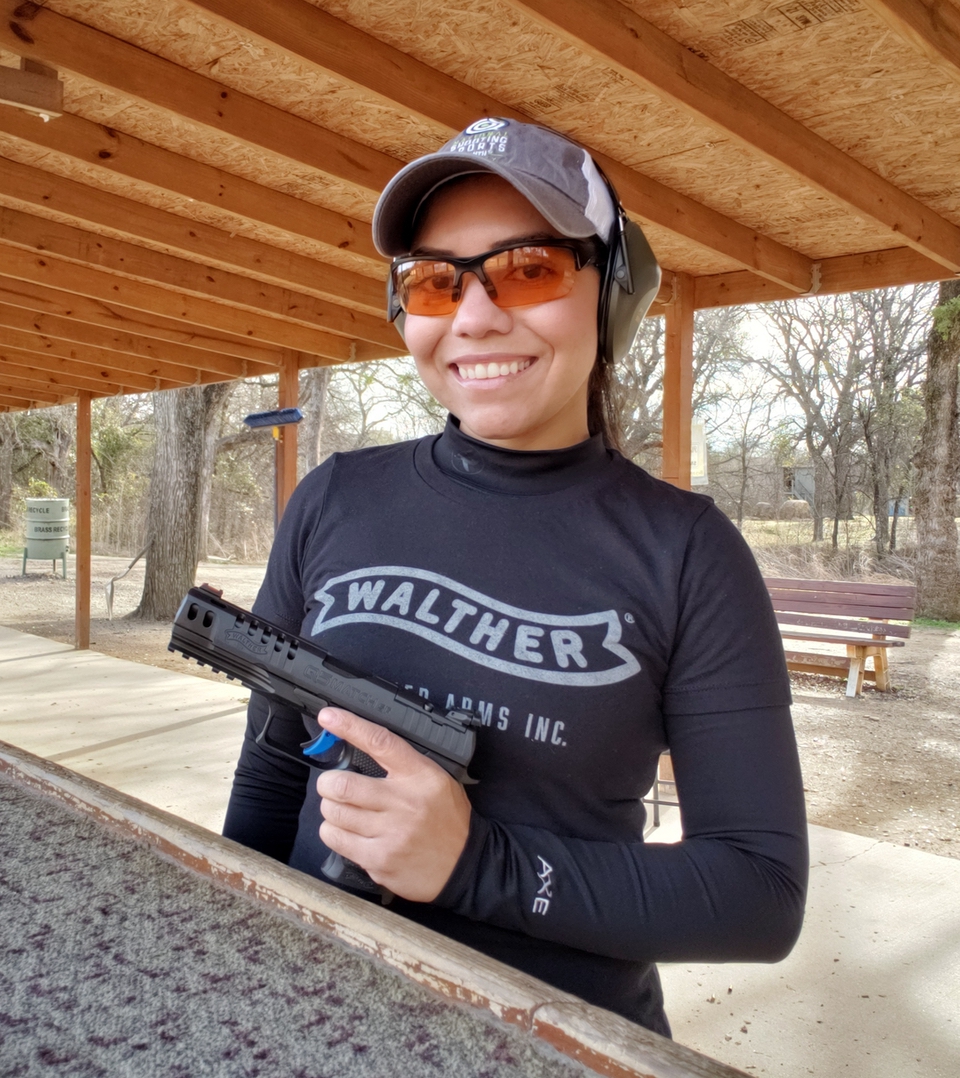 Gabby Franco was the first female shooter to represent Venezuela in the Olympics. As an accomplished author, speaker, competitive shooter, and instructor, she is recognized worldwide for her shooting skills and advocacy for the right to own and bear arms. Gabby's 25 years of experience in Olympic, self-defense, and practical shooting have served as a platform to educate and empower thousands of people through live and virtual training across the United States and Puerto Rico. For over eighteen years, Gabby has shown her commitment to promoting the shooting sports by not only participating and winning medals in various competitions, but also sending a message of dedication, sportsmanship, and positive attitude.
In 2012 Gabby made her first public appearance as a contender in the History Channel's show TOP SHOT (Season 4) where she became the only woman to ever progress to the final stage of the competition. Following her success from Season 4, Gabby was the single woman to participate in the "All-Star season" of TOP SHOT. In 2013, she published her first book titled Troubleshooting: Mastering Your Pistol Marksmanship, selling thousands of copies worldwide in both English and Spanish.
Gabby Franco represented Remington Outdoors Company from 2014 through 2017 as a competitive shooter in the disciplines of Limited (USPSA) and Tactical OPS (3-Gun), as well as special events at trade shows. Through the same period, Gabby became an NRA News commentator and the host of the NRA Women's Network show Tips & Tactics.
Volunteering is important to Gabby. She has volunteered her time to train the wives of the Special Forces Community with the Special Forces Charitable Trust. Gabby has served as a coach for disabled veterans at the TOP SHOT Hero competitions hosted by Black Dagger Military Hunt Club. She has also trained several wounded veterans with the Epic Warriors Organization. Spoke to the Marines at the MCAS Yuma Range and taught a class about precision shooting. Gabby participated as an instructor at multiple A Girl & A Gun and The Well Armed Woman conferences. Gabby has donated portions of her revenue to sponsor Junior shooting teams such as Yuma Young Guns (Arizona) and Oakmont Vikings Trap Club (California). Also, after the 2017 Hurricane Harvey, Gabby worked as a volunteer at the Houston Emergency Aid Coalition and donated 100% percent of the proceedings of her seminar for the Hurricane relief fund.
Currently, Gabby is a Brand Ambassador for Liberty Safes and sponsored by Walther Arms, and the National Shooting Sports Foundation (NSSF) as a competitive shooter. She is also a member of the 2017-2018 NRA Sports Shooting and the NSSF Inclusion and Outreach committee.
About Barbara Baird

Publisher/Editor Barbara Baird is a freelance writer in hunting, shooting and outdoor markets. Her bylines are found at several top hunting and shooting publications. She also is a travel writer, and you can follow her at https://www.ozarkian.com. View all posts by Barbara Baird →