Firearm Review: The Walther PPQ 45
Walther designed this gun in .45 ACP for personal protection and recreational shooting. It first appeared in October 2015. Having carried the Walther PPQ M2 in .40 caliber for a few years, I knew what I expected from its big cousin in the line of Walther Police Pistol Quick (PPQ) models, which includes .22, 9mm, the aforementioned .40 and .45.

Sponsored by Walther
This .45 exhibits this line's characteristics of being sleek and depending upon your wardrobe choice, concealable. One of the major reasons I like the PPQ line of striker-fired, polymer-framed centerfire pistols is because they all are streamlined and slim. Walther kept the width at 1.3 inches and the overall length at 7.5 inches, so with 12 rounds in the magazine, this PPQ is a great option for fall/winter concealed carry, if you dress around it.
Another great feature is the Tenifer coating on the gun's metal parts, to help prevent corrosion and damages from impact.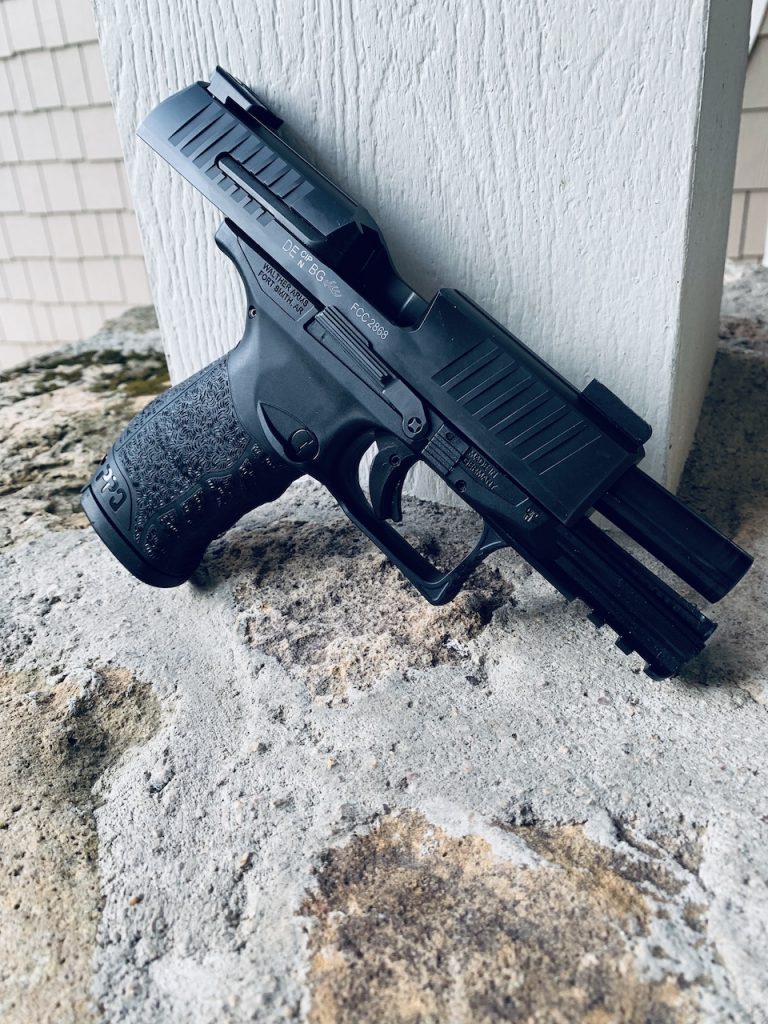 I've always appreciated the front and rear slide serrations and PPQ models' ambidextrous controls, too. If you train to shoot with your right hand and left hand as shooting or strong hands, you'll know why I like these features.
If you want to mount a laser or flashlight on this gun, no problem. It comes with a mil-spec Picatinny rail on the dust cover.
While dry firing, I immediately recognized the standard Walther PPQ-trigger-pull. Talk about being able to get back on the target quickly. This model comes with a superior 5.6-pound trigger. The "Carl Walther signature quick defense trigger" is designed specifically for the PPQ and different from other lines of Walther pistols. When you pull the trigger, the trigger system releases the fully pre-loaded striker assembly, firing the pistol. Pulling the trigger does not partially load the striker spring as with the GLOCK and many other striker-fired pistol designs. Therefore, the PPQ trigger pull is absent that springy, spongy feel of typical striker-fired handguns. The PPQ trigger pull is entirely due to the trigger and disconnector springs, and (according to Walther) has a trigger travel of approximately 9 mm (0.4 in) with a relatively short trigger reset of 2.5 mm (0.1 in) and a trigger pull of approximately 25 N (5.6 lbf). Unlike many other trigger systems, the preset internal striker has a let-off point and trigger pull that remain unchanged from the first shot to the last; Walther did not fit a decocker to the gun, nor is it necessary because of the striker system design.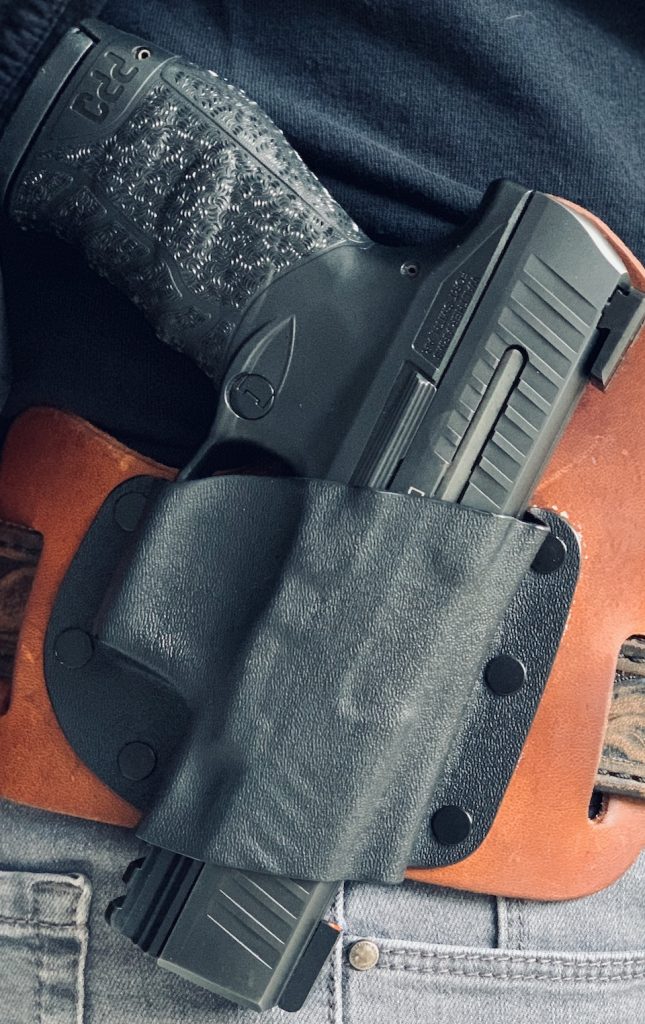 I like this gun. Because of my stature, I can only carry this gun concealed with a jacket or long shirt. It's frankly too much weight for purse carry. It may work in a tote, though. I would, however, carry it openly while working outdoors on my property here in the Ozarks, and feel confident that I could shoot it accurately.
Note: You may shoot +P ammunition in this gun, but not +P+. If you choose to shoot +P, the increased pressure developed by the ammunition may cause wear and tear that requires the gun to need service more often. Walther states that +P+ "must not be used" in this firearm.
Also, of note, is that fact that my husband used this firearm at Gunsite Academy's 250 course, where he fired at least 1,000 rounds through it. That's why he changed the sights, to TRUGLO Tritium/fiber optic.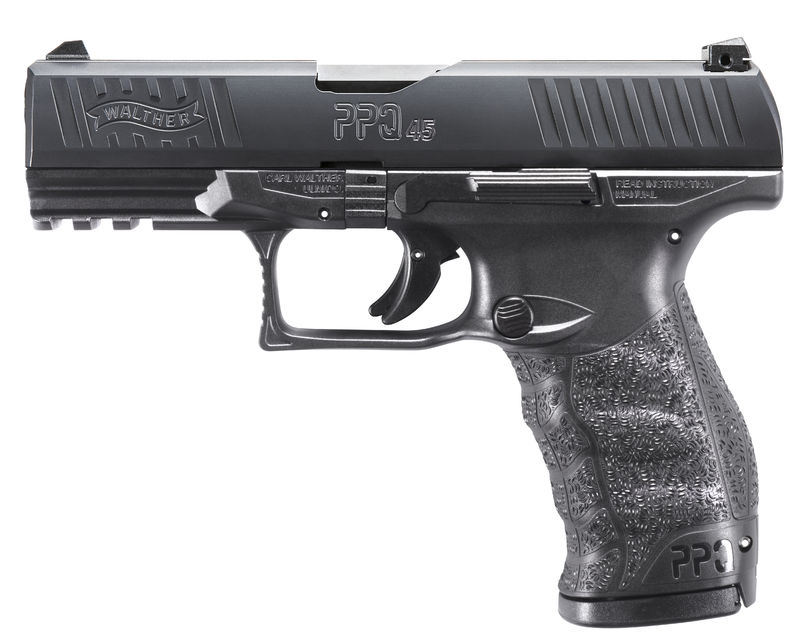 Specifications
Manufacturer: Walther Arms, Inc.
Action Type:
Caliber: .45 ACP
Capacity: 12 in magazine
Frame: Polymer
Barrel Length: 4.25 inches
Rifling: Carbon steel, polygonal, 1:16 RH twist
Sights: 3-dot polymer
Trigger Pull Weight: 5.6 pounds
Length: 7.4 inches
Width: 1.3 inches
Height: 5.8 inches
Weight: 1.75 pounds
Accessories: Two magazines, manual, two back straps
MSRP: $699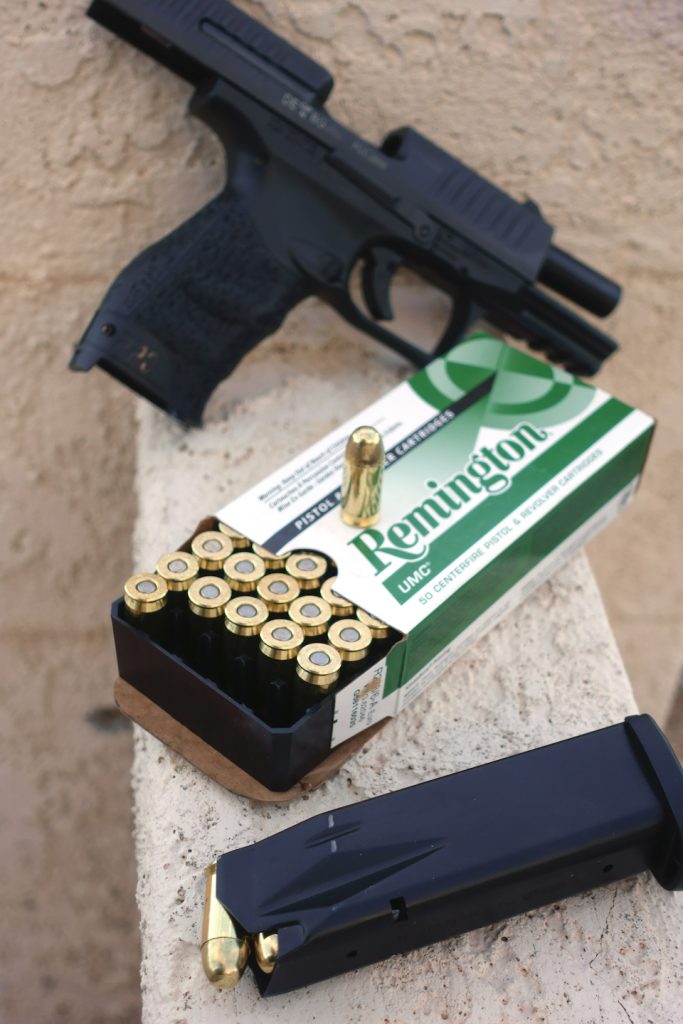 Walther PPQ 45 Shooting Results
Accuracy measured in inches for 5 consecutive, 5-shot groups at 25 yards from a rest.
Group Size – 25 yards
Aguila smallest, 1.7 largest, 3.8 average, 2.82
Remington smallest, 2.7 largest, 3.8 average, 3.1
Liberty smallest, 2.0 largest, 3.5 average, 2.8
Learn more about the Walther PPQ 45 here.

About Barbara Baird

Publisher/Editor Barbara Baird is a freelance writer in hunting, shooting and outdoor markets. Her bylines are found at several top hunting and shooting publications. She also is a travel writer, and you can follow her at https://www.ozarkian.com. View all posts by Barbara Baird →