Obituary for a Bird Dog: In Memory of Sage
Bird dogs are family to their people. There is a bond that forms – from training time to field walks to retrievals – that cannot be replicated in any other relationship. Jim Millinsifer knows this fact. He is the founder and president of the Ringneck Classic/Northwest Kansas Conservation Foundation. Jim and his dogs hunt from Arizona to Wyoming to North Dakota and in between, in search of upland game birds and waterfowl of many varieties. Last year, we hunted with Jim in Nebraska, and his German wirehaired pointer dog, Sage, as she worked the rolling sand hills with us like a champ – even though she had been diagnosed with cancer. You've probably figured that this story revolves around her death, in an obituary written by Jim for her, and I would add, to her.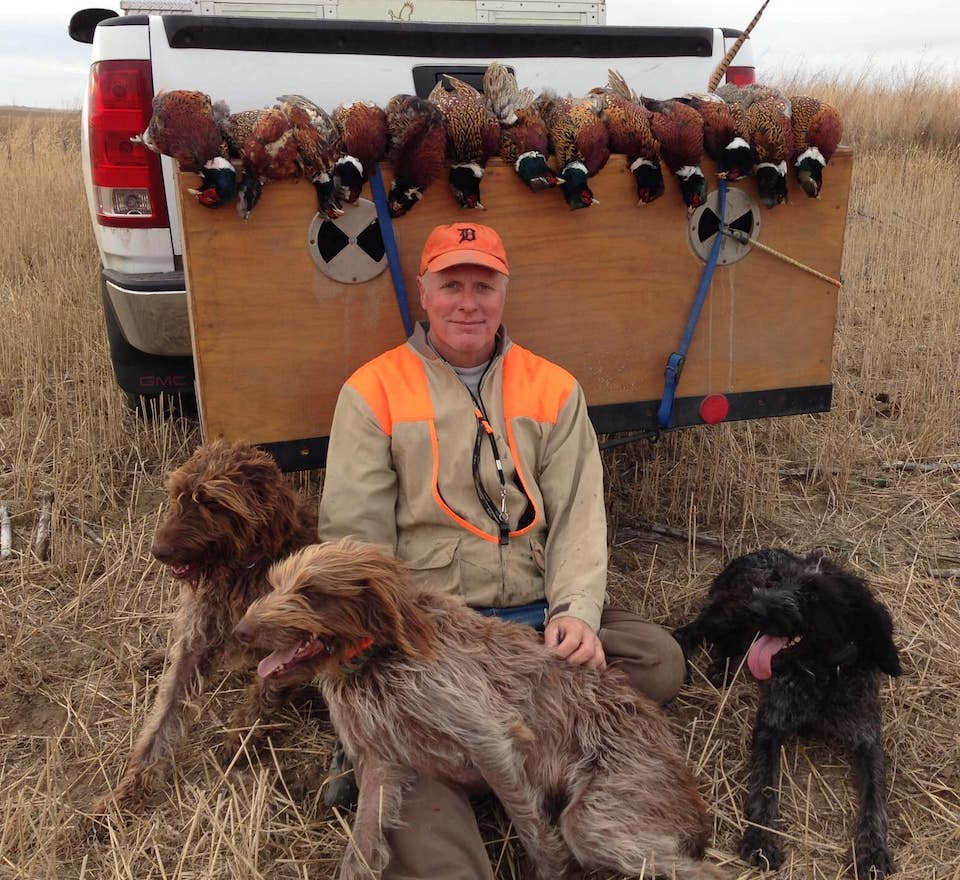 Obituary for a Bird Dog
Sage, December 31, 2006 to August 12, 2019.
Sage was born in Bennett, Colorado, and lived in Englewood before relocating to Thomas County, Kansas, in 2008. Sage grew up quickly, a result of losing her 2 mentors, Jager and Grace, shortly after moving to Kansas. From the fall of 2008 through this year, Sage was alpha of her pack and instrumental in their training. She hunted in 6 different states, pointed and retrieved 17 upland bird species, along with various ducks and geese. Sage participated in 8 Kansas Governors Ringneck Classics, pointing roosters for 2 governors, over 75 active or retired military service members and appeared in 5 different national televised upland hunting programs.
Sage was a frequent visitor to Prairie Senior Living Center in Colby, Kansas, where Grandma Cindy lived until last April. Sage's last stand was this past Saturday when she traveled to Denver to be a part of Grandma's Celebration of life. This morning, Grandma met Sage at the Rainbow Bridge. Sage is survived by her people; the boss, Mamma and Conrad, her sister Maize (Mesa, Arizona) and her pack: Zoe, Mia, Jazz, Baby Rae and Daisy.
Donations in Sage's memory can be made to Pheasants Forever, 1783 Buerkle Circle, St Paul, MN 55110.
Why write an obit for a dog?
Jim and I talked about Sage recently. He and his wife, Laurie, decided last year not to subject Sage to treatments for her cancer, as she would lose her sense of smell. For a bird dog, that's the kiss of death before death. Jim and Laurie decided they would let her hunt till the end, and keep her comfortable during the process of her demise.
Watching her in the fields last year, you wouldn't know that she had the dreaded C word. She ran at the lead of the pack – her rightful place. She patiently stood afterward, as we (Jim, my husband and I) worked on combing burrs out of her and her companions' fur. She even posed with that wind-blown hair look for a photo.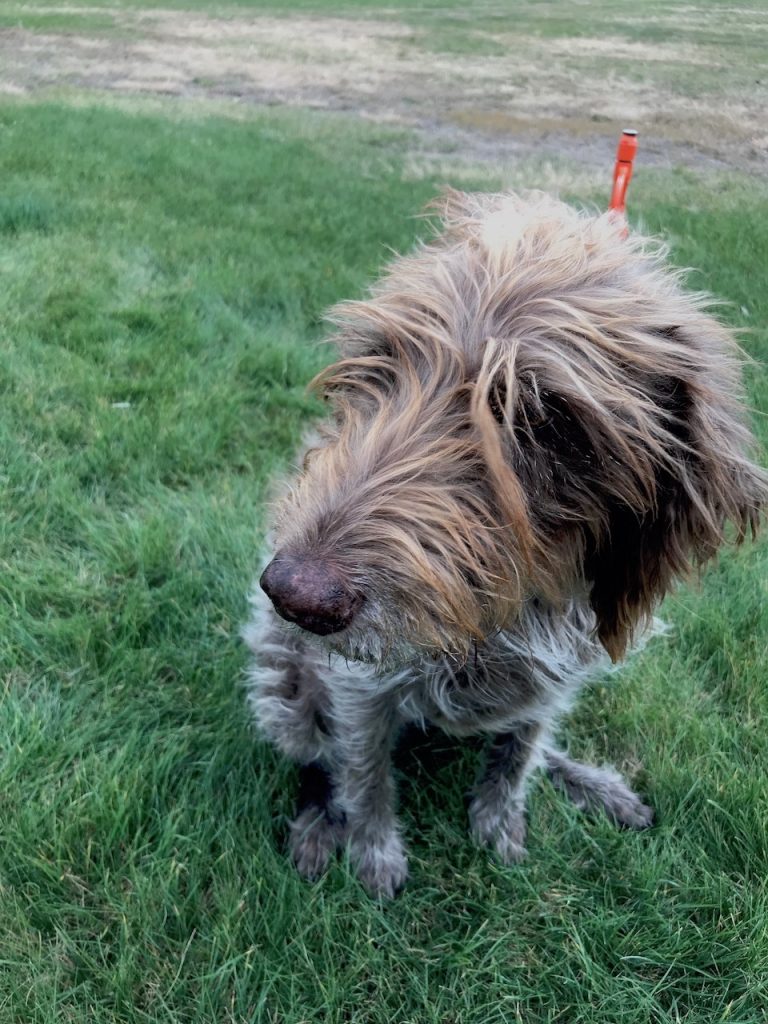 I love to read dog stories in publications such as "Garden and Gun," and I wish more people would write about their lives with their dogs. Every relationship is different, and can be rewarding to both parties involved. I love that Jim wrote this obituary, because it means that Sage mattered, and that she was family, and that her memory will not only live on in his mind, but in others' minds who had the privilege to meet this smart and talented bird dog.
RIP, Sage.

About Barbara Baird

Publisher/Editor Barbara Baird is a freelance writer in hunting, shooting and outdoor markets. Her bylines are found at several top hunting and shooting publications. She also is a travel writer, and you can follow her at https://www.ozarkian.com. View all posts by Barbara Baird →