In Search of a Bear Defense Gun: A Tale of 2 Rugers
Ever since I became a hunter, safety in the field has been one of my top priorities. This involves proper firearms training, first aid preparedness, and in Wyoming, awareness of predators in the mountains we call home. While we love viewing the mountain lions, wolves and bears from the security of our vehicles, it is another issue entirely to encounter one at close range with a dead animal on the ground between you. Although you hope to never have to defend yourself, it is imperative to prepare for every situation. With this in mind, I've been looking for a bear defense gun, and I chose to compare the Ruger New Model Blackhawk and the Ruger Super Redhawk Alaskan.

Sponsored by Ruger
While researching options for defense in the field, I noticed several experienced guides referring to the "4-3-1" rule, meaning that the minimum bear gun setup should be at least a 40 caliber with a 300-grain cartridge shooting 1000 feet per second. I used this for a guideline, but not as a hard-and fast-rule, as I wanted to test out multiple options. I decided to compare the Blackhawk in a .45 Colt with Hornady Lever Evolution 225 grain FTX against the Redhawk in a .44 Rem Mag with Hornady Custom 300 grain XTP ammunition.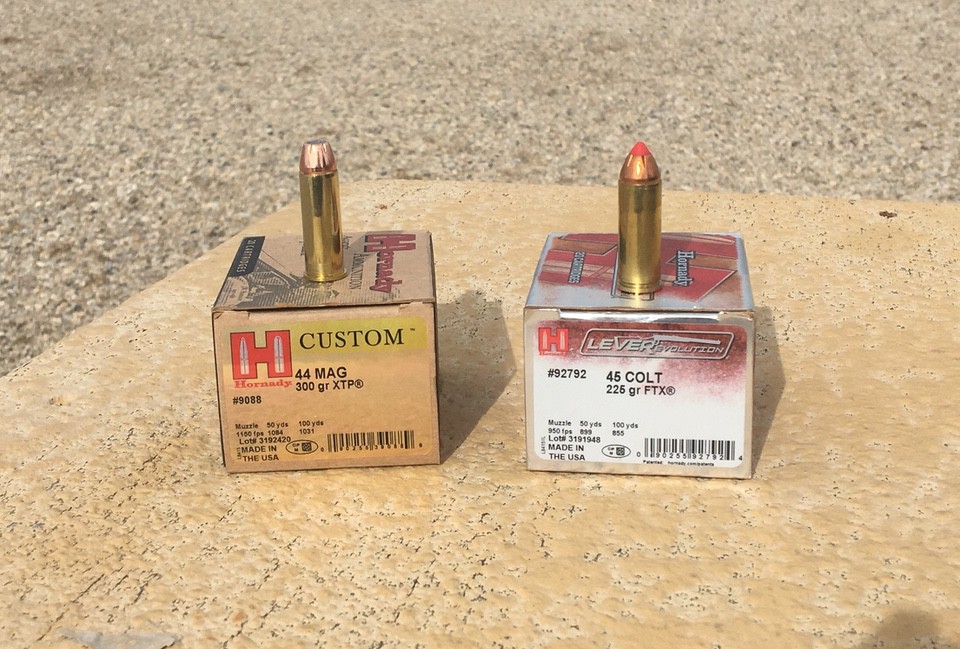 From the beginning of this project, I've used the phrase "effective, yet manageable" more times than I can count. I am not looking for a concealed carry gun, or even a gun I will shoot for pleasure at the range. I need a gun that I can discharge enough to not fear using it in a stressful situation while trusting that I have the adequate firepower needed to stop a charging grizzly bear. That's a delicate balance, and the solution will be different for each person. At the end of the day, I believe it is more important for you to have a gun that you can shoot accurately and safely than it is to load up on more firepower than you can handle. Here is what I discovered when comparing these 2 Ruger revolvers.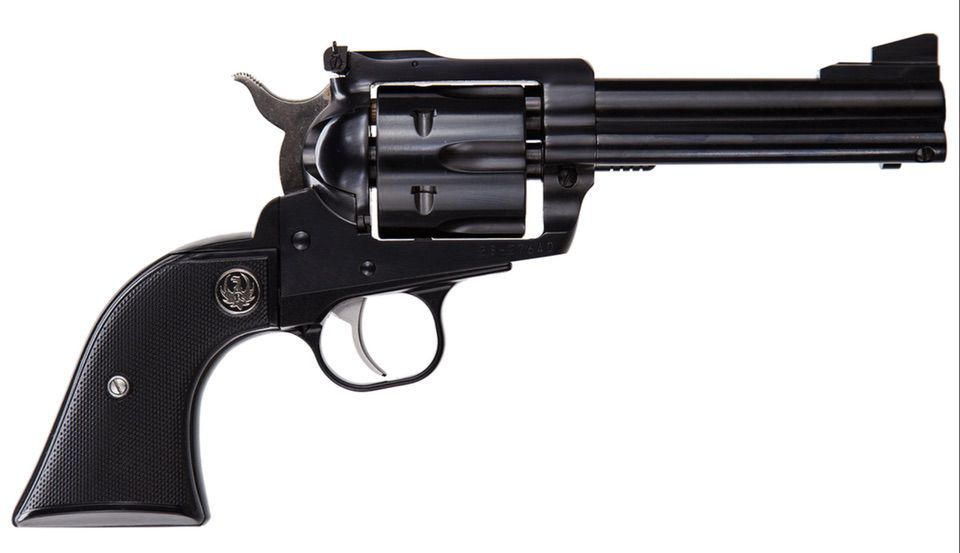 Ruger New Model Blackhawk .45 Colt
Alloy steel construction
Single action
4.62-inch barrel
6-round capacity
39 ounces
Black-checkered hard rubber grip
Pros
Less recoil with the longer barrel and smaller grain ammunition
Incredibly accurate
Smooth, crisp trigger pull
Cons
I did not like the grip on this revolver; it just felt wrong in my hand
I prefer a shorter barrel gun, especially when wearing it in a chest holster
In a life and death situation, I don't want to lose precious seconds firing a single action revolver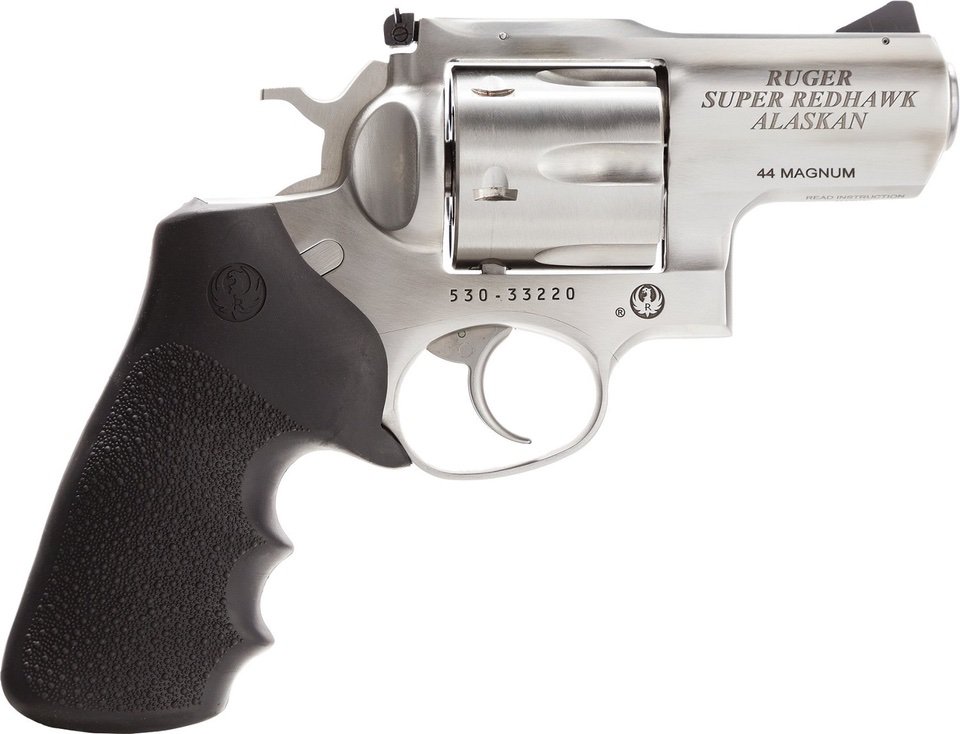 Ruger Super Redhawk Alaskan 44 Rem Mag
Stainless steel construction
Double action
2.5-inch barrel
6-round capacity
45 ounces
Hogue Tamer Monogrip
Pros
The grip is very comfortable and fits my hand well
Construction of this revolver can definitely handle the elements and rough terrain of being in the mountains in varying weather conditions
Double action allows for quick follow up shots
Very accurate
Cons
Longer trigger pull needs time to adjust to
More felt recoil with the shorter barrel and higher grain ammunition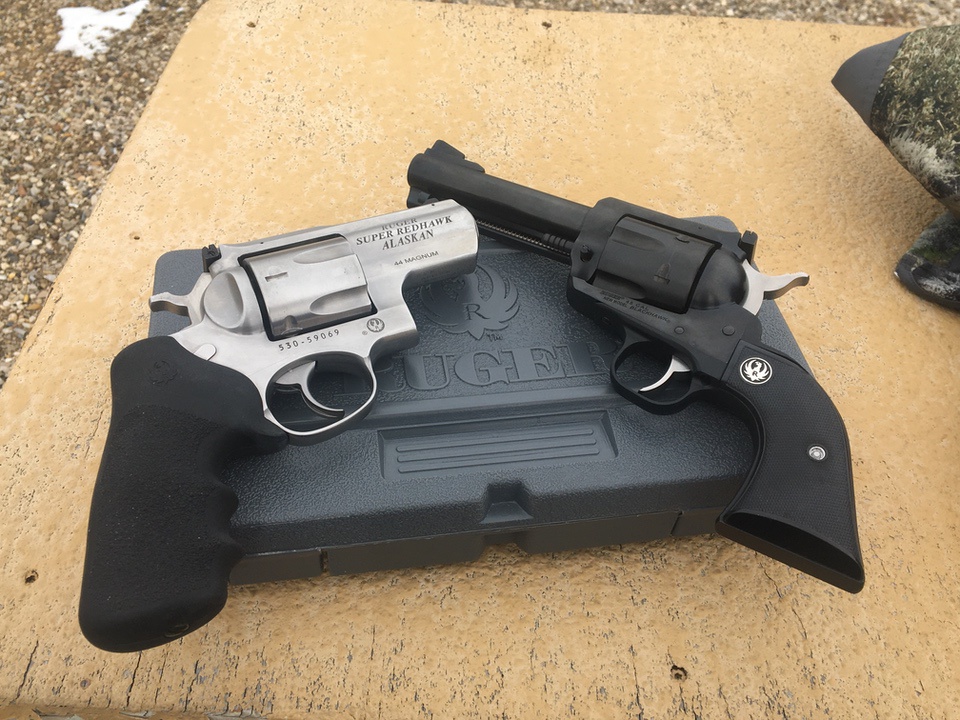 I was a little nervous before shooting both of these revolvers, as I generally avoid larger caliber revolvers. I had my husband, Russ, shoot each, and after he assured me that the recoil wouldn't damage my much-needed hands, I took my turn. I was pleasantly surprised that after the initial shot and adjustment, I was able to stay on paper easily with both guns. Occasionally my groupings would spread, but they stayed well within the kill zone on an 8-inch target.
Bear Defense Gun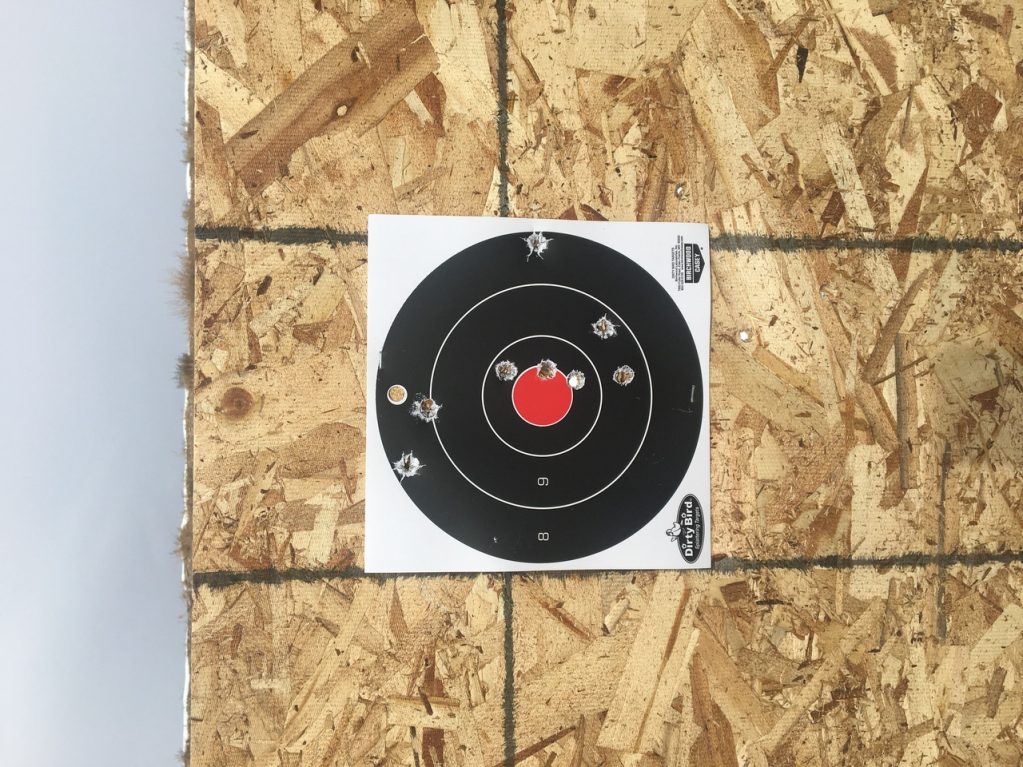 After spending time at the range shooting both of these revolvers, the Super Redhawk Alaskan is definitely the bear defense gun for me. Although I used different ammunition, I knew before even firing them that the Alaskan felt better in my hands. It did have more felt recoil, but I was expecting that with the difference in barrel length and cartridge grain, and it was still controllable.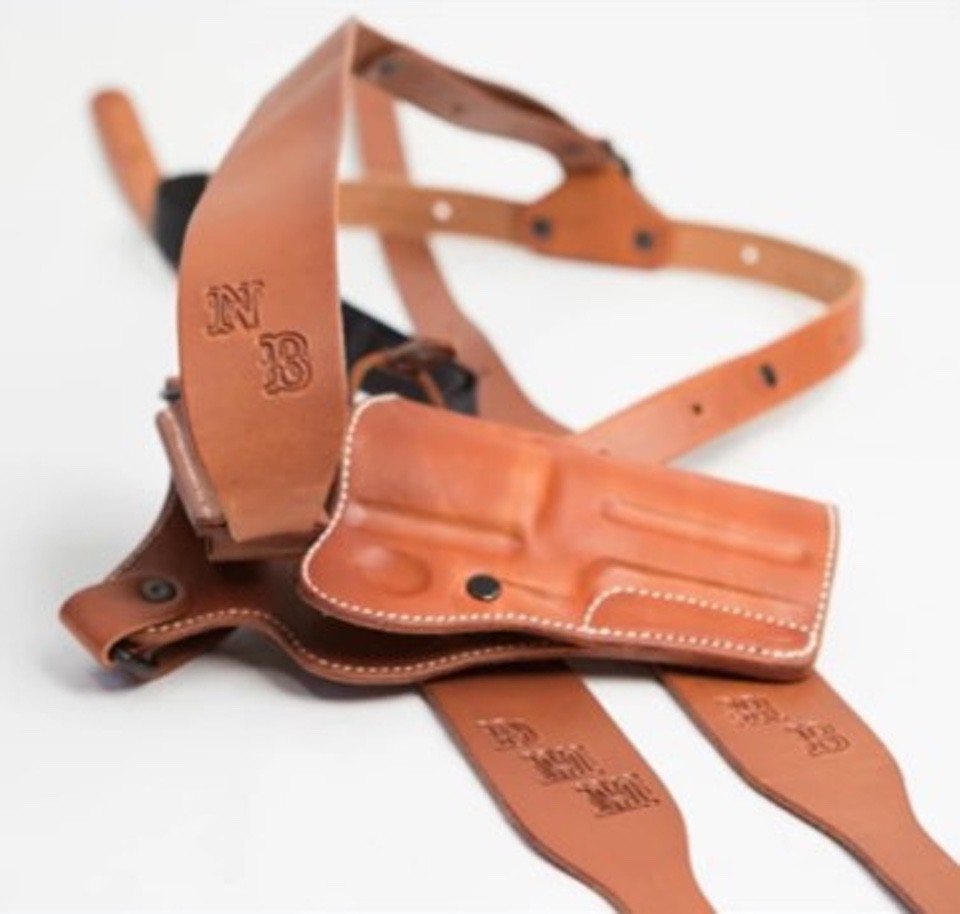 The Alaskan feels substantial when you handle it, which is reassuring when you think about what it could possibly be used for. Because of its weight, and the nature of its usage, I will be carrying it in a Diamond Leather Guide's Choice Leather Chest Holster. This holster is durable and comfortable with its adjustable straps, and I know that the quality will allow it to hold up to the beating I usually give my hunting equipment while traversing the mountains. It will also be useful to carry my new bear gun while 4-wheeling, fly fishing or any of the various activities I enjoy throughout the year so that I can be safe while not having interference with my movements. I look forward to testing it out during my upcoming cow elk hunt!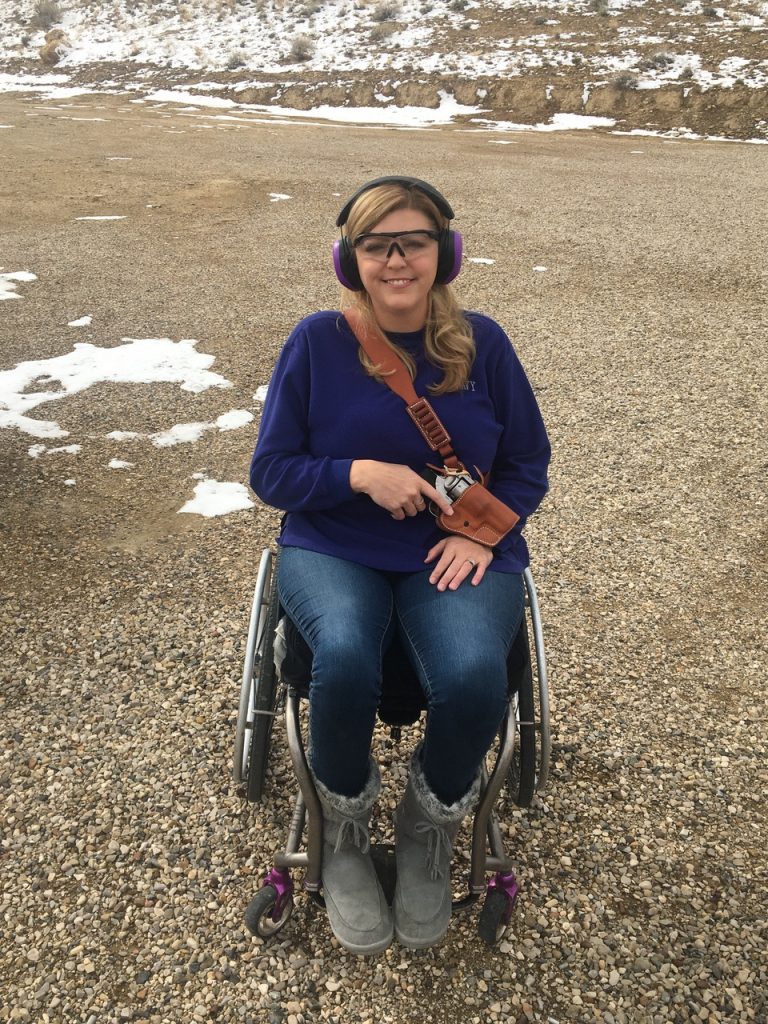 As I mentioned earlier, I wouldn't purchase either revolver for long-day pleasure shooting at the range, but the Alaskan will allow me to put in adequate time to feel comfortable and confident without causing damage to my hands. Effective, yet manageable; just what I was looking for all along.
MSRP Info:
Ruger New Model Blackhawk .45 Colt: $669.00
Hornady Lever Evolution 225 grain FTX .45 Colt: $19.79 (20 cartridges)
Ruger Super Redhawk Alaskan .44 Rem Mag: $1189.00
Hornady Custom 300 grain XTP .44 Rem Mag: $19.79 (20 cartridges)
Diamond Leather Guide's Choice Leather Chest Holster: $175.00
About Ashlee Lundvall

Ashlee Lundvall writes a blog titled "Redefining Life,"  that follows her rise from a debilitating injury as a teenager to Ms. Wheelchair USA in 2013. Her first book, "A Redefined Life," was published in February of 2016, and she is on National Pro Staff for Mossy Oak and the NRA's Disabled Shooting Sports committee. Ashlee is also the recipient of the 2017 SCI Foundation Pathfinder Award. Ashlee truly shines as a keynote speaker at outdoor industry and disability related events and conferences. She is passionate about mentoring newly injured patients, and loves to pass on her love for adapted outdoor recreation! View all posts by Ashlee Lundvall →
The Conversation