Gun Review: Ruger Security-9 Compact in Dark Earth
I've tested a lot, really a lot, of guns in my time as a gun writer. I saw this one from Ruger come out and thought, "I must try it." Why? I'm always looking at guns with a few questions in mind, particularly regarding The WON and our readership. First of all: Would a woman carry this gun? I think she would, and I'll tell you why – especially after putting 400+ rounds downrange with the Ruger Security-9 Compact model.

Sponsored by Ruger
What caught my eye in the first place – the color. Sold exclusively by Davidson's, the color is called Davidson's Dark Earth Cerakote, aka Model 3832. I think women will like this neutral color and frankly, it's like having oak cabinets in the house. They won't show dust and this one probably won't show wear and tear. Besides, it has that military edgy look to it, and if you're going to protect the ones you love, as well as yourself, you might be pro-dark-earth bent.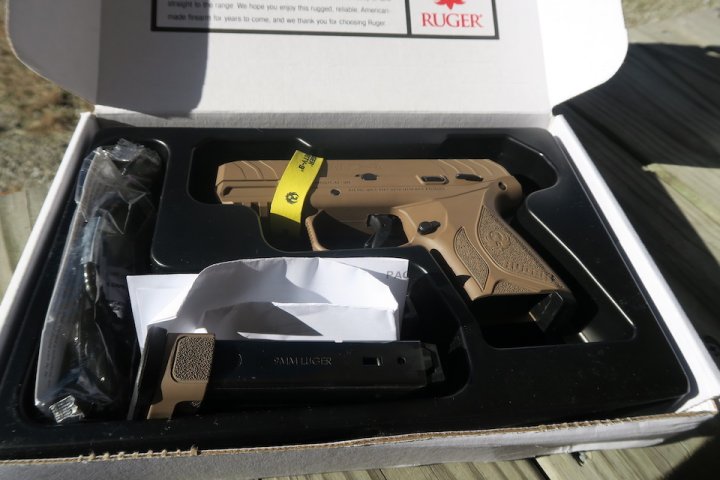 So, this Security-9 obviously is chambered in the ever-popular 9. For testing, I scrounged around in the back room and found 3 types of ammo. First, the gun got a break-down at the cleaning bench and a wipe down, too, and then, a break-in on the range with 2 trips and about 300 rounds. Right out of the box, this one shot straight and on target. I even shot it at 25 yards on steel targets (8-inches in diameter) and hit them consistently. Mostly, though, I kept my shooting between 7 and 15 yards, aiming for center-of-mass groups and occasional head shots.
For accuracy testing, I set up the gun at 7 yards on a rest for testing with 5 groups of 5 rounds per type of ammo – measuring from the centers of the farthest shots per group and then, taking the average in inches.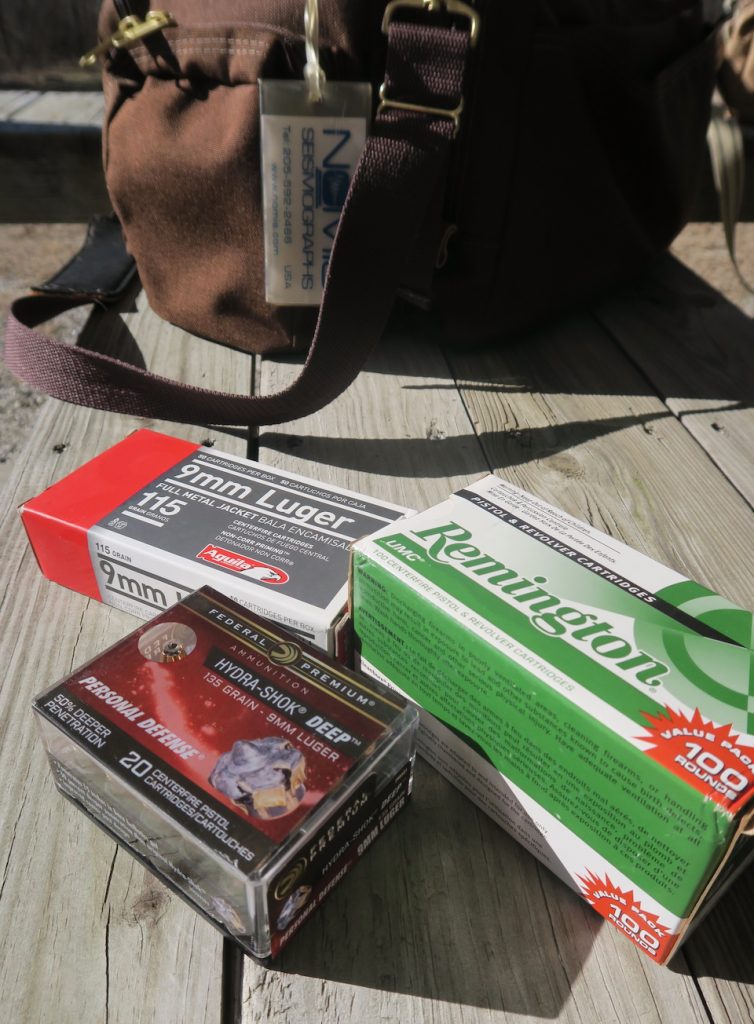 Here were the results:
Federal Premium Personal Defense Hydra-Shok Deep, 135 grain: largest group – 1.5; smallest group .5; average – 1.05.
Aguila 9mm Luger FMJ, 115 grain: largest group – 1.5; smallest group .75; average – 1.15.
Remington UMC, 115 grain: largest group – 2.25; smallest group 1.25; average – 1.85.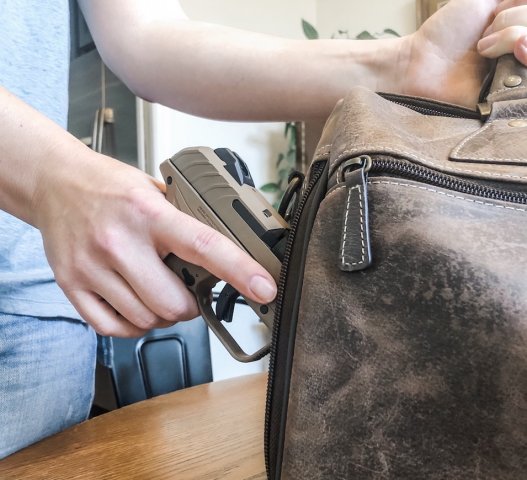 It won't be difficult to find a holster for this model; I did a quick web search and immediately saw several companies offering holsters of all sorts – OWB, IWB, etc. With its form factor and overall length of 6.52 inches, it should be easy to conceal the Security-9. The weight is balanced, and is 21.9 ounces with an unloaded 10-round mag. The trigger press measured 5.5 pounds.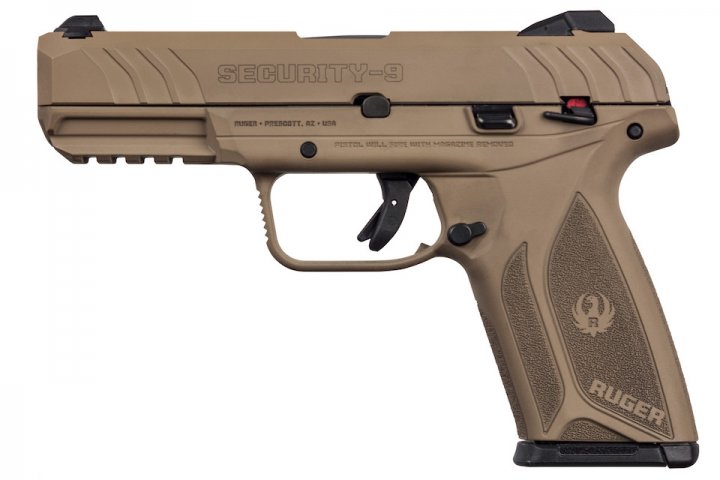 Why Will Women Like the Ruger Security-9 Compact?
Here are a few reasons that I believe women will like this gun:
The price: $399
Slim grip
Two sizes of magazines, 10- and 15-round capacities
Textured grip frame – but not too textured. Your hands won't feel like they've been on cheese graters after a trip to the range
Front cocking serrations
Manual thumb safety – some people want this added feature, along with an internal safety
Double action trigger with smooth press and same press every time. No "squidginess" here at all. Based on Ruger's design called Secure Action, found in the LCP II series.
Sights – rear sight is adjustable
Thanks to a wide offering of semi-auto handguns in polymer styles, the American shooting public has come to expect certain things of personal defense handguns, including an alloy steel barrel with a blued finish, and a through-hardened alloy steel slide. By the way, the slide's width is only 1.02 inches, so imagine that in your waistband or in your CCW purse.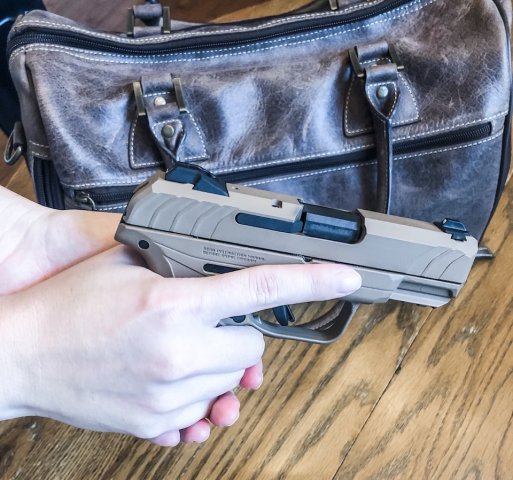 Another thing about this gun is that, if done properly, I believe that most women can effectively manipulate its slide. With Ruger's Secure Action hammer system, this firearm has been built with efficient and easy slide manipulating in mind, and also comes with front-cocking serrations.
MSRP: $399
For more details, and to take another look at Security-9 Compact model, visit Ruger's website.
About Barbara Baird

Publisher/Editor Barbara Baird is a freelance writer in hunting, shooting and outdoor markets. Her bylines are found at several top hunting and shooting publications. She also is a travel writer, and you can follow her at https://www.ozarkian.com. View all posts by Barbara Baird →