NOWW2020: Women Protecting the Future of Hunting
Those of us who enjoy the outdoors and who understand the responsibility that each generation has to be good stewards of conservation are becoming a smaller and smaller segment of the US population. In our current generation, women, in our capacity as influencers, wives and moms have taken the lead in this work to preserve the rich heritage and knowledge and instill it in our friends, neighbors and relatives. One such woman, who wears all of these titles – Renee Wittrock – sat down with me to talk about an event she has co-created for just this purpose.

Sponsored by AZFirearms
Renee Wittrock is a conservation philanthropist from Scottsdale, Arizona. As a Quail Forever member and a participant in the Hunters and Anglers Heritage Workshop Group (HAHWG) and Arizona Game and Fish Department (AZGFD) Outdoor Business Summit, she is able to further her attachment to conservation. As the co-founder of the Sportsmen's Business Alliance, she stays in touch daily with business owners who hunt, fish and shoot.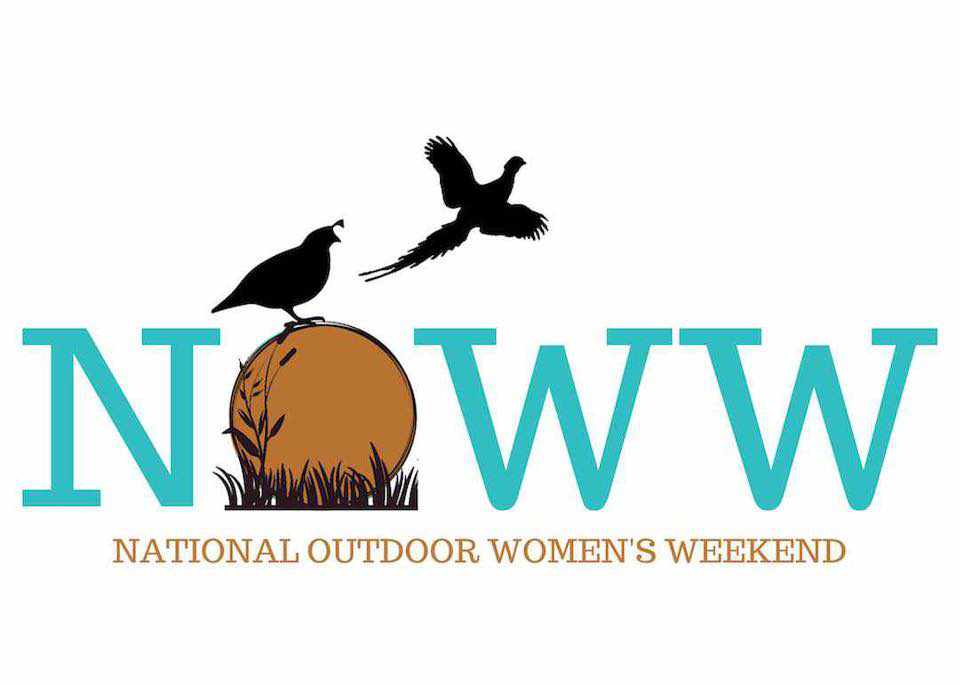 Background on Renee Wittrock
Renee's passion for habitat and wildlife began 1990 when she moved to Iowa with her husband, Chip. Their 40 acre farm was a wildlife haven, and they raised their son, Levi to be a conservationist, hunter and fisherman. Their family has supported Pheasants Forever for over two decades and jump started the Valley of the Sun Quail Forever Chapter in Phoenix/Scottsdale. Through all of her efforts, Renee speaks and writes about recruiting, reactivating and retaining hunters and anglers in the US and the need for education and social outreach in this area, and is the co-creator for the National Outdoor Women's Weekend, aka NOWW2020.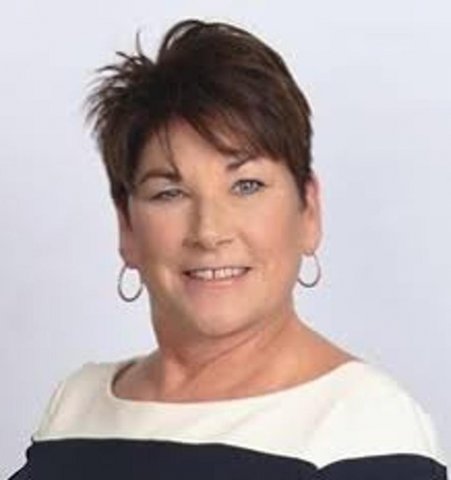 Interview with Renee Wittrock
Cheryl: What sparked this idea for this event?
Renee: In 2018, Anna Van Nostrand from Anna V Outdoors, came out to do a co-ed shooting clinic for the Valley of the Sun Quail Forever annual banquet. She was great and a lot of us became good friends. One of the guys in the chapter made a comment that he has been seeing a lot more women shooting at Ben Avery Shooting Facility … so 1 thing led to another and we went from a few hours shooting clinic to a full-blown 2-day seminar and shooting Event. We looked to the market place – women who shoot and hunt – and asked ourselves, "What would we want in an event?" So, we got it by creating a first-of-its-kind National Outdoor Women's Weekend, NOWW2020!
Cheryl: Who is your "target audience" for this event?
Renee: Any woman! From the novice, who wants to begin her interaction with shotguns, to master shooters, who want to engage with other women who love what they love.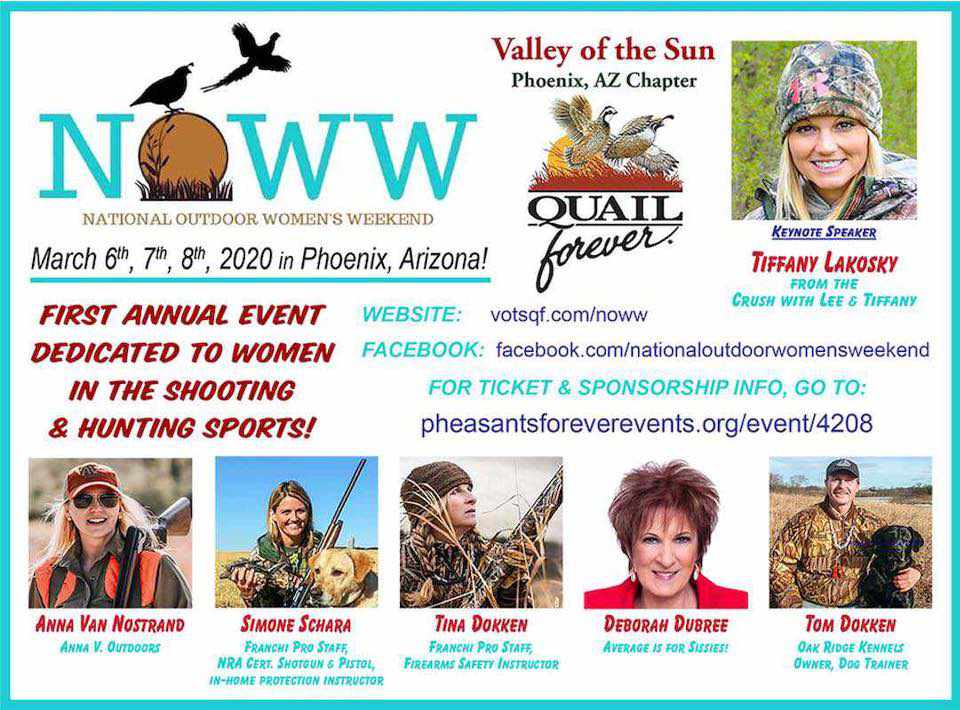 Cheryl: Who are your speakers and how did you choose them?
Renee: That has been such an unbelievable success for us. We have an exciting line up of speakers from all over the nation who come from a wide variety of backgrounds and areas of expertise.
I spoke first to Deborah Dubree, who is a performance coach for pro athletes. Deborah works all over the world. She is a dear friend who jumped in with both feet. She is going to pump us up each morning and then give classes during the day.
Speaking on hunting, shooting, safety and loving the sport – we have Anna Van Nostrand, who is one of the original co-creators of the NOWW idea. Anna is a conservationist, hunter, instructor and speaker on the importance of safe and responsible hunting practices.
Also speaking are Tina Dokken, nationally known and respected dog trainer and Simone Schara, vice president of the North American Shed Dog Association. Both of these ladies are NRA Shooting Coaches. Tom Dokken, creator of the Dokken Dead Foul training tool, will also be sharing some thoughts with us at the event, as well as Dr. Kristina Mott, a canine athlete Specialist.
To top it off, we have Tiffany Lakosky coming in to speak on Saturday Night. Tiffany is the co- host of the Outdoor Channel's top-rated, award-winning show called "Crush with Lee & Tiffany."
We also will have the opportunity to hear from Arizona State Representative Dr. Regina Cobb on the effect that women sportsmen have on protecting our hunting heritage. Also, Scott Lavin, Wildlife Recreation Branch Chief with Arizona Game and Fish Department, will enlighten the participants on the new movement in hunting and shooting sports and how it is supported by a vast successful history and why that has much to do with the efforts, involvement and support of women.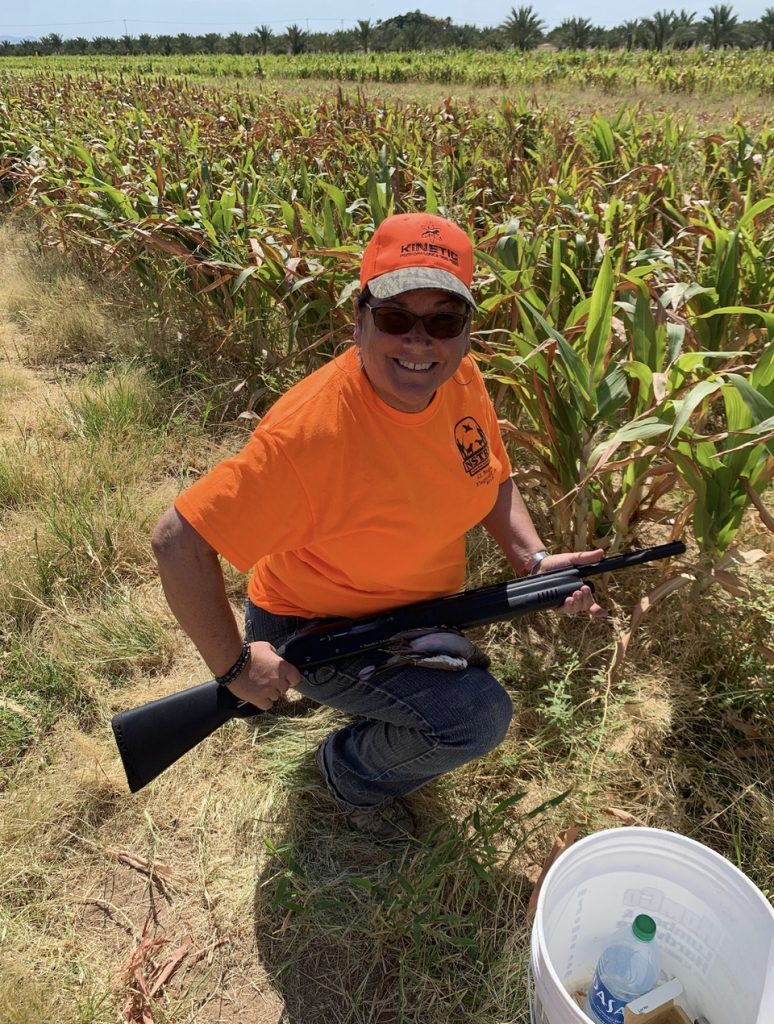 Cheryl: What do you hope your guests learn? What main takeaway do you hope they will leave with?
Renee: We chose our topics of interests first – what we need to do to help women get into these sports, how to keep them invested and interested and then what issues are the most important for them to know. We want our guests to go home better than when they came: more confident, more educated, more skilled and give them areas that they can continue learning if they so choose.
Cheryl: What are the details? Where, when, cost, housing, food?
Renee: Thank you so much for asking! Here are all the details:
NOWW 2020 March 6-8 2020, at the Ben Avery Shooting Complex in Phoenix, Arizona
Friday –
Golf tourney – 8:30 a.m. separate cost and event
Informal gathering at the Buffalo Chip Saloon in Cave Creek
Saturday 8 a.m. to 10 p.m.
Speaker Event
Sporting Clay Shoot
VIP Wine and Wildlife Happy Hour follow by wonderful catered dinner and Festivities
Sunday 8 a.m. to 4 p.m.
Price $299 per person, this includes participation in both shooting and seminar days.
This program has a set limitation on attendance due to the size of the facility and the ability to get everyone out shooting each day. Please register sooner than later to attend. It will sell out!
Cheryl: What is the future of this program?
Renee: The future is bright for this kind national event. We are setting up a structure that can be used as the basis for a 50-year plan. Women are the future of hunting and shooting sports and we want to support this with education, entertainment and long-lasting friendships.
Learn more about the 2020 NOWW event.
About Cheryl Todd

Cheryl Todd is the executive producer and co-host of "Gun Freedom Radio," owner of AZFirearms Auctions, Pot Of Gold Auctions and founder of the grassroots movement Polka Dots Are My Camo. Cheryl is the Arizona state director for The DC Project and travels the country speaking as a champion for our Second Amendment rights. She is a driving force in preserving the legacy of freedom for generations to come. View all posts by Cheryl Todd →