Travel Planning Part 2: Creating a Lodging Plan
One of the best parts of travel is staying someplace new! Options from AirBnB and VRBO give you more choices in your travel plan than simply, "which hotel." While a clean hotel room with a hot shower can be a huge boost after a long flight, sometimes the comforts of a home that can be found through AirBnB-type place can take the edge off a long stay away from your family and home life. I'm going to lay out a few considerations for planning lodging that we have found helpful to think about as we choose where we stay when we travel.
Sponsored by Jagemann Sporting Group
Plan Early
Whatever lodging plan you make, secure it early. I like to start a Google calendar entry for travel, and invite my family to each "event" I create, so they get notifications too. For big events, holiday weekends, or remote locations, lodging goes fast, and you have to be on top of it. As soon as you know your travel or event is 100% going to happen, get on your computer and find a place to stay. This means for yearly events, you might book a year out. For international travel – such as we do with shooting competitions – lodging often fills early and if you are not fast, you might have to drive from another town, adding hours to your day.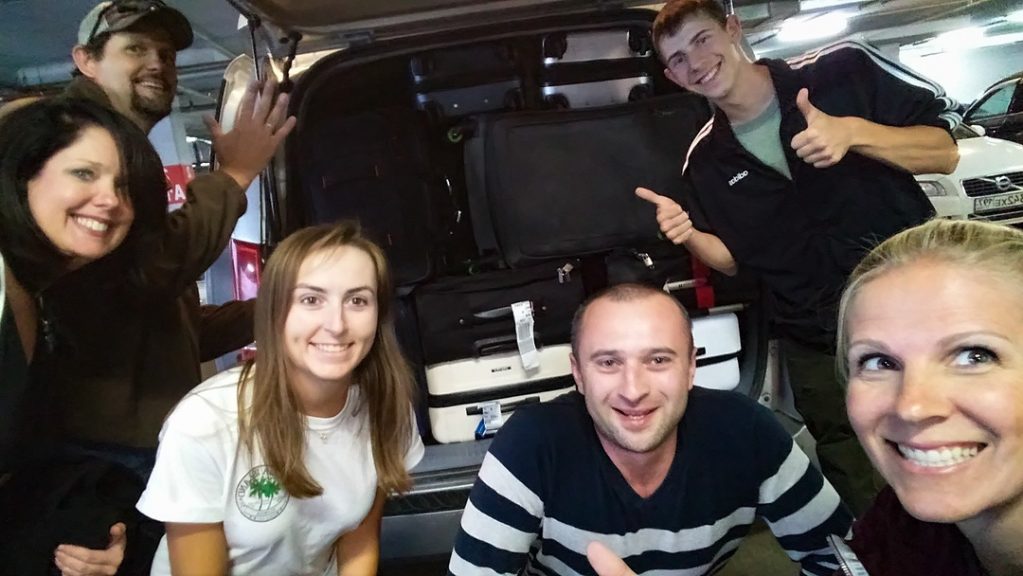 Consider Your Travel Party and Daily Schedule
The first thing I consider when deciding what type of lodging to secure is who I am travelling with and what I am doing on my trip. If I am in the US, I will make different decisions than when I travel outside the country. If I am with my whole family versus just myself and husband, we alter what we do. If I know the hours on the range or at an event will be long, I look for ways to cut out wasted time. I don't want to add 30 minutes hauling my gear into my hotel every night and repacking my car every morning. An AirBnB with a garage solves this!
Consider why you are travelling
If your trip is for work or an event that you need 110% focus on, the hassle of having to cook at an AirBnB, or clean up on departure can be something you don't need. So, reading the fine print of your potential lodging is important.
Sometimes all that we have time for after a long day on the range is a pizza we bring to the hotel room and a few minutes readying gear for the next day. Having to strip bedding linens and take trash out just adds jobs to an already full schedule. So, consider carefully what you have to do, when, and why. Pick lodging that meshes with that.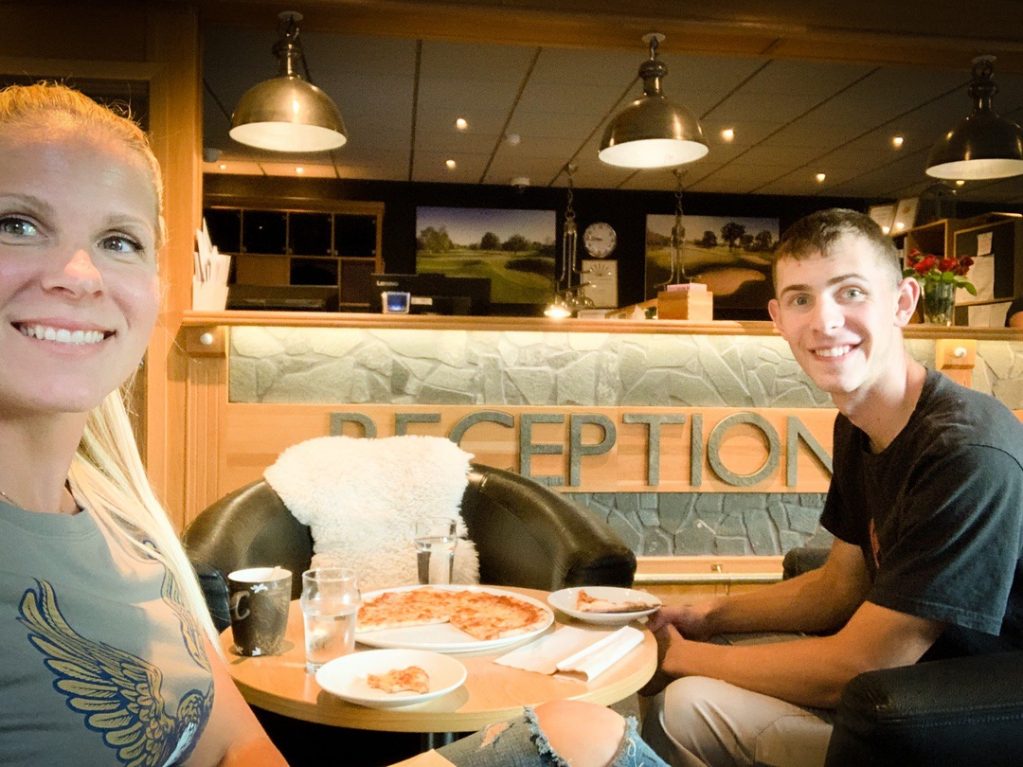 Proximity to Food and Necessities
One of the main reasons that I vary AirBnB and hotels comes down to food. If we have a long day with no time to cook, I want to stay near places that have food readily available. If there is nothing food-wise, then AirBnB and a frozen pizza or microwave dish will win out. This is also a reason to stay at a hotel that offers a microwave and fridge. If you are travelling to compete, hunt, fish, hike, or do outdoor activities, being able to pack cold drinks or store leftovers can be a big asset. When visiting other countries and small towns or old hotels, always ask about a fridge. Often it's as simple as needing to request it. If you don't ask, they don't give it to you. And don't hesitate to ask if you show up and there isn't one.
Quality of Sleep – You Get What You Pay For
If I know a hotel has very old or poor quality mattresses, and my body has to perform, I will look for a better option that will give me a good night's sleep. I might even choose an option that costs more. Having your own bed can also make a big difference in quality of sleep. If you are travelling as a family, the savings of cooking your own food might make up for the extra cost of an AirBnB with 2 bedrooms and more sleeping space compared to a hotel's cost.
Establish Priorities
Often our choice of lodging is a balancing act: which things are more important to us? If we have a long match, or week at an event, then an AirBnB usually gives us more creature comforts and over the course of the trip, leaves less work each day versus a hotel. I might drive a little farther for this.
However, if my days were really long at my activity (as in, before sun-up until after sun-down), then I might take the nearest lodging with food and a fridge versus something very comfortable that's going to add an hour to my day.
My boys might prefer to stay at a hotel with a pool versus the best beds. When out of the country, we might prefer to travel with other US friends who speak the same language and we can be part of others' safety plans. Every trip has its own unique circumstances that merit consideration.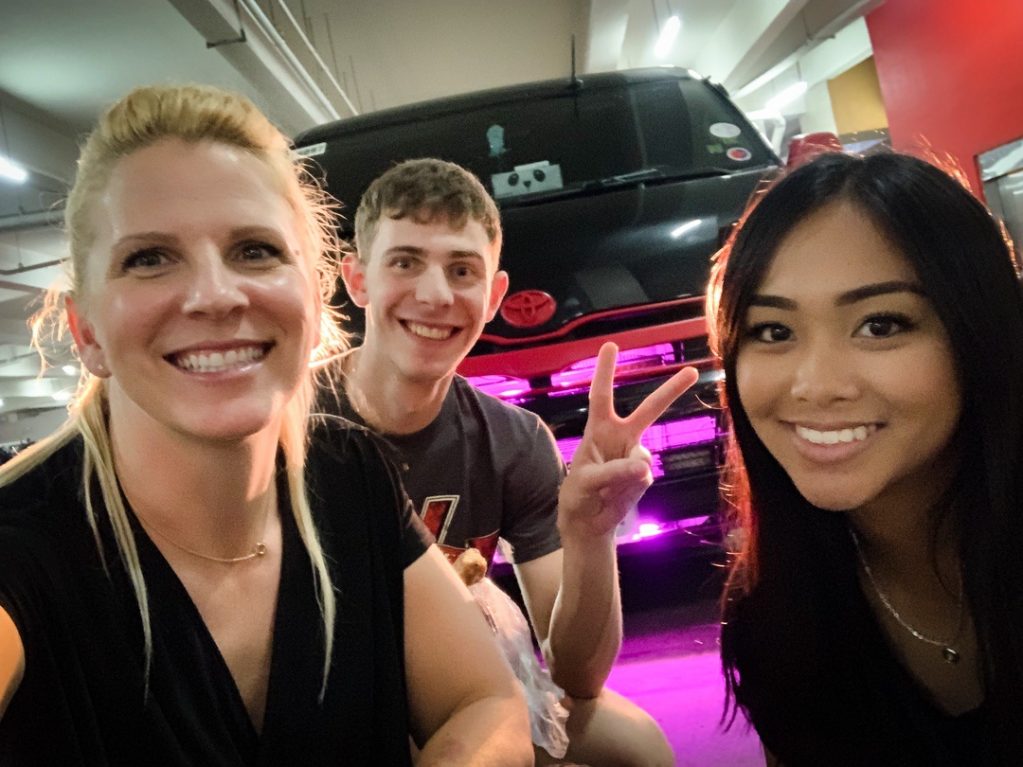 International Lodging Plans
One item I would establish some hard and fast rules on is international lodging. Staying with other competitors is something we often do. This makes travel easier, especially if we share vehicles, and helps add more bodies to our "posse" and makes us less conspicuous. We often refrain from wearing too much that screams, "I'm American!" in order to not become a target. Having travelled to Russia, France, Italy, Sweden and the Philippines, I can say that knowing you are with good people who will back you up in case of trouble, who are aware and watchful, is one way to ease the stress of travel. Our most recent trip, we ended up sharing an AirBnB with another family and saved money, shared cooking and cleaning, and we had a cohesive mindset that helped us all perform in our match. The mental bandwidth required to compete on an international level means you need to prepare as much as possible in order to put your whole focus on performance. So planning who and how you travel can yield dividends bigger than just knowing you speak the same language. Good travel companions can make or break a trip.
Plan to be Flexible
One over-arching theme in travel planning is to plan on having to adjust. Rearranging priorities might be the difference between a miserable trip, and serendipitous changes to plans. You might break even and be happier, if you re-prioritize.
Enjoy the experience!
Like so much in life, travel is what you make of it. Having a lodging plan, putting time in to make it go well before you are immersed in the activity will help everyone enjoy it and be in the moment. There is nothing worse than driving through a National Park and missing the scenery because you're trying to find a hotel with spotty cell signal and your family is hungry. So start early, plan well and then enjoy your time on the road!
Tips for Travel Planning that Involves Kids
Make sure they know that "We are a team!" and everyone has to pitch in to make this work. Assign a navigator, restaurant guide, hotel researcher … give them jobs.
Explain that choices have pay-offs and pitfalls: Sharing a bed with your brother or friend might mean you get to take another trip in the future because you saved money in the present.
Have clear safety plans for emergencies and simple things like stopping for gas and where you meet, who watches car, do you go to bathroom alone, etc. Teach them to be aware of who is watching them, and who they talk to/in front of. Relaying to the kindly old gal at the travel plaza that you're travelling with Mom might be OK, but not if there's a crowd of strangers listening.
Checklist for Lodging Plan:
How far from event?
How far from airport?
Cost of hotel vs. AirBnB?
Can you share / splits costs with anyone?
Where and when can you get food before and after your event?
Is there parking and does it require you to empty your vehicle every day?
Can you use points to stay? (Avoid using points near National Parks & Big events, as they skyrocket.)
Read Travel Planning: Part 1, Make the Plan here.
About Becky Yackley

Becky Yackley primarily competes in 3 Gun, USPSA, Bianchi pistol, but has competed in shooting since 1989 in disciplines from service-rifle, to NCAA Air Rifle and Smallbore, air pistol and a little bit of long range rifle. She shoots guns and cameras at competitions around the country, and writes in her fictional spare time. Her writing can be found here The WON in her column titled "Not a Soccer Mom" and sponsored by Jagemann Sporting Group, as well as Guns America and Gun World. View all posts by Becky Yackley →