Late Season Arkansas Goose Hunt with the Remington V3 Waterfowl Pro
As my South Carolina duck season came to a slow, but steady end, I feared my waterfowl hunting days were over until next fall. So, when I was given the chance to hunt snow geese the first weekend of February (in Arkansas, no less) I jumped at the chance. In addition to hunting in a new state, I would also be hunting with a new gun – the Remington V3 Waterfowl Pro.

Sponsored by Remington
I'd shot the V3 Waterfowl Pro last fall in Canada and absolutely loved it then, so I knew this hunt would be no different. While Remington provided the V3s in Canada, though, I'd be packing my own a third of the way across the country to give it a solid test run. A few friends and I loaded up our vehicle, and off we went!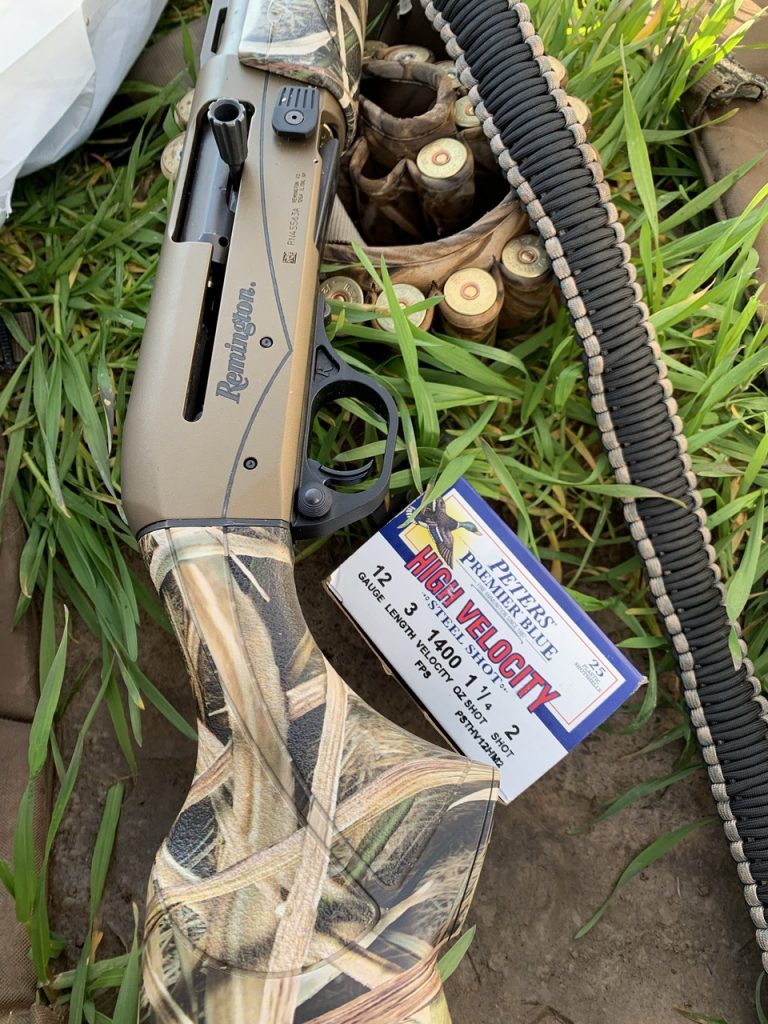 The V3 Waterfowl Pro is an excellent update to Remington's V3 Field Sport. It uses the same Versaport Gas System, but has quite a few improvements. The 28-inch Cerakoted barrel, equipped with an extended choke, is ideal for any and all waterfowl hunters, especially those who are hard on their firearms in the field. I know I am, and this gun is tough enough to withstand it all.
The Waterfowl Pro also is fitted with oversized controls, including the bolt handle, bolt release, and safety. When you've got thick gloves over cold hands, as one so often does during a duck hunt, it is so nice to not lose your grip on the bolt handle, or not fumble to close the bolt as you reload in a hurry. Speaking of reloading, the loading port on this V3 has also been redesigned, smoothing out and rounding the edges to facilitate easier loading. Long story short, this gun is a breeze to use.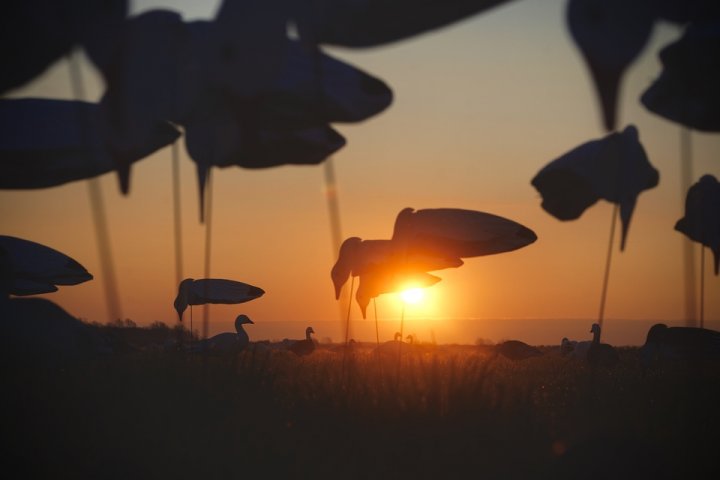 So, back to the hunt. We arrived at 2W Outfitters in Stuttgart, Arkansas, on Friday night, ready to wake up early and hit the field before sunrise. After layering up to keep warm and stepping in to all-white Tyvek suits to keep hidden, we did just that.
Nestled amongst an enormous spread of snow goose decoys and a gaggle of fellow hunters, I laid back and (not so) patiently waited for legal hour.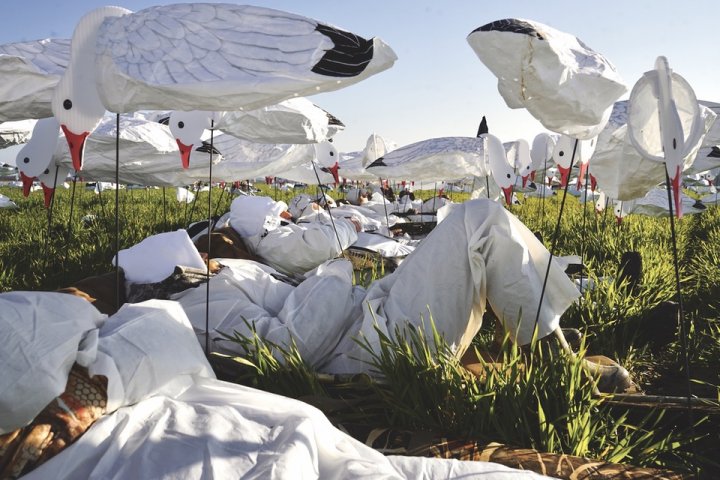 I've hunting in layout blinds before, but doing so directly beneath the decoys was new for me and definitely took some getting used to. It is quite different from standard duck blind or hunkering down in the marsh grass like we do here on the Carolina coast. The Waterfowl Pro made it easier, thankfully. Since the shotgun weighs in just over 7 pounds, it isn't hard to sit up and throw it to your shoulder from a laid-out position. Even though it only shoots up to 3-inch shells, you can still pack some heat and throw heavy shot a long way to knock down big birds without knocking yourself backwards in the process. Shout out to anyone who can shoot 3.5-inch BBs all day long, because I surely cannot!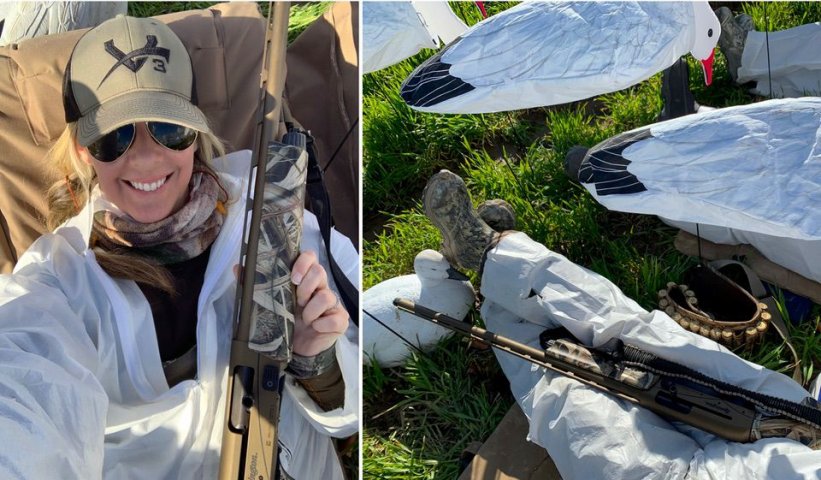 We had some big groups of geese work more than a few times, but unfortunately, we weren't presented with very many shot opportunities on the first day. If I saw one snow goose, I saw 30,000, but almost everything stayed sky-high above us. It's amazing how much different a hunt can be on a bluebird day versus. a cloudy, stormy one. It's one of the few times you actually pray for poor weather and curse those sunny skies!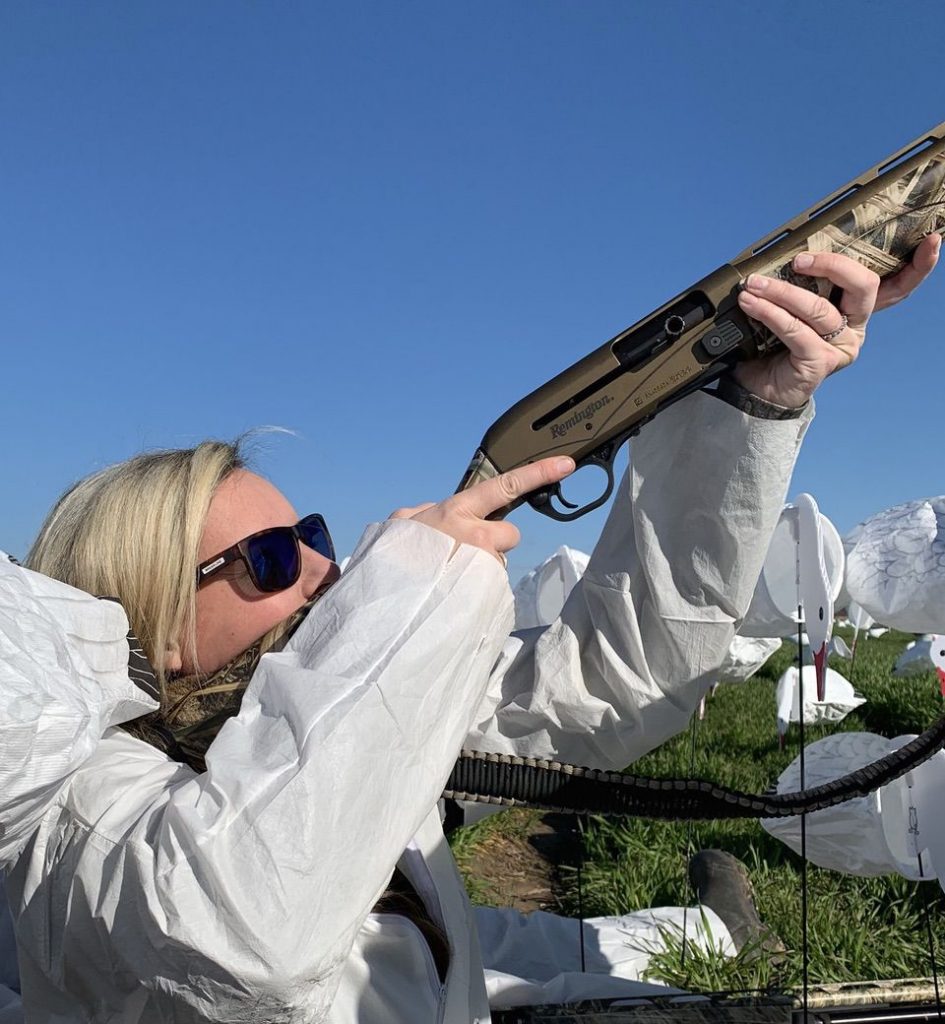 Still, we persevered and got right back in the field for our third and final hunt. Geese swarmed the sky and fields around us, trying to decide exactly which specific acre of what particular field was perfect to land and spend the morning. After playing the waiting game once again, we were finally able to hear those guns go "boom" on a few great volleys.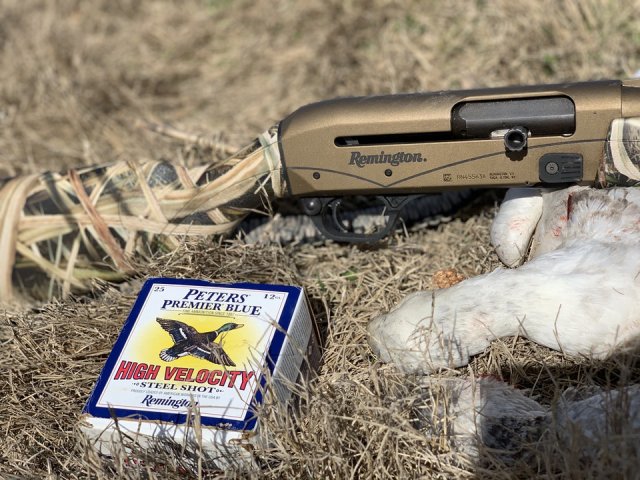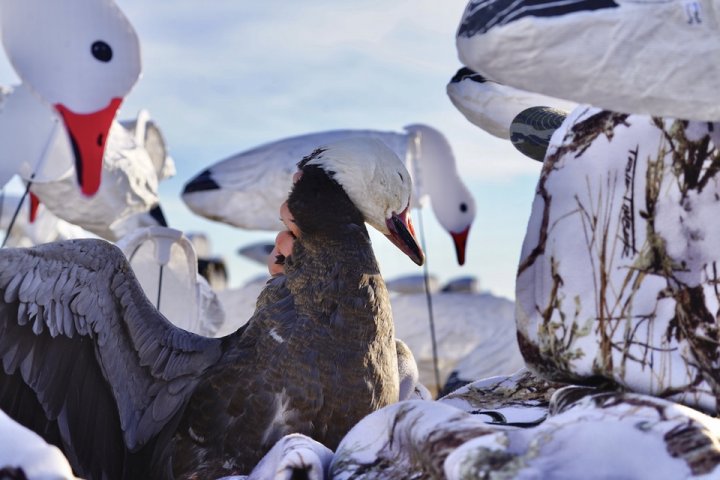 Needless to say, I had a great time shooting the V3 Waterfowl Pro on this goose hunt. Getting out in the field with such great friends in a new place is always fun, and having the perfect shotgun for it is icing on the cake.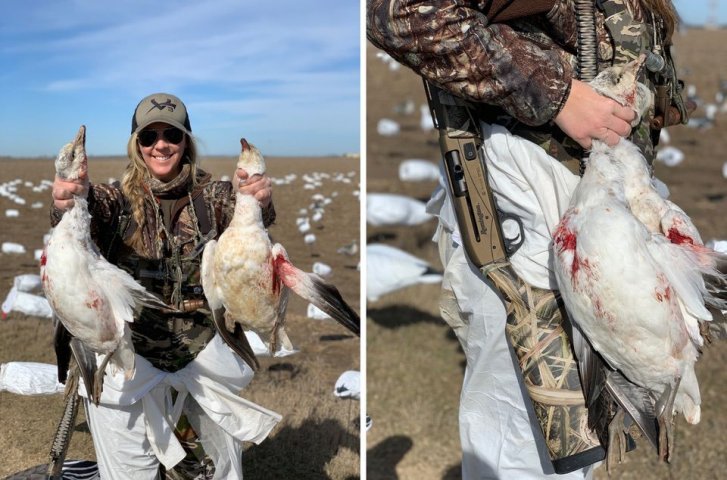 Well done, Remington, and thank you for the fantastic firearm.
Read more about the V3 Waterfowl Pro here.
MSRP: $1,195
About Hollis Lumpkin

Hollis Lumpkin writes that she is a "simple girl living in the Lowcountry of South Carolina, but I happen to have a great love for the outdoors, particularly hunting and fishing." She is a duck-hunting freak. Hollis pens an exclusive version of "The Bright Side of the Road," for The WON. View all posts by Hollis Lumpkin →