Travel Planning Part 3: Luggage and Packing Strategy
For the last of my 3-part series on travel planning, I offer tips for you regarding luggage and packing. A few key concepts kept in mind can be the difference between a great journey, and one that leaves you wishing you'd thought ahead. We're going to think ahead together, and if you follow some of these key points, you should finish your travel planning with a solid luggage and packing strategy.
Sponsored by Jagemann Sporting Group
Get your luggage
Whether it's your checked bag, carry-on, or personal item, use the same logic we did in other parts of travel planning and back-plan. Think of what you might need at any point in your travel/trip, and ask yourself how your luggage choice will help you get it.
One main thing you must know before you go is the luggage size that your airline allows. Most continental U.S. flights have different carry-on bag sizes than overseas flights. Here is a great tool for checking what your specific airline allows, that will tell you the bag size and weight.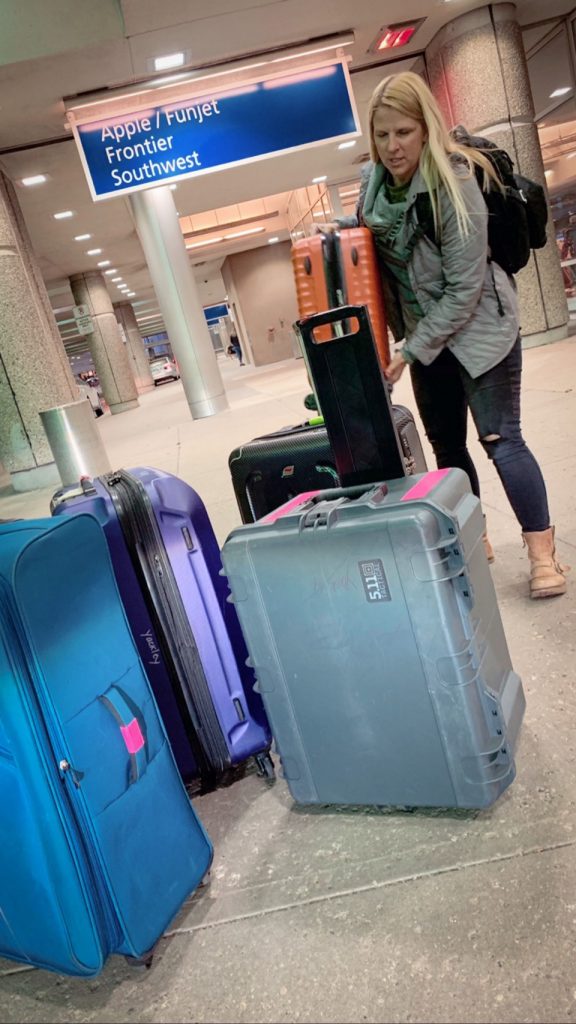 Keep track of your bag allowance and what goes in each case
Overseas flights can mean your carry-on is subject to weight restrictions, as well as size. Don't freak out if this happens and you aren't prepared; you can generally step to the side and rearrange bag contents to redistribute weight. This can even mean adding a pair of jeans to your "personal Item" until you are through security, and then stuffing them right back in your carry-on. The logic of this is flawed, but you can lighten a carry-on and add it to your personal item, if your checked bag is overweight or gone. (A good reason to always take that personal item, even if you think you'll just put everything in your carry-on.) This also is another reason to have TSA weigh each bag before they send any down the conveyor belt. If you need to move items around, you need the other bag(s) present.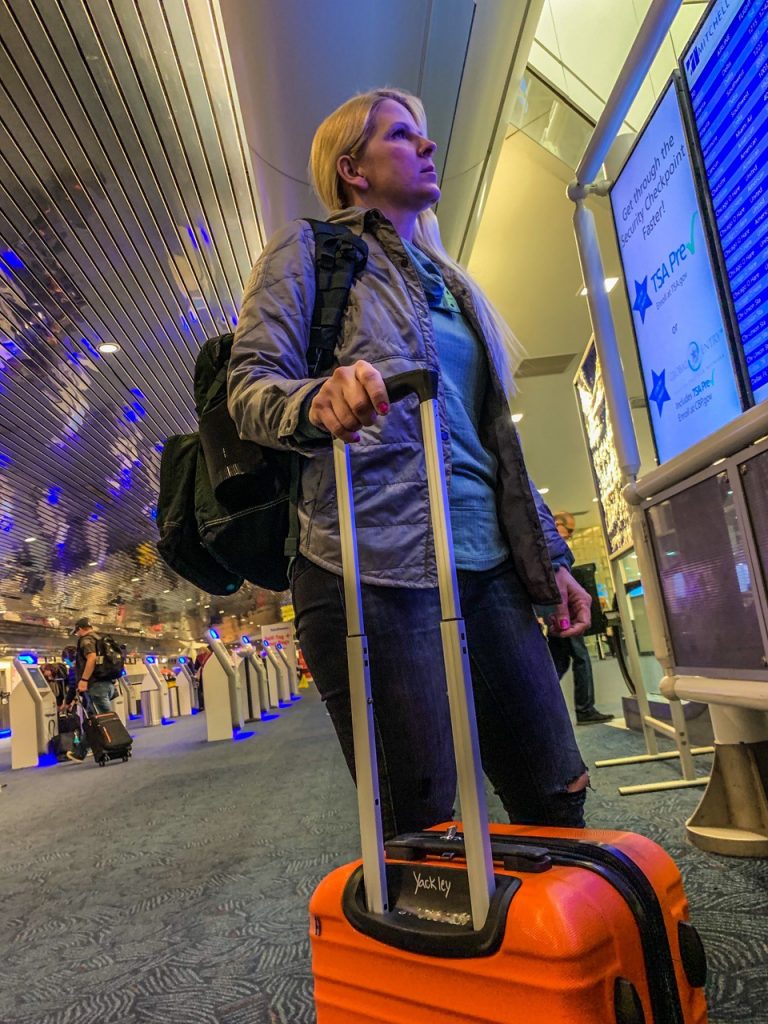 Packing and pre-packing
I lay out my bags a week or more before a big trip, and a couple days before a short trip. I pre-pack by throwing what I think I want to take into each bag. The night before I leave, I look at the weather and make a final decision on what to bring.
Being slightly ahead of schedule can help you if a flight is cancelled and you have to rush out the door at the last minute. For a big trip, be ready at least 2 days early. It will help you to start your travel with less stress. Our publisher says she has made an extensive checklist (2 pages so far) that includes what she absolutely must pack for any trip, plus a checklist of what she needs to do at home (locking up things, setting alarms, etc.) before leaving town.
What goes in your checked bag?
Your checked bag is for things that can't go into a carry-on: toiletries, firearms, ammo, pocket knives, hairspray … whatever you cannot carry-onto a plane.
I put smaller items in packing cubes, so that if TSA opens my checked bag, my shoes are not lost, and my clothing and unmentionables are not littered across a counter. Plastic grocery bags work for this, too, especially for shoes. But if I run out of cubes, pillowcases work as well.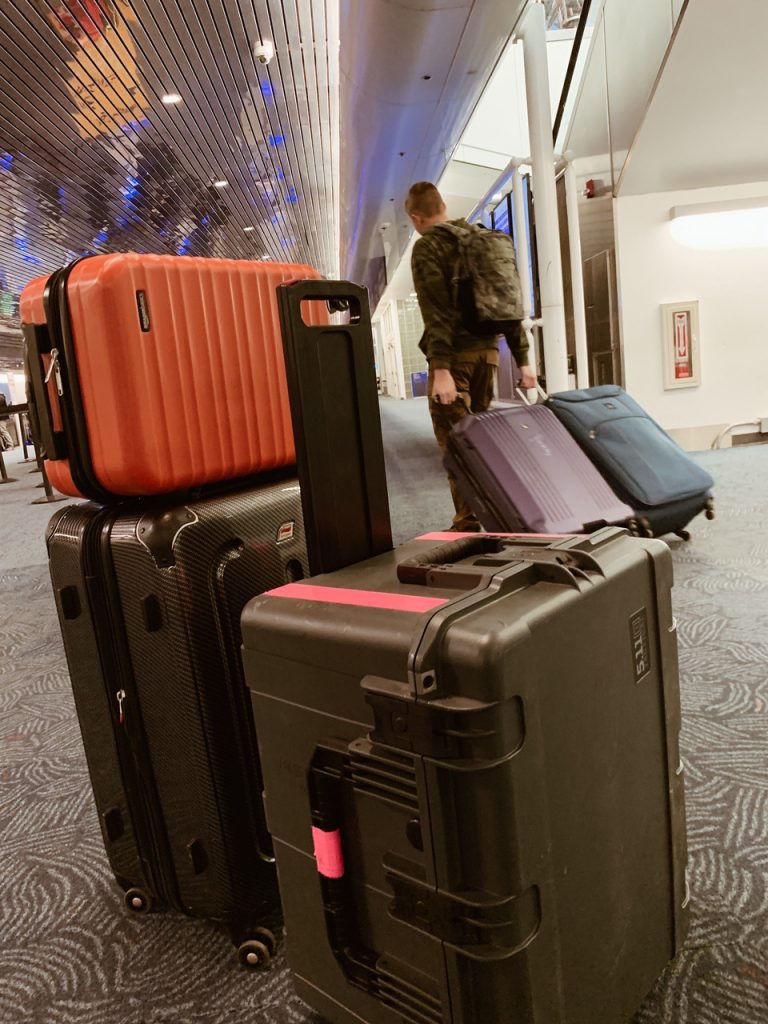 Totally organic
Special consideration for your bras ladies: a sticky bra in your carry-on will get you stopped at security. It looks "organic," makes the old guys laugh and will slow you down. So make sure anything that might cause the TSA to pull you aside isn't in your carry-on. That can even be things – based on personal experience – such as Twinkies, heavy/solid objects (camera lenses) and medals from competitions. If you suspect TSA will stop you for something, but it's too delicate or precious to check, then pack it so you can quickly access it if you are stopped, and show TSA what it is. Keep in mind on really full flights, you can be forced to "gate check" your carry-on, so anything that you cannot imagine being without should be kept in your "personal item."
And, for inorganic
Make sure you pack your toiletries inside Ziplock bags. I usually double up, as I've had nail polish break and was VERY thankful for the extra Ziplock bag.
🎵Carry-on my wayward one …🎵 (What goes in your carry-on)
A carry-on is where I put my paperwork, jewelry, sometimes my laptop and charger, and things I cannot live without for the day (PJs, socks and underwear), and then finish with heavy items, such as jeans.
Double check, recheck, check-check
Always check every pocket of your bags and any clothes worn on the range or hunting carefully as you repack for stray rounds or cases. Many security agents are understanding, but the wrong combo of item and agent could land you in trouble or a fine. If you carried concealed while away, off-the-body in a purse or backpack, check your bag the day before.
How to pack ammo
Some airlines require that you pack ammo in a hard-side container. I use a plastic ammo can to make it lighter, and usually wrap the can in a soft gun case to ensure it's not cracked. I pack all of my gear with care and pad it with clothing. I will sometimes carry delicate gear in my carry-on. I simply wipe it down to ensure there is no powder residue (items like a Kydex pouch or holster). Check with your airline, though, as some will not allow you to carry-on any accessories for firearms.
I pack my range bag inside of a checked bag. Eye pro and other delicate items go inside the range bag. I tape any ammo containers shut: 1) to avoid them breaking open if handled roughly, and 2) to ensure nobody can easily "lose" my ammo. Some airlines permit ammo in magazines, inside gun cases, as long as the mag is capped/sealed. I try not to do this, since I am not entirely comfortable with the way some TSA agents try to obtain firearm case keys without the owner being present as they access the firearm.
Easy way to carry keepsakes
Consider whether you plan to bring souvenirs home? We always pack 2 to 3 pounds underweight, in case our scale is off, and then count on the 10 pounds of ammo being gone. If you don't shoot all your ammo at a match, consider gifting it to the range or match staff so that on your trip home, you have 1 less possibility that your travel is disrupted. Now, your empty, hard-sided ammo container is a safe place for souvenirs.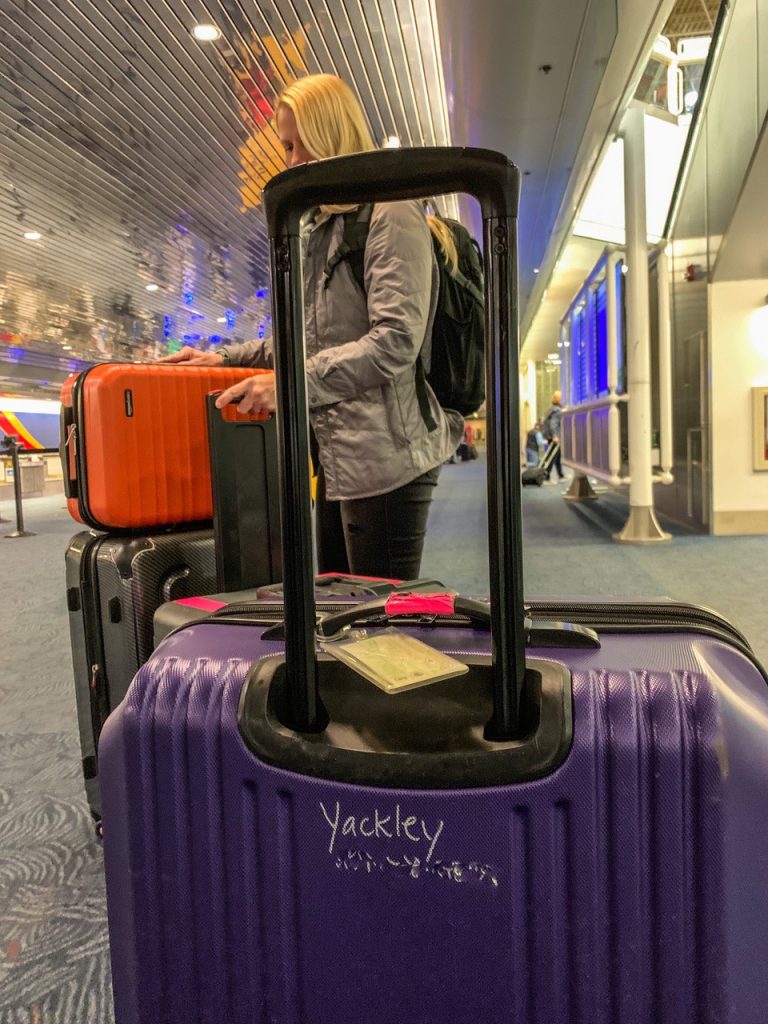 Try to be a little obnoxious
Tag your bags. Not just a bag tag, but get a silver or black sharpie and inscribe your phone number onto your bag. Tape your travel insurance info to the handle so others know it's being tracked. Make your luggage obnoxious. Wrap some neon tape around your gun case, pink duct tape on the handles – something to make sure your plain black case doesn't wander out of the airport in the wrong hands. A giant line of neon yellow tape with the name "Becky" inscribed in a repeat is going to look conspicuous, or at least be memorable, if a dude walks off with it.
Get picky
There are a lot of questions to ask yourself as you finalize your travel plan, and confirm luggage rules. Much of what you need to know can be found online. Read luggage policies carefully before you buy your ticket.
Get comfortable
Some tiny things that can be a big help to a long travel day are items such as a brilliant travel pillow, a travel belt, or fanny pack to hold your passport and money, as well as Chapstick and phone. I add some disinfectant wipes and tissue, and a water container in case I get stranded at an airport and want water.
Consider your trip home
Dirty clothes and shoes can be separated from clean ones in a plastic bag or trash bag. If you expect wet things from hunting, fishing, or a rainy forecast, throw at least 2 bags into the outer pocket of your checked bag.
Inform and educate
I take steps to include my match invite and permit for firearms and ammo in every checked bag so that it's abundantly clear that I am travelling to compete and have followed all the rules. When you confirm approval for travel with firearms, ask for it in writing so you can print it. Bring several copies in your carry-on, as you will possibly need these at entry and again, at exit from a foreign country.
Damaged goods
If you are waiting for luggage, and it comes out damaged, go right to your airline's counter in the baggage terminal. I had a bag destroyed on a recent trip to the Philippines on leg #1 of 6. I made it abundantly clear that they needed to help me and why, and I walked out in 5 minutes with a new bag.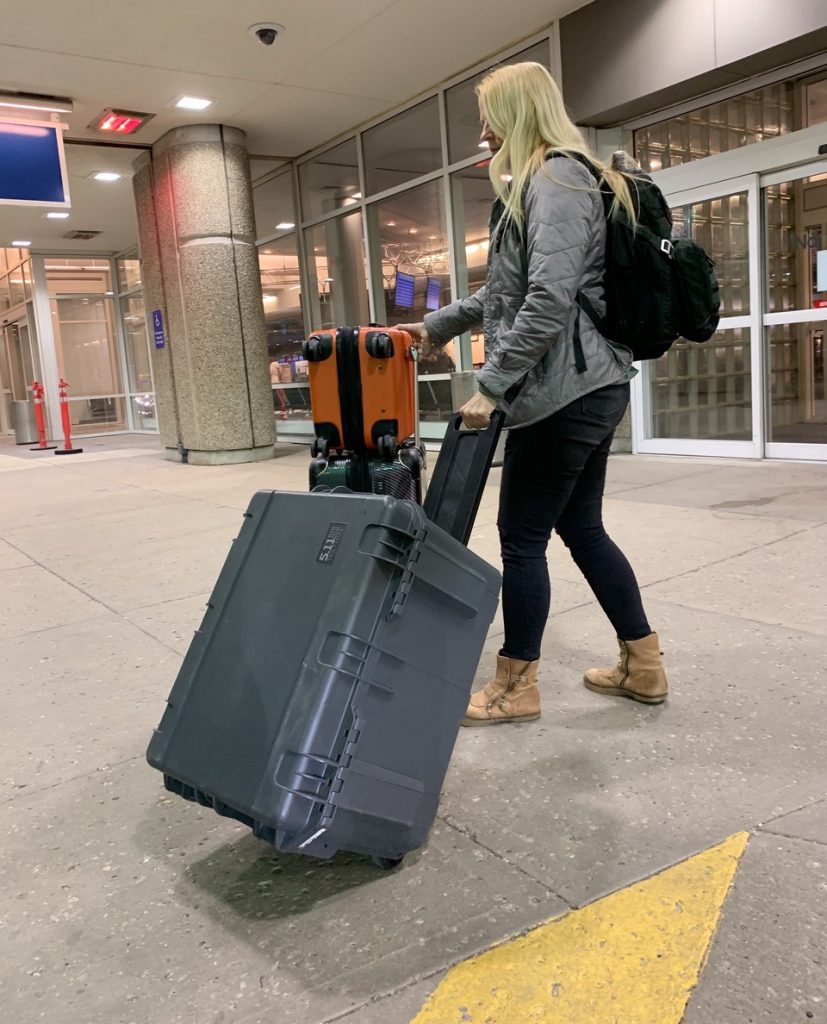 Smart luggage wrangling
Try to be aware of others when you are stowing that luggage. Don't be the jerk filling up the overhead compartments with your purse and/or backpack. Slide it under the seat. If you end up sitting on the tarmac for an hour, you might regret putting your personal item up there instead of at your feet.
While moving through the airport, consider just getting a cart to make the day less work. You can also stack your bags to make them easier to roll, or add a strap to your handle so you can strap the carry-on to your checked bag and navigate without being a circus show.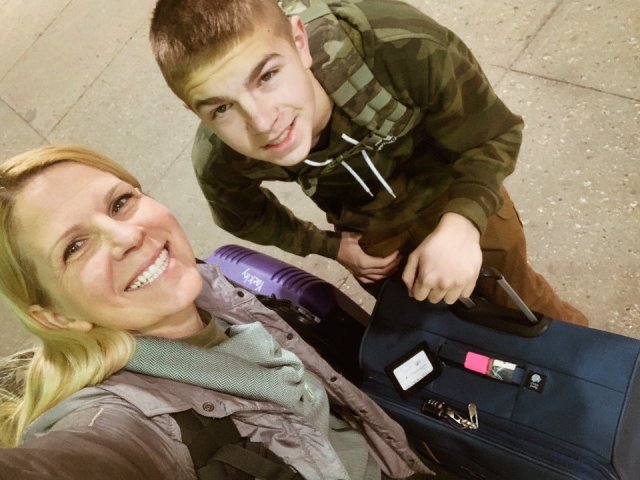 Go create memories
My best piece of advice for anyone who travels or wants to travel is this piece of advice: embrace the adventure. Tell your family, "Won't it be funny in 20 years to say, 'Remember that time we went to Ireland (or wherever), and got lost in the rain, but Mom packed those garbage bags that doubled as rain ponchos?'" With a little planning, your travels of any sort will be treasured experiences that shape who you and your family are, so, go soak them up.
Travel Planning Part 1: Make the Plan
Travel Planning Part 2: Creating a Lodging Plan
About Becky Yackley

Becky Yackley primarily competes in 3 Gun, USPSA, Bianchi pistol, but has competed in shooting since 1989 in disciplines from service-rifle, to NCAA Air Rifle and Smallbore, air pistol and a little bit of long range rifle. She shoots guns and cameras at competitions around the country, and writes in her fictional spare time. Her writing can be found here The WON in her column titled "Not a Soccer Mom" and sponsored by Jagemann Sporting Group, as well as Guns America and Gun World. View all posts by Becky Yackley →