Photo Feature: Orvis-Syren Hosted Ladies Hunt at Flying B Ranch
My cup runneth over. I've come home from a trip to the Flying B Ranch in Kamiah, Idaho, where I hosted, on behalf of Orvis and Syren, 11 ladies for 4 nights and 3 days of upland bird hunting and shooting and eating and laughing … among other things, and my heart is full!

Sponsored by Syren USA
Orvis-Syren hosted Ladies hunt at Flying B Ranch
Last fall, I was honored to be asked to host a ladies' trip to introduce women to upland bird shooting – using Syren shotguns of course – and help them to become better shooters and hunters. Of course, I said yes, and I waited eagerly for its arrival. I saw the Orvis crew at Pheasant Fest the weekend before the trip and they let me have one of their new upland bird vests for me to use and asked for me to also get some additional photos while afield.
Sunday afternoon's arrival coincided with the only real rain we had all week, and while it was blustery, it ended quickly. I'm always worried about overpacking … until I see what the other ladies brought and then, I didn't feel so badly. We had a diverse group for sure – Jane from Alaska, Ginny from San Diego, Nikki from Boise, Julie from Reno, Lucia from Dallas, Laura S. and Laura B., Sharon and Jenni from Jackson (Mississippi), Debbie from Florida, me from Maryland and Andrea from Boston. They also came with a very wide range of shooting and hunting experiences – from almost none to intermediate. After drinks and dinner the first night, we felt ready to roll.
The breakfast bell range at 7 a.m., PST, and being on EST, I felt awake and maybe a bit past due for a meal. Afterward, we went through the Syren shotguns, checked eye dominance, did some fittings, reviewed the different choke tubes and then headed outside. We had the ladies take some warmup shots, just to knock the rust off so we could move onto hunting.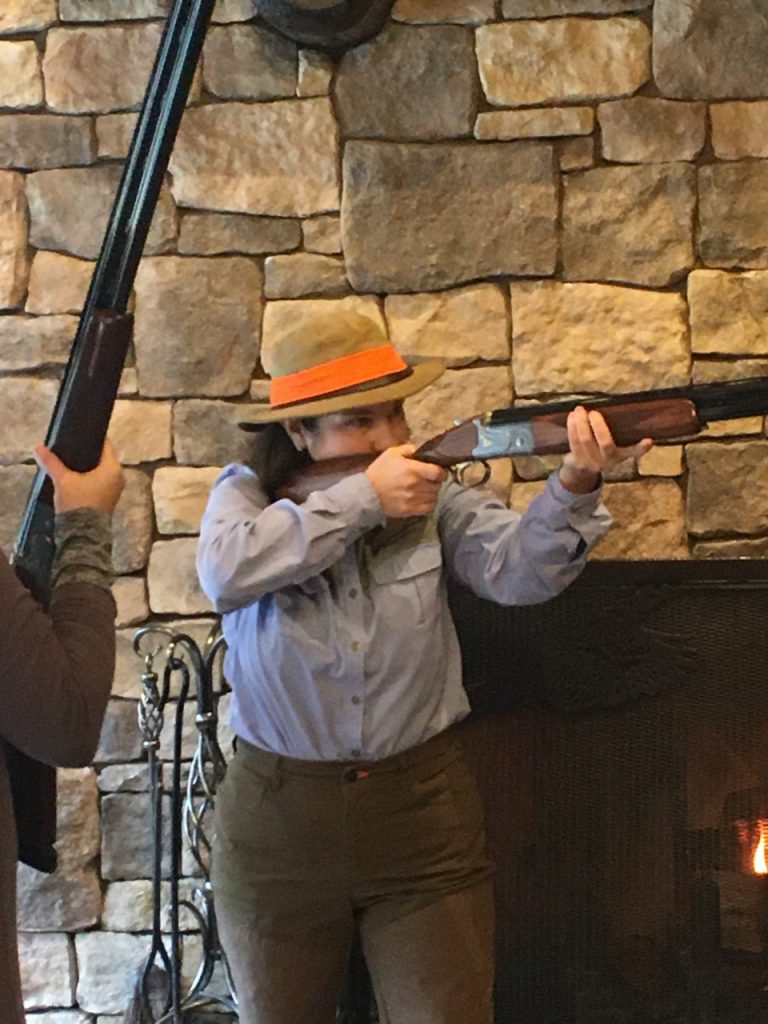 Nance Ceccarelli showed the ladies how to hunt with the dogs. She was our main guide and with her English Setters, showed us how they work and to make sure that everyone knew what to do and NOT to do – as in, "Don't shoot the dogs!" Several of the ladies had shot clays, but had never hunted over dogs. Another guide, Alex, also explained – using his chocolate lab Ash as an example – the difference between a "pointer" and a "flusher." I got to hunt with Alex and Ash and saw the dog in action. Ash will honor the point, and then at the command from Alex, she goes in and flushes out the bird and chases it down when shot. With pointers, usually the guide will move in and flush the birds.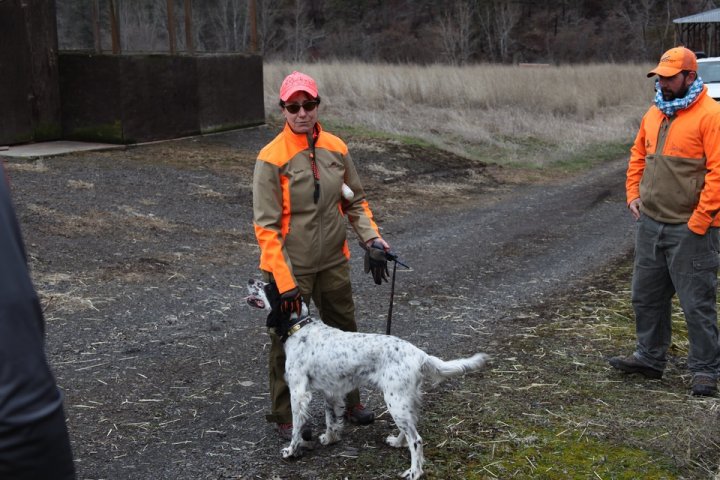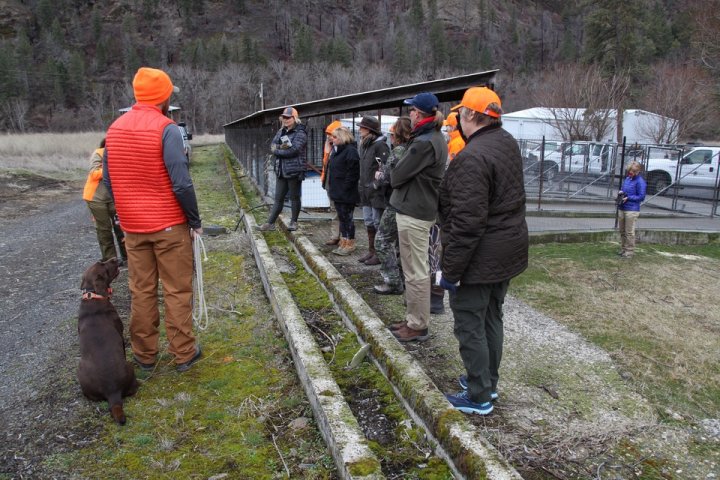 On our first hunt after lunch, I went out with our 2 newest hunters. I wanted to make sure they felt comfortable with what was happening and also, I wanted to offer them moral support. I needn't have worried, as Alex expertly guided the ladies into a good shooting position each time the dogs pointed birds, and then, again, guided them to exhibit good gun mounts and bird acquisition when shooting. When Andrea shot her very first birds – a chukar and a pheasant during the afternoon – we cheered. I got the pheasant one on video. After that experience, Andrea seemed to wear a perpetual smile on her face. She said that she didn't even expect to get 1 bird, so her expectations had been exceeded now with 2 and that was just the first day. Her boyfriend said he couldn't stop watching the video when she was talking to him later. He knows what comes next – more hunting and shooting together. Lucky him!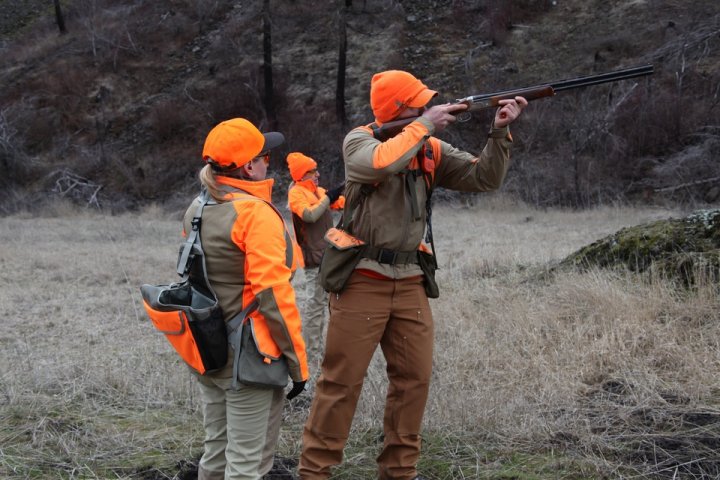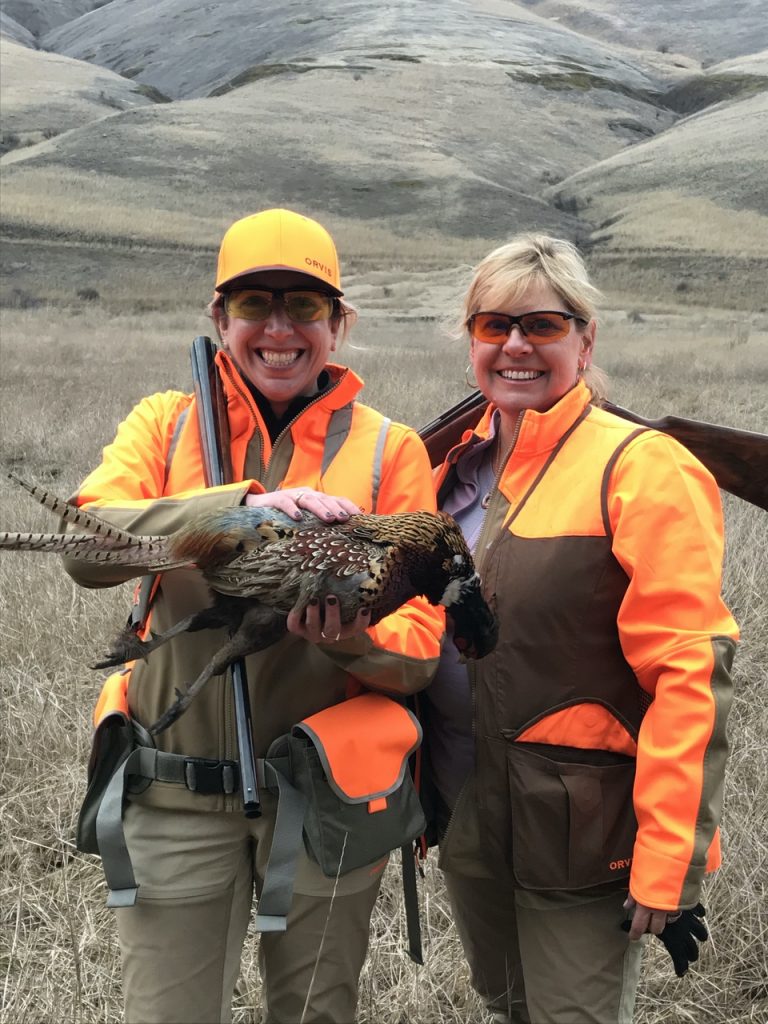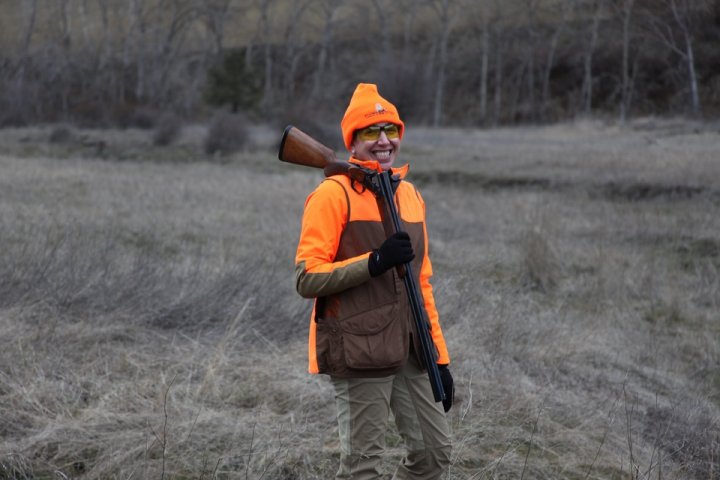 To add to our education, Nance invited her friend, Holly, a biologist and avid chukar hunter, to come and talk to us about conservation and give us more information about how the birds survive and thrive. She showed us a short movie about the terrain and birds flying and answered a lot of our questions afterward. Education is the key to making us all better hunters.
It wouldn't be a proper story if we didn't bring up the food. Meals were a delight. Ranch manager Carol explained that they overfeed us on purpose. When hunting, you really need more food to sustain you through the effort of 12,000 to 20,000 steps, hiking up hills and getting after the dogs. I was pretty much the only one with food allergies and the chefs accommodated me perfectly. The Osso Bucco (An Italian dish made of shin of veal containing marrowbone, stewed in wine with vegetables) literally fell off the bone and was so tender you didn't even need a knife!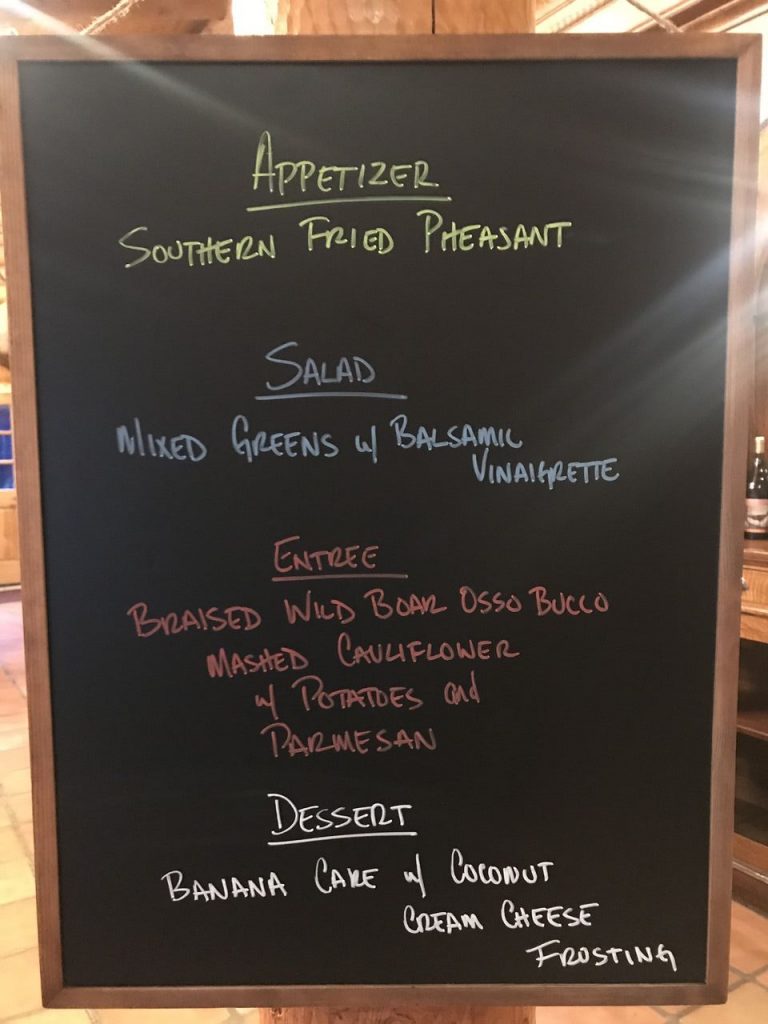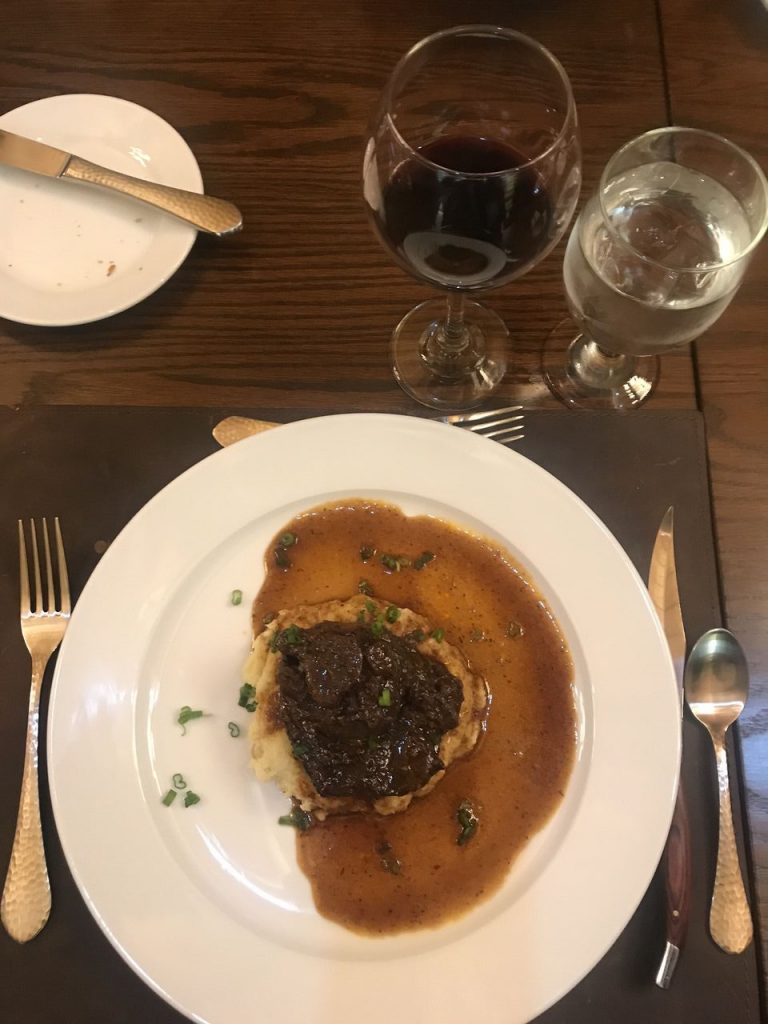 The next morning, we appeared again at breakfast by 7 a.m. with a morning hunt scheduled. Now that we had gotten the newness out of the way, we could all get to the business of hunting. I went out with Sharon and Lucia and had such a great time watching them hunt and taking photos. They downed lots of birds and the dogs seemed quite happy to chase bird after bird down when shot. I think we collectively agreed that Sharon wore the best outfits of the group. She admitted that she maybe started shotgunning so that she could wear the cute clothes – and of course, stayed with it because she loved it so much. She told us that she has hunted more than her husband this year, so he's a bit jealous. She's looking sharp in her Upland Bespoke vest with its blaze-orange accents.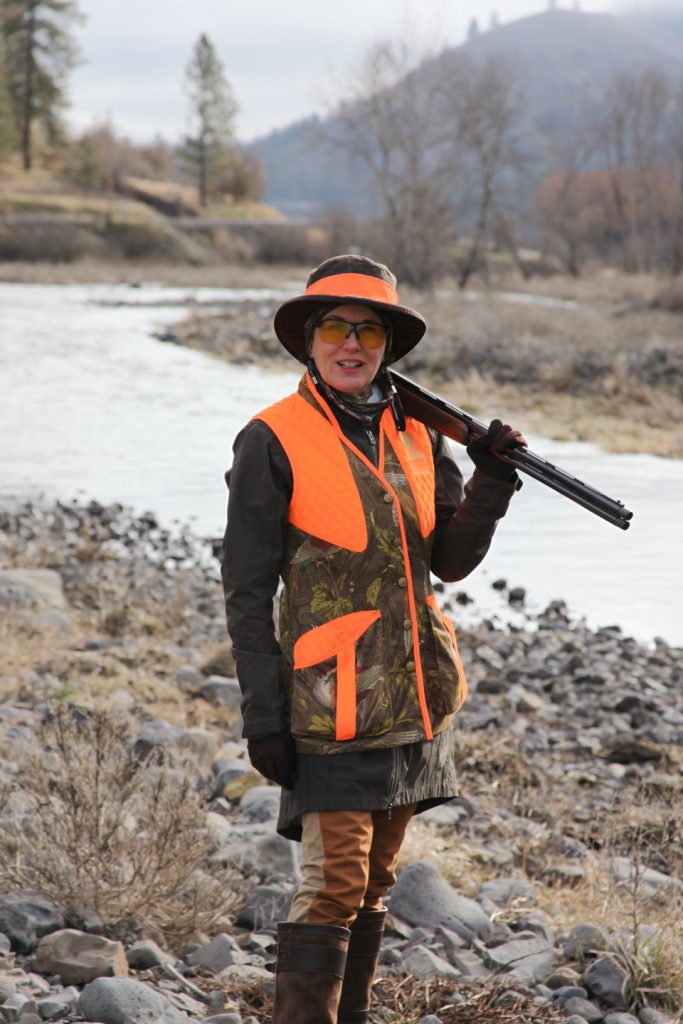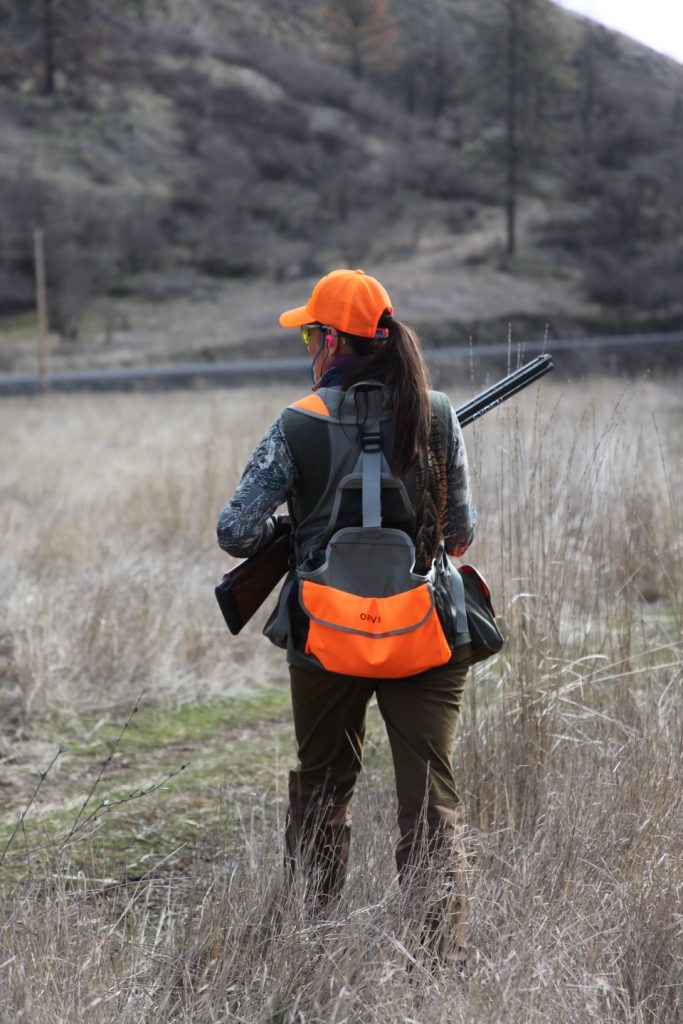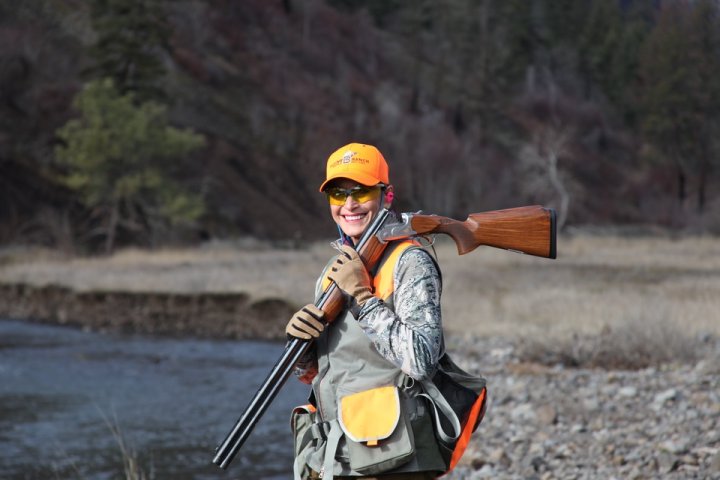 In the photo with the guide, Ian, is lying on his stomach with the dogs looking on … he explained that a week earlier, as he leaned over the creek to see where the bird might be hiding, 1 of the dogs pushed him into the water. So with that in mind, he decided to lie down in order to see where the bird had landed. He found the bird, and scooped it up for another 1 to add to the tally for the day.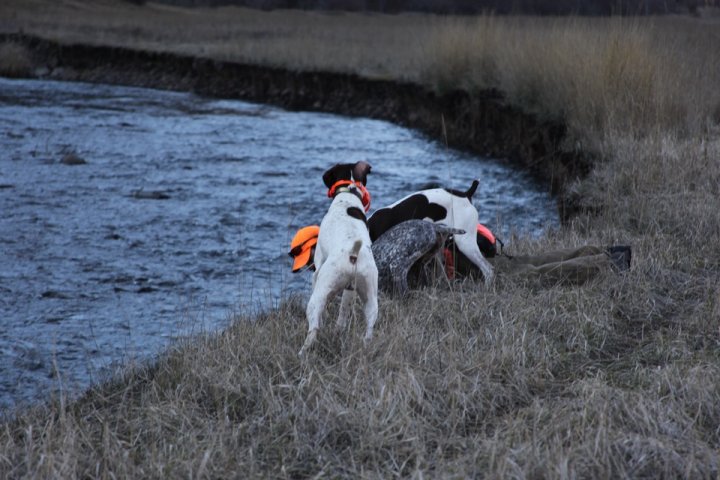 In the afternoon, after partaking of an absolutely delicious venison vegetable soup, we headed to the sporting clays stations. Originally, we had planned to have a tournament, but since we had so many new shooters, we decided to work on shooting skills instead. The stations had been set up for real scenarios in the field and offered challenges to the newer ladies. I enjoyed seeing them figure out targets and get solid hits.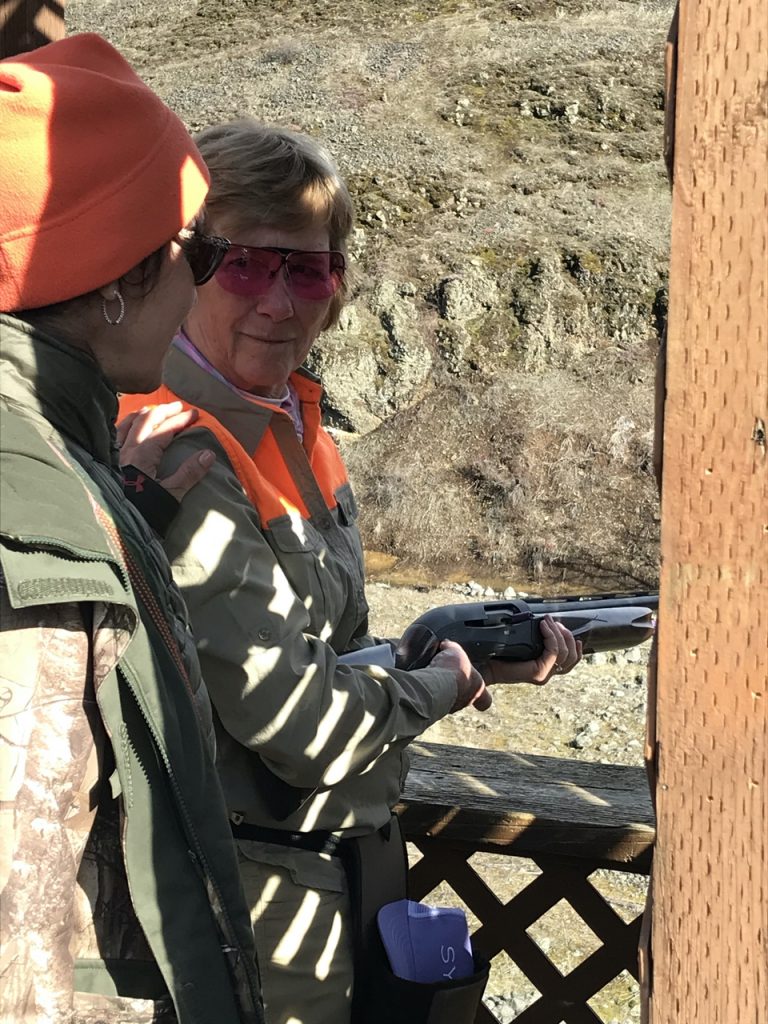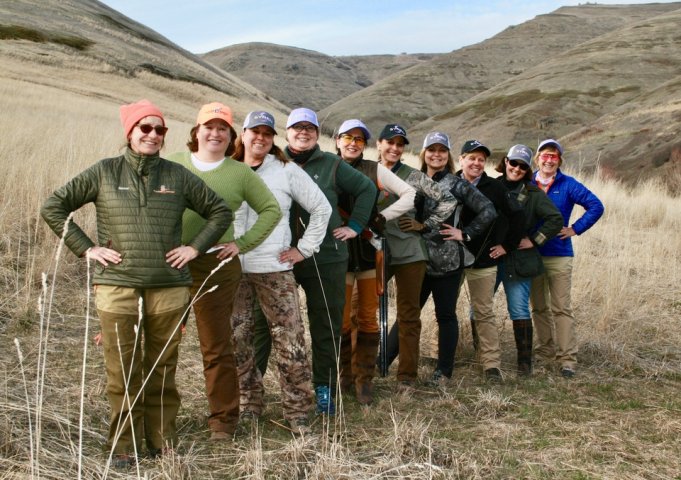 After 2 days of walking, a group of the ladies had signed up for some massages, while the rest of us headed to the hot tub. Hot water, cocktails and girlfriends are the perfect recipe for the end of a great day. Sorry, no pics here.
The first night, several of the ladies stayed up until almost midnight chatting and laughing; by the second night, they were all in their rooms by 10 p.m. and the third night, just a few of us lasted past 9 p.m. It's a great feeling to be completely tired from fun physical activity. Several of the ladies said they were sleeping so well when they usually didn't (must be all the fresh air and gun powder).
The morning of the third hunting day blessed us with beautiful weather. Energized again, the women appeared more than ready to get out there again and get some birds. We had moved people around with different guides and locations each day to give them variety and they seemed to like that approach. The guides have their own styles, which makes it even more fun to see them working with the dogs.
I went out with Nikki, Julie and Alex (our guide). With 5 dogs in the truck, some get left behind each hunt. Hearing their pitiful mournful cries and barks is somewhat heartbreaking, but easier knowing they get to go out on the second half of the hunt. I can imagine it's something similar to the sounds that children make when they don't get their way. But when they do get out, they get lots of hugs and love for their work.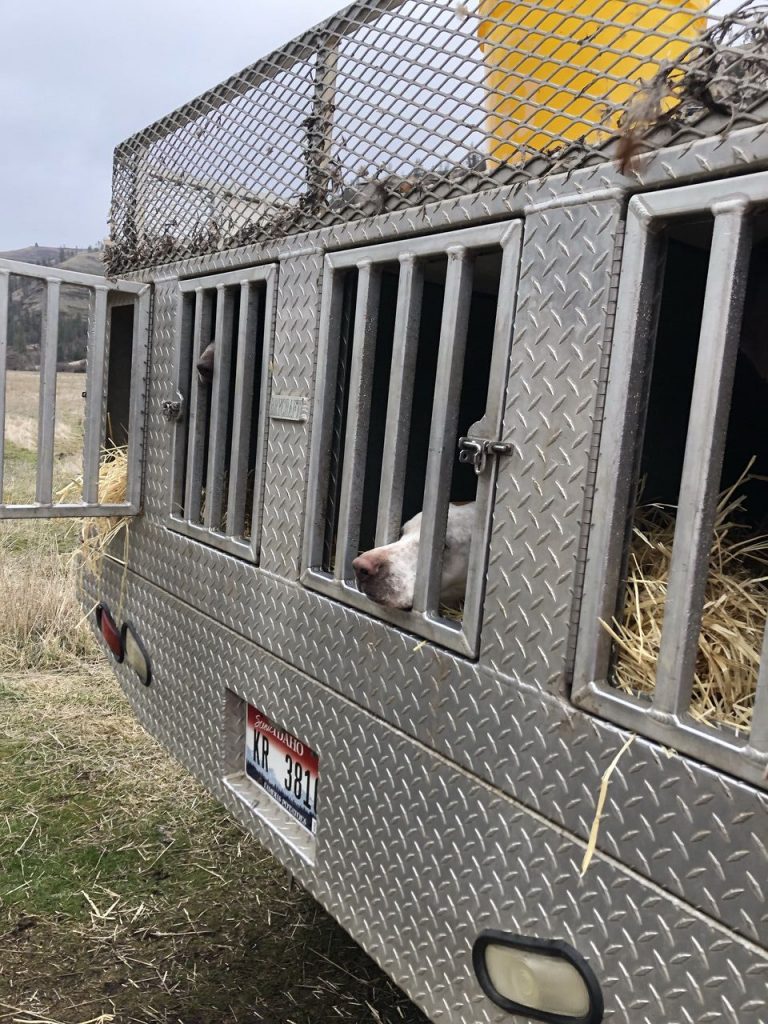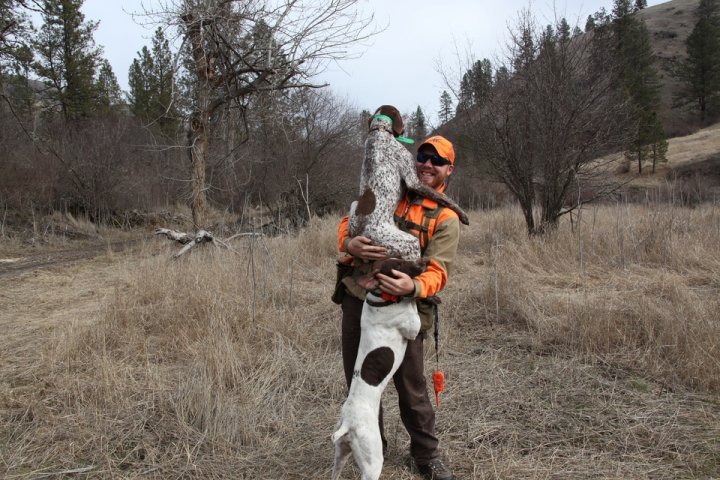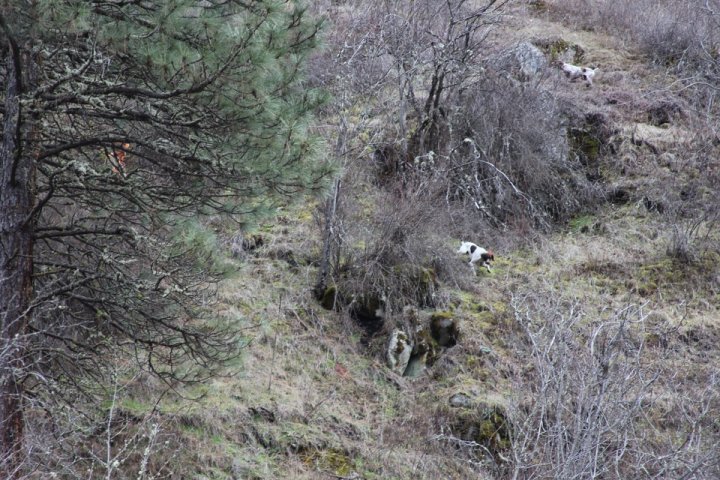 The ladies had some good birds that day and we walked a lot. It was great seeing the dogs work and getting into a rhythm. I liked getting the photo of the pheasant feathers poking out of the back of Nikki's vest. It's like a badge of honor to get to carry a bird that you shot down. It's not as easy as one might think, so having it there feels like an accomplishment.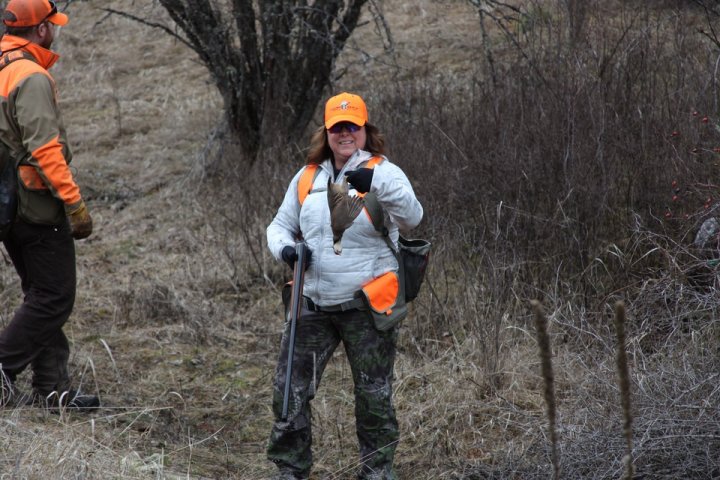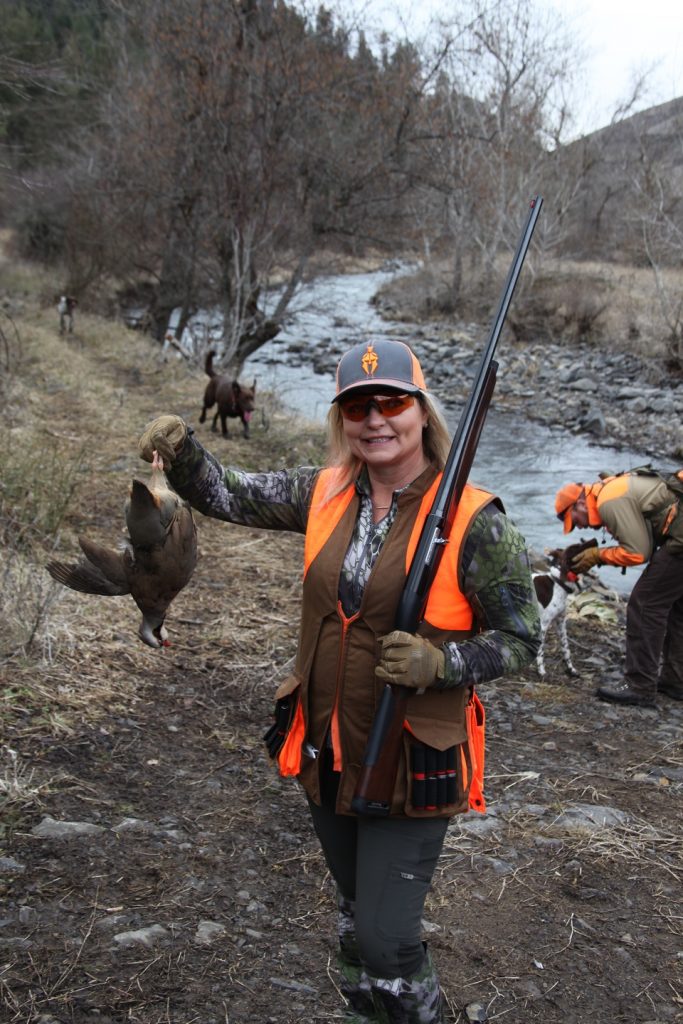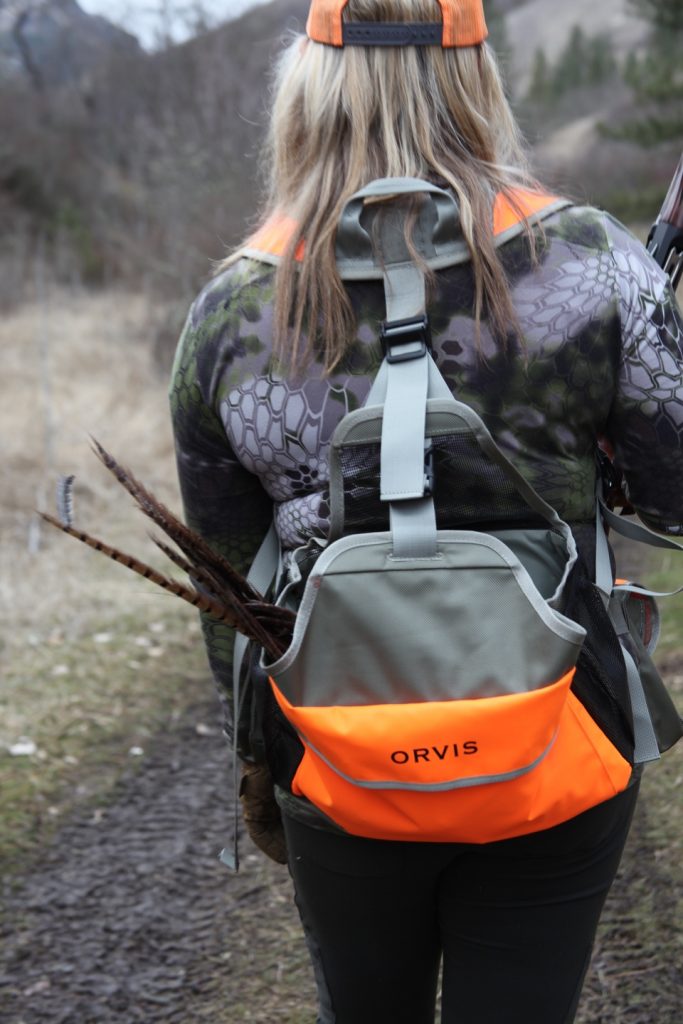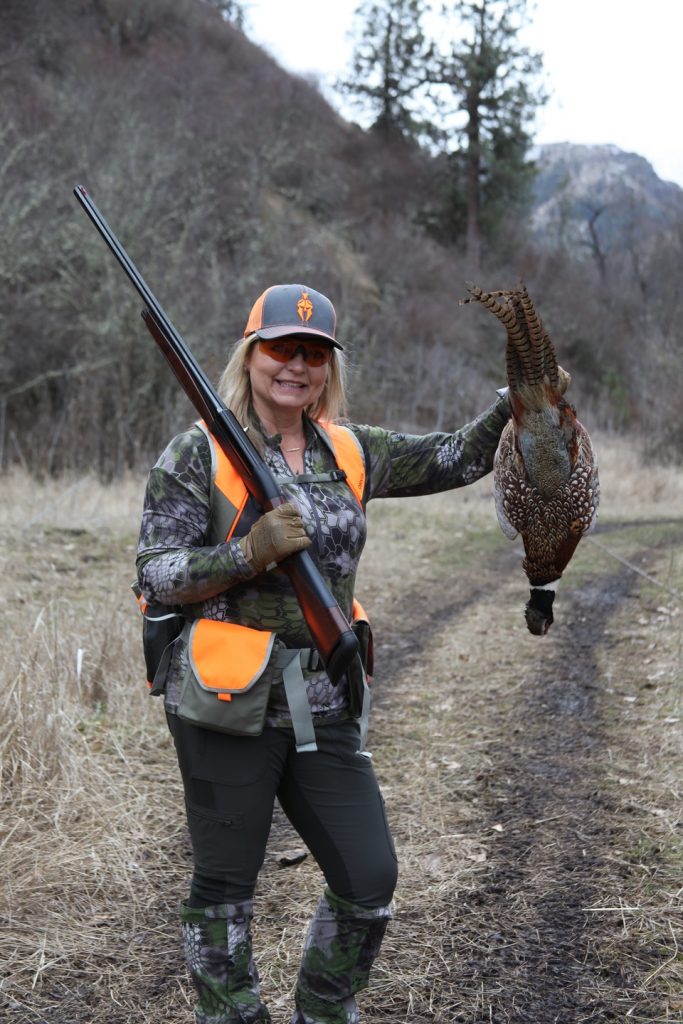 While I was with just 3 groups of ladies, the others were out with their guides taking photos, too. Look at all these smiling faces!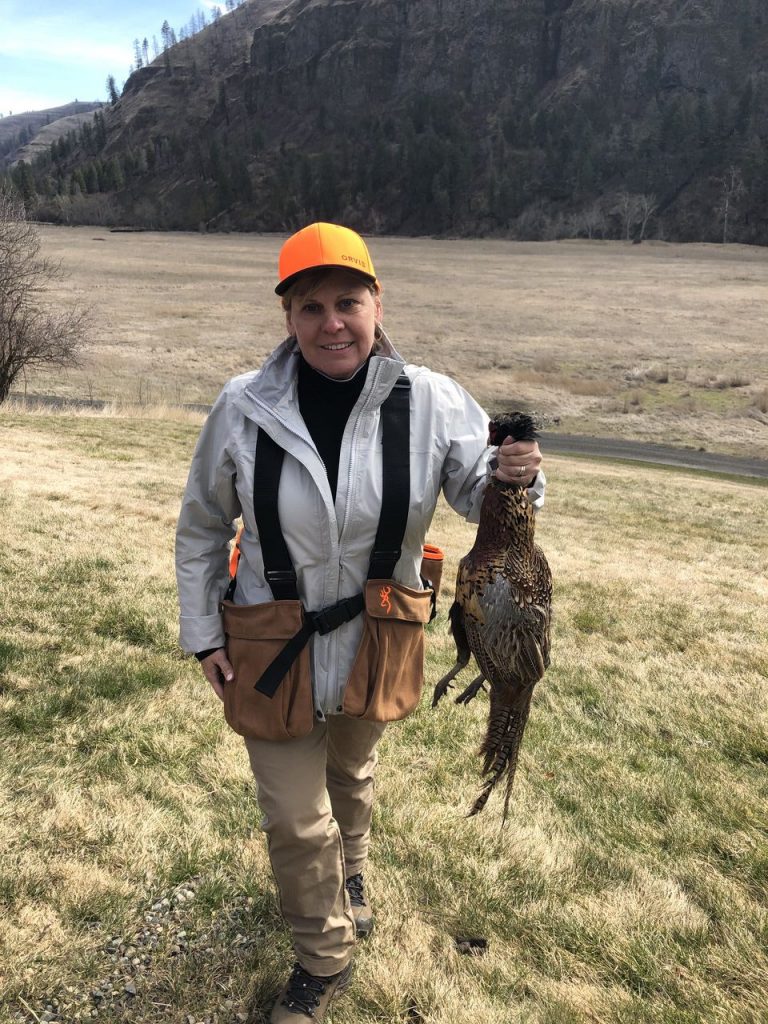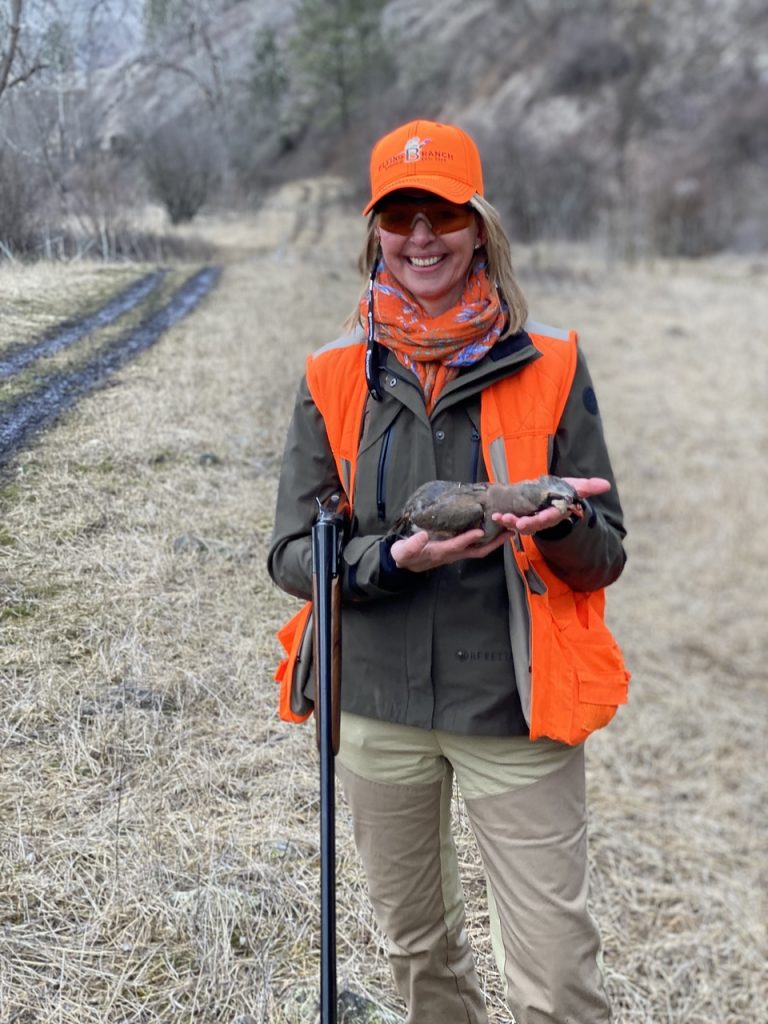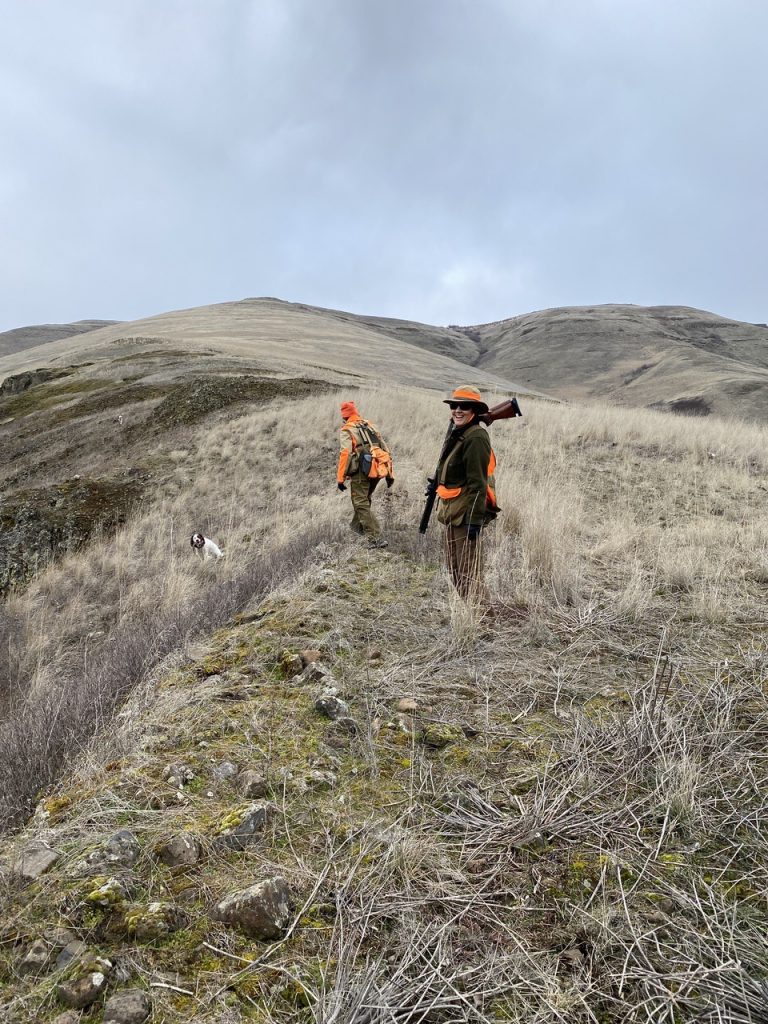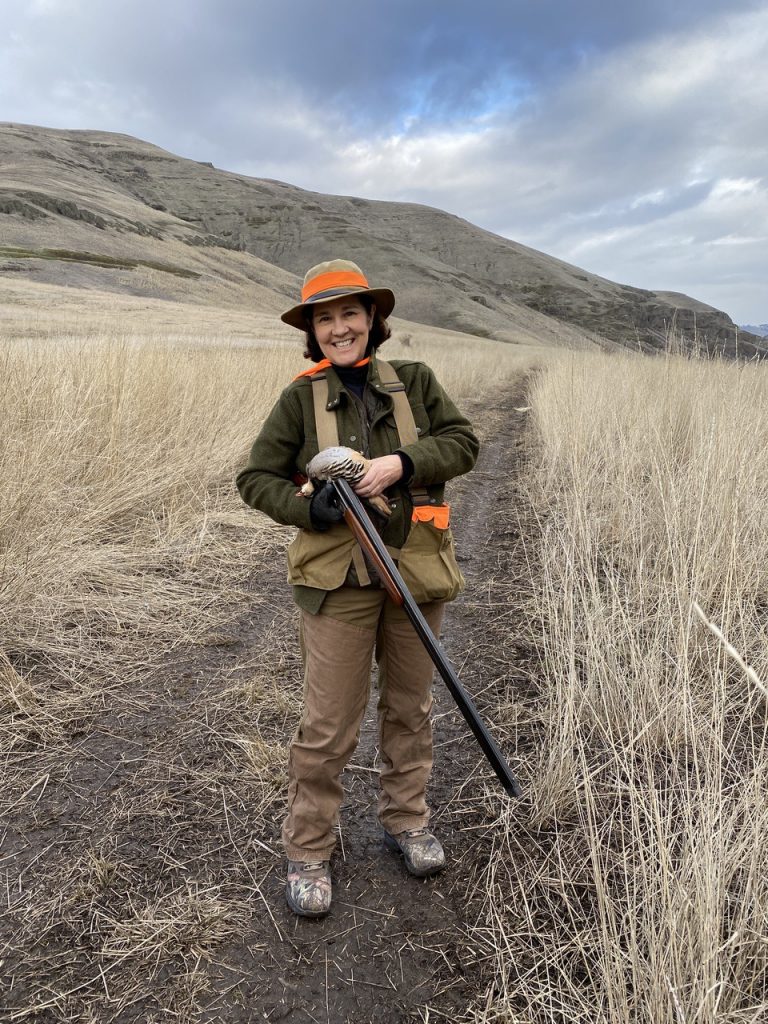 We gathered all the birds on the last day for our group photo. I find at this point, it's not about male or female or man or woman … it's all about just being hunters! And we're all hunters in this picture and that's what brings us together.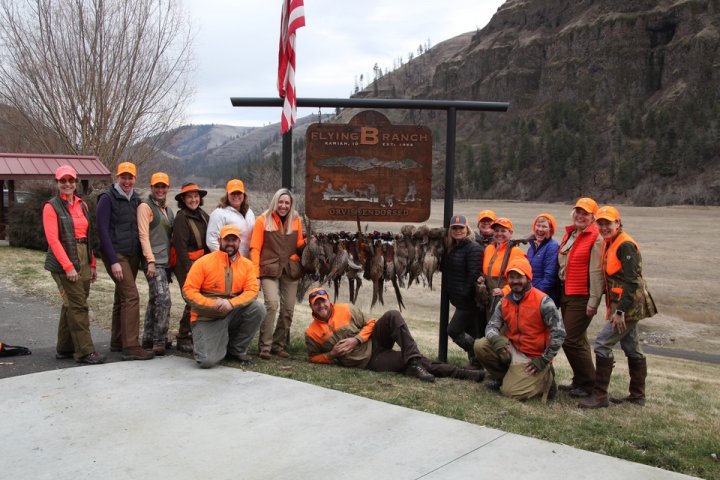 On our last afternoon, we got to take a tour of the 5000-acre ranch. It's amazing terrain with a lot of history, too. Famed explorers Lewis and Clark spent time in this exact valley with the Nez Perce Indians. We stopped to check out the sights and just soak up the beauty.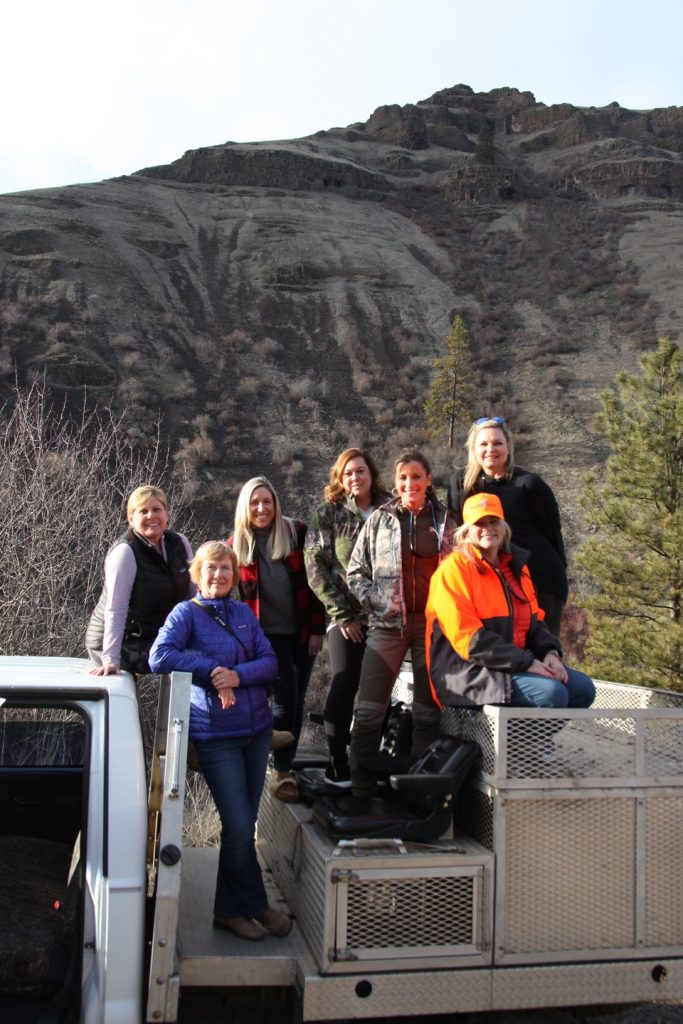 The photo doesn't do justice to the "hill" in the background. It's a lot steeper and more intimidating than it looks. Serious hikers only need to apply. We enjoyed it from our viewpoint.
We have already decided to do another trip next year, so stay tuned if you want to join in on the fun. We might even add in some other activities.
For more information about Orvis Adventures, click here.
For more information about the Flying B Ranch, click here.
For more information about Syren shotguns, click here.
To see all the pictures, click here.
About Lynne Green

Lynne is on to her next adventure after over four years in Maryland with Caesar Guerini and Fabarm as the Brand Manager for Syren (a line of shotguns made for the ladies). She has attended dozens of demos and events and has been honored to get to meet and introduce hundreds of ladies and young girls (and lots of boys and men too) to all 3 brands and to shotgun shooting! Lynne has learned so much about shotguns – gun fit, eye dominance and mechanics – that shows her just how much more there is to learn. She now is doing marketing and branding consulting and also plans to stay active in the outdoor industry, do more hunting and sporting clays, shooting lessons and add some fly fishing to her repertoire. She'll be based in the Dallas Fort Worth area. View all posts by Lynne Green →