Thankful for Those Who Helped Along the Way
When I consider my life and how fortunate I have been, it is almost as if I am in a play with a perfectly written script. My story has had countless hurdles and challenging times, but just when it seems as if I am in a situation I am not equipped to handle, someone enters my world who helps me along the way.

It is as if all the characters in my story come to me at just the right time.
The holiday season is a time for reflection, and a time for giving thanks. Around Thanksgiving, I began thinking about all the people who helped me at various stages of my life and contributed to my success.
I did not come to this point in life by myself. I received a lot of help, especially during my shooting career. I was quite aware of it throughout every step of my journey. However, we need to do more than just feel thankful. We should express our gratitude.
I have expressed my thanks to friends and family throughout the years, but as 2019 came to a close, I wanted to be intentional about it. I made a special effort to thank those who most helped me during my shooting career.
Vera Koo is thankful for …
Jim Gong
I would not have enjoyed the successful career I had if not for Jim Gong giving me a solid base. I reached middle age having never handled a gun, when I decided that I no longer wanted to fear guns. Carlos and I enjoyed camping, and I wanted to know how to use a gun if I ever needed to for safety.
So, I enrolled in a firearms safety class for beginners at De Anza College, where Jim Gong was my course instructor. He was a police detective and proved an excellent teacher. He taught me how to grip the gun, the stance, sight alignment and trigger control. He taught the discipline of bullseye target shooting.
At the end of the session I requested to repeat the class, and he said I could. Overall, I took 7 quarters of either beginner, intermediate or advanced courses at De Anza, with Jim as my primary teacher.
I saw him once years later and thanked him for helping me build a solid base that provided a good foundation when I began my competitive shooting career. Back when I saw him, I was at the height of my career, and he told me he had been following my successes.
I hope he continued to track my career, and he should feel proud about the difference he made in his student's life.
This winter, I looked up Jim's address. He lives several hours away, so I wanted to send him a note of gratitude and cookies to express how deeply grateful I am for how well he taught me the fundamentals of shooting and handling a firearm. Unfortunately, I only have a post office box address.
Jim O'Young
When I entered the shooting sport, I knew I needed a mentor. That was when Jim O'Young entered my story. He became not only a mentor, but a valued friend. When I started in the shooting sport, I had no idea what I was doing. So, I copied whatever Jim did. I could not have had a better guide.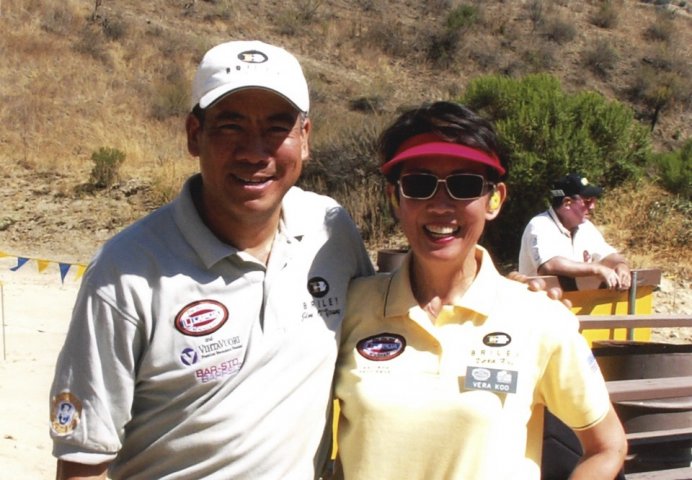 He also served as an effective motivator. Anytime I found the practice too grueling or the work too challenging, he said: Do you want to quit, or do you want to go on? Of course, that was all the motivation I needed. I did not want to quit.
I repeatedly thanked Jim throughout my career, but I wanted him to know just how much I valued him. Carlos and I took Jim and his girlfriend to dinner just before Christmas, and I gave them presents and expressed my gratefulness to Jim in a card.
Mickey Fowler
When I decided to change gears in my shooting career from IPSC and Steel Challenge to Bianchi Cup, I knew I needed someone to teach me Bianchi and a place to hone my skills. Mickey Fowler, one of the living legends of Bianchi Cup, said he didn't accept students, but he allowed me to practice on his range, which offered an ideal setup to work on Bianchi's 4 stages.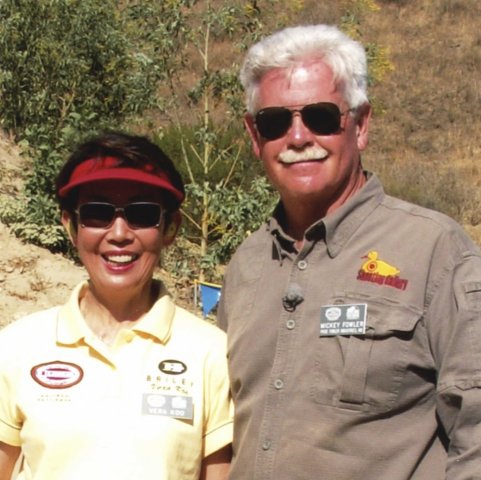 I practiced for competitions at Mickey's range throughout my 21-year Bianchi Cup career. Ichi Nagata also practiced at the range. "Ichi and his boys," as he and those who trained with him were known, became my guide into Bianchi Cup.
Mickey offered to let me stay at his house whenever I trained at his ranch. He lives in a remote area, about an hour's drive from a hotel. For the first 11 years I practiced at Mickey's range, I stayed at a hotel and commuted to and from his ranch for practice.
As I got older, that drive time wore on me, and for the final 10 years of my career, I stayed at Mickey's place when training there. He was so gracious to allow that. Mickey's willingness to be a courteous host and offer his range to me was critical to my success.
Mickey and his wife, Linda, feel like family. I visited them before Christmas to bring gifts and express my gratitude.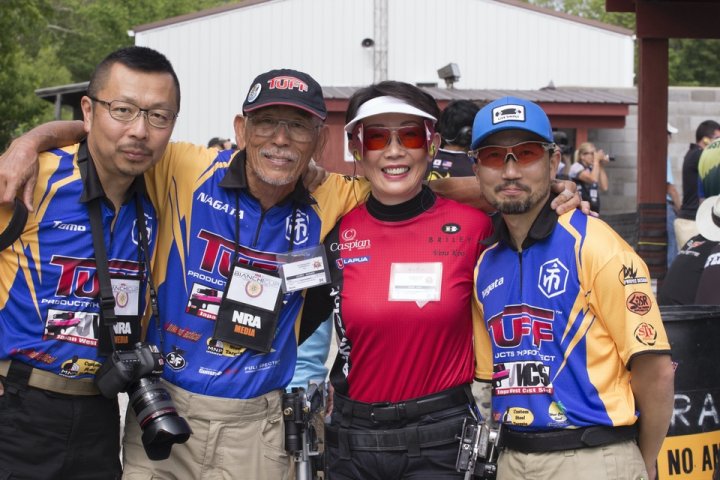 Cecilia
Outside of the shooting sport, I am lucky to have my friend Cecilia, who became a pillar of support for 2 years when I was in bad shape after enduring a personal crisis that rocked my worldview. I have thanked Cecilia repeatedly for her friendship but made a special effort this year.
Just like Jim Gong, Jim O'Young and Mickey Fowler, my life would not be what it is without Cecilia's love and support.
Carlos Koo
Finally, I am eternally grateful to my husband, Carlos. I could not be where I am without his support. He set up my travel and hotel arrangements during my competitive shooting career and found storage for my equipment and gear. He even found a safe at a bank in Columbia, Missouri, that housed an entire suitcase so that I did not need to travel with my competition guns, which entails much time and hardship. I told Carlos many times in the last few years before my retirement from the competitive shooting sport that my body no longer followed my heart. Carlos understood how aging wore on me, and he helped lengthen my time in the sport through his supportive actions.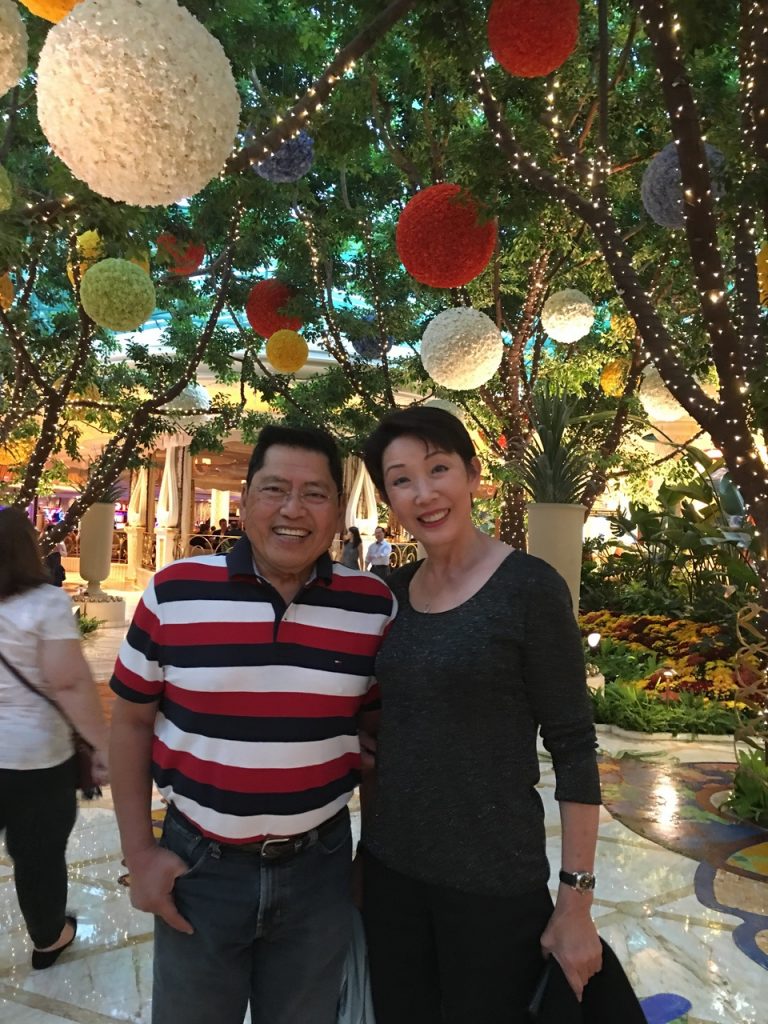 At my age, you become reflective. I've thought a lot lately about all the people who had a hand in my life being where it is today. Some helped me in big ways, others in small. But they were all part of my story, and I decided this winter to make sure they knew that.
I reached a peak during the height of my shooting career that I never expected. I am a determined, hard-working and committed person, and I can be like a dog with a bone when I set my mind toward something. But no one reaches success alone. I could not get to the point I reached simply through willpower. I needed help, and I received more than my fair share. For that, I am truly thankful.
To learn more about Vera Koo, visit her website and order her memoir, The Most Unlikely Champion.
About Vera Koo

Vera Koo is a first-generation Chinese American woman. She's a wife and mother, author, entrepreneur and retired competition shooter. Along with two published books -- "The Most Unlikely Champion" and "Wisdom and Things: Essays From an Unlikely Champion" -- she writes her column, Vera Koo, at "Women's Outdoor News." View all posts by Vera Koo →