Makayla Scott: Why I took a Hog Hunting Rifle on a Deer Hunt
This hunting season turned to be an amazing one for me. First hunting squirrels with my sister, getting my first deer, hunting hogs and just lately, doing some damage control. What really made the latter 2 so special though is that I was given my first rifle, a CZ 527 6.5 Grendel. Even though I was given the opportunity to hunt with my first rifle on the hog hunt, the hogs didn't give me chance with the rifle, and I had to wait until the middle of the night to get one. So, I was coming back with revenge, to see how well my first CZ rifle preformed on a crop damage deer hunt in Monroe County, West Virginia. That's why I took a hog hunting gun to a deer hunt.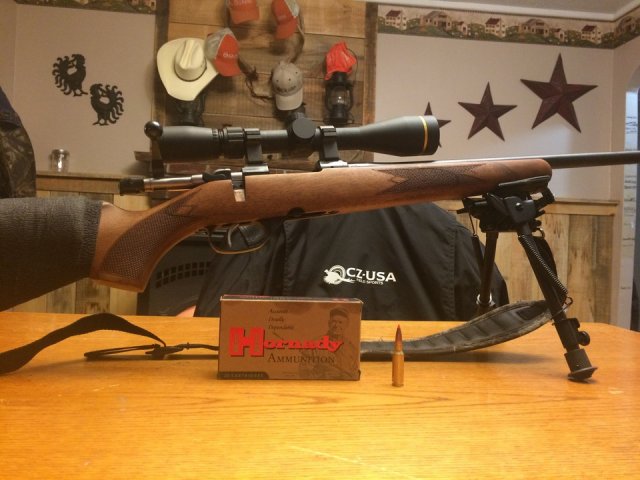 Earlier this year, I went on a hog hunt in North Carolina with the help of CZ USA, Leupold and Hornady ammunition. These companies, thanks to Larry Case (author of blog called Guns and Cornbread), set me up with an awesome left-handed rifle and a Leupold VX Freedom 4-12×40 scope. A friend of mine helped me get this rifle fit just for me. It feels great to finally get a well-performing, light rifle in an awesome caliber with long range and low recoil.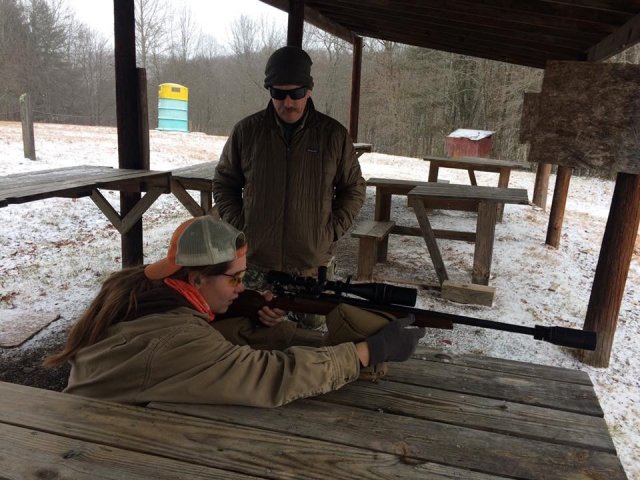 Another good friend of mine, Pat McMillion, a very experienced rifle and long-range shooter, set the gun up for me and put me through all the basic rifle safety training before taking me to the range. At the range, he started helping me sight in my scope for 50 yards first. After making a few adjustments to my rifle and scope, we got dialed in and I moved out to shoot at targets at 100 yards. My groupings remained consistently great; about 1 inch at both yardages. We wanted to go ahead and adjust to 300 yards, but the snowy blizzard ahead of us prevented any further shooting. Even though we will wait for that, I can't wait to try some long-range shooting.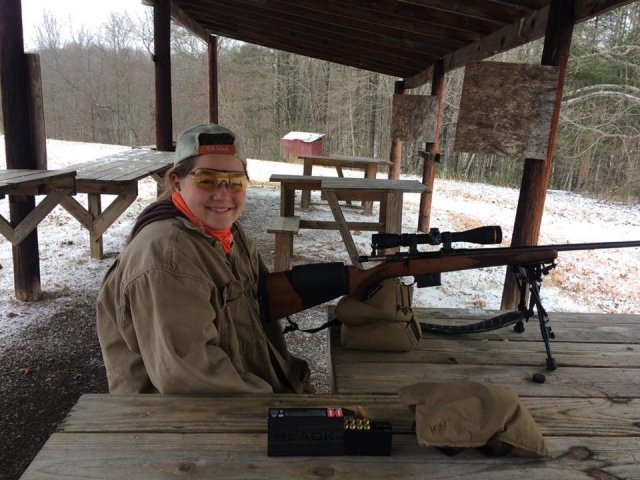 Hunting Hogs
Unfortunately, I never got a shot with my new gun. The weather only allowed us 1 day to hunt, so when daylight ran out, we switched over to my guide's gun, an AR 10 with night vision. Within only about an hour of searching, we saw a nice group of hogs about 300 yards on the edge of the field. We started the stalk, glancing through the night vision to make sure the hogs hadn't run off. Once we got to the top of the hill, I looked through the scope and I could only see one hog's back. I knew if I didn't take the shot, I wouldn't get to take anything. I lifted the AR and took a 50-yard shot on it from an off-hand position. Although the hunt ended in our favor, and I put meat in our family's freezer, I really wanted to get a chance to hunt with my other rifle.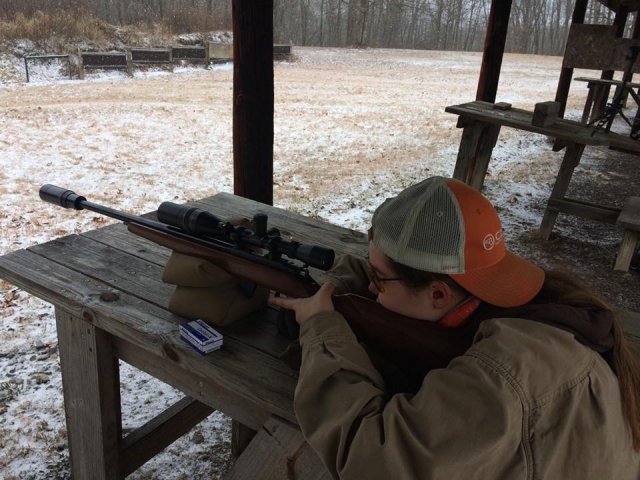 The Doe Hunt
Luckily, when I returned home to West Virginia, a farmer invited me to participate in a damage control hunt on a farm in Monroe County. When visiting this farm, I witnessed the damage a small herd of deer can do. Not only can a herd of deer decimate a corn field, but also, they tend to share many diseases together in such a small bunch, which is sure to be spread to other small herds. I feel that damage control is very important to the conservation of these animals.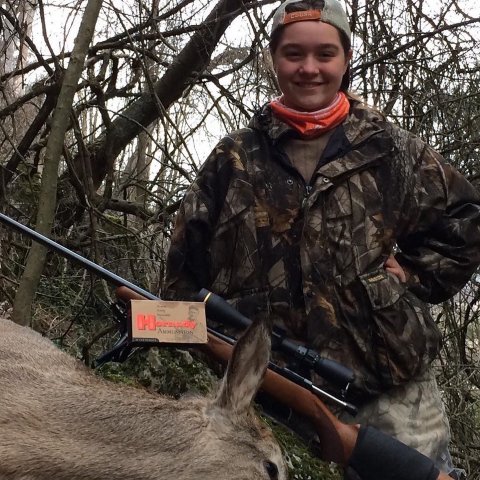 This hunt just happened to become a win-win-win for me. I would get to see what the rifle could do, and if successful, I would put more meat in the freezer … and help the farmer. Just as I hoped, I shot once at a doe at about 60 yards, in a pine thicket in low light just before dusk. She dropped immediately. My CZ rifle, Leupold scope and Hornady ammo combination worked perfectly and, in that moment, it felt great to bring that rifle up for the shot. My rifle fit me and didn't weigh a ton. My scope preformed amazing with the way it collected the light, especially at dusk, and it allowed me to make that perfect shot, even in poor conditions. My Hornady 123gr SST ammunition came through, too, and brought the deer down with a clean kill-shot.
I can't wait to use this amazing set up of my rifle, scope and ammo on some longer ranges and future hunts.
About Makayla Scott

Makayla Scott is a 16-year-old shotgun enthusiast from White Sulphur Springs, West Virginia, and a brand ambassador for CZ-USA. View all posts by Makayla Scott →