Mother-of-a-Giveaway: Custom Vudoo Rifle with a Timney Trigger
There are many types of mothers in the world – birth mothers, stepmothers, grandmothers, fur baby mothers, women who are like mothers and many more. To honor all those mothers, Timney Triggers teamed up with Vudoo Gun Works to create a mother-of-a-giveaway. Yes, this is Mom's chance to make everyone in her family super jelly when she brings home Vudoo's Crow lightweight ranch-style rifle in Purple Scepter with Timney Triggers' Calvin Elite M700 trigger.
Vudoo Gun Works Crow
The Vudoo Crow is dimensionally sized for smaller shooters with a 13-inch length of pull. Truly a 21st century, full-sized small game rifle that is destined to be a family heirloom for generations. There is no no finer, quick handling, accurate, ranch-style .22 around. The rifle has been designed with its patented V-22 Rimfire repeater action and a state-of-the-art hunting stock sized for the smaller shooter.

Read more about the Vudoo Crow here.
Timney Triggers' Calvin Elite
A rifle such as this one must only have the best trigger. Enter Timney's Calvin Elite Custom M700 trigger – designed with a unique trigger-blocking safety. Factory calibrated, it comes ready-to-shoot or fully adjustable for sear engagement (creep), over travel (follow through) and pull weight. The shoes can be adjusted for length of pull, cast and height for the ultimate in custom comfort and positive contact.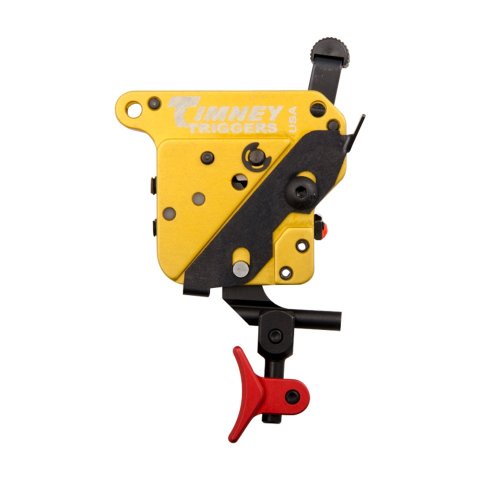 Calvin Elite allows shooters to become more accurate with their rifles, by providing a custom fit for every shooter.
Whether you're a mom who likes to just plink on a range, or who enjoys spending time in the woods squirrel hunting, this custom combo is sure to make you the envy of your household.
Our Mother-of-a-Giveaway, Custom Vudoo Crow Rifle in Purple Scepter with a Timney Calvin Elite Trigger is valued at $2,775.
Enter below to win. Contest runs from May 10 to May 17, at midnight CDT. Winner must be eligible to own this firearm in the United States.
a Rafflecopter giveaway
About The WON

The Women's Outdoor News, aka The WON, features news, reviews and stories about women who are shooting, hunting, fishing and actively engaging in outdoor adventure. This publication is for women, by women. View all posts by The WON →
The Conversation