Style Me Tactical: Summer Concealed Carry Style Guide
I am beyond excited to release this new digital Summer Concealed Carry Style Guide!
I have been listening to you and understand your concerns when it comes to concealed carry in the summer. It's a struggle to look stylish while keeping cool and carrying a self-defense tool.
This is why I created this style guide for you. The Summer Concealed Carry Style Guide has over 30 pages of tips, advice, and style inspiration that you can use right now.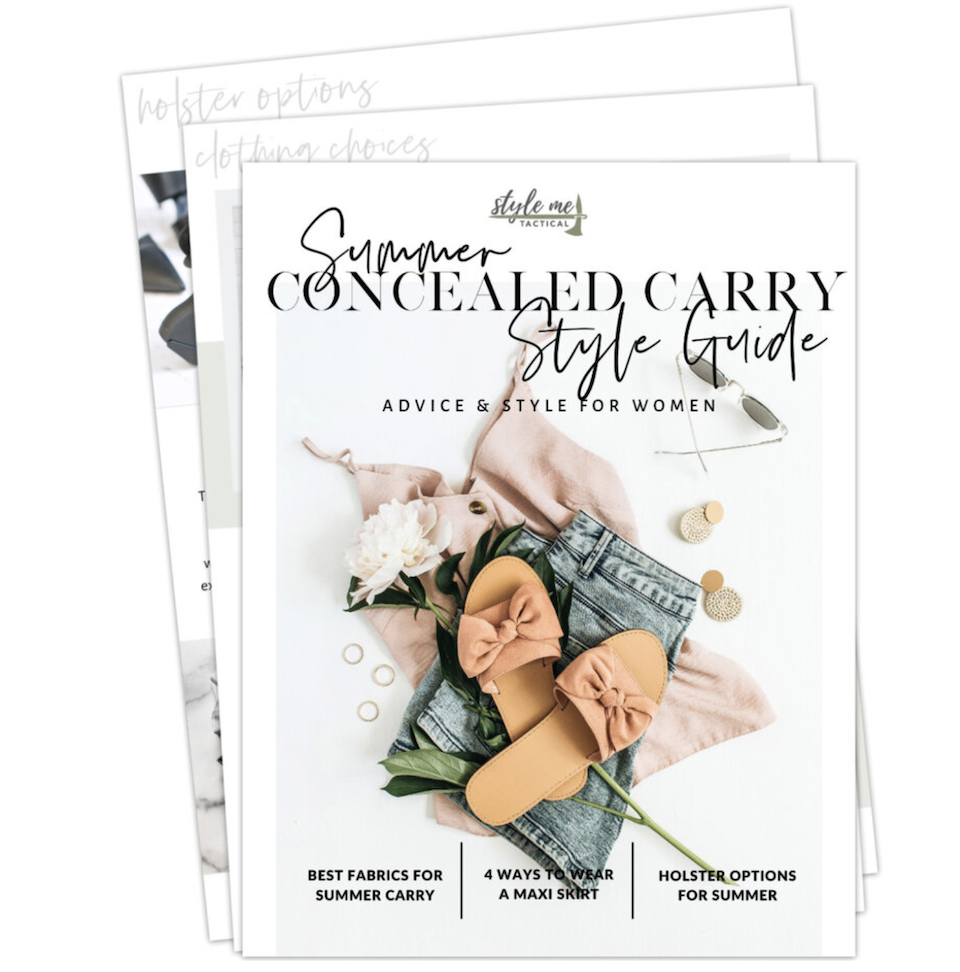 Ladies, let me help you concealed carry in style this summer.
► Do you find it harder to concealed carry in the summer?
► Do you carry less often in the summer because you aren't comfortable?
► Is it a challenge figuring out which clothing styles work for your concealed carry needs?
I created this Summer Concealed Carry Style Guide with exclusive content just for you.
With the Summer Concealed Carry Style Guide you'll get advice and style tips that you can start using right now!
Get your copy here.
I'm also offering a special bonus offer. I am going to opening my virtual doors so I can help you directly.
I'm offering you an opportunity to have a 15 minute one-on-one video call with me where I can work with you directly to get you concealed carrying this season. Since it's video, I'll see firsthand how you dress for summer, your trouble spots, and how to use what's currently in your closet.
As always, Style Me Insiders get first dibs. This isn't open to the public yet so be sure to secure your spot if you're interested in one of the sessions. I have capped them at 50 and they will go quick.
I can't wait for you to see this style guide and help you with your journey. You don't have to sacrifice your style to be self-reliant.
Thank YOU so much for your continued support.
Style Me Tactical
At Style Me Tactical, our passion is our purpose. We are here to inspire, inform, and encourage action through content, conversation, and the experiences we create. We are unapologetic in our beliefs and values of supporting and empowering women to live a self-reliant lifestyle.
About The WON

The Women's Outdoor News, aka The WON, features news, reviews and stories about women who are shooting, hunting, fishing and actively engaging in outdoor adventure. This publication is for women, by women. View all posts by The WON →