Drive Folding Knife and Knife Sharpener by Smith & Wesson Review
Our favorite prepper, Morgan Rogue, is always interested in trying out new knives. We asked her to review Smith & Wesson's drive folding knife and knife sharpener. ~The editors
Sponsored by American Outdoor Brands
I'm always on the lookout for knives that fit my lifestyle. I'm a wife, mom and love the outdoors. I don't always have the opportunity to carry a huge bowie knife strapped to my side.
I love everyday items that can easily fit into my pocket, on my keychain or somewhere easily accessible on my person. I don't carry a purse. Sometimes, I carry a backpack when I'm hiking or in an urban area.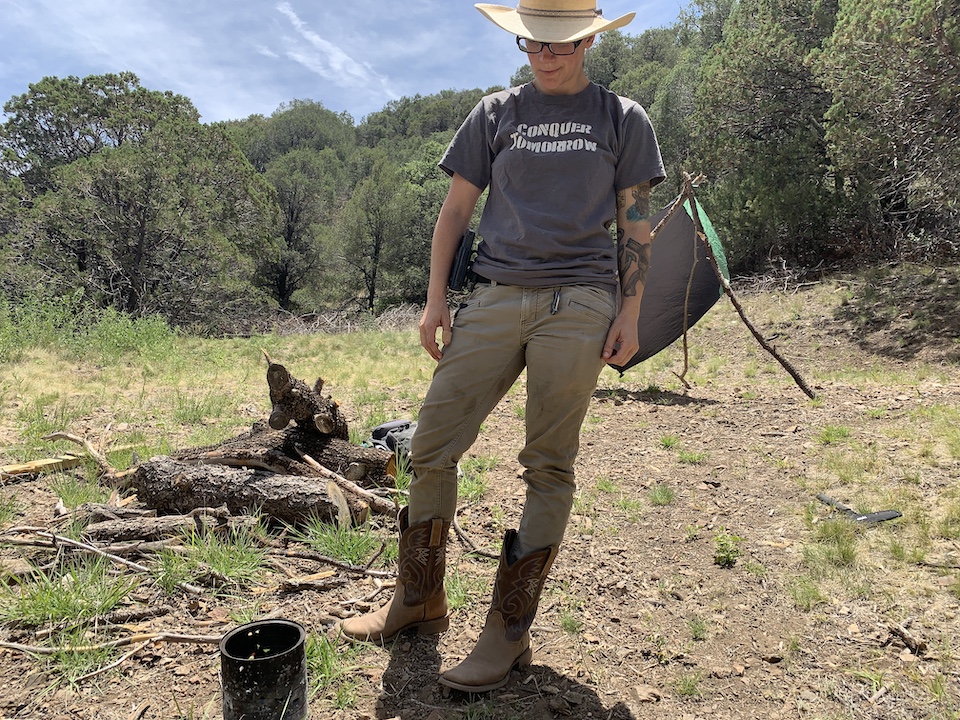 For the most part, I tend to gravitate toward very large knives for outdoor purposes. But lately, I've been looking more into smaller knives that I can carry on my person – either fixed blades or folding. For outdoor purposes, I prefer fixed blades, but I decided to give a much smaller folding knife a try to see how it performed outdoors.
Smith & Wesson Drive Folding Knife Review
The Drive Folding Knife by Smith & Wesson comes in with a total blade length of 1.25 inches. On the back, it has a bottle opener, which is really convenient when I'm craving a sparkling water on a hot day.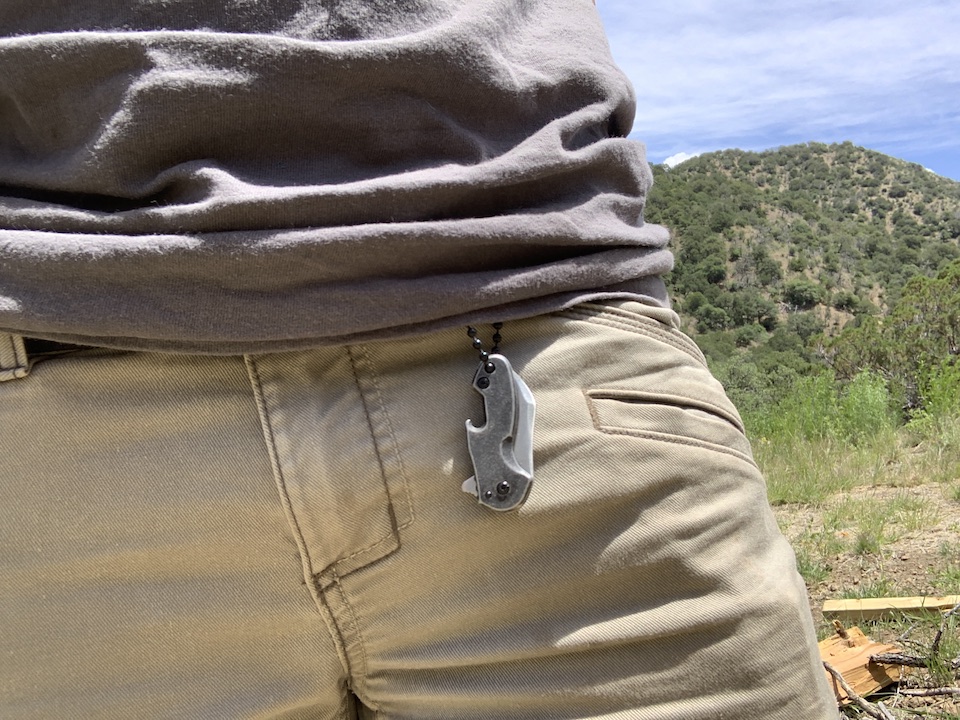 This knife looks itty bitty and it is! When I first got it, I honestly didn't think it would be capable of much other than cutting tape from cardboard boxes.
However, once I got it into my hands, I found that it's a really robust knife, especially for being so small. The blade is quite thick and very well made.
Feather-Sticking and this Knife
Time to put it to the test: I decided to try my feather-sticking technique. Feather sticking is a process to either get into the inner bark of damp wood, or to create small shavings for a fire.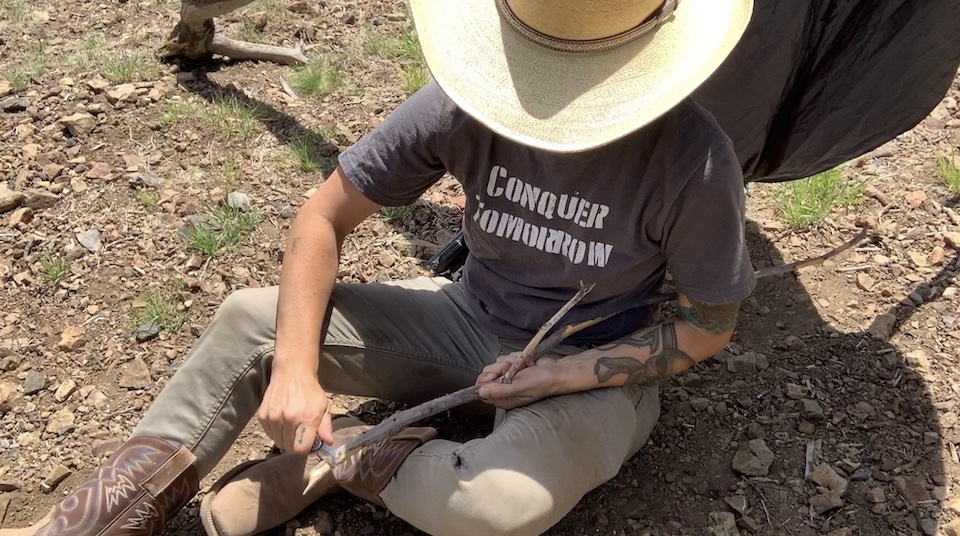 My feather sticking could use work to begin with, but once I get the rhythm of creating the right curls, it goes pretty smoothly after that. I wanted to create very small curls this time around and the knife performed very well.
It's surprisingly easy to handle, considering how small it is. It's not at all difficult to control. Take that with a grain of salt, though, as I do have small hands, but even I tend to go for the larger handles. However, I didn't feel that the size of this knife inhibited my performance in any way.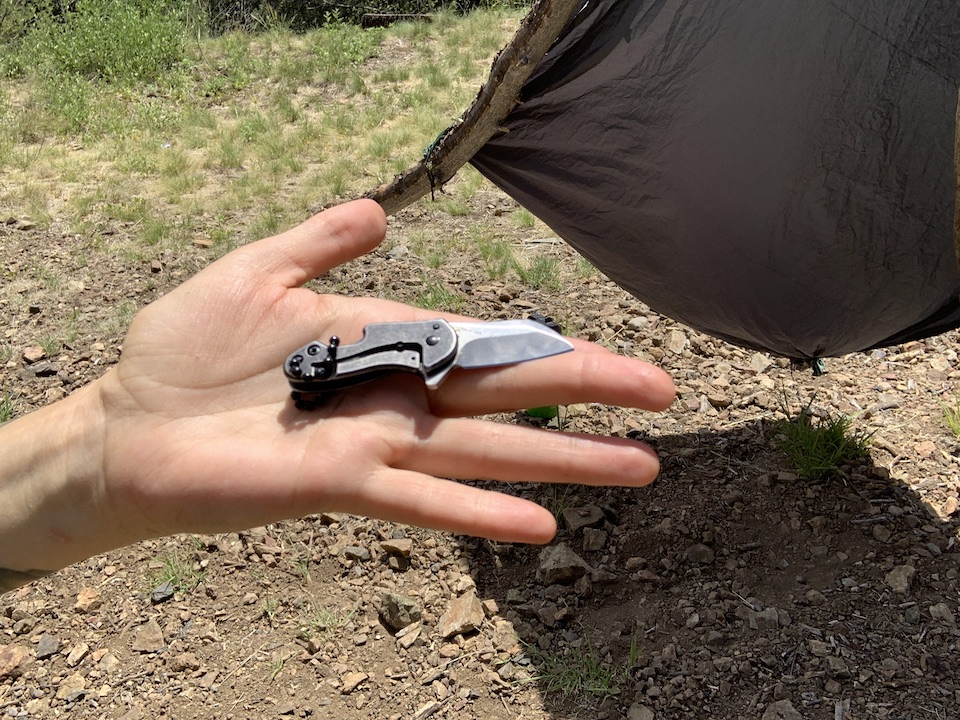 The blade locks into place when it's opened. The back of the blade is just large enough that I'm able to sufficiently place my finger on the back to form the curls and I'm not afraid of the blade collapsing on me since it locks into place.
After I create the curls, I cut them off, lather them up with Chapstick and use them as a fire starter. I get a fire going in no time flat.
Keeping your blades well maintained is extremely important. One of the ways I keep them maintained is by keeping them sharp. It takes a lot of effort and time to bring a knife back from being dull. Don't let your blades dull!
Smith & Wesson Knife Sharpener
The Knife Sharpener by Smith & Wesson seemed really big at first. I was expecting something pocket sized. But once I used it, I actually preferred that it's a slightly bigger size. It can fit into deep pockets, if you'd like, or it can easily slide into any pocket or organizer inside of a backpack. I decided to wrap the chain around my belt loop for easy access while in the field then put it away inside of my backpack when I was done for the day.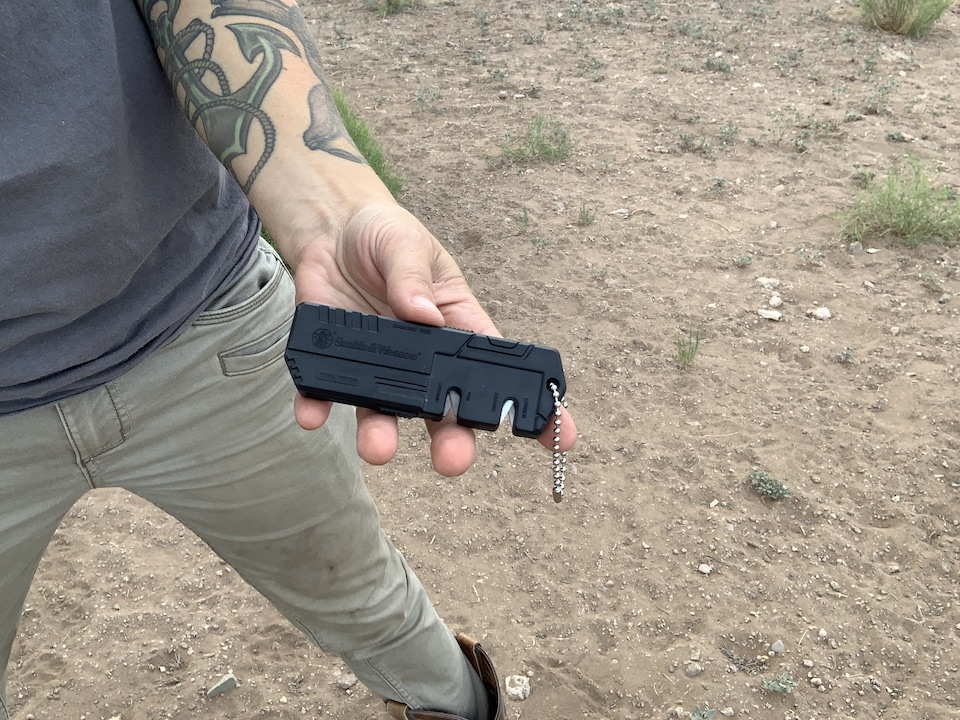 A few strokes on the carbide and a few strokes on the ceramic and your blade will be all set to slice another day.
This portable knife sharpener also comes with a diamond honing stone, as well as a T8 torx driver. It's lightweight, but packed with features and extremely easy to use.
Don't let the size of a tool deter you from trying it out, it might just surprise you.
Check out the Drive Folding Knife MSRP $12.99 here. While you're there, also take a look at the Smith & Wesson Knife Sharpener MSRP $18.99.
About Morgan Rogue

Morgan lives in Texas with her husband, daughters and 2 dogs. She spends most of her time getting outdoors with her daughters, prepping for emergencies and disasters and teaching others how to be prepared. She also enjoys archery, hunting, fishing, firearms, hiking, camping, HAM, Jeeps and generally getting out and exploring life through epic adventures! View all posts by Morgan Rogue →