Meet Syren's Featured Pro-Staffer Tracy Kienitz from Montana
I started talking with Tracy Kienitz (pronounced like "peanuts" with a K) from Kalispell, Montana, right after we were sent home for quarantine in March. She was interested in becoming a Syren dealer and we had lots of conversations about all her options. By the time we got her all set up (still during quarantine), she had signed up for all 3 brands: Syren, Fabarm and Caesar Guerini. She operates a full-fledged demo center with guns in all 3 brands. Bringing on Emi Smith – our featured shooter and new Prostaff member from Montana in last month's column – was the perfect complement for both of them. We've got a Syren demo/clinic set up in July that will introduce all the ladies in Montana to our new dealer in the Pacific Northwest. Here's more about Tracy Kienitz that I think you'll like to know.

Sponsored by Syren USA
Please will you tell our readers what you want them to know about you?
I am a happily married mom, with a couple of adorable grandbabies. I grew up around hunting and guns and love the outdoors. I was born an entrepreneur. I remember selling Kool-Aid by the side of the road as a little kid, and cleaning for cash in my early adolescence, graduating to my first brick-and-mortar when I was 21. Over the years, I have owned many businesses, and in late 2019, I sold 1 of my businesses and contemplated retirement. That lasted for about 3 months. One thing I have learned over the years, is if you're going to be in business, then do something you love.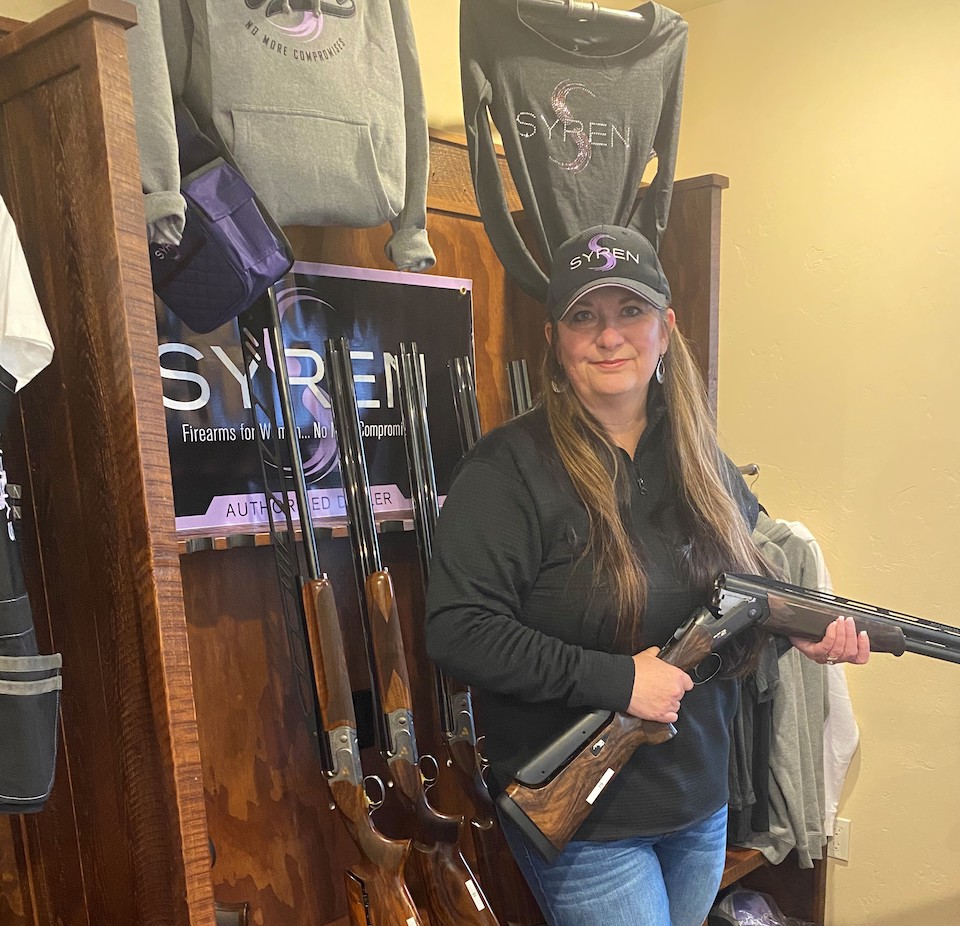 When looking for my first Syren gun, I fell in love with the brand and what it stood for. I became excited about the opportunity to bring these guns to my fellow women shooters – an opportunity not just to buy a Syren, but also to have the opportunity to experience Syren and truly find the right shotguns for their bodies and builds. I wanted to provide the entire experience – from picking up the gun and shouldering it, to shooting it, having it adjusted if necessary, shooting again and trying another model, or 2, all while using good ammo and appropriate eyewear. When I explained to my husband what I wanted to do, he also became excited at the concept, as I had just bought him a new shotgun for Christmas – and while he picked it out online – he was disappointed with it.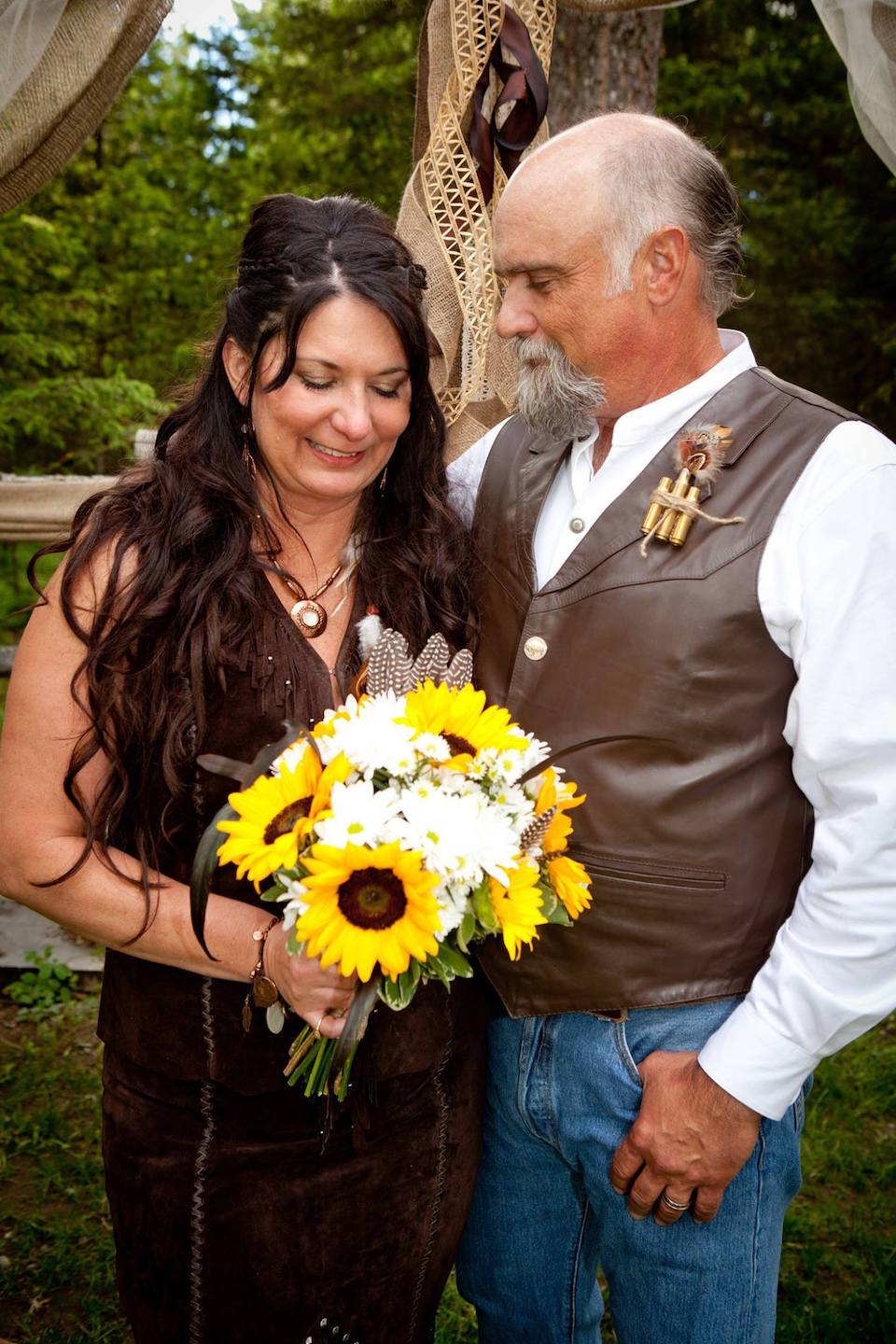 And, come to find out most of his team had all bought new guns, and they were all butchering them to try to get the guns they wanted. A couple of his shooting friends picked up my Syren and they were impressed and asked if they could buy one; they also loved the fit. The feedback was incredible, my husband was sold, we decided to partner up and add Caesar Guerini and Fabarm to our product line and Xcel Shooting Sports was born. So far, we have had couples travel in from all over and we both love the opportunity to test drive guns from these 3 lines and make some incredible new friendships.
How did you discover the shooting sports?
My first memory of guns is when I was about 10-years old and my dad had me shooting cans off the fence with a .410. My first gun was a .22 that my dad bought me on my 16th birthday. I remembered the stock was engraved and I remember thinking how beautiful it was. Sadly, the gun was lost in a fire, my dad left his family and I didn't pick up a gun again for 20 years, until I met my husband, Troy. Troy and I would go on dates to the trap range with some of his friends and the next thing I knew, we were in a trap league. I came out of the gate shooting a 17, then a 22 out of 25 birds. My soul lit up on fire, as I was then determined to win one of those "best shooter" trophies that my husband had been winning. I have been in love with shooting sports ever since.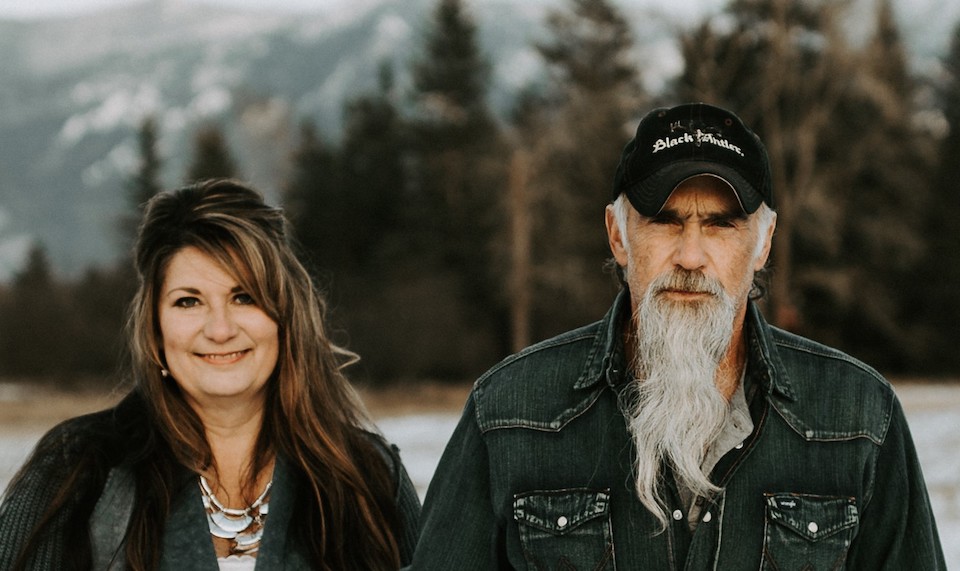 Can you tell us about your favorite cause or charity?
I have a heart for abused children and will support causes that help these kiddos out. I also support youth shooting groups, such as AIM and the Pheasants Forever groups. It is fun to watch these kids learn how to shoot and the pride that shines on their faces as their games continue to improve. These groups make a difference for these kids and I encourage you to look for how to support these groups in your local communities.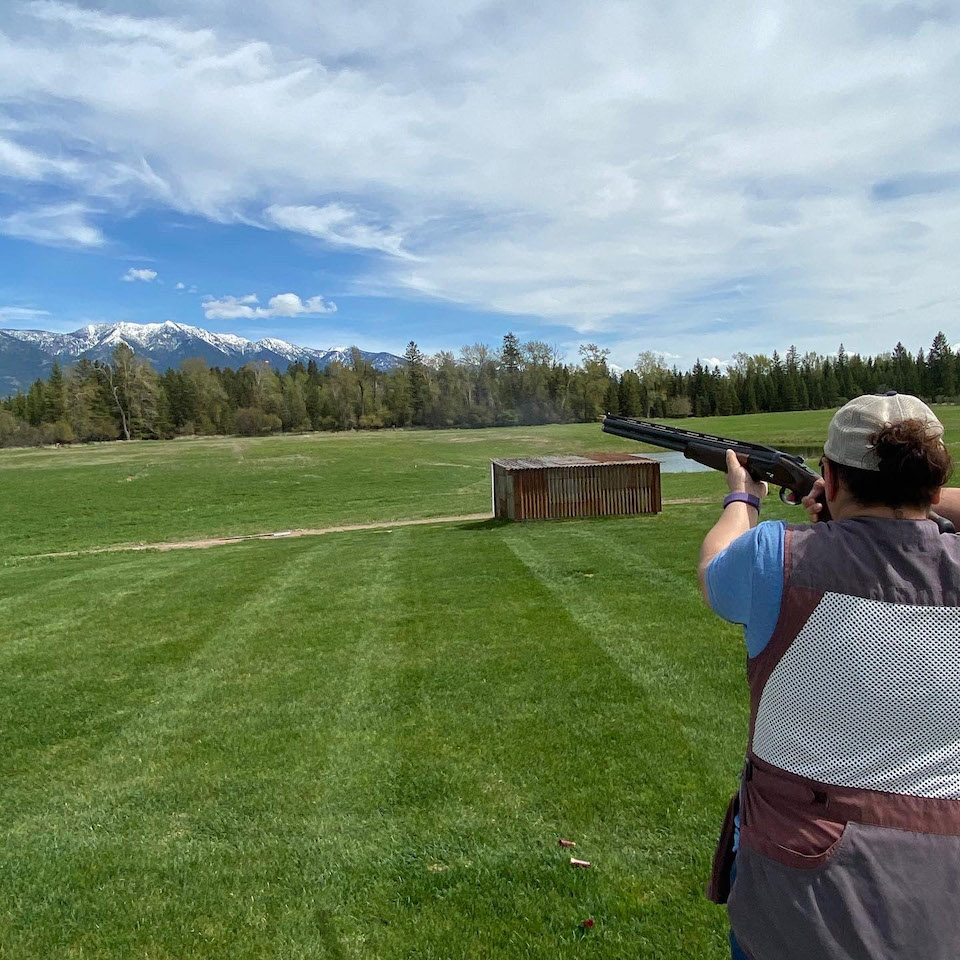 When women ask you why you shoot a Syren, what do you say?
When women ask me "why" I shoot a Syren, or more accurately, Syrens, I get a little giddy and feel a bit silly because it's as if I am about to walk them into a shoe- or purse-closet full of prized possessions. I pretty much share my Syren story with them and it begins by me sharing that I am a "teeny bit" competitive and I love to shoot with my husband and friends, but I just couldn't get past that 17-to-22 out of 25 birds. Frustrated and determined, I went to Google looking for answers. I found a lady in Australia who had a YouTube video about women shooting and she talked about how guns are made for men and described why. I was intrigued.
I then went on the hunt looking for a company that made guns for women and found Syren. Syren solved all the problems that the Australian woman had mentioned. But, honestly, I wasn't totally convinced that this was going to help me. It sounded good in theory, but I wanted to try one myself. I contacted Syren and they hooked me up with someone and I was able to demo 4 different Syren models. I knew the second I picked them up, everything the Australian woman said was true. Having a gun made for a woman's body makes an incredible difference. I realized gun fit was a HUGE factor. People frequently ask me which gun is my favorite, and I respond by saying it depends on the purpose the gun is being used for. I don't have a favorite, but rather "favorites," and it all depends on the discipline I for which I am using the gun. Finally, the last thing I tell everyone is that I have a strong core value around quality, and I believe you get what you pay for; it is obvious when you pick up a Syren, it is a quality gun, and quality will impact your experience.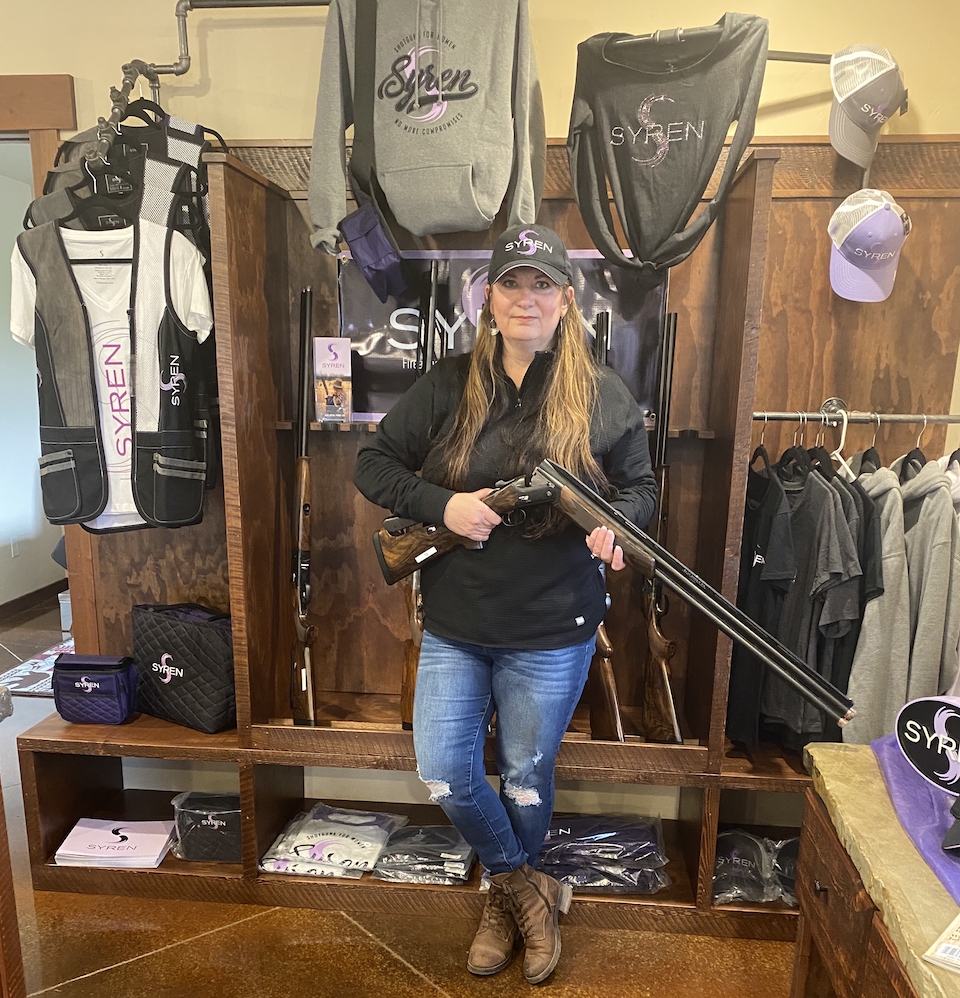 What type of feedback are you getting from women who are experiencing this line of shotguns?
Owning a Syren demo club offers a unique opportunity to receive feedback about the Syren gun line. They don't just get to pick one up and shoulder one; they get to shoot one and they are amazed as they move from one gun to another, being able to try out the differences and they feel the difference immediately. I think the most common words that come out of every woman's mouth is "Ooh, that's nice." It has become predictable – what is going to happen when someone arrives at my demo center: They pick it up, shoulder it, say "Ooh, that's nice," put it down, then shoulder it again, nuzzle a cheek into the stock and shoot. Then, silence. Then, a smile. Then, they ask, "Can I shoot it again?" I nod, with a knowing smile, while an immediate sense of fulfillment washes over me – as another woman found a gun that makes her shooting experience so much better. They immediately notice the weight, the length of pull, the fit against their shoulder, the grip that fits their smaller hands and the recoil reduction. They simply love them, and I have found a few Syren junkies, like myself, that must own more than one. It's a sisterhood.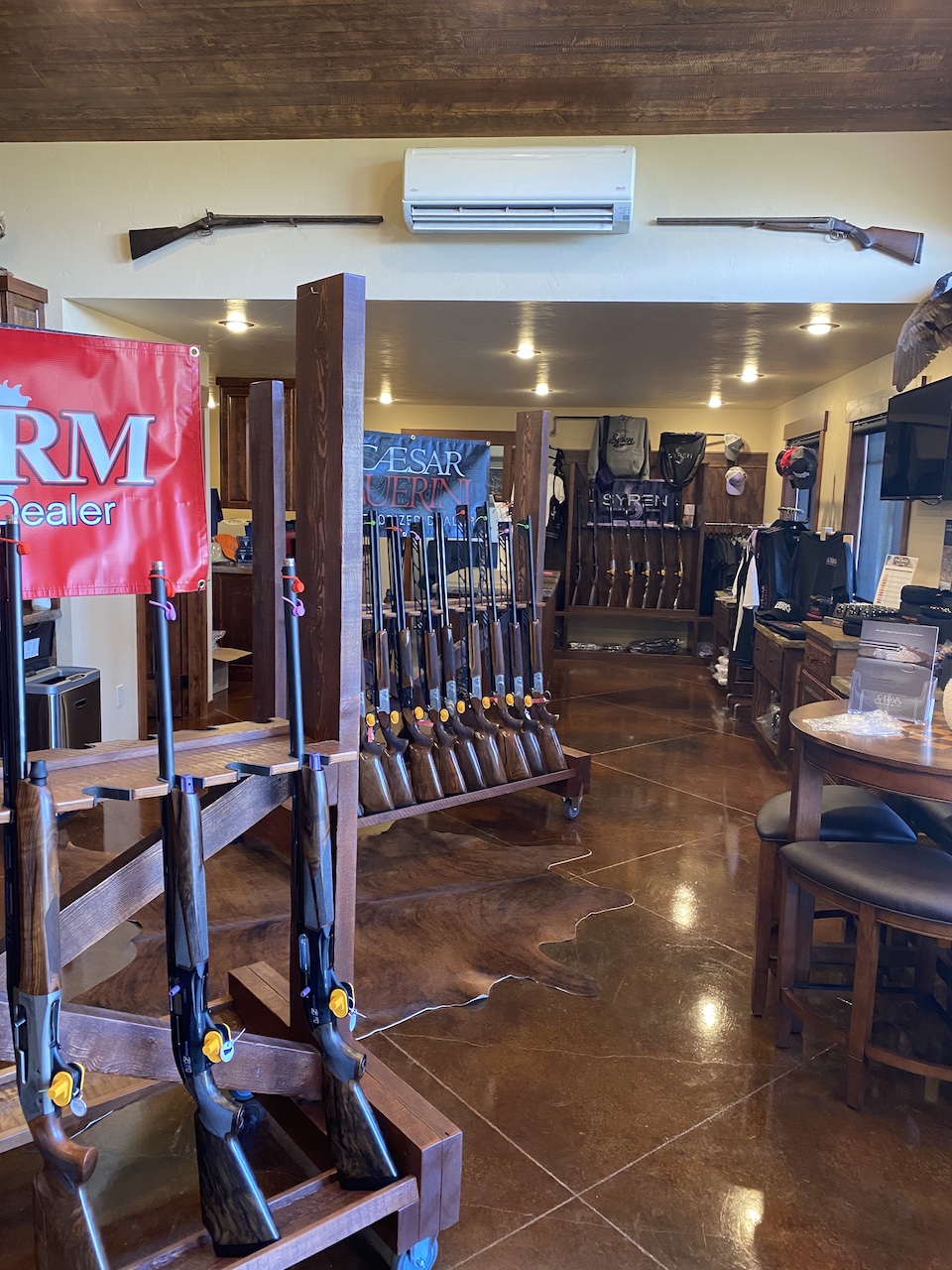 Why is it important that a woman have a shotgun that fits her?
Proper gun fit for a woman shooter is essential. Women have less upper body strength than men do. We typically have longer necks and higher cheekbones and slanted shoulders. When a gun doesn't fit right, it smacks you in the face, or you feel it in your chest, shoulder and back. I commonly hear from women how they get bruised just under their armpits. I used to, as well. This is because the length of pull is simply too long and most often, our husbands or the men in our lives have cut our stocks down or we have taken them in to be modified to attempt to resolve the length-of-pull challenge. It doesn't resolve the fact that a pistol or Prince of Wales grip is too big for our smaller hands, and the comb still doesn't fit nicely against our cheeks. Our necks feel like they are twisted in some giraffe-like pose.
I find that most women that don't like to shoot is because they are afraid of the recoil. That's because they have picked up a gun that doesn't fit them and they are likely shooting with ammo that doesn't support them. I can tell the moment a person picks up the gun that fits her or when we have got it adjusted properly for her – she feels it, and I can see it. You don't walk around in shoes that don't fit or are uncomfortable, so why would you shoot a gun that doesn't fit or is uncomfortable? Find a gun that fits you properly and you will find more joy in shooting.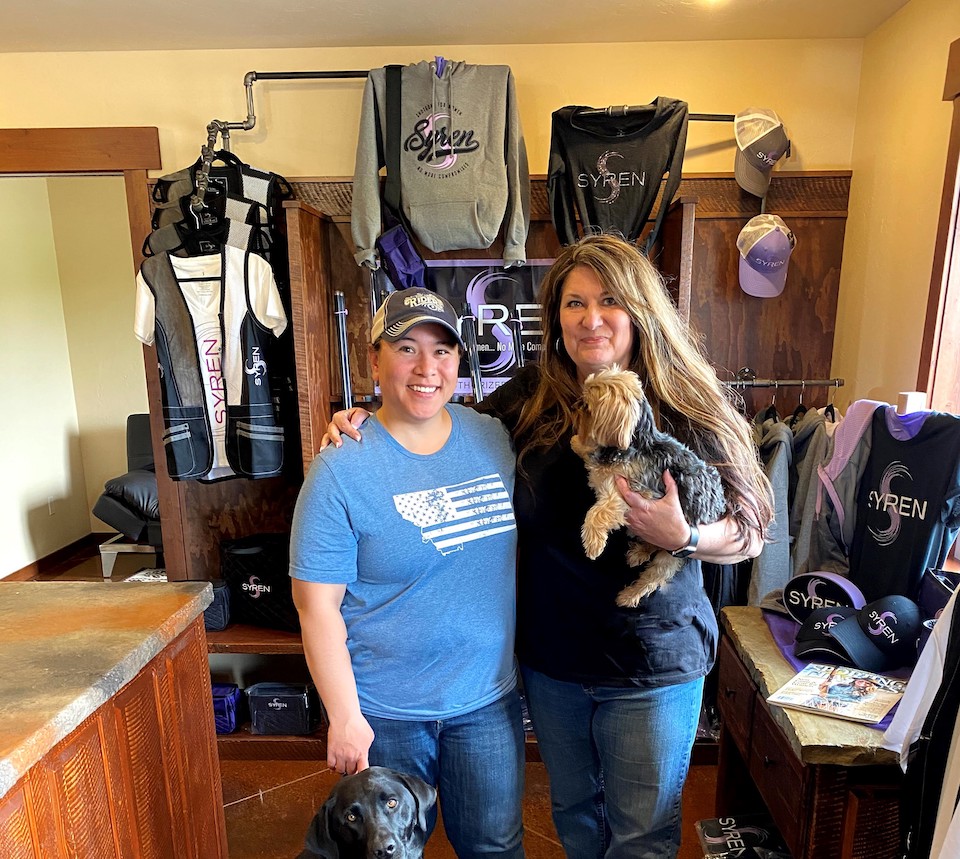 What's the best way for a woman to start competing in shotgun tournaments?
First, and foremost, find the right gun for you, and then, dig right in. While gun fit is extremely important, it's the first step. The second step is to practice, and practice happens when you put shells in the gun. I would recommend that you practice shouldering your gun (no ammo) and your stance so it becomes second nature and you will create a rhythm for yourself that will let you focus on seeing the bird, breaking the bird. Another tip is to use lighter load ammo, such as 7/8 ounce, 1200fps. I was always a 1-1/8-ounce kind of girl but it was a tip passed on to me by my good friend, Lynne Green, Syren Brand Manager, and boy, she was right. Using this lighter ammo will let you last longer and up your game a bird or 2 at least. Flinching equals missed birds, and I believe that heavier loads equal flinching in both men and women. So, find yourself some 7/8-ounce shells. I like Fiocchi Low Recoil.
My last tip is eye wear. Give yourself an edge by using the right eyewear that will improve how well you are seeing the targets.
Tournaments will put you in a class, so if you are a newbie, no worries, you're not the only one. Just dig in and you will find yourself improving and being a force to be reckoned with in no time. We all started somewhere, and you will find the folks that participate in shooting tournaments are a friendly fun group of people to be around.
Visit Xcel Shooting Sports at Facebook.
Learn more about the fine line of Syren guns.
About Lynne Green

Lynne is on to her next adventure after over four years in Maryland with Caesar Guerini and Fabarm as the Brand Manager for Syren (a line of shotguns made for the ladies). She has attended dozens of demos and events and has been honored to get to meet and introduce hundreds of ladies and young girls (and lots of boys and men too) to all 3 brands and to shotgun shooting! Lynne has learned so much about shotguns – gun fit, eye dominance and mechanics – that shows her just how much more there is to learn. She now is doing marketing and branding consulting and also plans to stay active in the outdoor industry, do more hunting and sporting clays, shooting lessons and add some fly fishing to her repertoire. She'll be based in the Dallas Fort Worth area. View all posts by Lynne Green →