Take a Shot at The WON's Shooting Targets and #letsgoshooting
How about them apples? We're so excited to share two new target designs with you. Our concept was to provide paper targets that we, as women, will want to display. We hope to see these hanging in your homes and offices!
Did you know that the great Annie Oakley was known to shoot an apple off her dog's head during her performances? We don't recommend you try that in your target practice, but we certainly like the idea of celebrating national shooting sports month with apples! Download and print our free WON apple target and channel your inner Little Miss Sure Shot. Here's just one way you can shoot it.
Set your target up at a yard line that you feel confident shooting small targets. For beginners, start at 3 to 5 yards. More advanced shooters can stretch out the target distance even further. Begin your range session by shooting a 5-shot group on the bulls-eye portion of the target. Repeat group shooting on this circle for a total of 15 rounds.
After practicing sight alignment and trigger control you're ready to test yourself on the apple targets. Take one shot on each of the 6 apples striving to keep all your shots inside the fruit. For the last 4 rounds, line up your sights on the small round circles found in the branches.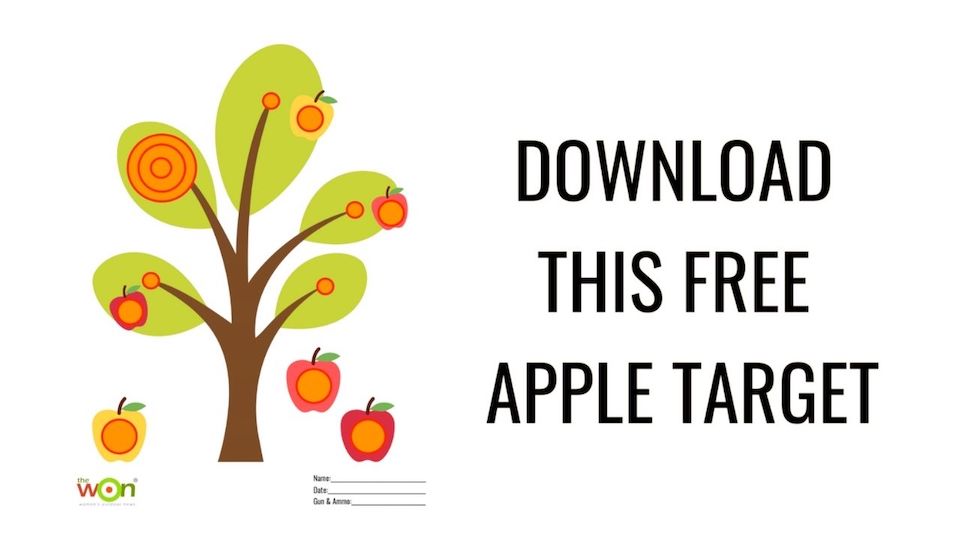 No matter how you choose to shoot this target, we'd love to see it! Share your photos and tag us with Women's Outdoor News on Facebook and Instagram using #letsgoshooting and #wontarget. If you haven't already, be sure to watch our video on 5 pistol shooting sports to try for National Shooting Sports Month.
Download our Apple Target here.
The Butterfly Effect Summer Shooting Targets
The Butterfly Effect, as defined by dictionary.com, is a cumulatively large effect that a very small natural force may produce over a period of time. Create your own butterfly effect with our special #letsgoshooting butterfly target by practicing your shooting fundamentals through grip, stance, sight alignment and trigger control. Here's one way you can shoot this target.
There are 25 small round aiming points found on all the butterflies on our summer butterfly target. Use them to test your ability to shoot as close to the center of these small dots as possible.
Set up your target at close distance to start. We recommend 3 to 5 yards. Begin shooting the larger circles in the wings of the largest butterfly. Move on to the smaller targets for a total of 25 shots. Once you master the target at this close distance, try shooting it again but set at 7 or 10 yards.
Sometimes a new target can make all the difference on the range. Too often, shooters experience burnout shooting the same targets and drills repeated. Change up your range time session and celebrate national shooting sports month with our special targets – the butterfly target in this post and our apple target too.
Download our Butterfly Target here.
Wanna Win WON?
Thanks to Smith & Wesson for the very cool gifts! Enter as many times as you shoot the targets and show us! We will choose 8 winners. You'll have the entire month of August to show us your shooting!
About Julie Golob

Julie Golob is one of the most accomplished professional shooters in the world and captain of Team Smith & Wesson. She has won more than 120 championship titles in international, national and regional marksmanship competitions in seven different shooting disciplines. Learn more about the champion, author, veteran, hunter and outdoor television personality at JulieGolob.com. View all posts by Julie Golob →