Syren Savvy: Meet Courtney Bastian, 'The Bird Dog Babe'
Syren USA is lucky to have Courtney Bastian as a Syren owner, mom who loves to be outside and woman helping to get more women hunting, shooting and in the field. I was thrilled to spend time with her at the clinic we hosted at Xcel Shooting Sports and only wish we could have hung out longer. I'm already planning on heading back to Montana to go and hunt with Courtney and her dogs and I was honored to talk to Courtney, aka "The Bird Dog Babe," about gun cleaning, chokes and ammo recently. Give us a listen if you have some time and subscribe to her podcast for more episodes.

Sponsored by Syren USA
Please will you tell our readers what you want them to know about you?
I created and host "The Bird Dog Babe" Podcast to help inspire, educate, and connect women to hunt and get their bird dogs out in the field. I've been steadily adding new editions and have several more on tap.
Up until a year ago I lived in Wisconsin, and as a new resident to Montana, I dove deep into all the amenities the amazing state has to offer. I hunt both upland and waterfowl bird species, and turkey. I'm currently in the process of learning to fly fish and plan to try big game this fall.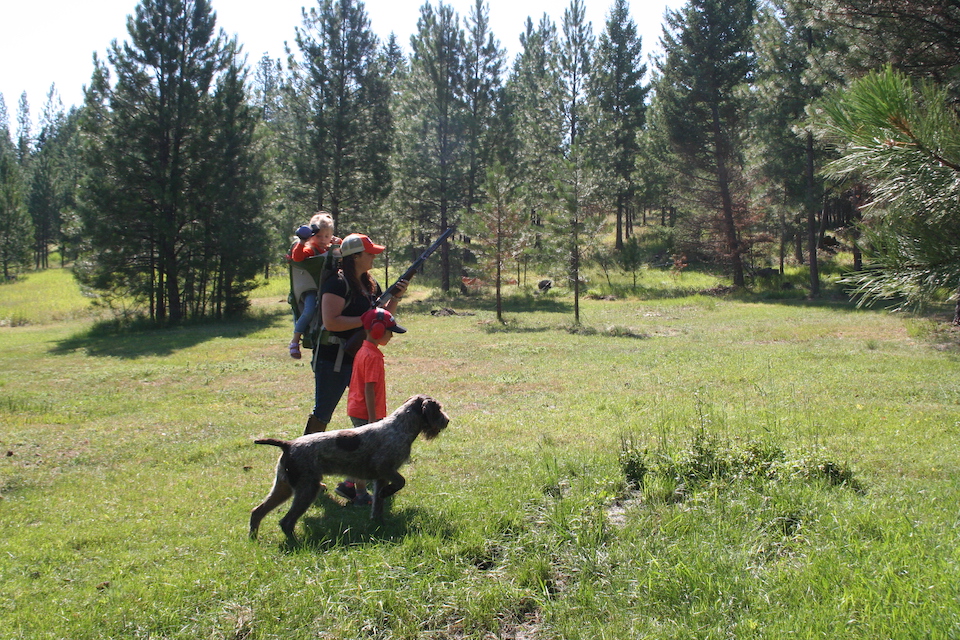 I work as a consultant for Purina Pro Plan, traveling around the US attending dog events to discuss canine nutrition. I also help manage and assist my husband, who is a Professional Gun Dog Trainer at Claddagh Kennel. We breed, train, hunt and compete with our German Wirehaired Pointers and Bracco Italiani. We have 2 pretty cool toddlers that enjoy the outdoors as much as we do, and they love coming along with us while hiking, horseback riding, dog training and hunting. Sharing these experiences with them is incredibly rewarding.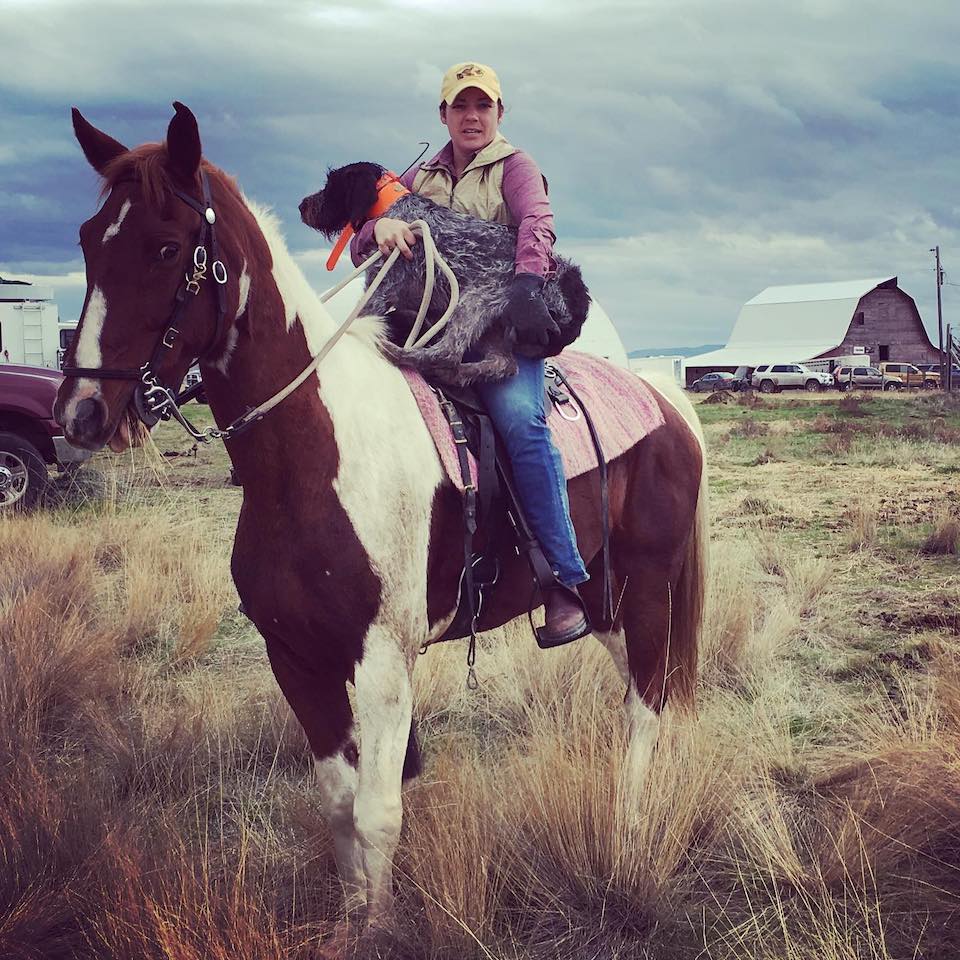 How did you discover hunting?
I was an adult-onset hunter. I started training and competing with my German Wirehaired Pointers in 2004 whilst I was still in college. During hunting season, I would carry a camera around the field taking photos of my dogs and husband working birds. It was the reoccurrence of one of my dogs retrieving the bird directly to me, that my husband had shot, that I decided that I wanted to join in on the sport that my dog enjoyed so much.
So, I switched out the camera and picked up a gun … a Syren Tempio Field Light 20 gauge and have since appreciated the strong bond that forms between dog and human when hunting together as a team.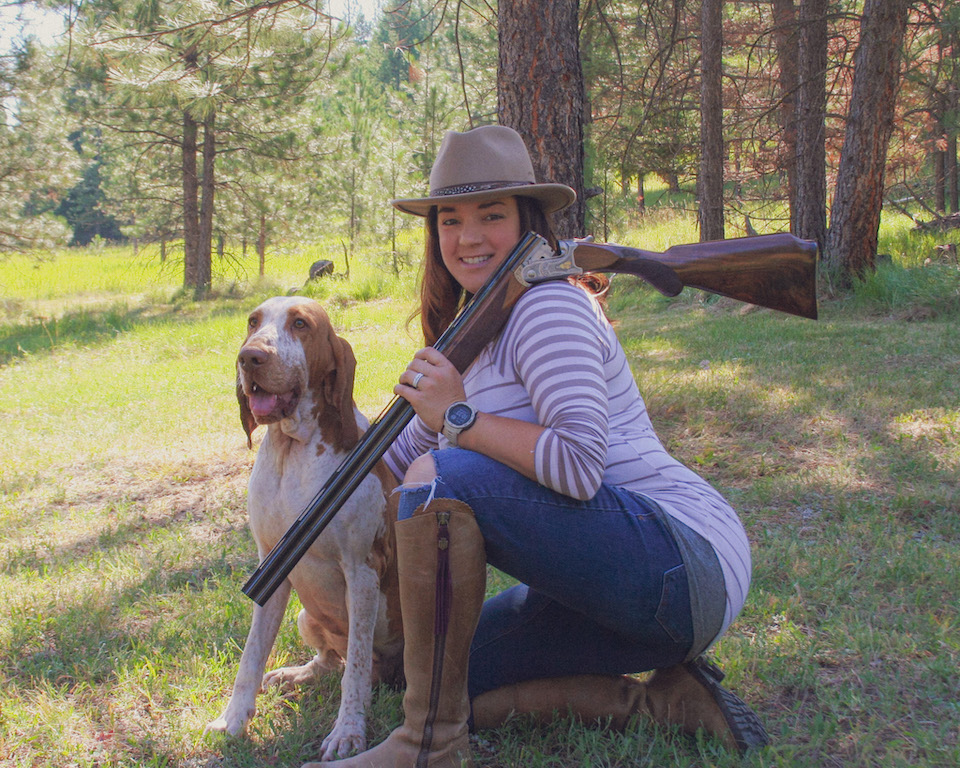 Can you tell us about your favorite cause or charity?
I support several habitat organizations and public land advocate groups such as Pheasants & Quail Forever, Ducks Unlimited, National Wild Turkey Federation, Backcountry Hunters and Anglers and Rocky Mountain Elk Foundation. These are groups that are focused on conservation, preservation and education. Through their efforts, I'm hopeful my kids, and their children, will be able to enjoy hunting public lands, bird and game species in the future.
I also support the American Kennel Club Canine Health Foundation, which provides funding of health research focused solely on helping identify and address health issues in dogs. Through my Patreon program, my patrons contribute to donating 5% toward conservation and 5% towards canine health research.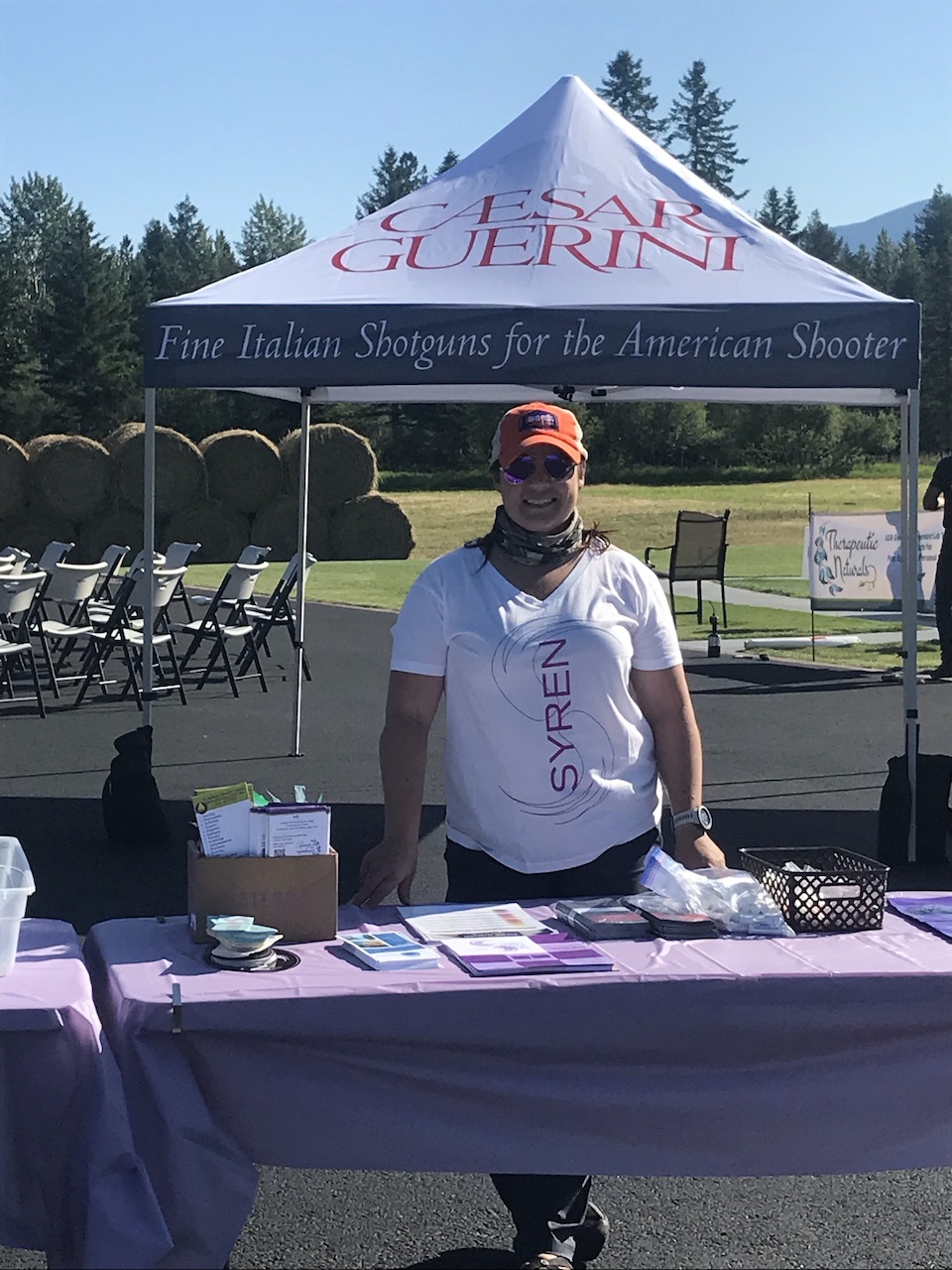 When women ask you why you shoot a Syren, what do you say?
My first shotgun buying experience was like so many others; I went into a sporting goods store, the guy at the counter handed me a few shotguns to shoulder, asked which one felt best, and I walked out the door with a new shotgun not knowing any different. After a very frustrating hunting season, I started shooting sporting clays to help improve my shot. The manager of the sports club noticed my shooting was off because I wasn't shouldering my gun well, so I paid him several hundred dollars to shorten the stock for me. Fast forward several years to a few sessions with a shooting instructor who noticed I still wasn't shouldering my gun well and suggested another stock modification. I went in search of a new shotgun. I knew there had to be a better option on the market, and that's how I came across Syren Shotguns. I called Syren and was put in touch with Tracy Kienitz of Xcel Shooting Sports in Kalispell, Montana. Tracy invited me up to her demo range – where I was able to actually shoot the entire Syren line. I was surprised to note how well I was able to shoulder every single one of them. The stocks are tailored to fit the female anatomy, there's customized length of pull and increased pitch and cast, in addition the pistol grips are smaller with adjustable trigger. As an avid grouse hunter, it was important for me to have a lightweight gun that I could carry all day in the woods, and I decided on the 20 gauge Tempio Light, weighing in at 5.5 pounds.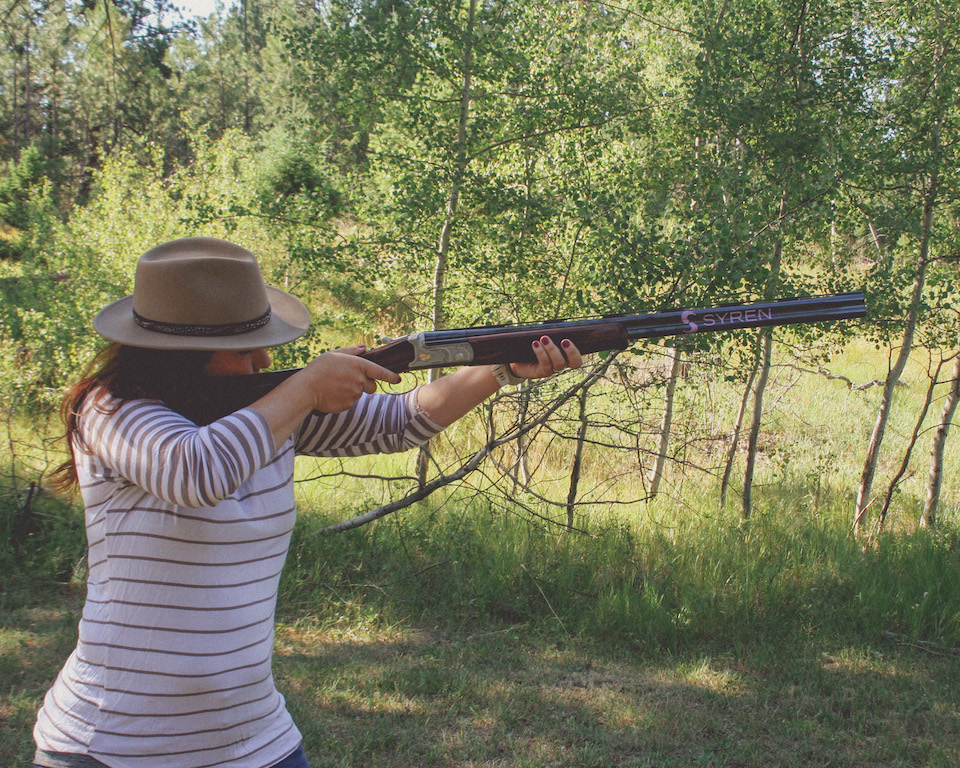 What type of feedback are you getting from women who are experiencing this line of shotguns?
I recently co-hosted a women's shooting clinic; it was great to hear how many of them were surprised and happy about the guns fitting them so well. In attendance were upland and waterfowl hunters, as well as skeet, trap and sporting clay competitors. The fact that there was a gun with good fit for a wide variety of shooting disciplines was quite awesome.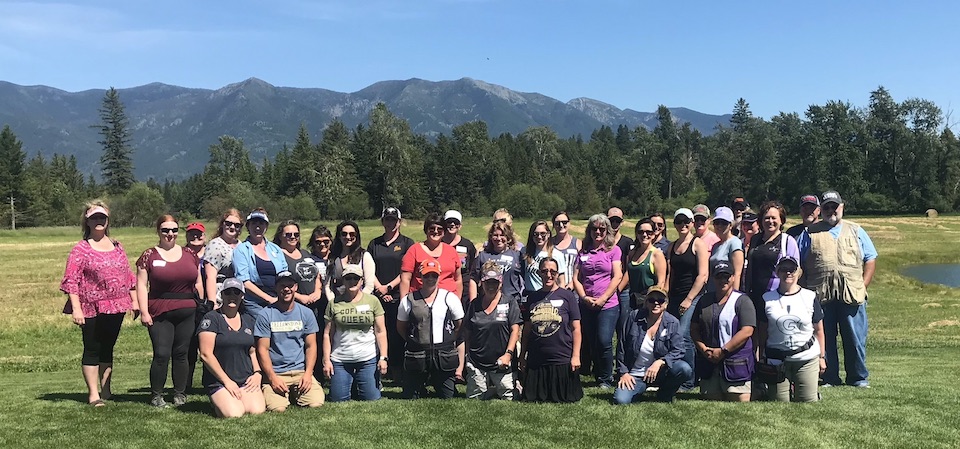 Why is it important that a woman have a shotgun that fits her?
Women deserve to feel comfortable and confident when shooting or hunting. We are no longer in the times of "this is a man's sport," and we shouldn't have to compromise with a one-size-fits-all gun. In order to continue on with a sport, we don't need to be the best at it, but we do need to enjoy it and have a reason to go back and do it again. As the number of hunters continues to decrease, it's important to inspire and motivate women to get out there and do it. Having a shotgun that fits her means she will have a higher success rate when shooting, making the hunt more enjoyable, and making it more likely she will want to do it again.
What's the best way for a woman to start hunting?
Give it a try. Find a mentor and go out with them. Look for a women's hunting event through PF&QF Women of the Wing, NWTF Women in the Outdoors, NWF Artemis, or Becoming an Outdoors Woman, to name a few, where you can try out the sport in an environment where a lot of the focus is to teach you and be in a setting that is controlled and comfortable. Listen to my podcast, 'The Bird Dog Babe'; it's loaded with guests that are offering great advice to help you learn about hunting.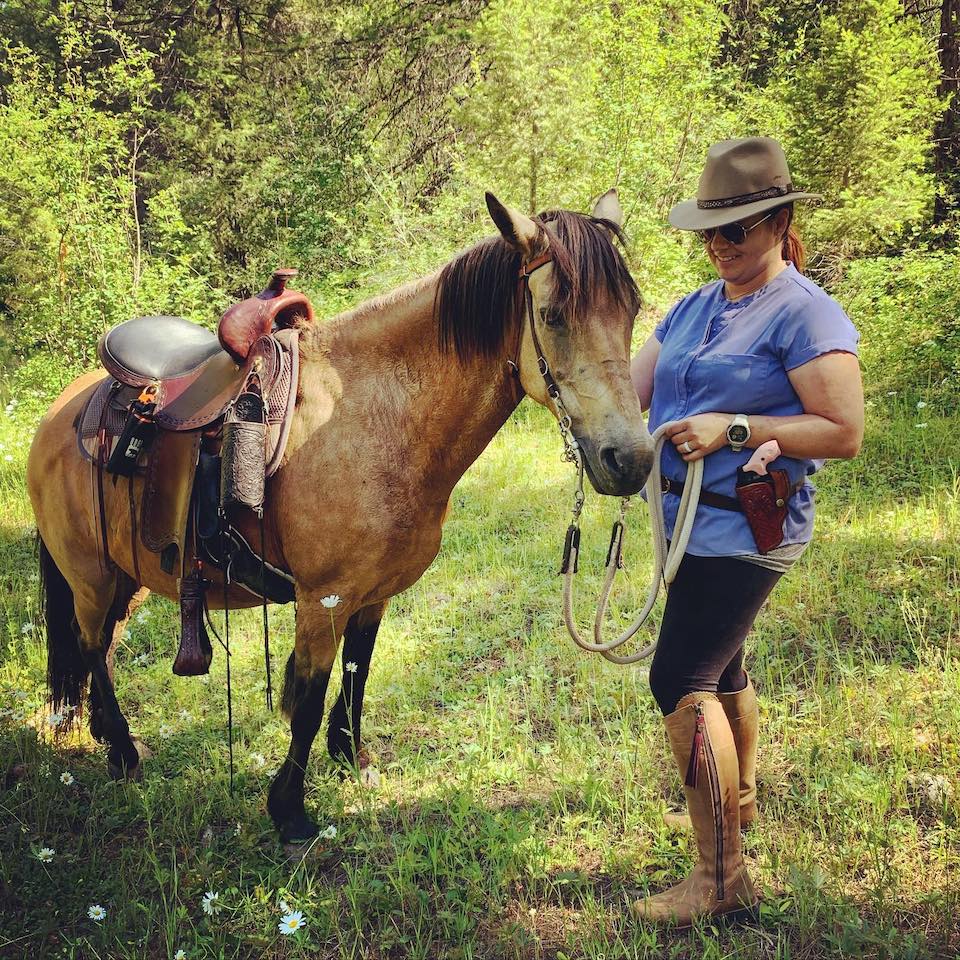 Visit Syren USA to check out its fine line of shotguns for shooting and hunting.
About Lynne Green

Lynne is on to her next adventure after over four years in Maryland with Caesar Guerini and Fabarm as the Brand Manager for Syren (a line of shotguns made for the ladies). She has attended dozens of demos and events and has been honored to get to meet and introduce hundreds of ladies and young girls (and lots of boys and men too) to all 3 brands and to shotgun shooting! Lynne has learned so much about shotguns – gun fit, eye dominance and mechanics – that shows her just how much more there is to learn. She now is doing marketing and branding consulting and also plans to stay active in the outdoor industry, do more hunting and sporting clays, shooting lessons and add some fly fishing to her repertoire. She'll be based in the Dallas Fort Worth area. View all posts by Lynne Green →