Tatiana Whitlock: America's Rising Star Shooting Instructor
Tatiana Whitlock is considered one of the country's fastest rising shooting instructors, especially in the realm of self-defense. We wanted to know what drives her to do what she does, and why she chose to get intense training to become a female force in the shooting industry.

Sponsored by Walther Arms
When people ask you what you do for a living, what do you tell them?
Telling people what I do for a living can be an interesting and sometimes unpredictable experience. When in "mixed company" I often say that I work in health and safety education. That answer is benign enough for most to smile and nod or spark further clarification from the more inquisitive in the group. The fun is letting the cat out of the bag with the a pleasant, calm smile and matter-of-fact delivery: "I specialize in professional firearms safety education, personal protection, home defense and concealed carry." Coming from a 5-foot, 2-inch tiny lady with a pixie cut and a background in fine arts, this answer becomes a delightful conversation starter.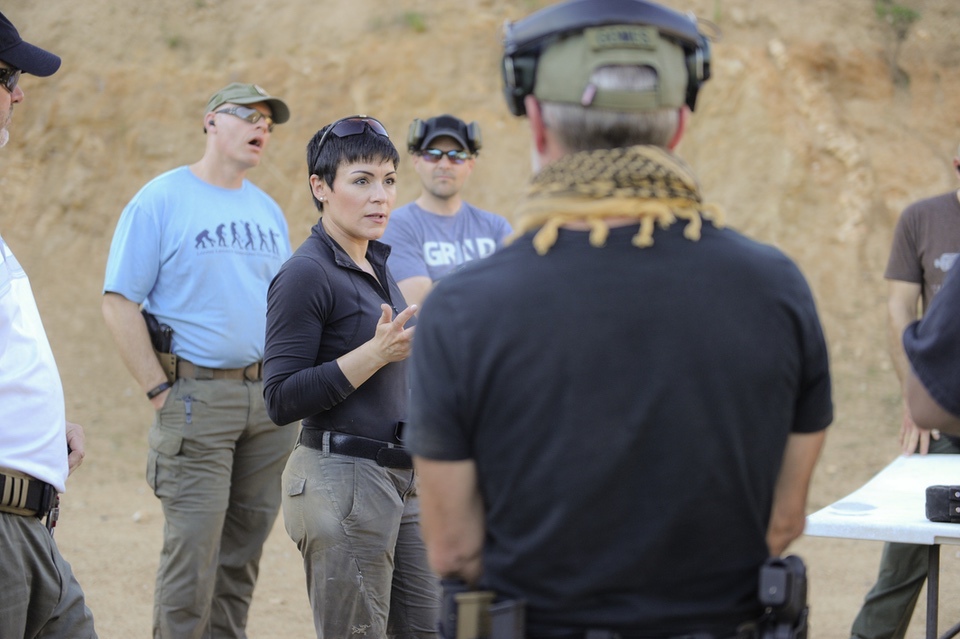 What's your history with the shooting sports?
My introduction to the shooting sports began 8.5 years ago at a tiny gun club located deep in the woods of Southern Maine. My first class was an 8-hour NRA Women on Target clinic in which I held and shot a handgun and a rifle for the very first time. I was instantly hooked and dedicated the years that followed to an immersive study of the shooting arts. Like many women new to the firearms I was overwhelmed at how giving and supportive the 2A community is to those ready to learn. After 5 years of study, I transitioned full time in the training community to both further my own learning and to contribute to new and developing shooters.
You seem to have honed in on personal defense training? Why?
Early on in my firearms journey, local law enforcement alerted my neighbors and I to a surge of local home invasions. There were a number of households in our sleepy town receiving home hospice care and break-ins were happening to rob patients of their pain medications. Standing at my front door that afternoon and speaking with the officer, the chilling reality of how much I didn't know about being my children's first responder swept over me. I realized I needed more than square range training time and begin to travel out of state to learn about how to problem solve in structures, in and around vehicles, medical and more.
Do you work with men and women?
Many presume that as a female instructor I only teach women. While I do offer women's-only programs, the majority of my classes and lessons are open enrollment. Over the past 3 years, I have seen more gentlemen interested in training with a female instructor as popular interest shifts from investing in a "tacti-cool guy" experience to one with a measurable result and skills that they can take home. As more people take ownership of being their own first responder and seek out quality training, the gender of the instructor and the composition of genders in the class are less and less relevant.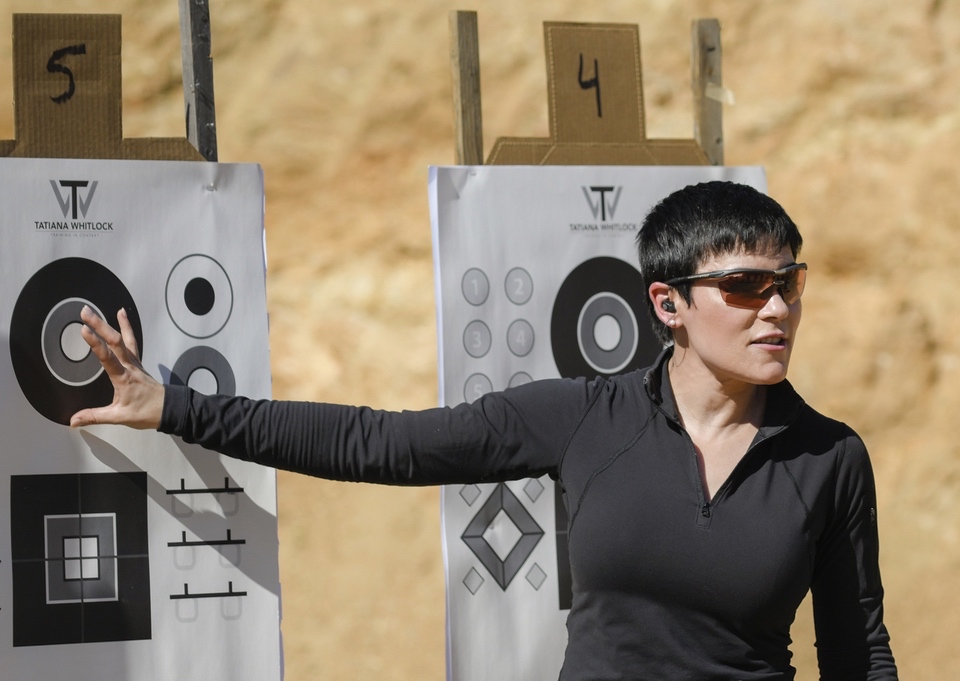 What types of courses do you teach?
The courses, lessons and lectures I offer are based on the premise that in order to prevail in a fight for our lives, we must train in the context of our life. I offer courses designed to foster proactive thinkers early on in the firearm training experience so that the safety skills and techniques established on the range can be fluidly applied at home. Classes offered include Defensive Handgun, Handgun Accuracy, Carry with Confidence, Intro to AR15 and private business, family and group programs designed to meet specific needs. As a student myself, I am never done, never satisfied, as there is just so much more to learn! Each year the courses evolve and improve to meet the needs of the participants and incorporate new and relevant material to enrich the programs.
What was the journey like to becoming a nationally recognized firearms trainer?
Becoming a national trainer has been a serendipitous journey. When I began this journey, I did not foresee teaching more than 90 programs a year all over the USA or becoming the National Director of Training for the national largest women's shooting organization, A Girl and A Gun. Mentors such as Pat Rogers and Super Dave Harrington dared me to strike out on my own and share my perspective on gun skills in the context of daily life. Early on, I decided I would not solicit ranges to host classes, rather announce an open invitation for venues to reach out. The response has been overwhelming and leads me to work with communities and businesses coast to coast. I am deeply honor to be invited to teach and am dedicated to providing the best program possible.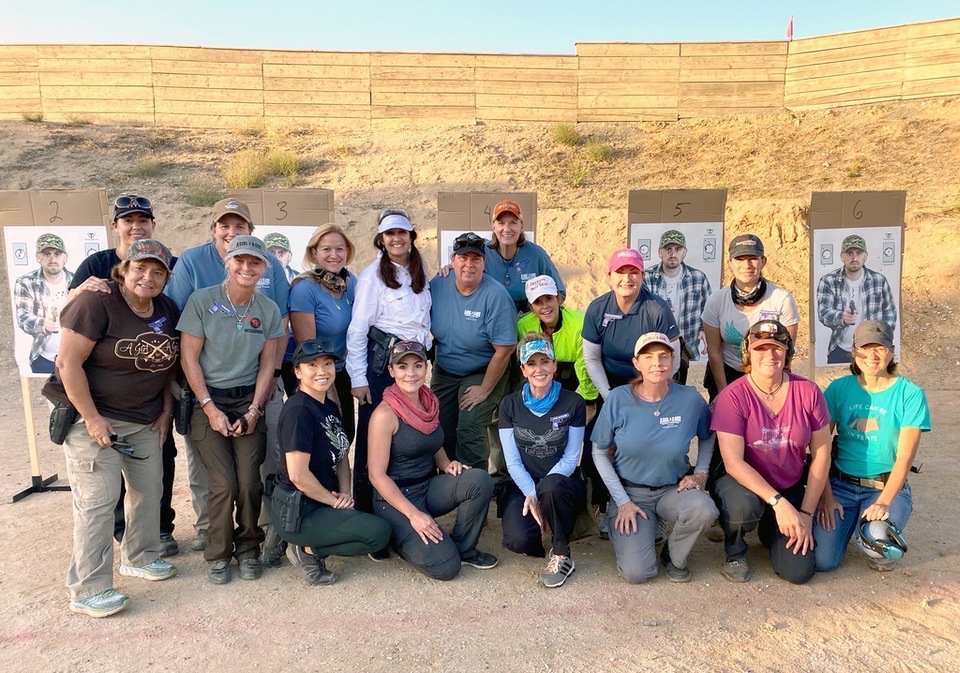 Do you have an anecdote about a woman whose life changed after becoming proficient with firearms?
A few years ago, I received an email from a student about a life-changing experience she had while working security at her church. I met this student when she was given to me as a quiet, nervous, "problem" student by another trainer. After 1 lesson, I concluded there was nothing at all wrong with her gun handling skills, her safety or dedication to learning. She simply had an immediate need to learn and wanted as efficient a path as possible to becoming proficient with her carry gun. We worked together for 18 months on everything spanning fundamentals, concealment, defensive strategies, de-escalation and less lethal options and she thrived on and off the range. One Monday, following Sunday services, I opened an email from her that sent my heart racing. She factually recounted how her training was put to use to identify, isolate, control and de-escalate an individual that entered the church behaving erratically while wearing an oversized black jacket. This individual was later confirmed to be dangerous with a violent criminal record. She shared with me the moment she realized it was up to her to intervene and, thanks to having had the training experiences with me and few other instructors, she had the skill sets to manage the situation. No shots were fired that day, thankfully, and many lives were potentially saved by her actions. Her firearms training had given her both the soft skills, tools and self-confidence to rise to the occasion. No longer considered quiet or meek, she is now the head of her church security team.
What do you say to people who claim that the firearms industry is selling fear to women?
The firearms industry is most certainly not selling fear to women. Women are statistically at greater risk than men of experiencing a violent event during their lifetimes. This grim reality is finally being brought to light as more women refuse to be victims and exercise their right to protect their bodies and their lives. The firearms industry is not selling fear, it is advocating for women's rights by providing the tools and training to give women autonomy of self.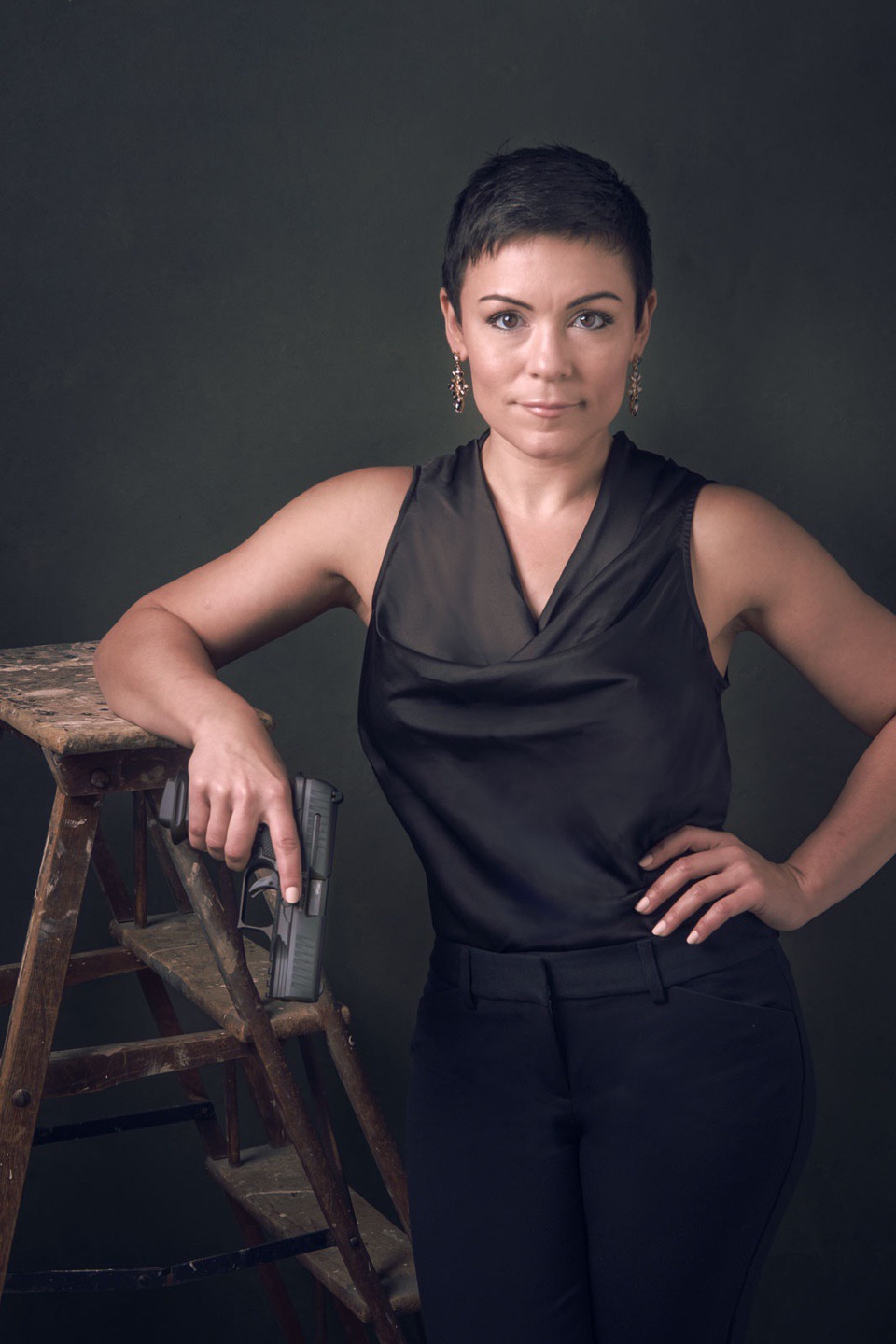 Please will you rank order your favorite firearms? Pistol/Rifle/Shotgun?
That MUST be a trick question! I adore them all. Favorite pistol – Walther Arms PPQ Q4; favorite rifle – Radian Arms AR15; favorite shotgun – Beretta 1301 Tactical, tricked out by Aridus Industries.
How often does someone need to train and practice for self-defense shooting?
Training needs to be fun, or why bother? While self-defense shooting can be an intense and sometimes stressful experience, taking classes should become an addicting "hobby." Take as many courses as you are able – from foundational pistol skills development, to medical, edged weapons and force-onforce. Keep in mind your motivation, your goals, and your reasons "why" you have the gun in the first place and train accordingly. How much is your life worth? How much training would you wish you would have had should the moment arise where you are called upon to use it, or die. Invest as much time, energy and resources into classes, reading materials, watching and listening to podcasts and radio shows on the subjects relevant to you as possible.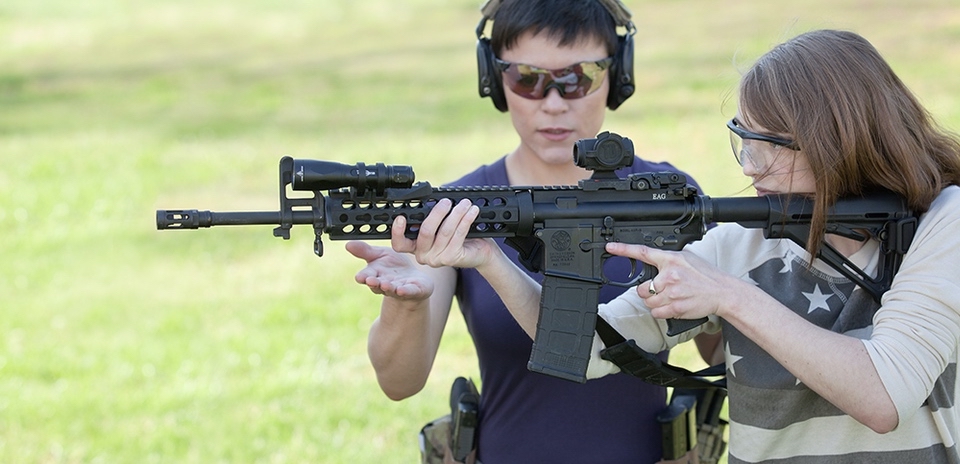 If you were to choose an advanced course for yourself, where would you go and what would it be?
All of my co-instructors on the Walther Defense Division are on my list to train with: Bill Blowers, Jim Dexter, Scott Jedlinski, Bobby McGee and Nick Young set a high bar for quality, science-based, training culminating years of experience in LEO, military and competitive shooting sports.
In your personal life, when you're not even thinking about training or shooting, what do you like to do? Any hobbies or passions?
I am blessed with 2 incredible children and live in an amazing beautiful coastal town in Maine. When I am not teaching, I can be found with my son and daughter fishing and swimming in the inland lakes or body surfing and sea glass hunting along the Maine coast. We take full advantage of the outdoors and now that my children are old enough and have expressed interest, I will be introducing them to hunting later this year.
How can people find you on social media?
Tatiana Whitlock is the name on my social media. Following are the links …
About Barbara Baird

Publisher/Editor Barbara Baird is a freelance writer in hunting, shooting and outdoor markets. Her bylines are found at several top hunting and shooting publications. She also is a travel writer, and you can follow her at https://www.ozarkian.com. View all posts by Barbara Baird →