Add Smith & Wesson Night Guard Flashlights to Everyday Carry
Taryn Parker knows about these flashlights and headlamps, since she works at American Outdoor Brands in Columbia, Missouri. She runs through the various options to use Smith & Wesson Night Guard line of lights for everyday carry.

Sponsored by American Outdoor Brands
If you're anything like me, the flashlight on your smartphone is on at least once a day. I use my smartphone flashlight for just about everything. But what I've found, is that most people don't carry a flashlight; they rely on their smartphones for the job. Although the flashlight on your phone provides additional light, carrying a good, old-fashioned compact flashlight should be a part of your everyday carry and here's why flashlights should be an essential part of your everyday carry kit.
They provide usefulness in your day-to-day and even self-defense situations. Flashlights help illuminate potential threats and let others know where you are.
Using an old fashioned flashlight also frees up your phone, so you are able to use your phone to call for help or keep a full battery charge.
Unlike smartphone flashlights, stand-only flashlights have beams that are more concentrated, illuminate more light and have offer different modes.
With many different uses, they are a critical tool for helping you in less-than-ideal lighting conditions and are great for everyday uses, like tracking an animal or searching for lost items.
If you're in the market for an everyday carry, the line of Smith & Wesson Night Guard flashlights and headlamps are perfect. Their sleek designs create a modern aesthetic. Whether you're on-the-go, at your home or out in the field, these flashlights are a powerhouse. The Smith & Wesson Night Guard flashlights consist of different types of flashlights, so depending on your personal needs, let's look at the options.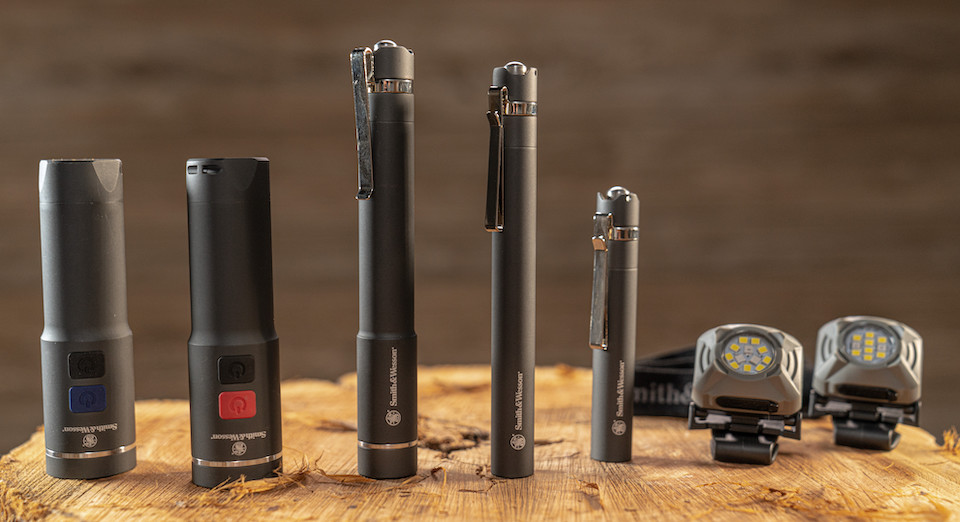 Meet the Smith & Wesson Night Guard Flashlight Family
Whether you're searching for a lost item behind the washing machine or using a penlight as a book light, it's a great tool for lighting up tiny spaces. You'll want the Night Guard Micro with 120 lumens and a run time of 4 hours. It's the ideal size you want if you're carrying in a pocket, in a pack, or small purse. Women's pockets tend to be criminally small, so it's nice knowing there's a micro-size flashlight that will fit. MSRP: $16.99.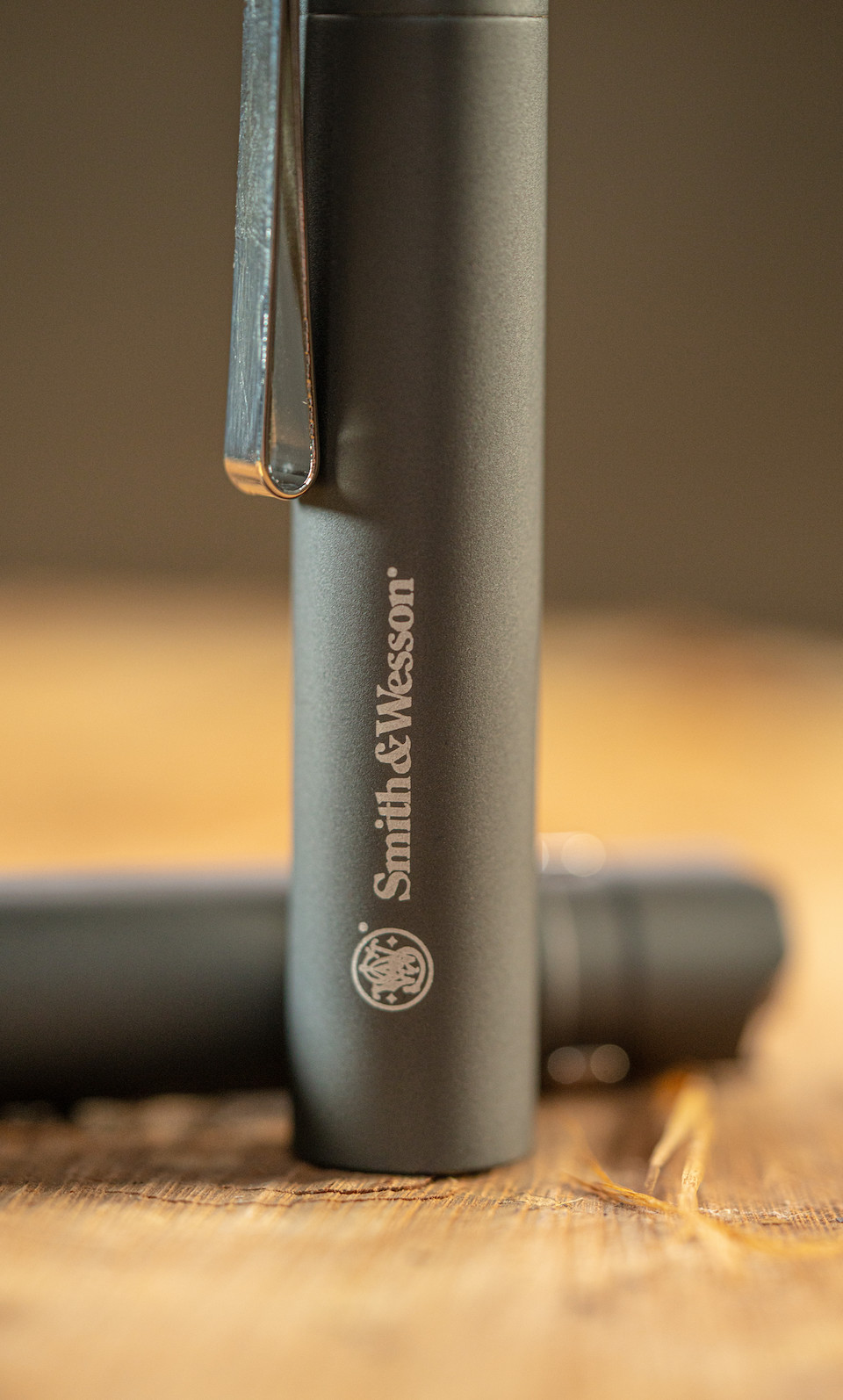 The Smith & Wesson Night Guard Slim is the medium-size flashlight, or a typical sized penlight Put this one in your car or your backpack. It will run for 4.5 hours and illuminates 165 Lumens with a click of a button. The Night Guard Slim also comes with a pocket clip. MSRP: $19.99.
The biggest one out of the 3 penlights in this family is the Night Guard Elite. It functions as your utility flashlight and can be stored in your toolbox without taking up much space, while providing ample lighting. This flashlight outputs 350 Lumens, which is equivalent to a 25-watt lightbulb and has hours of battery life. MSRP: $32.99.
Compact flashlights fit nicely in the palm of your hand making tracking objects down easy.
The Night Guard flashlight family offers 2 compact flashlights – the quad beam and the dual beam. The Night Guard Quad Beam features a bright light alongside 3 additional LED colors: red, green, and blue. Whether you want to see in low light conditions, preserve night vision or signal for awareness, this multi-function light is your perfect choice. MSRP: $27.99
Colors Make a Difference
You may not think different light colors are useful, but here are some practical examples of where they would serve you well.
Red
Red lighting is more visible at nighttime than other colors, so it's often used for stargazing, hunting with a night vision, or seeing in low light. Red also doesn't hurt your night vision (in that you can turn it off and still see in the dark), and it's not as harsh as white light. So looking around your house at night, you can use red light to illuminate without sabotaging your dark vision, which you need to see out of your peripherals.
Green
Green is good for use in the outdoors. Many hunters claim green light will not scare away fish, deer and other animals like a bright white light will.
Blue
Many hunting enthusiasts will use the blue light to track blood of injured game. It's also used in night fishing, as it also doesn't scare away fish. Outside of hunting, industrial workers use it for inspecting equipment because it's easier to see spilled liquids and other chemical or materials that don't belong.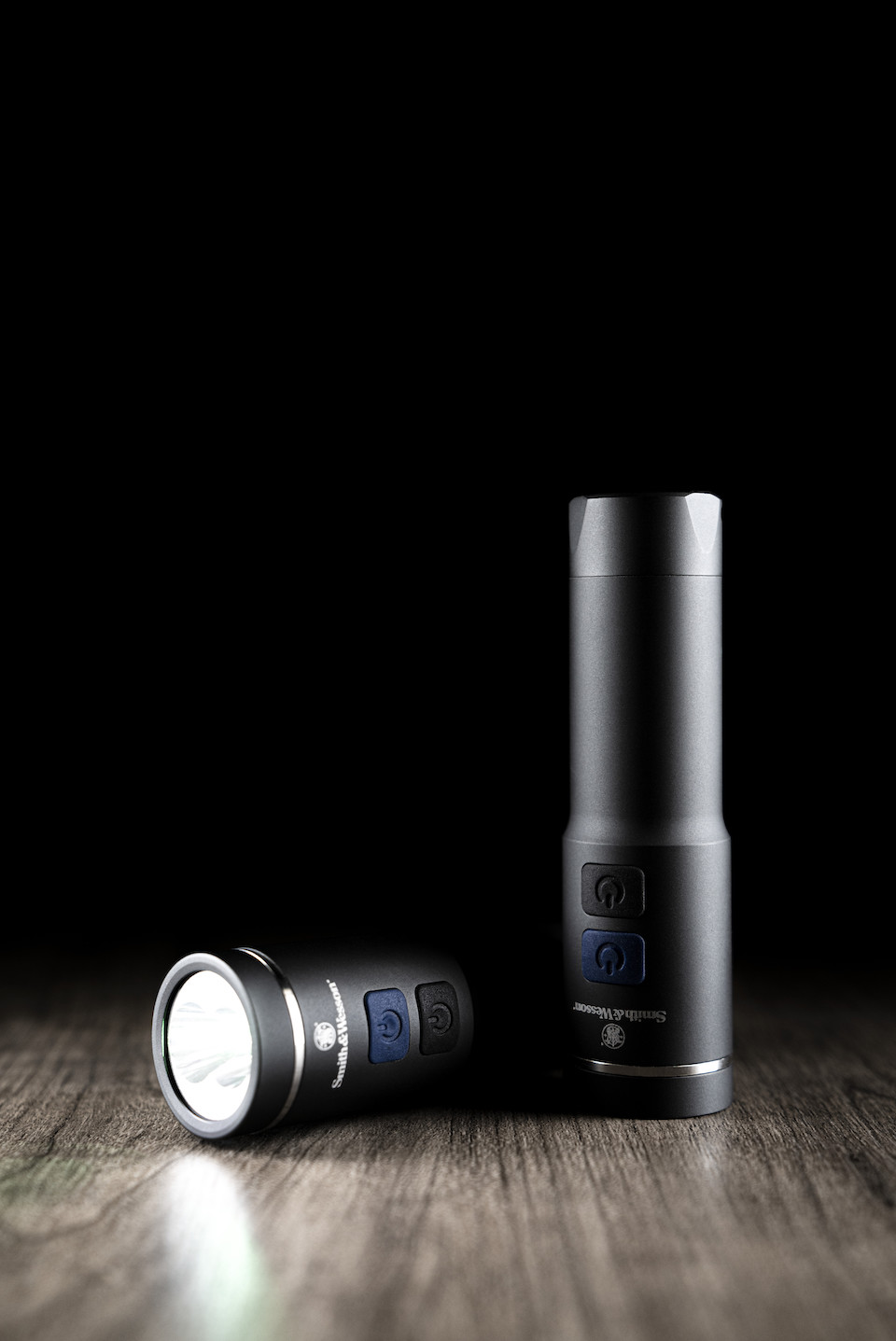 Night Guard Dual Beam
The Night Guard Dual Beam features a low and high setting of white light and a red light, that can be easily switched with a quick press on a button. Under 5-inches long, this compact flashlight can serve as your house flashlight. It has 310 Lumens with a runtime of 2 hours, 15 minutes. With 2 settings, low and high, you are bound to get the job done. MSRP: $23.99.
Night Guard Headlamps
Night Guard headlamps are nice if you're looking for a hands-free option. The Night Guard™ Quad Beam headlamp is a lightweight flashlight with ultra-bright lighting, featuring additional red, green and blue LED. At 420 Lumens, it's as bright as a 40-watt bulb (compared to your smartphone, which is only 20 lumens). Perfect for hands-free use, this compact light fits perfectly in your hunting pack, camping gear or on your shop shelf, providing you with all the lighting you need. It's rechargeable using a USB port. MSRP: $43.99.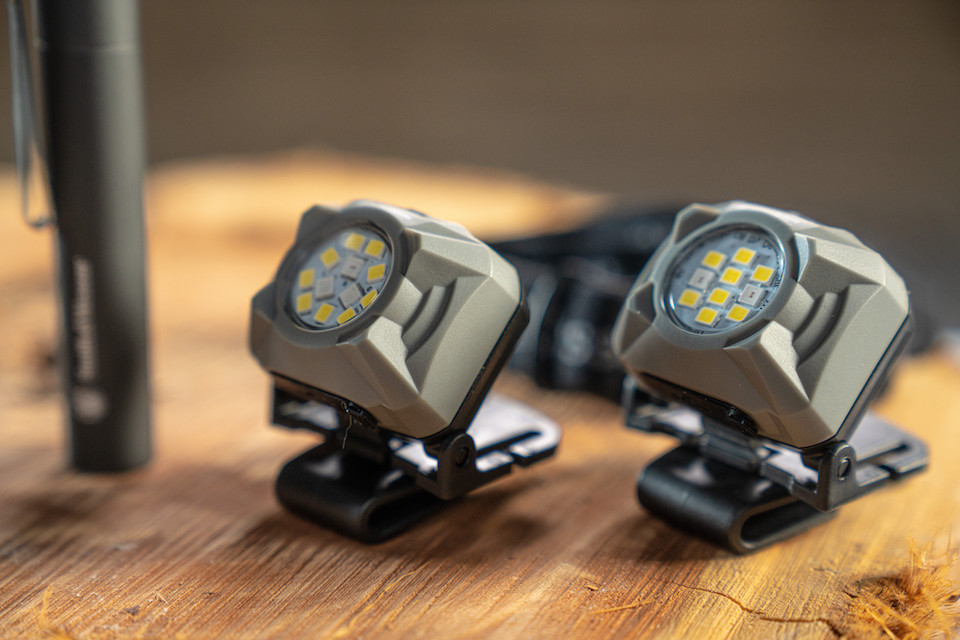 The Night Guard Dual Beam headlamp is similar to the quad beam, but instead of having 4 colors, it only features a secondary red LED light. MSRP: $38.99.
Note: If you aren't using the colors mentioned above for specific use cases, then red and white should be just fine for your everyday use. Both come with an elastic band for placing around your head.
When not at work, I have found whatever the job is, 1 of these flashlights light my world. With a combination of sizes and multiple LED light settings, these are the perfect flashlights for any job big or small. Each flashlight is made with aerospace aluminum, and headlamps are made with impact-resistant construction – ensuring they will last you for decades. The line's modern look really appeals to me, separating them from all the other bullishly built flashlights on the market.
Also, with Christmas around the corner, any of these flashlights or headlamps would make perfect stocking stuffers for your friends and family.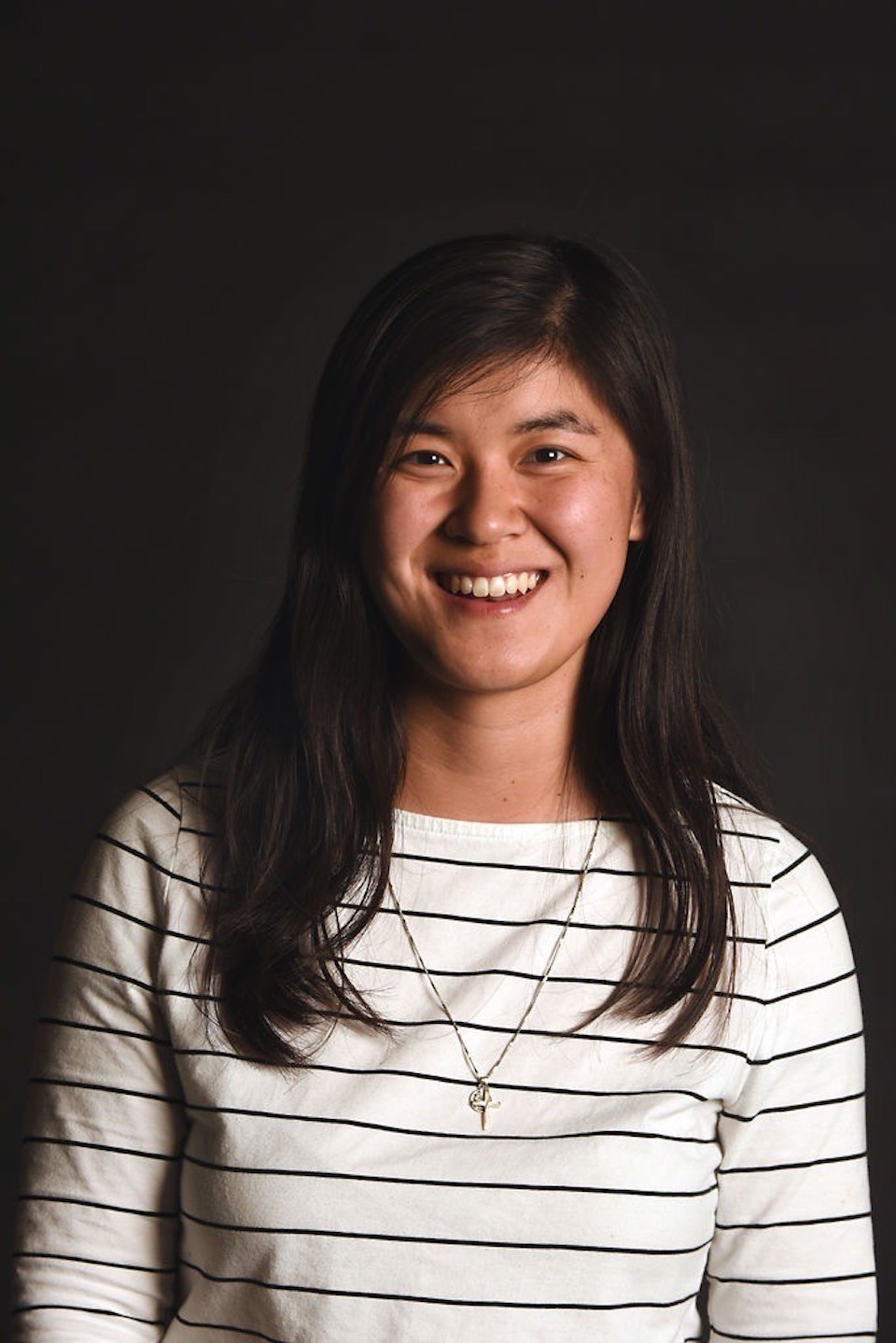 About the author
Taryn Parker works as a marketing coordinator for American Outdoor Brands. When she's not in the office, you will find her hunting for turkeys, shooting at the range, or curled up with her beagle reading a good book.
About The WON

The Women's Outdoor News, aka The WON, features news, reviews and stories about women who are shooting, hunting, fishing and actively engaging in outdoor adventure. This publication is for women, by women. View all posts by The WON →