Review: Springfield Armory's Saint Victor .308 AR-10 Pistol
For the better part of the last 2 decades, I have not paid much attention to the progression of AR style weapons, ever since diving into long range shooting with bolt action rifles. I had been trained on the M-16 during my time in the Army and purchased one of the familiar AR-15 civilian versions years ago. An AR-10 has long been on my "wish list" of guns to add to the collection, but after 20 years of having my head in the sand and every time I popped up to take a peek into acquiring one of my own, the completely mind-numbing number of manufacturers of AR style weapons and accessories was just too much to sift through, until now. I got the opportunity to review a unique version of the AR-10, Springfield Armory's Saint Victor .308 AR-10 pistol.

Sponsored by Springfield Armory
I have been so out of touch with the vast world of the AR, this was a way to accelerate being able to educate myself about the latest evolution of this infinitely versatile modular weapon design. I also had questions of how the AR-10 ended up as a rifle caliber pistol? Besides the fact it looked seriously challenging and fun to try out as something completely new, different and out of my comfort zone of the more traditional bolt guns, lever action carbines and typical configuration pistols and revolvers.
Saint Victor .308 AR-10 Pistol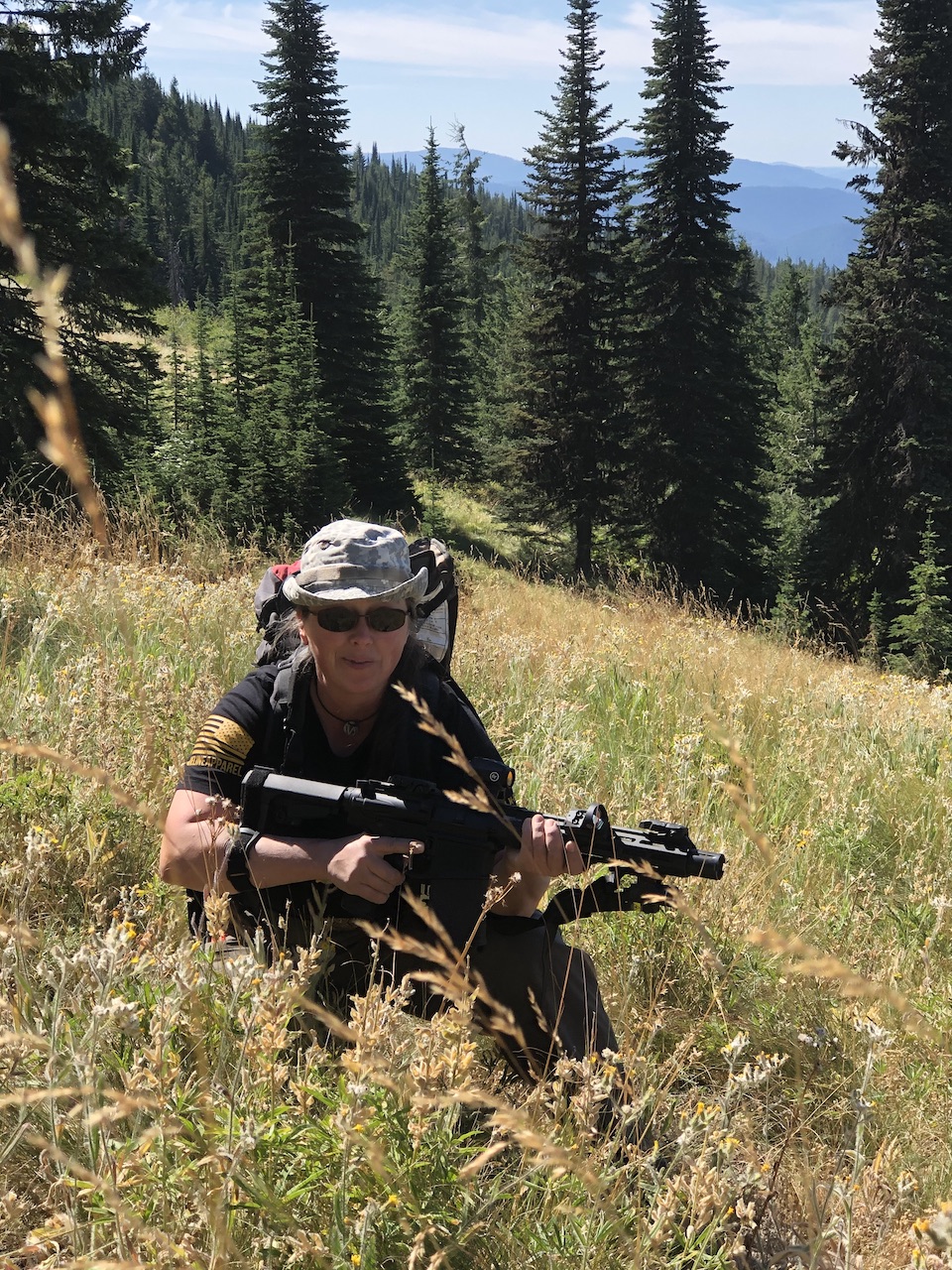 First Impressions & What's in The Bag
When I first took a look at the pistol while the paperwork was processing, I unzipped the included soft case to take a peek at what I was getting myself into. Part of me was saying, "Wow! How fun is this going to be to finally try out a quality AR-10?" Another part of me was saying, "Wow, this may not be so fun shooting .308 Winchester out of a 10.3-inch barrel! What was I thinking?!"
The Saint Victor AR-10 pistol is chambered in .308 Winchester and will also accept the 7.62×51 NATO cartridge. The upper receiver is made of type III hard coated anodized 7075 T6 aluminum and has a forward assist. The barrel is 10.3-inches, chrome-moly vanadium (CMV) and Melonite coated with a 1:10 twist rate and comes standard with a Springfield Armory (SA) 2-piece blast diverter muzzle device. The gas system is carbine length direct impingement with a low profile pinned gas block. The hand guard is M-Lok aluminum free float with patented (SA) locking tabs, Picatinny rail on top and comes with an M-Lok forward hand stop on the bottom to help keep your support hand from sliding forward into where it doesn't need to be, near the muzzle. Its bolt carrier group is .308, high pressure tested (HPT) and magnetic particle inspected (MPI) 9310 steel bolt also comes with Melonite coating.
Lower Receiver
The lower receiver is also composed of the same type III anodized 7075 T6 aluminum and includes a very nice feature, the Accu-Tite tension system. It eliminates any of the usual play and clunking between the upper and lower receivers, typical of most AR style guns. The trigger guard is integral to the receiver and the trigger is flat GI style Nickel Boron coated. The charging handle is standard GI style. The safety switch and bolt lock/release are both located on the left side of the lower receiver with the magazine release located on the right side as with most standard familiar AR configurations. Another nice feature is the hollow BCMGUNFIGHTER Mod 3 pistol grip to hold extra batteries for optics, flashlights, cleaning kit or small tools. The buffer assembly is a carbine "H" heavy Tungsten buffer.
This model comes installed with the 5-position SB Tactical SBA3 stabilizing pistol brace. The package includes one 20 round Magpul PMAG, owner's manual and cable lock device. This pistol comes tucked neatly inside of soft case with external pockets and internal hook-and-loop straps to keep everything in place. Out of the bag (with no sighting system installed), it weighs in at 8 pounds, 6 ounces, with a variable overall length of 28.25- to 30.5-inches with the 5-position adjustable pistol brace.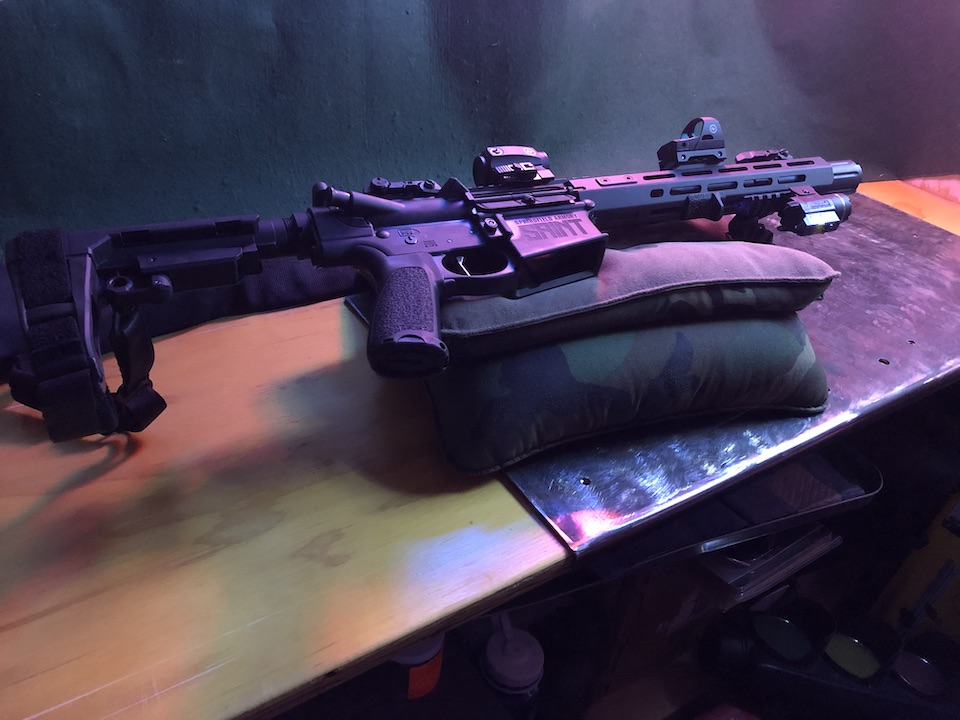 First Shots to Final Configuration
At first, my long-range brain wanted to pick apart the ballistics of the .308 Winchester with a 10.3-inch barrel. After doing the math, overall loss of velocity, accuracy and energy lost with the shorter barrel seemed significant, in the precision rifle world of achieving maximum performance out of every shot.
I was able to get the thought of splitting hairs with a few hundred feet-per-second out of my head and begin to have some fun. Initially, I equipped this pistol with a Bushnell 3-10 rifle scope for its first shots down range in Wyoming. Why? Because it was what I had on hand with me while travelling to several shooting events in June and I was curious to feel how this pistol would shoot, while waiting for the optics order to arrive. I must admit, I was actually quite nervous to fire that first round. I had no idea what to expect for recoil out of that 10.3-inch barrel.
I set up at 35 yards – a longer range than how I would start with for most pistols, yet shorter than where I would normally begin with most rifles. I loaded the magazine with a few rounds of Remington 150gr. FMJ, and squeezed off the first shots. Pleasantly surprised, I did not get knocked out of my socks! It was loud, but the felt recoil was much less than I had anticipated.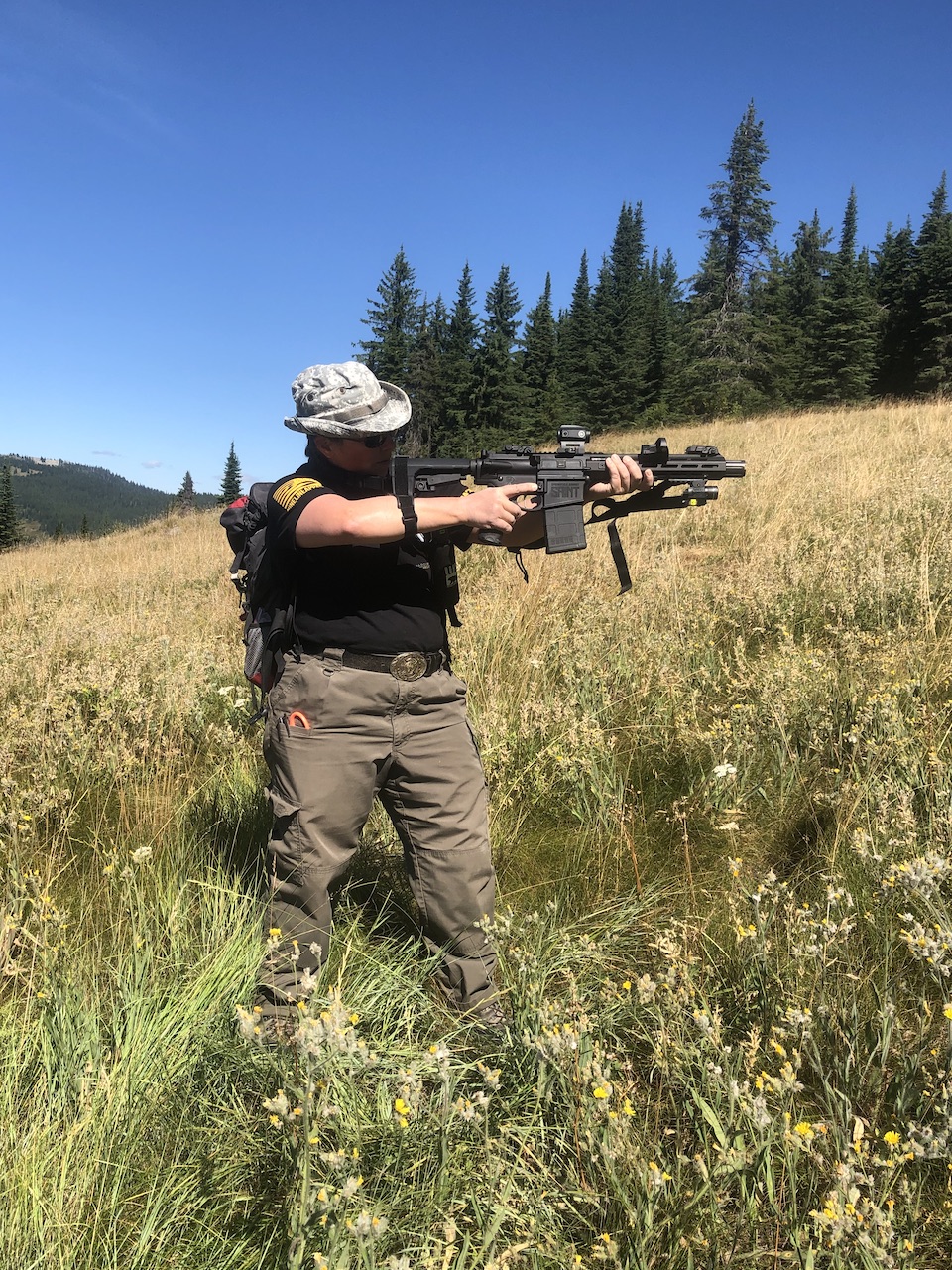 Don't get me wrong, this pistol does pack a bit of a punch, but overall its bark is worse than its bite. The blast diverter works quite well at taming all the energy coming out of the barrel, keeping it diverted down range and not into your bones. I had no difficulty managing the recoil. I was able to get the optic zeroed and spend a little time with it in Cheyenne, Wyoming, at the range getting familiar with the pistol brace configuration.
I took it to a fun annual long-range explosives event I attend most years near Casper (the Central Wyoming Machinegun and Cannon Shoot). It definitely got the attention of many firearms enthusiasts in attendance at the event. I was able to share the experience of what a .308 Winchester pistol was like to handle. All had similar reactions to my first shot experience; most were apprehensive, yet pleasantly surprised at the ease of managing the recoil and handling of the compact design. We mainly shot bulk military surplus 7.62×51 NATO rounds at the closest targets at the event – things such as fire extinguishers, steel targets and random various sized objects placed at 100 to 200 yards in between the dynamite and explosives shooting times. Targets at this event vary from 100 yards out to a mile. Over the weekend, there were about 150-200 rounds fired though the barrel with not one malfunction or stoppage of any kind. What a great way to end a month on the road of attending various firearms training and shooting events.
The Last Test
Now, onto how this Saint Victor AR-10 pistol evolved into my final configuration. The Crimson Trace order with the CTS1000 and CTS1400 model red dots arrived for me to try out. With the Saint Victor's M-Lok handguard, the ability to mount just about any accessory lent itself very well for the mounting of both optics. The CTS1000 has a built-in riser, is super-fast efficient to install onto the Picatinny rail with its quick connect/disconnect feature and is purpose designed to use in conjunction with back-up iron sights with or without removing the CTS1000.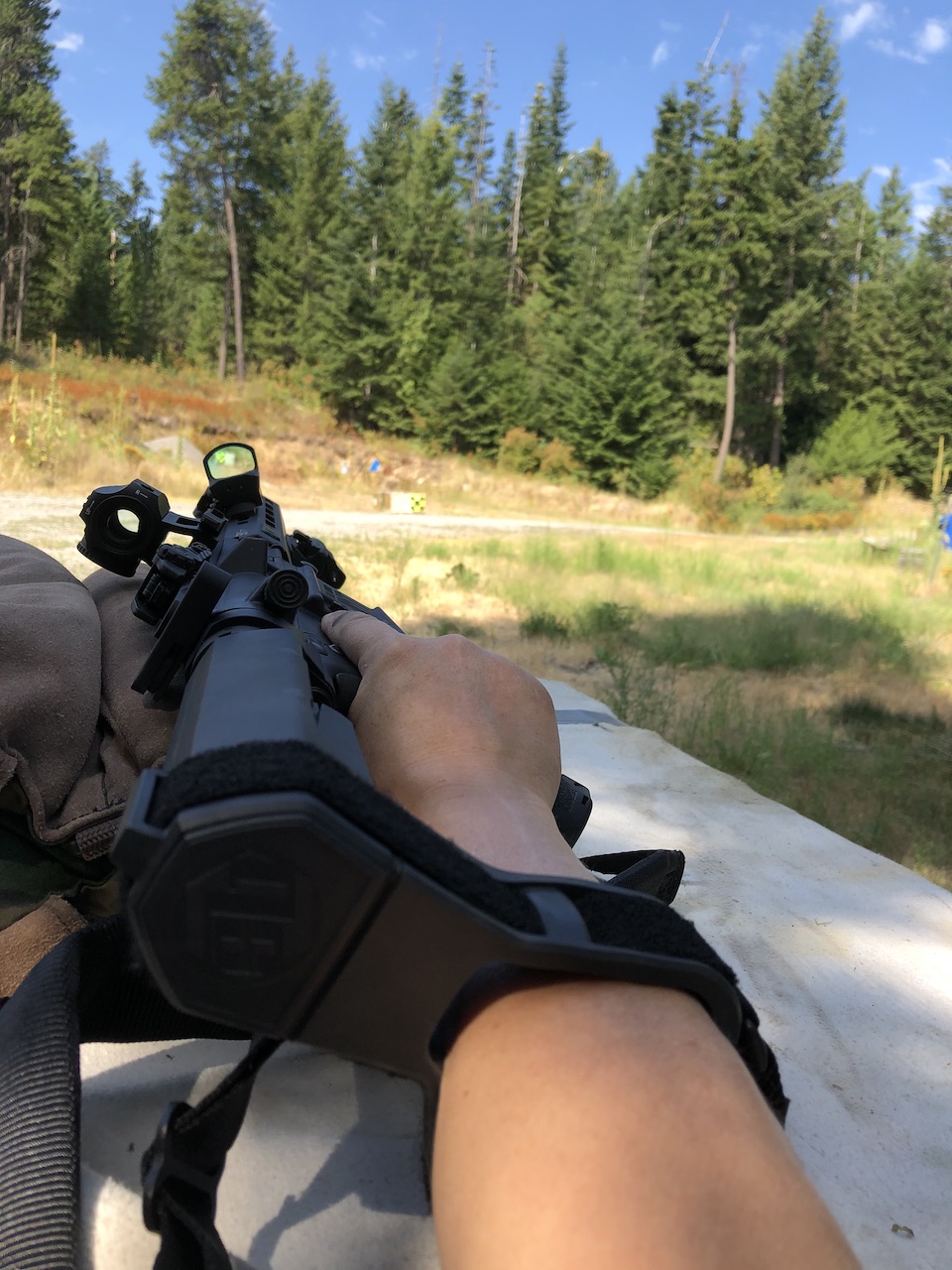 On another topic, the ergonomics of shooting this pistol with the wrist brace strapped on is rather awkward to use in the vertical position for me. The pistol made sense to my muscles using the brace by rotating it counterclockwise about 45 degrees to where the right side of the handguard lent itself to the mounting of the CTS1400 low profile red dot. I rested the pistol on a heavy sandbag and had great results shooting it 1-handed with the wrist brace secured. I did this from a bench as well as prone. I was able to hit an 8-inch steel target at 50, 100 and 150 yards repeatably and comfortably in this position. I have motor control difficulties on my right side due to a brain injury sustained nearly 11 years ago. This can manifest as tremors, spasms and painful rigidity in my extremities, resulting in the inability to have full extension or flexion of mainly my right hand and wrist, but sometimes my arm and shoulder as well. So, I often result to unconventional body positions to adapt to the sometimes-daily surprises of neurological glitches my brain still throws at me.
A Little History of How This AR-10 Became a Pistol
Contorting to non-traditional shooting positions to make the most out of this gun made even more sense to me after I had reached out to SB Tactical for a little more clarification of complicated federal regulatory definitions of "pistol," rifle" and "firearms" regulated under the National Firearms Act of 1934. The SB Tactical SBA3 pistol brace is one of the main defining elements to the latest evolution of the AR pistol. I had researched as much as I could find on the ATF website and ran into several dead ends. SB Tactical supplied some of the information I was seeking in the form of several ATF letters on its website. These letters document legal dialogue between SB Tactical and the ATF – from the initial development of the product to the latest decision by the ATF in regard to firing the pistol from different physical positions. After reading the volley of letters in lawyer language between the ATF and SB Tactical, I was, as most folks, still a little unclear as to how to properly document the testing experience.
I sent an email to the company, wishing to have a discussion to further clarify what my brain was trying to digest. My questions were answered by a surprise phone call from Alex Bosco, inventor of the SBA3 pistol brace and CEO of SB Tactical. He gave me the in-depth backstory on how the SB Tactical stabilizing braces came to be. It is a fascinating and inspiring story. The pistol brace idea was conceived to help a disabled veteran with only 1 arm be able to continue shoot safely and more accurately.
Bosco's original intent was not to revolutionize the AR industry. To this day he dedicates much of his time developing, modifying and creating individualized adaptive shooting inventions to help countless disabled shooters continue to overcome physical obstacles to be able to enjoy recreational shooting and hunting sports. We have him to thank for his tenacity navigating layers of federal government red tape to get his invention out there to help those with disabilities as well as clarifying the positional controversy of how, we as law abiding citizens are able to fire this pistol configuration. The physical position the end user shoots this pistol from, as long as the brace remains unaltered and not modified in any way, does not designate the pistol as a "firearm" regulated by the GCA of 1934. So, given all that information directly from the individual who has been in communication with the ATF throughout the development of the product, I felt comfortable to continue documenting this adventure without fear of violating any federal laws or regulations.
Real World Applications and the Saint Victor
At first, when getting acquainted with this gun, I kept an open mind as to the potential practical real-world application of such a compact package with such a powerful cartridge. My world of shooting primarily revolves around personal and home defense, long range precision rifle shooting, hunting large game and turkeys. Where this might fit in with what I do with firearms, besides turning heads at the shooting range, by far exceeding decibel ranges of most modern firearms once the trigger is pulled, eluded me a while.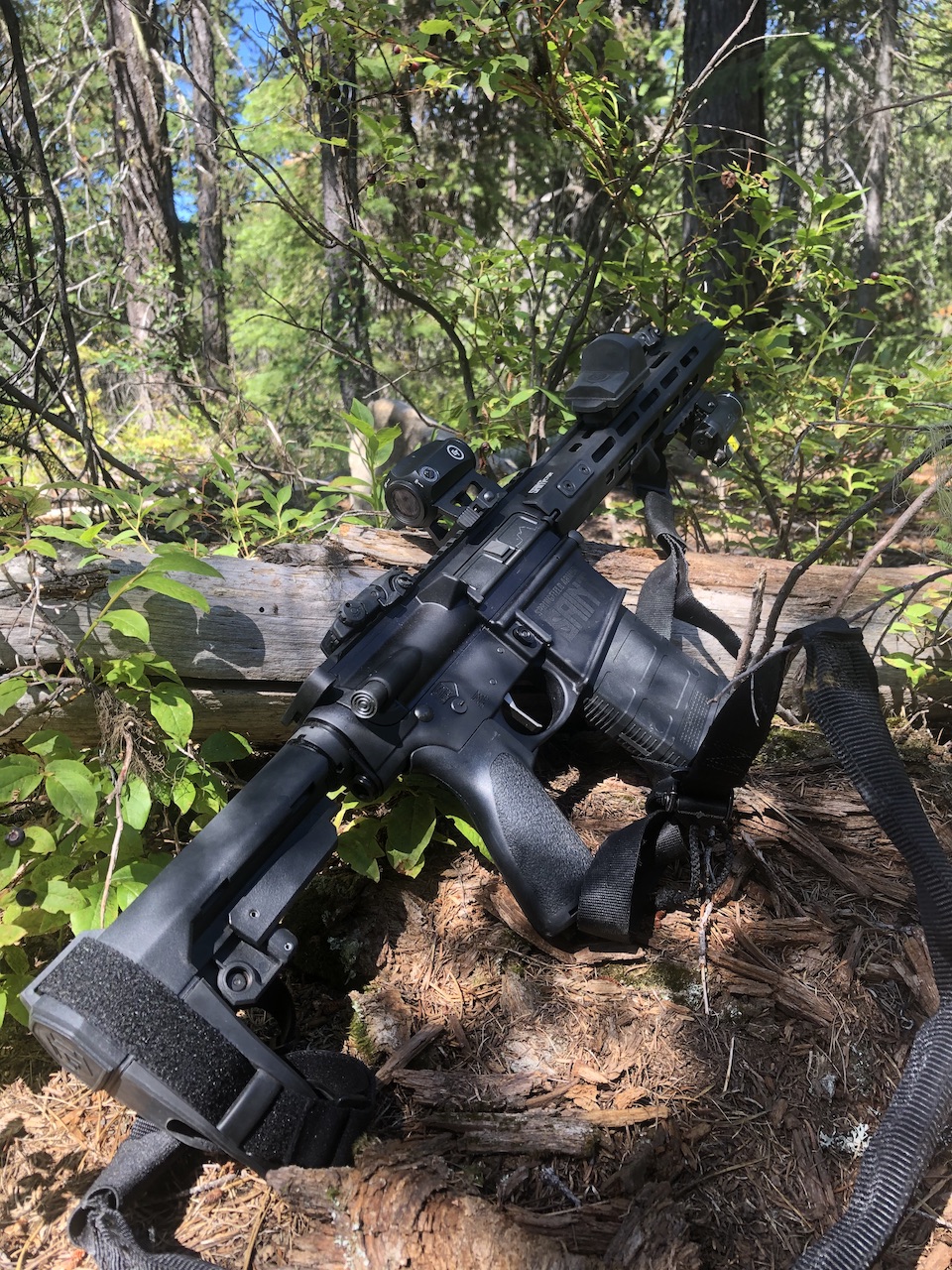 After I mounted the CTS1000, CTS1400, Magpul iron sights, installed a sling and borrowed a flashlight from 1 of my shotguns, I ran more rounds down the barrel at various distances from 50 to 150 yards. Taking the time to learn the capability of both red dots in various lighting conditions from bright sunlight, dim twilight to having the sun backlighting the target at sundown and using the CTS1000 with the iron sights and having the CTS1400 mounted on the right side of the handguard made this pistol amazingly versatile and quick to get on target with repeatable accuracy. I drilled at my home range in various shooting positions at 50 yards to get familiar with the placement of the 3 different sighting systems to get on target. I must admit, zeroing 3 ways to sight in a gun was a new experience for me.
It took some time and a little more ammunition than a traditional sight-in process demands. The weight of this setup may be a drawback for some folks. I did have to add a few push-ups to my daily routine to pull off repetitions of standing and off-handed shots. Even with the assistance of the sling installed for support, I got a little tired holding up nearly 10 pounds repeatedly. Most consumers may not be putting as many rounds down range in all those different ways as I did in such a condensed period of time for the purpose of conducting testing. I chocked it up to a good upper body strength training workout in preparation for hunting season.
Ammo for Testing
During the "getting to know you phase" of this process, I decided to throw just about every available weight and style of readily available .308 and 7.62 NATO ammunition down Saint Victor's throat, from light 125gr loads to high powered 185gr large game hunting loads that could drop an elk and a little of everything in between.
About that Gas
Gas systems in some ARs can be a little finicky when it comes to cycling different loads. Even when I was getting tired toward the end of a shooting session, when I may not have been so strong to secure the pistol as tightly to manage the recoil, not one jam or feed problem occurred. One of the many reasons I went to shooting primarily bolt guns, ARs can be frustrating to shoot when they don't run ammo and begin to jam up with a gas pressure issue and/ or the buffer system not playing nice together. This was impressive to me in contrast to my past experiences with ARs.
Of course, there were differences in group sizes and accuracy with the different loads. It would take a considerable amount of time and trials to discover the perfect load for your desired end goal for this pistol. As with every gun, achieving the correct balance of tuning the internal and external ballistics for the desired result downrange is always the goal. Finding the most accurate round for this pistol was not what I was doing with this experiment. Yet all of the varieties did ring steel at 50 and 100 yards and all of them cycled with no feeding or firing malfunctions of any kind.
On the Road Picking Berries with Saint Victor
I had the opportunity to take it up to the northeast corner of Washington state on an ATV huckleberry picking adventure deep in bear, cougar and wolf country in the Pacific Northwest with a group of friends. If we were to have a run in with any aggressive predator interaction, between all the cans of bear spray, a few bear handguns and adding Saint Vic's security blanket of 20 rounds of .308 to the mix, there wasn't much to be concerned about. Being up there in the mountain environment helped me to figure out how I could put it to practical application very easily.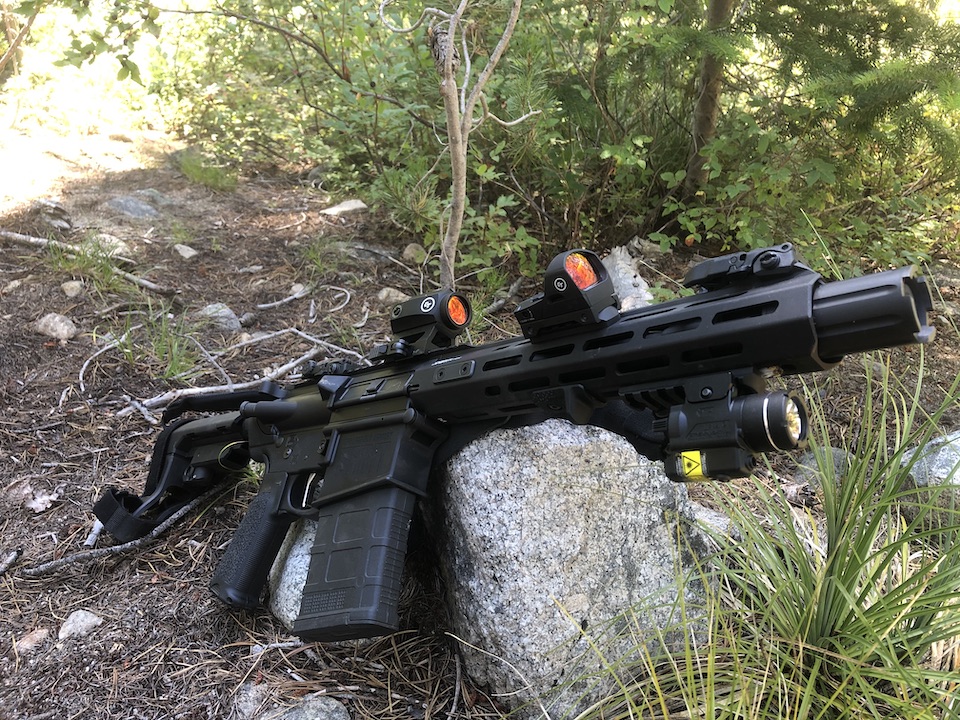 Whereas, just sitting at a range making my ears ring, it was difficult to visualize how could this be of any use in my particular world of shooting related activities.
Size Mattered
A feature I enjoyed about the Saint Victor AR-10 pistol, was its size. While walking though the woods, average sized hunting rifles get caught up in the bushes and tend to add a layer of frustration to my already compromised TBI balance issues on uneven ground. With this compact package, I did not have an issue of the barrel getting tangled in the branches. This made the thought of this being a potential deer hunting set up a real possibility with a 5-round magazine. Most of the time in the dense woods of northeast Washington state, you cannot even see any animals more than 15 to 60 yards into the brush or trees.
Conclusion
This was an exciting and challenging gun to review. At first it left me scratching my head as to where I could see this rifle caliber pistol in a practical application. After taking the time having it accompany me to different shooting evens in 2 different states, several field trips to local and private shooting ranges, an ATV trip to the forest and keeping an open mind, I have grown rather fond of the Saint Victor AR-10 pistol. It was pleasant to walk though dense brush with while foraging for berries in case of a predator encounter. I grew comfortable with new and different physical positions to be able to ring steel with the different vertical and angle mounted red dots. I was able to resurrect old eyes to get on target with iron sights (a skill I thought long lost to age, brain injury and longtime reliance on advanced optics for long range shooting).
In fact, I began to see the possibility of this as a ranch gun, easy to get in or out of a truck or slung over the shoulder riding an ATV anywhere there may be a need for protecting a herd of livestock with its ability to be maneuvered on target to quickly engage predator threats. The St. Vic AR-10 pistol proved with the right combination of optics, ammo and practice; it could very easily become a go-to for short-to-medium range game hunting in dense wooded areas. This is a very fun gun, and I am glad I had the opportunity to explore the world of AR pistols. It is maybe not a road I would have chosen to travel down at first, but delighted to have learned so much in the process. This is a tool I would love to have in my toolbox.
Note: A special thank you going out to Alex Bosco for his generous contribution of his time and dedication to helping keep the world of shooting sports accessible to those with compromised abilities. A big thanks going out to my friend Dan E. for use of his private range and to all my friends scattered from Wyoming to Washington who participated in engaging conversations on topic of AR pistols, the willingness to explore and shoot it with me, contributing to the development of this article.
MSRP: $1,399
Learn even more about the Saint Victor .308 AR-10 Pistol here.
About Jen Barcklay

Jen Barcklay is a retired civilian field helicopter mechanic with a lifelong fascination with anything that goes boom. She has been blessed to be able to help others by spending most of the last 20 years involved in firefighting and EMS operations in various locations around the world. She is also a US Army veteran. In 2009, Jen survived a life-changing traumatic brain injury, which she was fortunate to overcome, and has made significant progress in recovery. Since then, she has relearned the ability to shoot, discovered hunting and realized how important an outdoor lifestyle is to aid in healing and rebuilding a new life. Jen enjoys sharing her knowledge with others as an NRA certified rifle instructor. One of her favorite activities is long range rifle shooting. Jen believes every new day is a gift to explore, discover, and learn more. View all posts by Jen Barcklay →