Transitions with the Ruger American .243 Compact
In this sponsored content for Ruger, Ashlee Lundvall describes why the Ruger American .243 Compact rifle works for her young daughter. Please note that although content is sponsored, our writers always choose the best guns that will work for their needs. We also partner with companies that we believe cater to the women's market. ~The Editors
Sponsored by Ruger
Do you remember the first time you shot a larger caliber rifle? Maybe you were excited, nervous, frightened, or a combination of all of these feelings. This can be so important, because it can shape the foundation for future experiences. If it goes poorly, you may be hesitant to shoot again, or even give up on shooting altogether. Unfortunately, my firearm journey began this way; I was lucky to have a better second-go-around, which led to a life filled with outdoor adventures.
After my bad start, I swore that I would do everything I could to make sure other women and girls had great first experiences, and that is something I have held to with my daughter, Addison. If you've been following her journey this summer, you know that we've been building her skill set step-by-step. She took a hunter's safety course a month ago, so with that certificate, she will be able to hunt small game this fall.
Even though we are 2 years away from her being eligible to purchase a big game license, I wanted to start slowly introducing skills that will give her the solid foundation she needs to become an ethical and successful hunter. She hasn't spent a lot of time working with shooting sticks or shooting with a scope, so I took her out to a spot of public land just outside of town. We would usually head to our local gun range to shoot, but I knew this time would be more about learning and communicating than actual shooting, so privacy was important.

The Ruger Rifle Set-Up
I pulled the Ruger American .243 Compact rifle out of the box and purposely didn't install the bolt. This will be the rifle we use to transition Addison from her .22 to a larger caliber. I wanted her to begin to understand how to sight in a rifle, as well as the mechanics of this new firearm. We went over the rifle together, talking about the weight and material, specifically the soft, rubber buttpad and shorter barrel. We also discussed the magazine and tang safety, which was a new feature for Addison. I showed her how to look down the barrel with the bolt removed, and we discussed how to bore sight a rifle. Although I wasn't going to go through that process today, I wanted to plant the seed and get her thinking.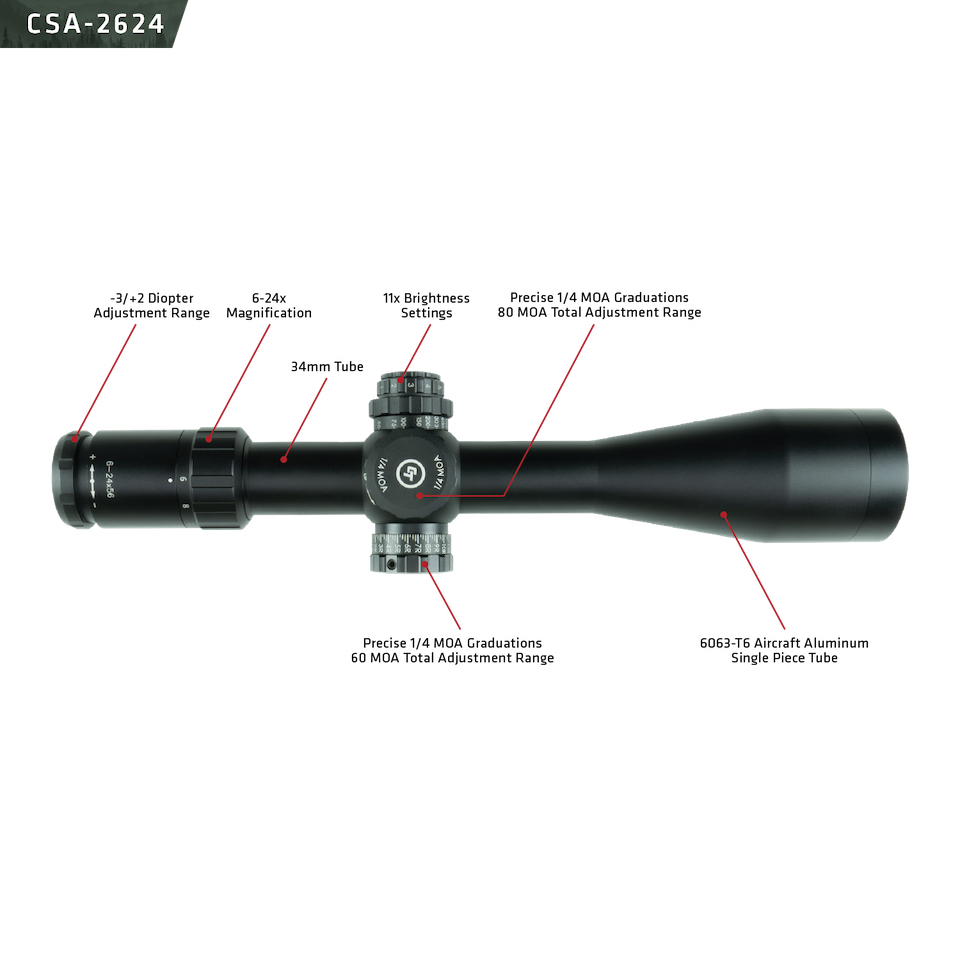 Once the bolt was installed, we went over the scope we would be using. I had already mounted the Crimson Trace 6-24×56 riflescope, but I wanted her to fully understand how the optic was used and how to being to make adjustment. She picked up quickly on the difference in windage and elevation, and how to make corrections for shot placement. We also went over eye relief and ways to become better at shot acquisition. I could tell she was beginning to get a little overwhelmed with all of this new information, so I decided it was time for a little less talk and a lot more action.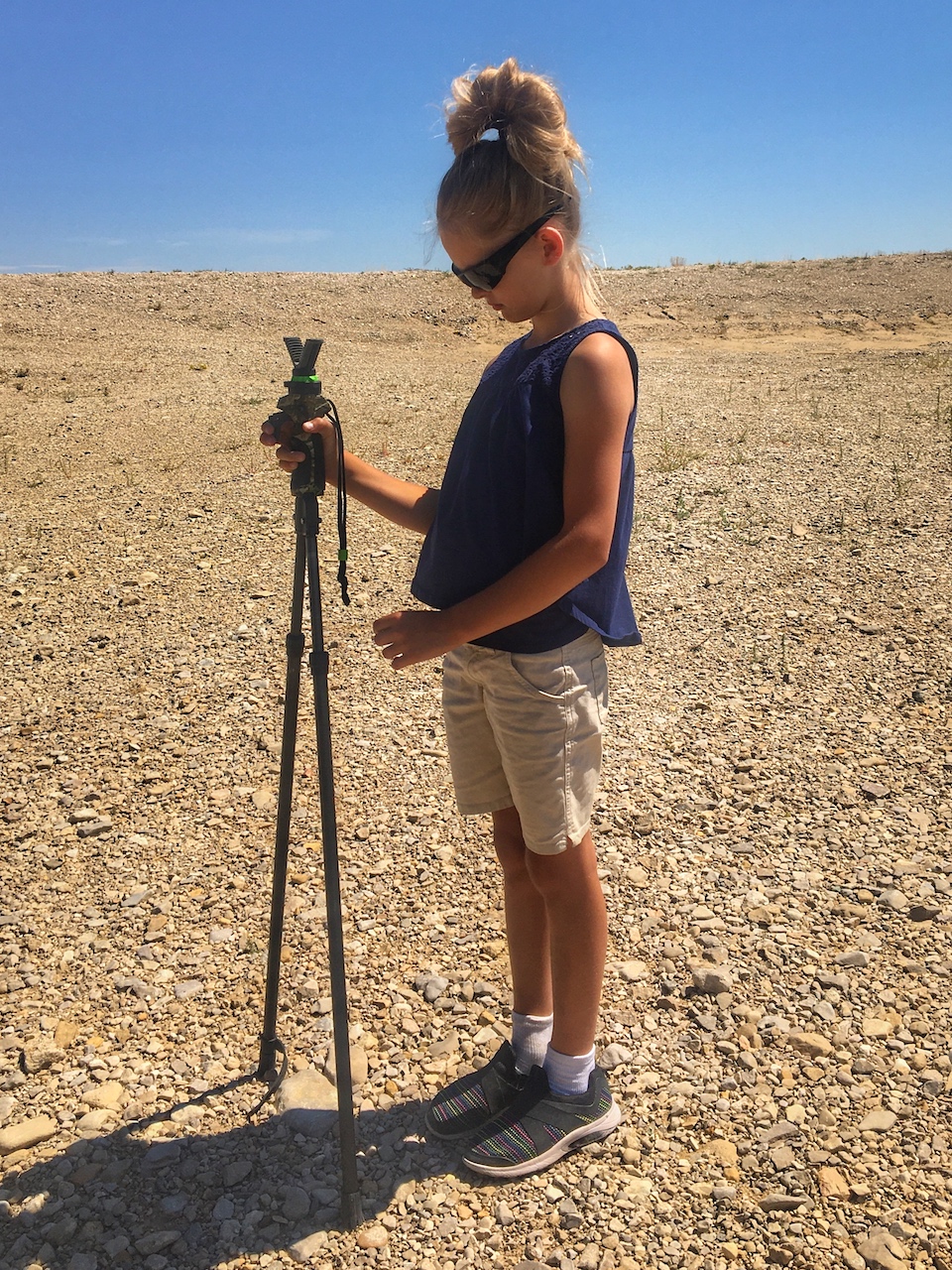 The Education
From the beginning, I knew that Addison was excited about this new firearm, but she also seemed slightly intimidated, This rifle, even with its shorter barrel, looks more like an adult firearm, and with the rifle and scope combined, she was holding just over 8 pounds. I wanted to get her on the Primos Bipod Trigger Sticks to begin manipulating the weight and becoming more comfortable with moving the rifle. With the gun still unloaded, she started to get a feel for adjusting the scope magnification and acquiring her target through the scope. She seemed to relax a little as she became more confident with putting her crosshairs on the bullseye on the target, so I knew it was time to grab some ammo.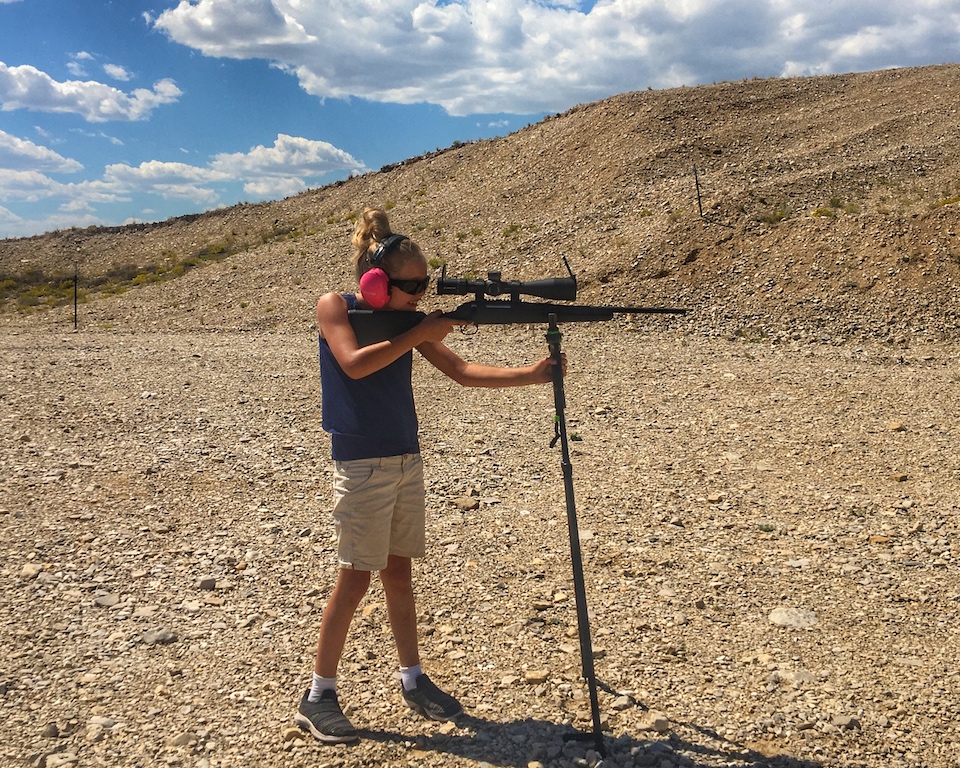 The Experience
As always, when working with a new firearm, I shot first. We donned our eye and ear protection, and I showed Addison how to load the magazine. Even though I was on the sticks and in control of the firearm, I wanted her to learn by watching me. I ran the bolt to chamber a round, pushed the safety forward and squeezed off a shot. Even though we hadn't properly sighted in the rifle, we were at 30 yards, so I was more focused on the experience than the accuracy. Even so, I hit the cardboard box we had placed, and with a few more shots, had knocked it over several times. I put the safety on, opened the bolt and ejected the magazine.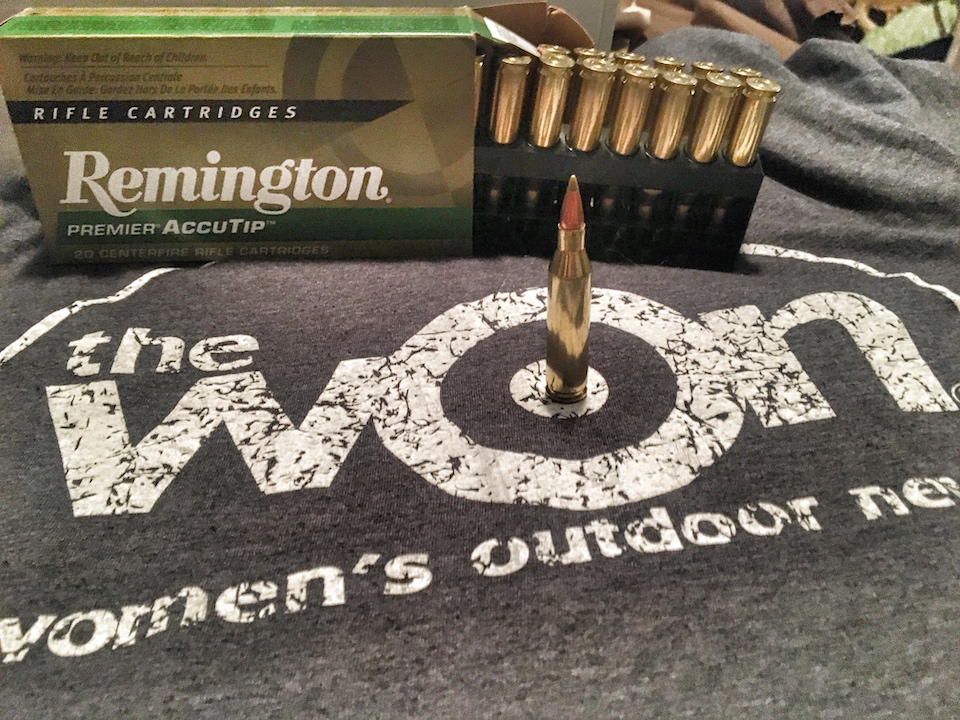 Once the gun was safe, I pulled off my ear protection and looked towards Addison. The noise and recoil had been minimal, and I was enjoying the combination of Ruger and Crimson Trace with the shooting sticks. She was grinning as well, so I asked her if she was ready to shoot the rifle herself.
Her smile faded, and she shook her head no.
I was a little surprised, so I asked her why she didn't want to shoot.
"I'm still a little scared," was her reply. She looked down at her feet when she spoke, and I immediately knew her anxiety was real.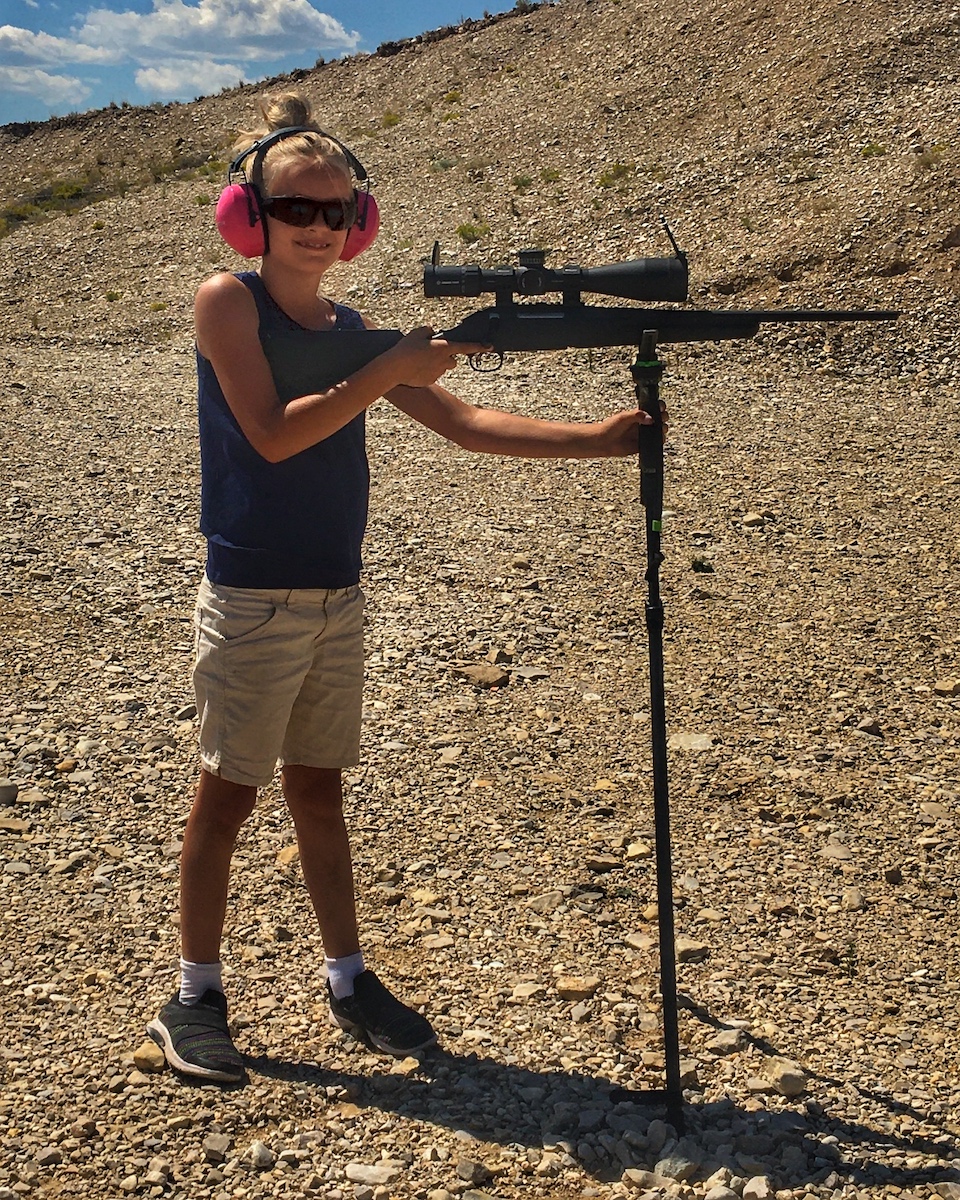 I had a choice to make. There are some moments as a parent when you need to give your kids a nudge to encourage them to step outside of their comfort zones. But this wasn't one of those moments. I knew if I pushed her, she would tense up and rush a shot and it would be a horrible experience. One I had promised to avoid at all costs with new shooters. So instead of being disappointed or angry, I smiled at her and let her know it was okay. I asked her is she could tell me what it was that was holding her back, and she shared that her arms were a little tired from all of the gun handling, she was hot and she was afraid she would fall over backwards when she shot the gun.
Don't you just love the honesty of children? We so often try to excuse away our fears instead of just stating what we are nervous about. I reassured Addison that I would never let her shoot something that I though might knock her over, but that I totally understood her reticence and would never force her to do something she was uncomfortable with when it came to shooting. She immediately relaxed and helped me to load all of our gear into the SUV, smile intact.
The End Result
On the way home, we talked about how we could spend the next 2 years transitioning her to being comfortable shooting the larger caliber rifle. Because I hadn't forced anything, she retained the longing to continue, however slowly, until she was less anxious. And that's really what this journey has been about; Addison's growth as a shooter and hunter, at her pace and with her desire leading the way. If we want to train up the next generation of gun owners, it has to be done the right way. When done properly, transitions can be everything.
MSRP Info:
Ruger American .243 Compact: $489.00
Crimson Trace CSA-2624 2-SERIES™ SPORT RIFLESCOPE 6-24×56: $849.00
Primos Gen2 Tall Bipod Trigger Sticks: $99.99
Remington Premier 75 Grain Accutip-V Boat Tail .243 Win Ammo: $32.99 (box of 20)
About Ashlee Lundvall

Ashlee Lundvall writes a blog titled "Redefining Life,"  that follows her rise from a debilitating injury as a teenager to Ms. Wheelchair USA in 2013. Her first book, "A Redefined Life," was published in February of 2016, and she is on National Pro Staff for Mossy Oak and the NRA's Disabled Shooting Sports committee. Ashlee is also the recipient of the 2017 SCI Foundation Pathfinder Award. Ashlee truly shines as a keynote speaker at outdoor industry and disability related events and conferences. She is passionate about mentoring newly injured patients, and loves to pass on her love for adapted outdoor recreation! View all posts by Ashlee Lundvall →