Kristy Titus and My Redemption Elk Hunt
We love a good story, and here's one by Ashlee Lundvall about a recent redemption elk hunt that she took with outdoor personality and real deal of a hunter Kristy Titus.

Sponsored by Ruger
I've known Kristy Titus for many years now. She has been a woman in the outdoor industry that I've looked up to, and it's an honor for me to not only call her my friend, but also a wonderful hunting mentor. Kristy and I both serve on several committees together, so we have a lot of fun catching up throughout the year at these meetings.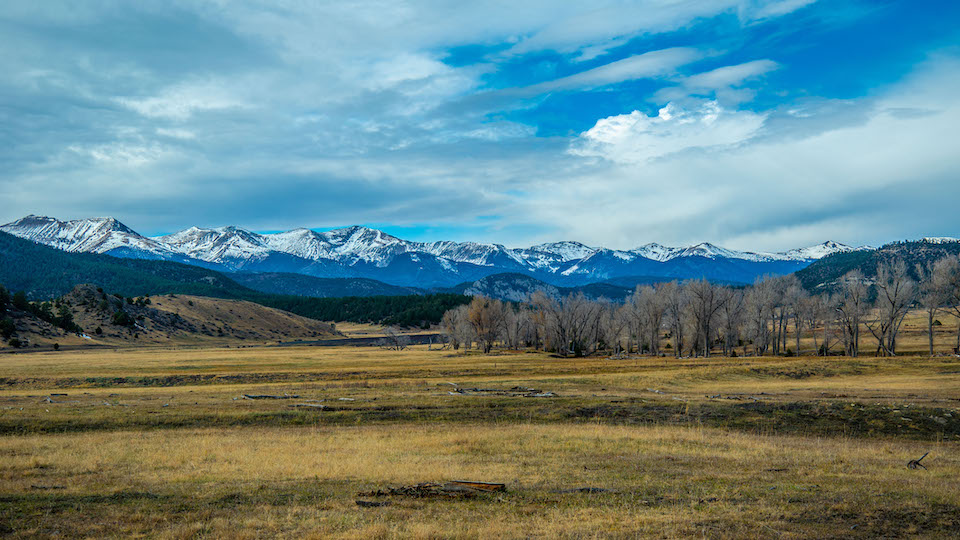 The Meet Up with Kristy Titus
Last winter, we enjoyed lunch in Virginia and chatted about our hunts in the fall of 2019. I had had a bad experience where 2 hunters purposefully barged in front of us as we prepared my Action Track Chair to pursue a herd of cow elk. They made a terrible shot, spooked the animals and caused the last day of my season come to an abrupt and disappointing end. This was the first time I had experienced what is technically legal, but completely rude behavior, from another hunter in the field. I didn't just see a group of elk fleeing over that hill; I saw meat disappearing that would have filled a nearly empty freezer back home.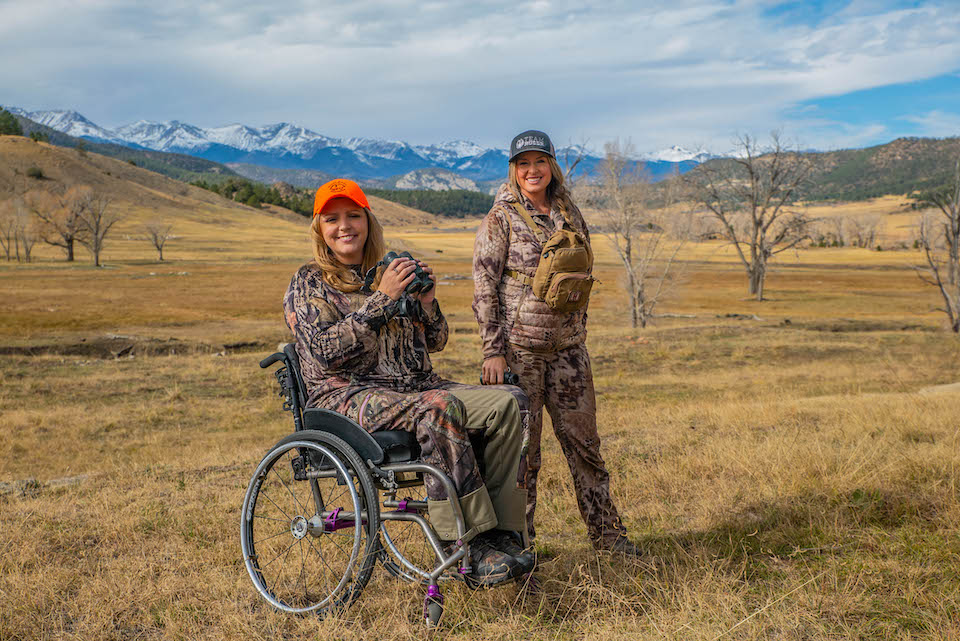 Kristy, like me, naturally felt angry about this encounter. There is an unspoken code of sportsmanship in the hunting community, and this wasn't acceptable behavior. Little did I know that my experience stuck with Kristy after our meeting. While I certainly didn't intend for it to happen, she decided then and there that she was going to see to it that I had a chance at a redemption elk. The next time we were together, she asked if I would be interested in joining her on a hunt in Colorado in November. It was the easiest decision I've ever made.
Plans for a Redemption Elk Hunt
Over the next several months, with our eyes on the COVID-19 pandemic, we began to make plans for our hunt. I would drive nearly to the New Mexico border and meet up with Kristy and her cameraman, Nick, before heading out to meet our guide, Johnnie, at the ranch. I knew that River Canyon Ranch was a special place the second I drove over the cattle gate and under the log trusses that welcomed me to the property. Right away, I began to see a vast variety of wildlife. To view antelope, whitetail deer, mule deer, turkeys and elk all on the same acreage is incredibly rare. Even better, I quickly realized that almost all of the land we would be hunting was navigable from my Action Track Chair, which would allow me to be independent for the hunt.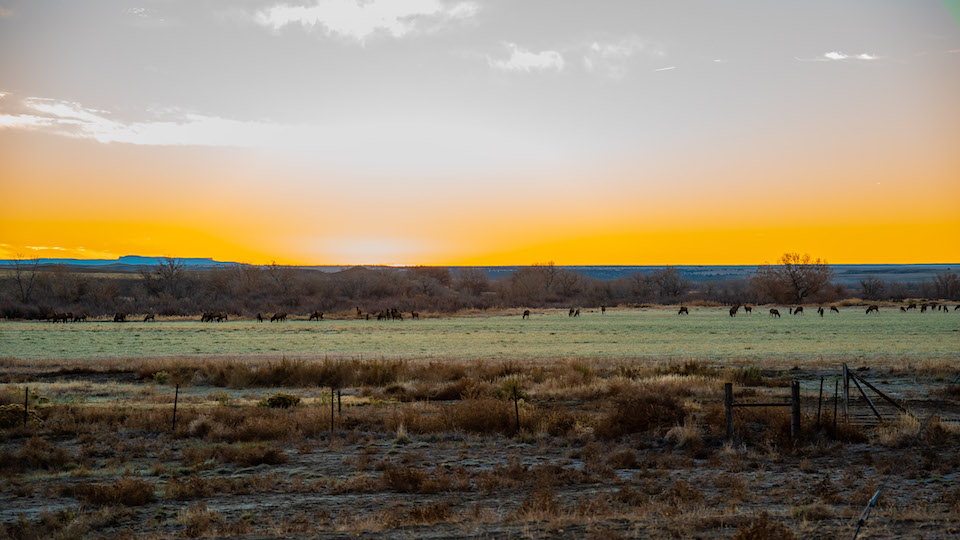 We spent our first morning prepping, knowing that the herd we wanted to see usually grazed into an alfalfa field in the afternoon. We had seen them the evening before, so we wanted to make sure we prepared with plenty of time to set up before they came out. I was going to be shooting Kristy's Ruger Hawkeye Hunter rifle in 6.5 PRC with a Horus HoVR™ 5-20 x 50 scope, so I sighted it in at 100 yards to make sure I felt comfortable with the new setup.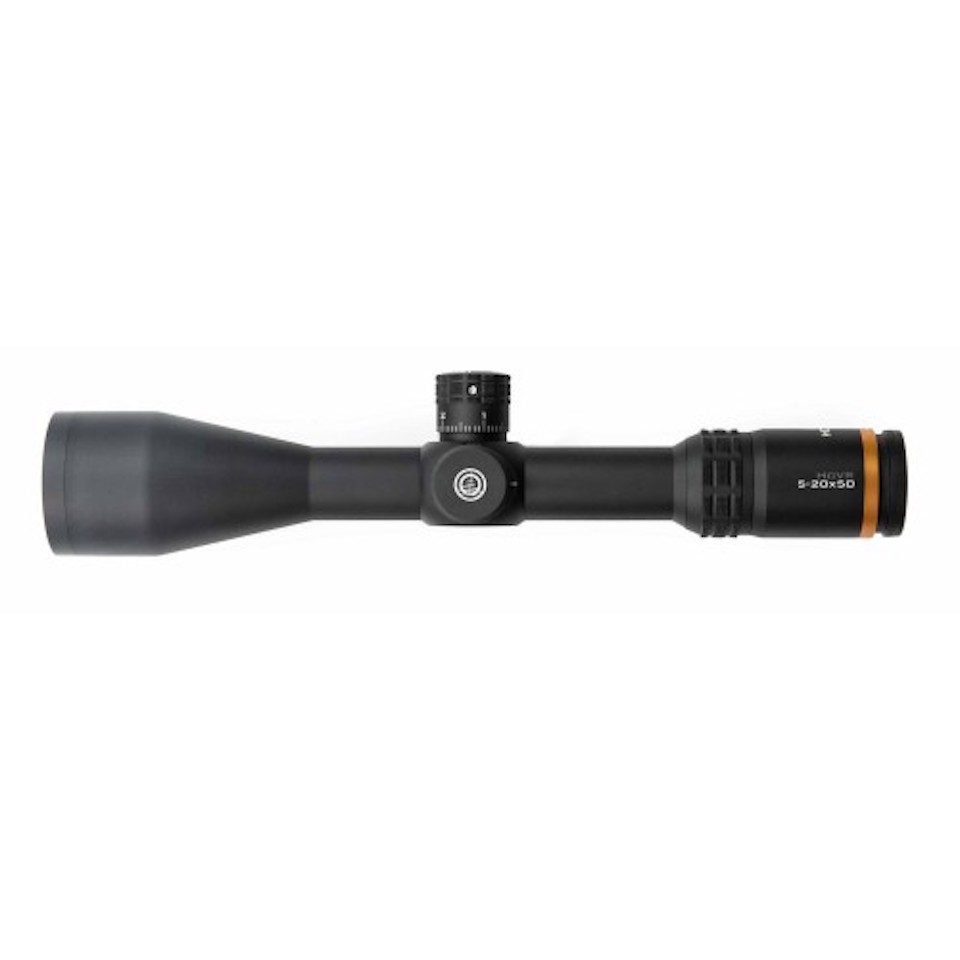 Redemption Elk Hunt
Early that afternoon, we headed out to a stand of cottonwoods that offered us some concealment. Johnnie placed a half blind in front of my chair to break up my profile, and we all settled in to wait for some action. Within the hour, Nick spotted a lone cow and calf pair coming out of the trees across the field. By the way, the cow kept looking over her shoulder and moving at a fast trot, it looked as if they were being pursued by some type of predator. We all froze hoping that she wouldn't smell us and spook off any other elk in the area, but fortunately the wind blew in our favor and the duo moved on without detecting us.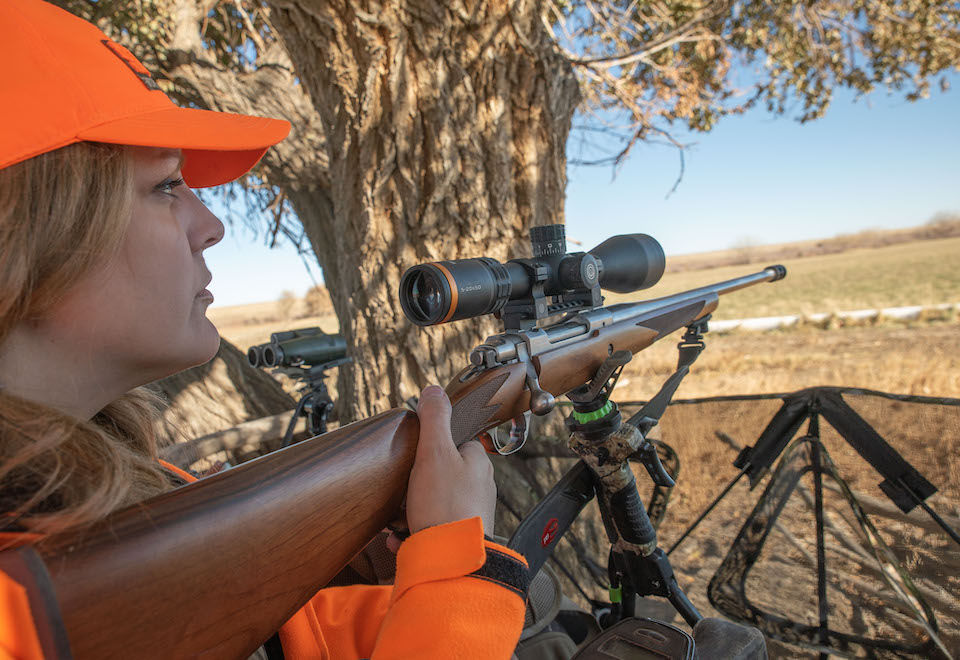 During the next several hours, we watched deer cavorting in an adjacent field, waterfowl landing in a nearby waterhole and several elk in the trees quite a stretch behind us. We hoped if we remained patient, some would eventually come out and offer me a shot.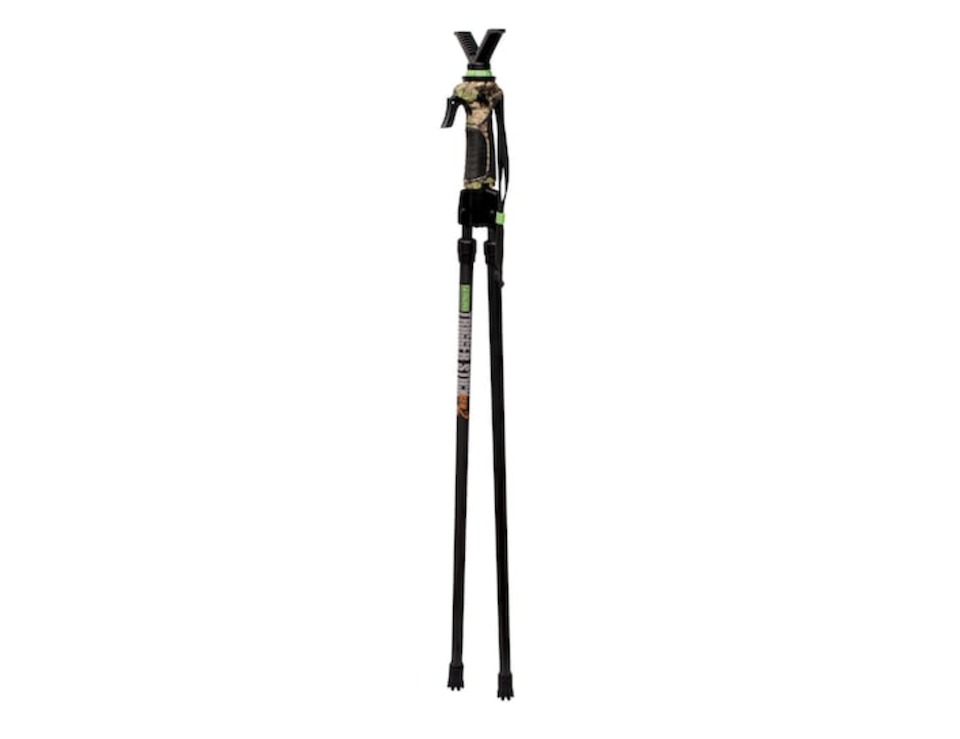 Finally, as the sun began to dim, we saw movement across the field. Nearly a dozen cows, some with calves, and one lone bull began to emerge and graze. The stood at 500 yards out, so we all held our breath and hoped they would continue to feed toward our position. As we watched, they herd wove in and around each other, making it nearly impossible to keep track of any specific animal. Finally, Johnnie noticed that one of the larger cows had a darker mane than the others, and with no calf at her side, we knew she was the 1 on which to focus our attention.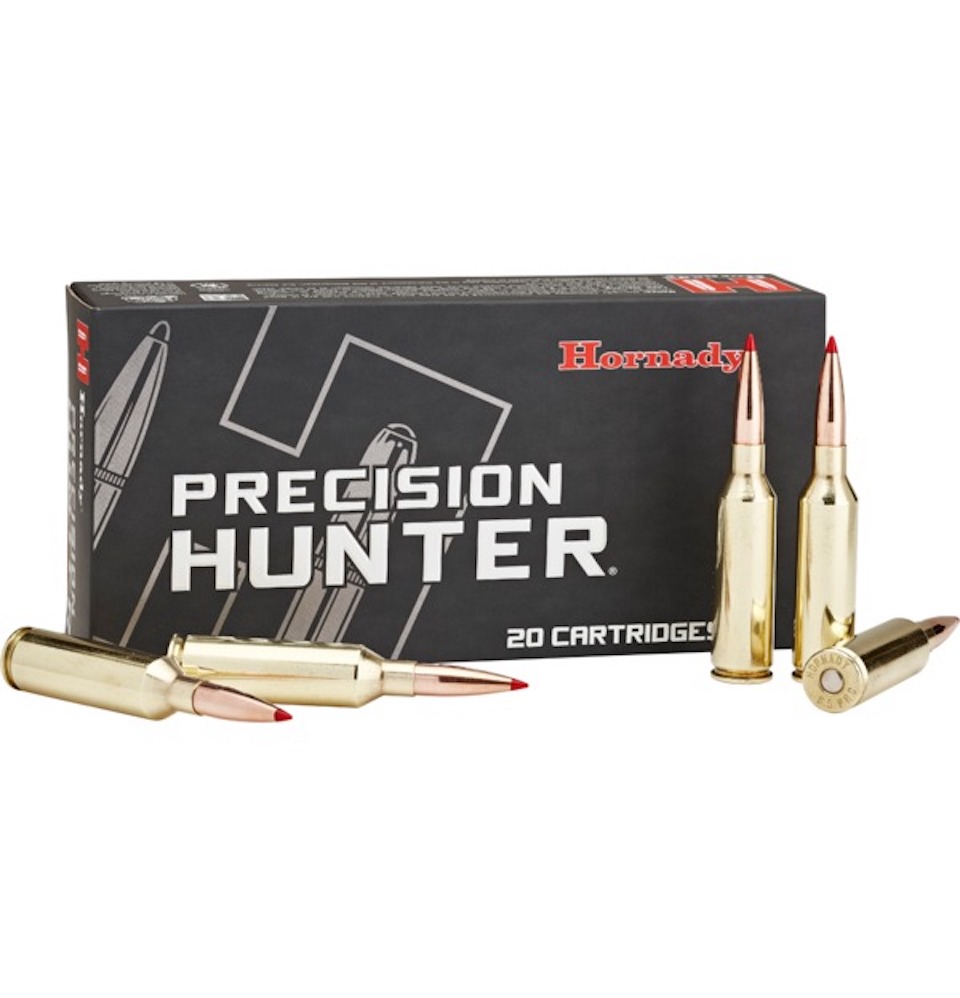 The Shot
I had already chambered a Hornady 6.5 PRC Precision Hunter round, so I slowly slid the safety forward and steadied my bipod. The small herd had stopped moving toward us and began to feed in a parallel direction, so I knew I only had a few moments before they moved beyond my field of view. Kristy read yardage and wind for me, so I dialed the riflescope's turret (as we had previously practiced together) for a 375-yard shot. I waited for the cow we had selected to separate a little from the other elk, and then I held the reticle on her as she slowly turned to give me a broadside shot. I had already made sure everyone in the stand was ready, so when my moment presented itself, I slowly squeezed the trigger. The Ruger thundered across the field and the cow dropped like a rock. I quickly chambered another round and saw through the scope that although she was down, she moved somewhat. I've never been one to not send another bullet if there is even the slightest chance that an animal is still alive, so I tried to put another round in her. I shot over her the first time. I took a steadying breath and waited for her to lift her head, and when she did, I quickly ended things with a final shot.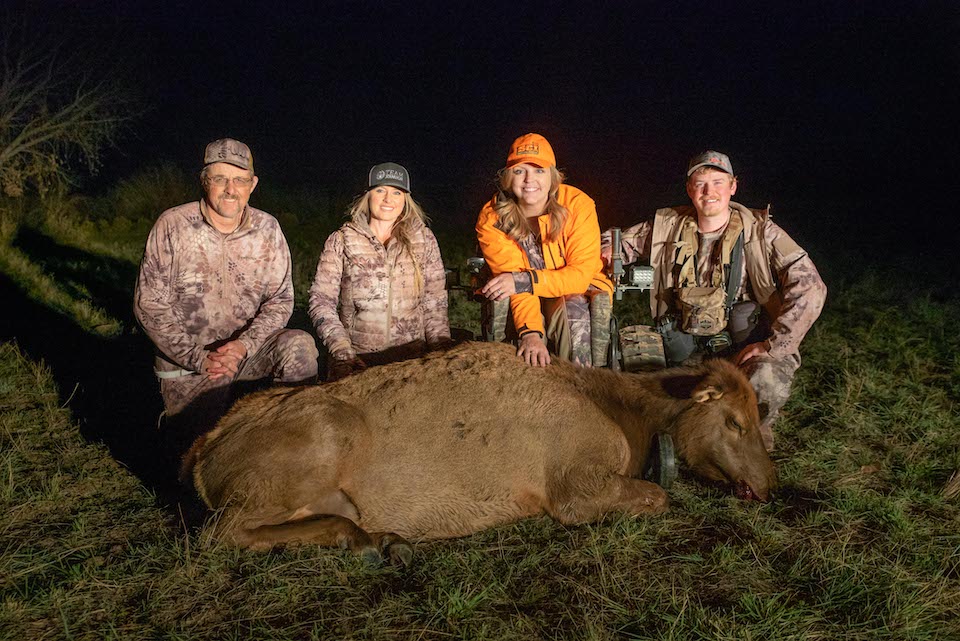 Teamwork Pays Off
What an amazing moment of teamwork paying off! With Johnnie's scouting and knowledge of the terrain and animals, Kristy's expertise and guidance with the equipment and Nick's sharp eye for helping me spot and track my specific cow, this adventure couldn't have come together in a more rewarding fashion. I felt grateful for the opportunity and experience. We headed out to my elk and snapped a few pictures before darkness fell. After loading up and heading back to the ranch house, we celebrated an evening of camaraderie and the joy of a successful harvest.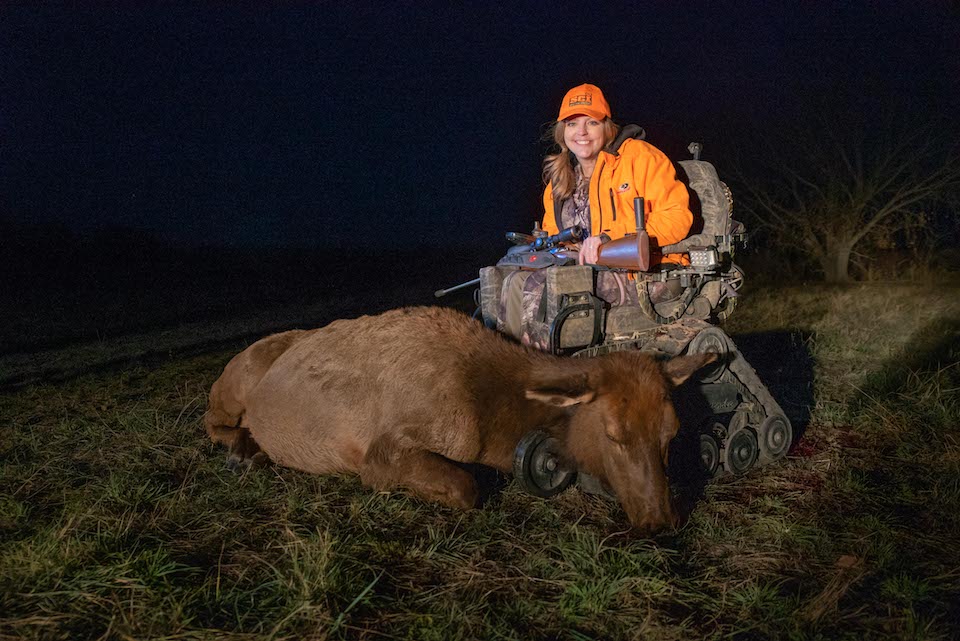 The next day, Johnnie drove us to several neighboring properties owned by the same gentleman as the area we hunted, and the landscape took my breath away. This weekend contained a host of amazing memories created with friends old and new: Hearing elk bugle in November like it was actually September, seeing a diversity and maturity of the wildlife in the area and hearing stories of hunts from years before. This land and its people have a rich history of conservation, animal management and generosity of spirit that is unmatched for miles around. This might have been my redemption elk, but in the end, it ended up redeeming my faith in the bonds of friendship, the strength of teamwork and the knowledge that true sportsmen are alive and thriving in our beautiful world of hunting.
MSRP Info:
About Ashlee Lundvall

Ashlee Lundvall writes a blog titled "Redefining Life,"  that follows her rise from a debilitating injury as a teenager to Ms. Wheelchair USA in 2013. Her first book, "A Redefined Life," was published in February of 2016, and she is on National Pro Staff for Mossy Oak and the NRA's Disabled Shooting Sports committee. Ashlee is also the recipient of the 2017 SCI Foundation Pathfinder Award. Ashlee truly shines as a keynote speaker at outdoor industry and disability related events and conferences. She is passionate about mentoring newly injured patients, and loves to pass on her love for adapted outdoor recreation! View all posts by Ashlee Lundvall →