The Quest to Dig Up the Elusive Geoduck Clam
This is a guest column written by Vera Koo's daughter, Shane, and describes a recent trip to find the elusive geoduck clam.
I went on a quest this summer, one that I'm a little bit embarrassed to share.
See, much of my life, my dad has taken us on hunts for the elusive geoduck clam.
My parents raised me and my siblings to be sporty. My sister and I were alpine ski racers, we camped, snowboarded, climbed, water skied, kayaked and a whole slew of other outdoor activities.
But as much as I enjoy those activities, clamming has always been my happy place. I plan for it all year, eager for the next low tide.
My dad, Carlos, started taking us clam digging when I was about 10 years old. In California, we only ever caught horseneck clams, which are similar to geoduck (pronounced gooey-duck) clams. But we always talked about the elusive geoduck, yet it remained out of reach – until now.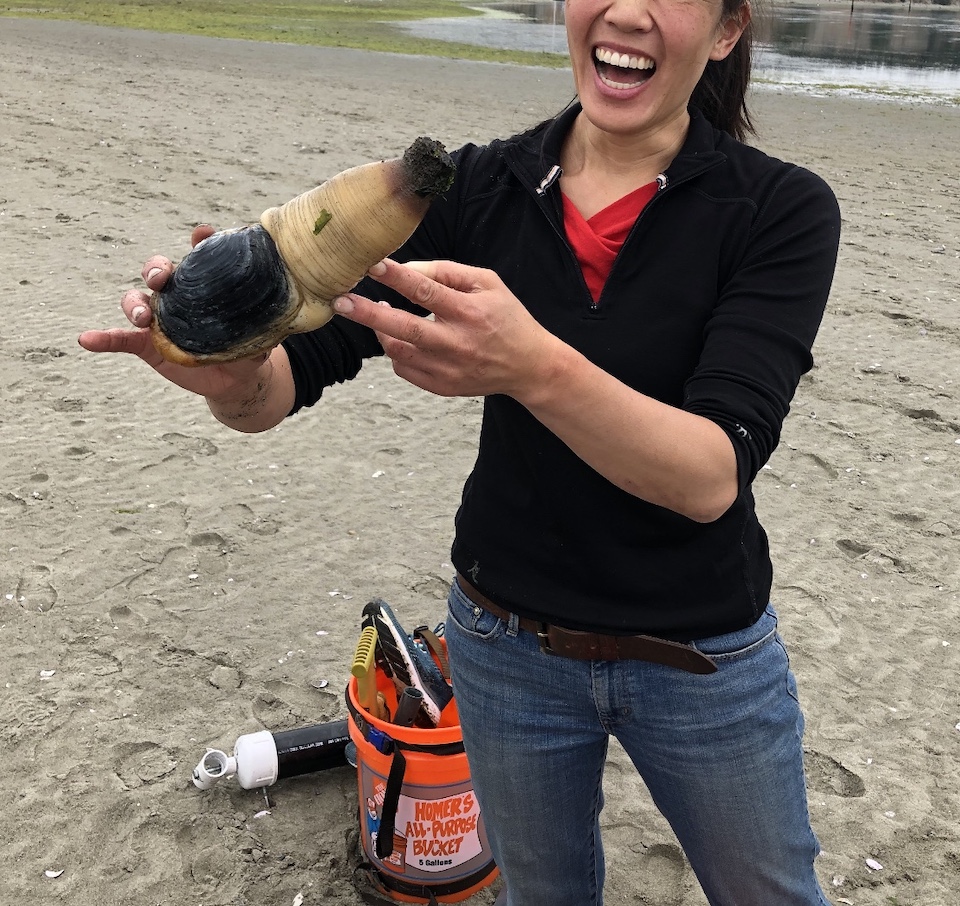 What in the Wide World of the Outdoors is a Geoduck Clam?
The geoduck has a very distinctive look. Awkwardly, it is phallic shaped. Honestly, I wish it didn't look so ridiculous. Its shell can range from 6 to 8 inches, and its neck can stretch a couple of feet. They usually weigh a couple pounds and native to the coastal waters of the Pacific Northwest. They're tough to catch. Limited to especially low tides during daylight hours sandwiched between winter and the stretch of summer before red tide arrives, to catch them, you'll want to have experience clam digging and the right equipment.
This year, I made a plan to finally catch what had become my white whale.
Where to Find a Geoduck Clam
Through research, I learned I might have some luck digging for geoduck northeast of the Olympic National Park in Washington. I researched the tides and found the 1 and only weekend tide that would be suitable.
And because we didn't want to fly during the pandemic, my daughter, Mia, my boyfriend and his son made it a road trip. We even brought our new baby bunnies with us. Although my group didn't care nearly as much as I did about catching the geoduck, they did appreciate the gorgeous beaches and freedom in nature.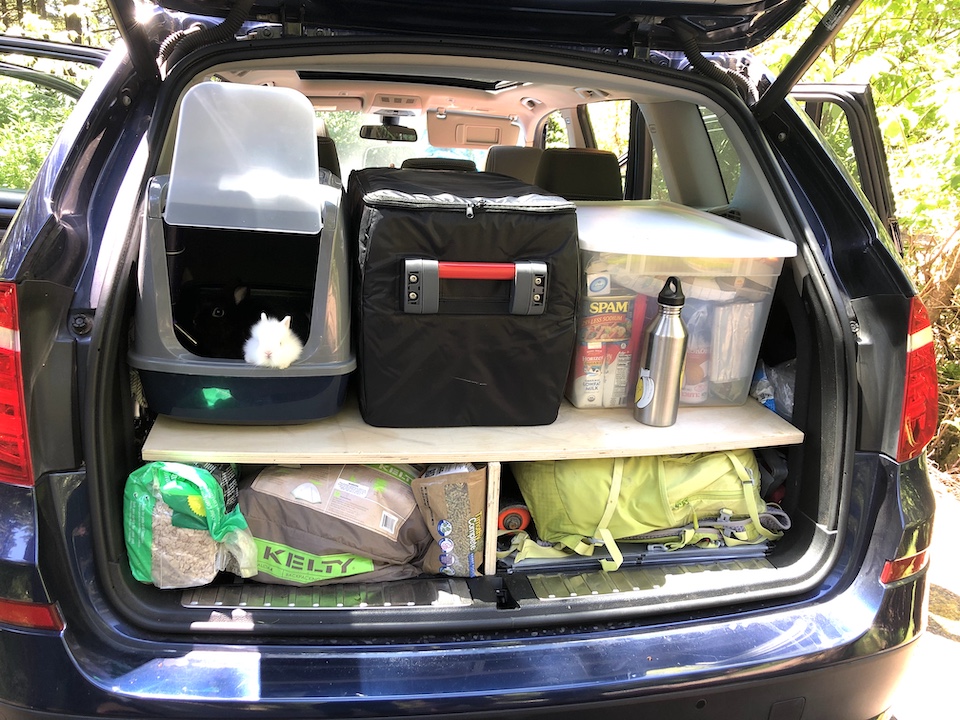 I want my kids to camp. I am grateful my parents took us camping when we were kids. Because face it, once we get older, we become less flexible, it's hard to start camping then. We want our comfy mattress and are less accommodating. If you become accustomed to camping young, I think you gain a flexibility towards life and an appreciation for nature that you enjoy forever.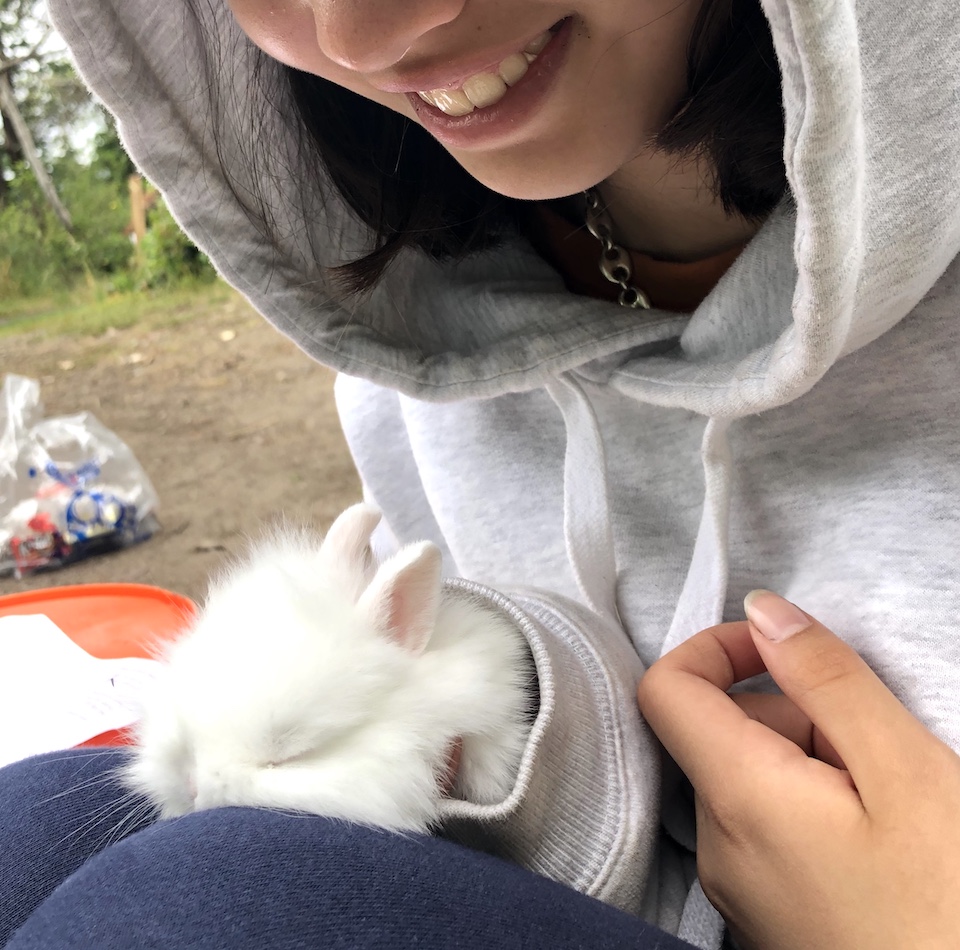 So even if my homebody kids are reluctant to leave the house, we drag them out and teach them to rough it a little bit. Anything I know how to do around the campsite, Mia knows as well. She can back pack in 17 miles, build a fire or start an alpine cooking stove, and she can put up and take down the tent and even prepare a hot sun shower. She understands how to take care of herself and her equipment.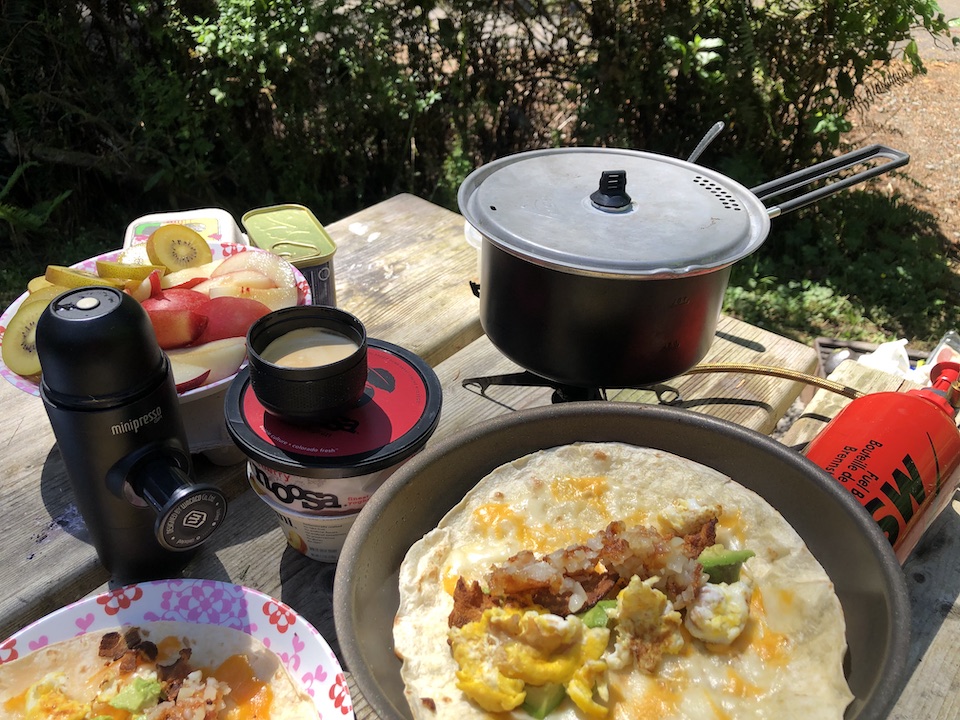 We took our time traveling north and stopped to camp in California, Oregon and Washington. We traveled at nighttime and relaxed at the campsite or on a beach during the days.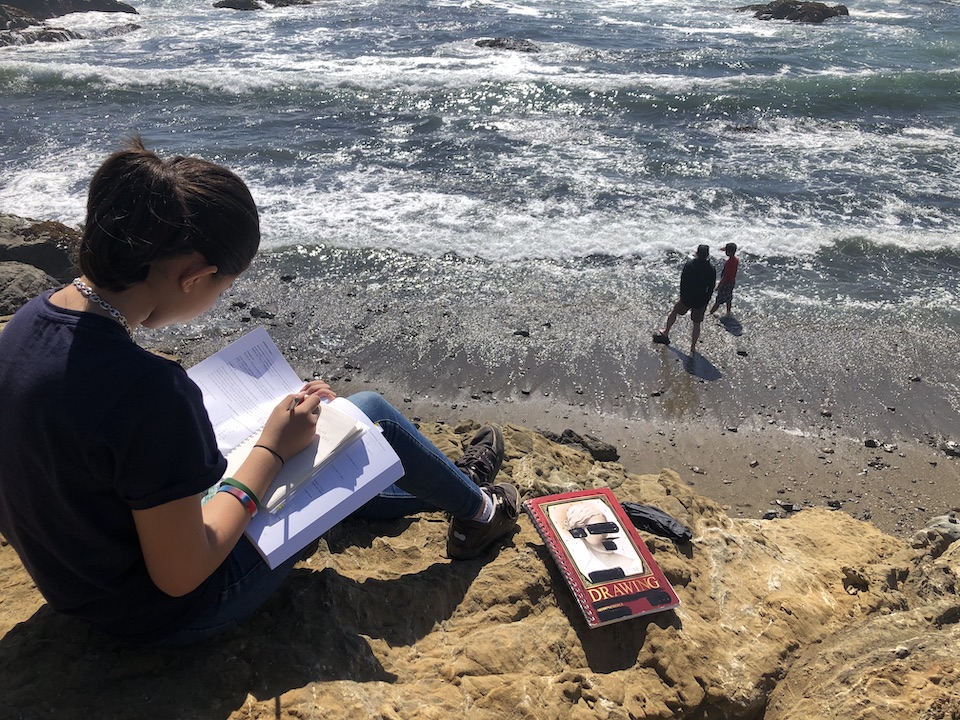 We took safety precautions because of the pandemic, but camping seemed like one of the most socially distance options for pandemic-friendly activities.
So often in America, we make plans for trips far and wide but forget about the treasures close to home. One upside of this pandemic is that it encouraged us to embrace adventures that are closer to our fingertips.
The Methodology
Digging for geoduck is a slow, labor-intensive process. We were out on our dig for 4 to 5 hours during the low tide. Often you catch maybe 1 per hour. We caught 3 geoducks during our hunt.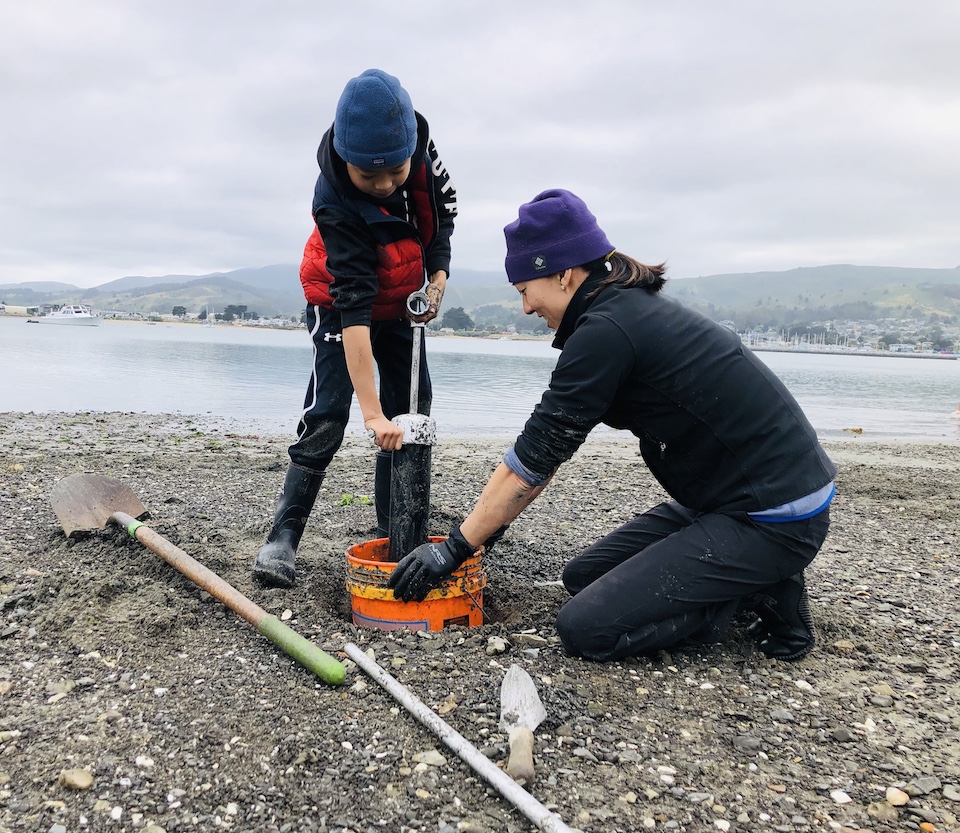 For the dig, we used a homemade pump, similar to ones during my digs with my dad when we were kids, so I learned the technique from him. We saw other groups who didn't have much experience digging and watched them dig big, inefficient holes the size of kiddie pools.
Our syringe-like pump consists of a PVC pipe with a tennis ball inside of it that creates a sort of seal inside the pipe, allowing you to suck out the sand like a syringe. We pumped inside a long tube, which acts as a retaining wall.
As you continue pumping, sand fills over the opening and covers up the hole, but rest assured, you are making an invisible headway. Once you dig deep enough, you'll stick your hand into the quicksand to feel around for the clam. You'll need to get your hand under the shell, making a fist around it and begin fighting the suction to pull that clam out. Sometimes a partner needs to pump out the fluid above your hand to help pull your hand out.
A bit of skill is involved, and it can be tough to catch any clams if you are a rookie without going along with someone who has experience.
The reward for our work came when we sat down for a clam feast. The entire geoduck neck is crunchy and features a lot of good-quality meat.
Of course, my dad became very excited when he learned I finally achieved our long-time goal of catching THE geoduck. I wish he could have been there with me, but we're already planning our next season.
About Vera Koo

Vera Koo is a first-generation Chinese American woman. She's a wife and mother, author, entrepreneur and retired competition shooter. Along with two published books -- "The Most Unlikely Champion" and "Wisdom and Things: Essays From an Unlikely Champion" -- she writes her column, Vera Koo, at "Women's Outdoor News." View all posts by Vera Koo →