Texas Duck Hunt
Fiocchi Ammunition invited me to attend a Texas duck hunt southwest of Houston, an area known for its great waterfowl hunts. We would hunt with Steve Biggers, owner of Rocky Creek Retrievers. Savage Arms and True Timber camouflage also sponsored this media hunt. We shot the new Renegauge shotgun in a Prairie pattern, using Fiocchi's Waterfowl Steel Hunting loads. True Timber provided camo from the SHE brand.
Sponsored by Fiocchi
A Texas Duck Hunt
Let's say I invited you out to an early morning star gazing and sunrise outing. I'm pretty sure non-duck hunters shudder at the fact that people are willing get out of bed at 3:45 a.m., don their camouflage and waders and head out into the marsh. But there's so much more than getting there. Think of it as an opportunity to spot satellites flying overhead right through Orion's belt because you're far enough from the big city lights to see them. You get to watch the sky change every minute as sunrise approaches. I witnessed something else; our guide's little black lab (Mandy) quivered – not so much from the cold, but from the palpable anticipation of getting to fetch our ducks. We felt so lucky that on both our hunting days, the cool weather prevailed (meaning almost no mosquitos), with clear skies.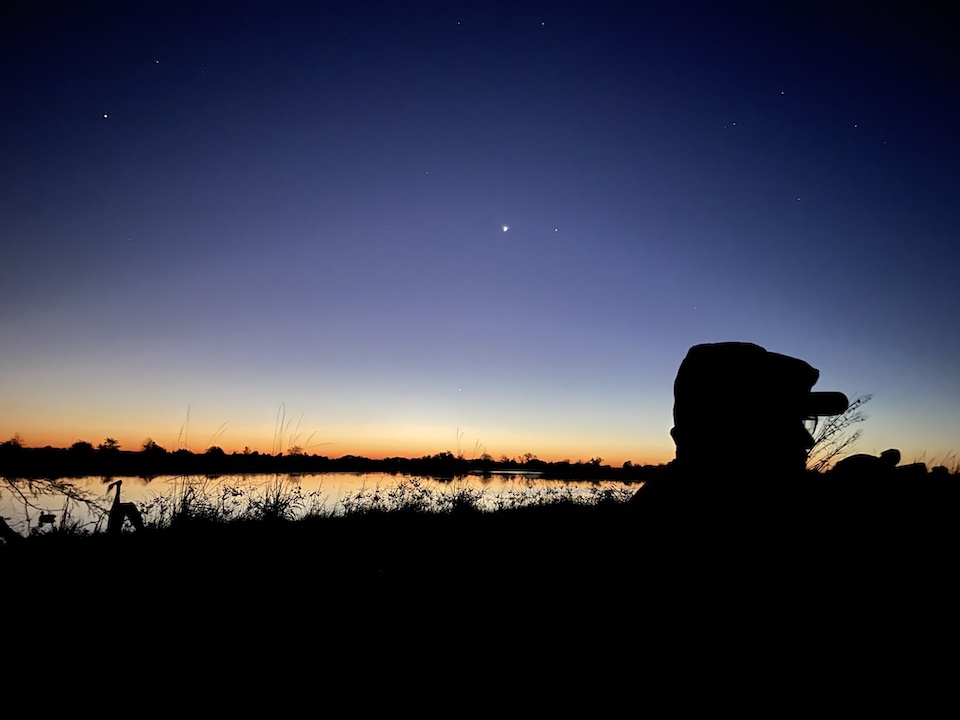 I've actually been hunting ducks since my teenage days, as my father always offered my 3 sisters and me a chance to tag along with him. I have some great memories from those hunts and still have my very first 20-gauge shotshells from my first hunt. Our guide, Marcus, said he took his 2 daughters out last year for the first time and they want to go again this year. (I know they'll love the time with their dad and watching him do what he loves.)
The Gear
Like with any hunting adventure, you need the right ammo, gun and clothing.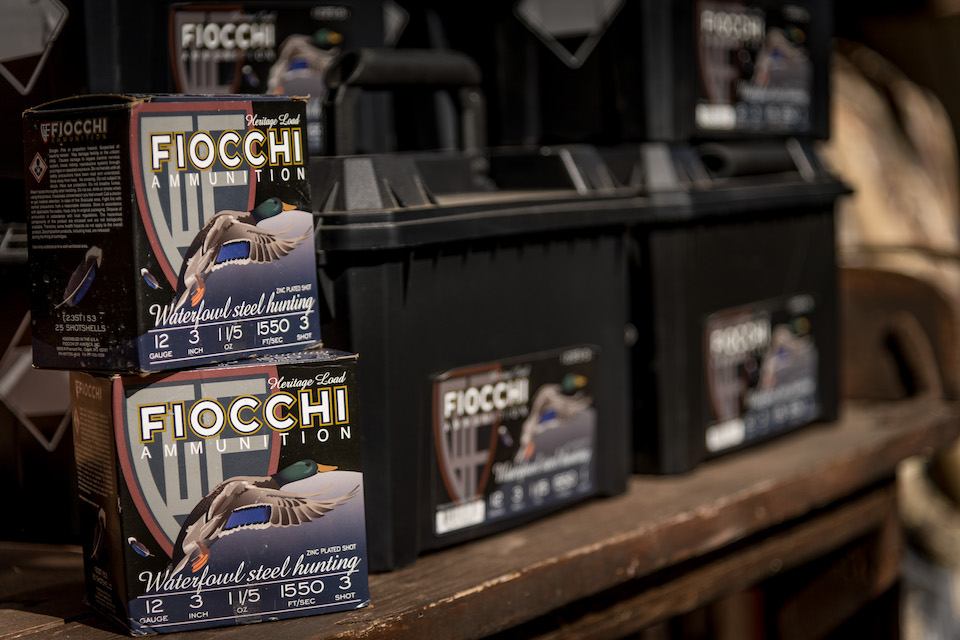 Shotshells
We shot Fiocchi Waterfowl Steel Hunting shotshells – 12 gauge, 3-inch, 1-1/15-ounce, #3s that clocked at 1550 feet per second. You would think with that speed, we wouldn't have missed any birds, but we did. If that's a bit too fast for you, check out Fiocchi's website for lots of other waterfowl options. Be sure to remember when purchasing your ammo that when waterfowl hunting, it needs to be steel – not lead.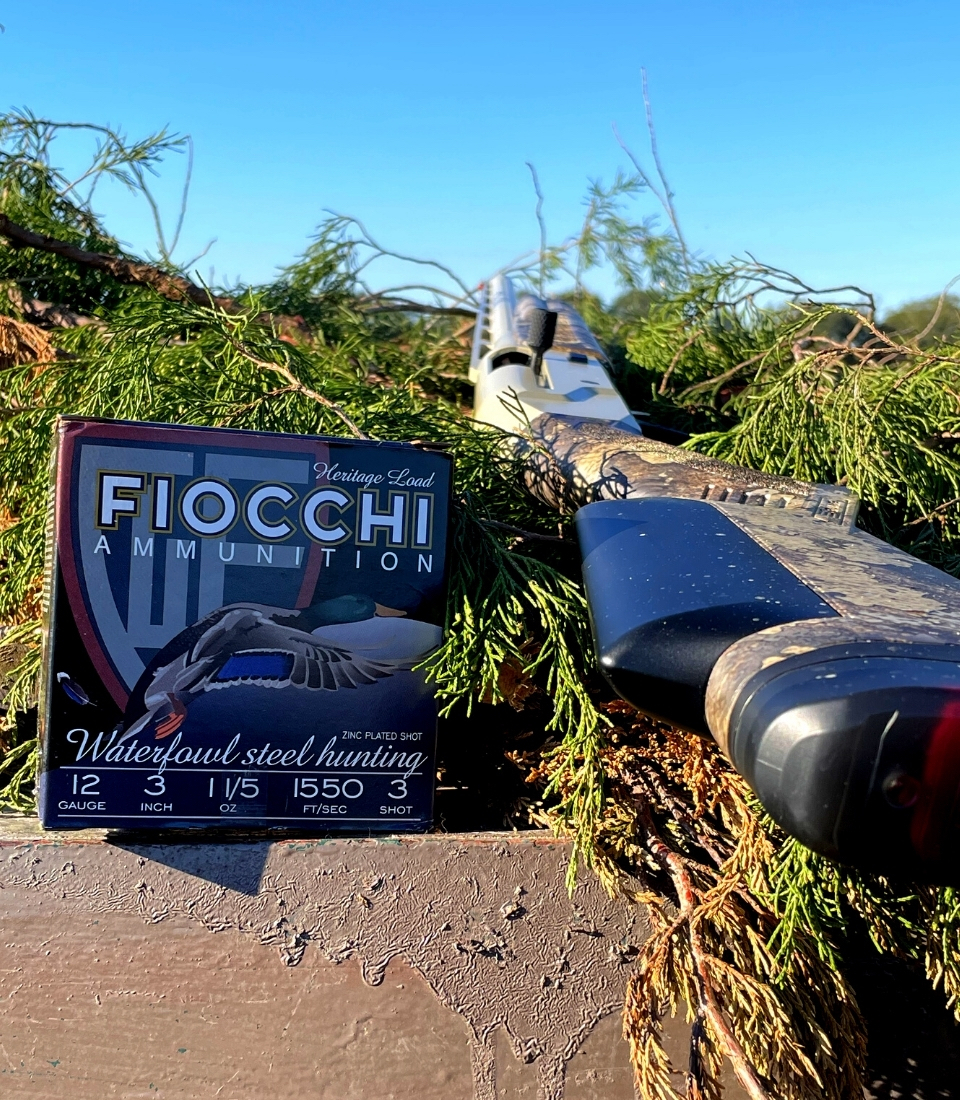 Shotgun
We shot the Savage Renegauge in its new pattern of Prairie (also available in Obsession, Waterfowl, Field and Bottomland patterns). The Prairie design is on a synthetic stock with a Cerakote-finished, matte barrel and forend. You may customize the fit of this shotgun by mixing and matching accompanying recoil pads and comb height inserts. You'll get 3 of each. Savage also includes a shim kit with each shotgun, so you can make finer adjustments. The comb's insert material will not stick to your skin, and also allows for a tight cheek weld.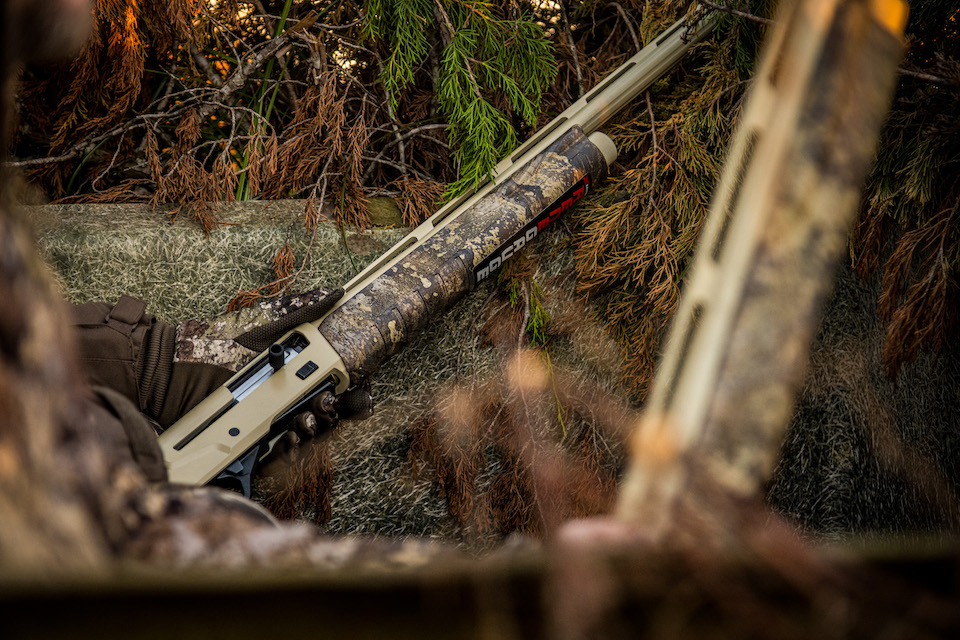 I opted for a 14.25-inch length-of-pull. The total extension for length-of-pull can be up to 15.5 inches. This shotgun comes with Improved cylinder, Modified and Full chokes. I used the Modified choke for hunting ducks.
Check out Savage's video of its patented D.R.I.V. GAS SYSTEM. This system emits excess gas from a shot to allow for Optimal bolt carrier velocity and, the important feature of a lower felt-recoil. It will handle 3-inch Magnums, as well as 2-3/4-inch cartridges
Another nice thing to note is that while we didn't need heavy gloves for our hunt, the trigger guard and bolt handle are oversized to accommodate us if we had been wearing gloves. I could reach the bolt release easily, and also, reload quickly. The fiber optic sight on the front of the barrel helped in the low light of the pre-dawn shots (you can start shooting 30 minutes before sunrise).
Be sure to check out the website for all the techie stuff about this gun here.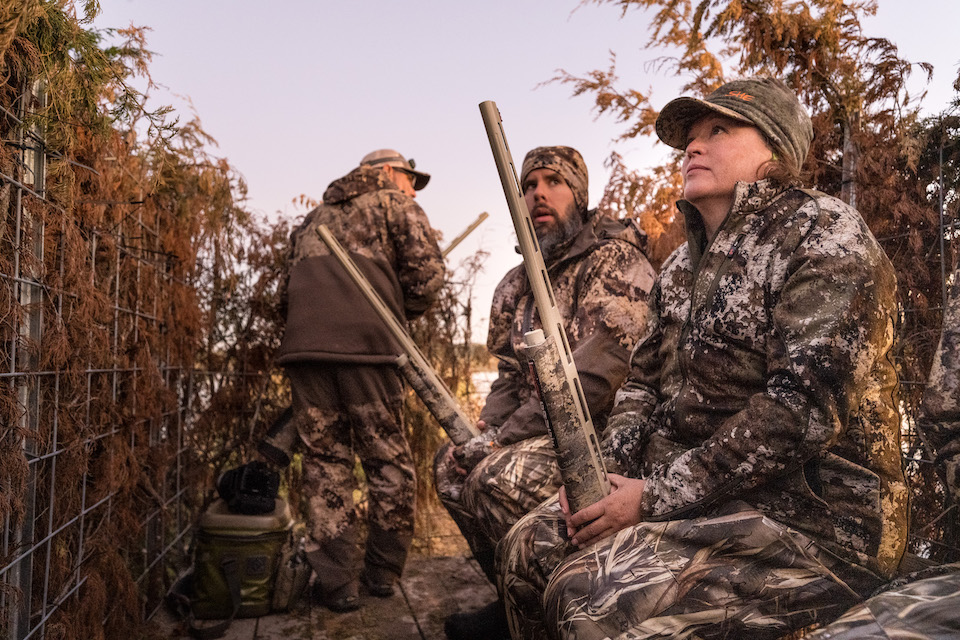 The Clothing
True Timber, from Bass Pro/Cabela's, decked us out in its SHE brand apparel – including midweight base layers, a ¼-zip pullover and jacket in the Strata pattern. Because the temperatures dipped, I opted for leggings under my chest waders and that felt more comfortable. I added a couple of extra top layers the first morning. Even though the temperature reached 40, it's cold to sit and wait. I've always believed it is more important to be warm, than stylish, when waterfowl hunting. Actually, the only layer that really needs to be camouflage is the outside layer.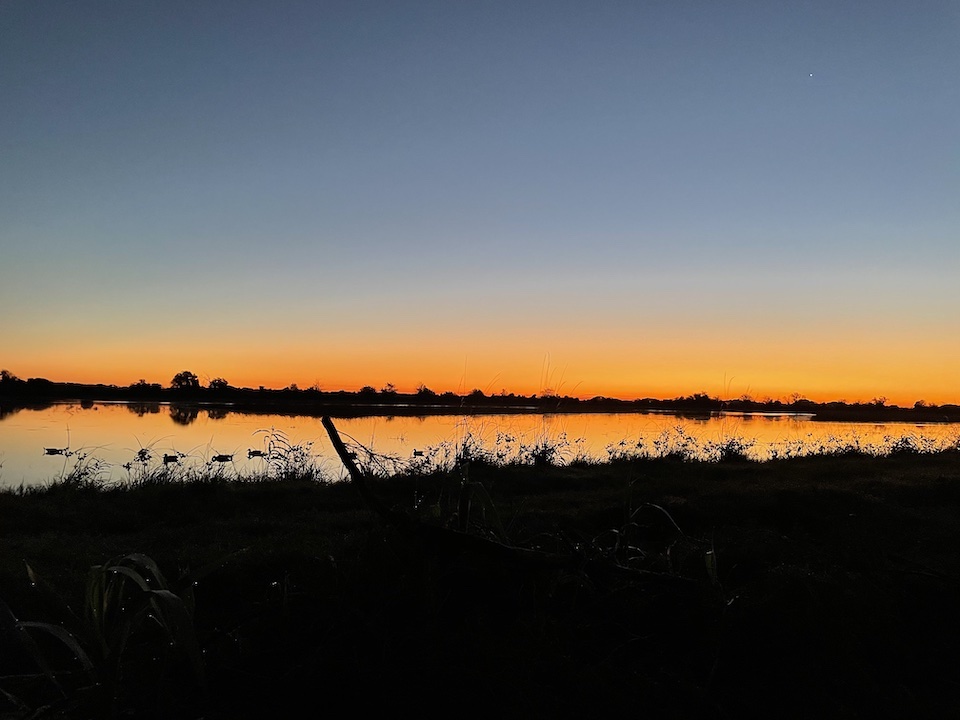 A Tip Regarding Preparation for a Duck Hunt
Lay out all your hunting clothes the night before your hunt, and stack your clothing – with the first things to put on at the top – so you don't have to go looking for anything. I set my waders and jacket out in the living area, so they were out of the way, but not in the truck and cold. Remember, cold rubber boots take a long time to warm up on a chilly morning. Also, it's easier to remove layers as it warms up, so don't be afraid to wear more than you think you'll need.
Wear your waders to the hunt in the morning, so you're not having to fiddle with them in the dark. Bring along an extra pair of shoes to wear once you take them off after the hunt for the ride home.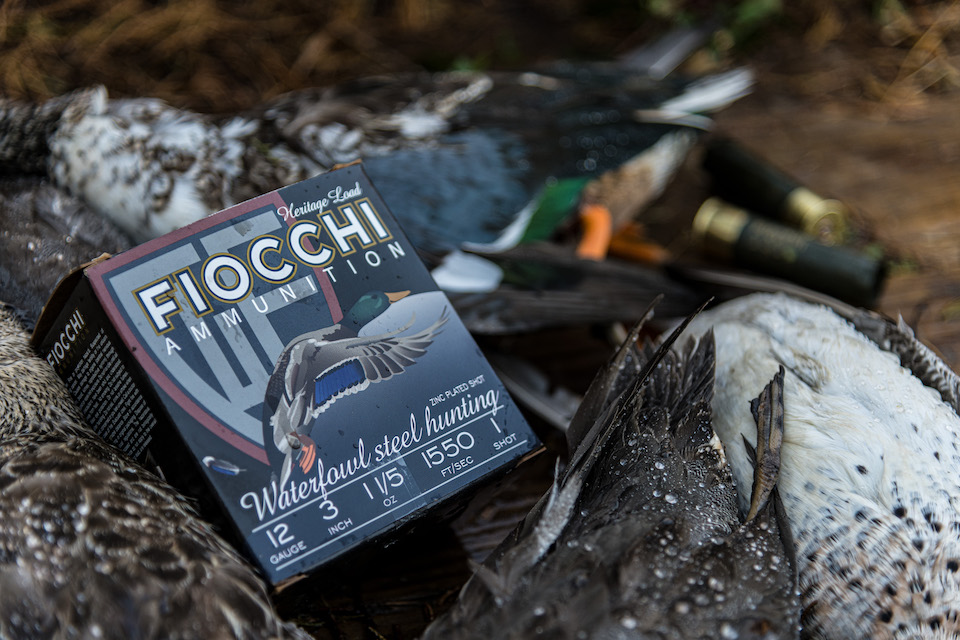 Another tip: So we have the gear, guns and shells, now what?
For first time, new hunters or the occasional duck hunter, find a guide. If you haven't hunted in an area before, get a guide. If you're dove hunting and just need a gun and some shells and a bucket to sit on, it's easy to go at it on your own. But when you see the amount of duck decoys these guys have, you'll understand why.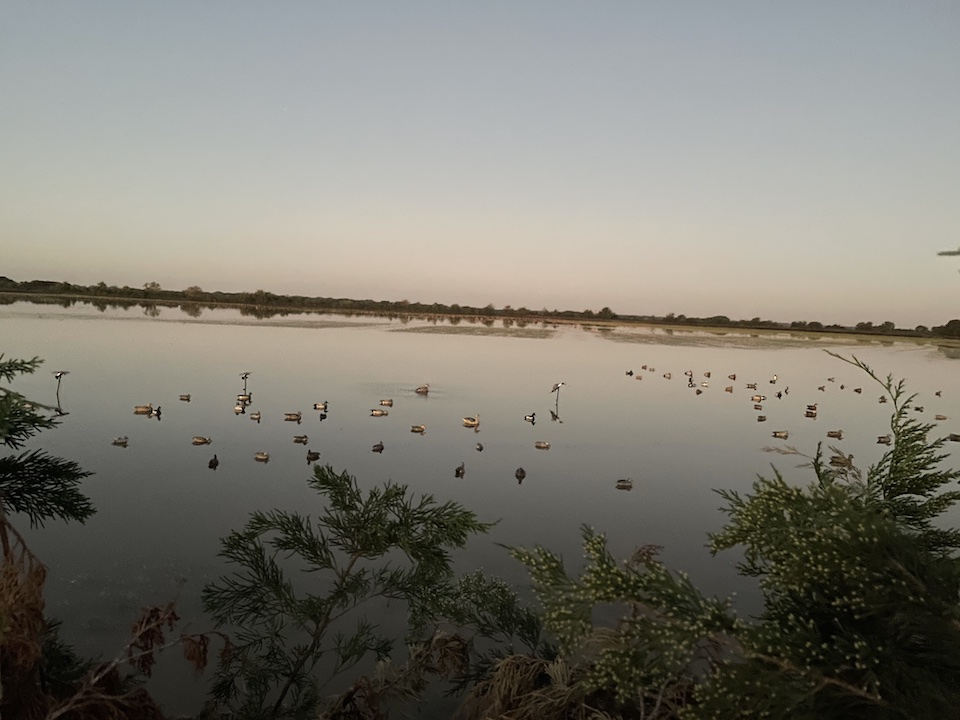 Duck outfitters also bring these things to a hunt:
Fancy ATVs and other vehicles (that got all 6 of us along with all the gear to the blind … in 1 trip)
Most importantly, permission to hunt over flooded rice fields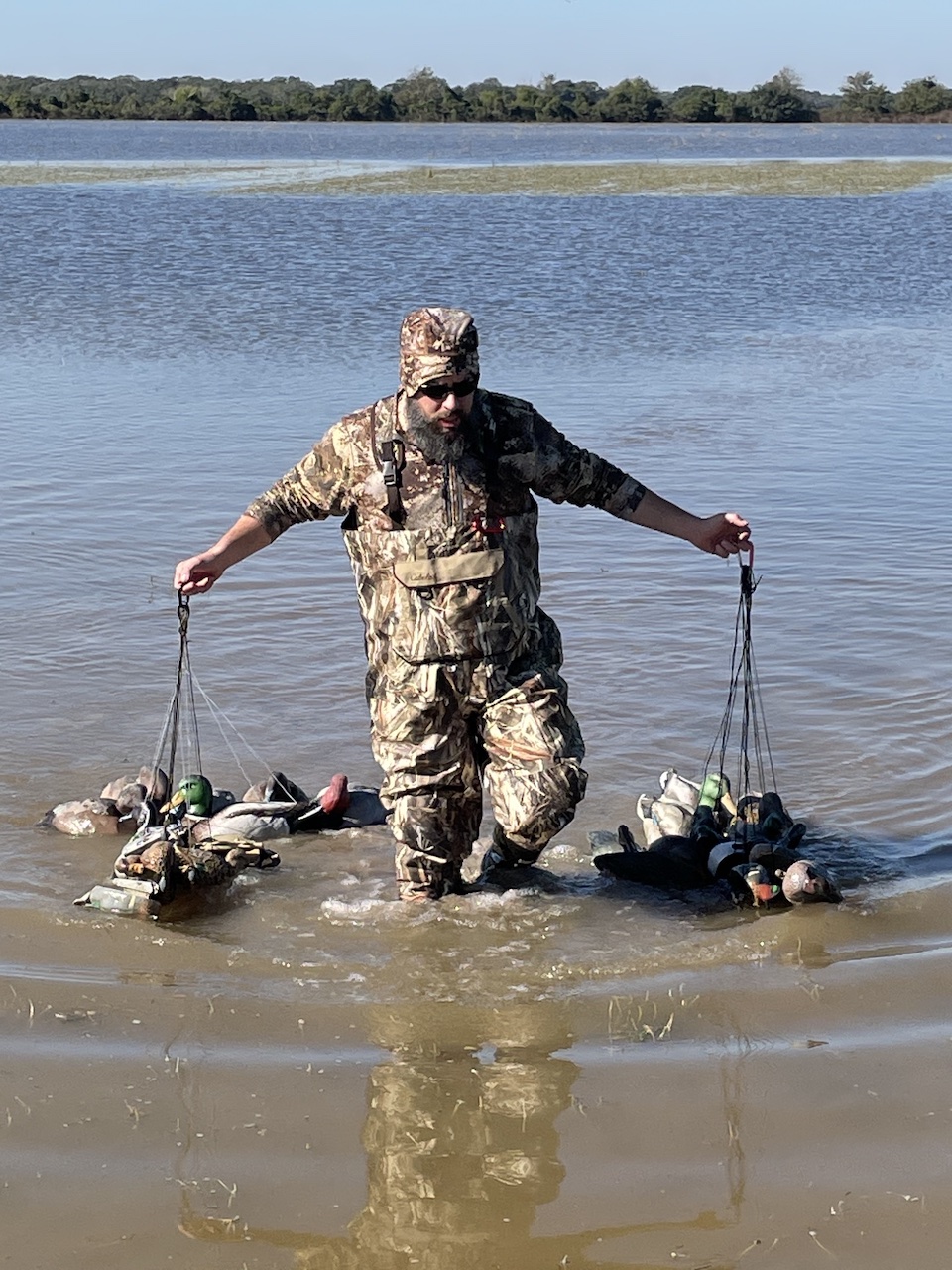 Our Texas Duck Hunt
On the first morning, hundreds of Sandhill cranes flew over. While they never even came close to being in range of our shots, even if they had, that season doesn't start until December 19 down here. If you ever get a chance to hunt or just eat some, their nickname is "ribeye in the sky." Some light geese flew over and a couple that even came down within range; however, we didn't connect that day and the geese kept flying.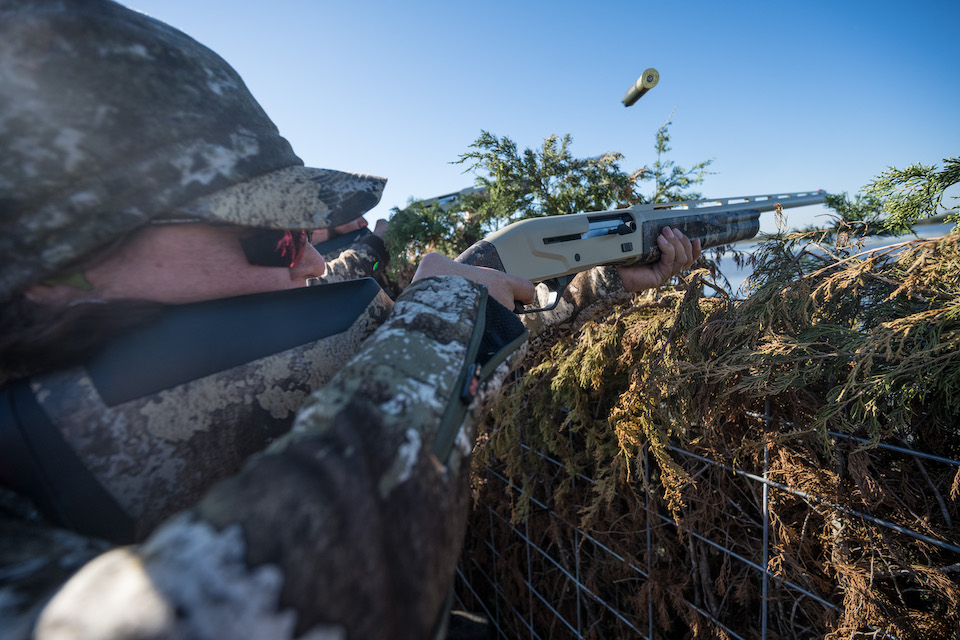 The shotgun performed well for me – no jams or hangups with the shells ever. I hit a duck at about 60 yards. We brought in Gadwalls, spoonbills, widgeon and a ruddy duck.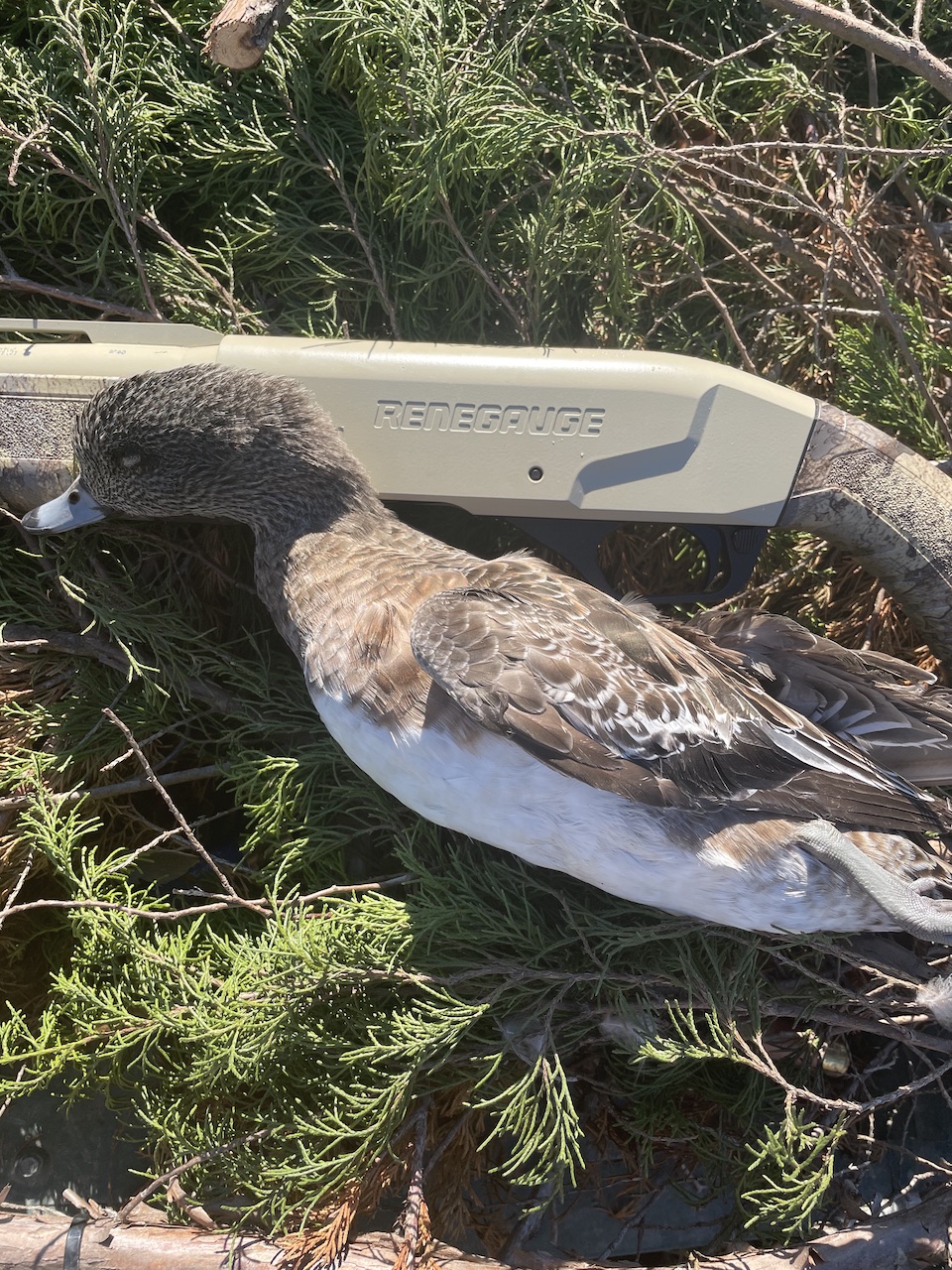 On the first day, after we came back from hunting, we had some lunch and then a bit of downtime. I thought I would try and get some work done, but a nap called my name. Funny how no one judges you for taking a nap when you get up at 3:45 a.m. Then we went down to the pond to go fishing. Tim Brandt and Will Ireland, our hosts from Murray Road Agency, had us hooked up with fishing poles and worms.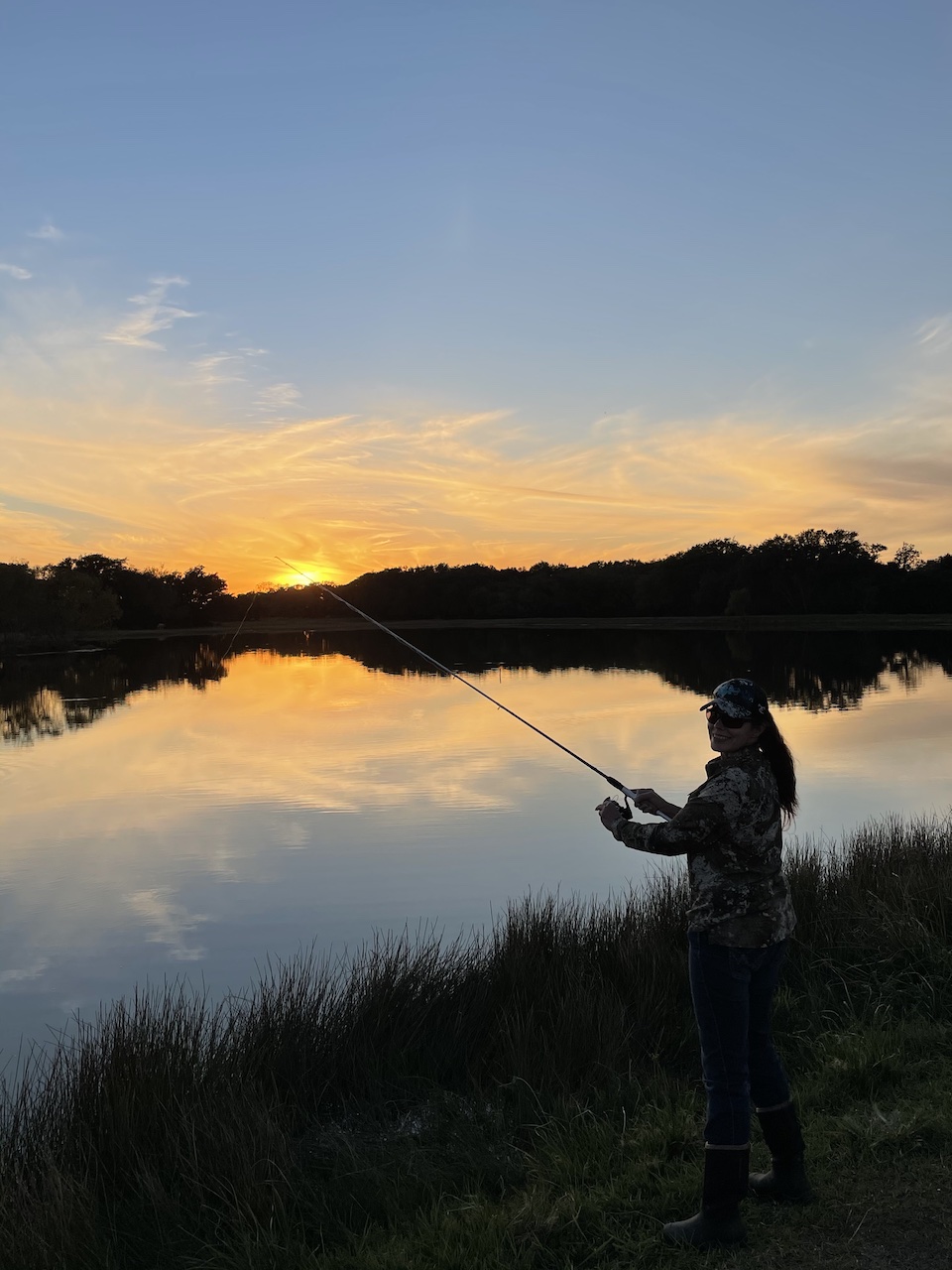 On the second afternoon, we had fun shooting clay targets on a wobble trap with some target loads. At 1350 fps, the Renegauge offered very little felt-recoil and after shooting the 1550s for 2 mornings in a row, these target-load shells offered a nice reprieve and cycled every time.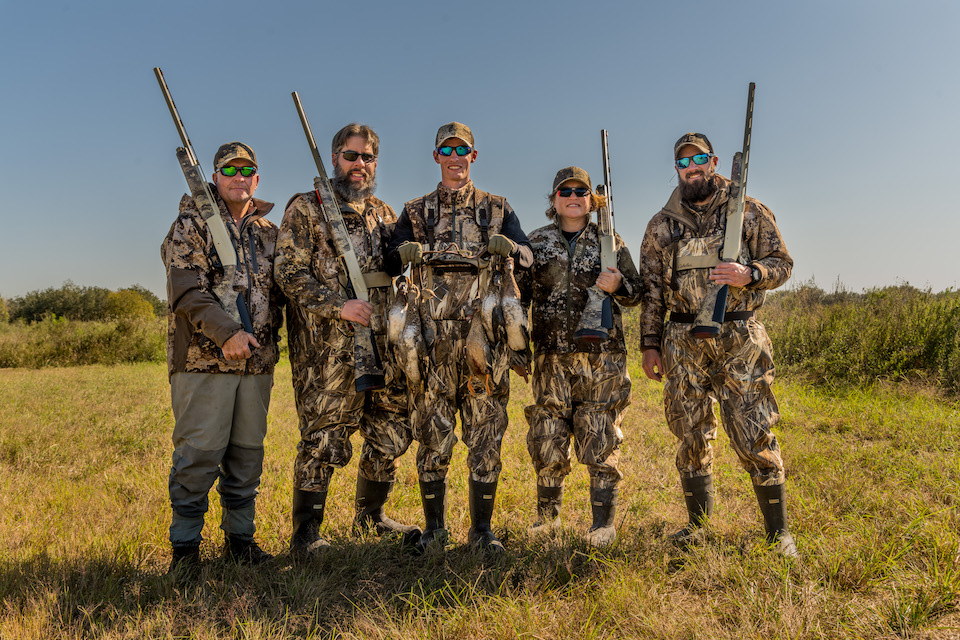 My Tips for Hunting Ducks
Read up on your state's hunting regulations so you know what you can and cannot shoot. The old saying of "being ignorant is no excuse" definitely applies here. If you're with a reputable and seasoned guide, he'll be sure to know and can offer guidance.
You can only load 3 shells when hunting migratory birds. The first thing the game warden will probably check is to make sure you have the plug in your gun to prevent you from loading more. Our guide said that the wardens had walked all the way to the blind on opening weekend, so yes, they do check. The exception is the "conservation" season for geese … basically all the shells you can fit and no limits on birds. Count me in for that! Check for dates where you live. In Texas, the conservation season begins in February.
Don't forget your hunting license and your driver's license. You'll need to carry both. As easy as it is to say, it's easy to forget things: gun, shells, hunting license and driver's license.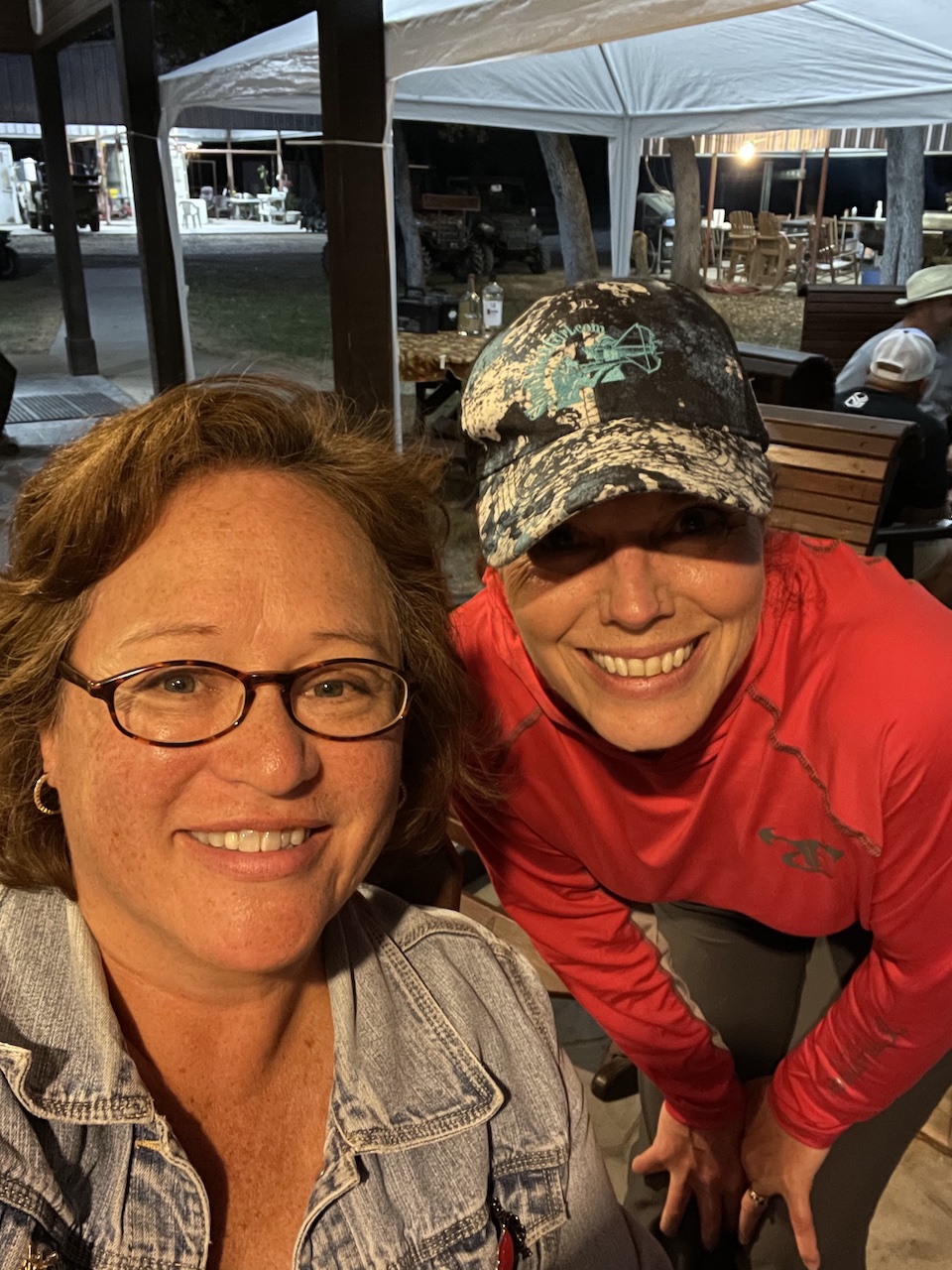 Parting Shot
One of my favorite parts happened after dinner on our last night. We all sat around the table and told stories. That camaraderie is what makes the hunting so special. It doesn't matter if we're male or female, new friends or old friends, shared experiences are what bring us together and what makes the adventure special.
For more information about shot size, read Lynne's post.
For more information about chokes, read Lynee's other post.
About Lynne Green

Lynne is on to her next adventure after over four years in Maryland with Caesar Guerini and Fabarm as the Brand Manager for Syren (a line of shotguns made for the ladies). She has attended dozens of demos and events and has been honored to get to meet and introduce hundreds of ladies and young girls (and lots of boys and men too) to all 3 brands and to shotgun shooting! Lynne has learned so much about shotguns – gun fit, eye dominance and mechanics – that shows her just how much more there is to learn. She now is doing marketing and branding consulting and also plans to stay active in the outdoor industry, do more hunting and sporting clays, shooting lessons and add some fly fishing to her repertoire. She'll be based in the Dallas Fort Worth area. View all posts by Lynne Green →