What Happened at the 2nd Annual Adaptive Defensive Shooting Summit
When approached about covering this assignment, the 2nd Annual Adaptive Defensive Shooting Summit (ADSS), to be held on location at the SIG SAUER Academy, I felt really excited. After I learned more about what it entailed, I became more excited – as well as nervous, since I learned I would be participating in the event and not sitting on the sidelines observing.

Sponsored by Ruger
I never have competed in a pistol match before. My handgun skills took a large decline when I suffered a traumatic brain injury a little over 11 years ago, significantly limiting the use of my upper extremities. I have made huge strides to regain much loss of function through years of physical therapy, medication and learning to adapt. I have learned to safely handle and shoot a pistol since then; I admit it is not my strongest skill – operating handguns versus my preferred sport of rifle shooting. So, to say I was a little apprehensive going into my first-ever pistol match would be an understatement. In addition, I would be using a borrowed pistol/holster combination of makes and models I had never seen or touched before arriving in New Hampshire.
Adaptive Defensive Shooting Summit
DAY 1: Training Preparation and Stop the Bleed Course
The first day began bright and early at 7 a.m. A friendly welcoming group of volunteers greeted us and issued our name tags, and gave us team tee shirts. We then listened to a history of how this event came to fruition only last year, as an idea developed by Trevor Baucom, a paralyzed pro-shooter sponsored by Ruger. Ruger 100% supports Trevor's idea to grow competitive shooting sports for people with disabilities. Ruger and SIG Sauer – along with several major manufacturers of the firearms industry, several non-profit organizations and numerous outdoor equipment businesses – came together, generously volunteering people, equipment and resources.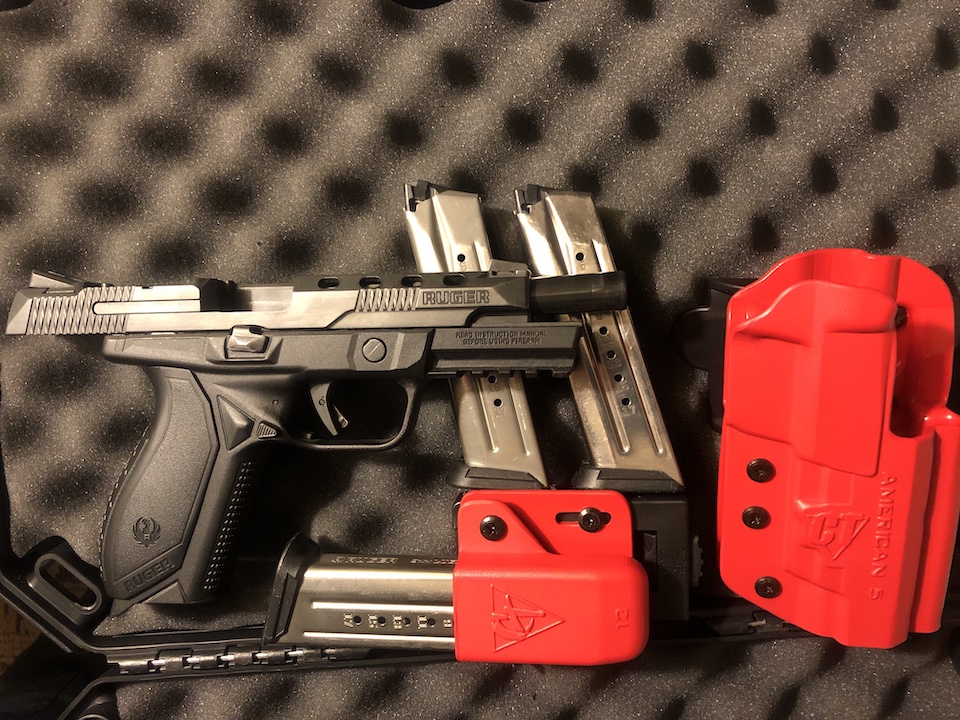 Next, we divided into 2 groups and 1 group attended a "Stop the Bleed" course and the other group began a day of preparation and training for the International Defensive Pistol Association (IDPA) style match to take place the following day. This is when I received the cased pistol for the event. Trevor had arranged for me to use his Ruger American Competition model, chambered in 9mm Luger with a Comp-Tac holster.
Training on the Range
Range time began with introductions from the instructors and range safety officers. We learned different range commands used in IDPA matches, demonstrated by the staff. Then we practiced with empty pistols to safely and correctly draw from a holster on the proper command, acquire a target, dry fire and show a clear, empty gun by double, triple checking the chamber visually and physically (by both the shooter and a range safety officer). All participants had RSOs assigned to work with them individually to assist with any clarification or tips for adapting our own personal challenges to safely be able to accomplish all tasks.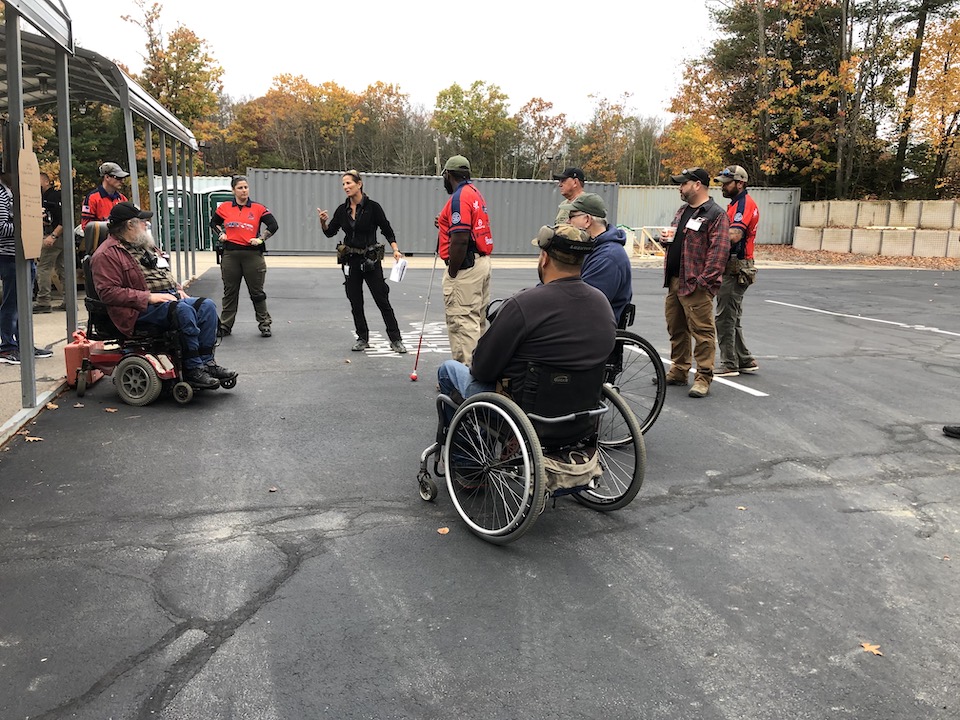 I familiarized myself with Trevor's pistol. It felt somewhat large for my small hands, but I found I could easily manage the recoil, and the sights went on target quickly. After multiple repetitions between dry fire and live fire, the range session ended with combining all of the training steps, putting it all together with the shot clock buzzer to complete the first of the 8 stages, the Qualifier stage. Overall, I felt very pleased with shot placement and my performance with the borrowed handgun. After our group all completed the Qualifier stage, we broke for lunch.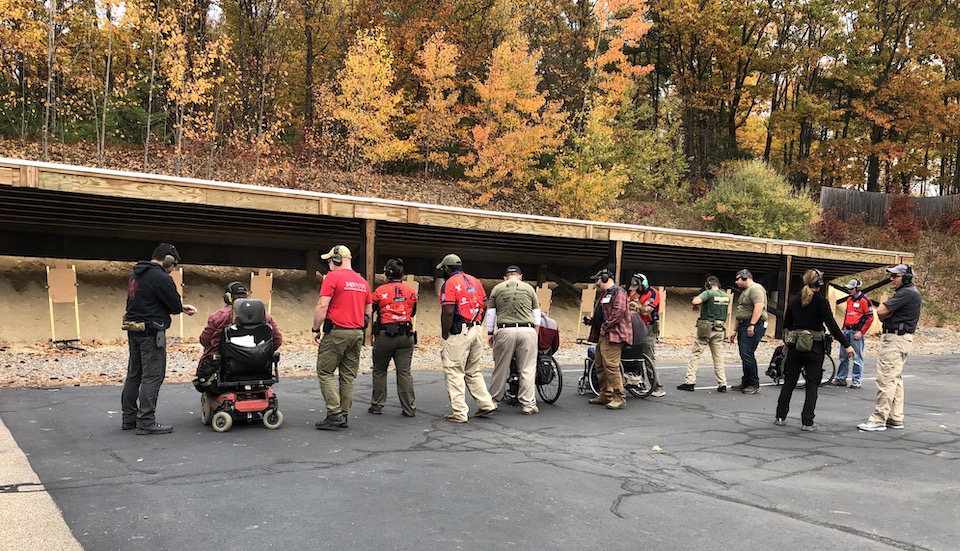 Stop the Bleed
After lunch, our groups switched places for a "Stop the Bleed" course. David Taylor, military veteran, amputee, paramedic and a living testament to how tourniquets save lives, instructed the course. He credits a tourniquet to saving his life. He presented his knowledge of tourniquet education, educating us on the differences among different makes, models and styles. We learned about different bandaging techniques for various types of wounds you might encounter while at the range – whether it be an injury to an extremity, chest or thorax injury to lungs or types of injury when a tourniquet cannot be applied. It was by far the most thorough, well presented and educational introductory first aid course I have ever attended. After more than 20 years being involved personally with emergency medicine in different modes of operation – from helicopter rescue, ambulance operations and fire rescue capacities – I learned and added a new depth of information to my knowledge base from this class. The level of high-quality instruction in this class remained on par with the entire event, most excellent.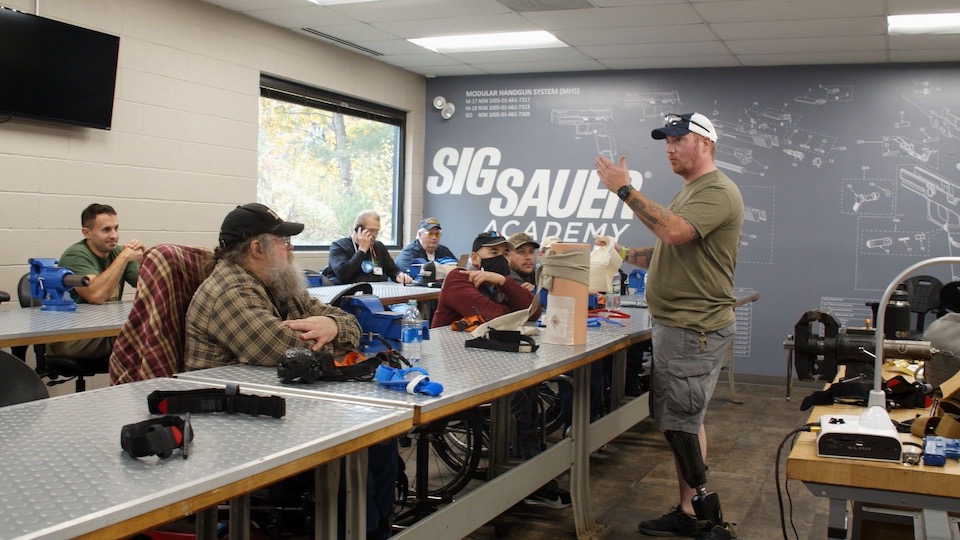 To add to the fun of the first day, 5 firearms companies – Canik , Colt, GLOCK, SIG and Smith and Wesson – set up at an adjacent range for us to try out their latest handgun product lines, ringing steel between classroom and range time. There were no excuses not to launch rounds downrange and keep sharp during any downtime.
The long day of training and learning came to a close for all of us participants, after being fed an evening meal back at the registration tent. For the volunteers of the match, they had more work to do building and constructing all the stages for the next day's match. They worked well into the late night hours to make all this happen.
Day 2: The Match
The morning of the main event, we all met in the registration tent to get fueled up with hot coffee and to receive assignments to squads. We received detailed booklets describing our course of fire for the remaining 7 stages. Of the 7 stages, five would be held outside and 2 indoors – in the dark.
The stages covered a variety of defensive scenarios.
Stage One, "Terror at the Park": a picnic at a park overrun by an armed gang you had to protect yourself from.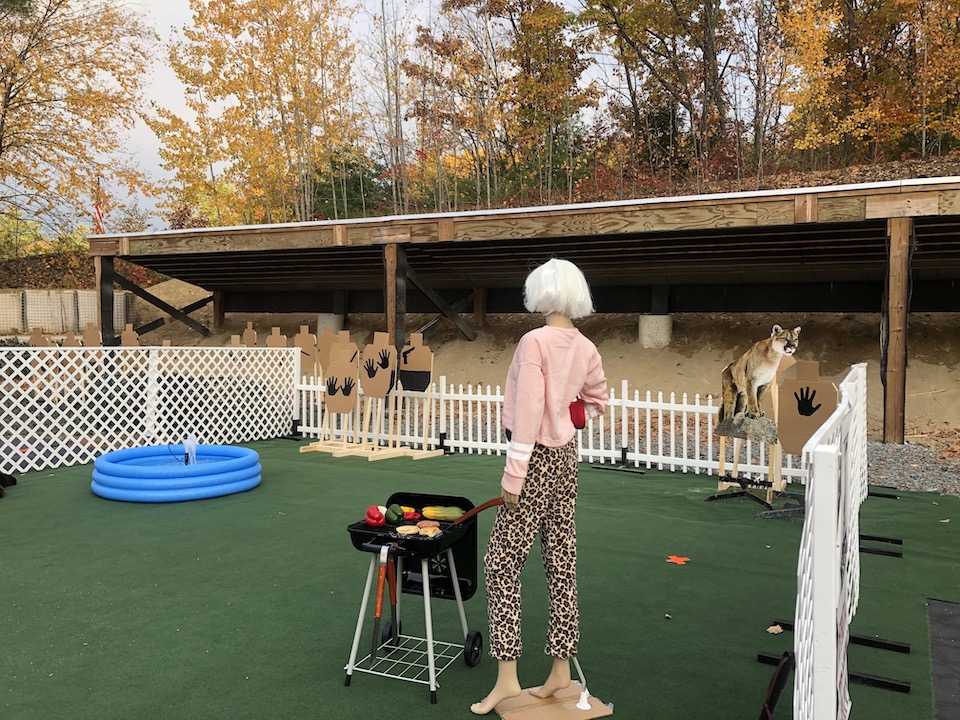 Stage Two, "Backyard BBQ": The gang violence followed you home from the park, releasing a cougar into your family's yard.
Stage Three, "Swing by the ATM": You are positioned seated in a car to grab some cash from an ATM and a robber demands your cash, and the setting is complete with innocent bystanders to avoid shooting.
Stage Four, "Roadblock": An illegal roadblock has you exiting the safety of your vehicle to then be attacked by armed assailants.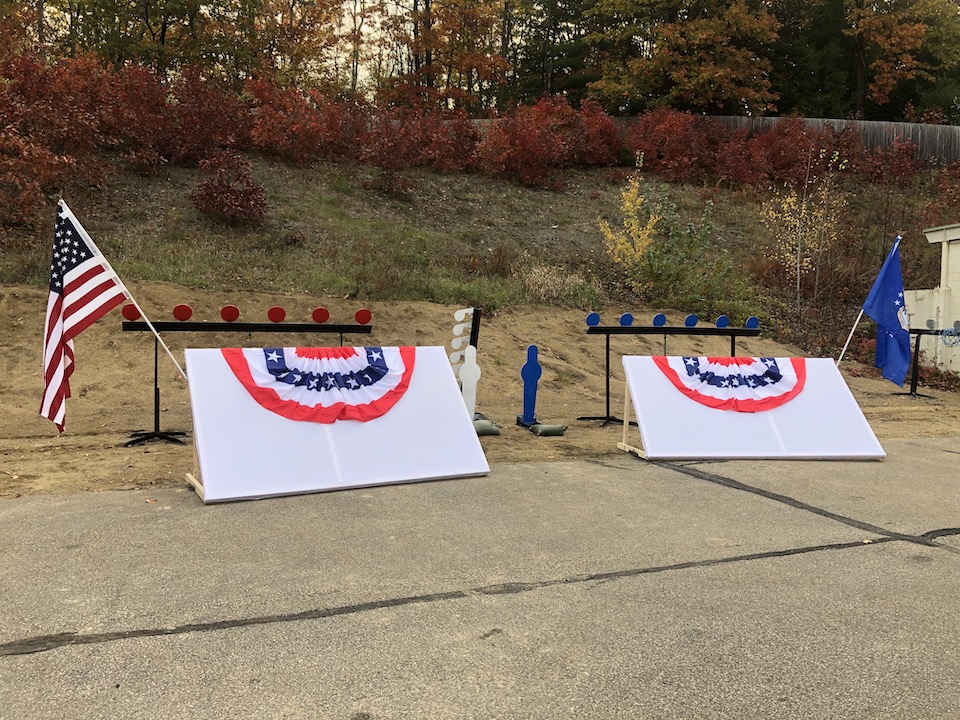 Stage Five, "21 Gun Salute": An all-steel stage memorial honoring the passing of Mike Critser.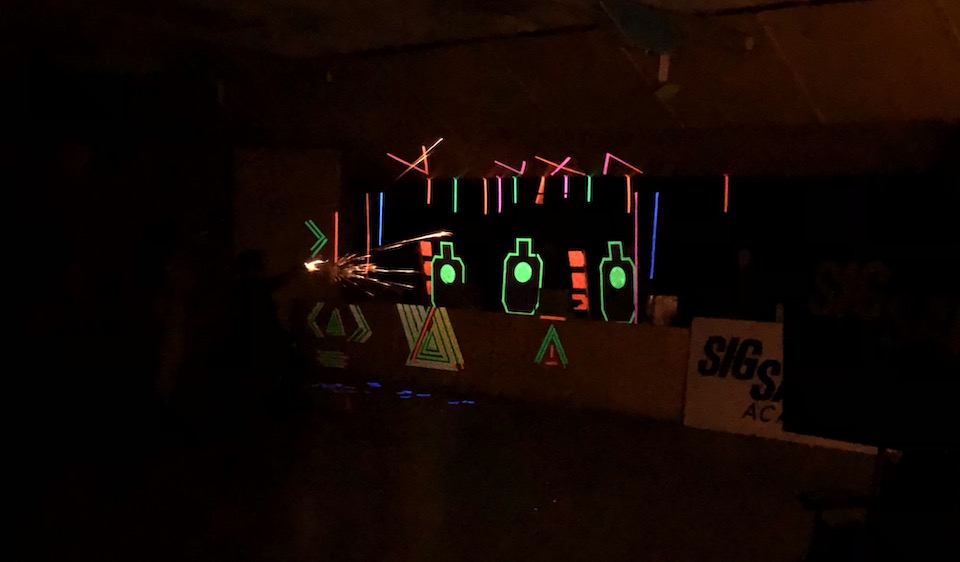 Stage Six, "Laser Tag": You are out with friends playing laser tag when an armed trio starts shooting. For this set-up, in the dark, steel targets glowed in black light.
Stage Seven, "Good Night": This stage included a complete bedroom set up where the only source of light came from a very dim lamp on a nightstand. Of course, the bad guys had managed to get into your home.
I had never shot at targets in the dark, so both indoor stages brought new experiences.
Kudos to the team that dreamed these stages for the amount of detail, creativity, ingenuity and thoughtfulness. Not only were the settings fun and challenging, but also, they had been designed to be as accessible as possible to accommodate as many of the participants' levels of varied physical limitations.
Match Over
After the match, as the hosts tallied our scores, we had a little more fun shooting a steel bracket elimination challenge. We all faced off at the 21-gun salute stage, 2 at a time to see who could be the fastest at knocking down the steel plates until there was one final winner.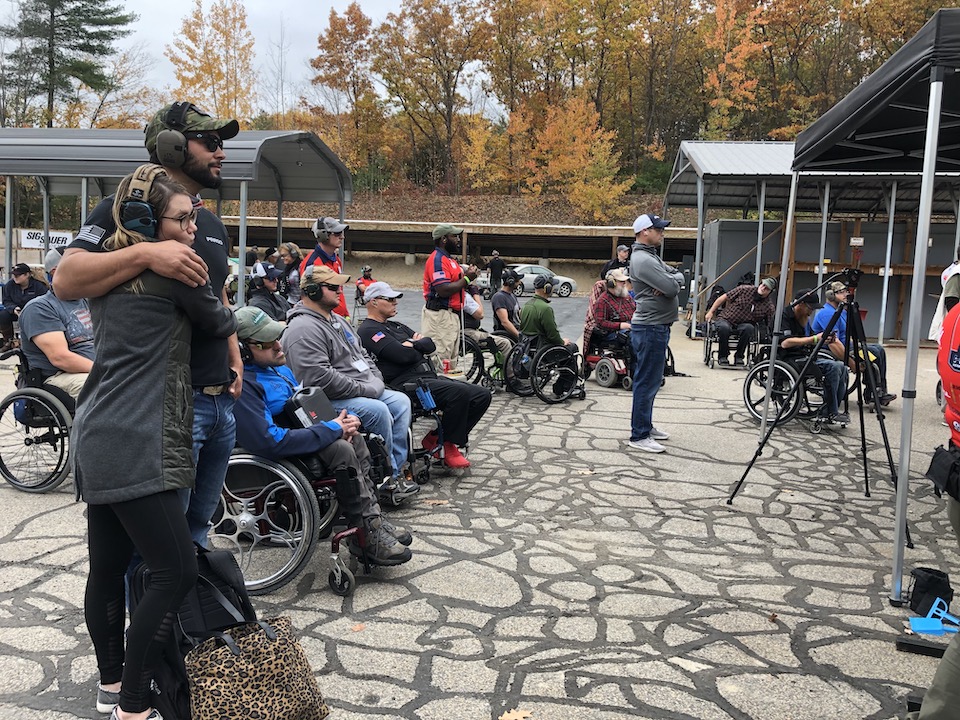 Then, we all gathered back at the registration tent for awards presentations. The top 10 winners received plaques, along with first choice of a certificate for a new firearm donated by several companies. To my surprise, the hosts called my name for the award of "High Lady" and I also got to choose a new firearm.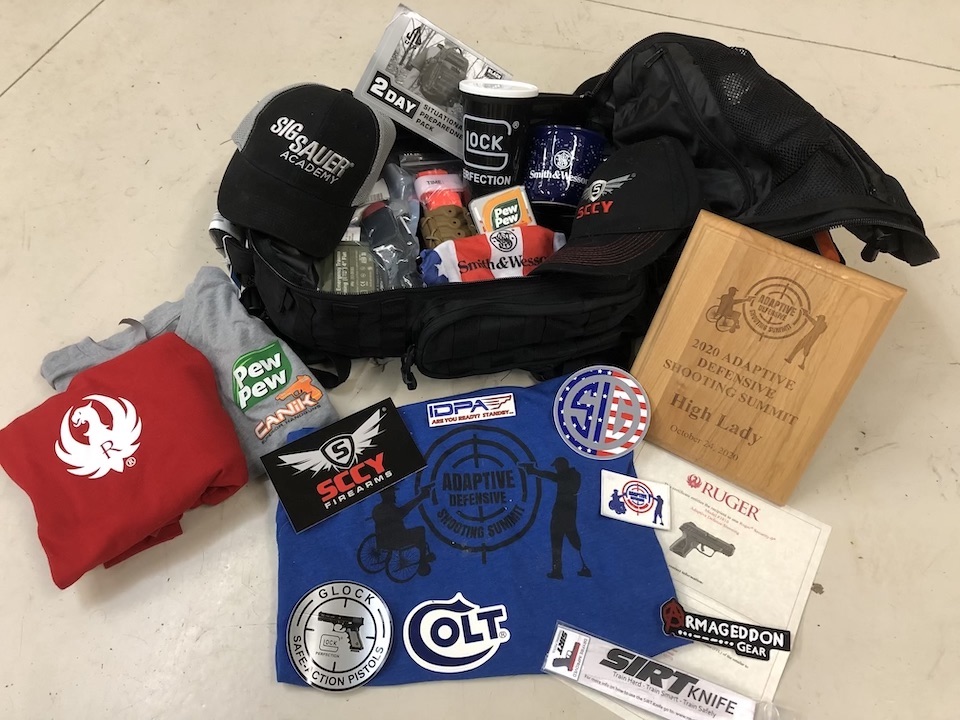 Prize tables held a fantastic variety of range gear, knives, gun certificates and so much more. In fact, because of the generosity of the various companies, each participant went home with a new gun! We also received a large, high quality backpack swag bag stuffed with great items from the sponsors.
Final Thoughts
This match is not simply an IDPA shooting event for disabled shooters. It is so much more. The ADSS opens the door of competitive shooting sports for people with disabilities. It also transforms lives though training offered by instructors, many who have had to re-learn to shoot after overcoming their own injuries. These instructors volunteer time and patience to show others adaptive techniques, to help build shooting skills for people who may have after a debilitating injury or illness, and who thought they might never be able to return to shooting as a hobby or a sport.
Find the ADDS
I would highly encourage anyone, with or without any physical challenges, to find a match in your local region and give it a try. Based on my experience at this event, the world of shooting sports has some of the most generous hearts and minds to welcome you, offer education, support and encouragement beyond the likes of any other event I have ever attended. Every single person I met at this event – whether a professional sponsored shooter, volunteer instructor, executives of the firearms industry or brand-new shooters – everyone in attendance enjoyed helping people to improve their skills. This event is so intelligently designed to be as accessible as possible to accommodate nearly every imaginable impairment a human body could have, and yet remain challenging enough for even the most experienced shooters to advance their skills, all the while having so much fun.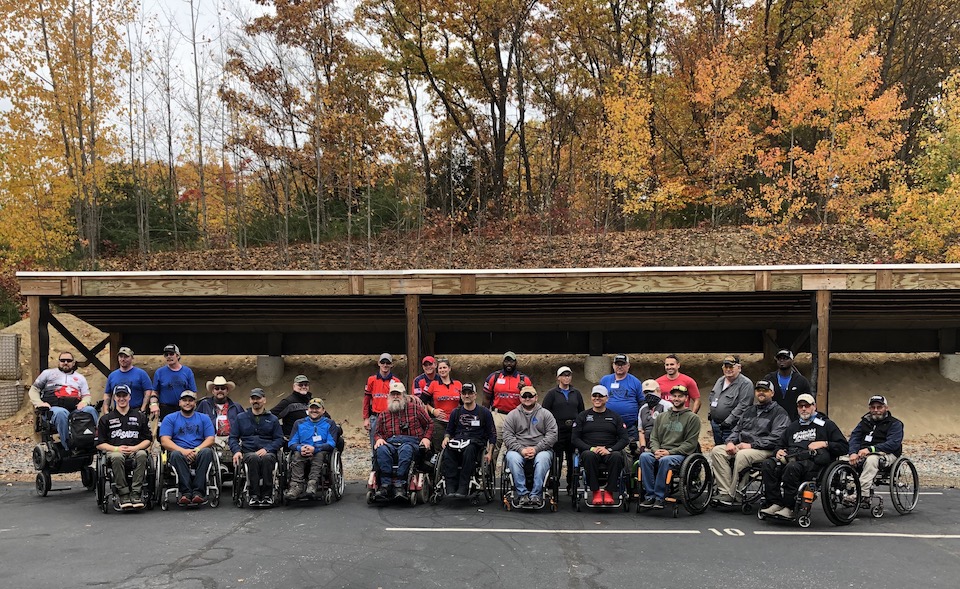 The 2-day ADSS is made possible from a massive collaboration of support from a long list of sponsors, dozens of volunteers, the extremely generous gift of the use of world-class training facility at the SIG Academy, SIG Academy training instructors, range officers and the vision and ambition of a special military veteran and Ruger sponsored competitive shooter, Trevor Baucom.
One theme echoed by Trevor Baucom, Paul Pluff (Public Relations Manager for Ruger) and other representatives from SIG, Smith and Wesson, Colt and many more was this one: We would love to see more women participate in this event!" I was only 1 of 2 women competitors participating in the match. Mark your calendar for October 2021, ladies! New Hampshire in the fall is beautiful and you will have an absolute blast attending this event.
Learn more about the ADSS here.
About Jen Barcklay

Jen Barcklay is a retired civilian field helicopter mechanic with a lifelong fascination with anything that goes boom. She has been blessed to be able to help others by spending most of the last 20 years involved in firefighting and EMS operations in various locations around the world. She is also a US Army veteran. In 2009, Jen survived a life-changing traumatic brain injury, which she was fortunate to overcome, and has made significant progress in recovery. Since then, she has relearned the ability to shoot, discovered hunting and realized how important an outdoor lifestyle is to aid in healing and rebuilding a new life. Jen enjoys sharing her knowledge with others as an NRA certified rifle instructor. One of her favorite activities is long range rifle shooting. Jen believes every new day is a gift to explore, discover, and learn more. View all posts by Jen Barcklay →
The Conversation