How to Clean and Wax a Wax Jacket
A few years ago in the UK, I happened upon a really good sale on Barbour wax jackets. An authentic British wax jacket has been on my must-have list for a long time, ever since I wore out my last one 20 years ago. After a couple of years of wearing this jacket everywhere, I noticed it seemed faded, too pliant and flat looking. It had lost its luster and frankly, its repelling power for moisture. So, I learned how to clean a wax jacket.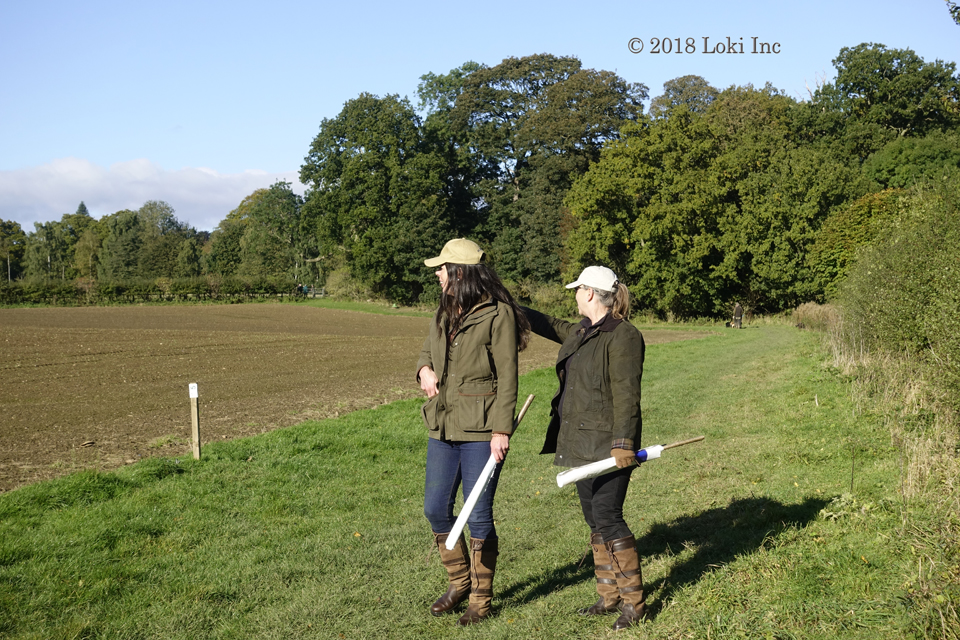 I chose to use Otter Wax products for the process of cleaning and waxing.
Materials Needed to Clean a Wax Jacket
How to Clean a Wax Jacket
First, you'll need remove all your goodies from its pockets and give the jacket a good shake. Grab a clean, soft rag and a basin of cold water. Make a foamy solution of the water, then the Otter Wax canvas cleaner on the rag and start rubbing the sudsy concoction gently on sections of the jacket. You can use a soft brush if you prefer, especially if there are areas that need more attention. Made of a concentrated Castile soap, this citrusy solution smells pleasant, and removes dirt and grime easily.
Note: A wax jacket should never go into a washer or Heaven forbid, a dryer.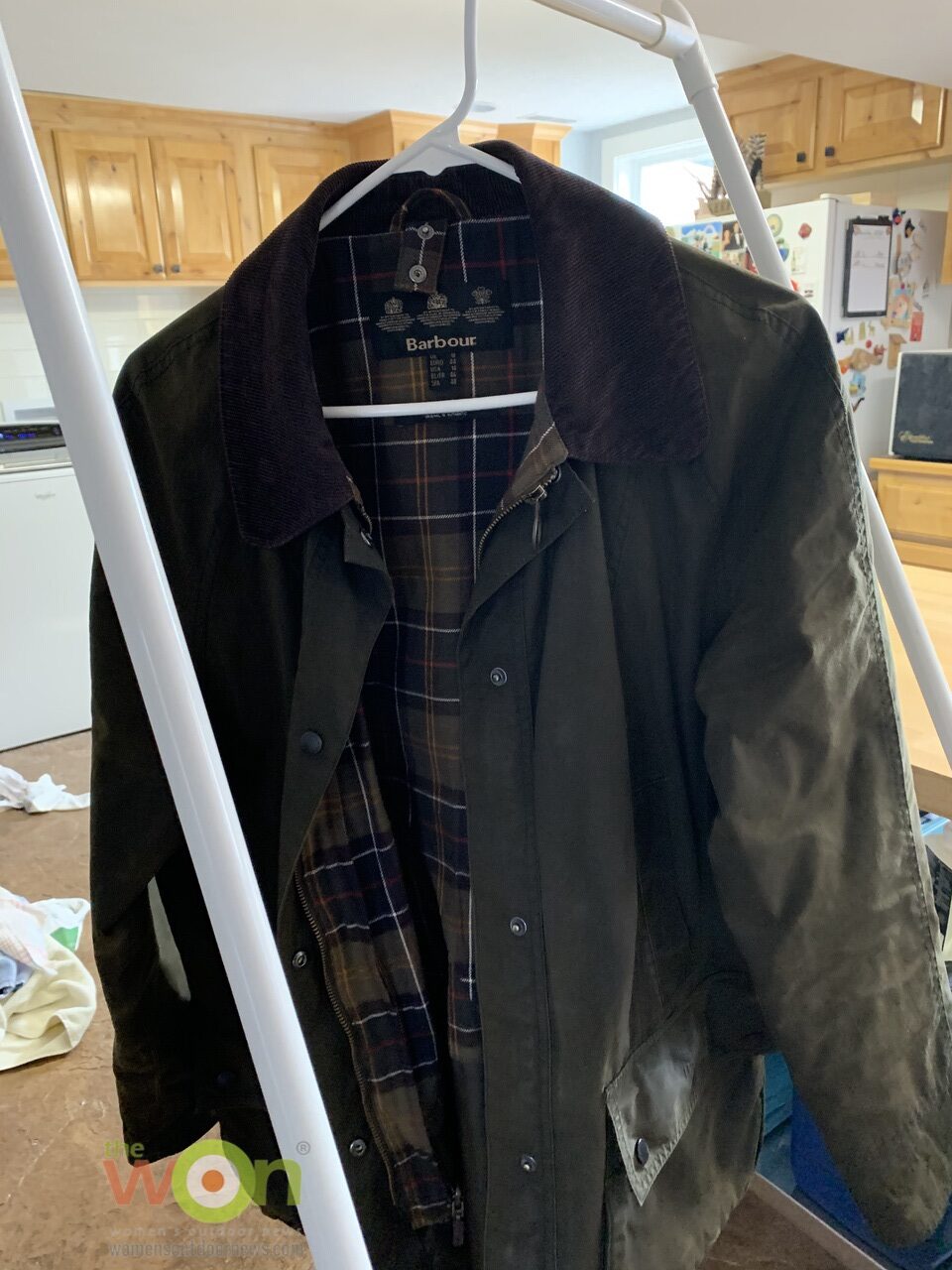 Wipe the suds off with another clean rag, buffing as you go. If your jacket is like mine, it won't have any wax on it any longer. This cleaner doesn't remove the wax, though. It just cleans the jacket.
Let the jacket thoroughly dry at room temperature and out of direct sun.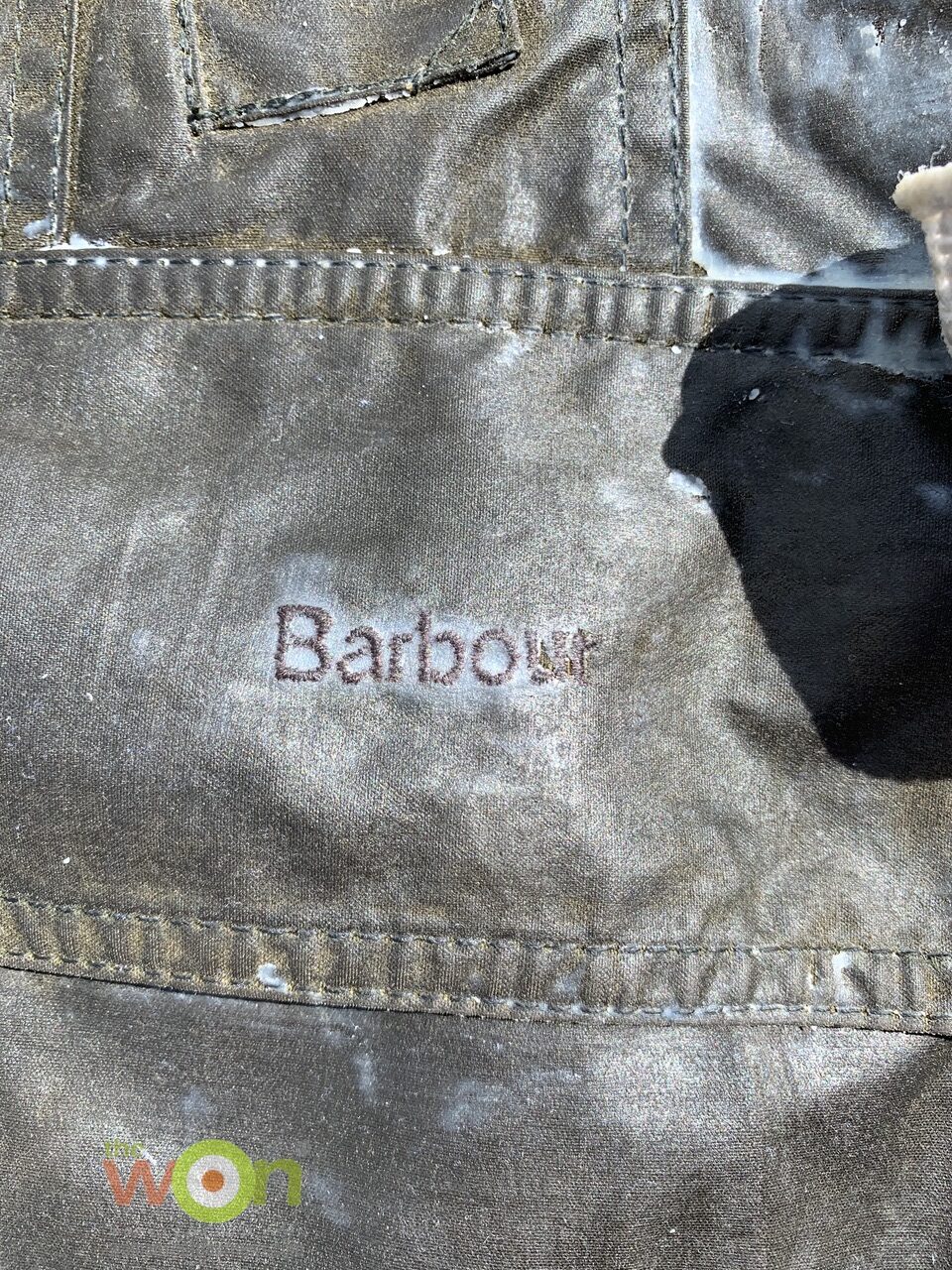 Wax On!
Apply the Otter Wax Heat Activated Fabric Dressing wax, which contains all-natural ingredients. There are no odors, either. On low heat, warm up water in a saucepan – enough to come up about halfway on the can – and then, remove the pan and can.
Apply the heated wax by dipping the rag into the wax can, and placing the wax on the jacket. Gently swirl the rag in circles of the jacket, aiming for an even application of wax. You may use your fingers, too. This is where the hairdryer comes into the picture, because the wax will cool fast. Hit it with a blast of heat from your hairdryer, and you will be able to move it around more evenly. Barbour suggests that you work in sections of the jacket, which makes sense.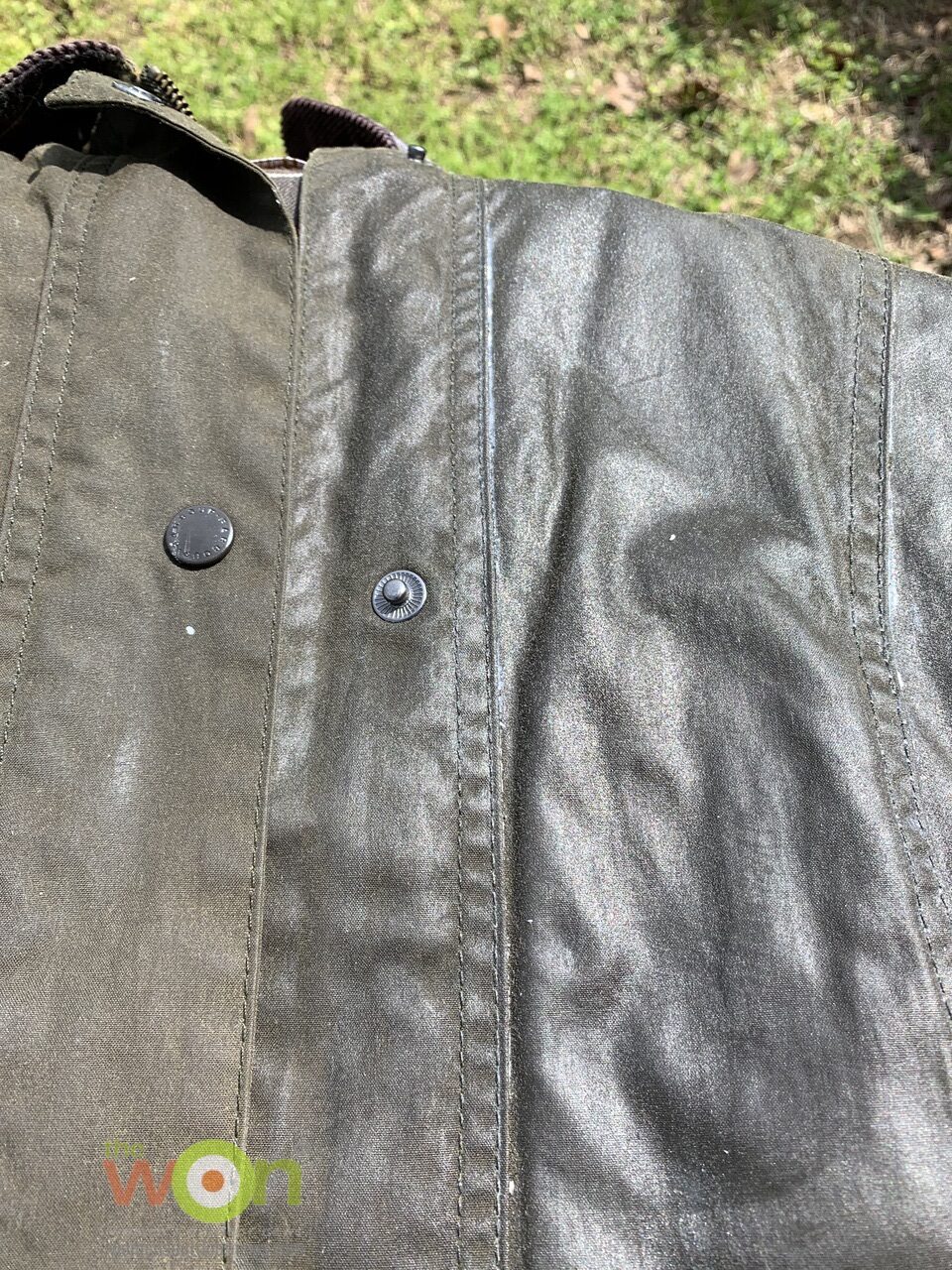 It will be apparent, though, where you missed when you're finished and you can go back and put more on the jacket.
If there are any little globs of wax left on the jacket, you can always apply more electric heat and then, spread the melted wax around more.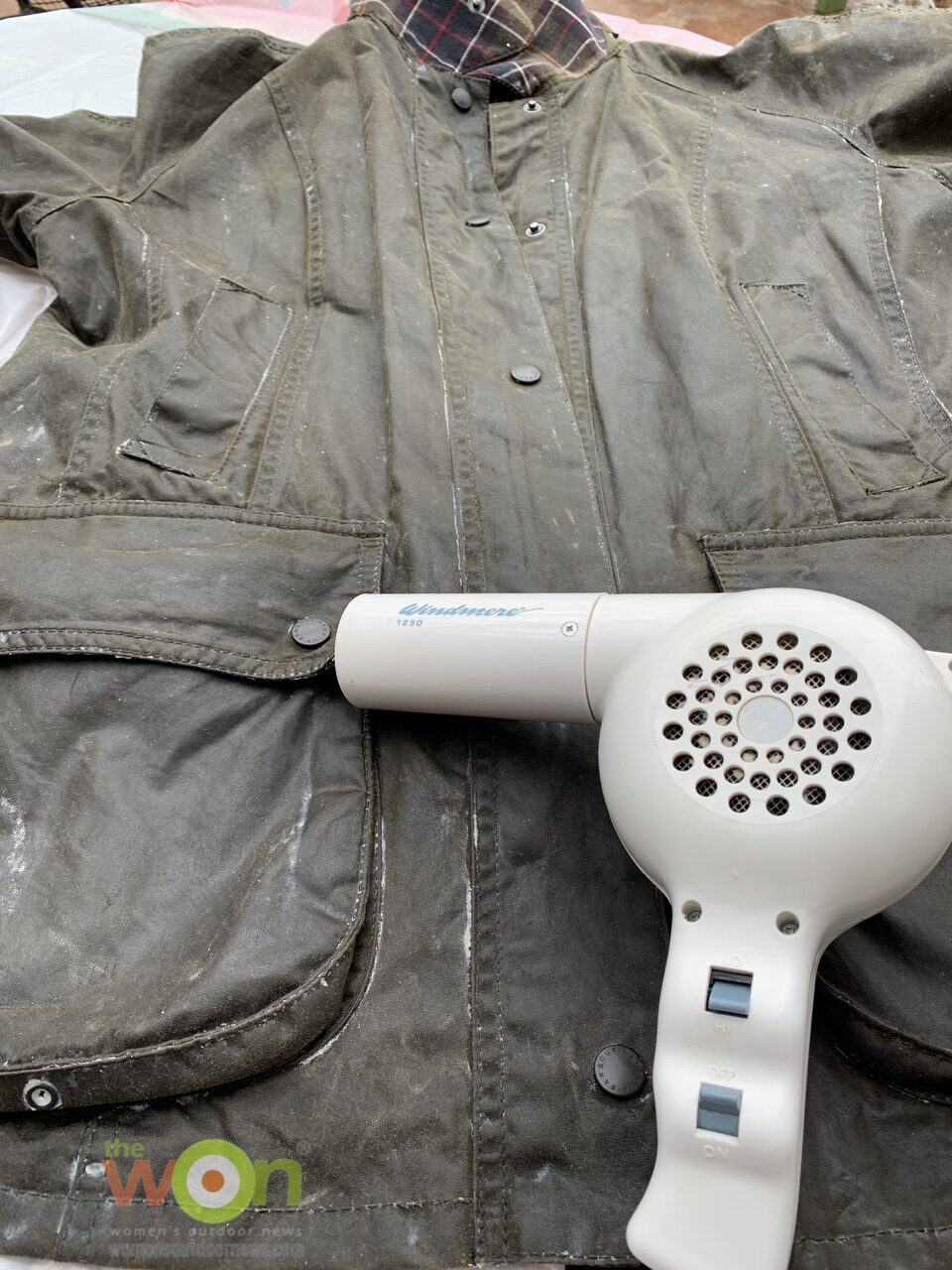 When finished, buff the jacket with a clean cloth.
Barbour even offers a video to watch.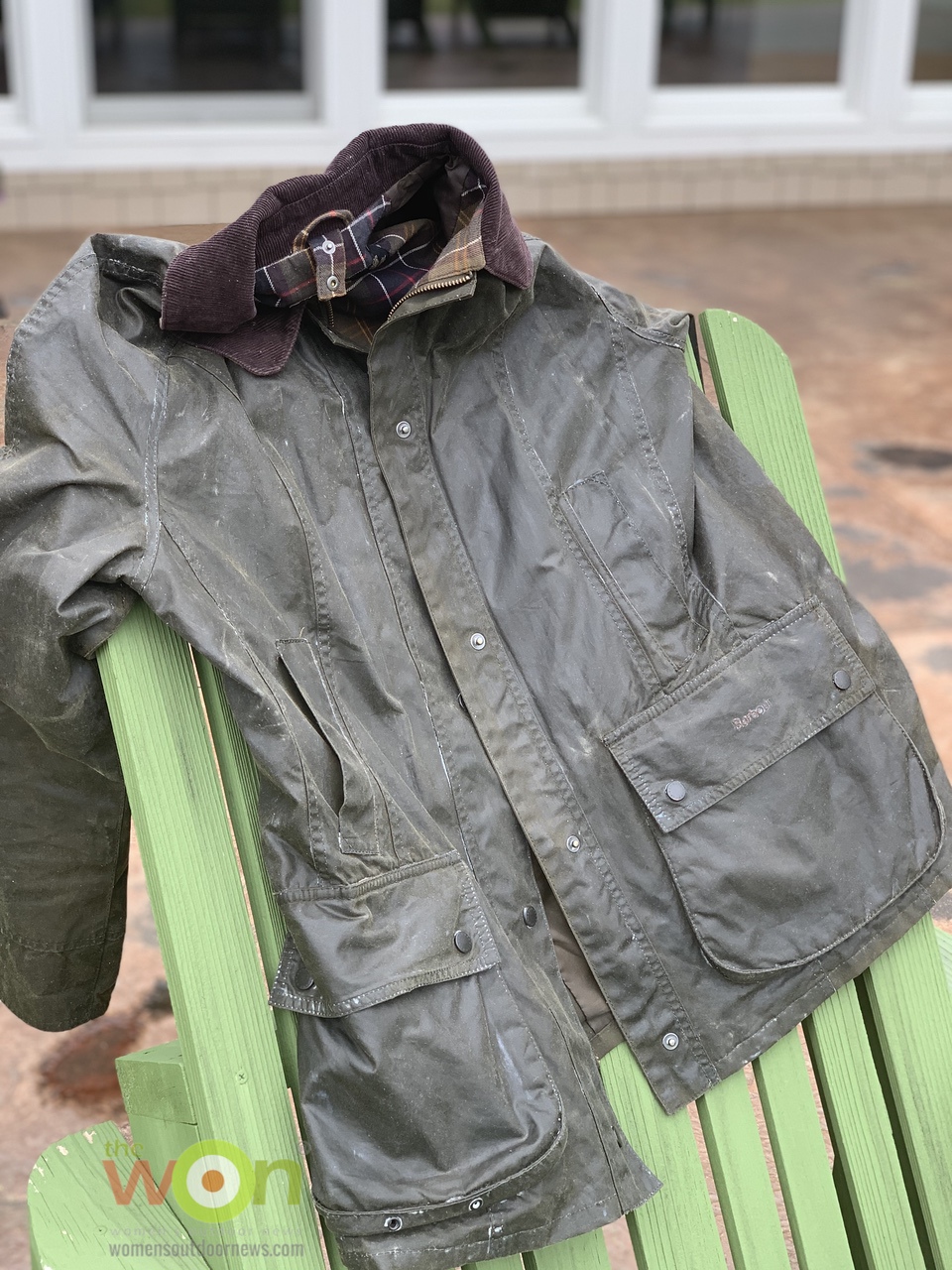 As you can see, I still needed to work on a few small globules of wax, but overall, the jacket is – as my British friends would say – "smashing." I love wearing it and layering under it. It's perfect for temperatures that range from about the mid-30s to the high-50s, which is most of our winter clime temps in the Ozarks.
About Barbara Baird

Publisher/Editor Barbara Baird is a freelance writer in hunting, shooting and outdoor markets. Her bylines are found at several top hunting and shooting publications. She also is a travel writer, and you can follow her at https://www.ozarkian.com. View all posts by Barbara Baird →