Review of '123 Ice Fishing,' A Children's Book by Jenny Anderson
I recently had the pleasure of interviewing Jenny Anderson, the "Girl of 10,000 Lakes," for our series Gal Gab. What I learned about her is that she is a wife and mother, angler, outdoor content creator and all-around outdoors enthusiast. She has a vibrant social media and blog presence, and is passionate about sharing her outdoor adventures through all forms of media: photography, videography and is even a drone pilot! What I didn't realize at the time is that, during this pandemic and quarantine, Jenny decided to add "author" to her list of credentials.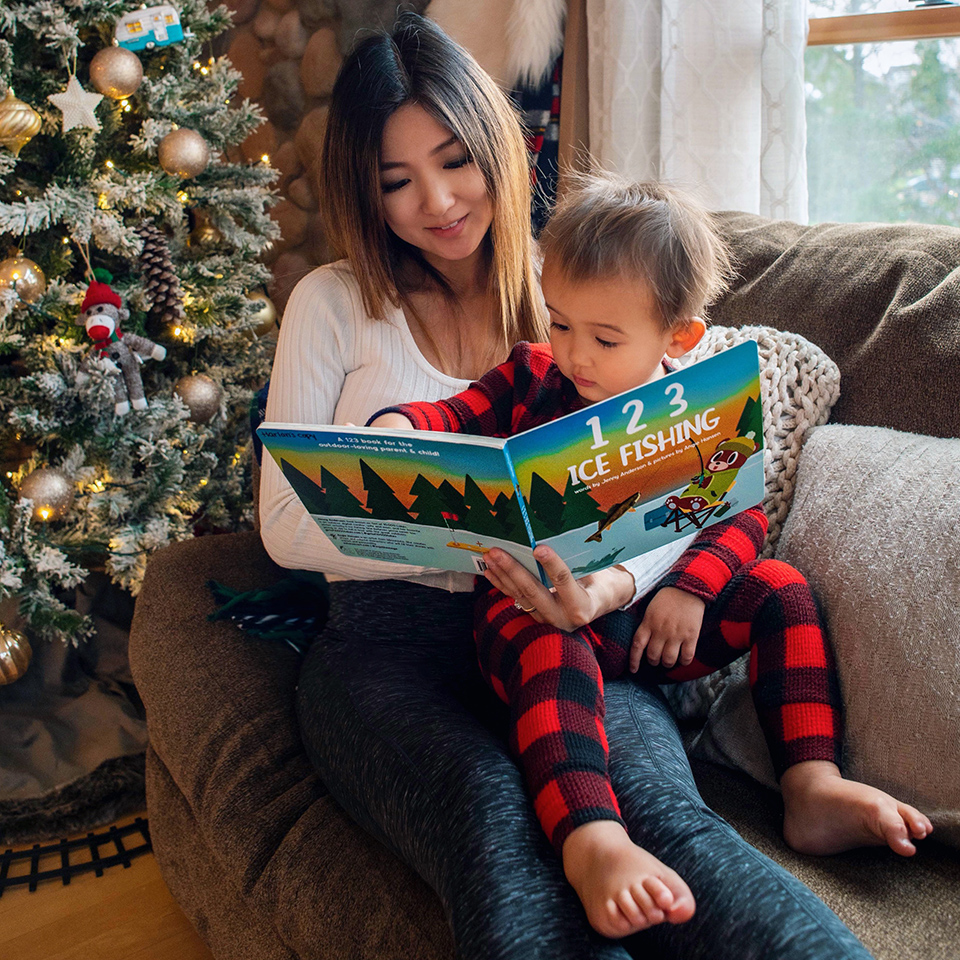 I ordered Jenny's children's book, 123 Ice Fishing, to read to my daughter. Although we don't live in a climate conducive to ice fishing, I see a lot of appeal in the many aspects of the book: extraordinary colors, education through counting and nature and the lift-a-flap components (my daughter loves the lift-a-flap books!). I am always impressed by Jenny's work via blogs and social media, and was excited to see her talents translated into a children's book.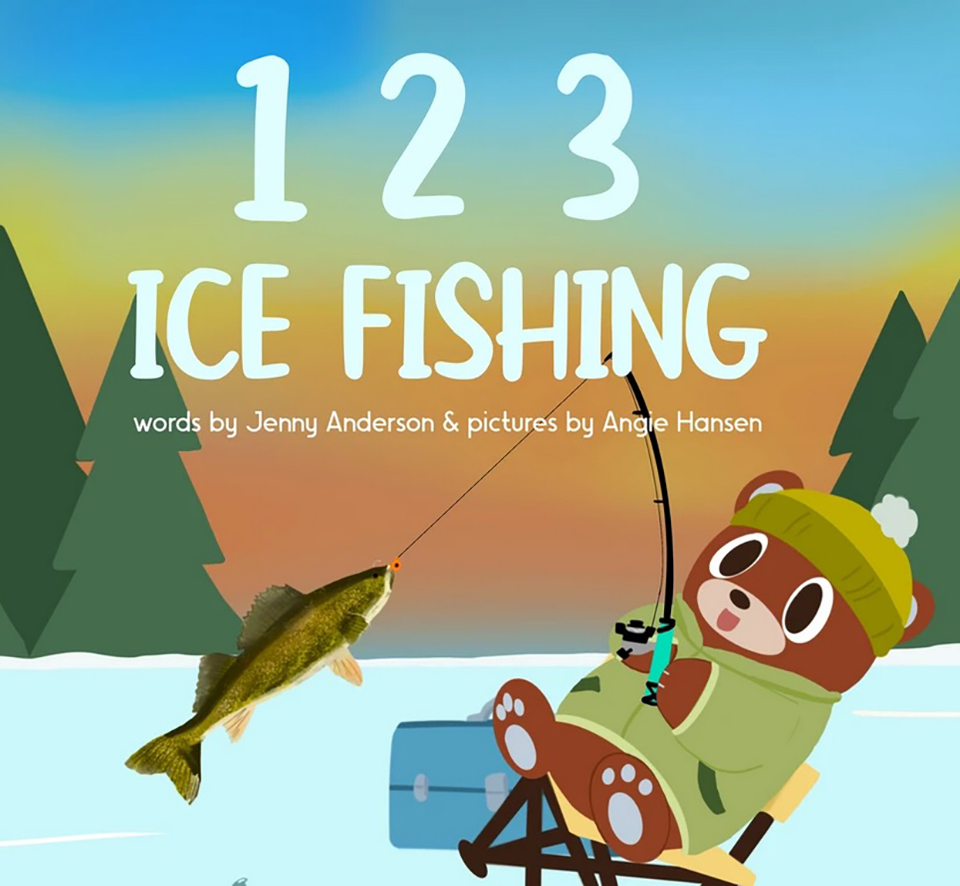 Getting to Know 123 Ice Fishing
Jenny describes the book this way: "It's the story of a little bear and mama bear heading out to a frozen lake for a day of ice fishing. Kids will learn how to count from 1 to 10 while also discovering ice fishing terminology and gear. Harlan (Jenny's son) loves lifting the flaps to see what kinds of fish are under the ice."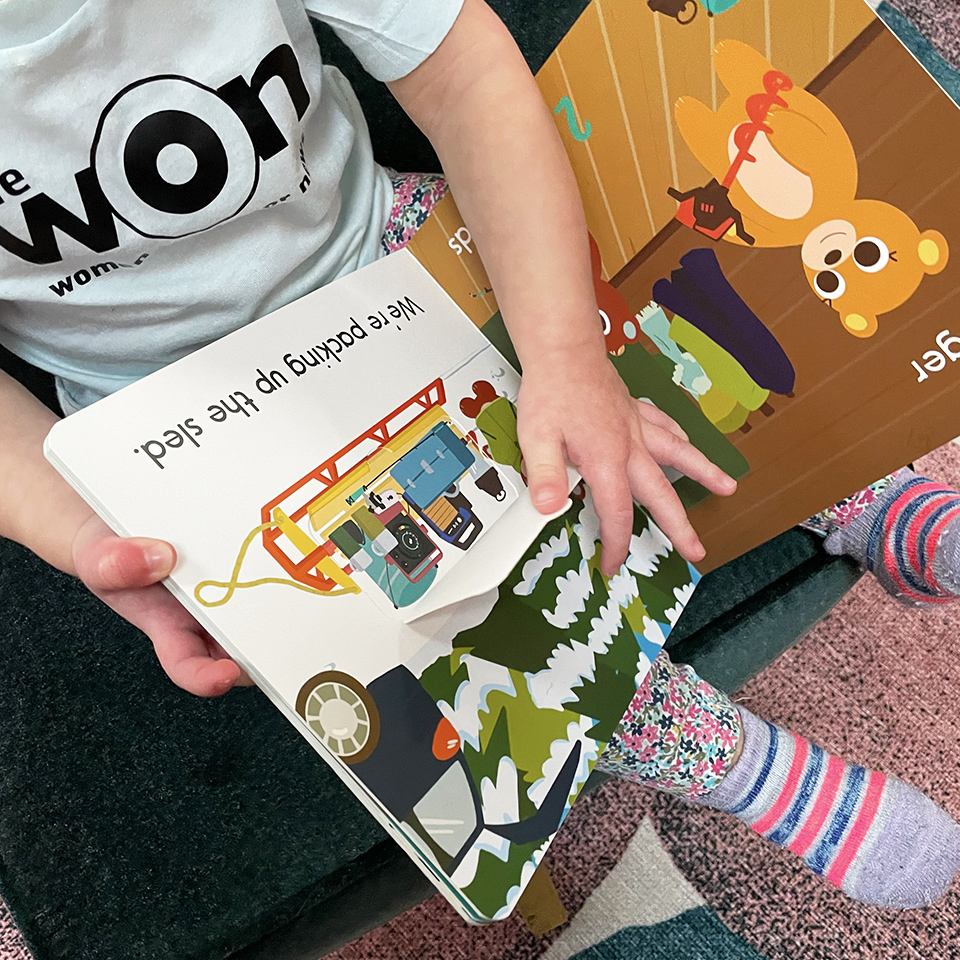 I've read the book several times now, and enjoy discovering new aspects of the illustrations with each visit. Jenny partnered with her sister, Angie Hansen, who illustrated the book with engaging graphics that my 16-month-old daughter really appreciates. Jenny's story of a little bear learning from his mama how to ice fish and then cook his catch is further deepened by the lift-a-flap details. Not only is counting practice incorporated, but natural elements and education are introduced, by way of various types of fish drawn and neatly labeled. My daughter and I enjoy examining all the brightly-illustrated types of ice fishing gear as well.
Questions for the Author
1 What inspired you to write this book?
Ice fishing season had come to an end and I was looking for a way to teach my son, Harlan, more about ice fishing. I searched for children's books but didn't see any that we could truly relate to. I wanted a book that would visually show why we go through the process of packing up all of our ice fishing gear, the different kinds of fish we see here in our lakes and rivers and how the fish we catch can be cooked. The book is actually inspired by my experience as a mom taking my son out ice fishing, which I think is a fun twist to the stereotype of dad or grandpa passing on the sport to their kids and grandkids. I was especially motivated because the pandemic had just begun in Minnesota and I was going a little stir-crazy. I needed a creative outlet to occupy the extra time we were spending at home and this just felt right.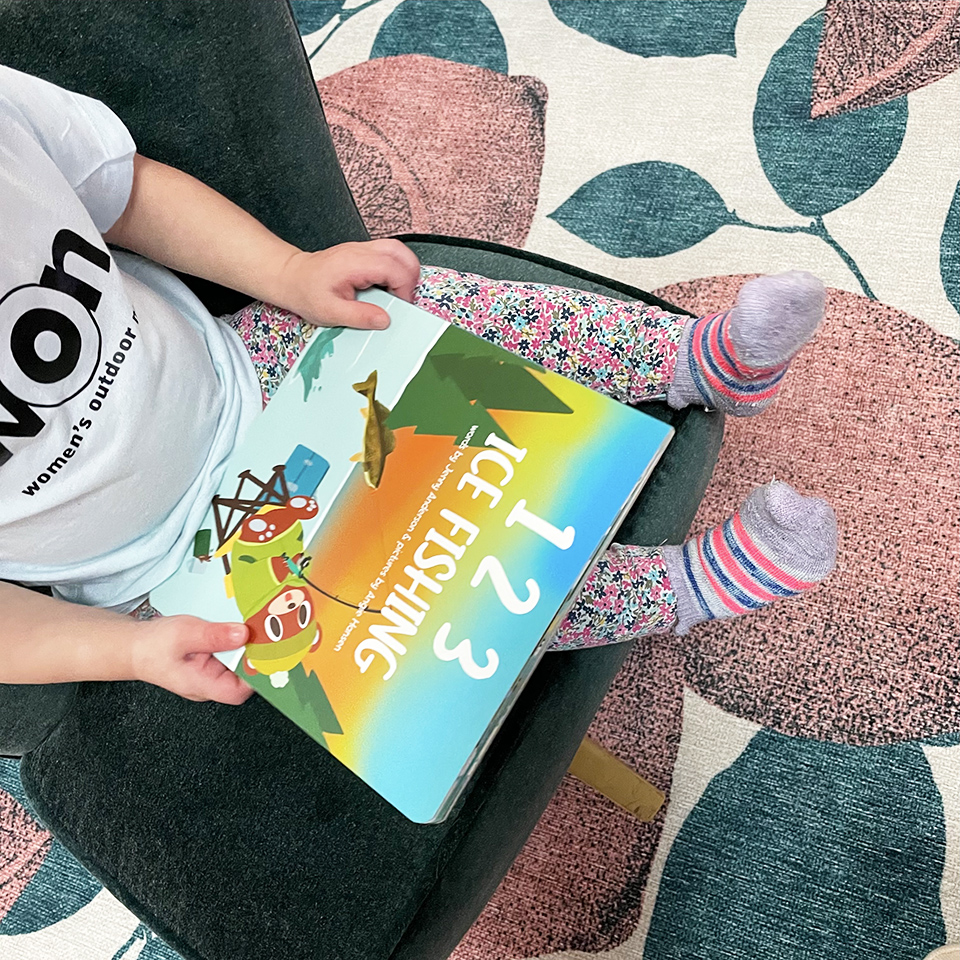 2 We understand that your sister illustrated the book. How lucky to be related to such a talented artist! What was your favorite part of working with Angie?
Yes! Working with my sister, Angie Hansen, was such a delightful surprise. I did talk to several artists before beginning the illustration process and Angie proved that she's right for the job. She is so creative and comes up with the cutest character ideas, which is perfect for a children's book. I loved being able to professionally collaborate with her and help her become a published illustrator for the first time. She deserves recognition for her talent! Plus, it was super convenient that she's my sister. I was able to text or email her at odd hours of the day and night for edits without feeling like I had to tiptoe around our boundaries. We have an understanding relationship and know each other enough to draw boundaries if we need to. The project definitely brought us closer together.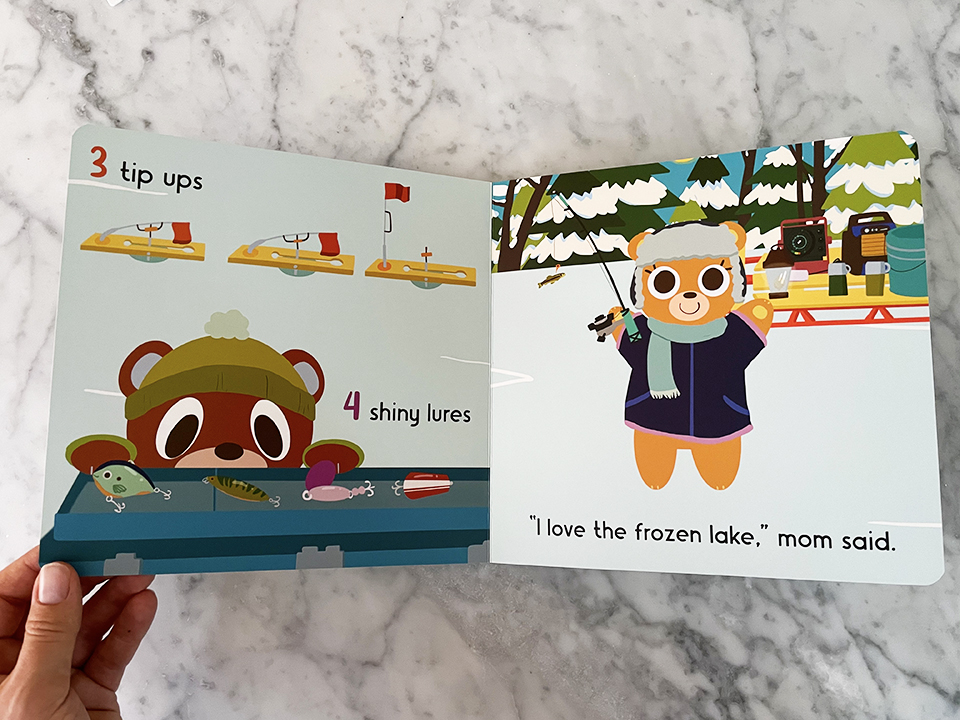 3 Why did you decide to self-publish?
I have a friend in the publishing world and she actually advised me that with my base of followers, creative drive and marketing abilities, I should consider self-publishing. She was totally right! I have an audience who is already interested in the outdoors and ice fishing, I have the skills and background to write, the connections to review the book and the software skills to put a book design together. Ultimately, it cuts out the "middleman," so to speak, and allows me to sell the book directly to people. I launched 123icefishing.com through Shopify and now I use most of my evenings to package and send books.
4 Can you give us a summary of the self-publishing process? Any best/worst aspects?
Sure! I'll sum it up with a step-by-step process and keep it high level.
Once you have an idea, get working on the written portion of the book.
Edit it until it's near-perfect.
Send it to a handful of writers and experts who know grammar, spelling and the topic far better than you do. Ask them for their time and expertise to help you in the editing process.
If it's a book that involves illustrations, find an illustrator by reaching out to artists you might be connected to on social media, local colleges and universities, or look on websites where artists post their services.
Once you have the illustrations for each page near-perfect, start the layout of the book. You can use Adobe Illustrator or Photoshop.
Have the same writers and experts who first reviewed the manuscript also review the illustrated version of the book in PDF.
Find a printing company. There are several here in the United States that print children's board books, which is what I needed. It was actually quite expensive. I ended up outsourcing to a printing company in China, which I would have loved to support a U.S. printing business, but then I found out some of these businesses outsourced their work to China, too. So again, I jumped over the "middleman" and worked directly with a printing company overseas.
Launch a website to sell your book. I used Shopify and it made the process super easy.
Once your books arrive, take high quality photos and get your website updated so that you can launch and go live.
Market! Use social media, influencers, press releases, pitch yourself to whoever you can and get your book known to the world.
5 Are there any plans for another children's book down the road?
I do have 2 other manuscripts written and they have to do with camping and going to the cabin. I hope to come out with those if 123 Ice Fishing does well. I have gotten several requests for a French version of 123 Ice Fishing for anglers up in Canada, so that is something I'm considering as well.
Read Jenny Anderson
Jenny Anderson's wonderful children's book is available for purchase through Shopify. Several of Jenny's blogs have been featured at The WON, be sure to give them a read, as well.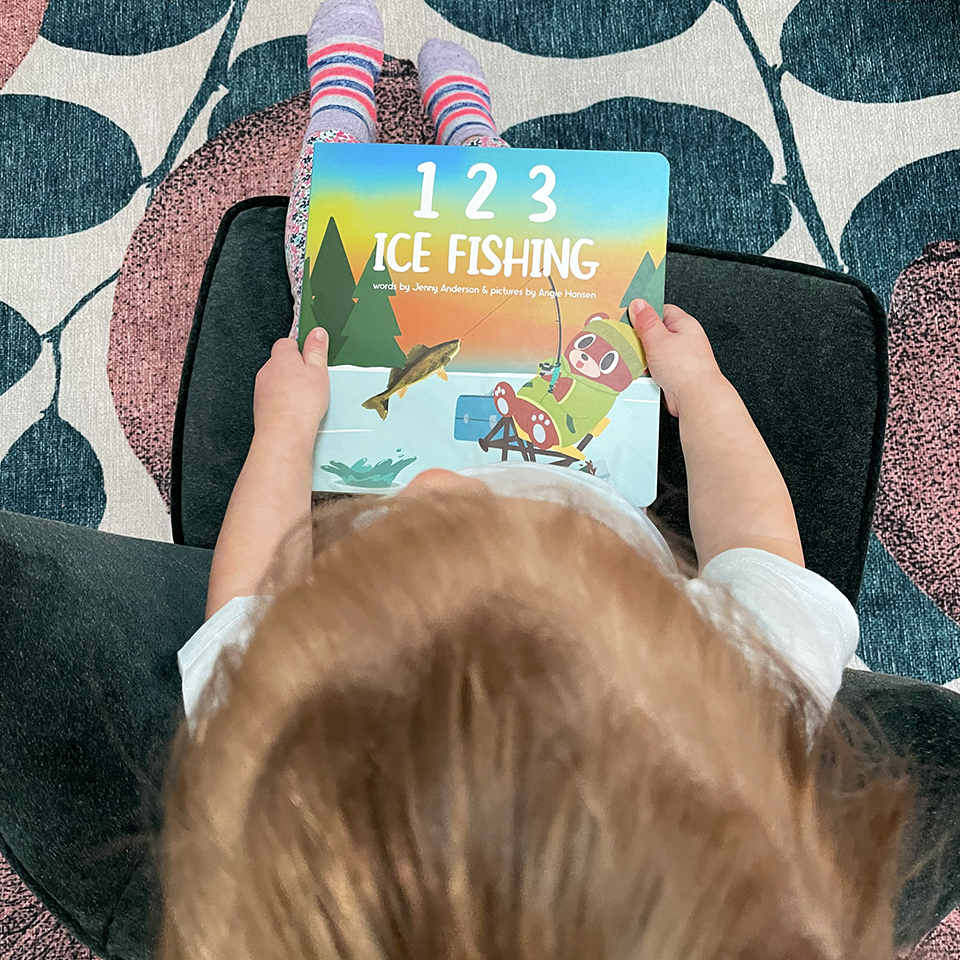 About Jackie Richardson

Jackie Baird Richardson is an interior designer, editor at The WON and avid junker. Watch for her design tips and occasional crafting ideas, bringing the outdoors indoors. View all posts by Jackie Richardson →