Review: Ruger American Rimfire Long Range Target Rifle
Always on the hunt for new, creative and affordable ways to maintain and improve my rifle shooting skills, I wanted to review the Ruger American Rimfire Long Range Target rifle. Especially after my introduction to the growing sport of .22 LR precision rifle shooting, I could not resist the temptation to give this one a trial run.

Sponsored by Ruger
The moment I opened the box and picked up the rifle, I knew this would be an exciting adventure for the long-range shooting geek inside of me. Right away, I noticed familiar features found on most serious long-range centerfire rifles: the oversized bolt handle, adjustable ergonomics of the stock, heavy barrel and extended magazine release lever.
In fact, this gun ($599) makes precision rifle practice extremely more affordable and accessible to many who may be turned off by the astronomical expenses of all the accessories associated with centerfire long-range shooting. From the initial rifle investment – optics, match grade ammunition or hand loading equipment, bipods, ballistic tools and other gadgets – it can easily add up to several thousand dollars.

In addition to all those requirements, with centerfire long-range shooting, you need a place to shoot. Not every rifle shooter has access to shooting ranges with distances much past 100- to 200-yards (including myself in this category, most of the time), which makes skill building and maintaining those skills after investing hard-earned dollars into a long-range set-up difficult.
This gem of a rifle is a game changer. It's precision rifle shooting made more affordable. You don't need to spend several thousands of dollars on a rifle/optics combination and have access to more than 50-to-150 yards on a breezy day to get your mental ballistics workout reps in.
Ruger American Rimfire LRT Specs
The Ruger American Rimfire LRT chambered in .22 LR features a two-tone, brown-and-black-speckled laminate synthetic target stock with adjustable comb height and length of pull. It also comes with integrated QD mounts, flush mounted lower M-Lok rail, sling swivel stud and a one-piece aluminum picatinny scope base. The rifle has a 22-inch free-floated, heavy bull barrel, threaded in ½-28 to accept a suppressor. It also comes with a factory-installed knurled thread protector. Its barrel has six rifling grooves at 1:16-inch, right-hand twist. The bolt has an oversized handle with a 60-degree smooth throw, leaving clearance for whatever sized optic tube you desire to install. The bolt is removable by depressing a bolt-release button located on the left side of the receiver. The trigger is adjustable from three- to five-pounds. One 10-round rotary magazine is included, but this rifle will accept all Ruger 10/22 and BX series magazines. The gun's magazine release lever is enlarged and easy to find by touch. The safety is highly visible and easy to engage on the rear end of the receiver.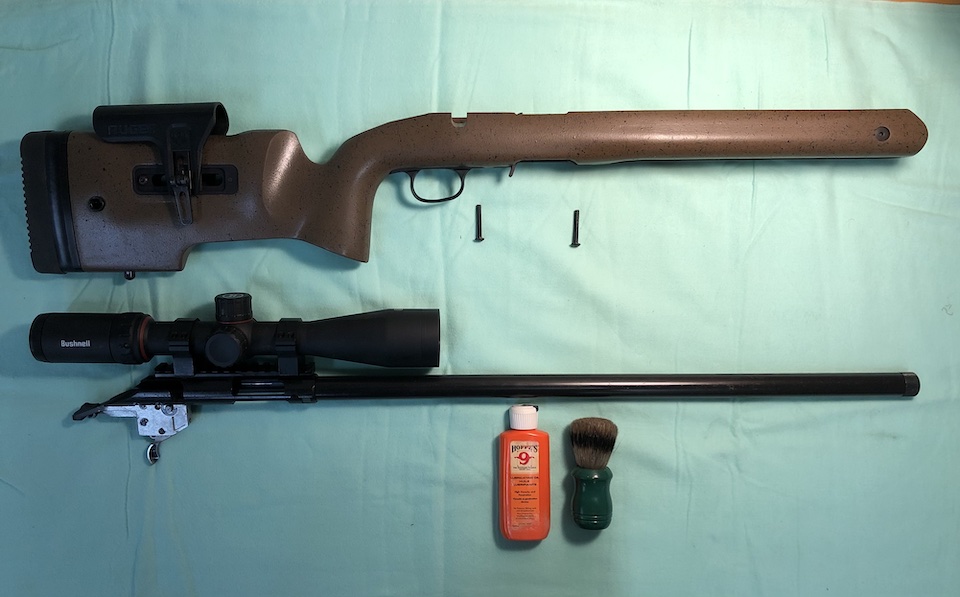 Preparation for the Range
Before taking the rifle to the range, there are a few preparations I like to do.
First, I read the manual and do a thorough inspection. Next, I check the trigger pull weight with a Lyman gauge. The average break out of the box was 3 pounds, 9 ounces. I lightened the pull to 3 pounds, 2 ounces.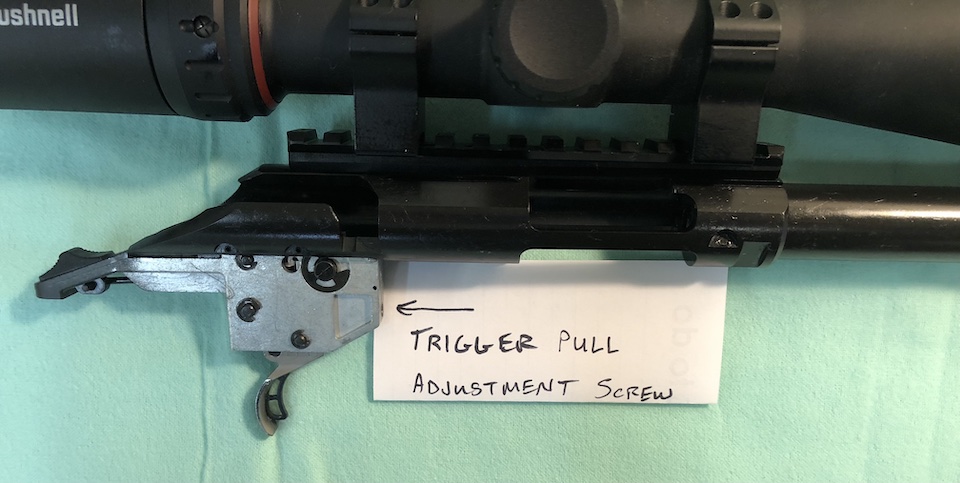 Note: To adjust the trigger, you have to separate the barrel assembly from the stock by simply removing two screws on the bottom of the rifle. This gave me the opportunity to accomplish several items off a new rifle checklist. Namely, I also inspected the rifle for any obvious defects. I lubricated and oiled the entire barrel on its hard-to-reach underbelly, taking into account that I might be shooting in wet, winter weather.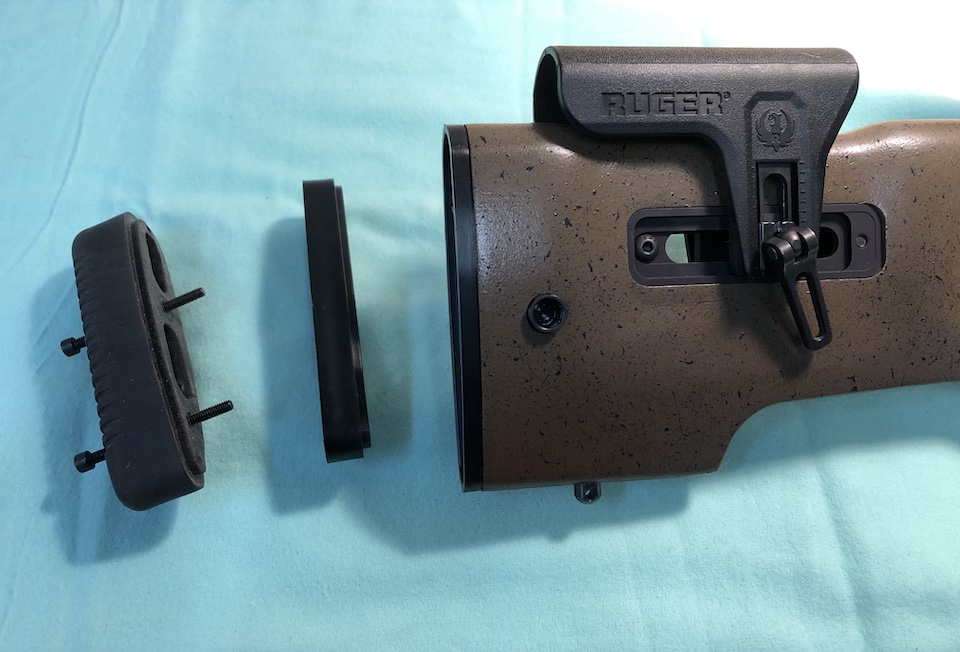 Disassembly also provides access to the trigger adjustment screw and allows me to verify the torque of the two action mounting screws when I reassemble the rifle. (I do this for all new bolt action rifles. I have, in the past, occasionally found loose screws or stripped threads on brand new rifles.)
The Scope
I installed a Bushnell Nitro 3-12 X44 with 30 mm tubes and fully adjustable parallax. The adjustable parallax is an important feature when shooting .22 LR. Some optics come with a fixed focus or only variable past 40, 50 or 100 yards. If shooting the .22 LR cartridge, you may want to keep your options open to bring targets closer than 50 yards. If the optic has fixed parallax, you will not be able focus on targets closer than what the parallax is set at. I installed a Harris 1A2 Series bipod as well.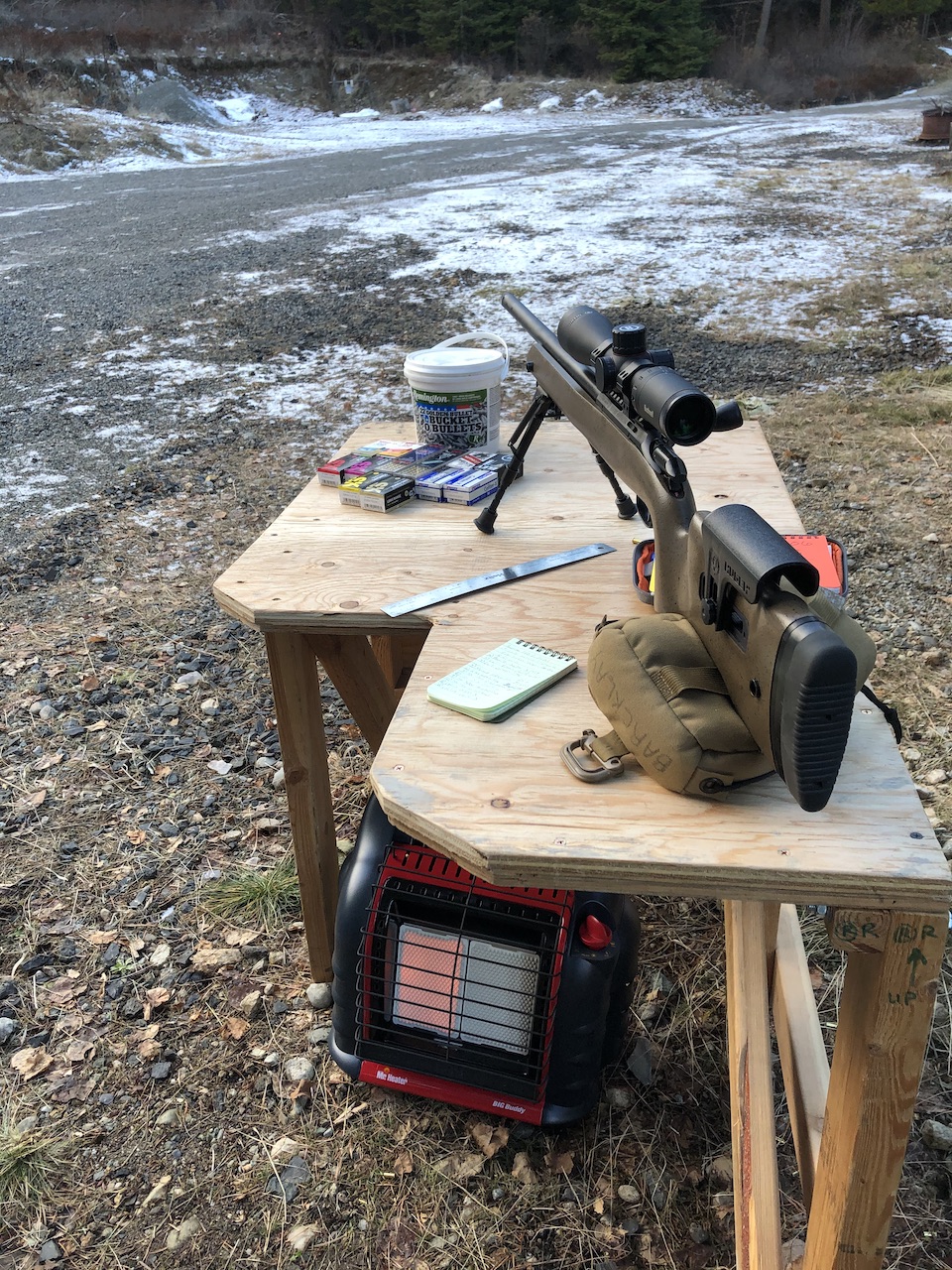 Ready for the Range
I set out on my home range for a rough zero with Remington Bulk Bucket O Bullets, 38-grain hollow points at 25- and 50-yards. I went prone to fire the first shots downrange and then, transferred to a shooting bench.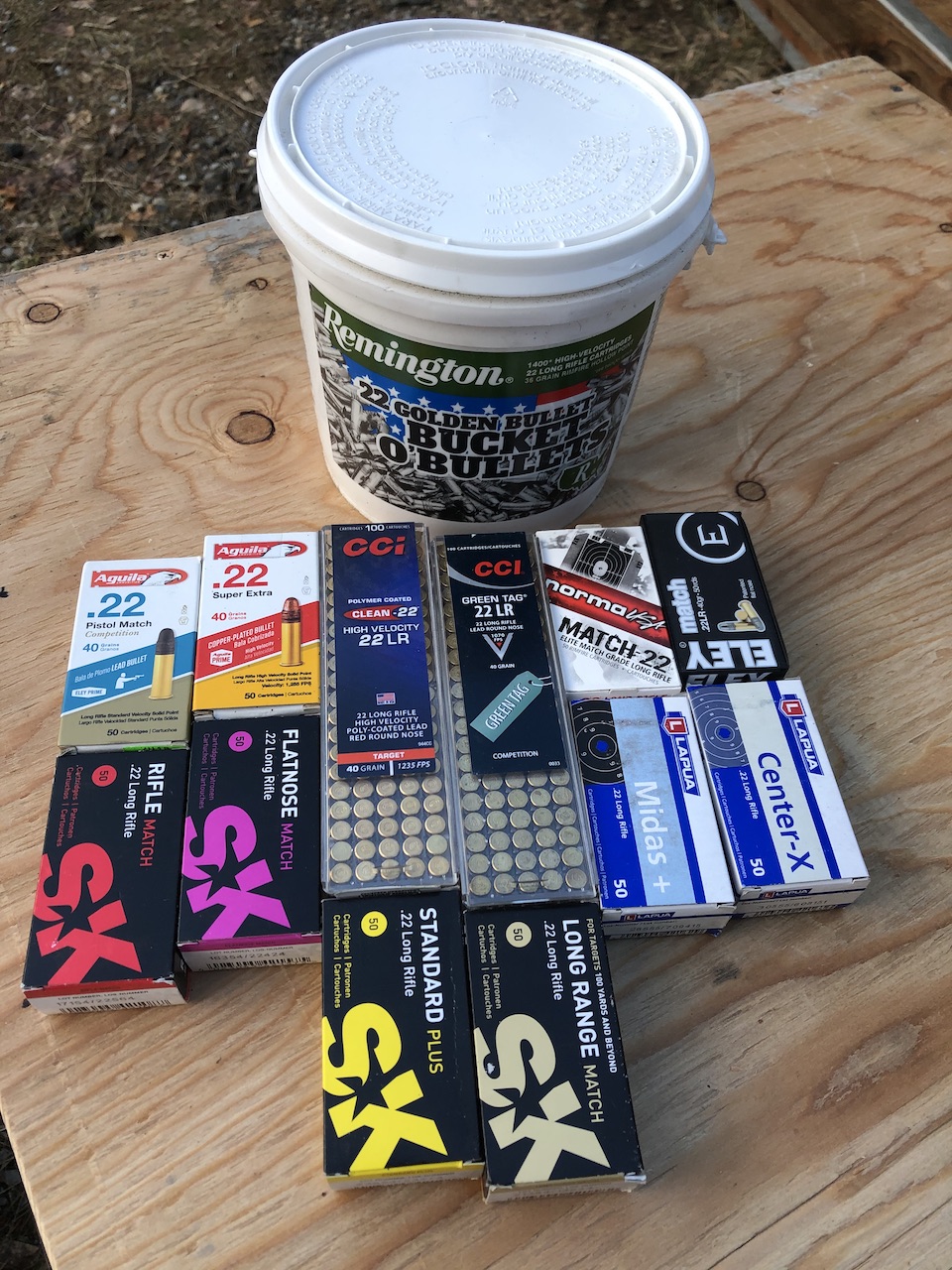 Rough Zero
I am calling it a rough zero because I shot multiple brands, bullet styles, bullet weights and they all have different velocities, lubricants and particular ballistic qualities, which will result in the rifle ultimately deciding what it likes the most. Once the rifle dictates its best performing cartridges, it's time for me to choose one or two, tweak the zero and fine tune the scope settings for those specific loads. I then build individual DOPE charts for those particular rounds.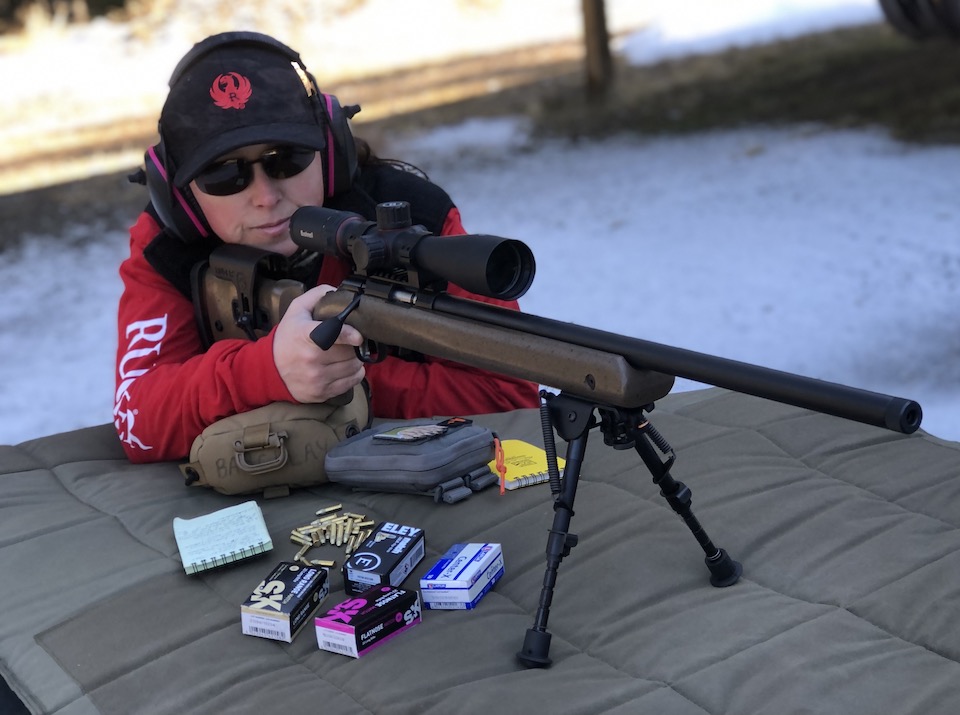 I shot 12 varieties of match ammunition and started at 25 yards with 4 different types. All grouped nicely. I only had to make one small adjustment to move the groups close to center.
I then relocated the target 50 yards to test eight additional different types of match loads. I chose to shoot 10-round groups with all the different loads, rather than the typical several three-to-five round groups I would usually do. This fulfilled a couple different purposes. First, the more shots per string as a shooter, the more challenging it is to maintain focus to keep the groups tight. Also, this method conserves ammunition while building focus and endurance.
Keeping It Clean
Between each different type of load, I took time to field swab out the barrel. The .22 LR tends to be a dirty load and can foul up a barrel with lead and lubricant very quickly. This fouling can possibly have an effect upon how the next different brand or type of load will group down range.
I know this particular step has been long debated in serious shooter discussions. You can choose to not be this meticulous and may have great results as well. I choose to do it and it helps relax my mind with one less variable to consider giving each type of ammo as close to the same starting criteria as possible. If you find your groups are not as tight or pretty after a box or two of even the same ammunition, see what happens if you do a quick field cleaning, as it may help tighten up those groups a bit.
Results
The results of the remaining eight varieties impressed me. Only three types out of the eight match rounds tested resulted in groups measuring one inch. The others grouped at average 0.5 inches or just slightly over, with a flyer at about .75 inches. (The occasional stray out-of-the-string of 10 rounds was most likely me as the operator and not the results of inconsistencies in the ammunition or the rifle's performance.) Making the decision to choose the best round to go the distance became a more difficult one. Usually, in past tests, a rifle will perform best with only one or two of the styles of ammunition, but in this case, it gave me five options. This speaks highly about the quality of this rifle. The top three I choose in a face-off to narrow the search would be among the SK Rifle Match, Lapua Center-X and Lapua Midas+.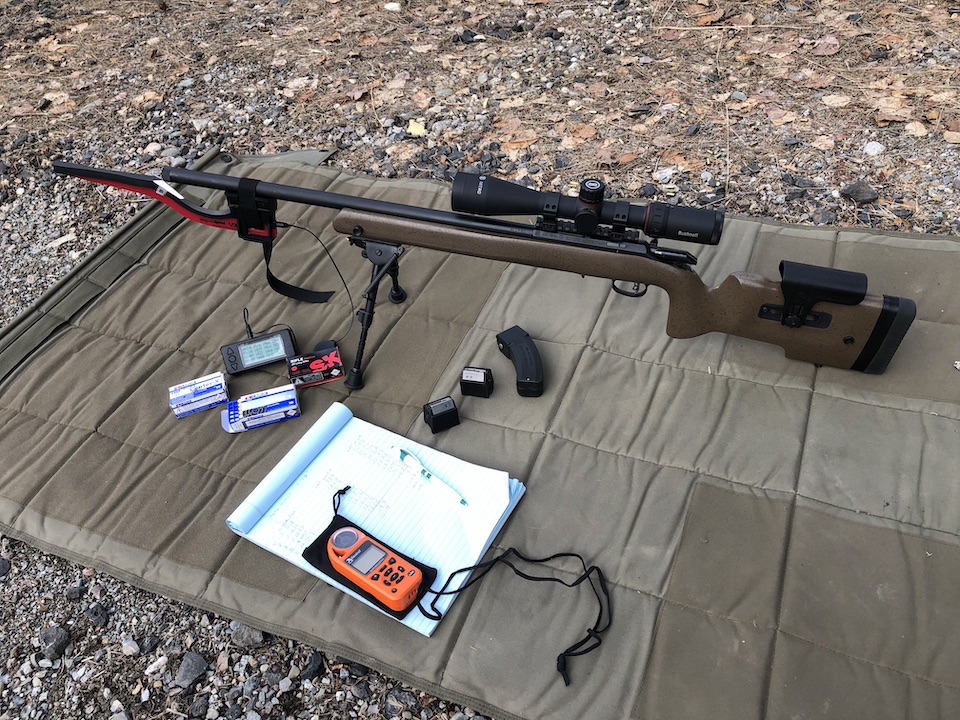 Velocity Matters
Next, I verified the velocity of the ammo. I accomplished this by using the Magneto Speed V3 Ballistic Chronograph. You may find velocities printed on the manufacturer's box of ammunition, but there are always differentiations between what is on the box and what actually comes out of your specific rifle. (Same applies for centerfire cartridges.) This can be attributed to variables among test equipment, barrel length, chamber tolerances, how factories compute averages, temperatures, humidity and too many more to list.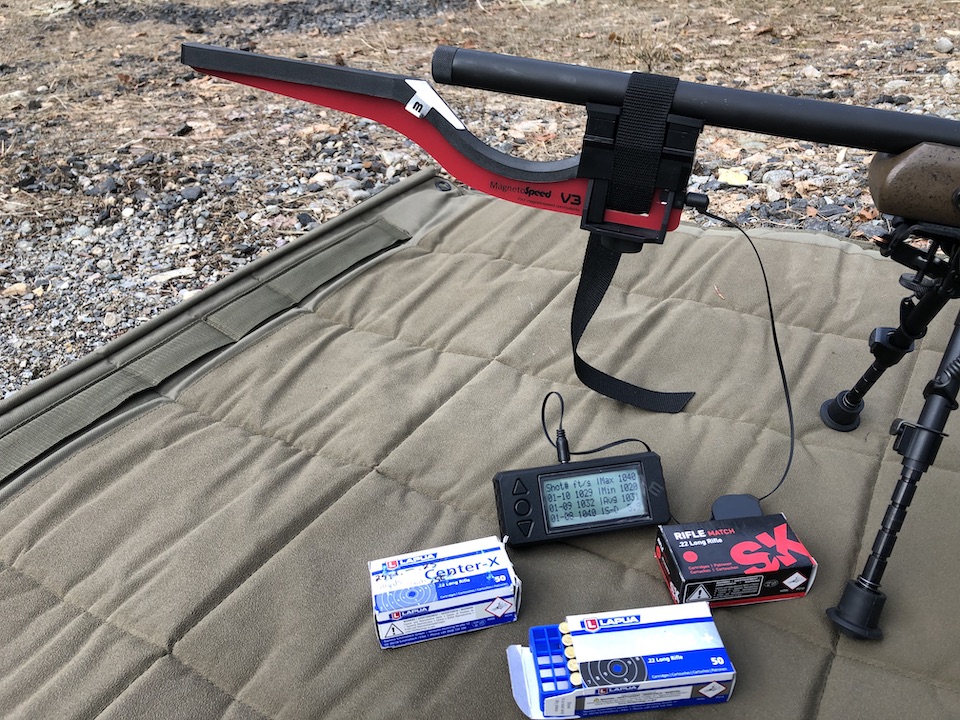 Data Collection Matters
For the purposes of precision shooting, it is best to acquire as much data possible customized to your specific set-up. The more accurate the data input into a ballistics calculator, the closer the theoretical drop chart will be to actual real-world shooting conditions. I researched the Internet to find the ballistic coefficient numbers (BC) for the chosen three types of bullets. I found the SK Rifle Match BC on the Kestrel Applied Ballistics application. Lapua listed the BC for 22LR ammunition on its website.
Plug in all the data points into any number of ballistic calculators available online, print it out and you now have a great starting point to keep you on target or at least very close as you move out to various distances for holds and/or scope adjustments.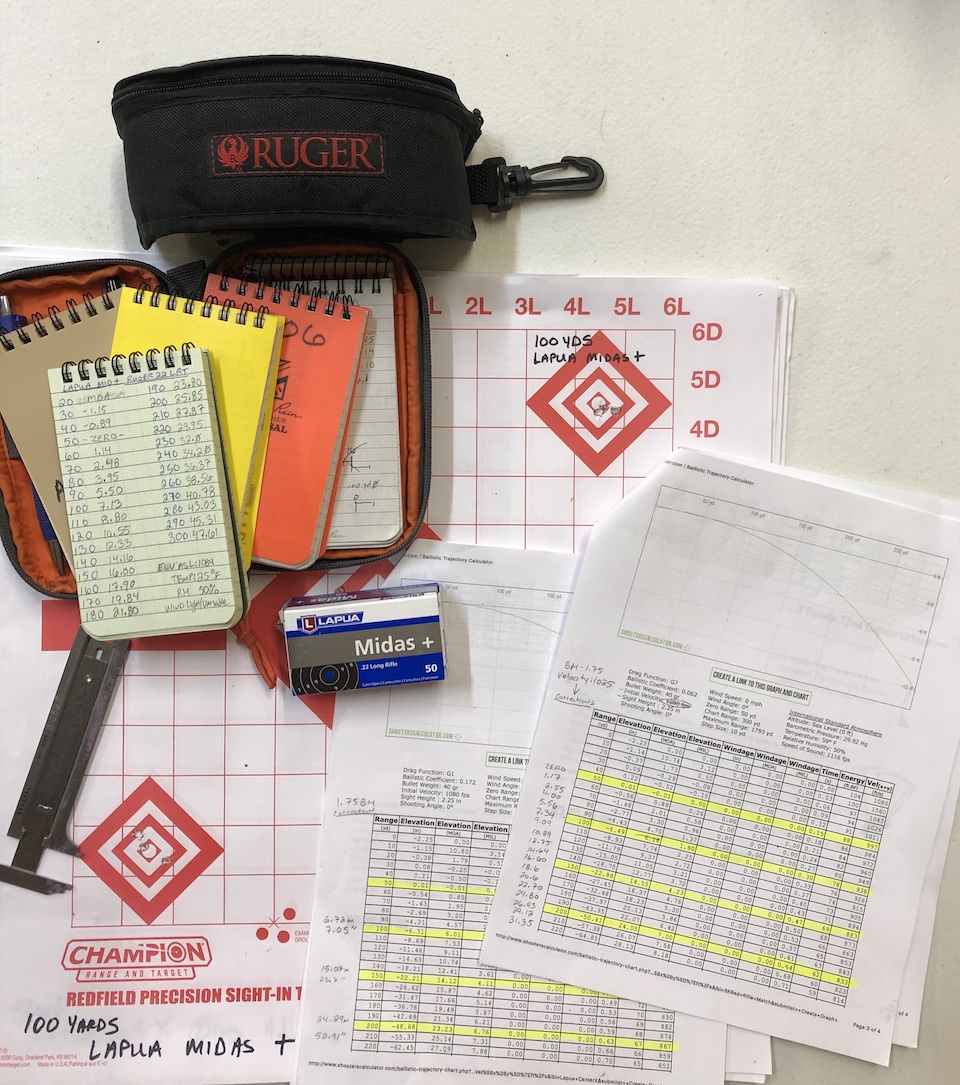 The practical application of seeing this data in action at the range is what a portion of the excitement factor is all about, at least for me. I enjoy seeing science work, having all facets of doing the homework come together with repeatable, accurate hits, saving precious time and ammunition resources. Well, and maybe a few bragging rights as the nosey fellas take a peek at my 100-yard targets as I pack up from a day of great results at the range!
Although it seem like a great deal of groundwork, in the long run (no pun intended), it will add up to a huge savings of frustration on spent cartridges airballing, or missing targets due to guessing estimations, giving you no feedback whatsoever of knowing where your rounds are impacting. This strictly visual guesswork method is especially difficult with small rimfire cartridges, leaving no trace or dirt splash to reference for any adjustments. I printed off my charts, headed out to the longer range to test my work to see what cartridge would prevail at longer distances.
More Range Work
Unfortunately, my closest local membership range is very restrictive. I was only able to verify my charts at 50 and 100 yards. There is a 200-yard range at this shooting facility, yet will not allow any rimfires to be shot at 200 yards. The RSOs were willing to allow an exception, for the purpose of acquiring more data for this article, to put an additional target at 75 yards. With the freezing cold weather and all the discussions of bending the rules burning daylight, I just had to get to work fine tuning each of the specific 50-yard zeros before the move out to 100 yards to test my theoretical charts. Also, I had to see which one of the three would consistently group the best at 100 yards.
So, when I do get the chance to travel back to longer ranges and competitions, I will be able to jump right into variable distances with at least one physically verified transition off the DOPE chart to refer to and tweak as needed. Moving out to 100 yards from 50 yards, the charts worked great. The elevation adjustments were right on the target! I made a slight one-click windage adjustment to move the groups into the bullseye.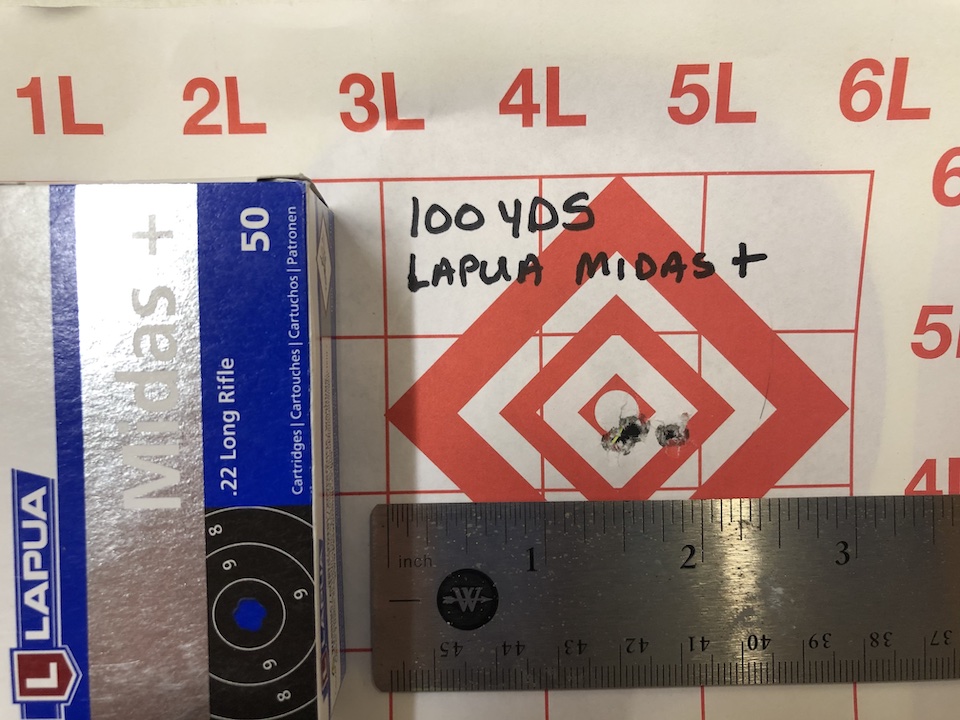 The Best Ammo for the Job
The clear winner was Lapua Midas+. I had several sub-MOA groups with this load at 100 yards. To be honest, I am not sure how I pulled it off, since I could not feel my feet or my fingers after spending most of the day in about 22-degree temperatures, windy and wearing two pairs of gloves. Lapua CenterX and the SK Rifle match did very well, but the Midas+ just blew them away during this particular range session.
Conclusion
Of course, there is no absolute substitute for replacing ringing steel at a thousand yards. However, the Ruger American Rimfire LRT definitely will keep the wheels spinning in the right direction when restricted by range distances. It also keeps fundamental precision shooting skill sets sharp.
This rifle is an excellent introduction to the world of precision rifle shooting and competition for those curious about exploring this discipline – without breaking the bank on a precision centerfire rifle set up. For those beginning or desiring to gain an understanding of optics, either MOA or MRAD, along with ballistics, judging wind holds, creating DOPE charts for specific ammunition at variable distances and the list goes on, the Ruger American Rimfire LRT is a great way to build initial skills, as well as maintain those skills.
The design is well thought out. It comes in at a reasonable price point for the purpose of precision target or competition shooting. It is amazingly accurate with multiple brands of rimfire ammunitions (readily available prior to the year 2020.)
I never imagined applying all my centerfire long range tricks and gadgets to a 22 LR. Although disappointing not to have had the opportunity to acquire more real-world data to verify my charts at more distances, I have no doubt this rifle is capable of going head-to-head with more expensive makes and models at greater distances. I look forward to participating, applying and testing my charts with this rifle at the first rimfire competition opportunity that crosses my path. Ruger did a fantastic job with this rifle.
Ruger American Rimfire Long Range Target, Model # 8378: MSRP $599.00
About Jen Barcklay

Jen Barcklay is a retired civilian field helicopter mechanic with a lifelong fascination with anything that goes boom. She has been blessed to be able to help others by spending most of the last 20 years involved in firefighting and EMS operations in various locations around the world. She is also a US Army veteran. In 2009, Jen survived a life-changing traumatic brain injury, which she was fortunate to overcome, and has made significant progress in recovery. Since then, she has relearned the ability to shoot, discovered hunting and realized how important an outdoor lifestyle is to aid in healing and rebuilding a new life. Jen enjoys sharing her knowledge with others as an NRA certified rifle instructor. One of her favorite activities is long range rifle shooting. Jen believes every new day is a gift to explore, discover, and learn more. View all posts by Jen Barcklay →