Brittany French and Pass It On – Outdoor Mentors
She blends in with the kids who are here for the hunt. At first glance, as she stands among a group of teenagers, Brittany French might be considered one of the kids. Fact of the matter is – Brittany French is a young woman and a hunter, but she is so much more. We met Brittany at the Kansas Governor's Ringneck Classic, and we think you're going to want to learn more about her life and her real job – working as the director of field operations with Pass It On – Outdoor Mentors.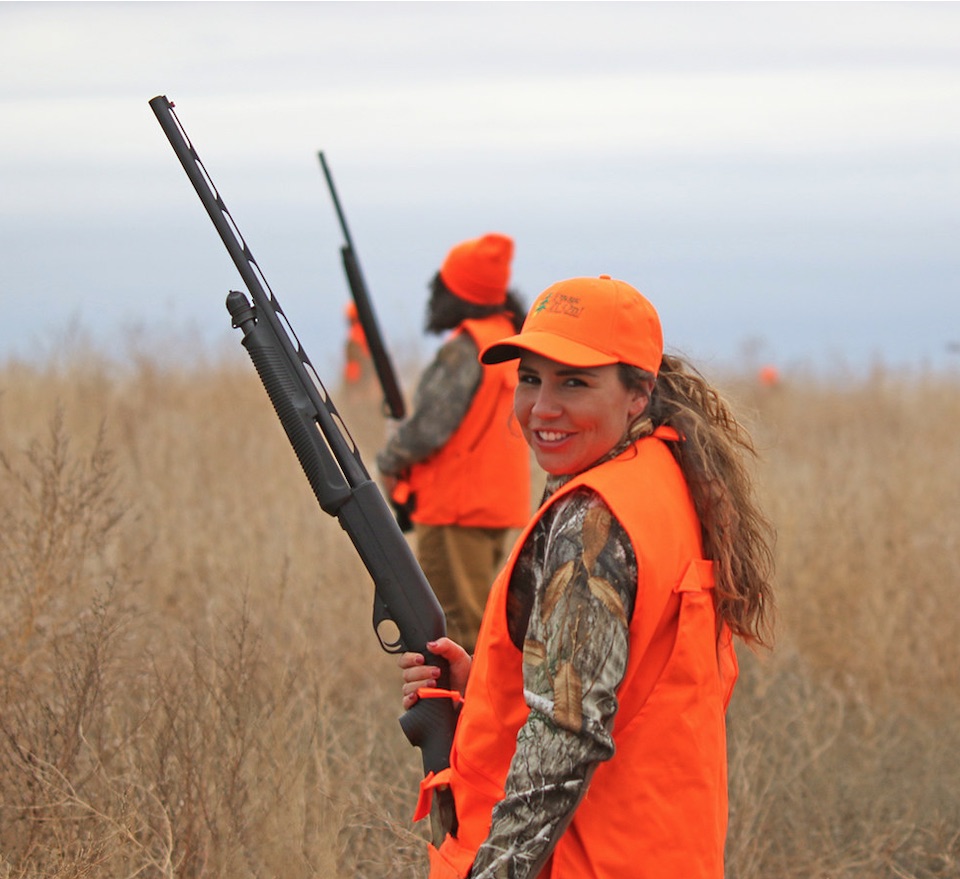 The WON: When people ask you what you do, what do you say?
Brittany French: I usually lead with the statement I have the best job ever! I plan and coordinate hunting opportunities for youth across the state of Kansas and Iowa. I partner with landowners and managers, our volunteer mentors, and the shooting sports athletes and coaches and get them outdoors hunting and fishing.
The WON: Please will you give us a summary, a brief history, of Pass It On – Outdoor Mentors, Inc. (PIO) and how it came to be in Kansas?
Brittany French: PIO began as a partnership effort between the Kansas Department of Wildlife and Parks (KDWPT) and Kansas Big Brothers Big Sisters (KS BBBS) to bolster the ranks of hunters and anglers in 1999. We have partnered with and assisted other organizations with activities in Alabama, Alaska, Arizona, Colorado, Indiana, Maryland, Michigan, Minnesota, Missouri, Montana, New York, Oklahoma, Pennsylvania, Texas, Virginia, Wisconsin and Wyoming.
The National Shooting Sports Foundation and Rocky Mountain Elk Foundation provided initial funding and KS BBBS took the lead role in starting the program, hiring Mike Christensen as their Director of Outdoor Mentoring in July 2002. In 2006, PIO became a separate 501(c)3 while still maintaining a close relationship with KS BBBS.

In 2008, PIO received endorsement from the National Forum on Children and Nature as one of 30 projects (out of 560 projects submitted) nationwide that demonstrated new and creative ways to reconnect children with nature. Having grown from the partnership of KS BBBS and the KDWPT, PIO takes a unique approach in getting children outdoors by focusing on at-risk children and the need to match them with caring mentors.

In 2011, Responsive Management and the National Wild Turkey Federation, funded by a grant from the Association of Fish & Wildlife Agencies, studied 37 different hunter and angler recruitment and retention programs (including PIO) from across the nation. PIO, more than any of the other programs surveyed, reaches more children who are not connected to the outdoors.

In June of 2019, PIO began our new Shooting Sports Outreach Program, building on our experience and expertise, to expand our efforts to take a more significant role in the National R3 (recruitment/retention/reactivation) effort. While continuing to grow our outdoor mentoring program, we are reaching out to youth involved in shooting sports programs to provide new and continued hunting opportunities. While specifically targeting shooting sports teams, we have found success in this program and believe that it can be applied to many different cohorts of individuals across the United States (i.e., hunter education classes, NASP programs, S3DA, college groups, etc.).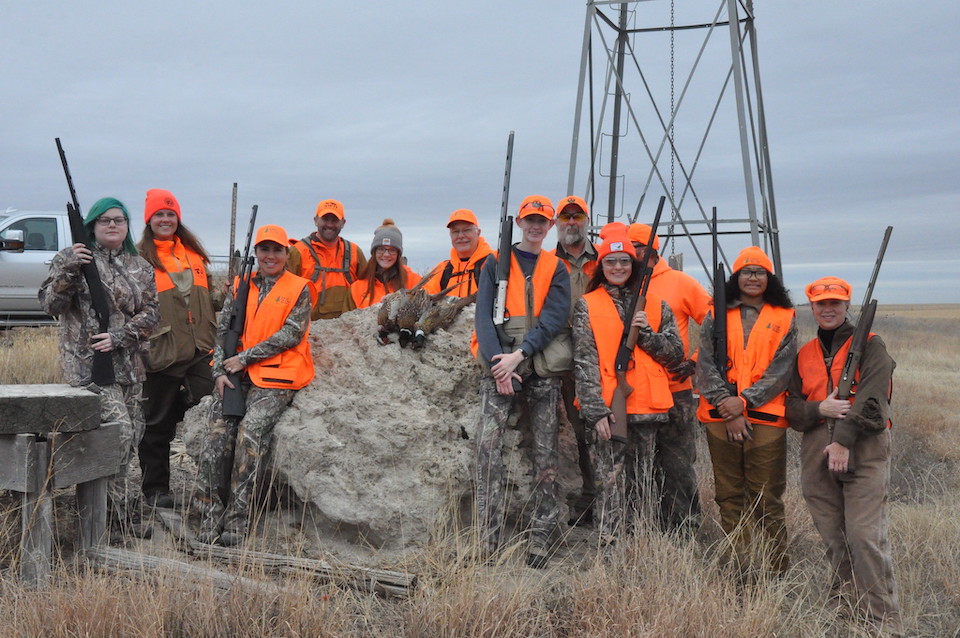 The WON: You're a Kansas native, right? And you started volunteering with PIO in 2015? How'd that happen?
Brittany French: I was a junior in college interning at KS BBBS in a different department when Mike Christensen approached me and asked me if I wanted to get involved in his program and take some young ladies out hunting. I grew up hunting and loving the outdoors and thought that this had to be the best designed program. We went to Harveyville, Kansas, for a turkey hunt in Spring 2015 and when I was driving through the Flint Hills, I had a youth in the backseat freaking out about an animal in the field. I personally thought maybe it was a deer or antelope? Little did I know that animal that he was freaking out about was a black Angus cow. This particular youth had no idea that cows existed or looked different than your typical black and white dairy cow. In the back of my head I thought, "Holy cow, this program is so incredibly important!" Ever since then, I have found sheer joy taking youth out hunting with PIO. The youth that I have gone out hunting with have found a special place in my heart and we have developed great friendships with one another. I often tell people that I get more out of mentoring than the youth do!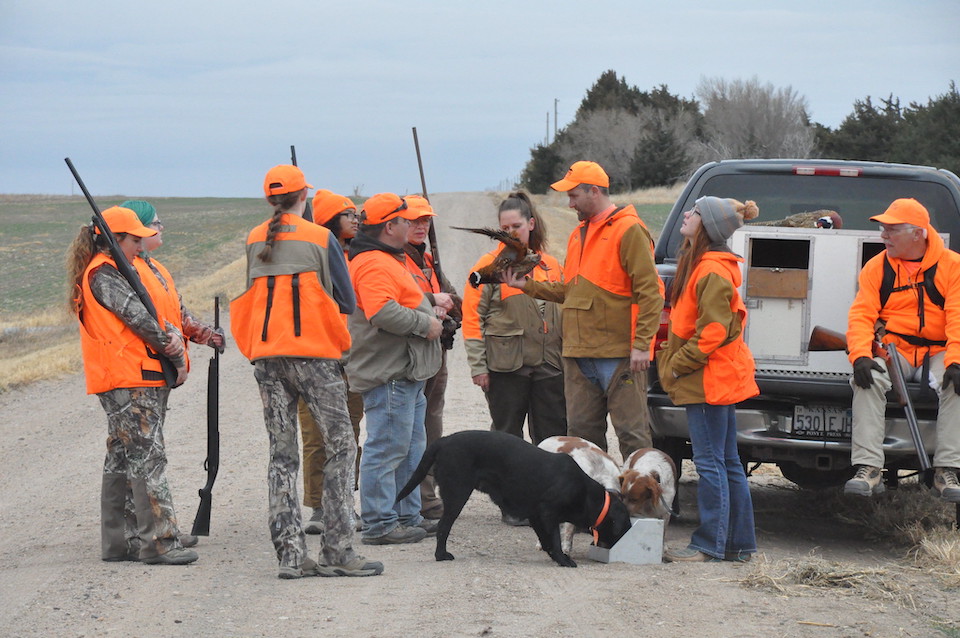 The WON: When did you start your job with POI?
Brittany French: I started working with PIO back in June of 2019.We were watching the Kansas High School Clay Target League mushroom in size over the years and decided it was time to put a program together that bridged the gap between target shooters and hunters. Since no one is implementing a program like this, we did not know what to expect and created the program from the ground up.
The WON: How many children and families does POI impact yearly in Kansas? In the nation? Do you know the numbers?
Brittany French: In 2020, between our main effort here in Kansas and a pilot program in Iowa, we hosted 142 hunts engaging more than 420 youth on hunts. We have seen 200 volunteers assist with this effort.
The WON: Do you do it all? Hunting, fishing, outdoor adventure? Does the program do it all?
Brittany French: We absolutely do! Mainly, we take youth out hunting and fishing but we also host shooting clinics, both rifle and shotgun. We also have taken kids hiking, canoeing and sailing. Anything we can do to get them outside!
The WON: Please walk us through how you might work with say, a single mom and her kids who want to experience hunting or fishing?
Brittany French: Our first goal in working with parents looking to get their youth in the outdoors is to get a child into a hunter education course. We host a couple of these classes a year in Kansas to help with this effort. Once they are certified in hunter education, they can start hunting with us. We have a website of events that they can sign up for, or we often host "first hunts" for our new hunters. We encourage the parents to hunt and participate with their children. We believe that this creates a better bond between a youth and parent and also increases the odds of that child getting out to hunt again with more support.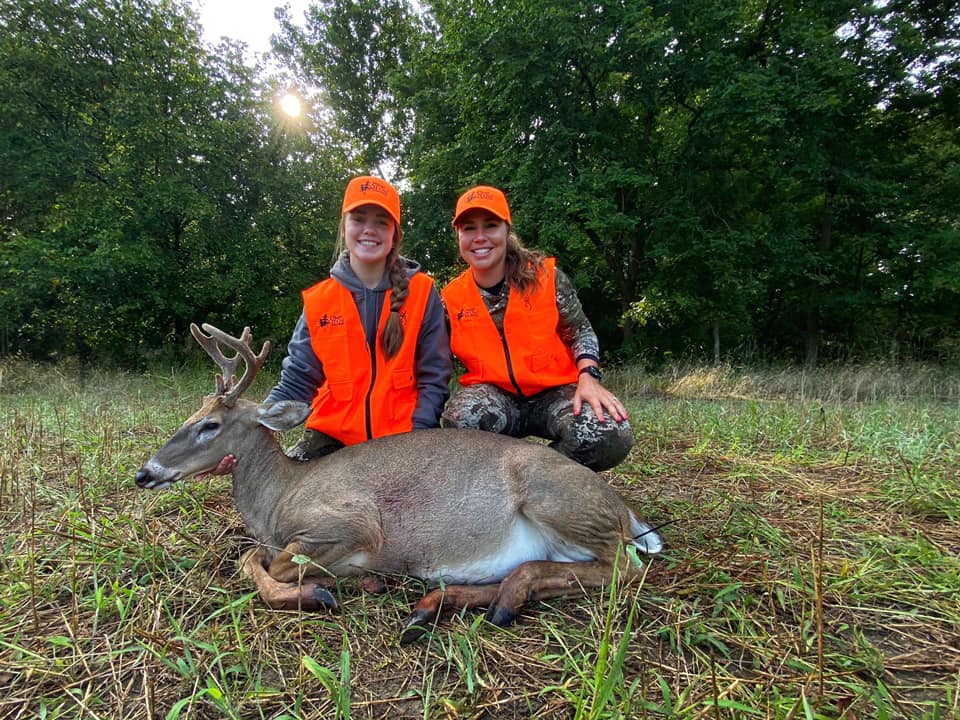 The WON: Your sponsors … what do they provide and what do you need?
Brittany French: Our program has 2 basic needs: 1) mentors, men and women who will step up and take a youth hunting and fishing, and 2) the financial resources to put boots on the ground arranging the hunts, recruiting the youth and mentors and providing access to properties for them to hunt and fish.
The WON: We know you have developed some lasting relationships with families and children through PIO. How does this benefit you?
Brittany French: The relationships that I have developed through PIO are some of my favorites. There are so many good, kind and encouraging folks in the outdoor industry. I feel so lucky to have employment in this field. The families and children that I connect with truly become part of my life. We share community, support each other through difficult times and celebrate every milestone that we can! In many ways, our program serves as a source of food, mentorship, and opportunity to families and children who would NEVER otherwise be exposed to the world of hunting and fishing.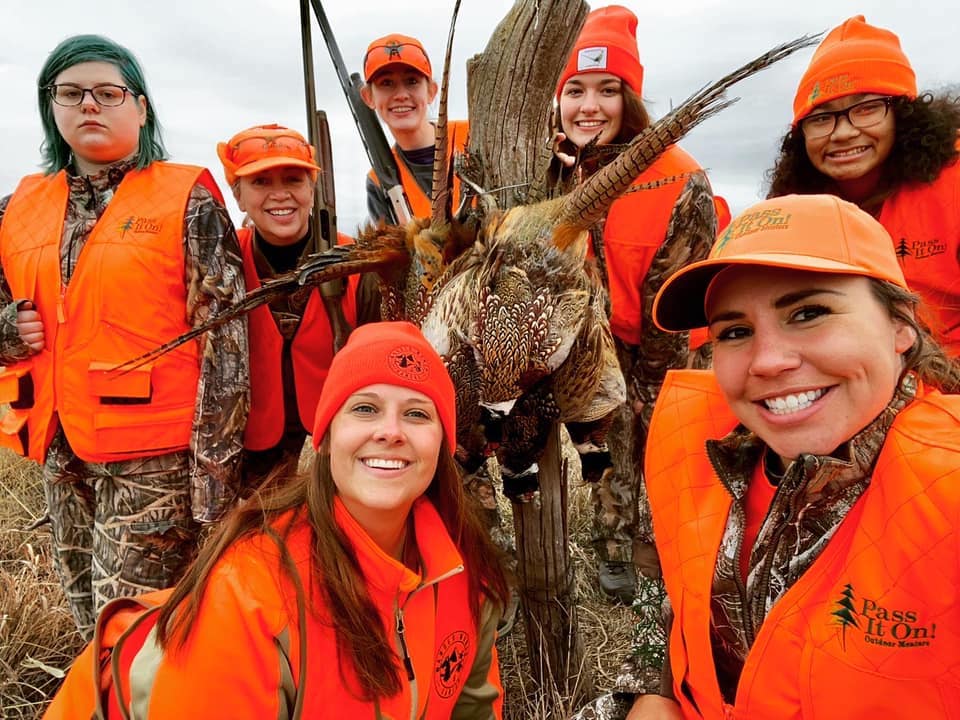 The WON: Can you think of an example of a relationship that has been fostered between you and a child because of PIO?
Brittany French: Ka'nya and I met back in 2015 when she took hunter education for the first time with PIO and I just started mentoring that same year. She passed hunter education with flying colors and we took her out on her first pheasant hunt at Glen Elder Lake. She was only 11 years of age and so wise beyond her years! She flushed and harvested her first bird. She was elated and quite frankly, so was I. We were both just so excited about how well she controlled her firearm, made a clean shot and retrieved her bird. She carried the bird around like a trophy the rest of the day.
Ka'nya and I continued to hunt together through the years following turkey, pheasant and antelope hunt with The Sisterhood of the Outdoors [Note: Brittany is on the field staff of this outstanding women's organization.] One of my favorite hunts we have gone on was a deer hunt in January 2020. We had a unique opportunity for both harvest a deer. We hunkered down in our blind that afternoon and shared hunting stories and talked about life and ate candy, naturally.
Like clockwork, the sun started to set on our hunt and a handful of does came around the corner in the meadow. Ka'nya has always been a calm and steady shot, so I was not surprised when she sighted in on her whitetail doe. Within a few moments, her doe came just into the right distance for Ka'nya to make a confident and clean shot. We did some silent celebrating in the blind and thought through what we will do next. Ka'nya and I traded spots in the blind so I would have a chance to harvest a doe next. Daylight was dwindling, but we still had some time when I saw a lone doe coming around the corner of the meadow. This doe was just curious enough to come within 75 yards of our blind. I heard Ka'nya in the back of the blind quietly coaching me on taking my time and making sure I had a good shot – all incredibly rewarding things to hear as a mentor. Leaving the blind to go find our harvests, it was impossible to not smile and laugh about the one of a kind experience we just had. All we could do was talk about what just happened. It is hunts like these that both Ka'nya and I will never forget!
The WON: Do you ever coordinate activities/events with other states?
Brittany French: In July 2019, we started a Shooting Sports Outreach Pilot Program in Iowa with the Iowa DNR. We have engaged high school and college Scholastic Clay Target Program Teams and worked with conservation groups like Rocky Mountain Elk Foundation, Pheasants Forever and Ducks Unlimited. We are busy planning our expansion of this program to other states that have vibrant Shooting Sports programs.
The WON: Is there anything new in the works for 2021?
Brittany French: Our goal for 2021 is to continue expanding our Shooting Sports Outreach program in Kansas and Iowa and to reach out to other states that have vibrant youth trap shooting programs.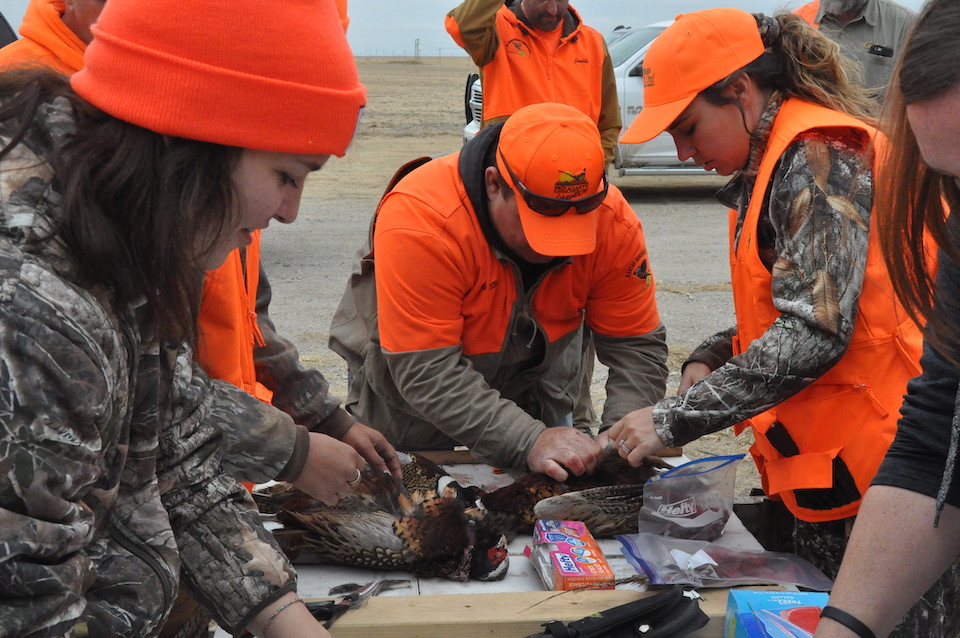 The WON: Did COVID affect what you could do and how did you tailor the program around it in 2020?
Brittany French: During our spring turkey season, we had to cancel 30 turkey hunts we had planned due to the uptick in COVID cases and the uncertainty of the virus itself. We were not able to do the summer fishing clinics we usually do for those same reasons. However, though COVID has caused some obstacles, our funding increased by 44 percent and we took 420 youth hunting on 142 different hunts across Kansas and Iowa. We are incredibly thankful that folks have looked to us during these hard times to find safe and fun recreation for their families.
The WON: Anything else?
Brittany French: We feel that our Shooting Sports Outreach Program plays a key role in the National R3 effort. Many of the youth we are working with have never hunted. We are working to recruitthem with opportunities to hunt. Many of the youth we are working with have hunted some and others are avid hunters. For these youth, we are working to give them additional hunting opportunities to go afield, to hunt other species or gain additional experience with the game of their choice to help retainthem as hunters as they grow. We have found that many of the parents of these youths are lapsed hunters. This program gives us the opportunity to reactivatethem and get them in the field hunting with their children.
Learn more about Pass It On – Outdoor Mentors here.
About Barbara Baird

Publisher/Editor Barbara Baird is a freelance writer in hunting, shooting and outdoor markets. Her bylines are found at several top hunting and shooting publications. She also is a travel writer, and you can follow her at https://www.ozarkian.com. View all posts by Barbara Baird →