New GTM Mini BOHO Purse Features Washable Cowhide
The new GTM-201/DB Mini BOHO Purse is now available online. It features all the must-have standard, well-designed qualities of GTM concealed carry purses, but now comes in the new standout feature – washable cowhide.
The Mini BOHO Purse is made of washable American cowhide leather, a process that has been in the design process at GTM for the past three years. By using mild dish soap, a damp cloth and dry towel, a user may remove dirt and smudges, as well as freshen up the look of the leather quickly.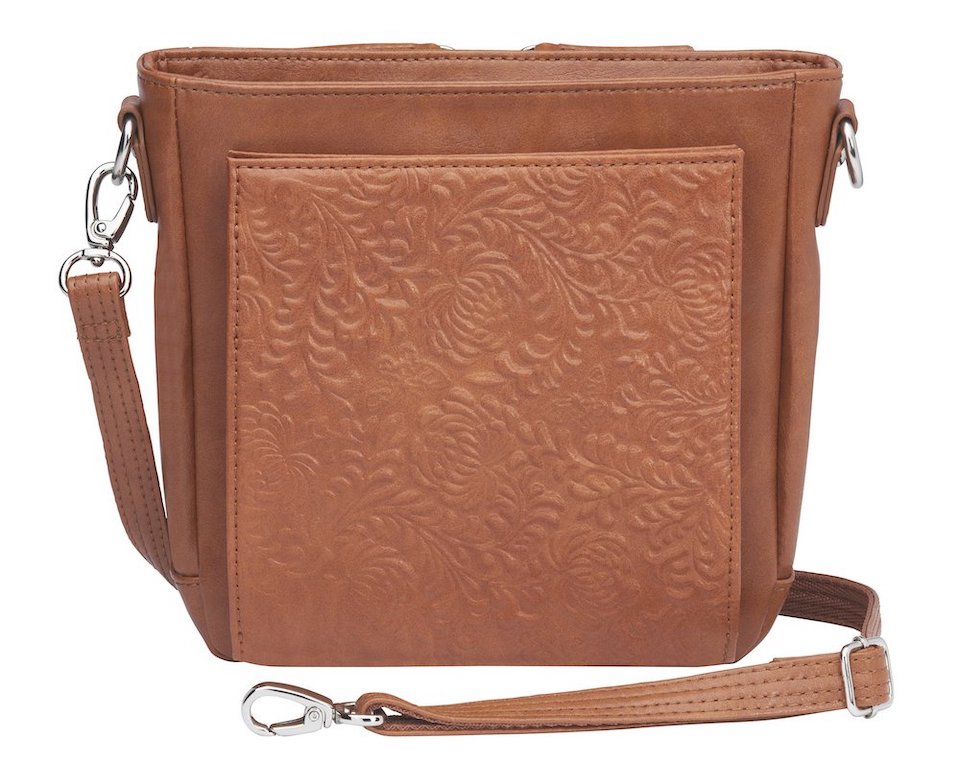 Due to early response, additional styles and colors will be available later in the year and for Holiday 2021.
GTM's Mini BOHO Purse offers the perfect solution for those who want to carry the bare necessities for their days (or evenings) out. Its signature built-in wallet organizer, with RFID protection, makes carrying a wallet completely unnecessary. There's ample room for credit cards, gift cards, cash and IDs. Plus, rare earth magnets hold it securely closed.
The main compartment is large enough to carry cell phones, glasses and keys with a zippered top closure that prevents items from falling out. There also are inside pockets to store smaller items – such as lipstick, gum or hand sanitizer.
Note: Keep any sanitizer with alcohol away from any leather surfaces; this advice is for all leather products, not only GTM products.
As with all GTM purses, a separate gun compartment allows for either a left- or right-hand draw. A removable mini holster permits positioning of a handgun in a way best suited for the person carrying the purse. With a gun footprint size of 6-inches wide by 5-inches tall, the Mini BOHO Purse is ideal for smaller-sized handguns.
The GTM Mini BOHO is the perfect purse for those who want to carry pepper spray. In fact, if placed in the holster area, pepper spray becomes quickly accessible – with no interference from anything else in the compartment. If the user adds a Velcro strip to a pepper spray bottle, it can be attached to the Velcro complement in the purse.
Find this GTM-201/DB Mini BOHO Purse at GTMoriginal.com
Available in both tan and black.
MSRP: $110.95
About GTM Original
GTM Original – Serious for Women's Protection
GTM Original, Gun Tote'n Mamas, is an affordable line of leather purses and handbags, inspired and developed by women. Our parent company, Kingport Industries LLC, is a Certified Women Owned Business (WBE, WBENC) since 2004. Every one of our products has been tested by instructors from elite training facilities, including CSI, FBI and Navy SEALS. We also respect feedback from citizens who are consumers and concealed carriers. We want to hear it all – we are not afraid of criticism and HIGHLY encourage your feedback. It is comments from the field that will continue to make these bags the best for the jobs they are designed to do. See GTM online.
About The WON

The Women's Outdoor News, aka The WON, features news, reviews and stories about women who are shooting, hunting, fishing and actively engaging in outdoor adventure. This publication is for women, by women. View all posts by The WON →