Review: TETRA AlphaShields Go Hunting with Babbs
Hearing protection fascinates me. I'm always searching for light weight, easily operated and super functional hearing protection — especially for hunting. Last year, I noticed TETRA Hearing Gear while at an industry trade show, and then contacted a company rep and received a pair of AlphaShield in-ear devices, designed specifically for waterfowl hunting. I took them out on two hunts in Arkansas, for ducks and geese this past season.
My interest in acquiring a set of TETRA hearing devices came about because of its street cred, as well as intricate design. I like to do research on products. Behind the company of TETRA stand two co-founders, both hearing doctors, with serious credibility. David Gnewikow holds a Ph.D. from Vanderbilt University in Audiology and Hearing Science. Bill Dickinson holds a bachelor and master's degree from Michigan State, and an AuD degree from Central Michigan University. Both founders love the outdoors, and hunt (with at least 80 years of experience).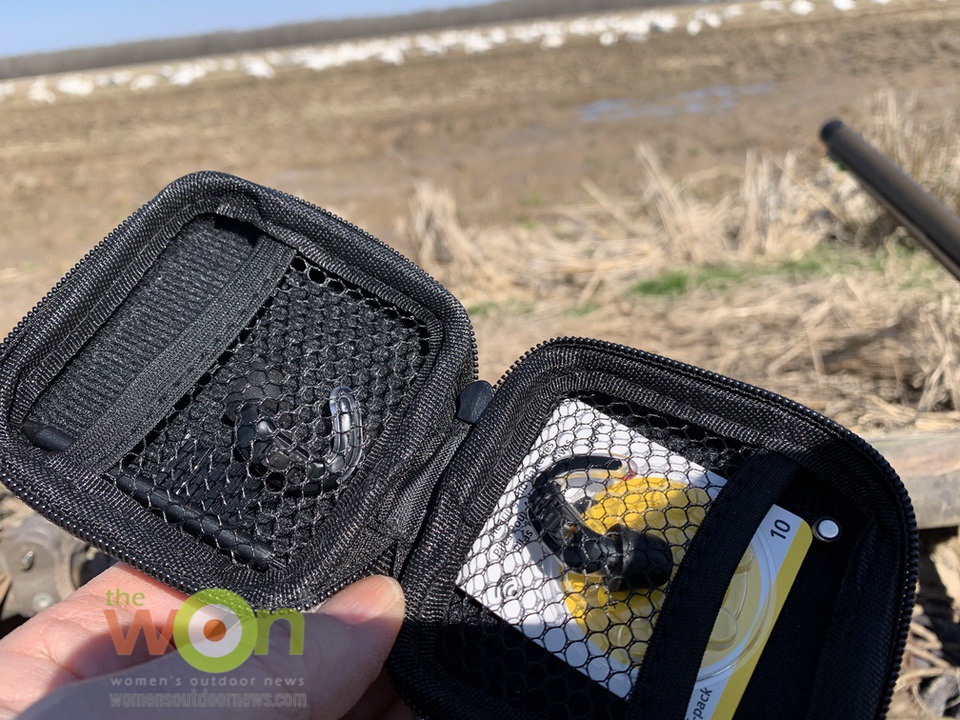 The doctors developed a patent-pending Specialized Target Optimization™ (STO), which is described as "the world's first hearing technology designed to optimize hearing for hunters in their specific hunting environments." That is why when you buy a pair of these devices, you will be asked to identify the species of animal you want to hunt, or other activities you wish to do while wearing them.
TETRA Hearing Gear
First of all, it's a process to get set up for the proper levels of protection, and TETRA offers an online hearing profile, depending on what type of game you'll be hunting or the type of shooting you'll be doing. In fact, you can purchase "multi-pursuit" devices. That test took a few minutes.
Devices are offered in custom fit or universal fit options. If you get the universal fit option, you'll also receive several tips: three sizes of heat-activated memory foam tips and three pairs of silicone tips. After receiving the package, find a tip that fully fits into the ear canal. The silicone tips come color coded; red for right and green for left is an easy way to remember the order. Also, the devices have been previously paired with a color code – with red on the right ear and blue on the left.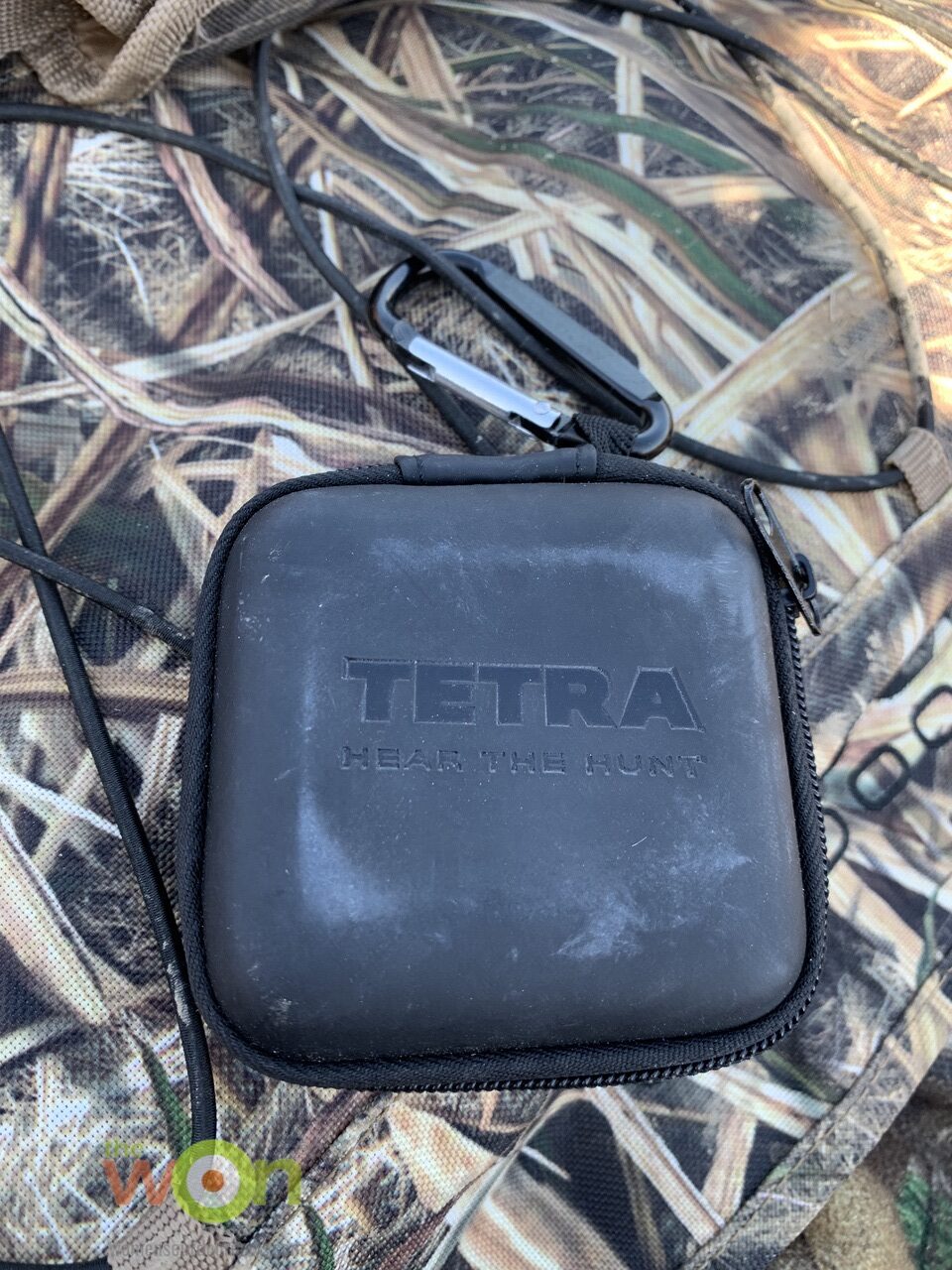 These devices are small and easy to insert. They come with a soft-sided field case with a carabiner, so you can easily attach it to a blind bag or backpack. One thing about these devices … they don't whistle when the wind blows.
More About the AlphaShields
The AlphaShields have three volume settings: normal, boost and magnum. Just press the tiny toggle per device and you will hear a beep or two beeps or three beeps – three for the highest setting. You don't have to set the devices on the same levels, either, which makes it handy and tailorable to your own hearing situation. There's also a fourth setting called ClearComm, which is for voice communications. No need to remove these plugs for any reason. I quite often installed mine before heading out across marshes or timber. It's one less thing to do upon arrival, and sometimes, the old hunting ATVs and marsh monsters spew loud engine noises, and these devices definitely keep that noise low, too.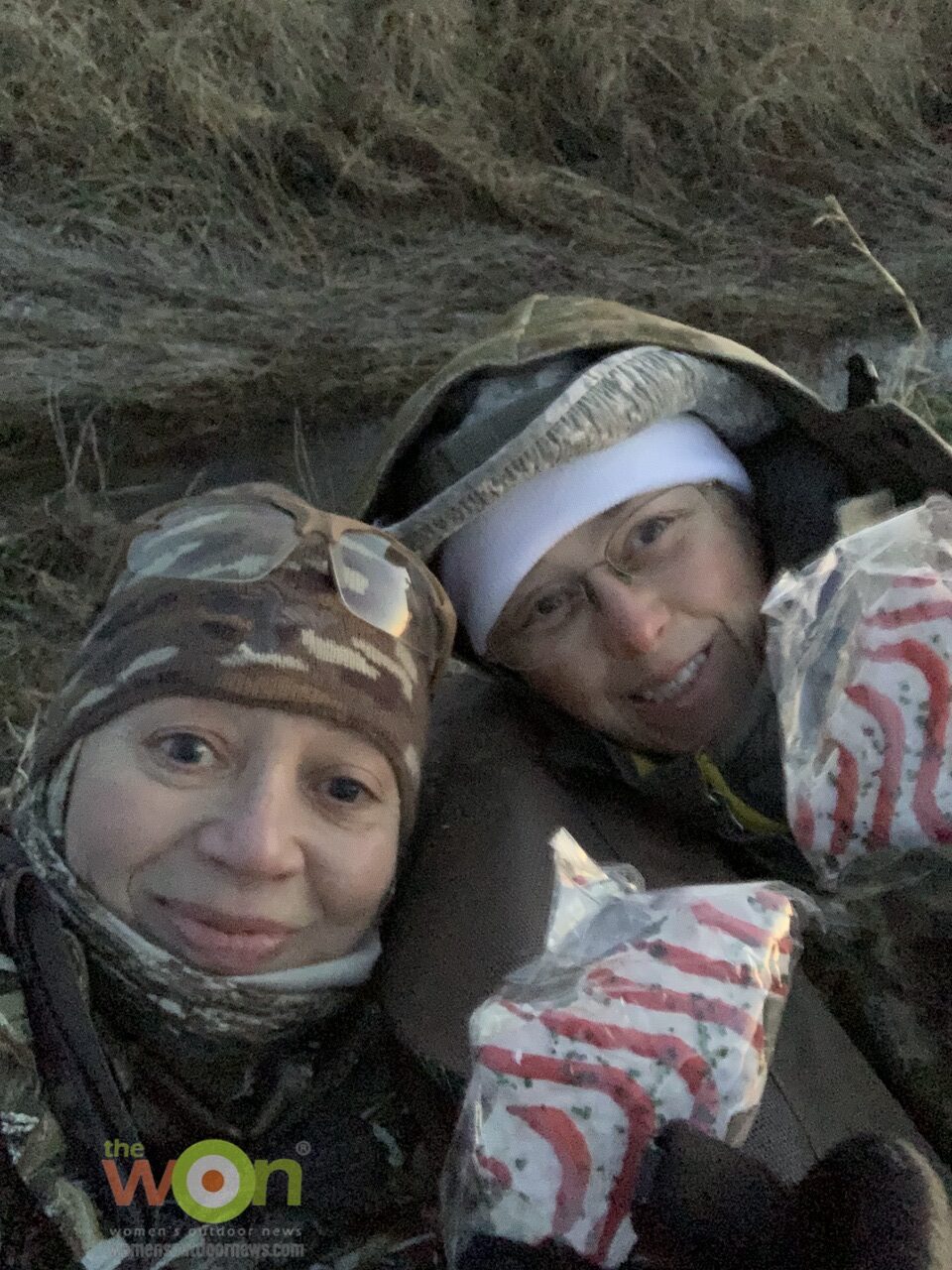 The AlphaShields come with batteries, standard hearing aid batteries (#10), and I found that battery life lasts for at an entire three-day stretch of waterfowling and hunting from early morning till lunch time. Then, I wore them for several more hours out armadillo hunting. I only had to change them after about month of intermittent use, which is what the manual states, as well. With daily use, the batteries should last from seven to 10 days.
Changing the batteries is easy, too. Just open each hatch and change it out. No coins or screwdrivers required.
Note: these are small devices. Make sure you aren't putting them on over water, or a grassy field. You'll want to be able to find them if you drop them. You can purchase accessories, such as a lanyard or D rings, to keep your devices on your body at all times.
The noise reduction rating with this pair measures 20 decibels.
Hunting Waterfowl
I wore them while in various types of blinds – from a shack on stilts over the Cache River, to a pit blind, to a layout blind. In all cases, and with varying degrees of shell noise, and also, the noises from our guides' calls – the hearing protection worked mighty fine. (Trust me on this calling thing, since I sat next to a guide in a pit blind who busted out a goose call when some specklebellies flew over.) Some of my fellow hunters wore muffs, and believe me, after six hours of continuous muff wear, I would be worn out. I like the freedom that the in-ear devices affords, and also, how I can mount a shotgun quickly to my cheek without interference from my ear protection.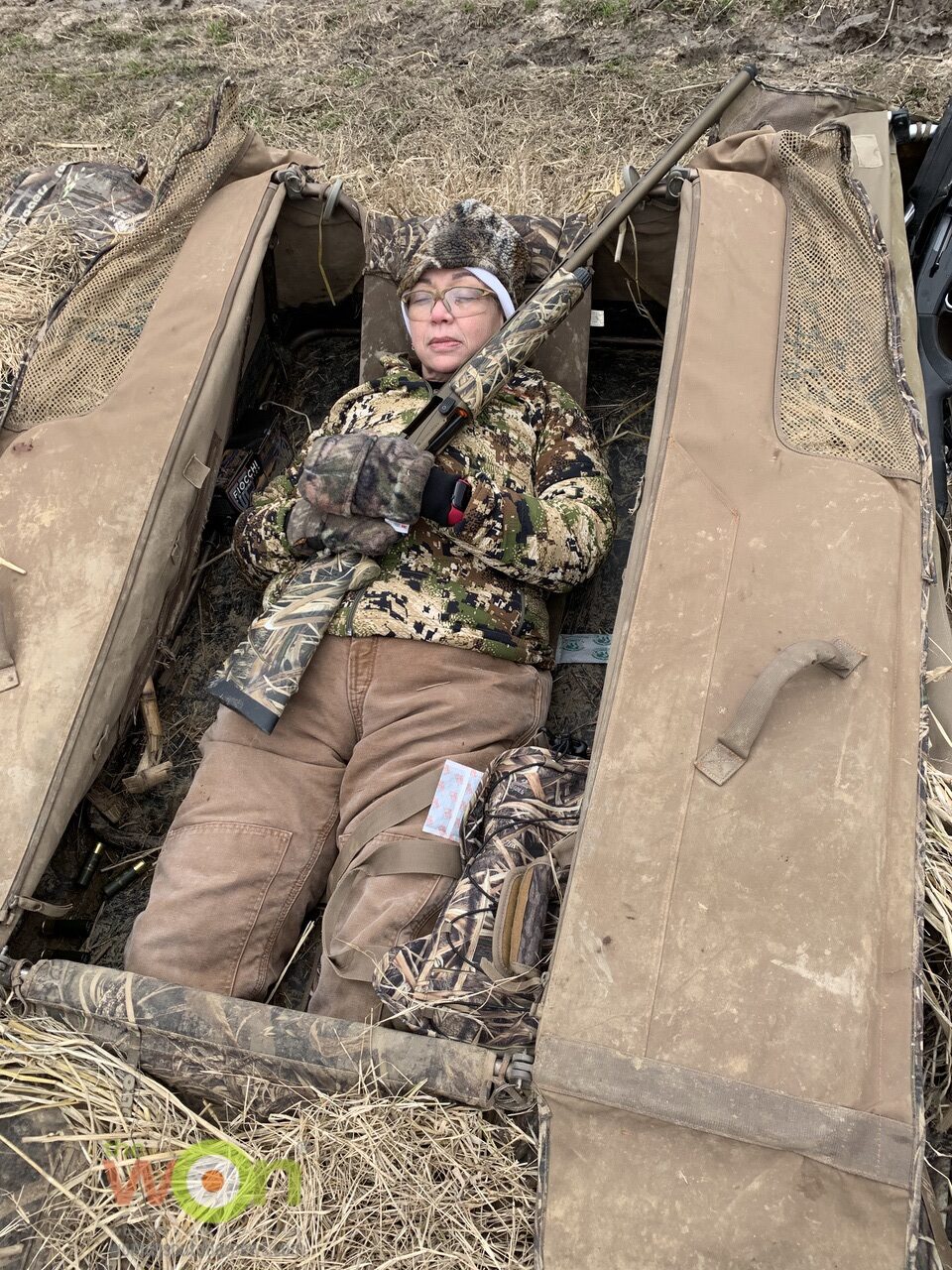 These devices not only protect your ears from loud noises, but also, they enhance your hearing – again, this is why you take the hearing profile in order to get the plugs tailored to your hearing abilities.
Waterfowl Calls Are LOUD
According to a blog at the TETRA website, it's important to protect your hearing from waterfowl calling: "While gunshots are short duration, they are very loud (150+ dB SPL). Duck calling is not quite as loud as a gunshot (120 dB SPL), but the duck hunter is exposed for a much longer time across a typical duck hunt. As a point of reference, OSHA allows works to be exposed to 90 dB SPL up to eight hours per day. For every 5 dB increase in volume, exposure time should be cut in half. So listening time for a 95 dB sound is only safe for four hours, or 100 dB sound for two hours.
"During our field research at TETRA, we've measured calling to be as loud as 120 dB very frequently, which is well over the safe limit. On several hunts, the hunters were exposed to their weekly allowable noise levels in less an hour of hunting – just from the calling, without even a single shot fired."
Hunting … Armadillos
In fact, I credit the AlphaShields to my ability to hear armadillos rooting around in tall grassy areas of the Ozarks, where I live. We have embarked on predator control here on our property, since armadillos love to eat turkey and quail eggs, tear up gardens and grassy areas and carry leprosy. I know that my ability to hear them as they search for grubs in the timbers and meadows is better than it was before, and has allowed me to put more marks on the board in relation to armadillos down this year.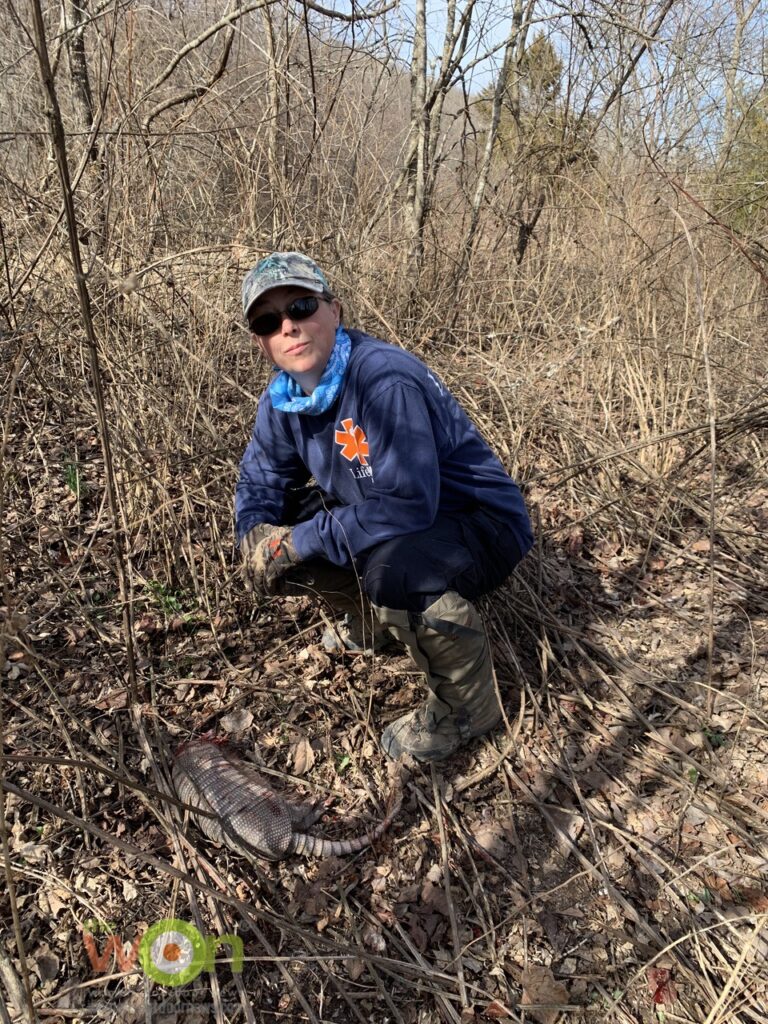 I am planning on purchasing a pair of multi-pursuit AlphaShields for the hubby, probably for his birthday but earlier.
If you're curious about which TETRA product to order, you may avail yourself of a selector that will help you to make that choice.
The waterfowl AlphaShields retails for $699. CustomShields run $1,099.
Visit TETRA Hearing.
About Barbara Baird

Publisher/Editor Barbara Baird is a freelance writer in hunting, shooting and outdoor markets. Her bylines are found at several top hunting and shooting publications. She also is a travel writer, and you can follow her at https://www.ozarkian.com. View all posts by Barbara Baird →