Simple Recipe: Spring, No Bake Birds' Nest Cookies
This week, as our dogwood tree bloomed and pollen fell, I decided to make an easy dessert in honor of spring. These Spring, No Bake Birds' Nest Cookies are quick, tasty and fun for the whole family to make. I enlisted the aid of my greatest Little Helper, my nearly two-year-old daughter. Here she is with her "payment" for helping in the kitchen – pretzel sticks and a sampling of some of the ingredients used in the birds' nests.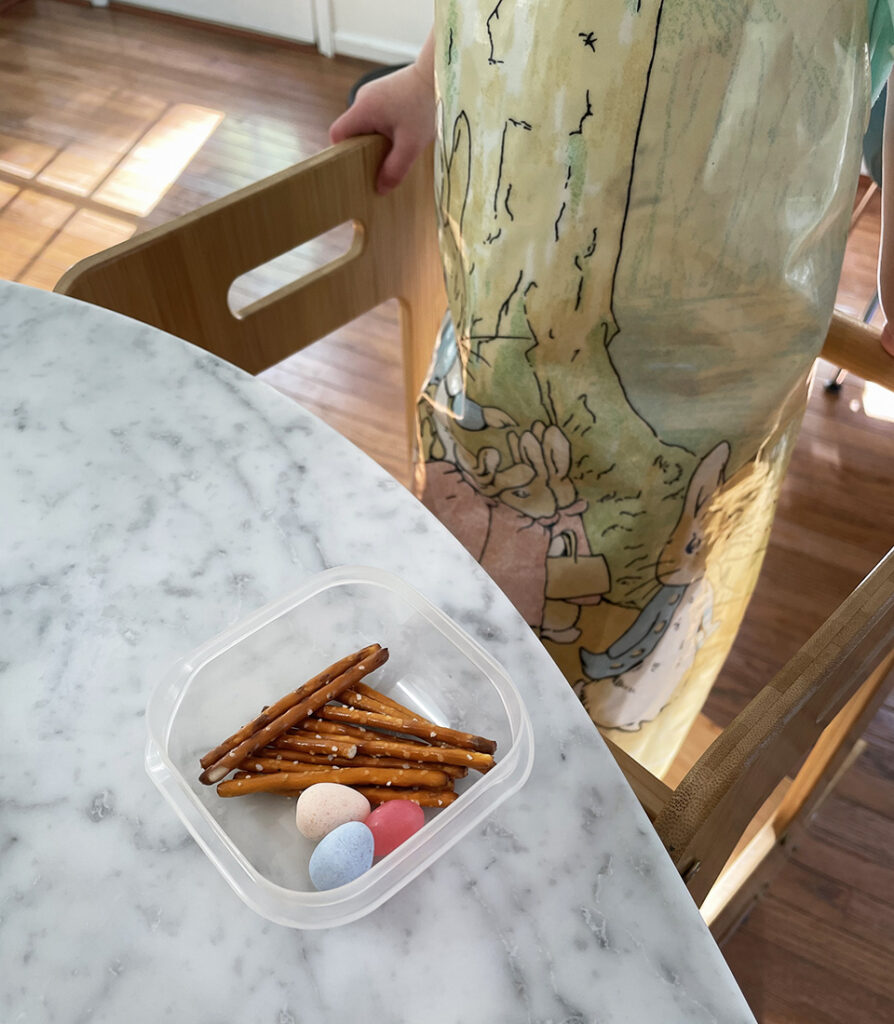 Although she was more interested in eating the ingredients at various points during the activity, she still gladly helped with pouring, mixing and overall kitchen "supervision." We referred to this recipe from the blog "Dinner At the Zoo." Continue reading for our version of this tasty treat.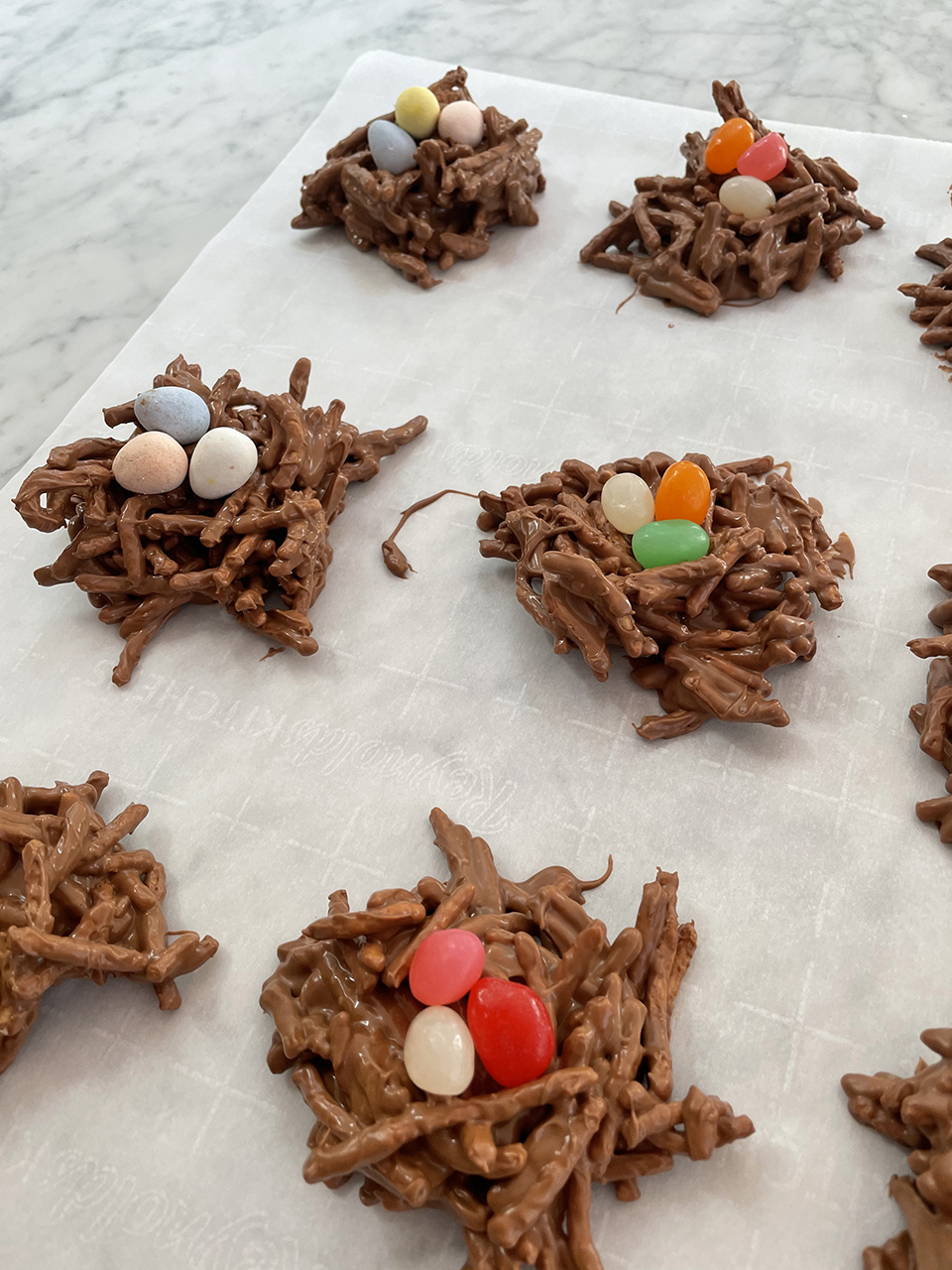 How to Make Your Birds' Nest Cookies
Birds' Nest Cookies Ingredients
12 ounces butterscotch chips
12 ounces milk chocolate chips
12 ounces Chow Mein noodles
Birds' "eggs": jelly beans, Cadbury Mini Eggs, etc.
Parchment or wax paper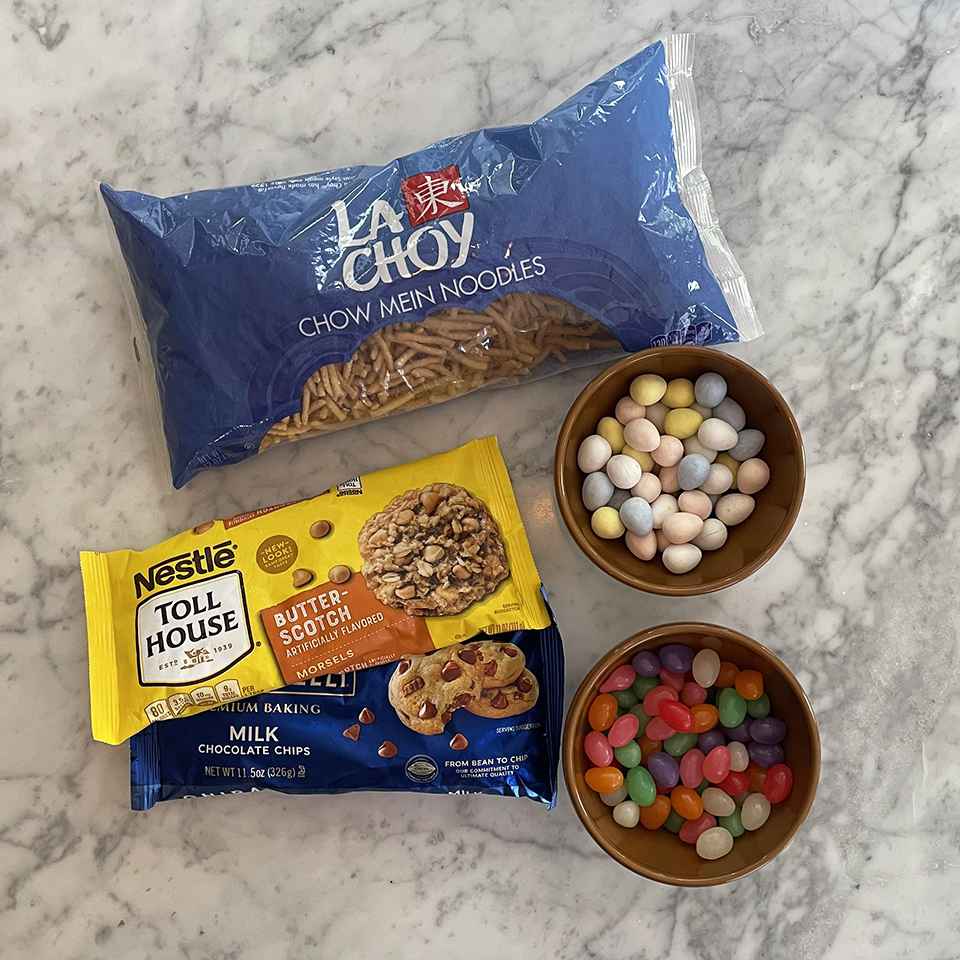 Birds' Nest Cookies Instructions
1. Pour your butterscotch and milk chocolate chips into a large, microwave-safe bowl.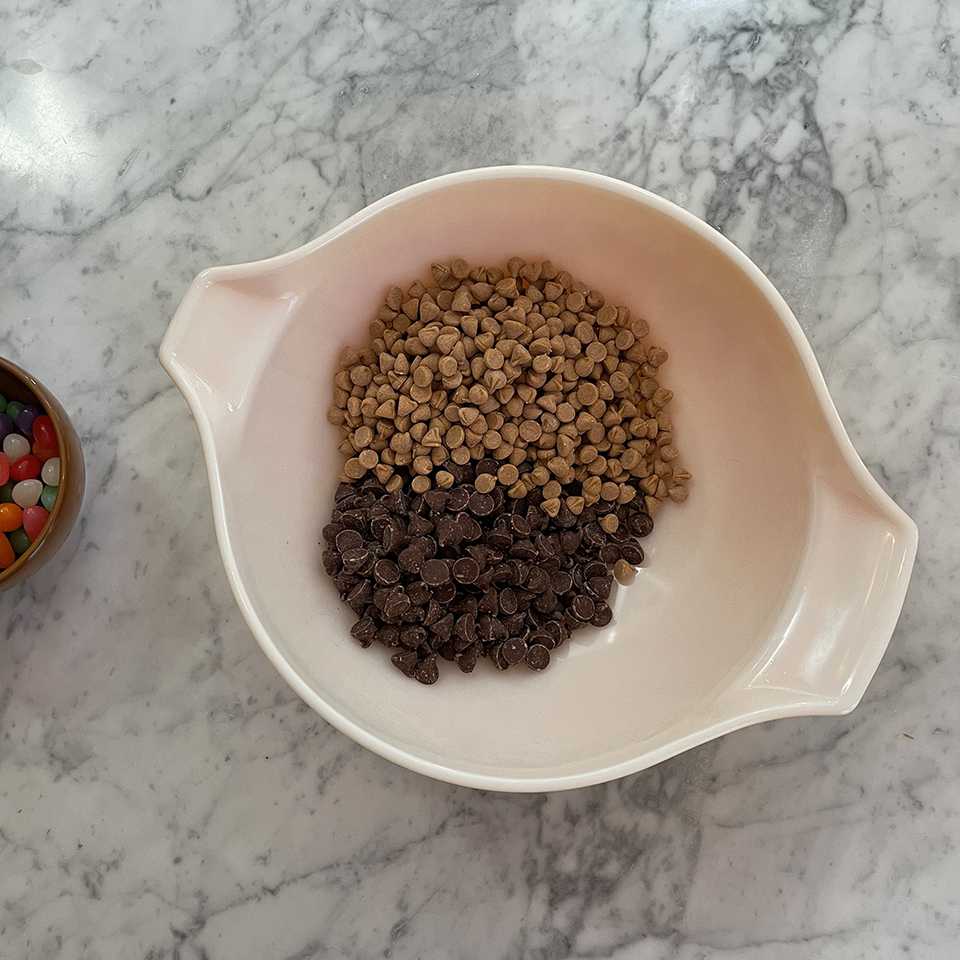 2. Heat in microwave for 30 second intervals, taking care to stir after each time.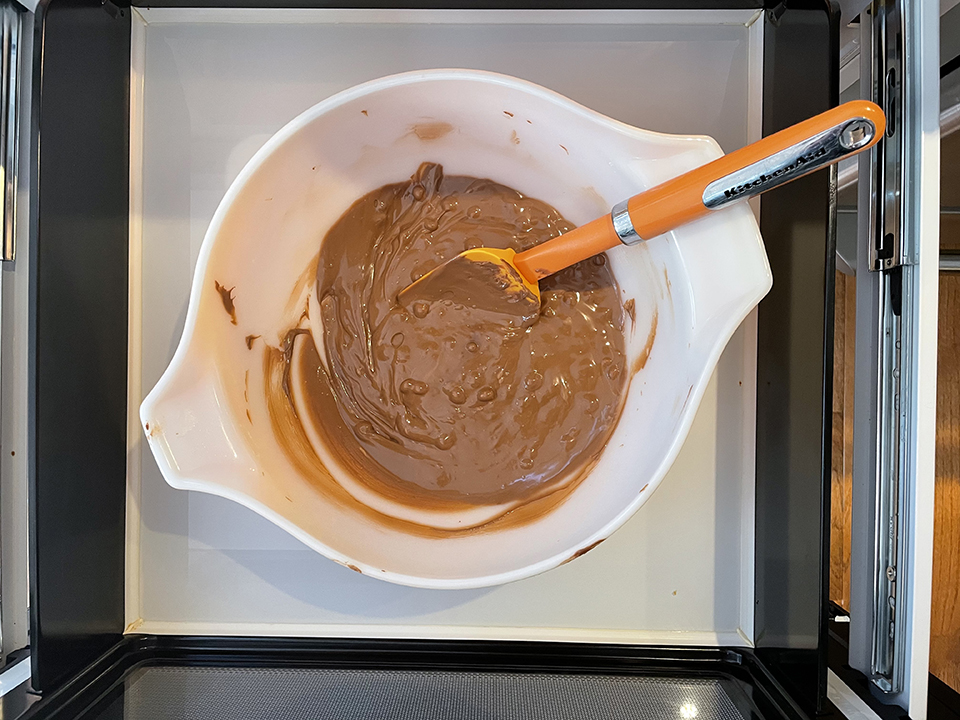 I took out my chips when they were mostly melted but still a little lumpy. I found that giving the mixture a few good stirs helped to melt the remainder of the butterscotch and milk chocolate chips, and kept me from burning the lot.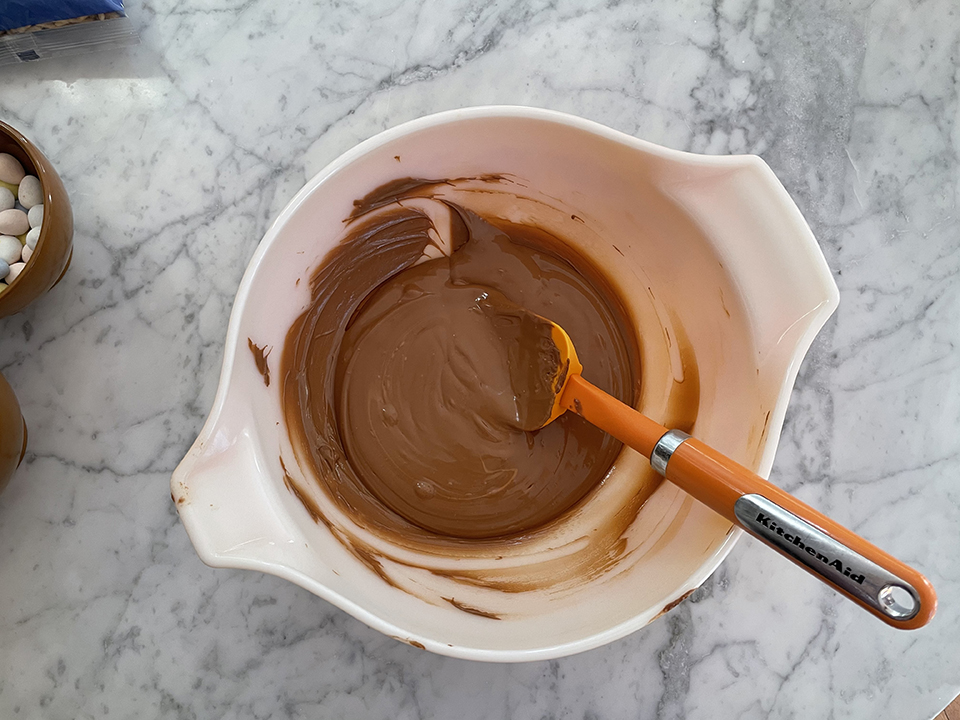 3. Remove bowl from microwave, taking care with the bowl – it will be hot! Stir in your Chow Mein noodles.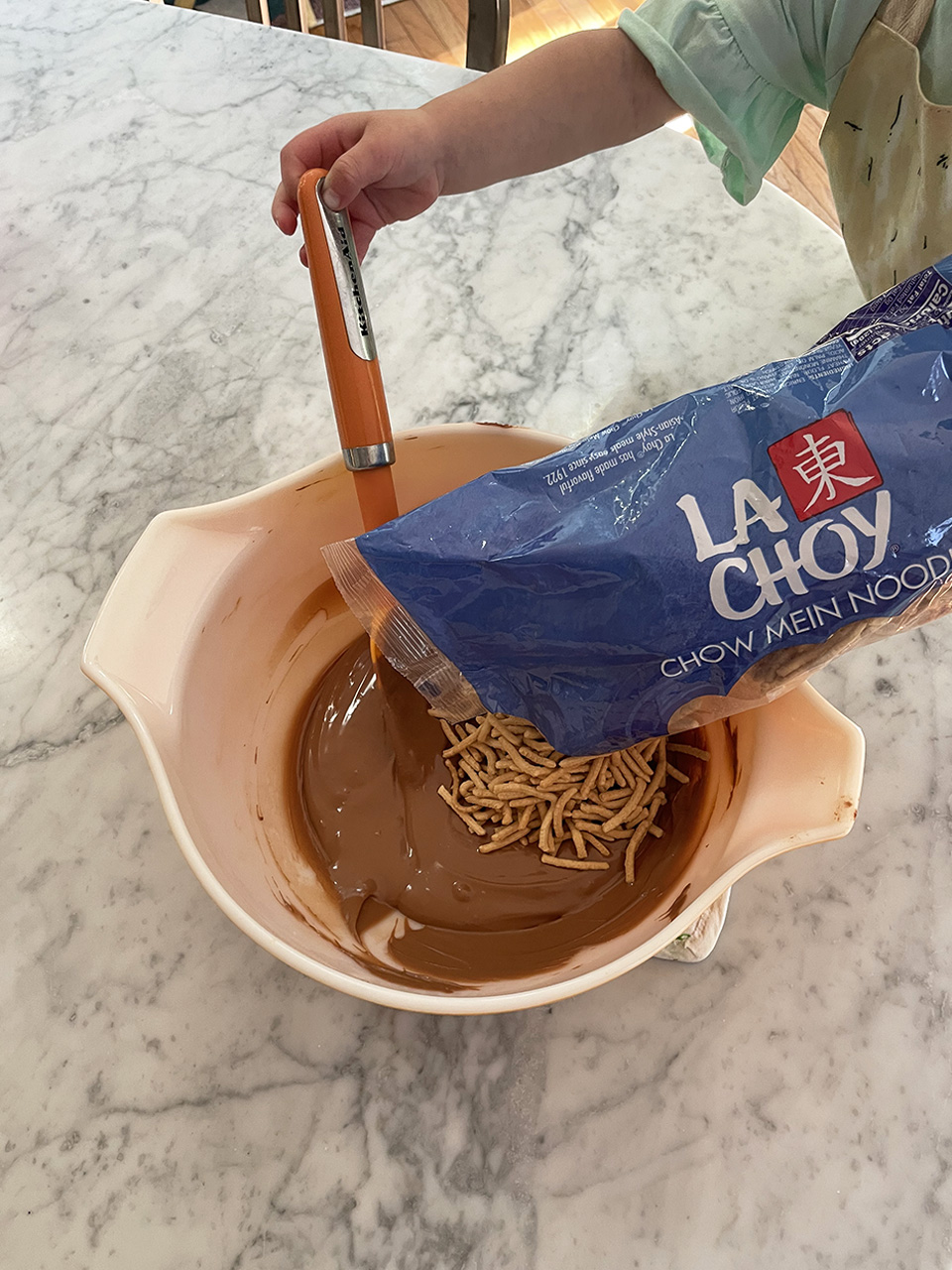 The mixture is ready for the next step when each noodle is covered in the melted chips.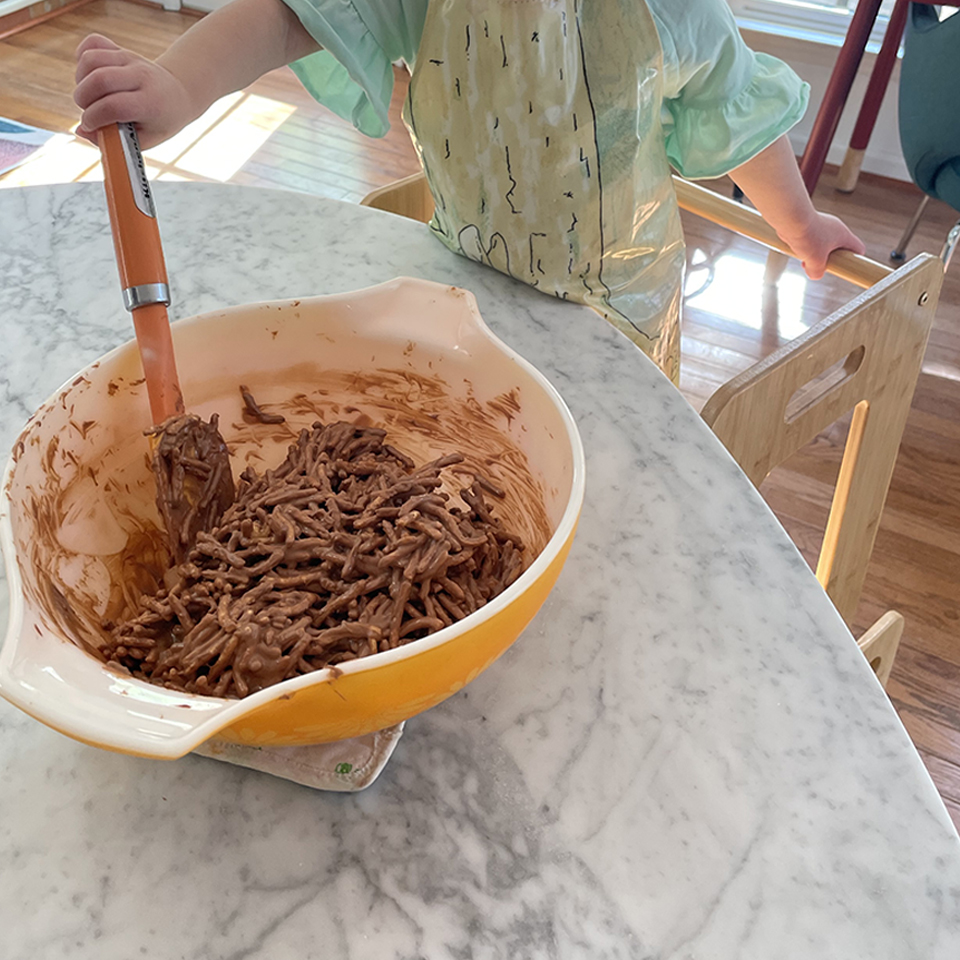 4. Roll out a good bit of parchment or wax paper onto your countertop. Drop large spoonfuls of the mixture onto the paper, and shape each mound into a nest. Promptly add three "eggs" to the center of each nest.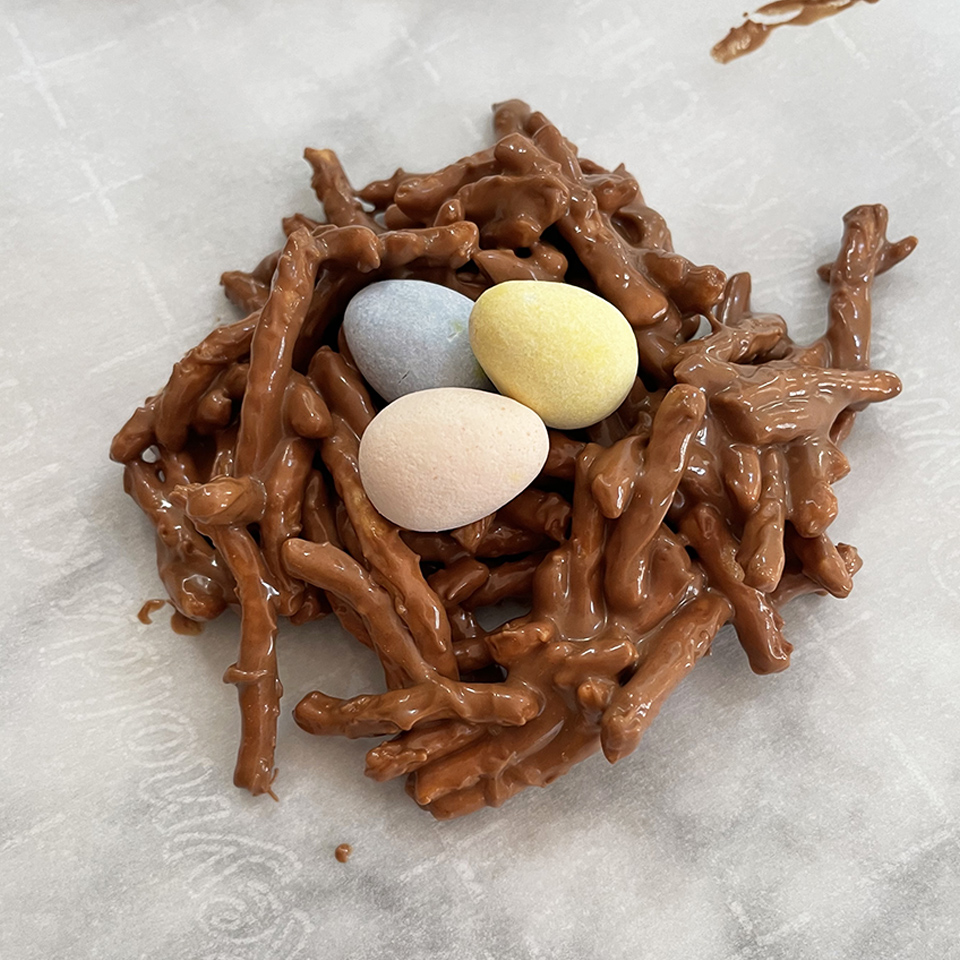 A note about the "eggs" – use whatever is readily available. I had leftover Cadbury Mini Eggs and some regular jelly beans, so that is what I used. However, as this is a spring time recipe and not strictly an Easter cookie, please feel free to use whatever candy eggs are in season!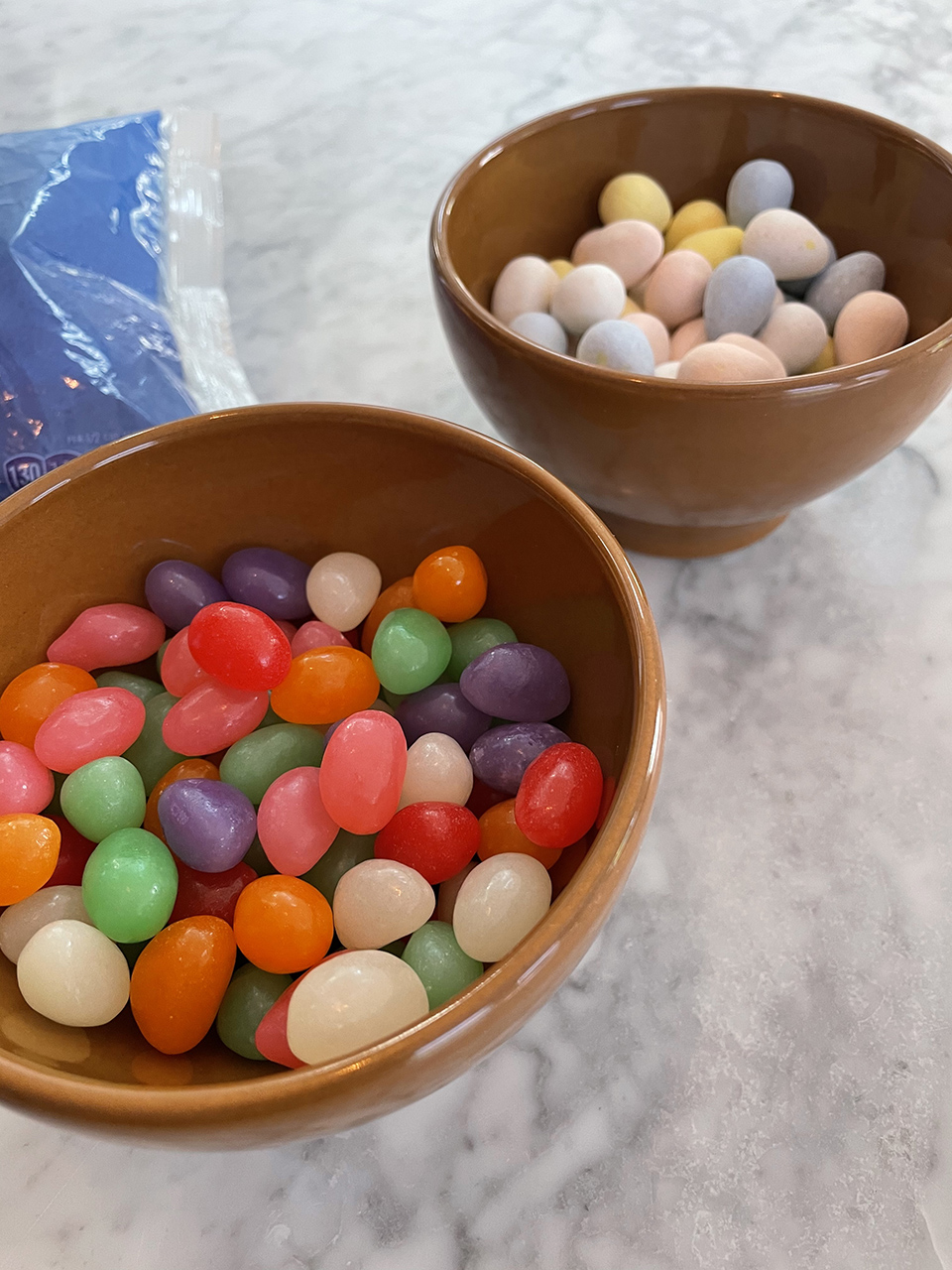 5. Continue creating birds' nests, taking care to work quickly before the concoction cools completely.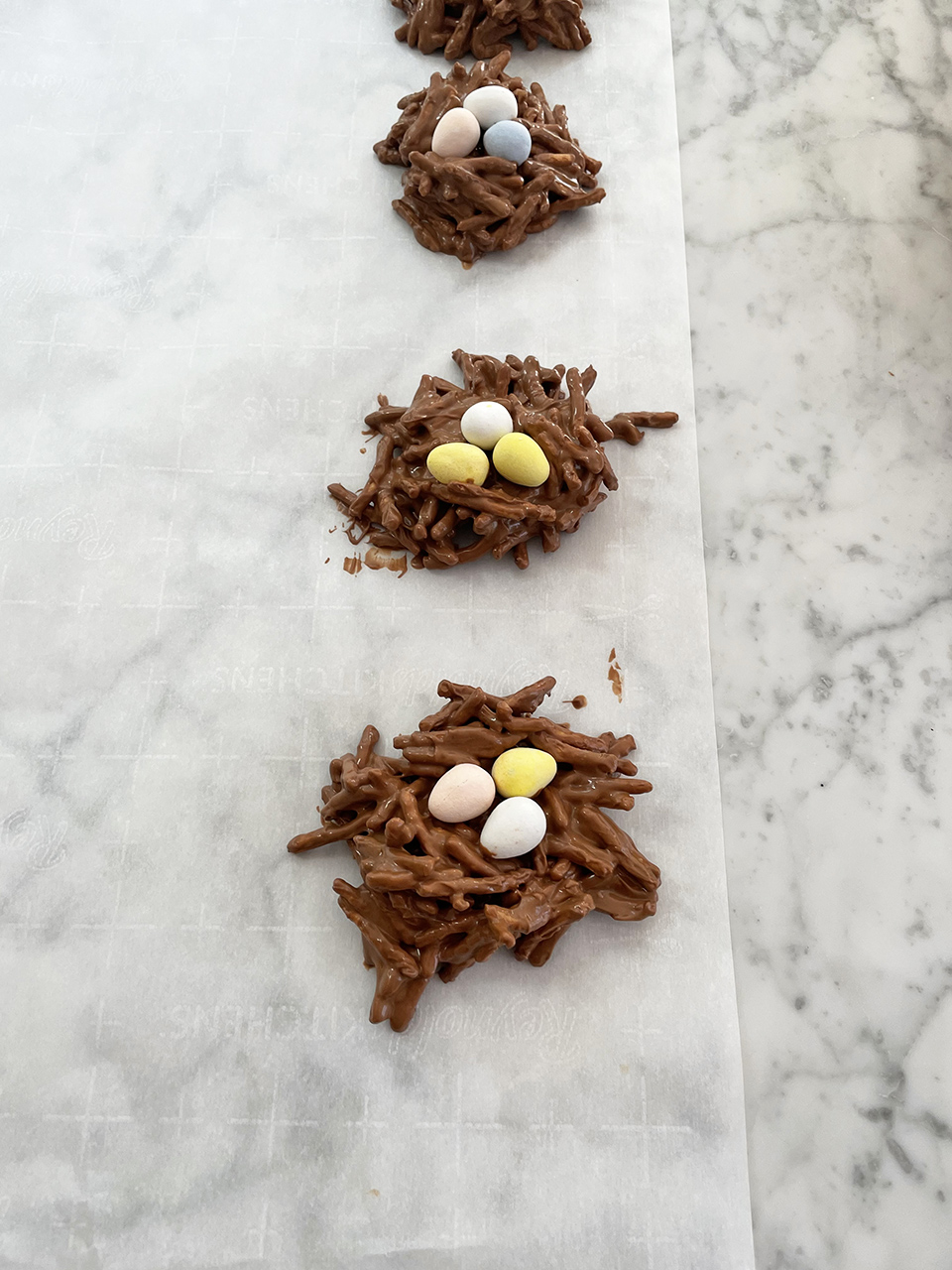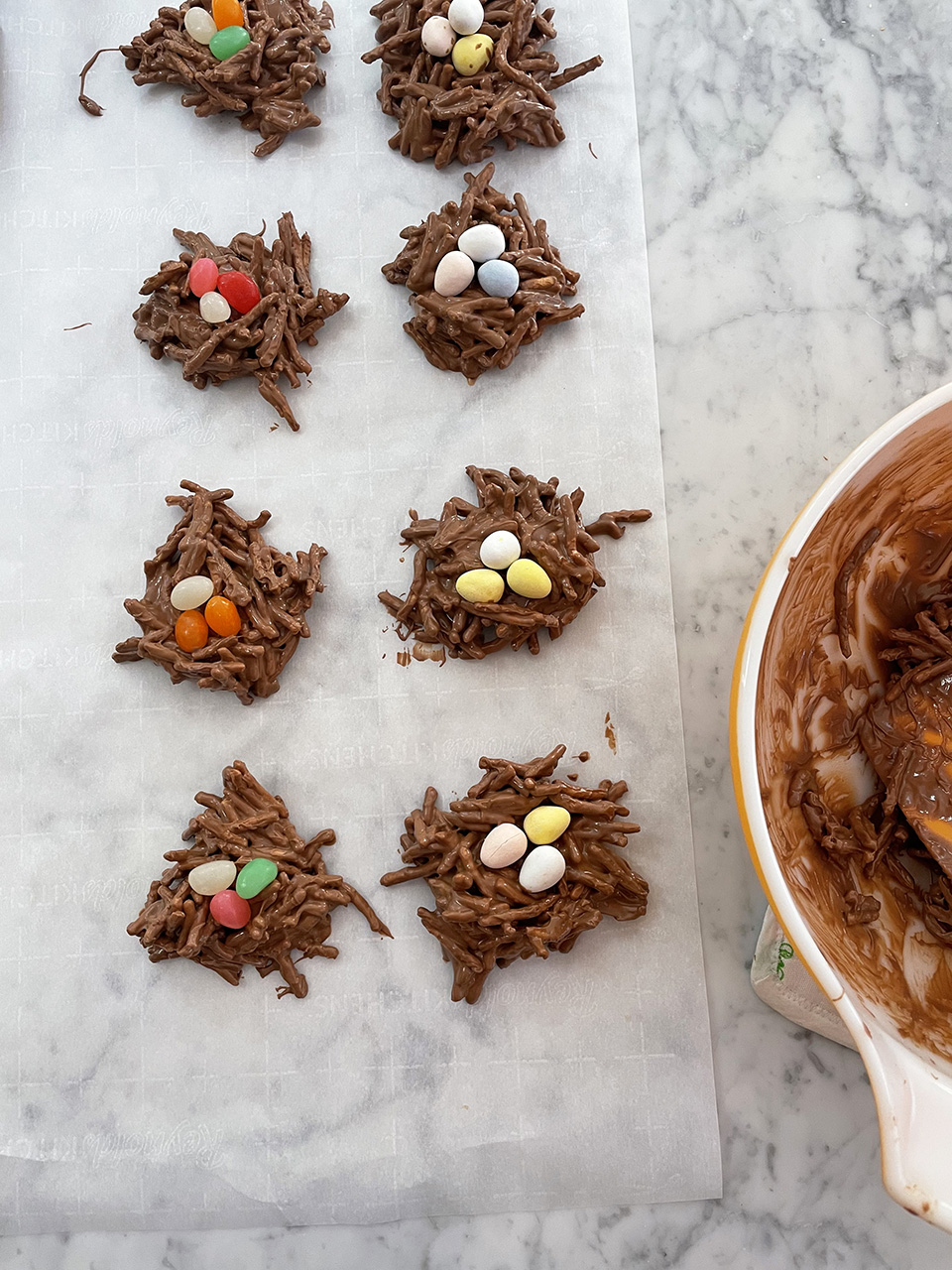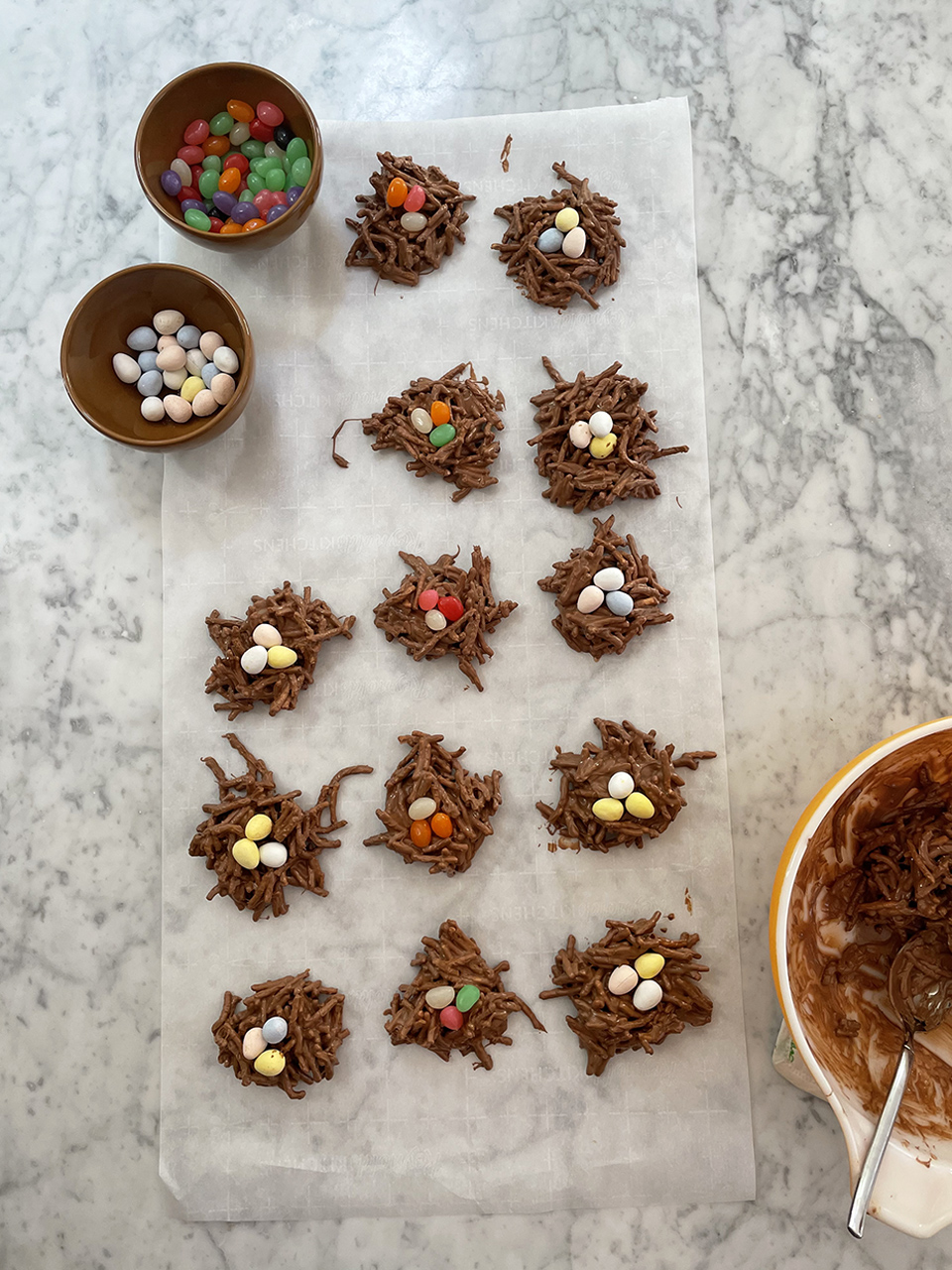 6. When all of your noodle mixture has been spooned out, and "eggs" nestled in place, allow your nests to cool completely.
Voila! Your Simple Spring Birds' Nest Cookies are ready for consumption.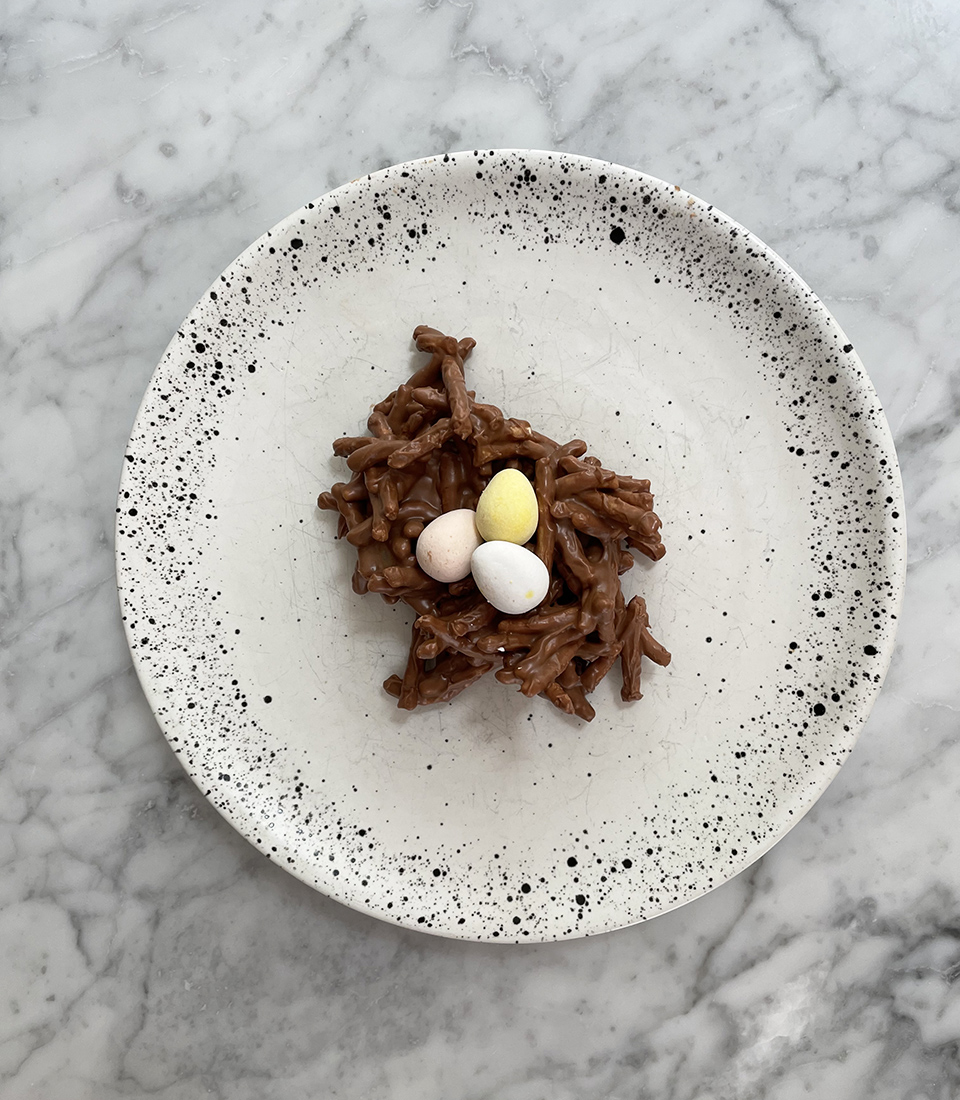 Children's Resources About Birds' Nests
Here are a few books we love, that are a great companion to this simple recipe:
Bird Builds a Nest: A First Science Storybook, by Martin Jenkins.
Birds, Nests & Eggs (Take Along Guides), by Mel Boring.
The Nest That Wren Built, by Randi Sonenshine.
Bird Nests: Amazingly Ingenious and Intricate, by Stan Tekiela.
About Jackie Richardson

Jackie Baird Richardson is an interior designer, editor at The WON and avid junker. Watch for her design tips and occasional crafting ideas, bringing the outdoors indoors. View all posts by Jackie Richardson →