Clay Shooting Disciplines
My love of shooting began when I was a girl and went duck hunting with my father. Later on, while working in advertising, I was given the opportunity to join a skeet shooting team, and realized I had a real knack for the sport. The best thing about clay shooting is that almost anyone can participate. It's very family oriented, and in this sport, it is not uncommon to see people shooting with their kids and grandkids – girls and boys – and everyone having a good time. I started shooting in a skeet league in 1999 and then went to sporting clays and 5-stand in 2004 and added FITASC shortly after that. I even did a little stint of trap, too, which was greatly beneficial to my sporting clays scores! This sport, in all variations, provides a fun activity for all ages.
Sponsored by Fiocchi
Clay Shooting Disciplines
Here's a rundown of the most common disciplines out there, with links to more information about each and ideas of how to get started.
Sporting Clays
Sporting clays is a very social sport; I've enjoyed it these past 17 years, and expect to continue participating in it for many more years to come. This genre of sporting clays was created to simulate more realistic hunting scenarios. It uses the terrain of the land, which makes every course unique. Each station is set up with a pair of targets that are shown to the first shooter in the squad; the first shooter rotates through each new station. There are crossing targets, incoming and going away targets, big looping birds (called chandelles) and even rabbit targets that roll along the ground (or can be in the air too).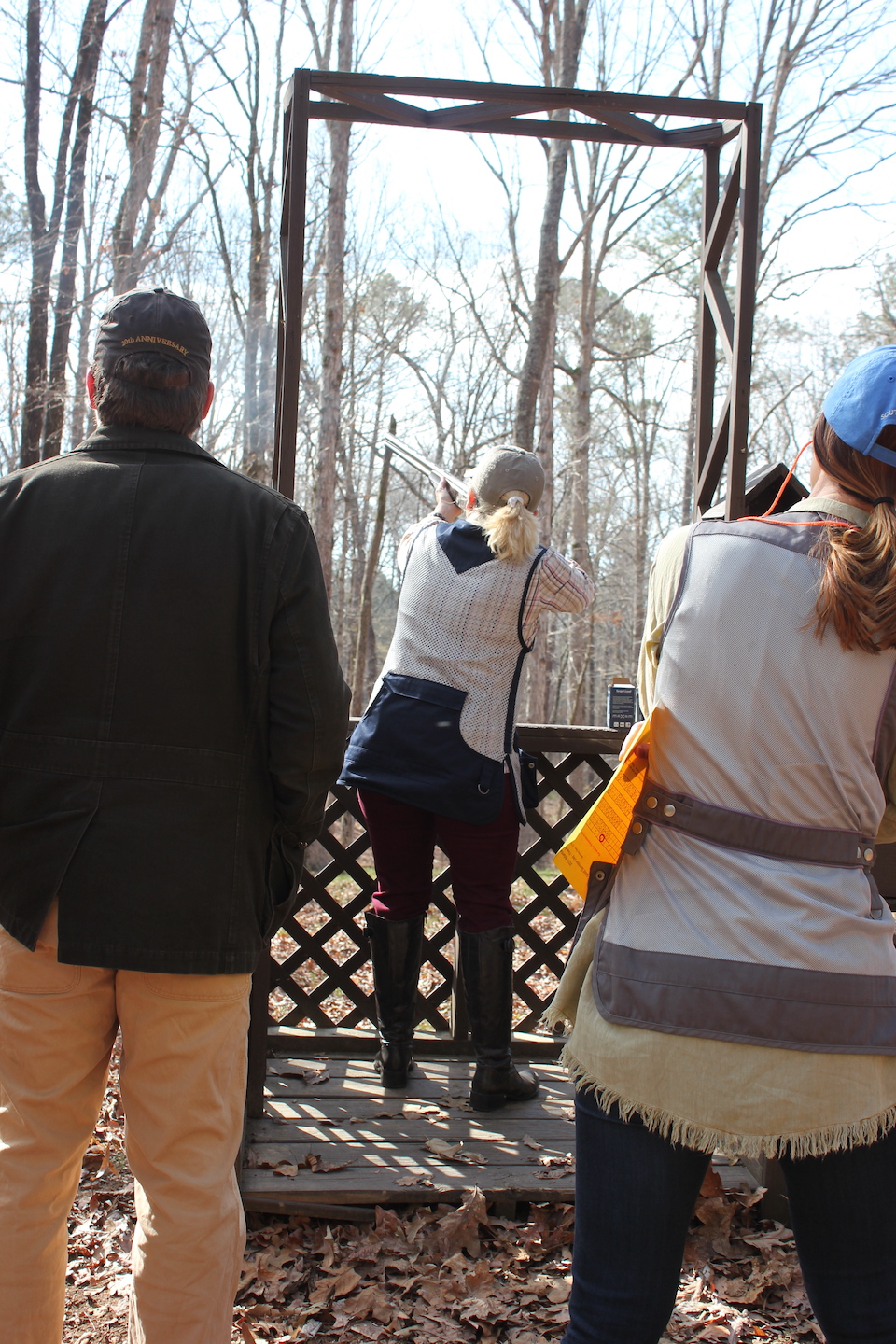 A normal round is 100 targets and usually has between 10 and 15 stations set up on a course that can be more than a mile long. Each station has multiple pairs and the shooters may have the gun at a low mount or pre-mounted.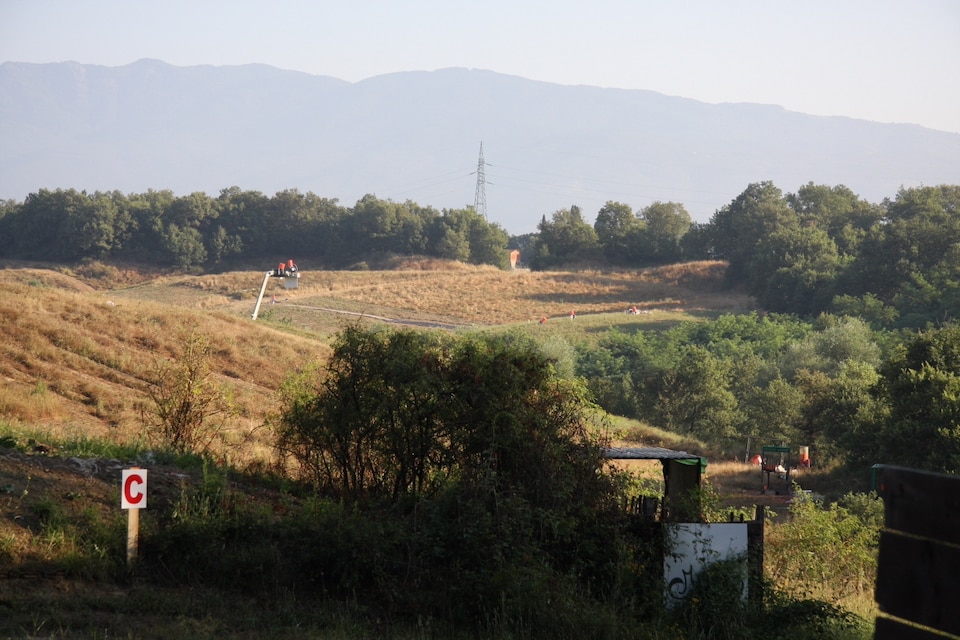 The National Sporting Clays Association (NSCA) is the governing body, and its website has lots of resources from instructors and events listed all across the country. Expect to need some transportation of some sort to get through the course, if it's not set up in a nice circle. Lots of clubs provide golf carts for rent, and many of the regular participants have their own rides to carry guns, ammo, gear, coolers and other squad mates. Having a push-cart helps to carry guns and ammo also (they look like a modified baby stroller).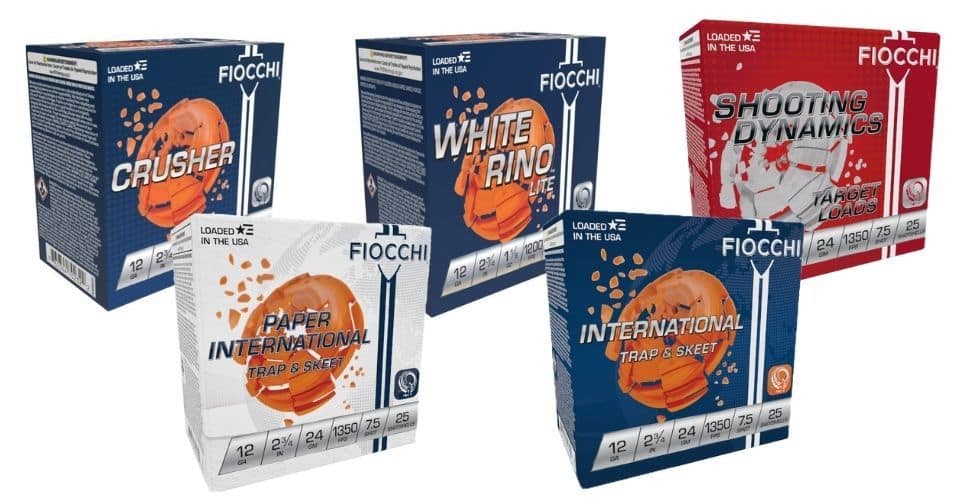 Fiocchi has a few different ammo lines to choose from, including the Exacta brand, Shooting Dynamics and International. There are plenty of specs and speeds available, in order to find the ammo that gives you the confidence in the field.
F.I.T.A.S.C.
I'll admit that I LOVE FITASC and would shoot it exclusively if I could. F.I.T.A.S.C. stands for Federation Internationale de tir aux Armes Sportives de Chasse and is a shooting discipline that is celebrating 100 years in the sport. Their History page gives some great insight into the beginnings of this sport.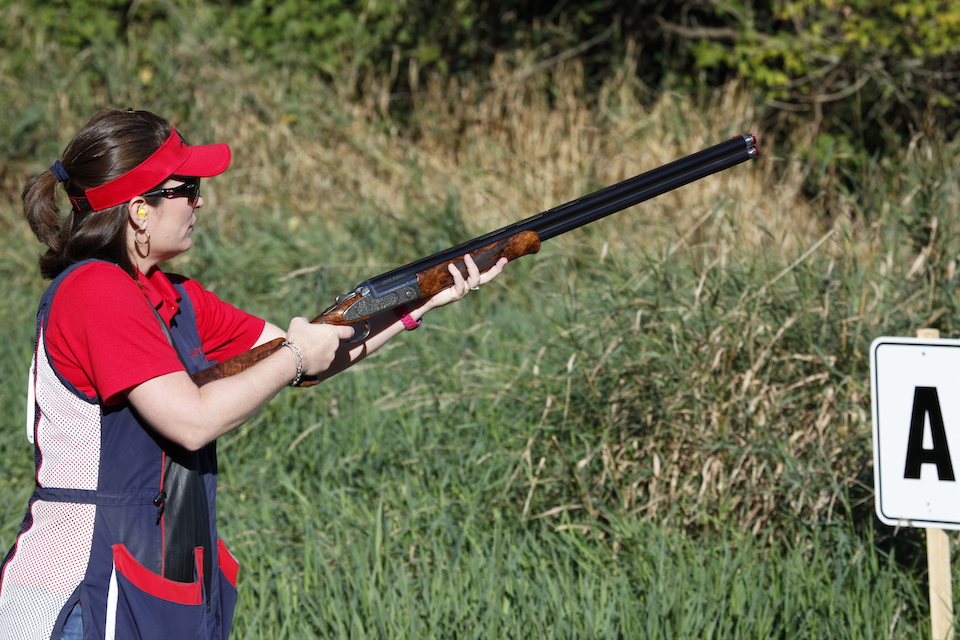 Old style is a 25-bird course, called a Parcour, that is set with three pegs (usually represented by a hula-hoop to stand in). There are usually five or six traps, depending on the layout, and since each course is set to the terrain of the club, they are unique and can be changed to the desire of the target setter. Good target setters are hired for their skills and talents on using the landscape for creative and challenging targets.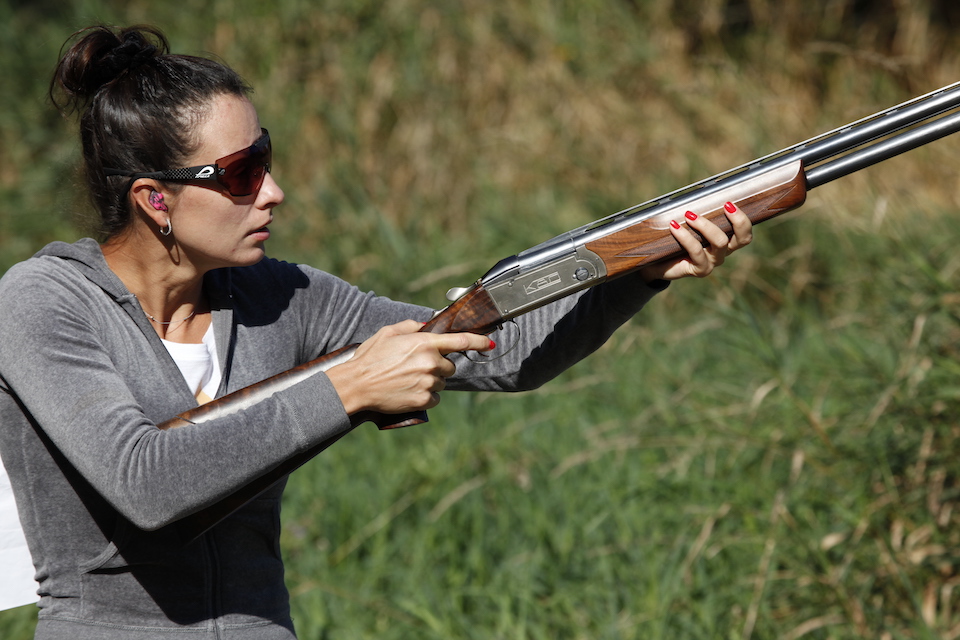 Shooters get four singles on two of the pegs and five on another, with two shots at each single. Then there are two doubles for each peg. Shooters do not get to view the doubles if they are set as a report pair, only a true pair. Shooters must start their guns in a low mount position, that is marked by the referee, at about chest level. The pegs are set to take advantage of different target trajectories and don't always include all the targets on each peg.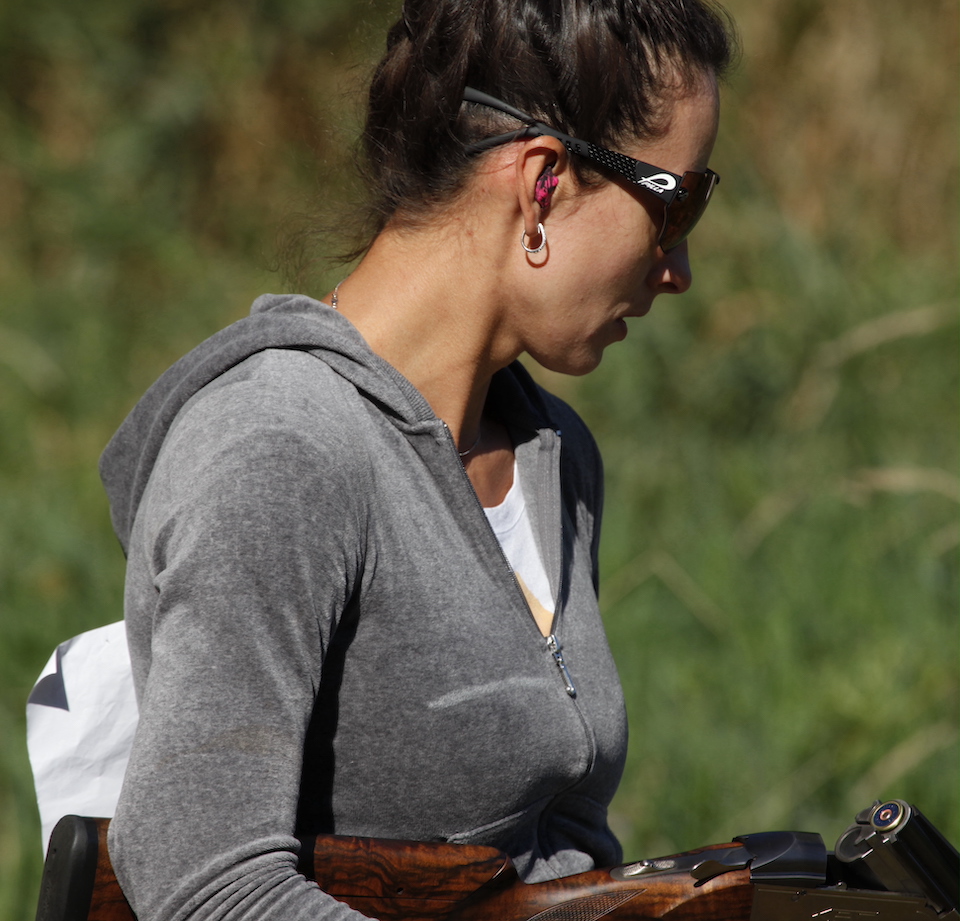 New style has a different set of targets for each peg. So, while in a 100-bird course you only have to remember about 20-to-24 targets, in new style there are four to five targets for each of the three pegs on the parcour — up to 60 targets in the round. It allows for a lot more people to participate in the event, but you lose the pace and overall feel of the old style. Most of the larger NSCA tournaments have a FITASC event included. However, be sure to check with the tournament because availability of courses is limited and often just for the tournament.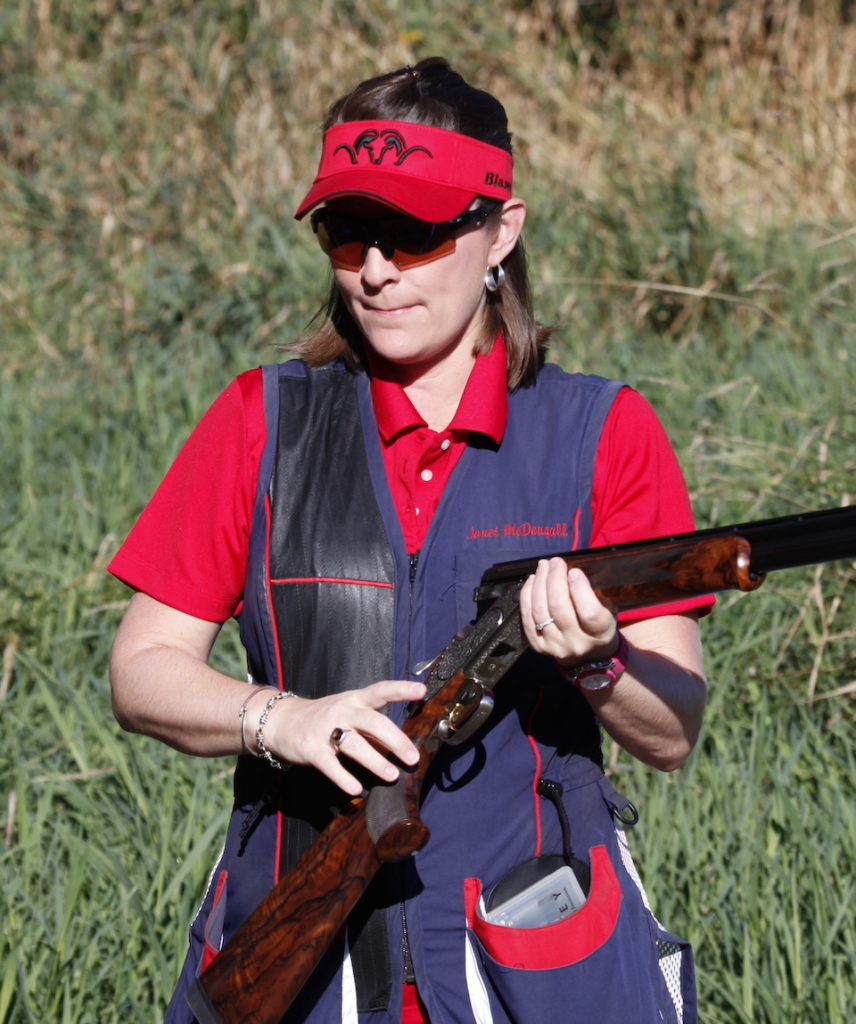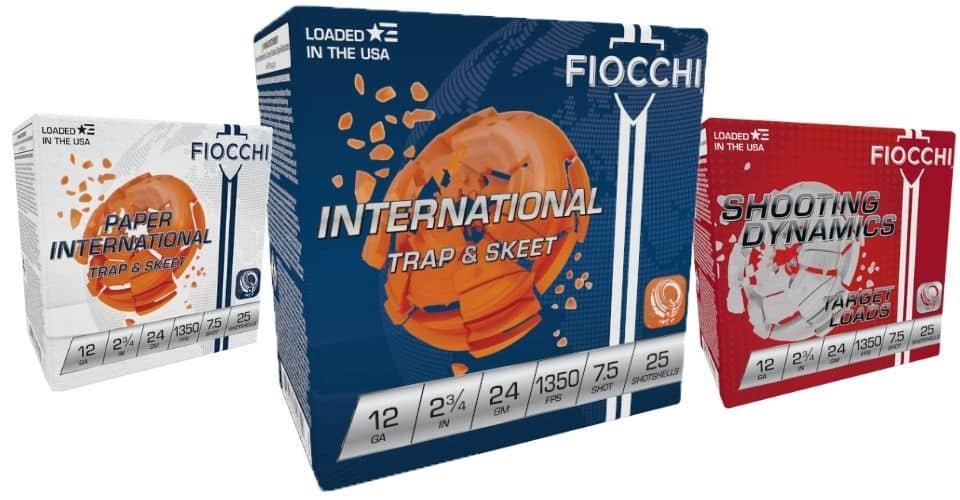 There is a 1 ounce (or less) load requirement for FITASC internationally, so when choosing your ammo, make sure you're not exceeding the requirement. Here are links to Fiocchi's ammo for this discipline: the Exacta brand, Shooting Dynamics and International.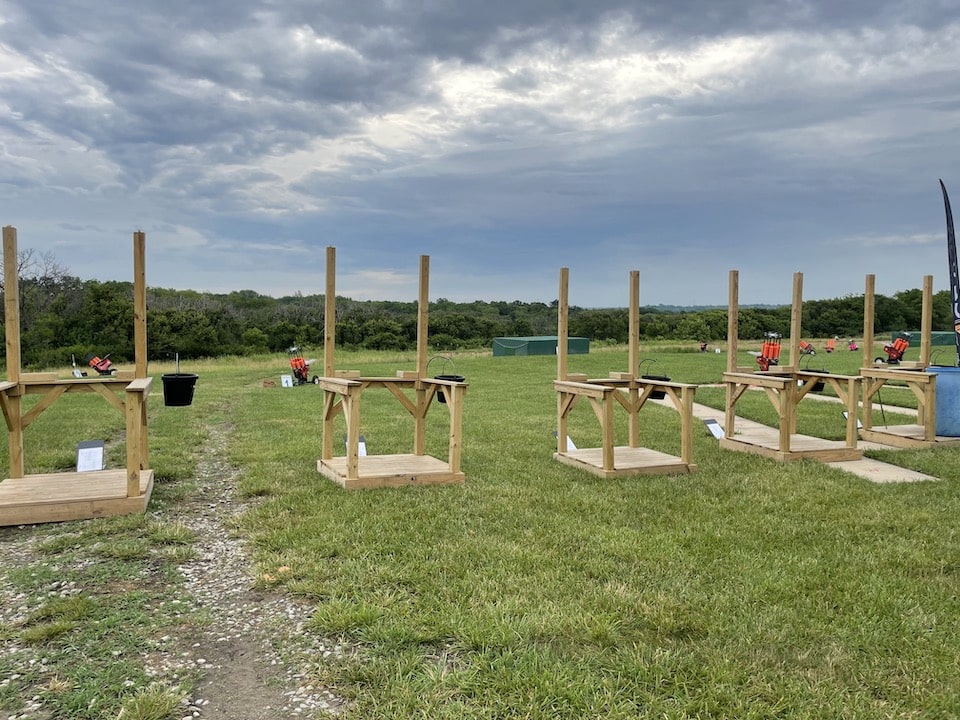 5-Stand
5-stand is a fast game that sees five shooters in stations with up to eight targets. There are usually a couple of crossing targets, an outgoing target overhead, an incoming target and maybe a rabbit. The target choice is left up to the target setter, and can be changed for regular shooting or registered competition. Typically, each participant shoots five targets at each stand with a single, and then two pair for 25. Sometimes clubs will do five pair at each stand for a 50-target run. It's an easy setup for most clubs, as it doesn't take up a lot of space and can move shooters through at a quick pace. You can find it set up at a lot of clubs around the country, and it's customarily an additional event at most NSCA tournaments. The same ammo used in sporting clays can be used for 5-stand.
American Skeet
American skeet is set up on a half-circle field with a high house and a low house. That's the only place from which the targets are thrown. The shooter moves around a half circle, starting under the high house and moving towards the house, traveling across seven stations. The final station is the eighth, which has two targets as singles with the shooter in the middle directly between the high and low house.
Stations 1 and 2: High house single; Low house single; High house/Low house pair.
Stations 3, 4, and 5: High house single; Low house single
Stations 6 and 7: High house single; Low house single; Low house/High house pair
Station 8: High house single; Low house single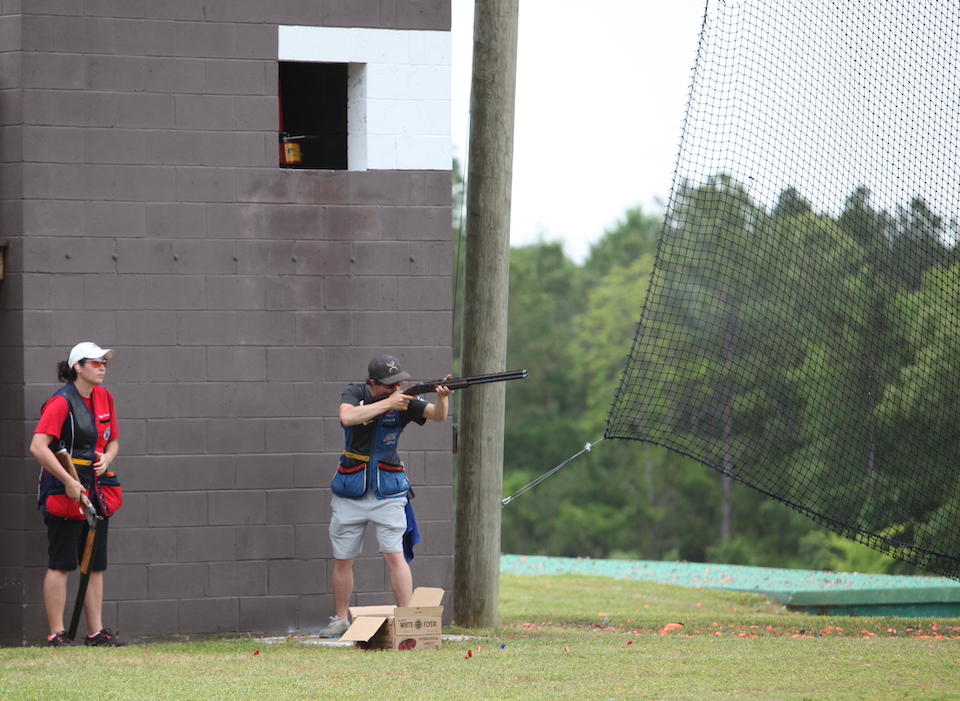 One of the significant things about skeet (and trap) is that the fields are set up the same all around the country and internationally. There are standards and expectations from the shooters that wherever they go, the field will be the same. Most shotguns come with a "skeet" choke, which provides an open pattern since the targets are a limited distance away.
Getting started shooting skeet is pretty easy, as there are so many clubs across the country that have fields available. Click here to check out the National Skeet Shooting Association's (NSSA) guide to skeet basics, along with how to find instructors and events all across the country.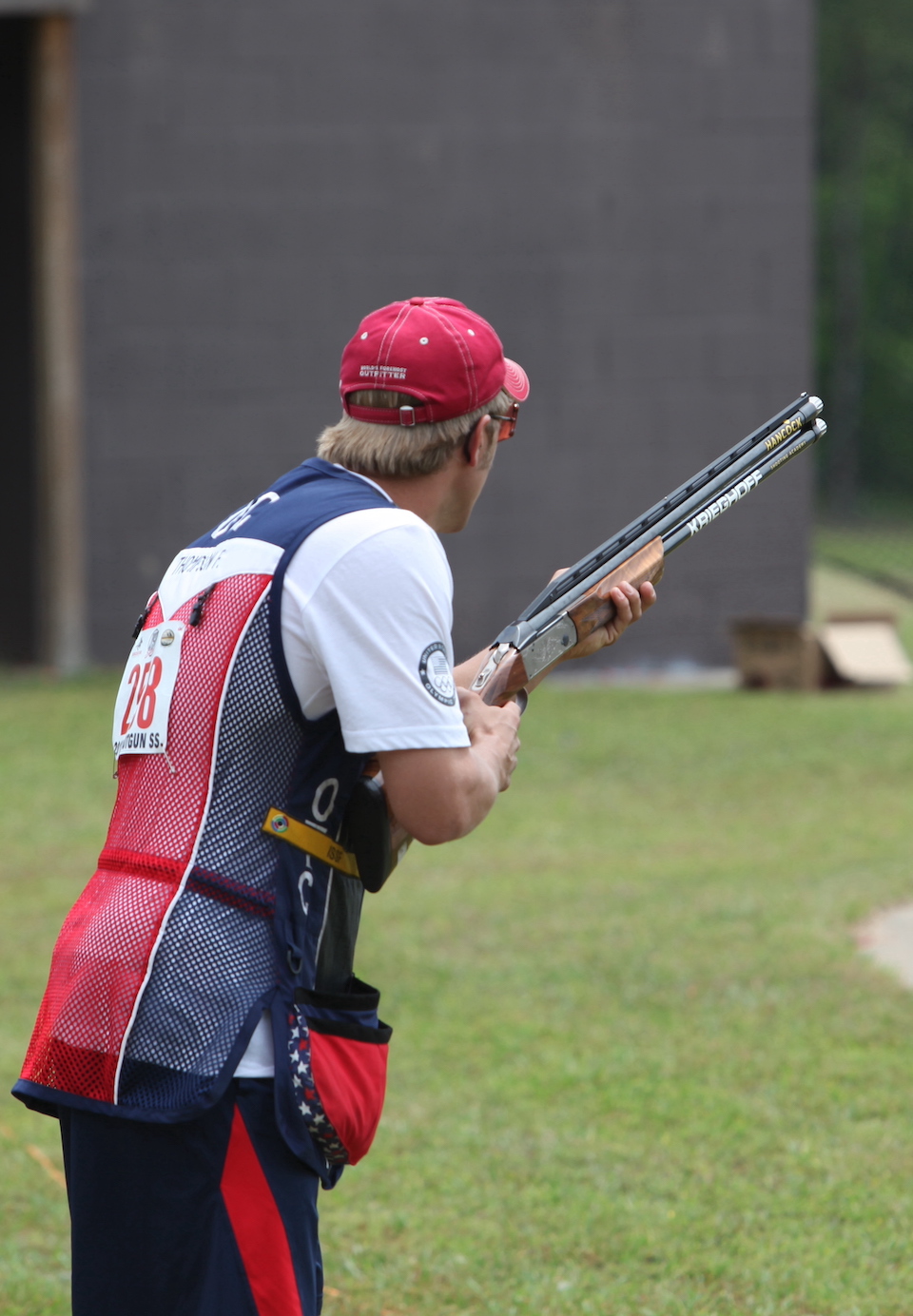 The International/Olympic version of skeet (iSkeet as the kids call it) has changed over the years. It is now much more challenging for the individuals that compete on a world level, and require the additional degree of difficulty to distinguish between world champions. It is run by the ISSF – International Shooting Sports Federation, and they dictate all the rules for the games that feed into the Olympics. USA Shooting is the domestic organization, and shooters must qualify to compete on the international level with the team.
iSkeet is set up on the same field as American skeet, but all the targets are traveling at 62 miles per hour, up from 42 miles per hour in the latter. There is also the potential for a delay up to three seconds for each target thrown, and the doubles are thrown simultaneously. The shooters must hold the gun at a low mount and cannot move until the target is launched (remember the delay). See the picture from the ISSF rule book on the ready position.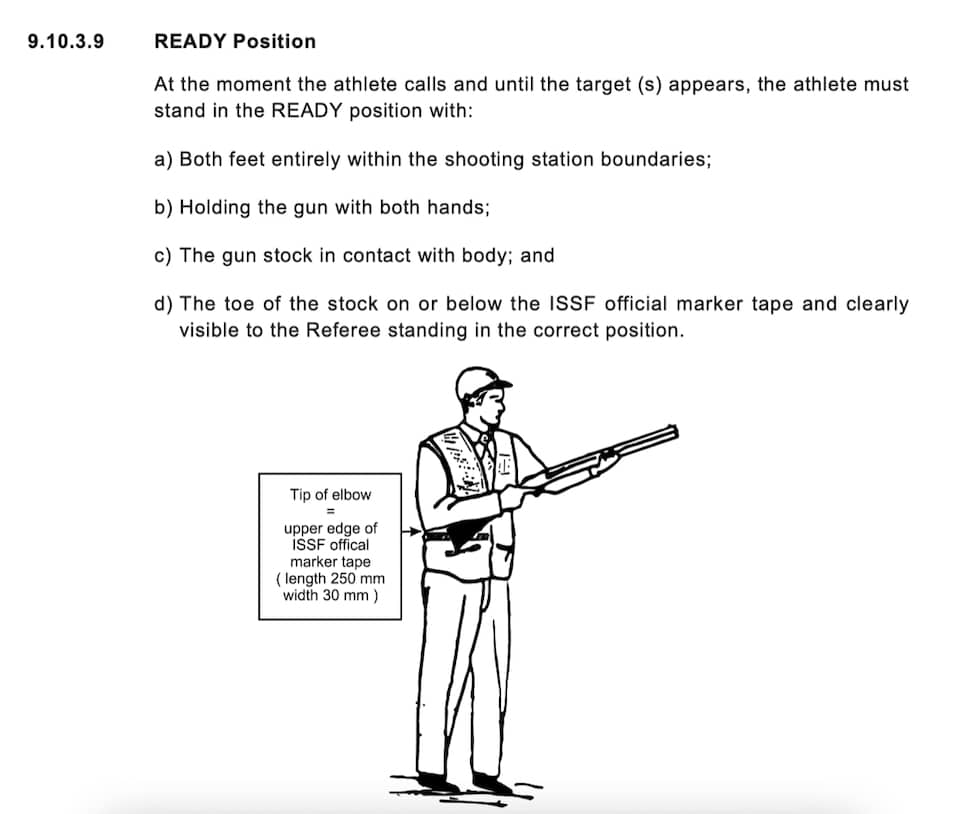 Also, the combinations of singles and doubles has changed. This chart is from those rules: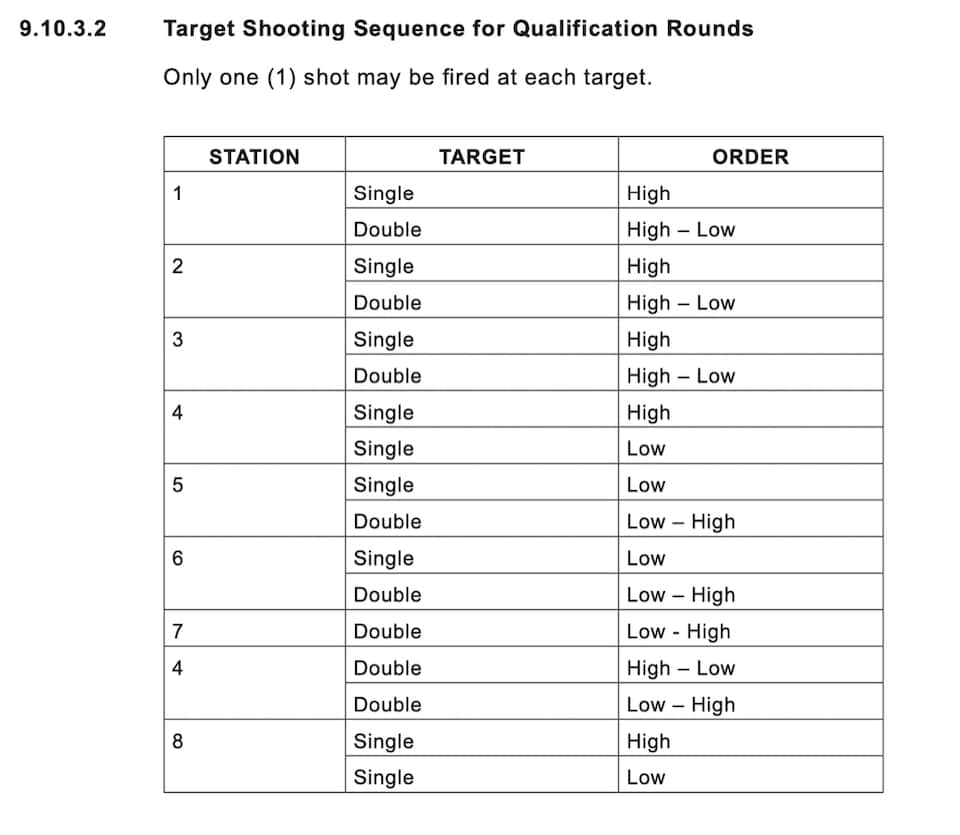 The best shotgun shells for skeet would come from Fiocchi's Shooting Dynamics line. Because all ammo can be difficult to find right now, don't limit yourself. Try a few different speeds and specs to see what you like and what gives you the confidence to hit the targets. My advice would be to start with a slower, lighter load and then move up to see where to find your sweet spot. Your shoulder and your score card will tell you where you'll want to be on feet-per-second.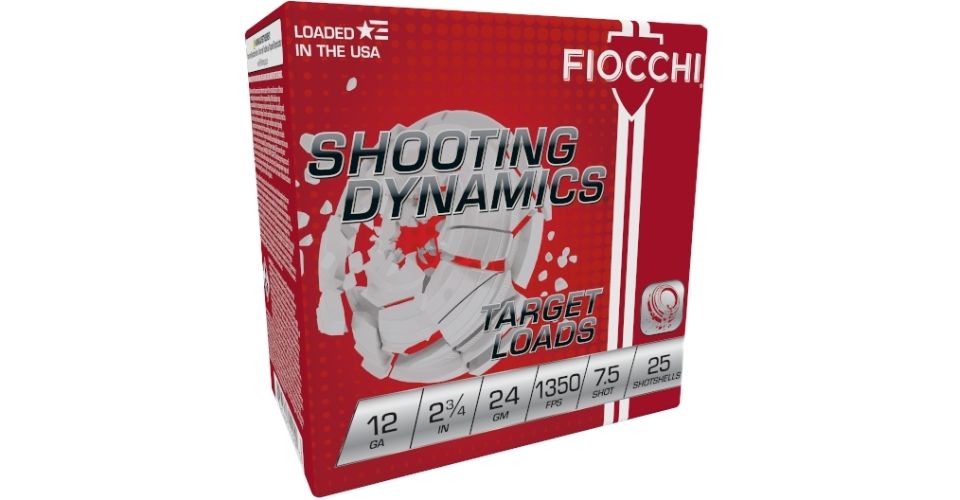 International Trap
International trap, also called bunker trap or trench, is similar to skeet in that the fields are set up the same everywhere to standardize the game. There are clearly-defined rules for every aspect of the game, and it is also an Olympic sport and governed by the ISSF. One of the most challenging aspect of bunker trap is the availability of a field to use.
There are 15 traps with three per each of the five stations. Each trap is set up with a different trajectory. The shooters get two shots for each bird traveling at 62 fps (except for finals or shootoffs, and then they only get one shot). The shooters also move to a new station for each target and trap shooters pre-mount their guns. There is a requirement for ammo that it is 7/8-ounceshot, but there is no restriction on speed.
ATA Trap – Trap fields are plentiful and set up the same way as international trap, with one clay thrower releasing the targets in five different trajectories. The shooters move across five stations, shooting five birds at each station before moving on. The only thing different at each trap field should be the view. Shooters get one shot per target for singles, doubles and handicap events. Most gun clubs across the country have at least one trap field, but usually will have multiple. These same fields are usually overlaid with a skeet field, as well.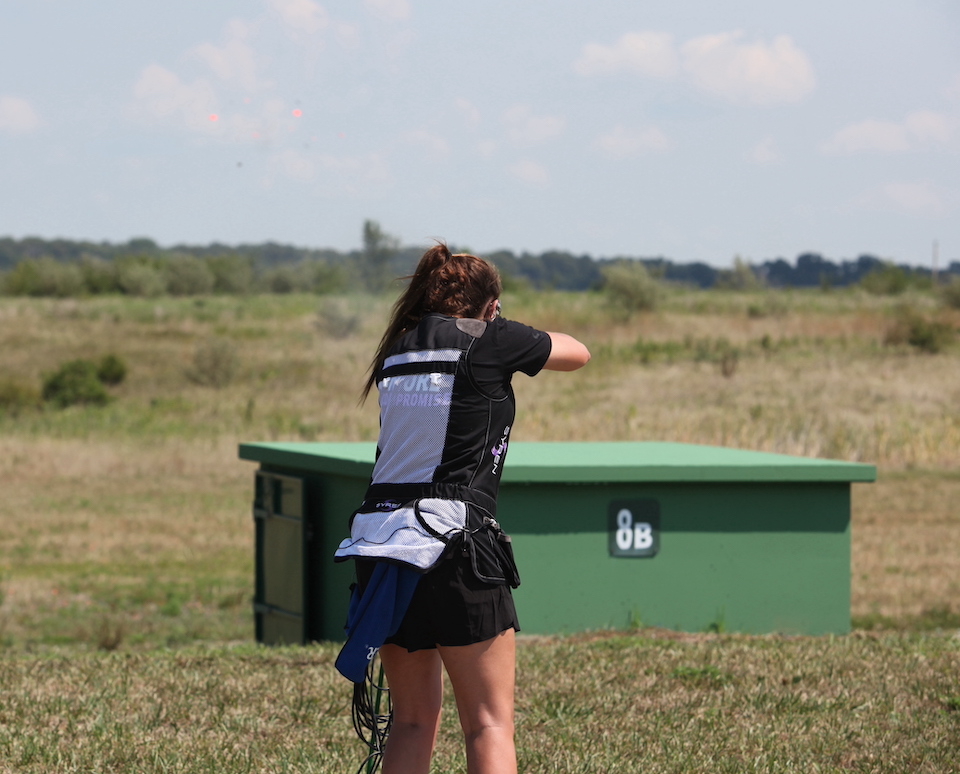 All new shooters start on the 16-yard line. If you attend tournaments and you start to improve, you will start to move back in yardage, with the best shooters at the 27-yard line. In a tournament, everyone shoots "singles" on the 16-yard line, with the "handicap" event being where you are in your yardage behind 16 yards.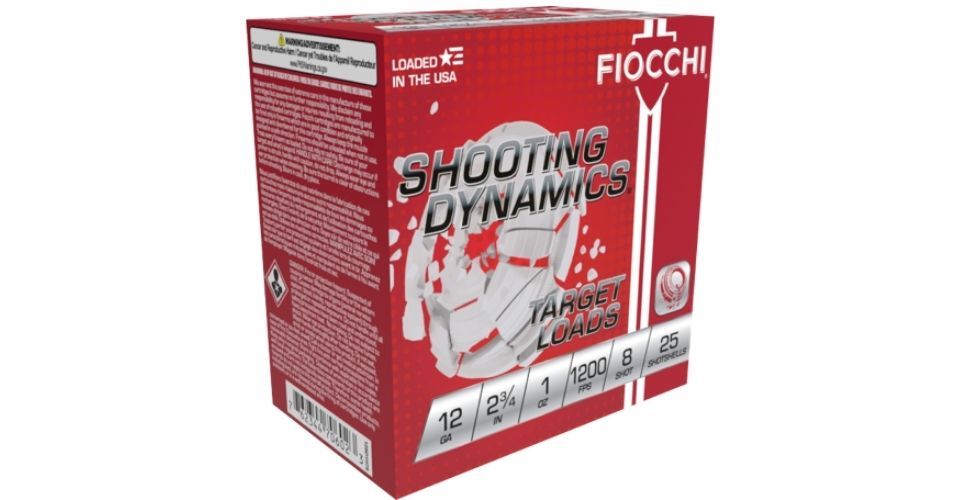 The Fiocchi ammunition used for trap would be under the Shooting Dynamics and you can select which ounces and speed works the best for you.
Helice
Helice – Shooters get two shots at the target for this game. It's set up on a ring and has what looks like a propeller on a cap. When the shooter calls for the target, it can be launched from any of the five-to-seven throwers set up in an arc in front of the shooter. The shooter must hit the target and separate the propeller from the cap and have the cap land inside the circle for the point (easier said than done!). The governing body is the US Helice Association and similarly to bunker trap, the availability of rings is limited across the country. Also, the propellers can swerve off in any direction and can be picked up by the wind and take off. That being said, having ammunition that can get to the target before it gets out of range is of the utmost importance. The Exacta Line from Fiocchi gives you lots of options to choose from with speeds up to 1400 fps. Click here for some images from the Helice website that show off shooters on the field.
Lynne's Thoughts on Clay Shooting
Listed above are the most popular clay shooting games, but there are other games set up for youth events and even just shooting in your backyard – if you've got the space and accommodating neighbors! Doing a search on any of the links above will get you an abundance of information, and help you start in whatever discipline you choose. Good luck and have FUN!
About Lynne Green

Lynne is on to her next adventure after over four years in Maryland with Caesar Guerini and Fabarm as the Brand Manager for Syren (a line of shotguns made for the ladies). She has attended dozens of demos and events and has been honored to get to meet and introduce hundreds of ladies and young girls (and lots of boys and men too) to all 3 brands and to shotgun shooting! Lynne has learned so much about shotguns – gun fit, eye dominance and mechanics – that shows her just how much more there is to learn. She now is doing marketing and branding consulting and also plans to stay active in the outdoor industry, do more hunting and sporting clays, shooting lessons and add some fly fishing to her repertoire. She'll be based in the Dallas Fort Worth area. View all posts by Lynne Green →