Review: Taurus GX4 Micro-Compact Pistol
We welcome Taurus as a new partner, and our publisher's local FFL delighted in receiving four new Taurus guns for her to review. His words went like this: "It's raining Tauruses over here." We kick off this series with the Taurus GX4, the company's first micro-compact 9mm gun intended for the concealed carry market. Find out more about why we think it'll work for you.
Sponsored by Taurus
The first thing I noticed about the Taurus GX4 is its size: small and unassuming. Frankly, it doesn't make a bold statement – until you take it to the range and run it.
Taurus released the GX4 in May 2021, and since it's the first micro-compact in a 9mm from this company, it was a big deal.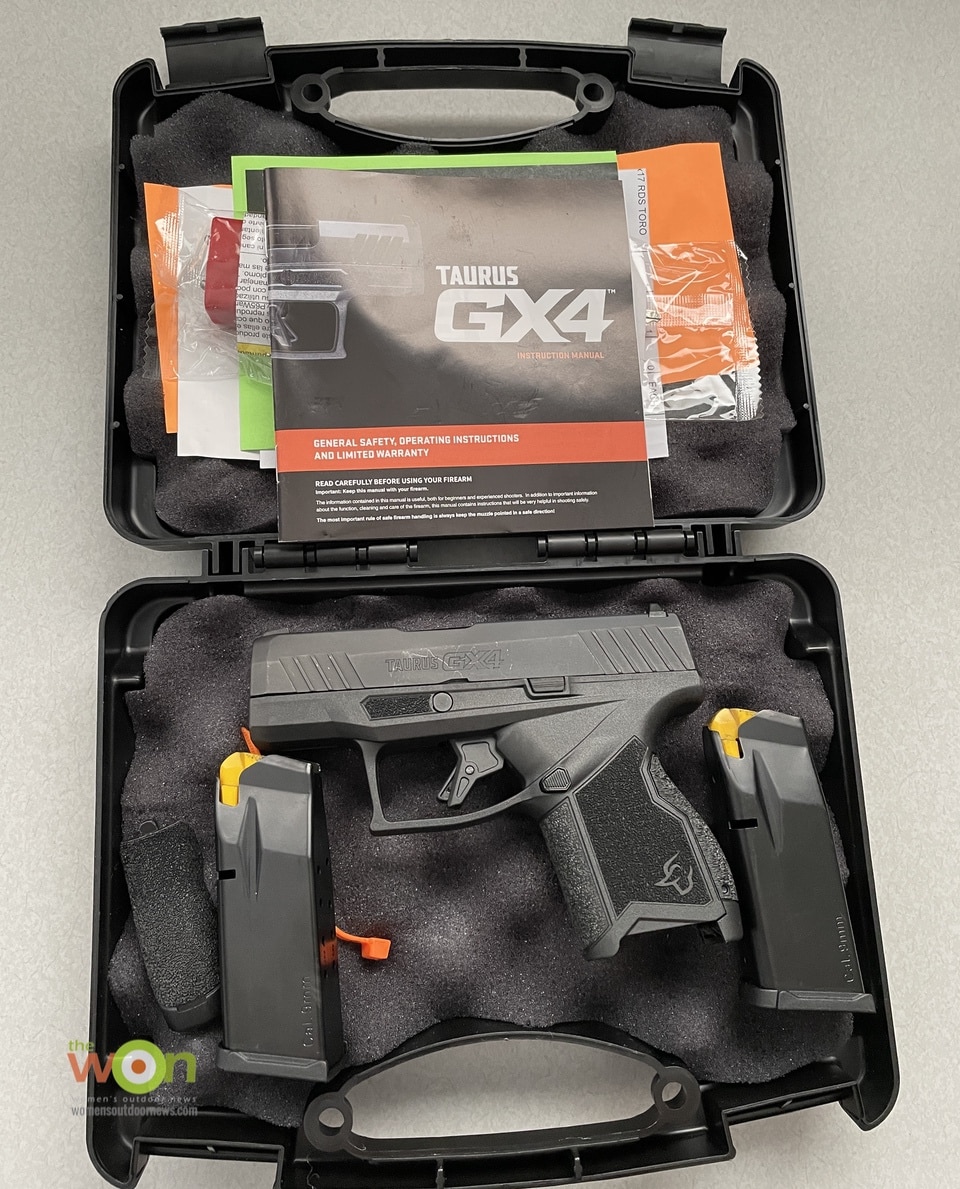 What is a micro-compact gun, you might ask? It sounds like something that you'd find in the movies, developed for an undercover agent, unavailable to the common folk. Other gun manufacturers – such as Ruger, Kel-Tec and GLOCK – have been in this market for a while now, almost a decade.
All of the gun's parts are made in Brazil, and then assembled in the US. Here are some of the GX4's specs:
Capacity: 11 in the magazine, 1 in the chamber
Grip: Polymer
Slide: Alloy steel
Barrel finish: Satin Black DLC Coating
Slide finish: Gas nitride coating
Barrel length: 3.06 inches
Overall length: 5.8 inches with small backstrap, and 6.05 with large backstrap
Backstraps: Two, small and large
Width: 1.08 inches
Height: 4.4 inches
Action: Single
Front sights: Fixed steel white dot
Rear sights: Serrated drift, adjustable
Safety: Striker block, trigger and visual loaded chamber indictor
Magazines: Blued steel 11-round magazine that is a single stack at the top and a double stack at the bottom, allowing for a little extra capacity compared with standard single stack mags, but provides more reliable feeding than a fully double stack mag. You may purchase additional magazines for 11 and 13 rounds, as well as pinky extensions for the magazines.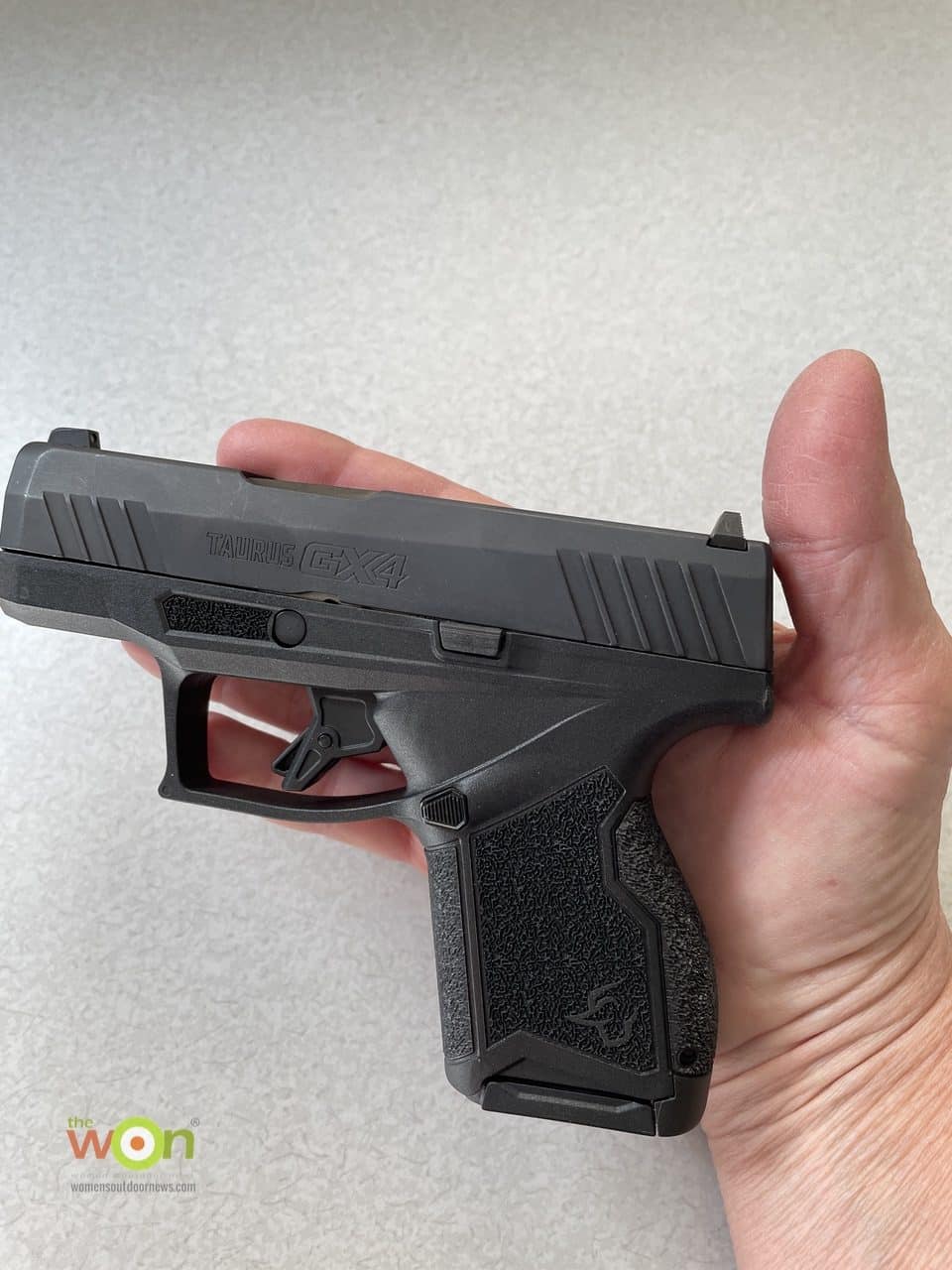 Before Range Work
I easily disassembled the gun at a workbench, using a flat head screwdriver (not supplied with the gun) to rotate the take down pin. After cleaning and oiling the GX4, and performing a function check, I took it out to the range and set up a target at seven yards, which is a good range for concealed carry work.
On the Range with the Taurus GX4
Already I figured that I'd like the wraparound stippling on the gun, because it's not like a cheese grater in my hands. Seriously, some of the latest versions of concealed carry grip stippling from other manufacturers could work in a pinch for a pedicure on shabby heels. They also tear up holsters.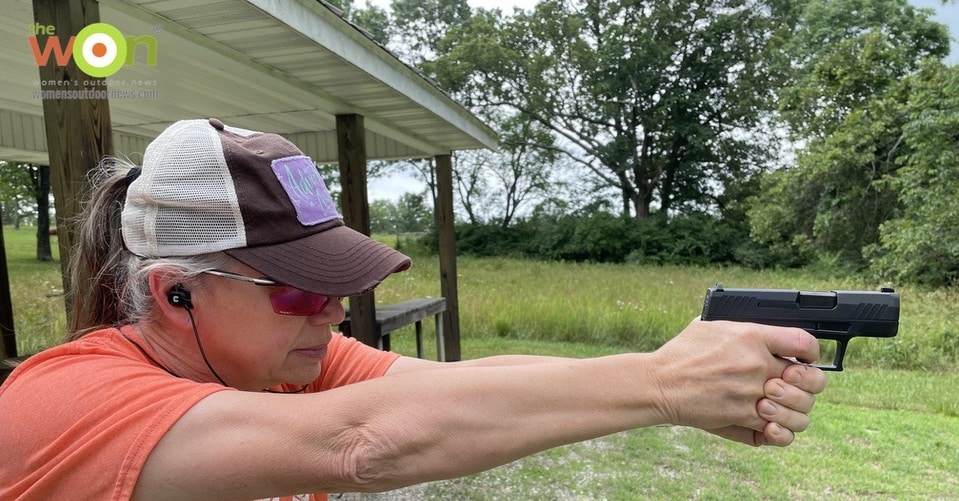 These days, with current ammo shortages we don't have the luxury of firing 300 rounds to "break in" a gun. I'm not sure it's needed for the GX4, since this one fired quite accurately right out of the box (after being cleaned and lubed, of course). I had a few boxes of 9mm ammo left over from other gun tests that I used for my evaluation of the GX4.
For accuracy drills, my assistant and I shot the gun at a distance of seven yards from a bench rest, using a Caldwell pistol rest (The Rock) for support. The test results shown below are in inches, and are from three groups of five shots per type/brand of ammo.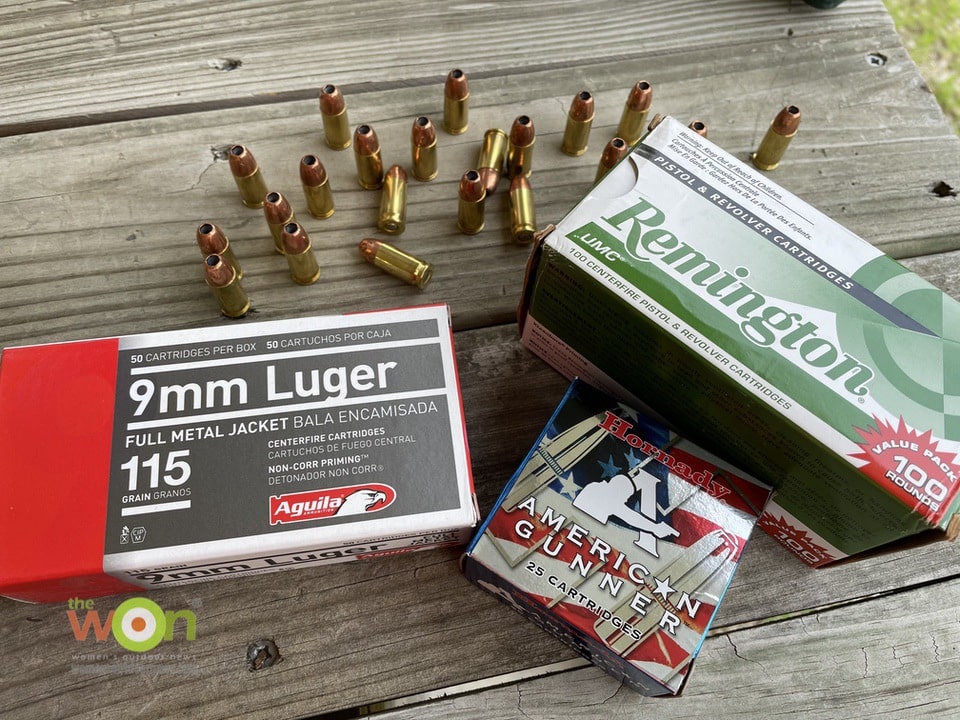 Here are the ammos used and the results.
Aguila 9mm Luger, 115 grain, full metal jacket: largest group – 1.0; smallest group – .75; average – .92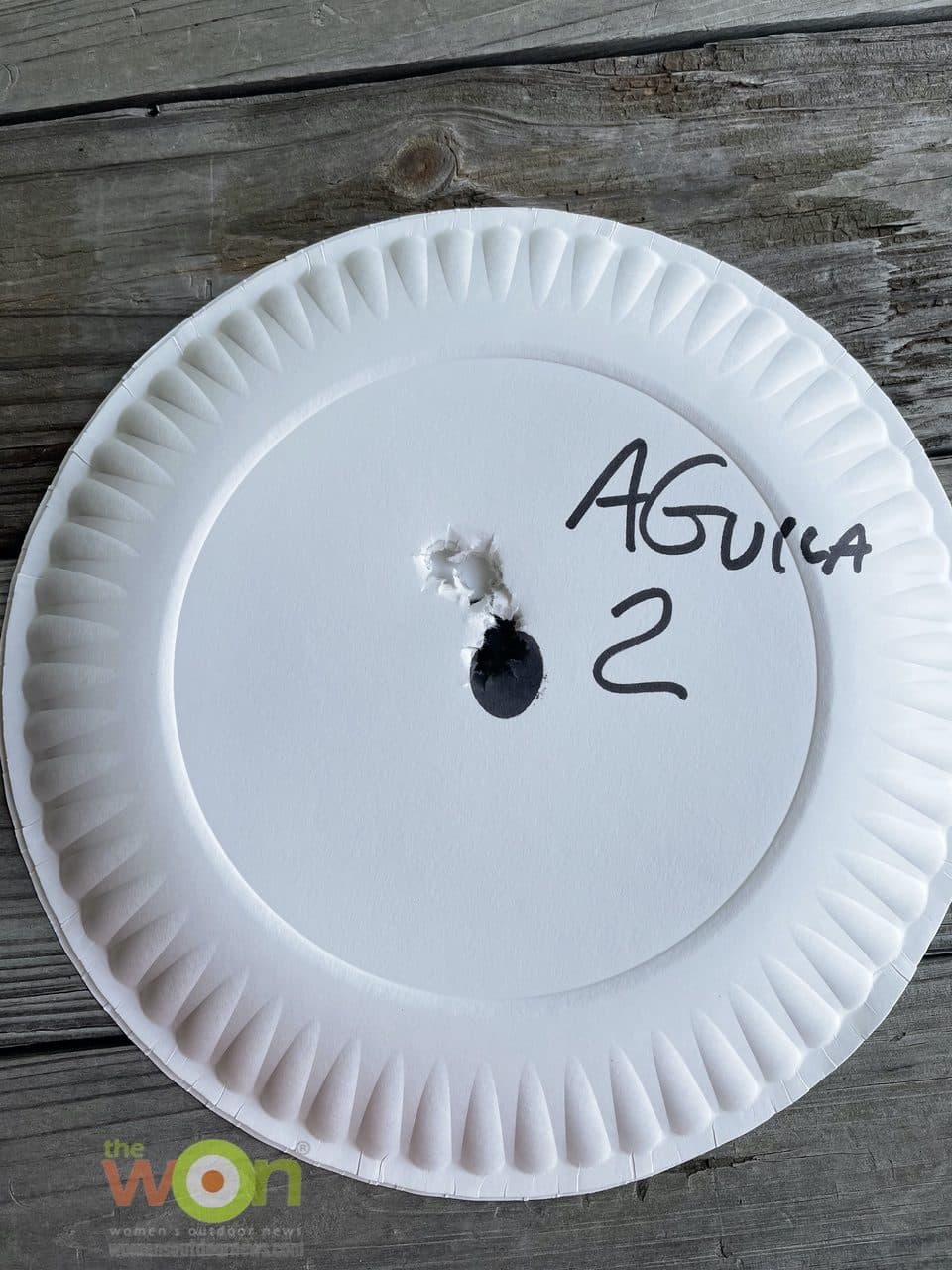 Remington HTP Pistol, 115 grain, jacketed hollow point: largest group – 1.0; smallest group – .5; average – .75
Remington UMC, 115 grain, full metal jacket: largest group – 1.25; smallest group – .25; average – .75
Hornady American Gunner, 115 grain, XTP: largest group – 1. 5; smallest group – .25; average – 1.08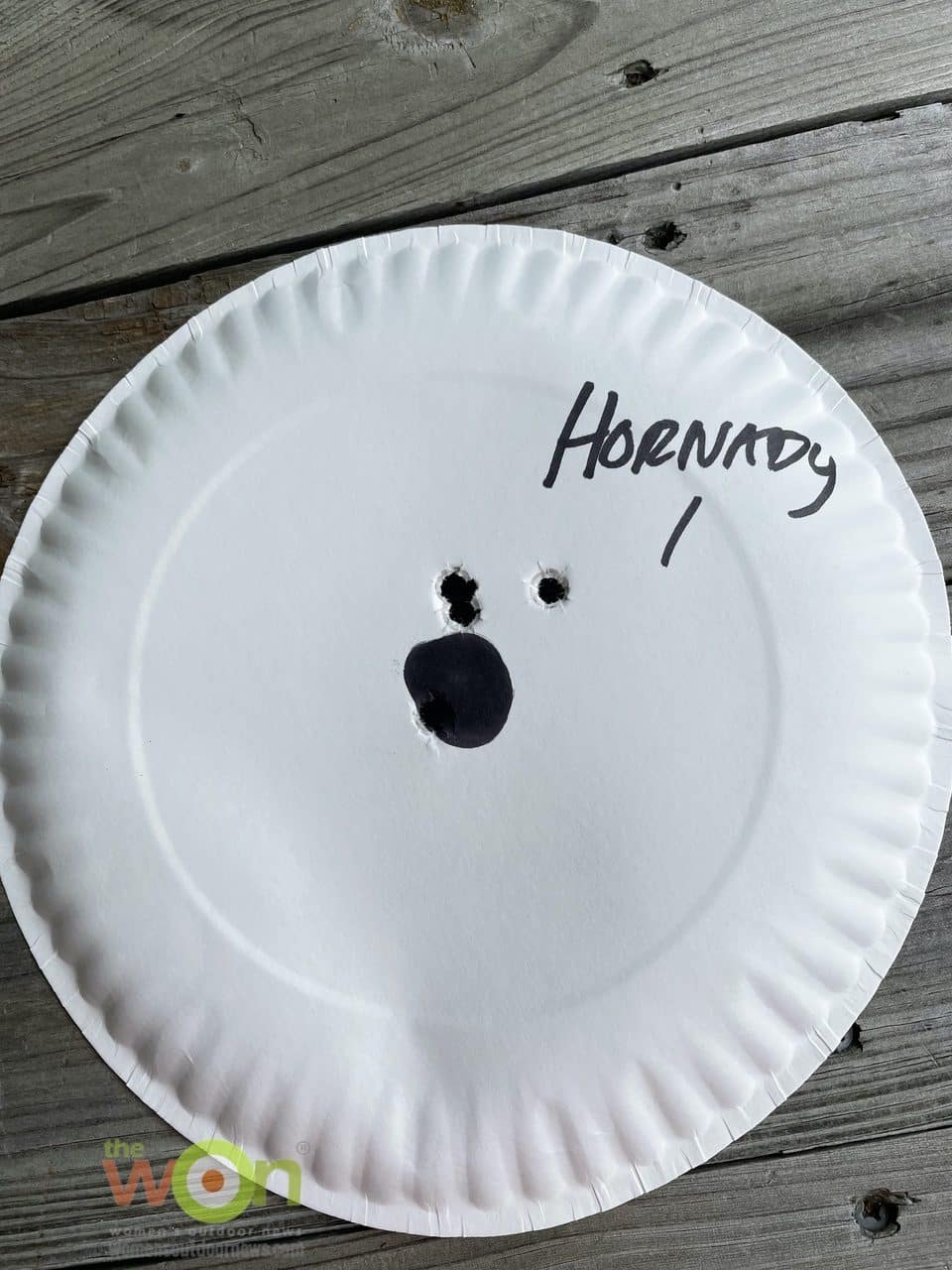 The only slight nit appeared to be a consistent tendency with this particular firearm to produce a leftward flyer – not far – but definitely a bit high to the left, whereas the rest of the group fell tight. The fliers happened with each of the two magazines supplied with the gun I evaluated. Mystified by this, I talked to an engineer who is an experienced shooter. He shot the gun, too, in case the fliers were caused by "the nut behind the butt." The same thing happened. He said, "The slide and barrel are locking up differently when you charge the gun manually (which is necessary for the first shot) than when the gun self-loads." This is not intended to be a bullseye accurate pistol, so a mere inch to the left for the first shot – as long as it's still in a tight group – is not a game changer.
Is it a hand buster? Again, another pleasant surprise here: No, it is not. Even with a trigger pull of more than six pounds, the trigger has a smooth take-up and consistent release. With the GX4's striker-fired, locked breech action, my hands were no worse for wear (and the engineer's hands were just fine) after about 50 rounds.
Why Women Will Like the Taurus GX4
The GX4 is sure to be a woman-pleaser for many reasons. First of all, its size is perfect. As you can see, it also fits into a holster intended for runners. That's a huge plus.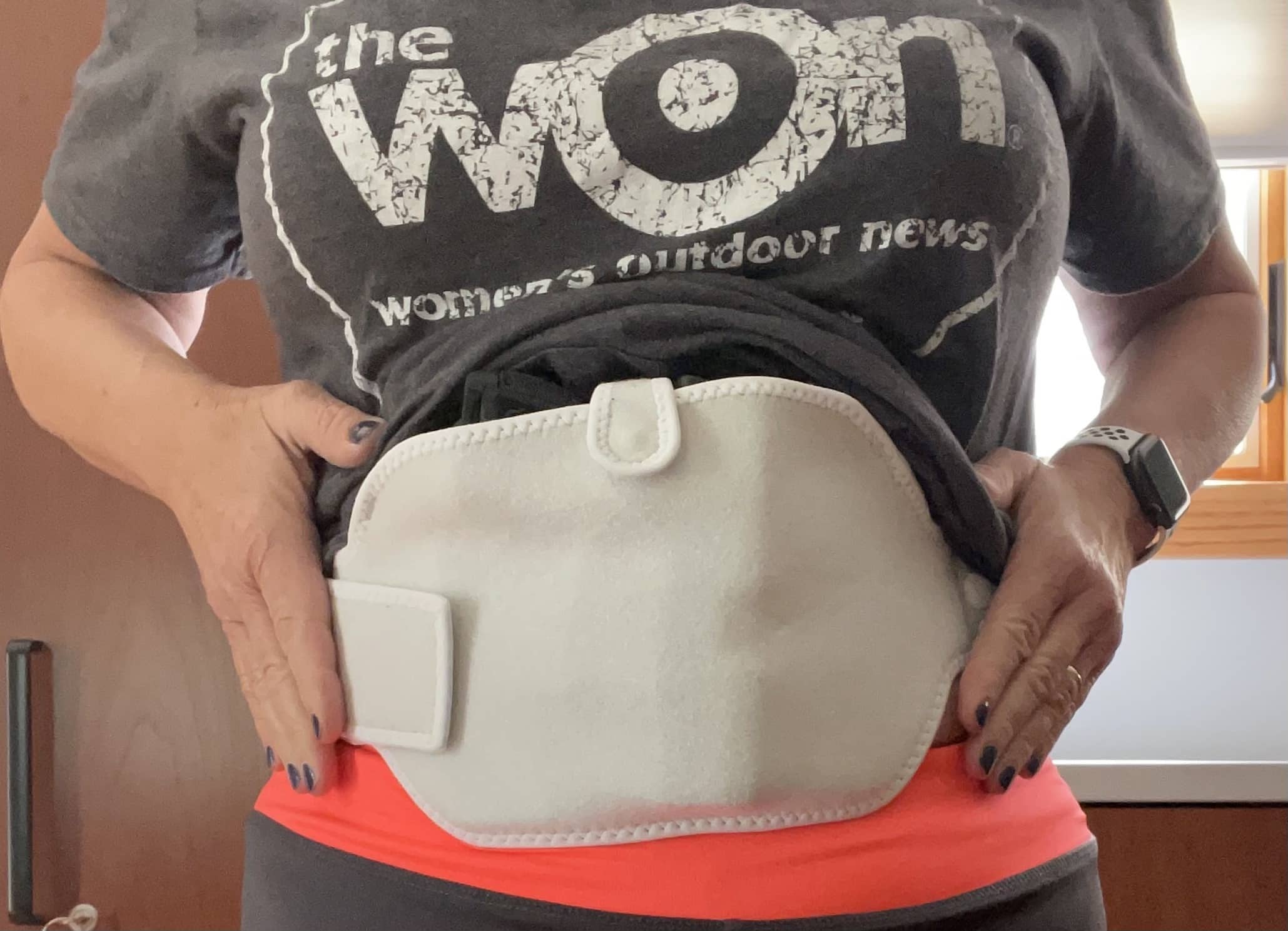 Second, it's got a good balance to it. And, you don't have to do a press check after you've loaded a round into the chamber; you've got the ability to see in the chamber indicator whether there's a round in there. That cuts down on one more procedure.
Thirdly, it's accurate. I acquired shots faster and faster and with confidence as I shot. It hit where I intended it to hit (after the first round, which was close to my aim point).
Fourth, let's talk about the price. It competes handily with other micro-compacts, and comes in sometimes $100 or $200 below the MSRP, which is $392.42. So, for under $500, you can get a firearm, holster and some ammo (test and personal defense) and be your own personal protector.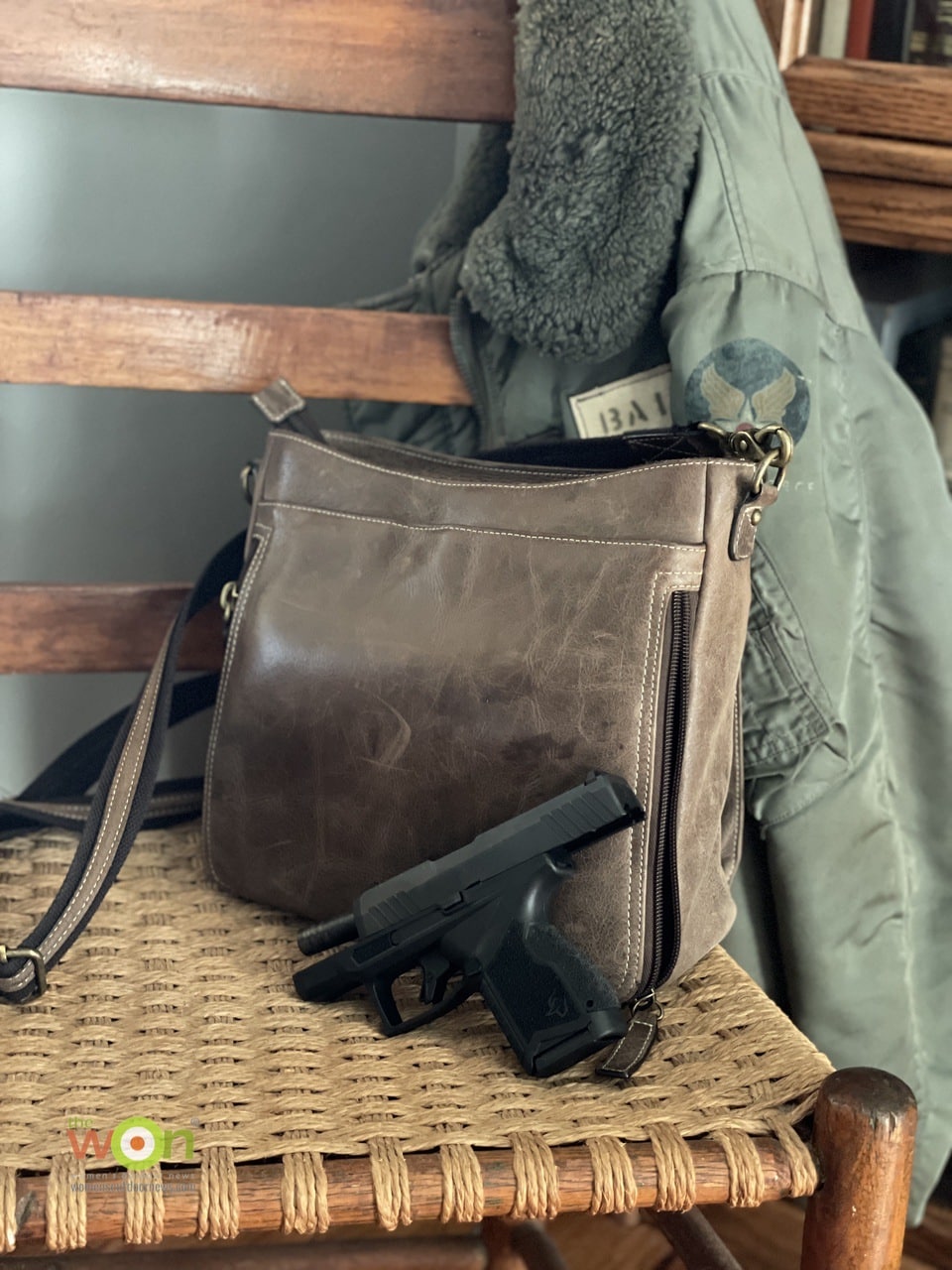 Taurus's motto is "Prepare. Protect." This gun amply helps you to do both, and doesn't cost a fortune to get you there.
See more about the Taurus GX4 here.
About Barbara Baird

Publisher/Editor Barbara Baird is a freelance writer in hunting, shooting and outdoor markets. Her bylines are found at several top hunting and shooting publications. She also is a travel writer, and you can follow her at https://www.ozarkian.com. View all posts by Barbara Baird →